Are you looking to create audio content with the iconic voice of Queen Elizabeth? Whether it's for historical documentaries, educational material, or entertainment purposes, having access to a reliable Queen Elizabeth voice generator can be a game-changer. With the help of advanced text-to-speech technology, generating rich voiceovers with Queen Elizabeth AI voice has never been easier.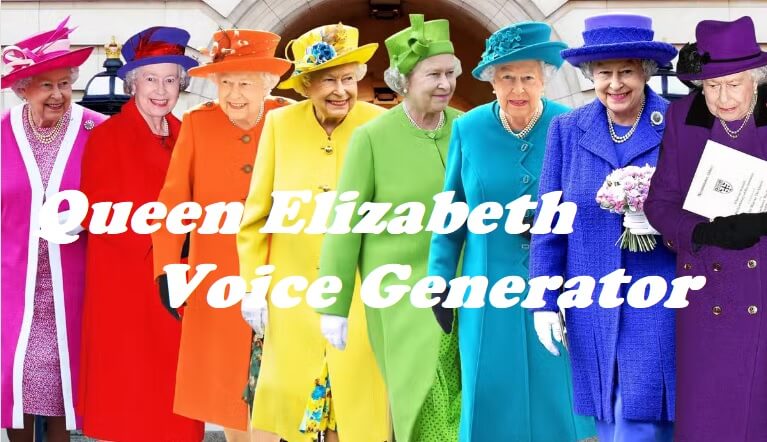 Part 1: Something You Should Know about Queen Elizabeth
Queen Elizabeth II is the current reigning monarch of the United Kingdom and the Commonwealth Realms. She was born on April 21, 1926, and ascended to the throne on February 6, 1952, following the death of her father, King George VI. She is the longest-reigning monarch in British history, having celebrated her Platinum Jubilee in 2022, marking 70 years on the throne.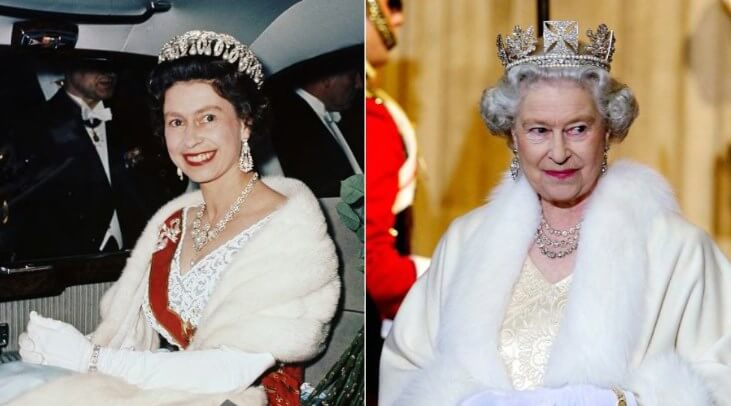 Throughout her reign, she has witnessed a great deal of change in the world and has been a constant presence, offering stability and continuity in times of uncertainty. She has also been instrumental in modernizing the monarchy, making it more accessible and relatable to the people of Britain. Despite her advanced age, she continues to carry out her duties with great vigor and remains an inspiration to many.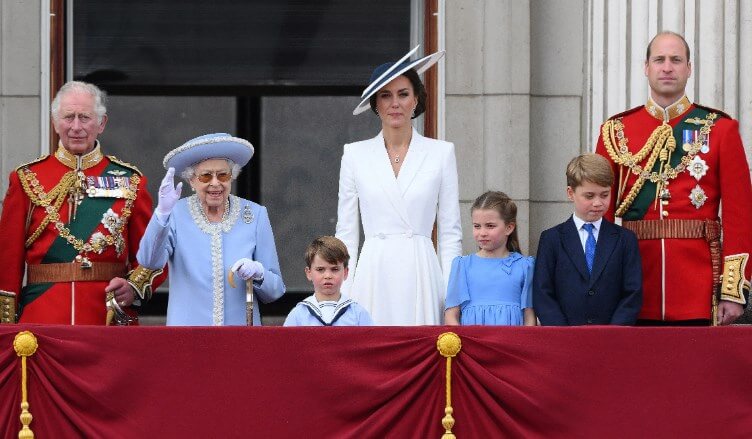 Part 2: Best Queen Elizabeth Voice Generator & Clone to Get!
VoxBox is a powerful AI voice generator that can help you create a Queen Elizabeth AI voice. With its advanced technology, you can generate a high-quality audio file that mimics her accent and speech patterns.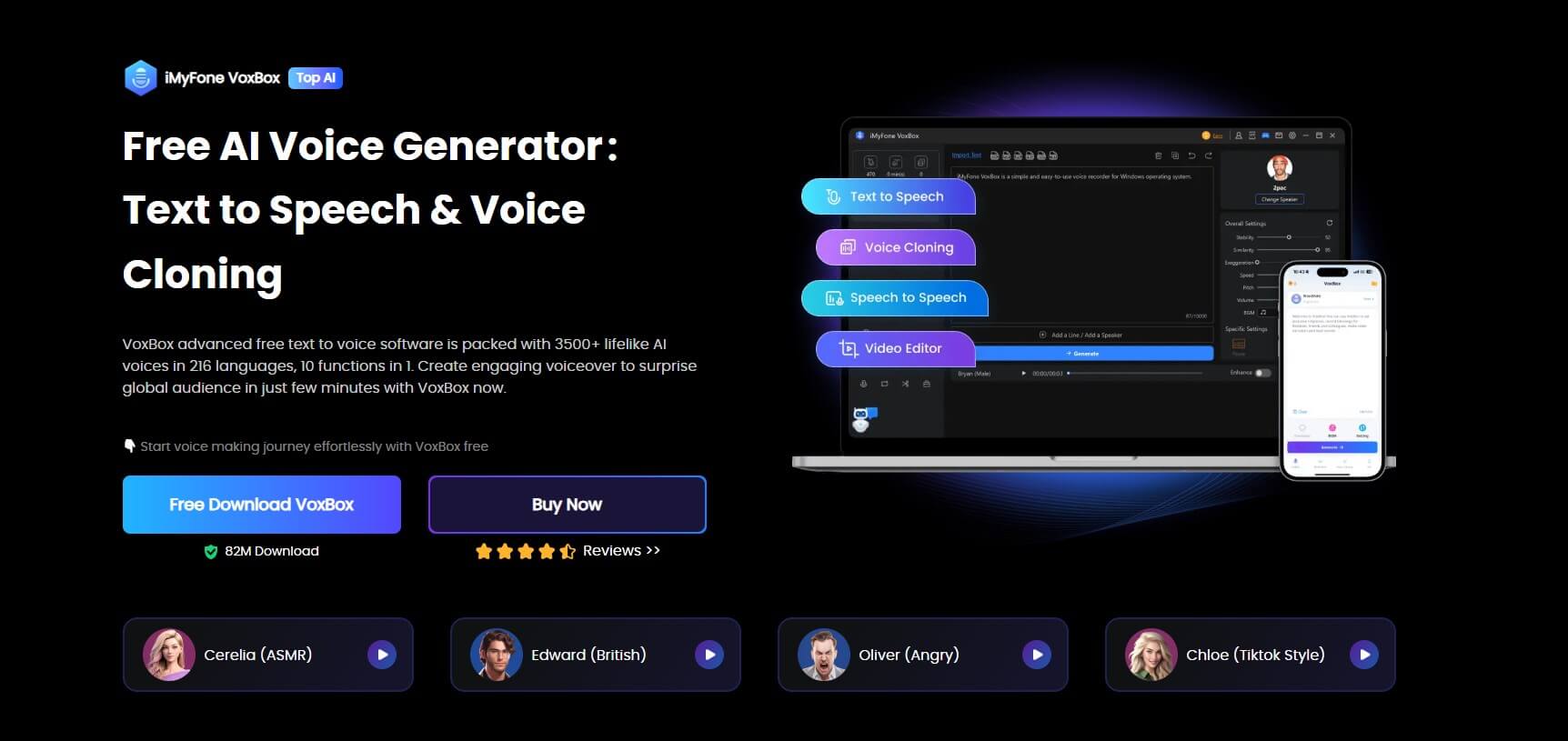 Bonus Tips
With
iMyFone VoxBox
, you can generate expressiver dubbings of other politicians like
Trump
,
Joe Biden
and more. without the need for recording equipment. Experience the best Queen Elizabeth TTS voice generator and effortlessly convert your text to speech.
Steps to Use Queen Elizabeth Text to Speech Generator:
Step 1: Download and install VoxBox software
Step 2: Open the software and navigate to the "Text to Speech" section.
Step 3: select the desired voice like Elizabeth from "Voice" option, then edit and customize the voiceover.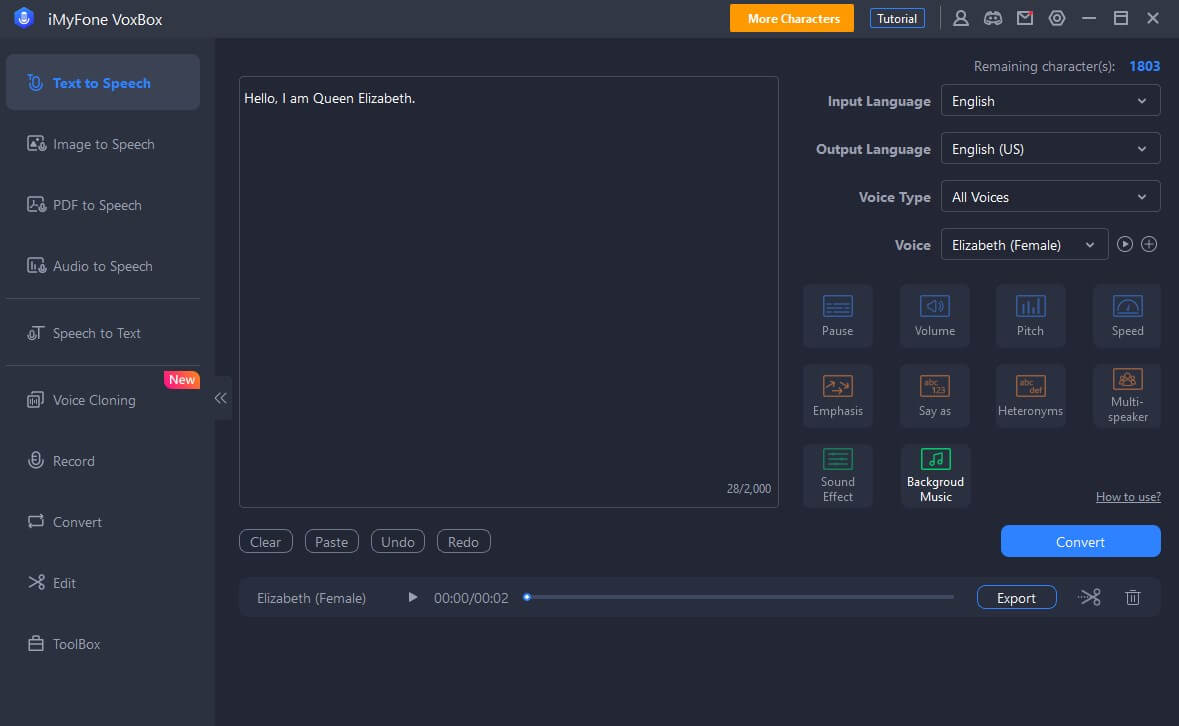 Step 4: Export your newly created Queen Elizabeth voice and save it for future use.
Key Features:
Offers a vast selection of voice options with more than 3200 unique voices.

With access to over 40 languages and 100 accents, creating voiceovers in various languages is made easy.

Export and save your generated Queen Elizabeth voice in various formats for effortless sharing and editing.

The software can be used for various purposes including but not limited to entertainment, education, communication, and social media, providing versatility and flexibility in its application.

You can easily convert your testimonial, book, or jokes into speech.

Professional Queen Elizabeth AI voice cloning tool.

A great many natural voices make you sound like real human.

The Queen Elizabeth voice generator provides a complete package that includes voice transcription, recording, editing, and more, all in one tool.
Watch the video below to learn more about Queen Elizabeth Voice Generator
Part 3: Also Recommended: Other Queen Elizabeth AI Voice Generators
1. Play.ht
If you have plain text that needs to be turned into high-quality voiceover audio for your videos, Play.ht can help you find a voice similar to Queen Elizabeth through its sampled voices feature.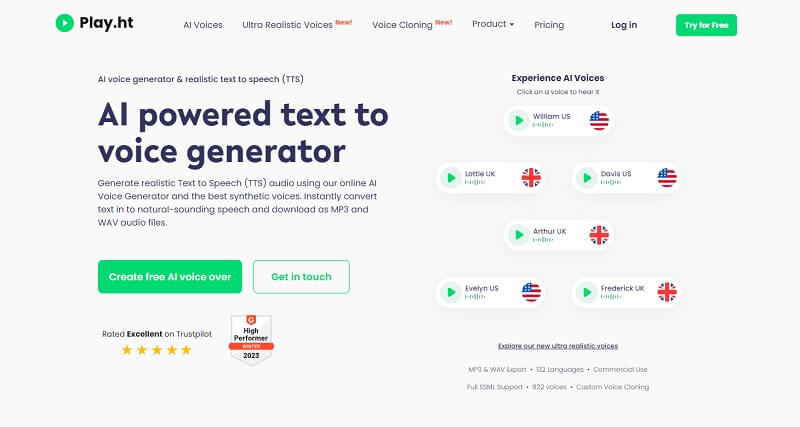 Key Features:
It provides 832+ voices and 132 languages to choose from.

Customize your voiceover by adjusting the text, sentiment, tones, and more to bring your creative vision to life.

Export your dubbings in MP3 and WAV formats.
2. Speechify
Another excellent Queen Elizabeth voice generator that utilizes advanced technology is available. You can choose the desired voice to get a realistic voice effect, and there are also various other voices except Queen Elizabeth to try out.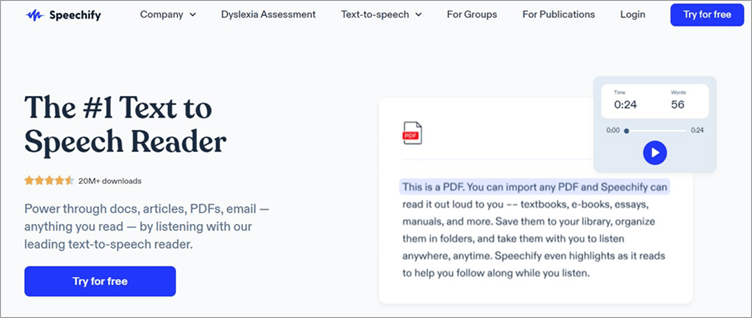 Key Features:
With over 30 natural voices, Speechify ensures that your content will always have a unique and distinct sound.

It now allows you to read PDFs with even greater detail and accuracy.

Speechify is an excellent voice generator for language learning, offering TTS support for over 15 languages.

Its Chrome extension is fully functional and user-friendly.
Conclusion

In conclusion, VoxBox makes a reliable and efficient solution for generating realistic Queen Elizabeth AI voices. With its advanced features, vast range of famous people voice options, and easy-to-use interface, it is the perfect tool for creating voiceovers for various projects. If you are looking for a top-notch Queen Elizabeth voice generator, VoxBox is the way to go.