Are you a fan of PewDiePie and want to add his unique voice to your content? With the help of AI technology and text-to-speech software, generating a PewDiePie AI voice has never been easier. In this article, we will explore the steps to create a PewDiePie AI voice and the tools you can use to achieve it.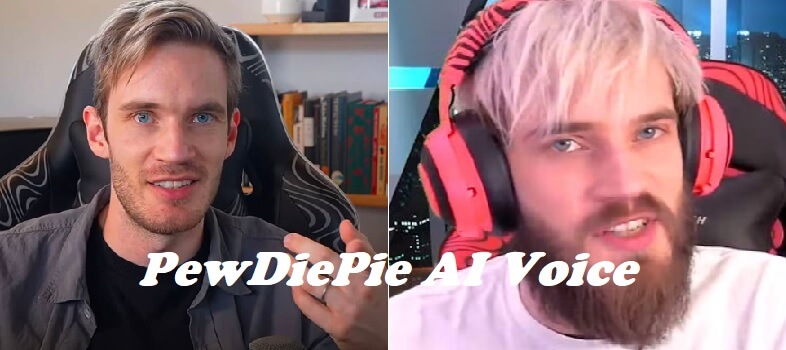 Part 1: Who is PewDiePie?
PewDiePie, whose real name is Felix Kjellberg, is a Swedish YouTuber, comedian, and video game commentator. He is best known for his Let's Play videos, which showcase his humorous and irreverent style. With over 110 million subscribers, PewDiePie is one of the most popular and influential figures on YouTube.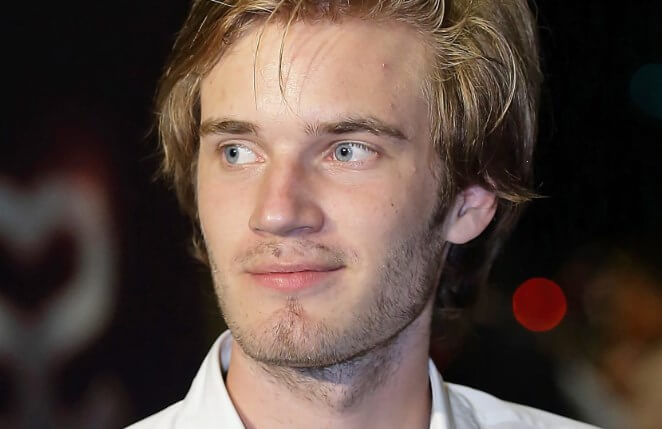 He has won numerous awards for his content, including several YouTube Creator Awards and a Teen Choice Award for Choice Web Star: Gaming. Outside of YouTube, PewDiePie has also released mobile games and published a book. He is known for his philanthropic work, including his donations to charities such as Save the Children and the World Wildlife Fund.
Part 2: Why the Youtuber PewDiePie Become Popular?
PewDiePie became popular on YouTube for his unique and entertaining video content that features him playing and reacting to video games while providing humorous commentary.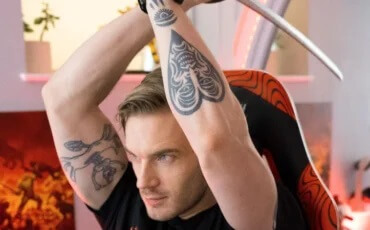 He has a charismatic and relatable personality that resonates with his audience, and his ability to connect with his fans through his content and social media has helped him gain a massive following. PewDiePie's humorous approach to gaming and willingness to interact with his fans has made him one of the most successful and influential YouTubers in the world.
Part 3: Generate PewDiePie AI Voice Using Text-to-Speech Technology
VoxBox is an AI voice generator that allows users to create unique and customizable AI voices. You can easily generate a PewDiePie AI voice and use it for various purposes such as entertainment, education and conversation.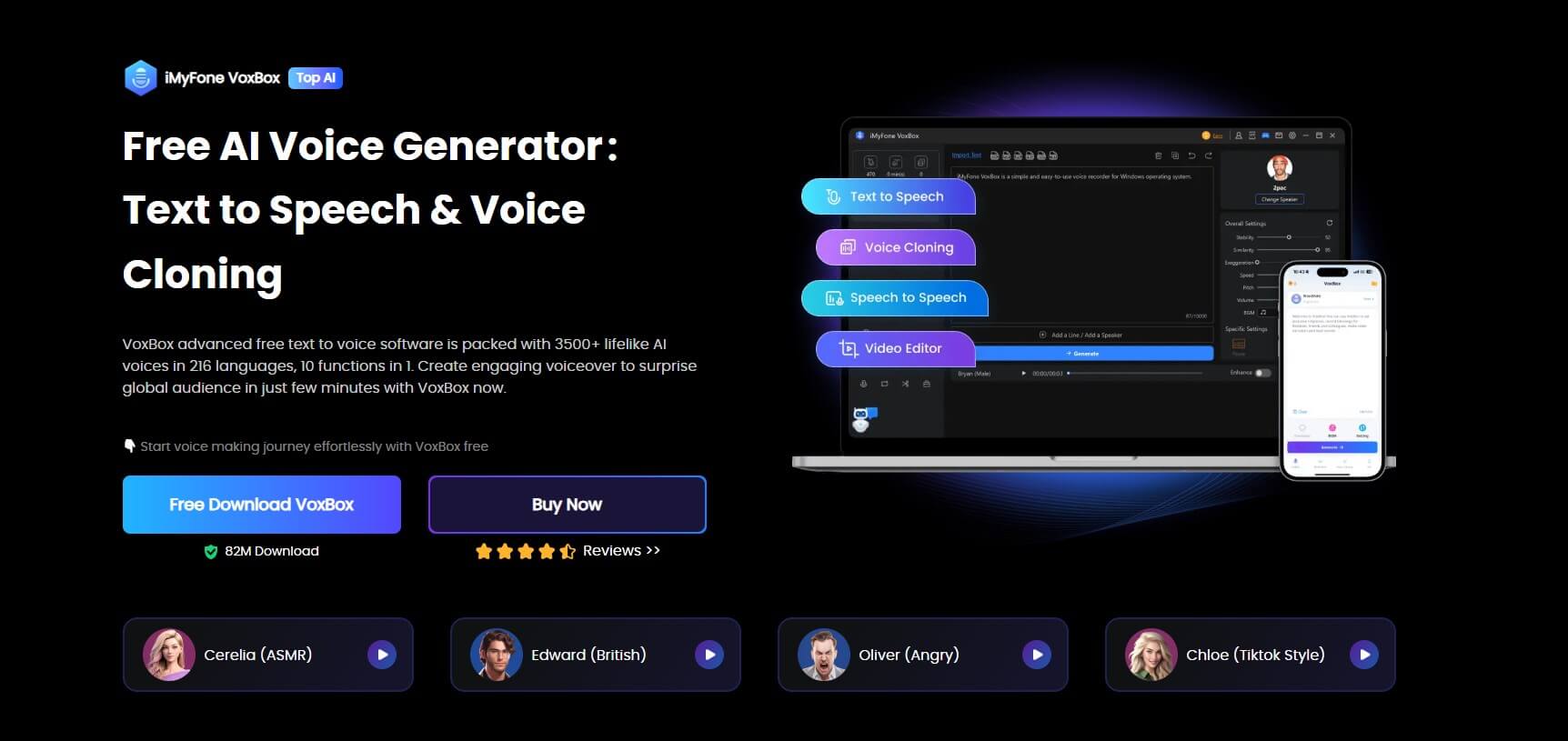 Steps to Make PewDiePie AI Voice:
Step 1: Download and install the VoxBox software.
Step 2: Open it and navigate to the "Text to Speech" section.
Step 3: Choose the "Voice" option and select the voice you want to add like PewDiePie AI voice, next you can edit and customize the voiceover.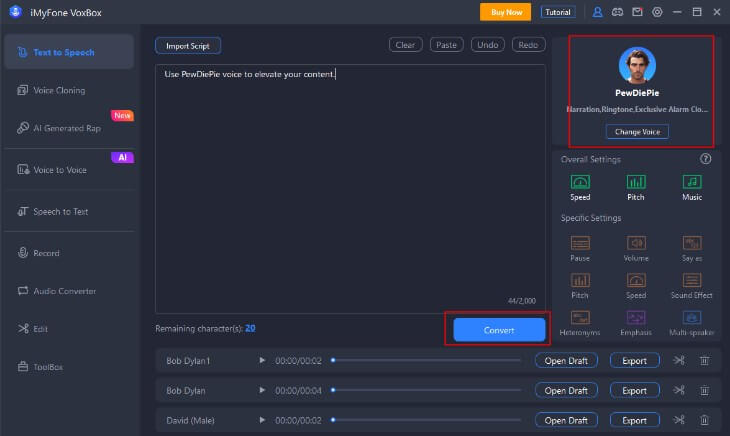 Step 4: Export your newly created PewDiePie AI voice and save it for future use.
Key Features:
An extensive range of more than 3200 distinct voices and support for 46 different languages available.

A great many Youtuber voices are offered such as Matpat.

Furthermore, the tool offers support for other functions, including speech transcription, voice editing, conversion, and recording.

TTS Generator & AI Voice Cloner to make PewDiePie AI voice.

Personalize your PewDiePie dubbings with customizable options such as pitch, pause, volume and more.
Watch the video below to know more about PewDiePie Voice Generator
Pros:

It is compatible with multiple media apps like TikTok for versatile use.

Output your audio file in various formats.

You can easily incorporate available background music into your audio.

4-Terminal Support
Cons:

Need to be installed by yourself.
Part 4: Voice Changer AI to Make PewDiePie Voice
MagicMic provides users with an array of functions to design their personalized AI voice. Among them, the most remarkable one is its real-time voice transformer that enables users to alter their voice during streaming or recording. With MagicMic, you have the option to pick from numerous preset voice filters or produce your own custom PewDiePie AI voice.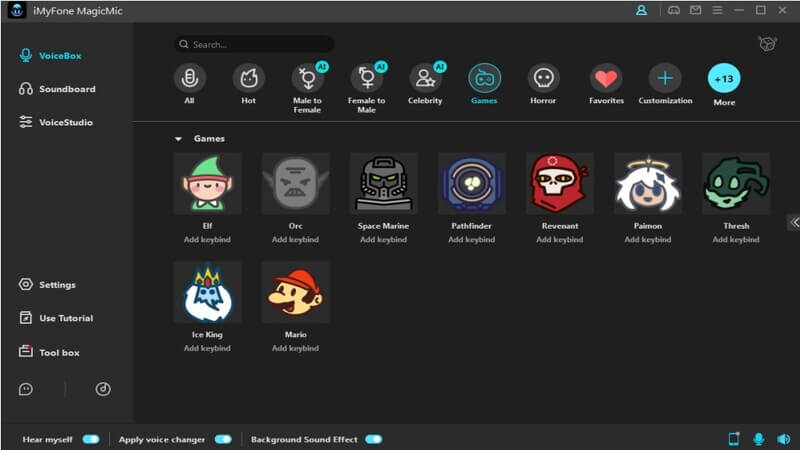 Key Features:
MagicMic's interface is designed to be intuitive and user-friendly.

With over 500 sound effects and 125 voice filters, including funny voices like Burger King, you have a wide range of options to choose from.

The "Voice Studio" feature allows you to fine-tune your recorded voice, giving you more customization options.

The sound effects in MagicMic also come with background audio, making them more immersive and realistic.

You can create custom shortcuts for your favorite sound effects in MagicMic, making them easily accessible while recording or chatting.
Conclusion
In conclusion, generating a PewDiePie AI voice using text-to-speech technology or a voice changer AI can be a fun way to experiment with your content and add a unique touch to your videos or live streams. Whether you're a fan of PewDiePie or simply looking to add some personality to your voice, VoxBox can provide endless possibilities for customization and creativity.