Experience the iconic voice of James Earl Jones in your own audio creations with the James Earl Jones AI Voice generator. With this advanced text-to-speech technology, you can now generate lifelike audio in Jones' legendary voice, perfect for narrations, voiceovers, and more. Discover bestvoice generator to get James Earl Jones AI Voice today!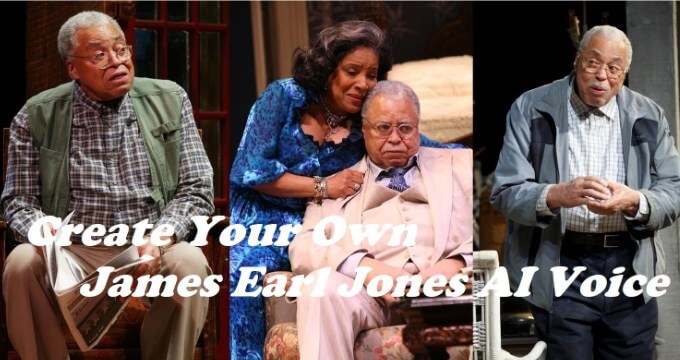 Part 1: Who is James Earl Jones?
James Earl Jones is an American actor and voice actor, in Mississippi, United States. He has appeared in numerous films and television shows throughout his career, including the voice of Darth Vader in the Star Wars franchise, Mufasa in The Lion King, and Thulsa Doom in Conan the Barbarian. Jones has won many awards, including a Tony Award, a Grammy Award, and an Honorary Academy Award. He is also known for his distinctive deep and powerful voice.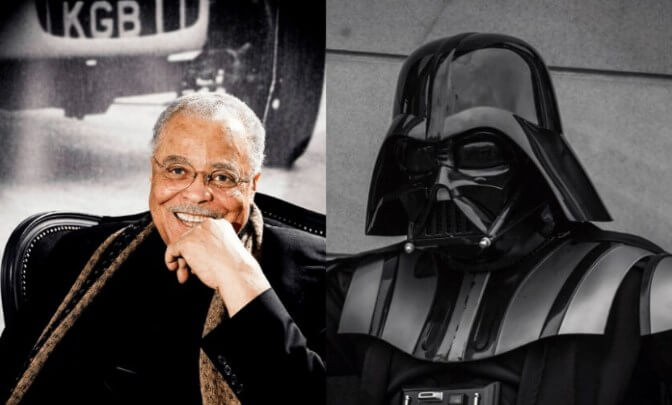 James Earl Jones is also known for his work in various stage productions, including Shakespearean plays such as "Othello" and "Hamlet." In addition to his acting work, Jones is also an accomplished author and has written several books, including an autobiography titled "Voices and Silences."
Part 2: How to Create James Earl Jones AI Voice?
Here you can use the several text-to-speech converters to generate James Earl Jones a realistic AI voice, which will transform your voice to sound like the character.
iMyFone VoxBox is an AI-powered text-to-speech voice generator that provides an extensive selection of voices and languages, including James Earl Jones voice, and other character voices like SpongeBob, Andrew Tate, and Trump, as well as languages such as British, Lao, Russian, and more.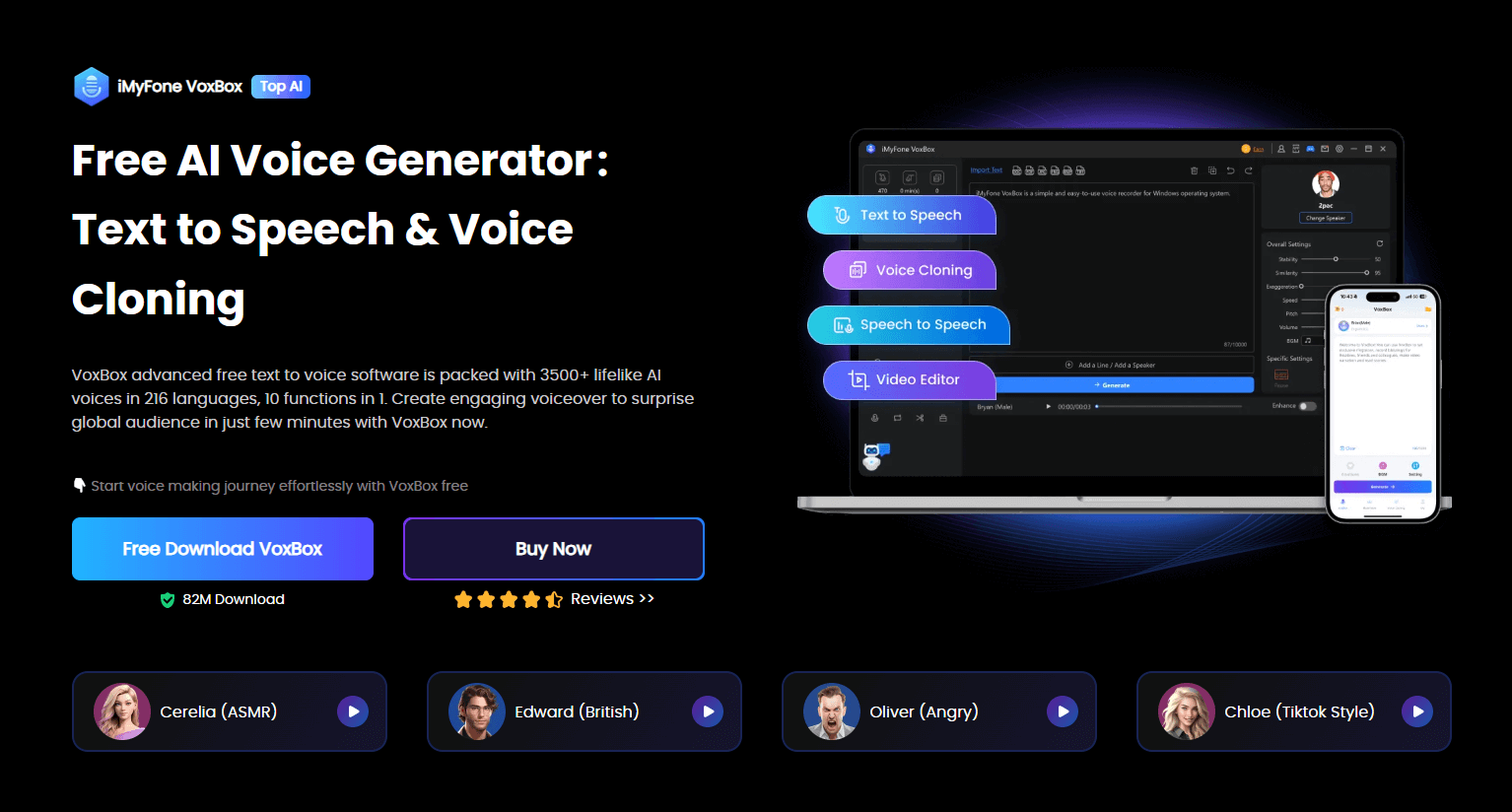 How to Make James Earl Jones AI Voice:
Step 1: Visit the official iMyFone VoxBox website and launch the software.
Step 2: Navigate to the "Text to Speech" tab. Select James Earl Jones Voice from the voice options, and either type in your text into the software.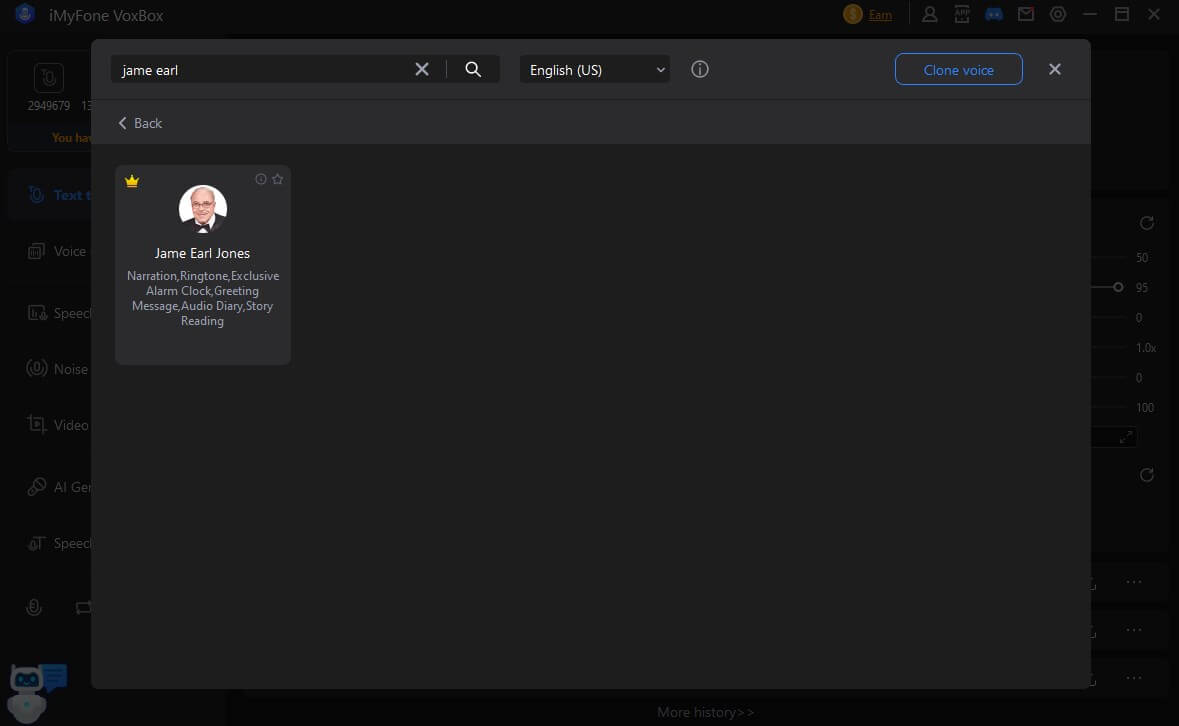 Step 3: Customize the settings according to your preferences, such as pitch or speed adjustments.
Step 4: Click on the "Convert" button to generate the audio file, and then export it.
Tips
Listen to James Earl Jones AI Voice Generated by VoxBox.

Key Features:
Access over 3200 unique voices, including film characters like Wiseguy.

Support for more than 46 languages.

Choose from over 100 global accents, including British and Italian.

Enjoy a user-friendly interface that makes it easy to navigate and operate the James Earl Jones AI voice generator.

A great number of character voice effects like Valley Girl are available.

Take full control of your audio creations with adjustable parameters.

All generated audio files, regardless of the selected voice, sound natural and crystal clear.
Watch the video below to know more about James Earl Jones Voice Generator
Pros:

Export your audio file in a variety of formats with ease.

The free version has a good number of features.

It can also use on other platforms like YouTube.

You are able to utilize the software for education, business, entertainment, etc.

It is compatible with PC & Mobile.
Cons:

Need to be installed by yourself.
Reviews:
4.9/5 star user rating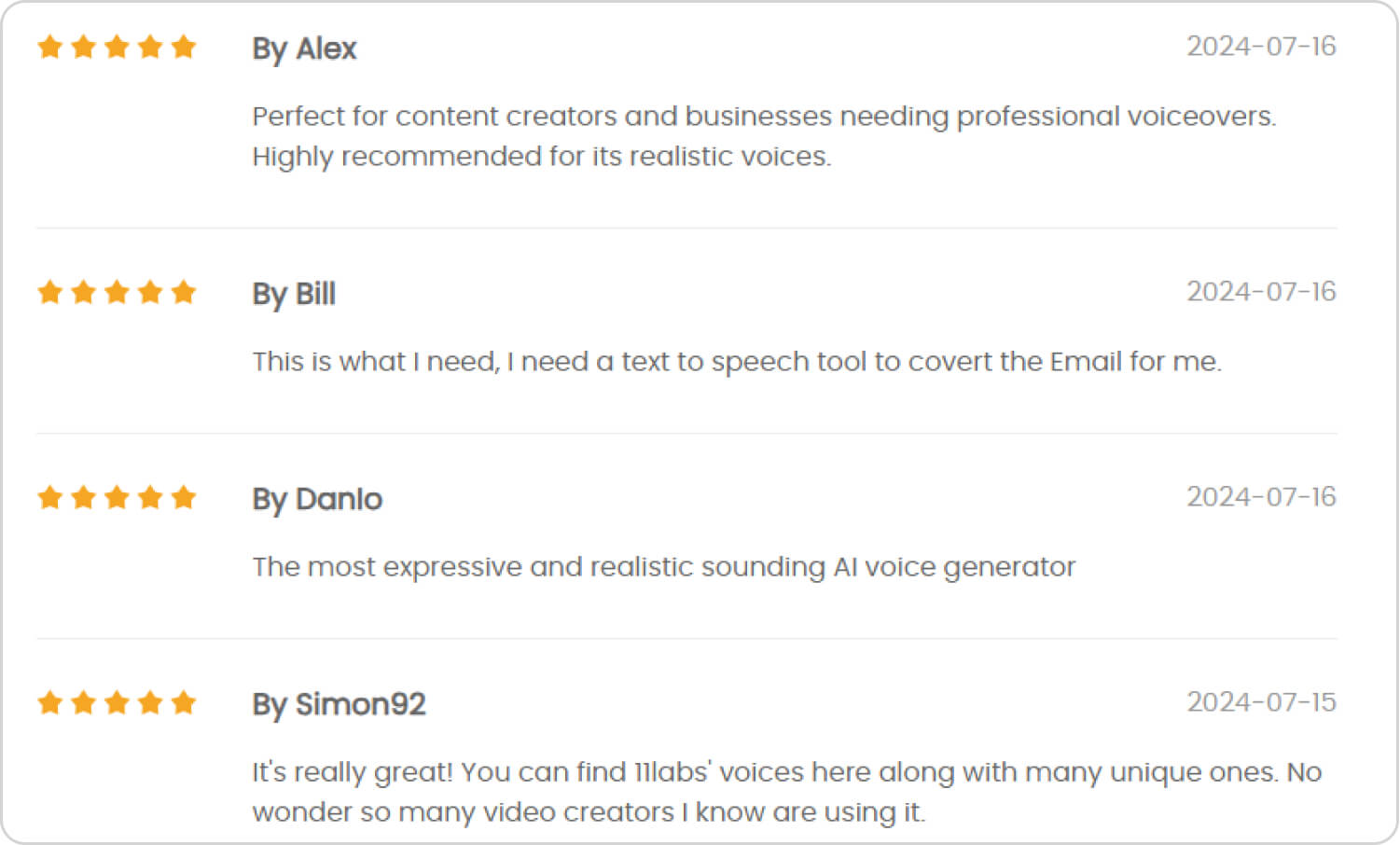 Part 3: FAQs about James Earl Jones AI Voice
1. What is James Earl Jones AI Voice?
James Earl Jones AI Voice is a text-to-speech (TTS) technology that uses advanced artificial intelligence to generate audio clips that sound like James Earl Jones, the legendary American actor known for his deep and resonant voice.
2. What can I use James Earl Jones AI Voice for?
James Earl Jones AI Voice can be used for a variety of purposes, including voiceovers for videos, audiobooks, podcasts, and more. It can also be used to create voice prompts for phone systems, virtual assistants, and other applications.
3. How old is James Earl Jones?
James Earl Jones was born on January 17, 1931. As of April 2023, he is 92 years old.
4. When did James Earl Jones voice Darth Vader?
James Earl Jones provided the voice for Darth Vader in the original Star Wars trilogy, which began with the release of "Star Wars: Episode IV - A New Hope" in 1977. He also reprised the role in the prequel trilogy and in various other Star Wars media.
Conclusion
With James Earl Jones AI Voice generator, you can effortlessly create engaging voiceovers that captivate your audience. It is highly recommended that You can take advantage of iMyFone VoxBox to be a professional text-to-speech tool to make James Earl Jones AI Voice and other Star Wars character voices. Its versatility and user-friendly interface make it a must-have tool for content creators, marketers, and voiceover artists.