Are you a massive fan of the ever-so-famous Star Wars? With Star Wars AI voice generator, you can easily get access to Star Wars AI voice, since their popularity prompts many fans to mimic or even impersonate the accents of the characters.
In this article, we'd introduce a Star Wars voice generator to recreate Star wars AI voices, and of course, you can use this software to make voiceover for your content, gaining more engagement.
Bonus Tips
Watch this video to learn more about using
AI voice generators
to make Star Wars voice.
Part 1:Do you Know Star Wars?
George Lucas is a director who developed the sweeping space opera series known as Star Wars. It takes place a long time ago, in a universe far, far away, and focuses on the conflict between the Rebel or the Resistance, according to the historical period, and a terrible military tyranny.
The Force, a mysterious energy field produced by all living organisms all throughout the Galaxy, plays a central role in the narrative. The good Jedi Knights can acquire superhuman abilities like telepathy and telekinesis through Force mastery.
For several thousand years, they have served as the former Galactic Republic's guardians, using the positive side of this mystical Force for knowledge and protection.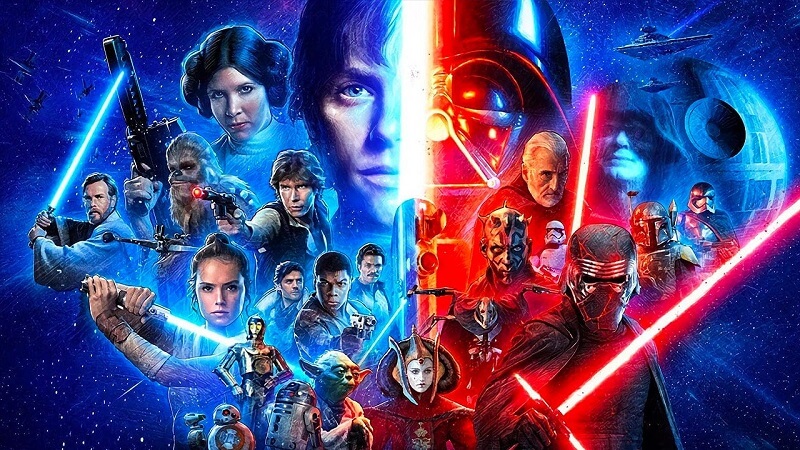 Part 2: Most Popular Star Wars Characters AI Voices Generated
In the world filled with AI tools, recreating Star Wars characters AI voices is not as far-fetched as it once seemed. Fans have been debating which AI voice should be recreated in the franchise. Some argue that the late Carrie Fisher's voice as Princess Leia should be recreated, while others believe that James Earl Jones' iconic voice as Darth Vader should be brought back to life using AI technology. Whatever the choice, it's clear that AI has the potential to generate any character AI voices you want and make an impact in the world of entertainment and storytelling.
Darth Vader
Darth Vader, the paradigm of the tragic villain, is without a doubt the fan favorite of the film series. The original series focused on his loyalty to Palpatine, which was destroyed by the passion for his son, while the sequel trilogy explored his background as Anakin Skywalker.

Yoda
The intelligent Jedi master is renowned for his speaking style and his ability to completely dominate opponents in duels. Yoda's knowledge has been crucial in helping to explain to audiences what Power is about and what a real hero should be like.
Yoda is regarded as the fans' safe haven because fans of the series are certain that his presence will put things right. Yoda can be both frightening and funny at the same time, which allows the character to work in a variety of settings, whether they are serious or humorous.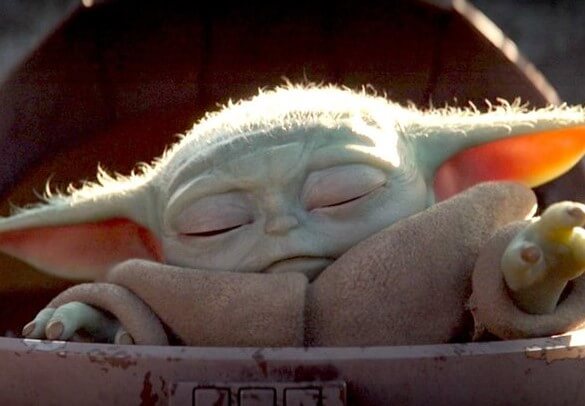 Luke Skywalker
Nearly fifty years after his debut, the series' original hero is still regarded highly. Luke served as the audience's conduit into the Star Wars universe, developing from a simple Tatooine youngster into a real Jedi and then into a renowned Force master.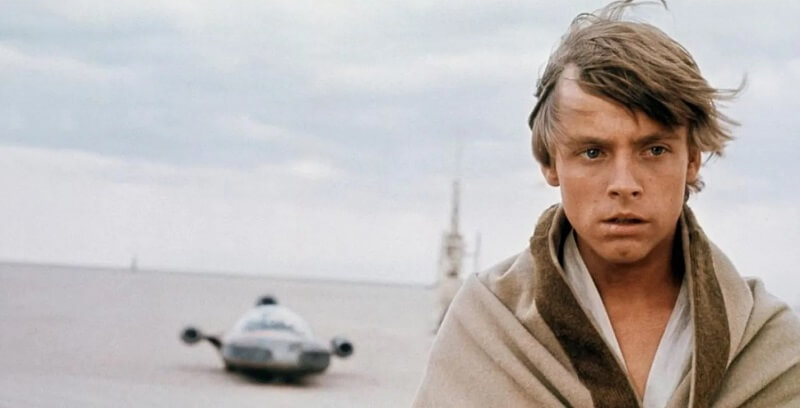 Obi-Wan Kenobi
Obi-Wan is maybe the character from Star Wars that has inspired the most jokes, but he still gives fans comfort. He provides a wonderful loving father and mentor for Luke and Anakin because of his cool attitude, and his own journey from young Required to acquire to a Jedi master was exquisitely shown.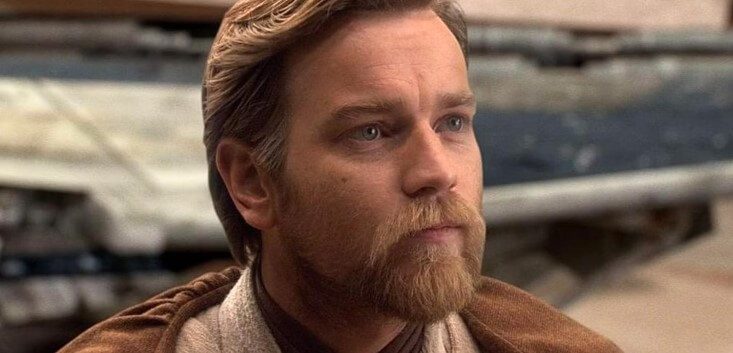 Anakin Skywalker
He is a central figure in the prequel trilogy of films, portrayed as a skilled and powerful Jedi Knight who ultimately falls to the dark side, becoming the infamous Sith Lord Darth Vader. Anakin's journey is marked by inner conflict, leading to his transformation from a promising hero to a tragic antagonist.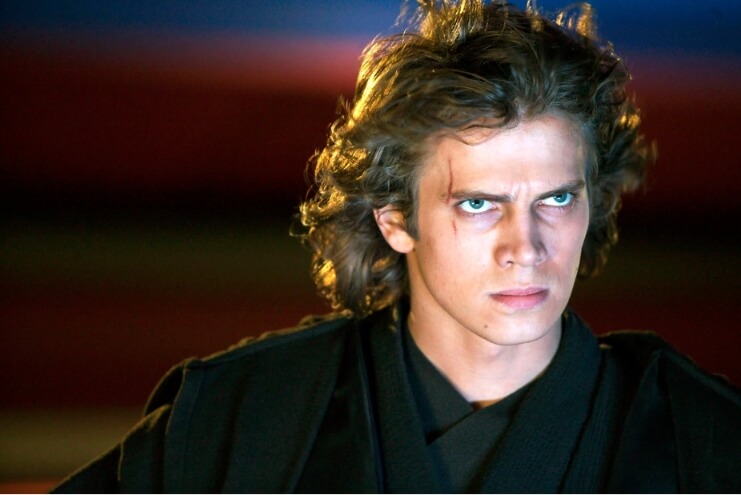 Part 3: Use Star Wars AI Voice Generator For Star Wars AI Voice
I'd recommend iMyFone VoxBox to generate the star wars AI voices, which boasts 3,200 voices & 77+ languages & 100+ accents, offers a host of powerful text-to-speech voice data, and you just type or paste your script or text with a few seconds to convert text to high-quality audio, the best choice for content creation, dubbing, audio books making and more.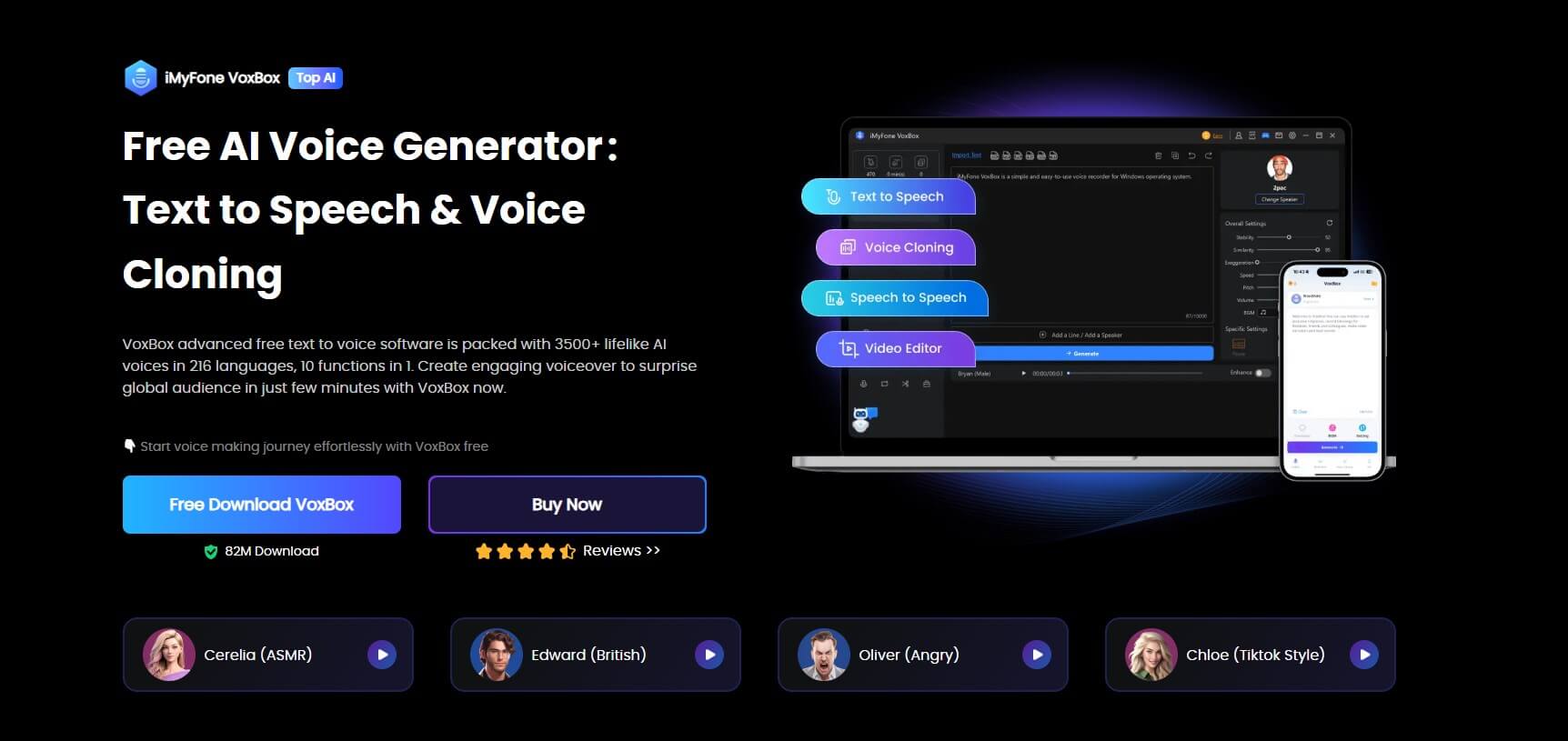 Features:
Supported making voiceovers with characters' AI voices like anime, cartoon, celebrities, rappers, etc.

More than 77+ languages for dubbing.

Supported muti functions like voice clone, text transcription, voice record, video convert, edit, etc.

VoxBox also supported clone any characters' voice in Star Wars as you want.

The multifunctional software allows you to change the speech's speed, emphasis, pitch, and volume.

You can select the input and output formats and also convert the file format separately.
Pros:

Easy-to-use and directly interface.

No ads and safe

4-Terminal Support

Faster clone & Text-to-speech process.
Cons:

Need install it.

Voice Cloning has no free trial.
Watch this video to learn more about the Best Star Wars Voice Generator-iMyFone VoxBox:
Free and Easy to Get Star Wars AI Voice:
Step 1: Download the software from the store and install it on your computer

Step 2: Choose the "Text-to-Speech", Then choose the star wars voice

Step 3:Type your script, and export the converted audio file to your computer.
Price:
| Plan | Price |
| --- | --- |
| 1-month Plan | $14.95 |
| 1-year Plan | $44.95 |
| Lifetime Plan | $89.95 |
Part 4: FAQs about Star Wars AI Voice Generator
What is the voice AI generator for Obi Wan?
Voxbox, the powerful Obi Wan AI voice generator with ready-to-use and natural-sounding Obi Wan AI voice, with which you can make fan project, voiceovers, or just for fun.
How do I turn my voice into Darth Vader?
You can use Voxbox, the best Star Waes voice generator to get ultra-realistic Darth Vader AI voice for voiceovers, content creation, and more, making yourself sound like Darth Vader.
Why is Anakin's voice different as Darth Vader?
Anakin Skywalker's voice changes when he becomes Darth Vader due to the injuries and trauma he suffered during his transformation.
What is the Star Wars AI Voice Generator?
The Star Wars AI Voice Generator is a tool that uses artificial intelligence to generate voices that sound like characters from the Star Wars universe. It allows users to input text and have it spoken in the style and voice of specific characters, such as Darth Vader, Yoda, or others.
Which Star Wars characters' voices are available?
Depending on the tool's capabilities, it might offer a range of characters from the Star Wars universe. Like in Voxbox, you can have access to voices of Anakin Skywalker, Boba Fett, Darth Vader, General Grievous, Luke Skywalker, Mandalorian, Obi Wan Kenobi, Yoda, etc.
Where can I use the Star Wars AI Voice Generator?
If available, you might be able to use the tool on its associated website or platform. It could have applications in content creation, fan projects, voiceovers, and more.
Conclusion
That ends today's discussion on the best Star Wars AI voice generator. If you are looking for the most hassle-free solution with your Star Wars text-to-speech generator, opt for the VoxBox TTS software.

This Voiceover generator is easy to use, well priced and offer you a seamless audio generation experience.