Enhancing your YouTube video with suitable dubbing can significantly boost its appeal. Artificial intelligence voice generators come to the rescue, not only saving you time but also reducing costs. In today's market, you can find various professional and free AI voice generators.
To streamline your search, this article will guide you on how to explore text-to-speech voice dubbing options for your YouTube videos. Additionally, we'll recommend four AI voice generators for you to consider, including options for both free and paid, online, and software solutions
Free listen the Youtube AI Voices

Part 1: Can I Use Realistic AI Voices in YouTube Videos?
Of course, you can, for YouTube content creators, AI voice generators offer a game-changing solution. Whether you're camera-shy or seeking efficiency, advanced voice cloning technology can generate AI voices, maintaining consistency while reflecting your voice personality and style. This eliminates the need for costly recording equipment and time-consuming vocal preparations. If you're an entertaining YouTuber, advanced text-to-speech technology opens up creative possibilities to make your videos more engaging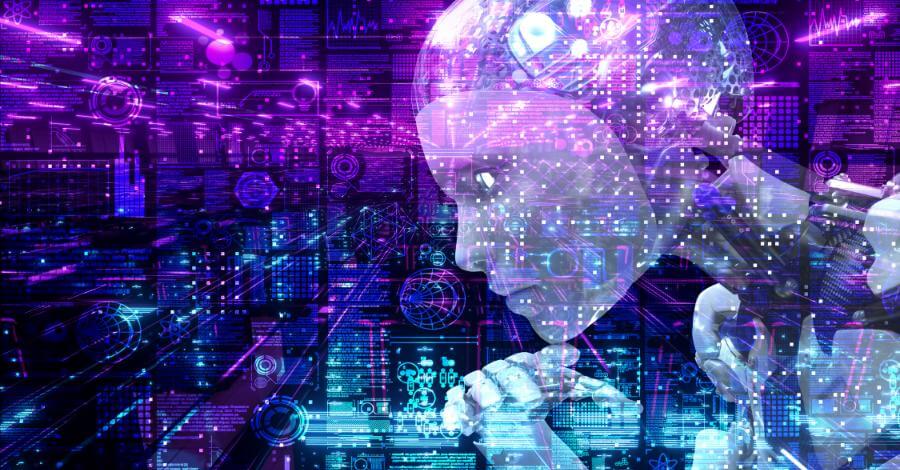 Part 2: How to Use Text-to-Speech Voices in YouTube Videos?
As mentioned earlier, artificial intelligence technology is playing an increasingly significant role in our lives, with AI voices gaining popularity in YouTube videos. The AI text-to-speech service presents unique opportunities for professional YouTubers aiming to create engaging content on a budget. With its extensive global library of text-to-speech voices, this technology can be customized to match specific tones and intonations. Content creators can now craft explainer tutorials and videos that align seamlessly with their brand, enhancing their content creation capabilities.
To learn how to dub your YouTube videos using AI voice, we'll introduce you to the top AI voice generator, available in both free and paid versions, as a practical demonstration.
iMyFone VoxBox is a cutting-edge AI tool for voice generators offering a vast library of 3200+ AI voices for text-to-speech, including dubbing like YouTube videos. VoxBox goes beyond standard features, supporting voice cloning for AI voice personalization and a range of audio creation tools. These include text-to-rap, voice-to-text, and more, making it a versatile choice for enhancing your YouTube content with engaging AI-generated voices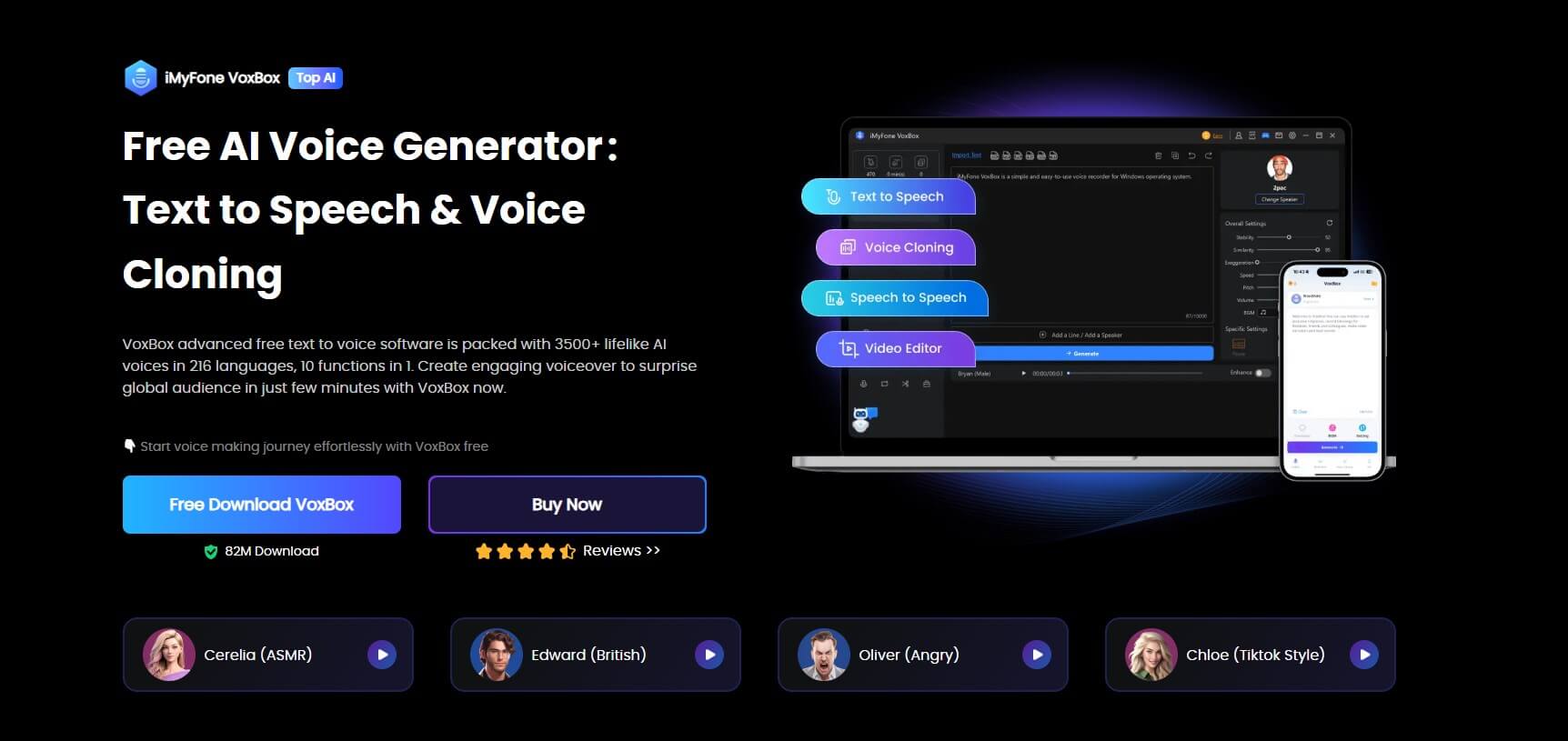 How to Generate AI Voice for YouTube Video
Step #1:To start with, Download and Install VoxBox.(which provides free 2000 characters for text to speech )
Step #2:Choose the "text to speech" tab, and choose the "change voice" option, you can review all of the AI voices.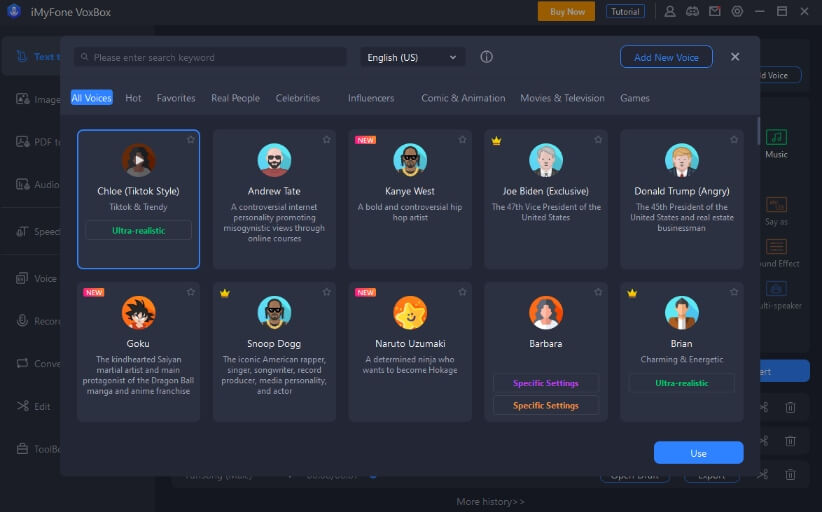 Step #3: Choose the suitable voice for your YouTube video, then type or paste your script, and click the "convert" button to get the voiceover
Key Features:
Over 77 global languages are available for dubbing, enabling a wider reach for your YouTube videos.

Customizable voice-overs with options to select emotions, adjust speed, insert pauses, and more, allowing you to create captivating video content that resonates with your audience.

Support for various popular audio output formats, ensuring compatibility with different video dubbing requirements.

The provision of natural and professional AI voiceovers that enhances the overall quality and appeal of your YouTube content.
Pros:

Intuitive interface.

Availability of free trial.
Cons:

Need to Install.
Part 3: Other Professional Online AI Voice Generators for YouTube Videos
Speechelo is specialized software that harnesses the power of text-to-speech technology for voice-overs in a wide range of video content, including sales videos, training materials, and educational content on YouTube and beyond. It empowers users to effortlessly convert text into audio and provides audio output format with popular third-party editing software like Audacity, iMovie, and Premiere Pro, enhancing the versatility and efficiency of your video production process.

Key Features:
Offers both male and female voice options, ensuring flexibility in voice selection.

Boasts a diverse library of over 30 authentic voices, allowing for a variety of tone choices.

Provides three distinct tones for text-to-speech narration, accommodating different content styles and preferences.
Pros:

Intuitive interface.

Easy to use and safe.
Cons:

Limited voice selection for text-to-speech.

Limited pricing packages are available.

Lack of a free version.
Synthesys is yet another professional tool that you can use as a text to speech ai video maker for YouTube. The software is easy to use and offers a variety of customization options, such as the ability to adjust the speed and pitch of the generated voice.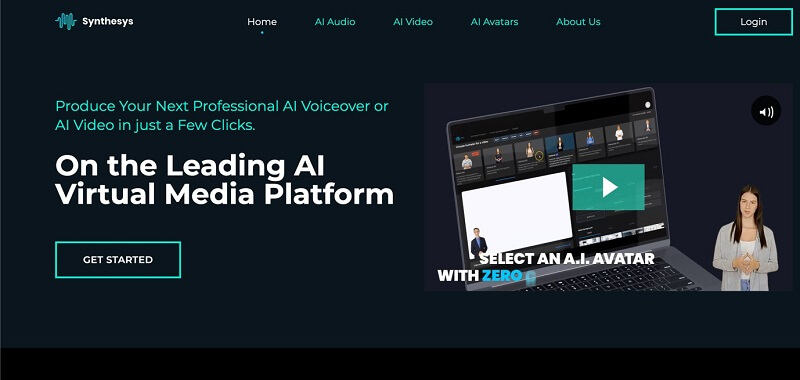 Key Features:
Compatibility with more than 400 text-to-speech scripts across 60+ languages.

Precise pitch synchronization with customizable sound options.

Easy editing of the final product, much like editing a regular document.

Ability to create multi-participant conversations within a single audio file.

Versatile audio output suitable for various scenarios, including podcasts, commentary videos, presentations (PPT), advertisements, and more.
Pros:

Intuitive platform, intuitive user interface.

Easy to use and safe.
Cons:

Custom voice settings are no longer available.

Fewer language options.
Lovo stands out as an ultra-realistic online AI voice generator, featuring an extensive repertoire of 500+ text-to-speech voices across 100 languages. It's tailor-made for crafting captivating videos suitable for marketing, educational content, gaming, and beyond. Moreover, Lovo offers versatile APIs that cater to developers' multifunctional needs.

Key Features:
Customizable AI voice settings for crafting natural-sounding voice-overs.

Voice screening options for tailoring voices based on application scenarios, gender, and language.

A generous 5000-character limit per text conversion.

Unlimited instant voice cloning capabilities.

Versatility in audio applications, including YouTube content, advertisements, and commentary videos.
Pros:

Intuitive interface.

Easy to use and safe.
Cons:

Not available with entertainment options.
Part 4: Hot FAQs about AI Voice Generators for YouTube Videos?
1.Why Use AI Voice Overs for YouTube Videos?
AI voice overs offer a quick and cost-effective enhancement for YouTube videos. Recent advancements in artificial intelligence have enabled the development of AI voice generators that produce human-like voices, eliminating the need for additional time, expenses, or the complexities of hiring a professional voice-over artist
2.How do you do voiceover for YouTube Video?
As our article explains, you can easily produce natural and lifelike dubbing using the AI voice generator. Simply choose the text-to-speech voice, input your text, and click 'Convert' to generate the audio.
3.Can AI Voices Drive Engagement YouTube Video?
Yes, indeed. AI voice technology stands as one of the rapidly burgeoning trends in digital marketing. To effectively connect with your target audience and boost engagement, you can access a wide array of free voice-generated voice-overs featuring diverse global accents. These can be utilized across various content formats, including videos, podcasts, and even audiobooks. Embracing AI voice technology is a prevailing trend, and venturing into it may yield unexpected and positive outcomes.
Conclusion
In conclusion, if you seek a user-friendly, natural-sounding, and realistic text-to-speech AI tool for your YouTube videos, look no further thaniMyFone VoxBox. It offers advanced instant voice cloning and an extensive library of text-to-speech voices. Whether it's for your commentary, training, or simply a fun short video, VoxBox delivers diverse voice-over styles to fulfill your requirements.