Due to multiple benefits and applications, text-to-speech tools are gaining hype day by day. The internet is flooded with myriad TTS apps that read the text aloud exactly in a human's AI voice.
Acapela text-to-speech and Descript text-to-speech are the most highlighted tools that are agile, have diverse audiences, have broader access, and satisfy customer service automation. However, the Acapela Group leads due to the availability of more features and support of more languages.
In the article, you will learn more about these two tools or look forward to a better alternative.
Try it Free
Part 1:Info of Acapela Group
Acapela Group earned the name as a reliable text-to-speech software after benefiting hundreds of users and companies. Acapela text-to-speech can create digital AI voice using neural technology and gives value to individual life and company branding.

Features:
Its voice banking system is a blessing for people diagnosed with language or speech disorders.

Supports nearly 100 voices in 34 distinct languages such as Portuguese, Italian, etc.

The voice banking helps users to create a synthetic voice by keeping the originality regarding accent and intonation.

Acapela Group's six primary application fields includes Automotive, Education, Accessibility, Transport, Custom interaction, and Robotic & Smart Toys.
Pros:

Use state-of-the-art technology

Allows users to personalize the voice

Runs smoothly on PC, iPhone, iPad, etc
Cons:

Does not support all languages
Part 2: Info of Descript Overdub
Descript text-to-speech is an amazing app that inspires worldwide users through its numerous features, such as transcription, Overdub, screen recording, filler word removal, and podcasting.
With modern AI text-to-speech technology, Descript Overdub lets users create ultra-realistic clones of their voices. It is a great option as it allows them to develop voiceovers or audio content from scratch.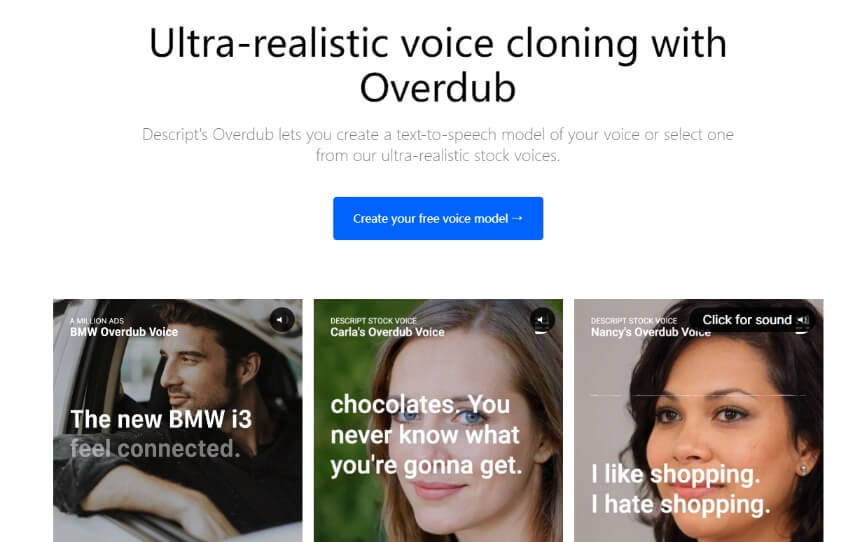 Features:
The pro account holders can use unlimited Overdub vocabulary to make voiceovers and recordings engaging and unique.

Keep the project information confidential and login credential secure.

You can edit your recordings easily.

Users get the option of a library with a range of stock voices that help them add voiceover to their videos.
Pros:

Unmatchable 44.1KHz broadcast quality

Free for Descript account holders
Cons:

Available only in the English language
Part 3: Another Better TTS Alternative
VoxBox is a company that offers an extensive selection of over 3,200 AI voices as well as 46 languages, which has further more types of voices and languages than Acapela text to speech andDescript text to speech.
iMyFoneVoxboxcan generate voices designed to sound natural and human-like, and allow people to use them for a variety of purposes such as speech synthesis, accessibility, and more.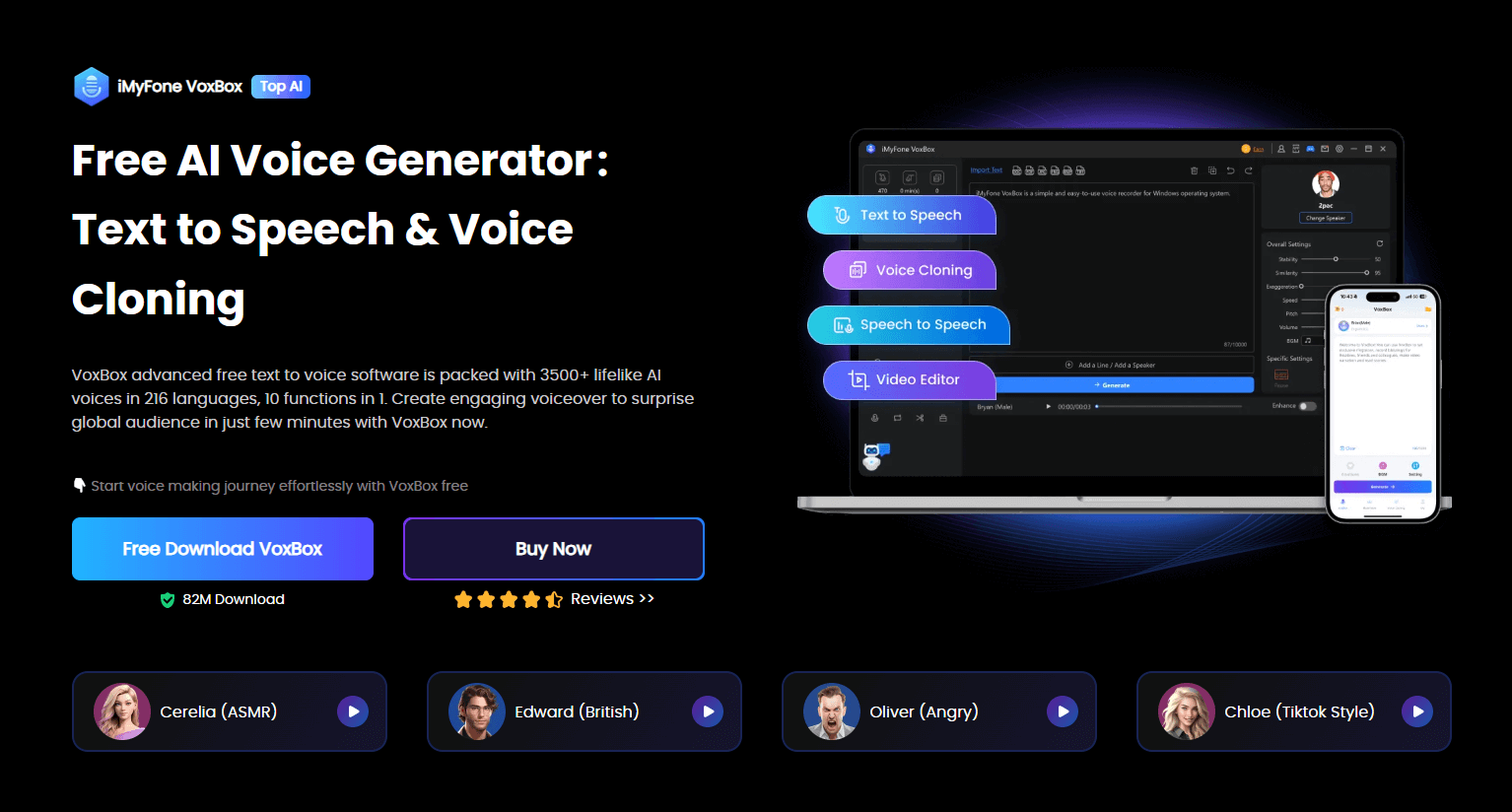 Features:
More than 3200 kinds of voices including cartoon characters, singers, presidents to make natural voiceovers .

Support to choose 46+ languages, such as Spanish, Indian, and so on.

Over 100 country accents like British, Russian accent are provided for your audio.

Multiple functions of Text-to-Speech, Speech-to-Text, Voice Record, Video Converter, Audio Edit.

You can pause, pitch emphasisc volume, adjust the speed during the editing proccess.

Output & input different formats like MP3, WAV, etc.

It's a private and secure software.
Pros:

Easy and reliable to use.

Very friendly to beginners.
Cons:

Only supports the window operating system.
Conclusion
The perks of text-to-speech technology are boundless, and the way this feature eases the multiple fields is literally appreciated.
Acapela Group and Descript Overdub are two amazing text to speech voice generators that work great, but Voxbox, an emerging avant-garde tool, is overtaking them due to its user-friendly interface and practical features. So, if you want to benefit from the TTS or other features, download and install VoxBox now.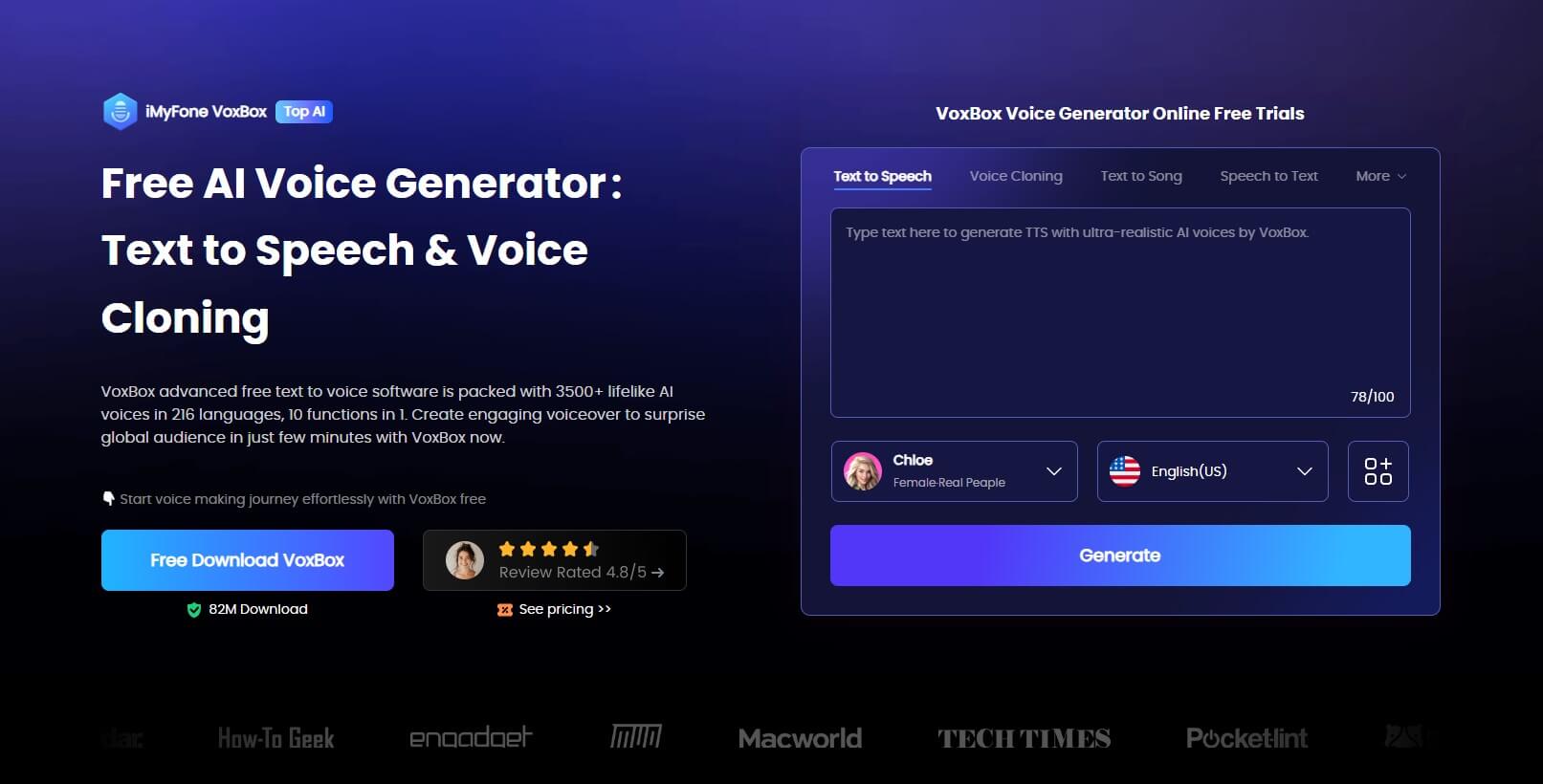 Try it Free