If you are a gamer who regularly uses Twitch to share your gameplay or someone who loves to watch Twitch gamers, you will need to know using Twitch text to speech in chat. In today's article, we are going to discuss how to set up text-to-speech for Twitch chat and utilize the features when using the Twitch app.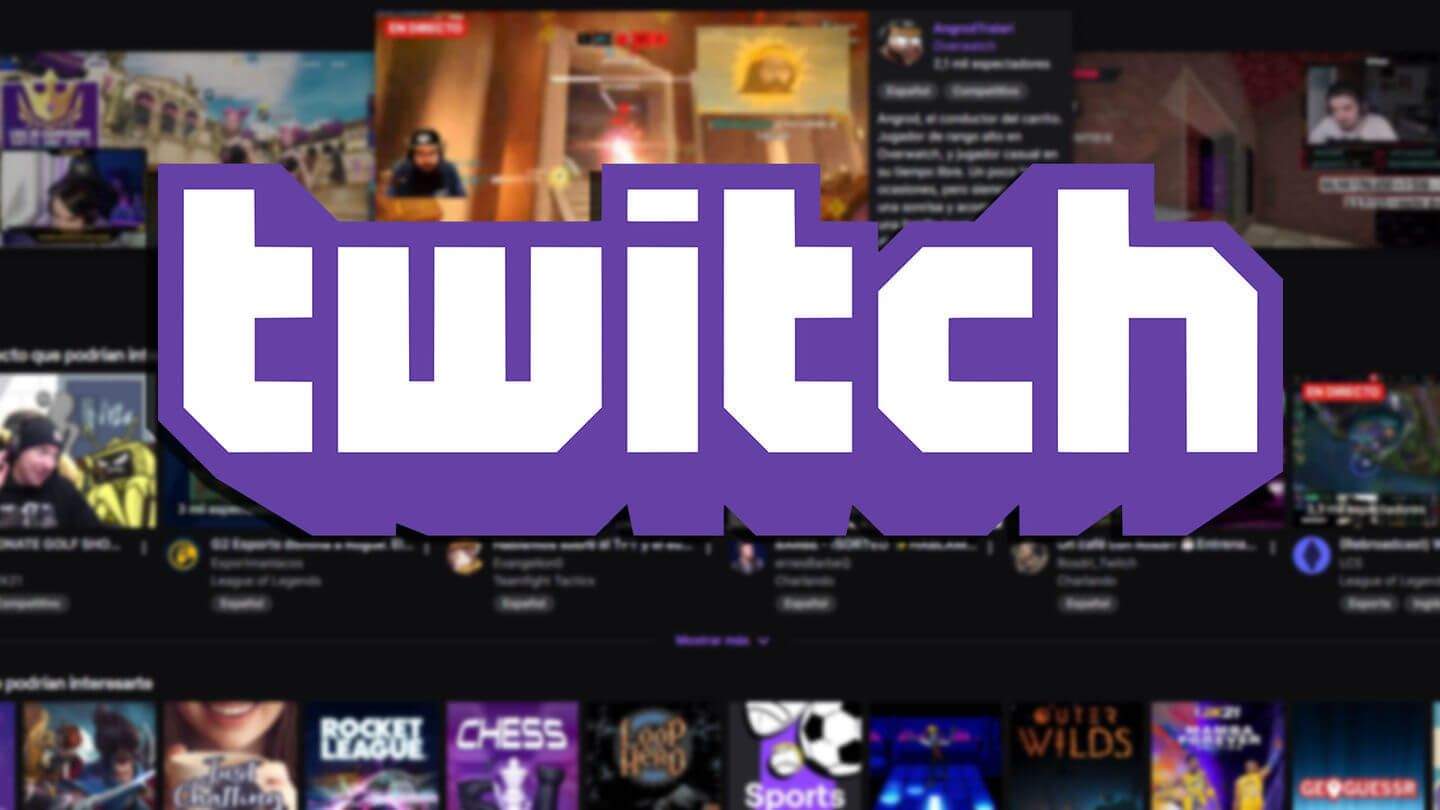 Try it Free
Part 1: What Is Twitch, And Why Is It Popular?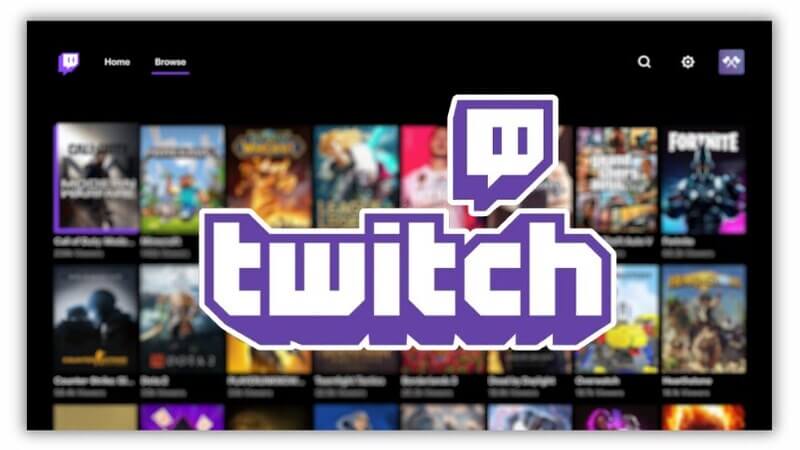 Twitch is a video streaming platform that was founded in 2011 and has revolutionized the video game market, becoming the industry leader. Originally known as www.justin.tv, Twitch offers dedicated live streaming for gamers and game lovers, allowing users to interact and communicate with gamers and reviewers in real time.
Popular e-sport events and streaming competitions, including Fortnite, League of Legends, and Madden, make Twitch a desirable platform for users to stream and watch their favorite games.
Part 2: How To Enable Text To Speech For Twitch Chat Using Speechchat?
SpeechChat is a web-based chat client with text to speech capabilities. When you want to enable text to speech Twitch, you will need to rely on SpeechChat. Currently, the web-based client is available for integration with YouTube and Twitch.
Let's talk about how to enable text-to-speech for Twitch Chat:
Enable Twitch Text to Speech
1. Open the official website of SpeechChat and tap on Connect at the top-right corner of the webpage.
2. After tapping on Connect, you will need to enable Twitch by flipping the Toggle next to the Twitch option in a drop-down menu.
3. Now you should tap on Authorize to grant the permissions and link your Twitch account with SpeechChat.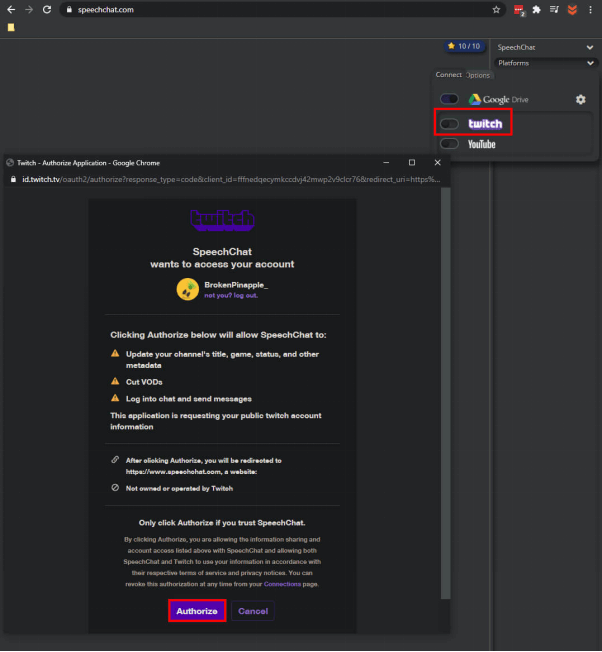 4. Next tap on the Control Panel and lick on Voice > Enable Voice to allow the text-to-speech option.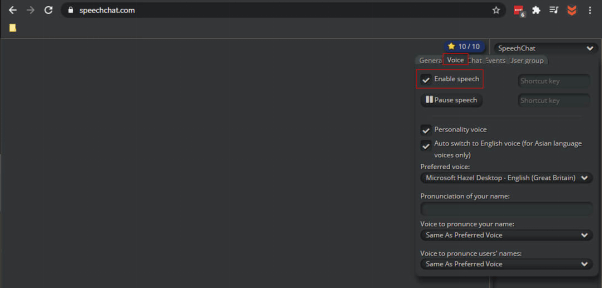 Configure Text To Speech(TTS) Twitch
Once you have linked your Twitch account with SpeechChat, here are the simple steps to configure the text-to-speech features during the chat:
Step #1: Open the SpeechChat web browser and go to the control panel. Now you will have to choose Voice Tab in the Control Panel.
Step #2:Go to the Voice Tab and choose the Preferred Voice Type. Also, set the shortcut key for enabling TTS in Twitch.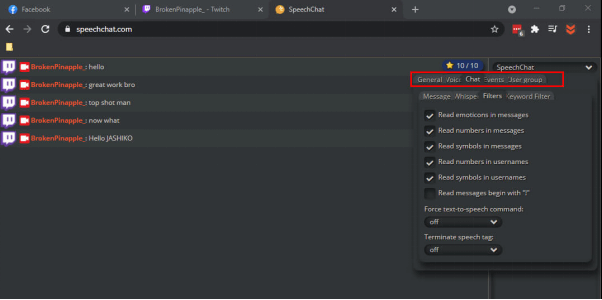 Tips:
#1: You can adjust how the content is read back and the maximum limit of content to be read out from the Chat tab in SpeechChat's control panel.
#2: When using the SpeechChat as TTS software, I prefer to use the Google Chrome browser for a smooth experience.
#3: You can adjust the voice playback content for in-chat events via the Events tab of the Control Panel.
Part 3: How To Enable Twitch TTS Using Streamlabs?
Streamlabs OBS is a popular third-party software that offers text-to-speech features and is designed for streaming on social media platforms such as Twitch, YouTube, and Facebook. It is easy to use and convenient, eliminating the need for multiple software and accounts.
Streamlabs OBS also allows for features like speech-to-text and live TTS for donation messages. While primarily used by non-gamers, it offers many cool features for streamers.
Here is how to enable Twitch Text to Speech using Streamlabs:
1. Install and launch the Streamlabs OBS and complete the signup process.
2. Add an alert box source to your streams via Streamlabs.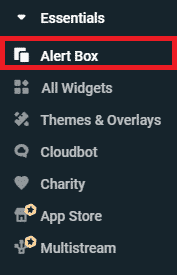 3. Now open the Twitch account from the Streamlabs app. Once signed in, tap on Alert Box.
4. Choose the alert for TTS from donations, subscriptions, and cheers.

5. Tap on Open Text To Speech. Enable the function and adjust volume, spam filters, donations, etc.

6. Once enabled the settings, copy the Wiget URL and add it to the streaming software. Open the widget and queue up the alerts for TTS.
Part 4: Other Time-Saving Text To Speech Solution For Twitch Chat
Besides the third-party software for real-time, you can also try another time-saving Twitch TTS solution to use –VoxBox.
iMyFone VoxBox is desktop-based text-to-speech and speech-to-text software that works on artificial intelligence. You can convert any Twitch text to speech, download the converted audio, and upload it anywhere. Besides, you can also convert speech to text to create subtitles for your videos and streamings.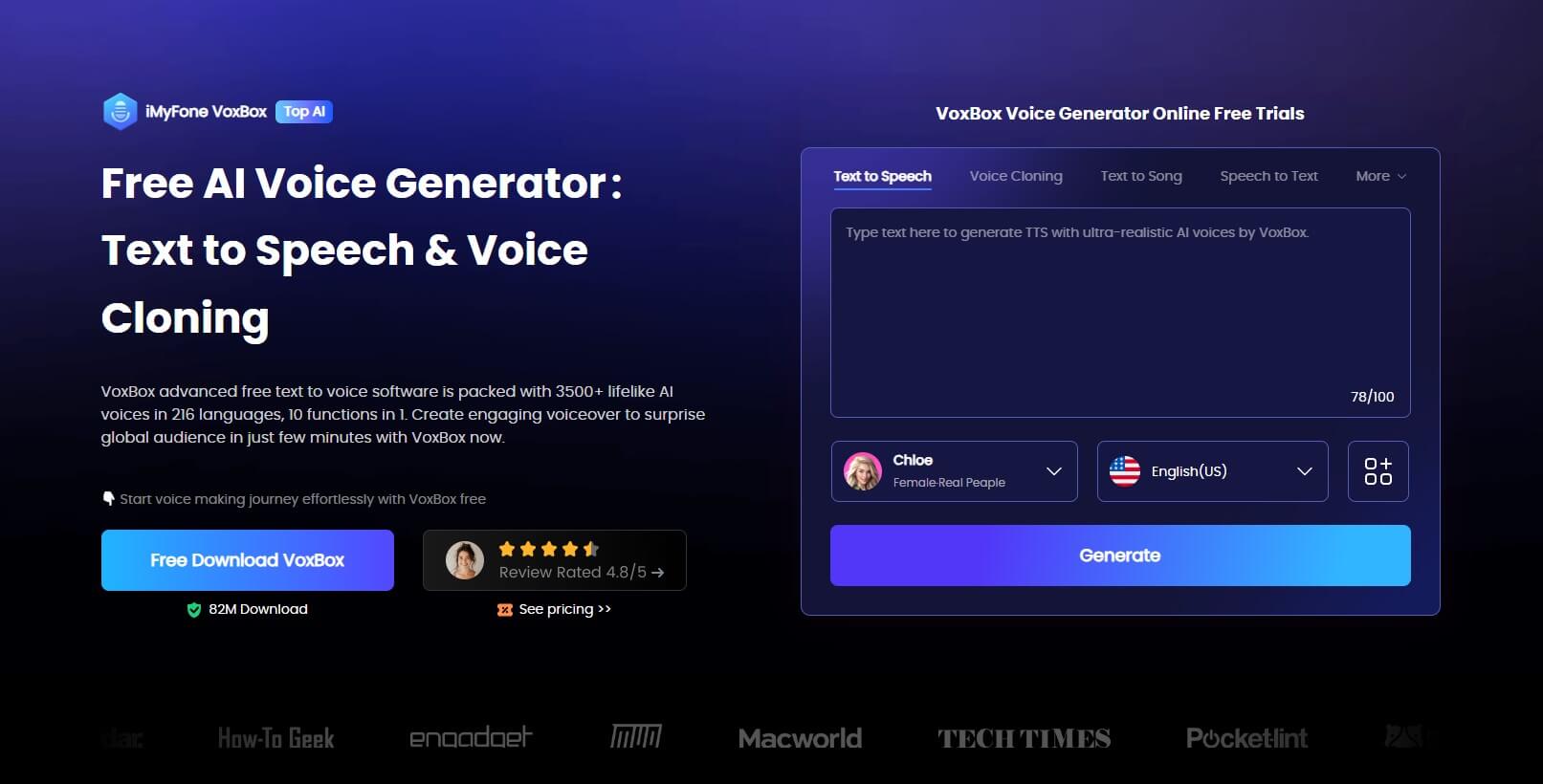 Tips
No voice artists are needed, and no recording equipment is needed. You can easily convert your text to speech and voice using
iMyFone VoxBox
! Download it and try it out for free now!
Try it Free
The main features of VoxBox are as follows:
Key Features:
Offer 3200+ voice filters & voice effects with 46+ languages as realistic Twitch chat text-to-speech generator.

More than 100 accents like South-African accent you can change in your audio

You can use the software on various platforms like Wattpad, TikTok and so on.

Multiple output formats such as MP3, WAV are supported.

Encourage you to pause, pitch, emphasize, adjust speed, add BGM during the process.

Powerful functions of Voice Generation, Voice Transcription, Voice Record, Video Converter, Audio Edit, and Voice Clone.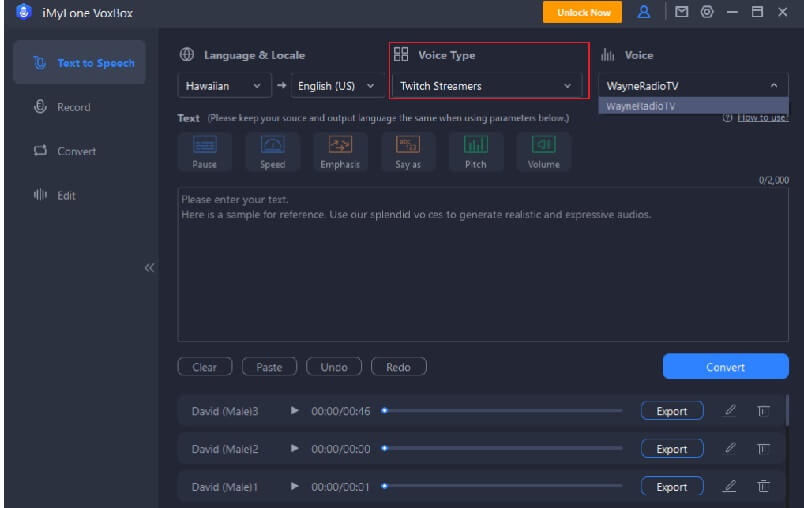 Pros:

A highly fast voice generation.

Natural sounding for text to speech Twitch chat.

Doesn't need internet for text-to-speech conversion.
Cons:

Not all languages are supported.

Not direct configuration with the Twitch app.
Part 5: FAQs About Text To Speech Twitch
1. How can I set up Twitch text-to-speech donations?
You will need to rely on third-party text-to-speech software like Streamlabs and SpeechChat to set up TTS donations on Twitch. If we take the example of Streamlabs, here is how to set up TTS donations: Sign in to Twitch from StreamLabs > Alert Box > Donations > Enable Text To Speech.
2. Can I use speech generated by text-to-speech in Twitch?
Yes, you can use speech-generated text-to-speech in Twitch chat. You can rely on software like VoxBox to generate text to speech and use it in Twitch chat.
Conclusion
We have discussed different solutions and third-party tts software for Twitch text to speech chat. You will need to integrate and configure the software with a Twitch account to use the TTS features.
However, you can also try VoxBox to generate Twitch text-to-speech or speech-to-text in any language and use it in Twitch streaming and chat.
Try it Free