The realm of fantasy has always captivated people through RPGs, card games, and graphic novels. The rich mythologies and enchanting characters crafted by artists and designers have left an indelible mark on the minds of countless enthusiasts.
Fan creations have been around for a long time, and many renowned franchises have actually emerged from the endeavors of hobbyists. With the advancements in AI, fans now have unprecedented opportunities to bring their own imaginative visions to life.
Whether you're in need of a simple avatar for a forum or intricate concept art for a role-playing game, the following 7 recommendations will assist you in discovering the finest AI fantasy portrait generator for crafting fantasy characters.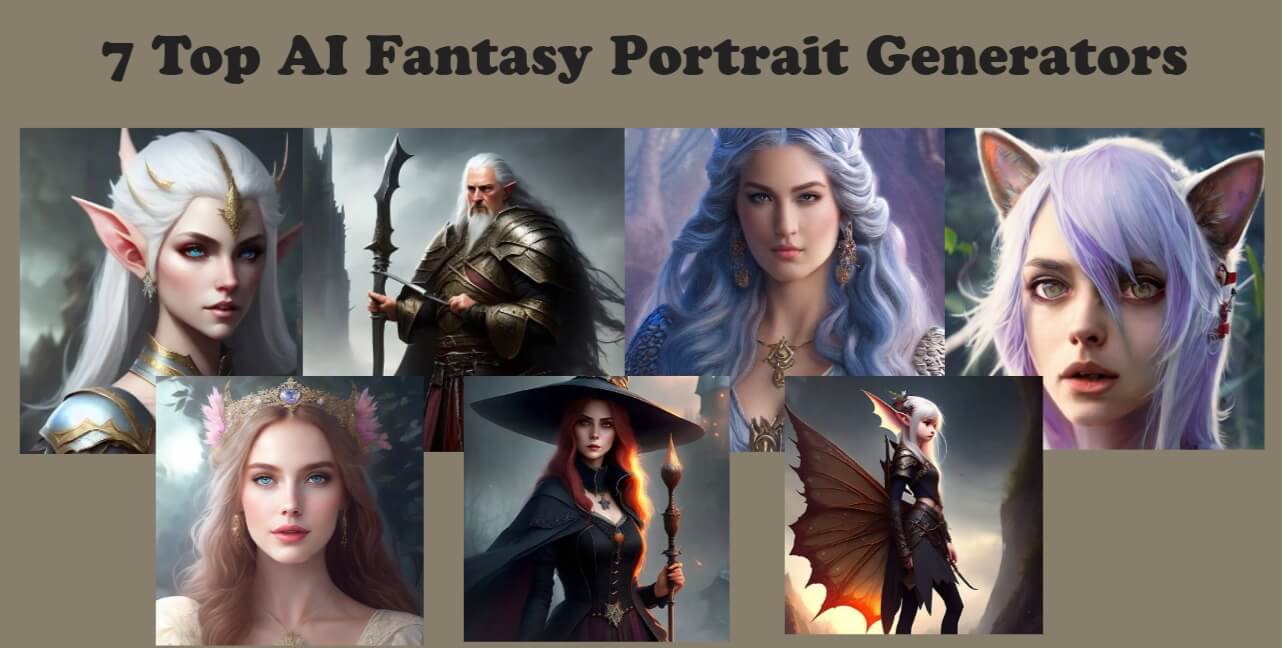 Part 1. What is AI Fantasy Portrait Generator
AI Fantasy Portrait Generator is a tool powered by artificial intelligence that creates digital portraits of fantasy characters. It uses algorithms to generate unique and imaginative designs, allowing users to easily visualize and bring to life their creative ideas for characters in the fantasy genre.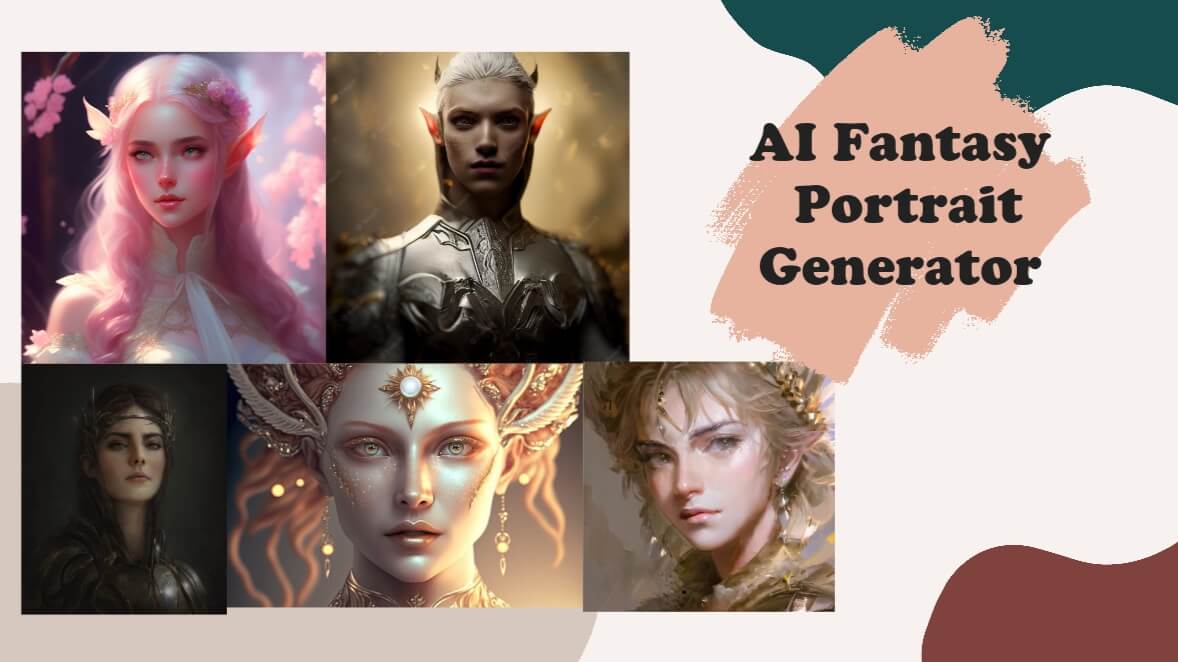 Part 2. Top-Notch Fantasy Character Creators for Awesome Fantasy Portraits
DeepAI offers a suite of tools, including a fantasy character API, which simplifies the process of generating fantasy characters. With pre-designed fantasy styles and themes, users can avoid spending hours trying to achieve their desired results.
Simply choose a style and backdrop, type in your prompt,and the AI generates fantastic results in under a minute. These creations can be used for commercial purposes, and while they enter the public domain, no one owns the copyright.
DeepAI is ideal for creating basic fantasy characters swiftly, but it may have limitations for more intricate projects. It's a great choice for obtaining quick results and inspiring your own creativity.
Price: Free for a limited number of styles and options; $5/100 images.
How to create a fantasy character portrait in DeepAI:
Step #1: Visit the website, enter your prompt, choose a style, and click "Generate".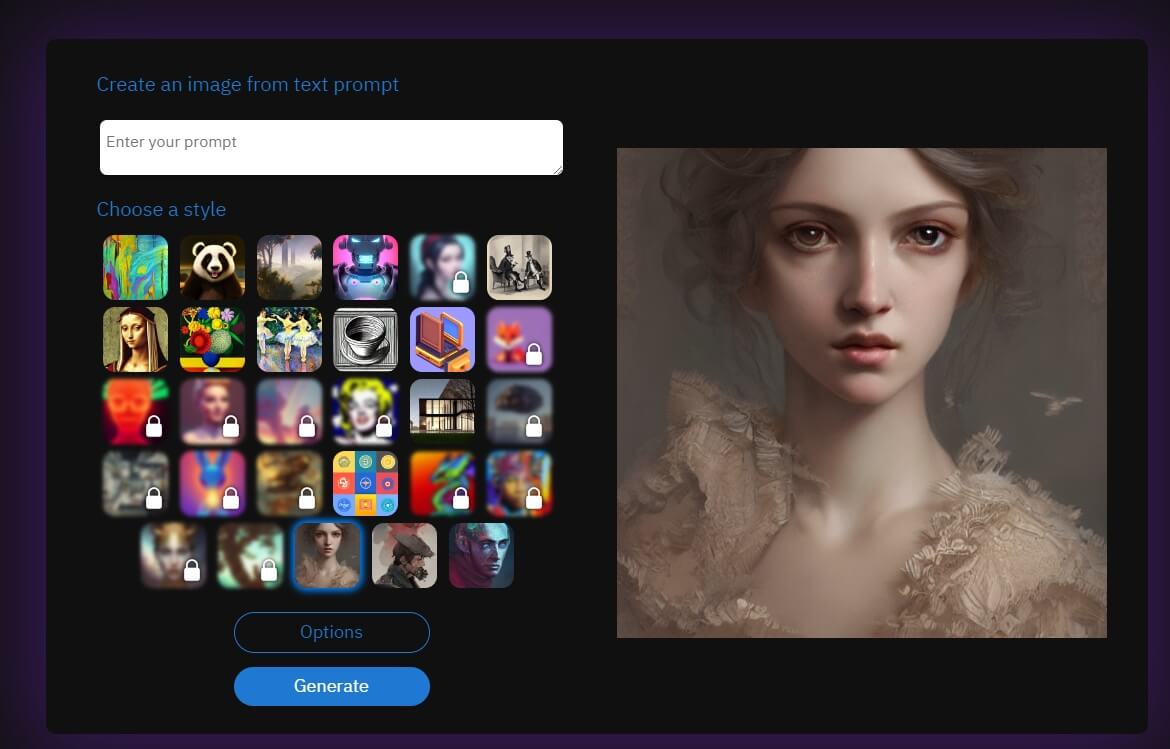 Step #2: Enhance the ai generated fantasy portrait (optional), and download the result.
Pros:

It is straightforward to use, since the fantasy styles and themes are ready to go.

It is web-based.

It offers various art styles.

You are allowed to use the creations for commercial purposes.
Cons:

You are not allowed to upload your own artwork.
NightCafe is the ultimate solution for fantasy art, whether you're in need of distinctive faces for Dungeons and Dragons or captivating characters for your fanfic. It harnesses the power of cutting-edge image AI models like Stable Diffusion, Neural Style Transfer, DALL-E 2, and CLIP-Guided Diffusion.
The best part is that NightCafe has simplified the process, eliminating the need for complex inputs. Through its user-friendly web interface, you can generate stunning artwork from simple text prompts within seconds. It even has the ability to transform existing images into completely unique creations.
Even if you lack existing artwork for inspiration, NightCafe offers an abundance of pre-set style choices, including numerous options tailored for fantasy. Moreover, you have the freedom to customize various aspects such as style intensity, blending ratio, and image size, ensuring that the final result aligns perfectly with your preferences.
Price: It grants 5 credits per day, and Start from 4.79/month for 100 credits.
How to Free Design a Fantasy Character in NightCafe:
Step #1: Enter the website & Click "Start Generating".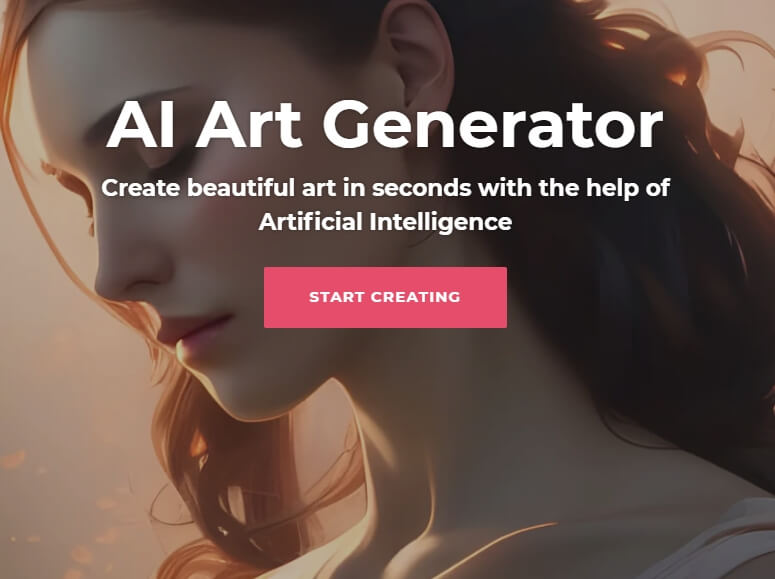 Step #2: Choose an algorithm model & Enter the text prompt to describe what you want the AI to create.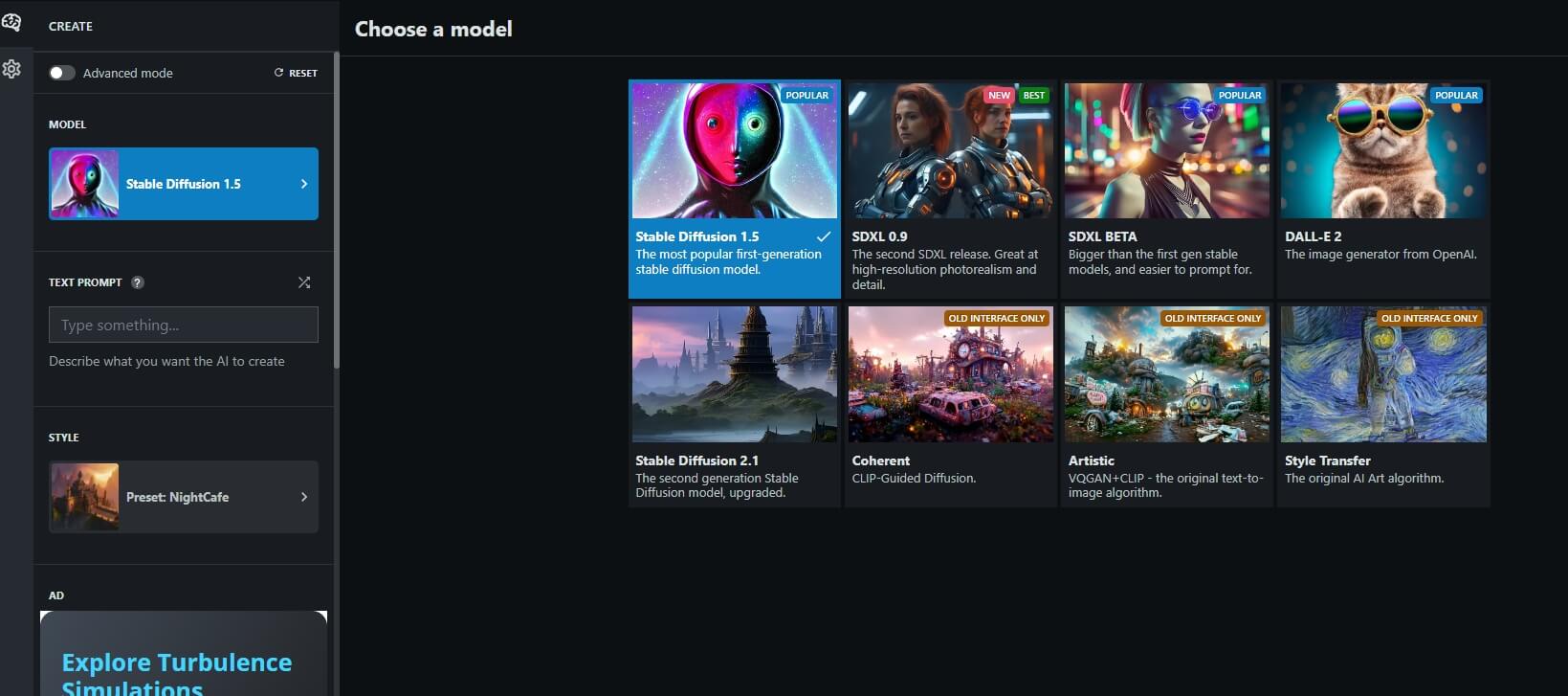 Step #3: Select a style from various preset styles.
Step #4: Download and save the fantasy avatar generated by AI.
Pros:

It has more algorithms than others.

It has a vibrant AI art community to create, share and discuss your designs.

It offers 5 free credits per day for you.

It supports text/image-to-fantasy character.
Firefly, Adobe's cutting-edge text-to-image generator, is rapidly establishing itself as a trailblazer in the realm of AI art, setting unprecedented standards.
What truly sets Firefly apart is its remarkable algorithm, which is meticulously trained using Adobe's extensive internal image library. This distinctive feature ensures that the generated artwork achieves exceptional quality and authenticity.
At the bottom, a text box awaits your creative description. Above it lies the main art area, where an initial display of four captivating images captivates your attention. Adjacent to the art area, on the right, sits the versatile toolbar.
Within the toolbar, you have the freedom to choose the desired aspect ratio, content type (including fantasy art), and explore an extensive selection of pre-set styles.
Price: Currently available in the free Beta of Adobe Express.
How to Free Make AI Fantasy Character Portrait in Adobe Firefly:
Step #1: Enter the website & Click "Explore Firefly".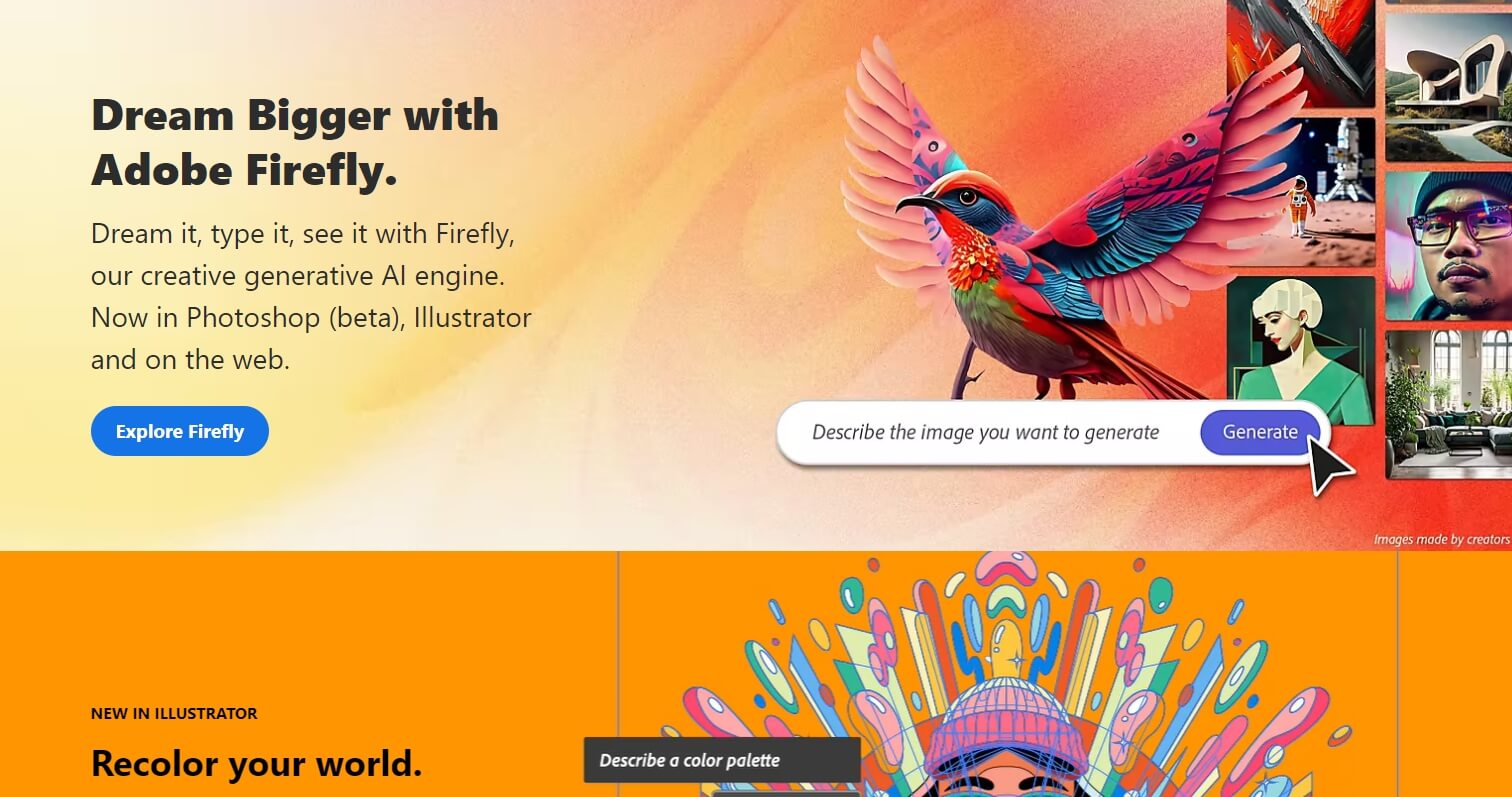 Step #2: Choose Text to image to start your generation.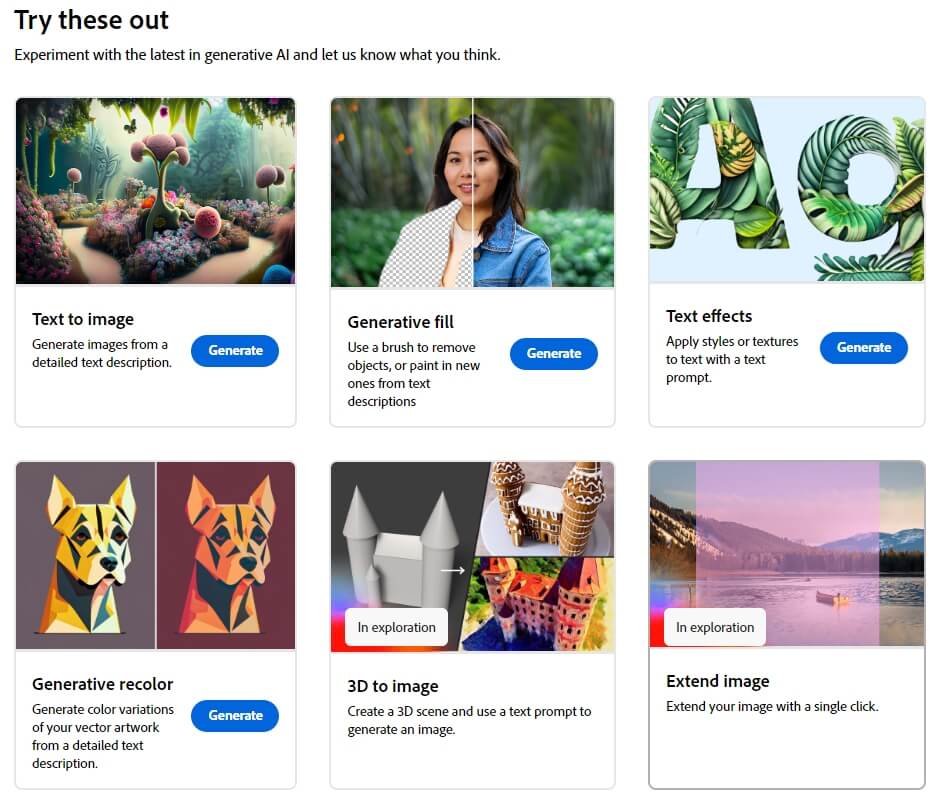 Step #3: Describe what you want to generate in the text bubble and click generate.

Step #4: Choose aspect ratio, content type, styles, themes, techniques, effects, materials, concepts, and more.
Pros:

It is user-friendly with its intuitive interface.

It allows further refinement, like adjusting color and tone.

It offers various styles and themes to let your imagination sparkle.

It is currently free to use.
Cons:

Not allowed to generate new fantasy character profile from existing photo.
Fotor emerges as an all-encompassing AI art generator, offering a plethora of styles and models tailored for fantasy characters.
Fotor empowers users to bring their fantasy character descriptions to life. Beyond mere appearance, the AI can assimilate abilities, backstory, and other intricate details to swiftly generate your envisioned character.
The versatility of Fotor knows no bounds, accommodating simple avatar or card formats, while equally capable of crafting intricate full-body designs suitable for animations or video games.
The versatility of Fotor knows no bounds, accommodating simple avatar or card formats, while equally capable of crafting intricate full-body designs suitable for animations or video games.
Leveraging the power of AI, it adeptly transforms your images based on the prompts provided, granting you the opportunity to experiment with different styles. This functionality becomes particularly useful when you have a foundation design and wish to explore various artistic renditions, when dealing with incomplete drawings, or even when inspired by someone else's artwork, seeking to generate a similar style. Fotor's array of creative possibilities makes it a must-have tool for artists, gamers, and fantasy enthusiasts alike.
Price: Start from 9.99/month for 200 credits.
How to Create AI Tattoo Designs in Fotor:
Step #1: Enter the website & Click "Make Fantasy Characters".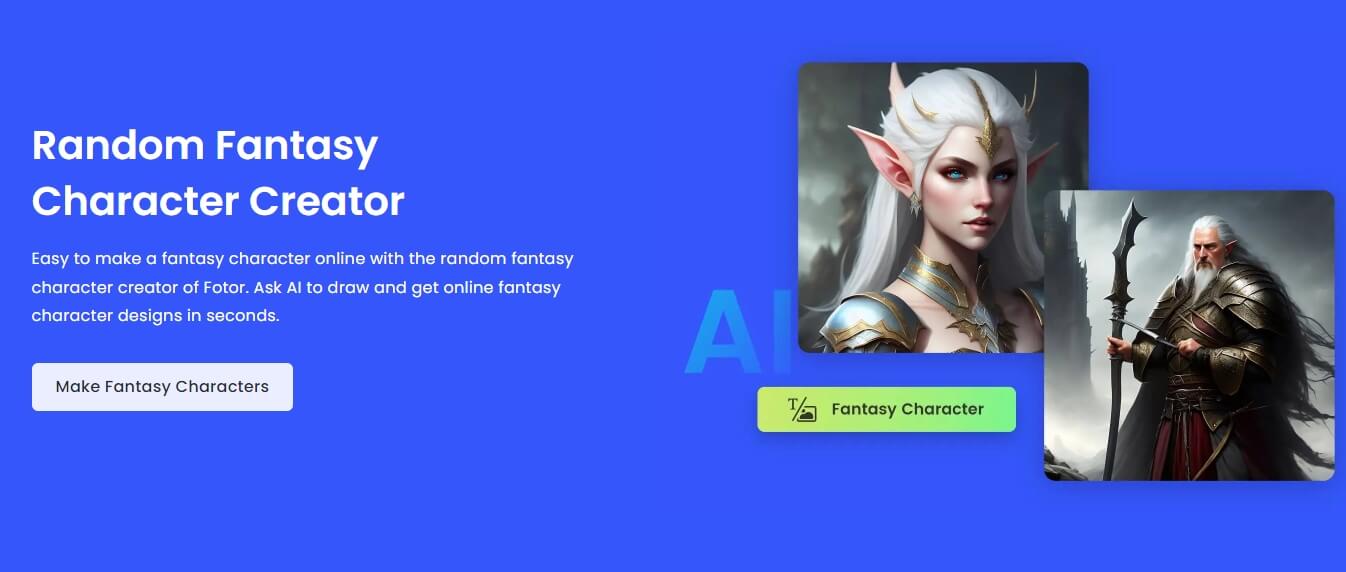 Step #2: Enter your own prompts Or upload the existing character to let AI generate new ones based on the original one. Remeber to select styles.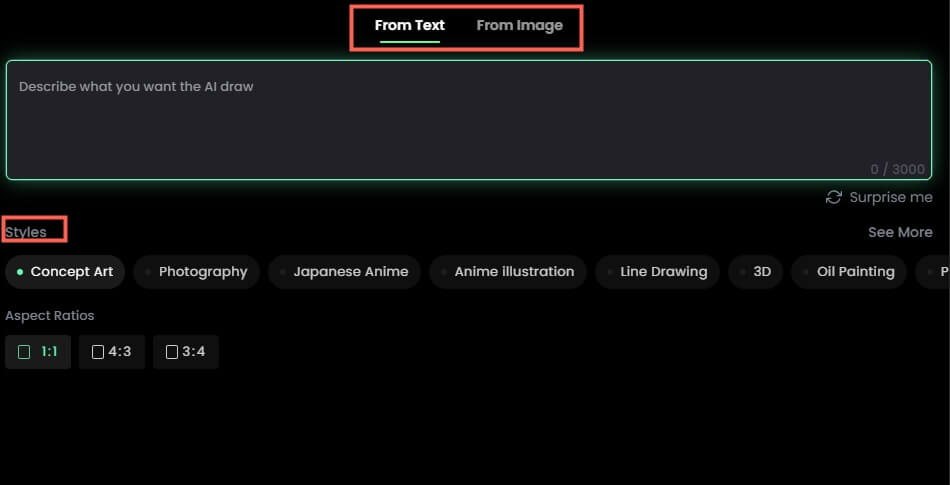 Step #3: Download the output.
Pros:

It supports both AI text-to-image and photo-to-image conversion.

It is available online, for Mac, Windows, and mobile.

It has various styles, like anime, oil painting, concept art, photography, etc.

You can get inspirations from the gallery of AI generated arts created by others.
Cons:

It needs your prompts to be as detailed as possible to create exactly what you want.
Midjourney stands as a highly renowned and exceptionally potent AI art generator, garnering immense popularity. With strong connections to gaming communities, it possesses a profound understanding of fantasy creations, deeply ingrained within its learning models.
Mastering the art of text prompting may require a slight learning curve, as meticulous definition of various elements within the prompt is crucial. This includes specifying the desired aspect ratio and the version of Midjourney to utilize. However, once you grasp this technique and provide detailed and specific instructions, the resulting outcomes are nothing short of spectacular.
Price: Start from $10/month.
How to Create AI Tattoo Designs in Midjourney:
Step #1: Enter Midjourney website to join its discord community.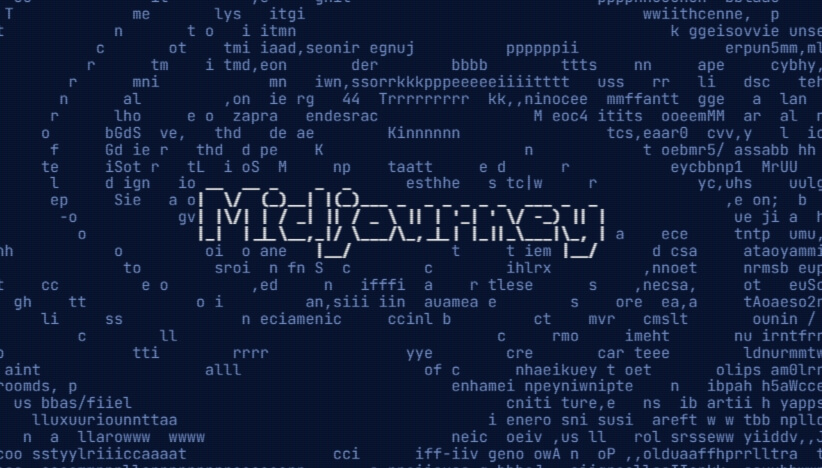 Step #2: Go to one of the newcomer rooms.
Step #3: Enter "/imagine" in the message box, and type your text prompt, and finally press Enter. Wait a moment, the bot will send AI-generated tattoo out for you.

Note: Please pay attention that the "U" buttons are for upscaling the selected image, while "V" buttons are for creating new variations for the selected image.
Bonus Tip
You are also allowed to generate fantasy portrait from you own photos, only by entering the prompt that includes "fine-tune it into a fantasy style, colors, and more."
Pros:

It supports both text-to-image and photo-to-image.

It boasts a large community to share inspirations.

It allows further upscaling and making variations.

The AI generated fantasy portrait or character is of high quality.
Cons:

Not free to use.
Lensa, offered as a convenient mobile app, is our recommended choice when it comes to crafting fantasy character avatars. Notably, it stands out as the easiest and most straightforward option available for this particular task.
The process is delightfully simple—all you require is a collection of existing photos or images. Lensa suggests utilizing your own selfies, which offers a cool opportunity to incorporate your own likeness into the avatar. However, equally effortless is the ability to utilize artwork, other characters, or even photographs of someone else, granting you the flexibility to bring a wide range of inspirations to life.
How to Make Stunning Fantasy Character Avatars in Lensa:
Step #1: Download this app & open it.
Step #2: Choose "Humans" to create avatar.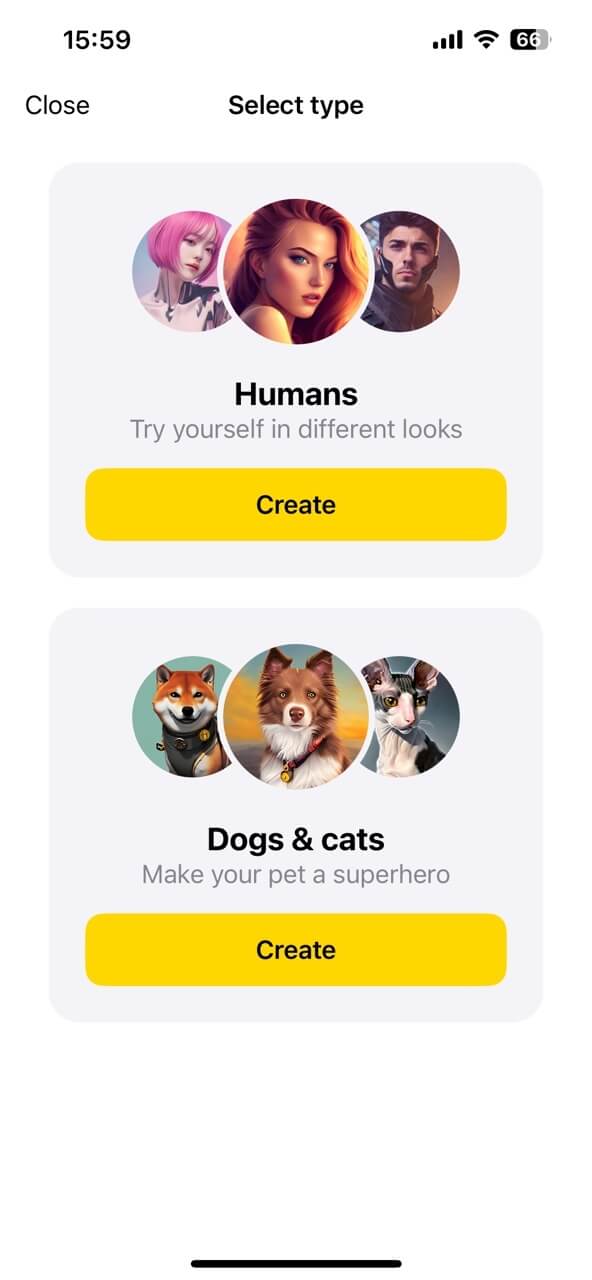 Step #3: Select your gender.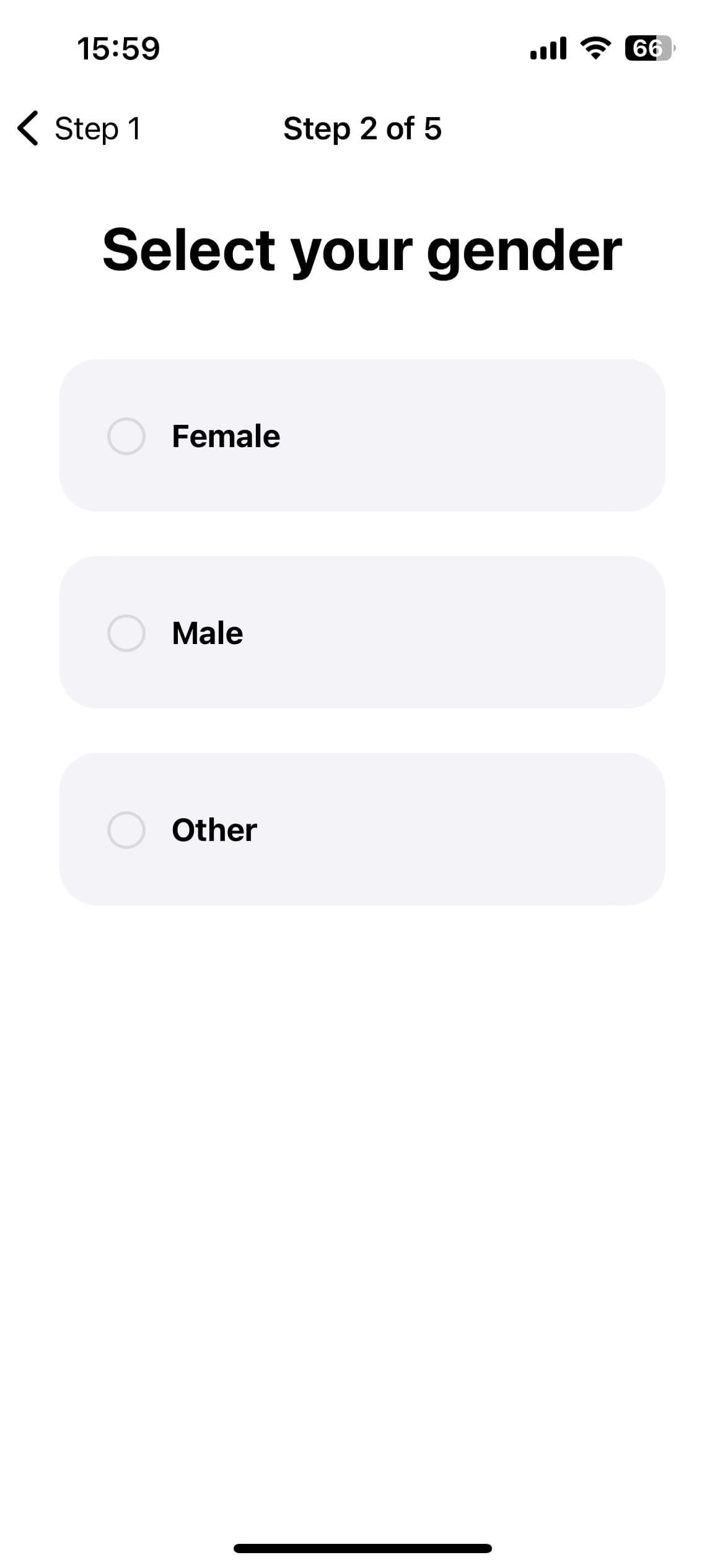 Step #4: Select styles you want. Please note that there will be various styles for different gender.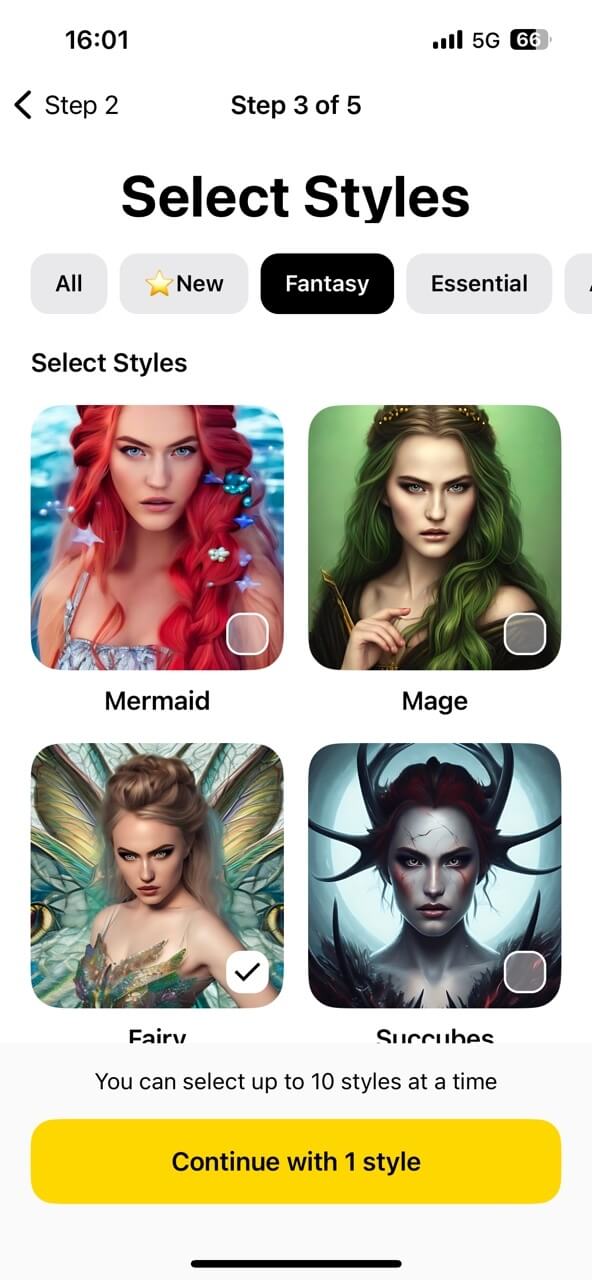 Step #5: Upload photos from various angles.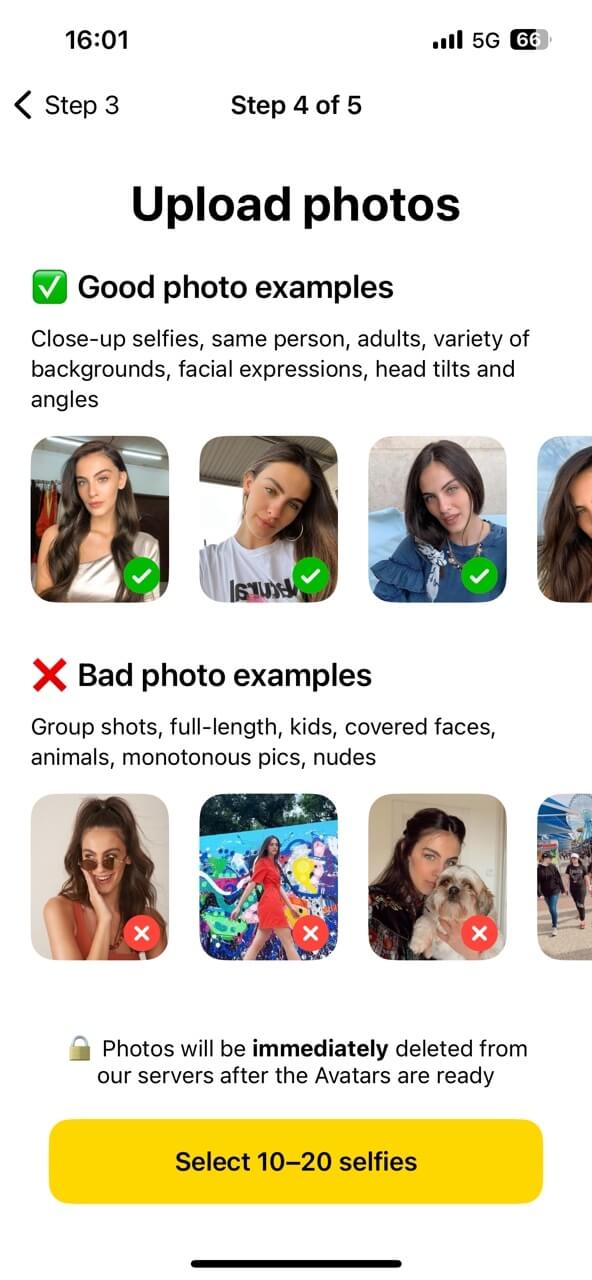 Step #6: Start generating your own fantasy portrait.
Pros:

It supports photo-to-avatar conversion.

It is available for mobile.

It has various styles, like mermaid, fairy, mage, etc.

You are allowed to fine-tune the results.
Cons:

It needs at least 10-15 of your headshots.
Photoleap's AI creation tools offer seamless AI art generation on both iOS and Android platforms. It features two primary modes: text and sketch to fantasy portrait conversion.
To enhance the creative process, Photoleap provides a diverse range of outstanding pre-set styles. While fantasy is an obvious choice, other styles such as ethereal or sci-fi prove equally suitable for crafting captivating fantasy characters.
The sketch mode empowers you to transform existing photos, images, or even rough in-app sketches into remarkable AI creations. By incorporating additional prompts, the AI algorithm brings forth stunning artistic interpretations, breathing new life into your initial visual concepts.
Price: 7-day free trial & $39.99/year.
How to Create AI Tattoo Designs in Photoleap:
Step #1: Open the app & Describe the design you desire. Remember to choose the style.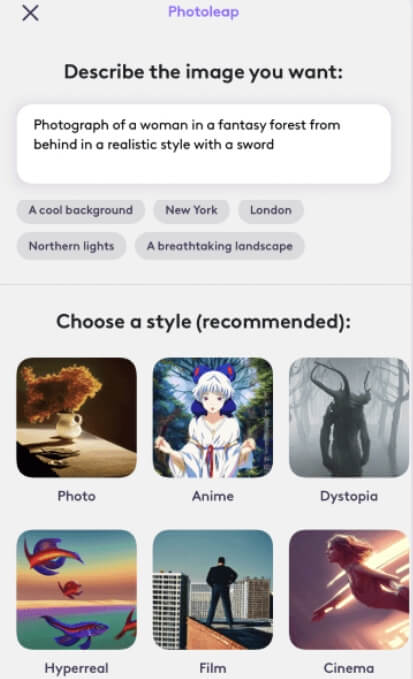 Step #2: You can also draw a sketch Or upload your own photo.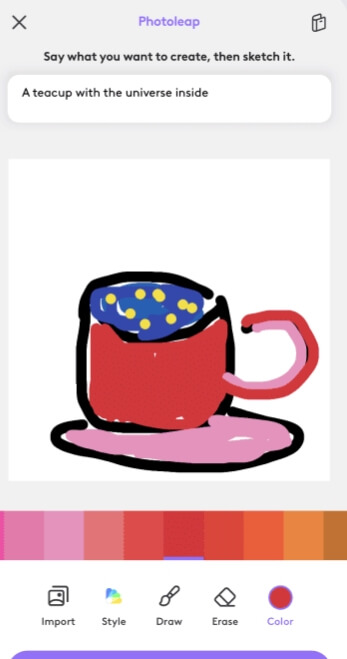 Note: You are also allowed to further edit the result.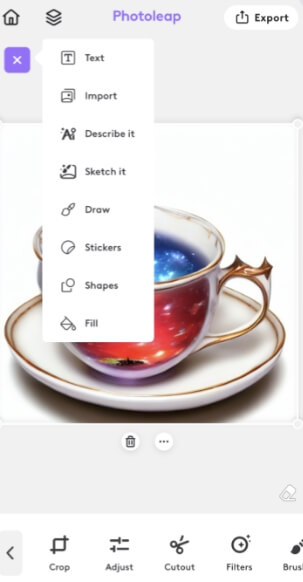 Pros:

It allows text/sketch/photo to fantasy character/portrait generation.

It is easy to use.

It supports further editing the ai generated fantasy portrait.

It has a wide range of styles to choose from.
Cons:

It is not solely designed for AI fantasy portrait generation.
Part 3: Bonus Tip to Create Fantasy Portrait with Ease
We have reviewed powerful AI fantasy portrait generators that have their own pros and cons, and are great tools for you to design unique and cool fantasy avatars effortlessly. Apart from them, here is another powerful AI tool for you to design stunning fantasy portrait with AI.

iMyFone MagicPic is an AI photo editing and graphic design tool, and its current feature is bulk background removal with AI .
The next version is about to be released, and you will experience the use of AI to generate stunning avatar, art, graphics, tattoos and more. It not only supports inputting prompts to generate stunning art, but also provides a wide range of AI art made by others for you to make your inspiration sparkle.

Moreover, it also supports photo-to-image generation, which helps to make your designs vary from style to style, unlocking your creativity. Stick around, you don't want to miss out!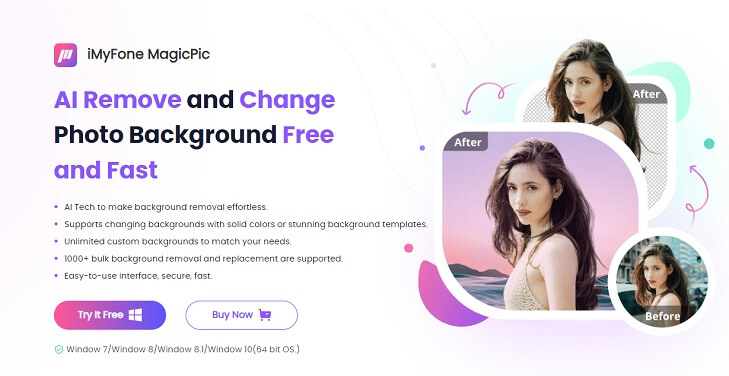 Part 4. FAQs about AI Fantasy Portrait Generator
Is there a free AI portrait generator?
Yes, NightCafe and Adobe Firefly are all free to create AI portrait of various styles, since the former offers 5 credits per day fore free, while the latter is now available for everyone for free.

What is an AI Fantasy Portrait Generator?
An AI Fantasy Portrait Generator is a tool that utilizes artificial intelligence algorithms to generate digital portraits of fantasy characters. It takes textual prompts or other inputs like images and produces visual representations of imagined or fictional characters in the fantasy genre.
How does an AI Fantasy Portrait Generator work?
These models generate new images based on the provided prompts or photos, combining learned features, styles, and visual elements to create unique fantasy character portraits.
What can I use AI Fantasy Portrait Generators for?
AI Fantasy Portrait Generators are commonly used for various purposes, including creating character art for role-playing games (RPGs), designing illustrations for fantasy literature, generating visual assets for digital storytelling, or simply exploring and visualizing imaginative ideas and concepts in the fantasy genre.
Final Thoughts
After delving into our curated selection of leading AI fantasy portrait generators, the opportune time has arrived for you to embark on a captivating journey of crafting your very own fantasy avatars.
Irrespective of whether you seek a modest avatar for a forum or elaborate concept art for a thrilling role-playing game, the realm of AI stands ready to breathe new life into your concepts and photographs, imbuing them with an unparalleled vibrancy and vitality. Now is the moment to unlock the boundless creative potential that awaits!