Video editors are the latest advancements in the graphic designing field which is as much necessary in every field let it be professional or for students. Kapwing video editor strives to promptly modify the shifting standards of the society and what is demanded. The fragmented media formats, and seizing on alternatives like designers needing to turn their videos from basic to entirely amazing is something that is a feature of Kapwing video maker.
Overview of Kapwing Video Editor
The Kapwing Video Editor's free version whacks a Kapwing.com watermark on its exports for it's virality. The Kapwing app has a separate audience from the professional field and the creators field. Also, school teachers have found solace in the app and it's usage as it presents myriad uses.
Features of Kapwing Video Editor
Kapwing video maker is also able to make slideshows and make things easier for professional teachers as well as students. Kapwing app is primarily preferred by everyone due to being user friendly and quite easy to operate. Kapwing has many such features that astonish both amateurs and professionals and assist them in their projects.
Later Kapwing video maker is efficient enough to provide an option to share your videos after working upon them. Kapwing app further makes its availability easier by being effortlessly installed in your phones to make anyone conduct their tasks in just a few clicks. Furthermore, it is convenient on both Android and iOS mobile devices for portability and on computers too. Have a look at some of the unique features it has:
Sharing on other social media platforms:
These days, what is considered important in an app for editing or making videos is that the app should grant enough freedom to itself offer sharing on other media platforms. This technique gets them even more followers and also convinces the user to try it again.
Audio Tools
The amazing audio tool kit Kapwing has to offer has got no match. It offers a huge variety of features which is unbelievable when getting it for free. The muting video option is very usable however the adding audio option adds a different audio track of your choice. Furthermore, when you are free to upload music from your device or web references like YouTube and SoundCloud it adds up to it's advantages.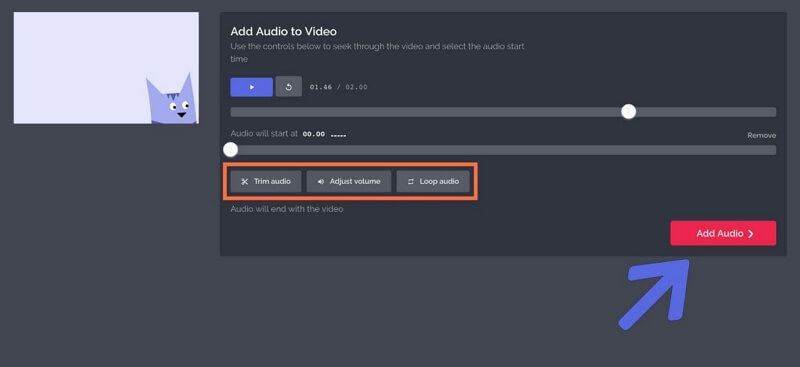 Media Library
The media libraries that you make for your project can be handily uploaded to Kapwing video editor without any errors and justifications. Also, you can upload them directly by just pasting the URL in the tab and drag and drop any pictures or media you like. You can make a separate folder there to find all the related stuff when needed.
Video Speed Controller
The video speed controlling feature allows you to fast forward your video or even make it a slow-mo or it can convert into a speed you prefer. This works for time-lapses, promos and such other things in a video.
Split and Merge Video
Your imported videos might need some trimming and furnishing so that's quite handy to do with the Kapwing app rather than dropping it with some other software and then uploading it to the actual video. Kapwing Reverse feature also adds up to the competition. Merging and splitting is not something new for a video making app but Kapwing also offers the feature. It's also known as the Kapwing meme maker.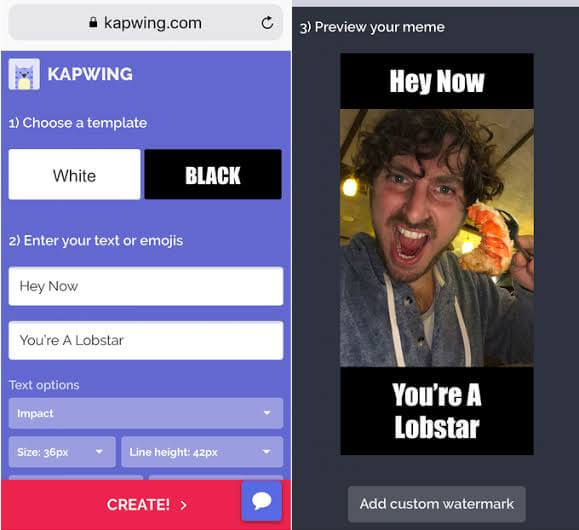 Text Effects And Animations
Add text to your videos in whatever font styles you want it to be. Secondly, the animations can be applied to text to make the video more attractive. The overlay text feature wins them all when you can play your video with only audio being heard and the text appears on the screen.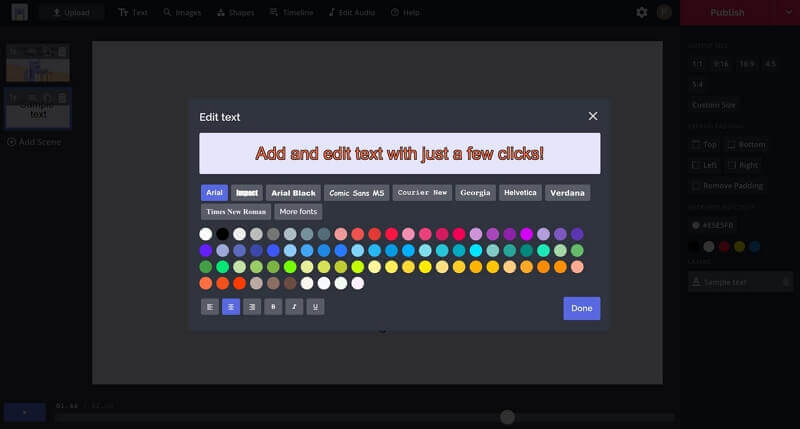 Pros and Cons of Kapwing Video Editor
Next we will list the Pros and Cons about Kapwing video editor, which can help you make the decision. Read it on!
Pros:

Very User friendly and suitable for both amateurs and professionals.

Sharing your edited and completely made videos on social media sites right from within the software is what makes it more trustworthy.

Kapwing is an online courtesy tool, so it doesn't require you to forcefully install an app on your desktop or mobile phone. However, the app may work more efficiently.

An excellent option for trimming videos, splitting and merging them.

On-point software for making memes, gifs, and resizing the clip according to social media platforms like Instagram, YouTube etc.
Cons:

No doubt, Kapwing is a fun app to work with. But still we are afraid to call it an extensive package because it requires many cutting edge functions to reach that level. Like 3D editing, multicam modules, and a 360° editing feature too.

The Kapwing video editor can efficiently upload 4K UHD videos but what the audience want is quality which doesn't remain the same while exporting files.
Pricing of Kapwing Video Editor
Kapwing video maker is a free tool that has to offer numerous features and tasks single-handedly. It's free will remain free forever. But you can't digest it right? But you should learn as long as you download the Kapwing app and try it using it's super tools.
However, at the cost of making videos and offering multiple features, the Kapwing downloaded app leaves a small watermark on your clips while you save them. As if someone wants their video to be free from the mark and make it look originally created then the makers will charge you $6 for eliminating the watermark from a single video. This way the pricing will be added.
And if you have bulk videos then it's smart to go with their $20/month or $200/year options which will be suitable. So download Kapwing and enjoy it's free services until you want to get rid of the watermark.
Kapwing app uses Stripe to process it's payments, so you can feel free to use your card for payments and have an indulging experience with Kapwing.
User Reviews of Kapwing Video Editor:
Some Kapwing reviews that touched us and the users are here to explain our being trustworthy.
"I loved how it didn't have slide limitations and it was still free to use."
"It is effective, simple but powerful and produces great output."
"I am convinced with a lot of free features of Kapwing which are very useful. I love the fact that they have an auto-subtitle option and this is really time-saving."
"Can't say enough about how innovative and important this software is."
"Best online video service ever. And a miracle for deaf people."
Overall: This review is focused only on one of Kapwing feature - AI generated subtitles. I known that Kapwing offers many tools for online video editing (and they are very good), but I'm using just one of them - Subtitler. This tool is able to autogenerate subtitles for video in almost any language. And this is cool! You know - I'm deaf (or almost deaf, to be correct) and thank to Kapwing I'm now able understand and react on videos from my friends :)
Learn How to Use Kapwing Video Editor to Edit Your Videos
Kapwing video editor is rather easy to use, install, navigate and work on. You can explore it on your own even if you're a beginner and you won't be disappointed with the excellent features they offer on a layman's level. However, the layman should at least know a few basic computing-level things to navigate through it.
Follow these instructions to edit videos with Kapwing video editor: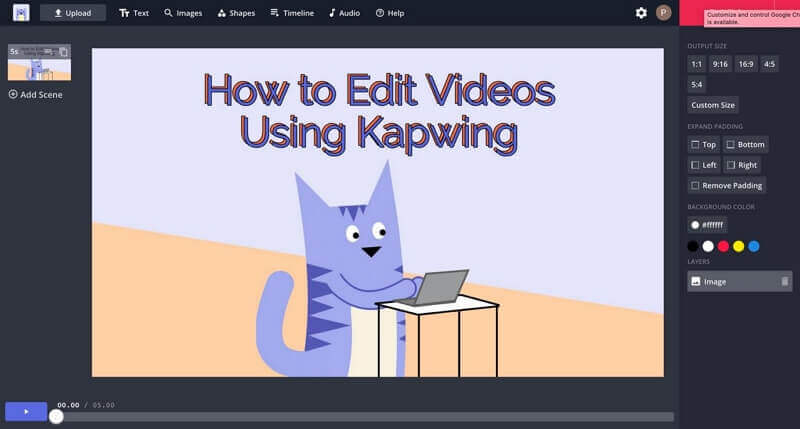 Upload your content by either pasting the link or searching through the explore with web option. Using this, you can skillfully drag and drop videos to the Canvas or the workspace.

You can also upload content from your device using a file browser.

Then click on the get started option and then New project option and then Start with studio.

You can upload your content either by pasting stuff or uploading it then.

Then on the right side you can see a number of options to edit your project according to your preferences.

You can then add audio to your project by using the add audio option in the toolbar.

The add scenes option lets you add GIFs and videos to your project.

Add text with the text option in the toolbar and then edit it with multiple colours and fonts.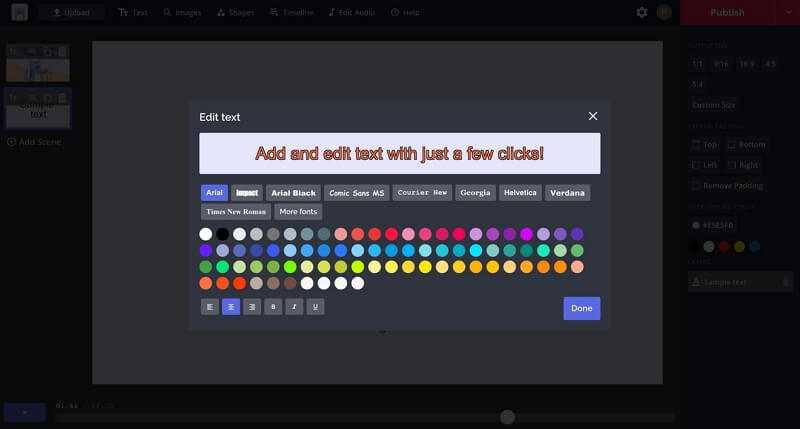 Part 3: What Are The Top Alternatives for Kapwing Video Editor?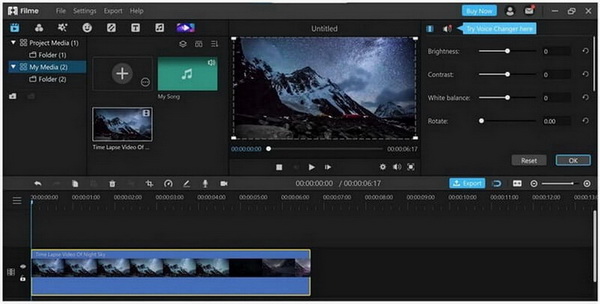 iMyFone Filme is one of the video editing software which can be used as an alternative to Kapwing app due to major identical features and the offering of some quite good products for amazing content creation and editing. As an all-in-one video editing software, Filme has certain characteristics which can cater to numerous production settings and expectations as well as professional applications.
You might have heard of the unique feature it carries of color masking. This feature authorizes you to make sure that only selected locales of your video are being used in the video. This feature is something that's hard to find in other apps out there. Another thing that you may love about this is it's interactive and attractive interface that will give you an easy time using it. The video preview feature helps largely, while the integrated voice feature that could record your voice is something one should go for. Films is relatively easy to use and also give rise to making your movie much more entertaining and fascinating.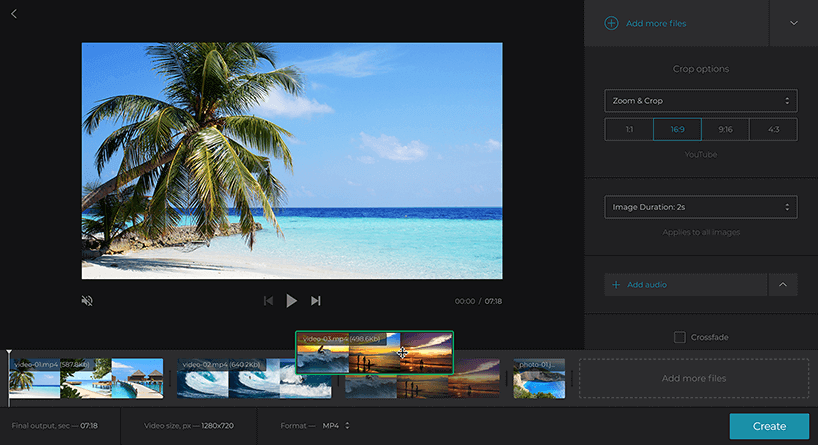 The Clideo Video Maker is a super modest tool perhaps excessively simple that enables you to put videos and images together to make a video with little to no knowledge. It's a platform for beginners to enjoy and learn the basic things about video making. Clideo retains other mechanisms beside a video maker. There are independent tools for cropping a picture or video, rotating them, compressing or trimming it, and most of all man-handling your video files until they look the way you want them to be. It has a cheaper and fairly good monthly plan with a one-time payment option too.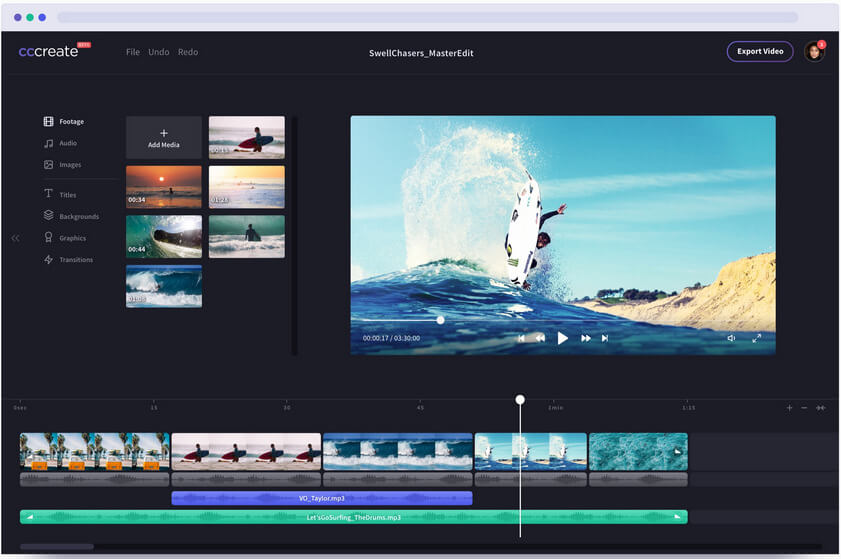 Clipchamp is a good alternative for a Kapwing video editor due to it's adaptable products targeted for both personal and professional users alike. Clipchamp tends to be a relatively progressive video editor without being too intimidating for a user. The user experience as seen vastly is drastically facilitated as compared to Adobe Premiere. Although there might be things a beginner might feel rather challenging so he might be motivated to learn. The software operates with a relatively secure mechanism in the web browser of your computer and assists you in designing some very creative videos. The rare privacy protection that clipchamp tends to offer to its users is unique and appreciable. It has amazing video templates for every purpose you're likely to dream of. Also, the software primarily offers you to transform your videos in a wide variety of aspect ratios too.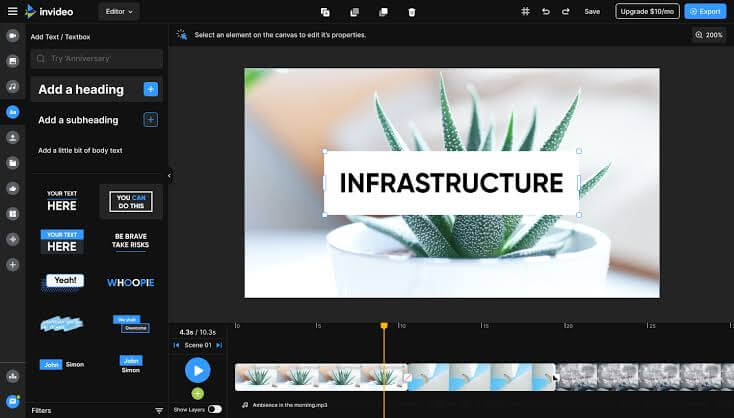 InVideo is the ultimate alternative to Kapwing app because of its landing user experience and when we see Kapwing reviews we see people comparing them which makes us think about the similarities both software retain. This one helps you to create some engaging videos of all kinds. You can formulate video clips on InVideo with already built up templates. It also offers to convert your text articles into videos efficiently. The hungry for tips users also receive feedback on their videos to further optimize their work. InVideo offers a huge selection of music, media, and more for its users.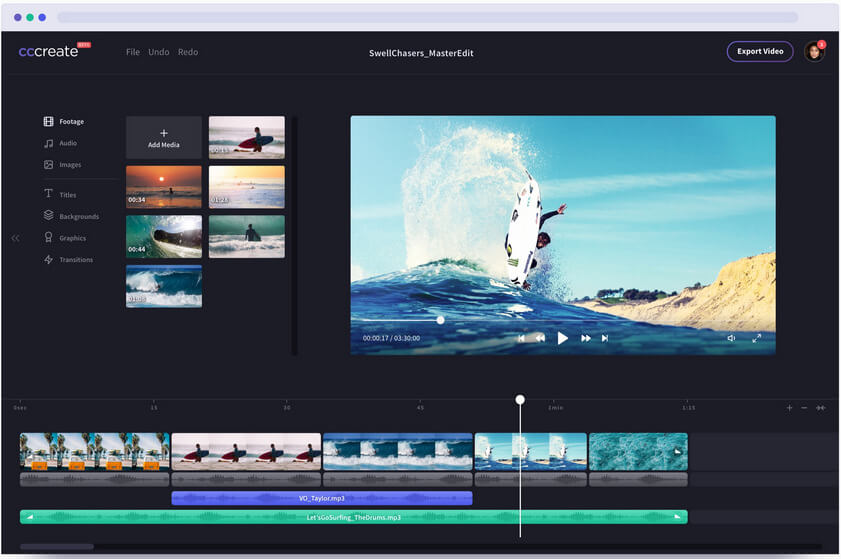 Animoto is a video maker with a DIY policy I guess due to its attractive structure that can develop impressive videos within moments. It offers some amazing drag and drop UI which eradicates all requirements of video editing experience and makes it more simple for the user. This has helped marketers to strengthen their sales largely, drive more traffic and engage with their audiences adequately with some impressive content on their hands. You can personalize content according to your brand without any hectic procedures. You can add voice-overs, mute videos and many other things with Animoto.
Conclusion
Kapwing meme maker or Kapwing video maker is something a content creator or a designer should ince try to witness it's amazing features being offered. As far as the question "Is Kapwing Safe?" is concerned, we can testify to its user-friendly and pampering experience with all its features. Download Kapwing app and have a good time editing and furnishing your videos exclusively. Filme being a promising alternative to Kapwing can also give you some additional tools and a suite of products to assist you in a professional manner with all features present.