There's so much video content on Facebook that all of us at some point would like to download a video or two. Unfortunately, since Facebook itself doesn't offer that feature except in Facebook Messenger, we need to use specialized software or a download website. Since online (and free) is more convenient, we've curated a list of the 10 best Facebook video download websites, with an overview, usage steps, pros, and cons.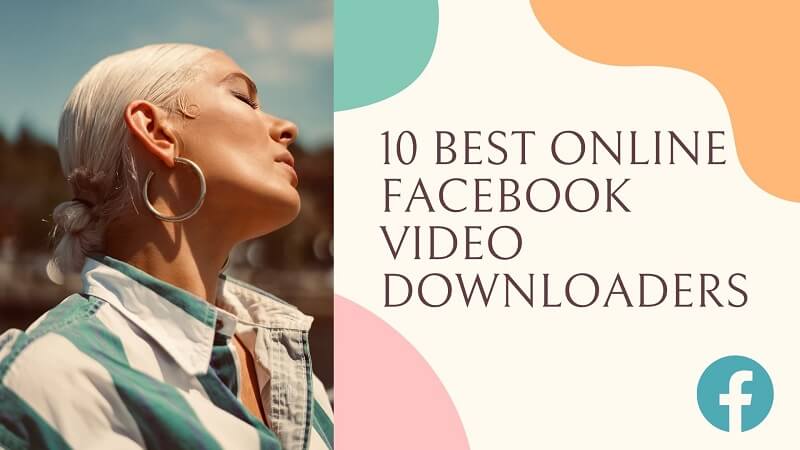 10 Best Online Facebook Video Downloaders
Note
To copy a Facebook video URL, click the video so you go to the video page, not the feed. Here, copy the link from the address bar.
#1: FBDown
is a well-known and reliable free online Facebook video downloader for PC and Mac users. All it needs is a browser on a connected device and you're good to go. It's also usable on Android devices but for iOS, you'll need to install a file manager first.
How to Use FBDown
Step 1: Paste the Facebook video URL into the box and hit Download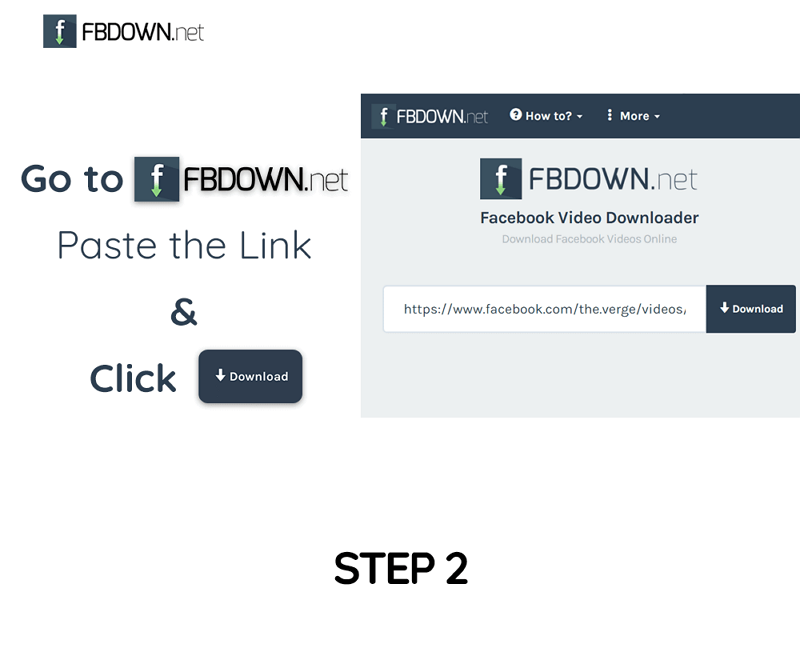 Step 2: Once the video is processed, click the download link for HD or SD quality. If the video isn't playing with audio, click the button under the other two options.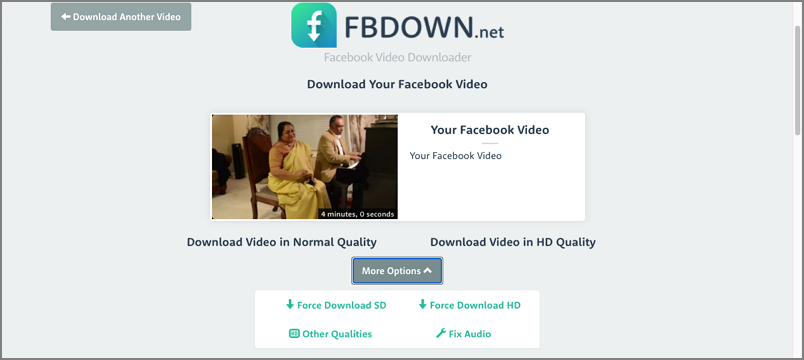 Step 3: FBDown will prompt you for the destination folder. Choose the target location and hit Save or OK.
Pros:

Also offers a Chrome extension for convenient access

Multiple video quality options

Audio fix tool
Cons:

You may need to try it two or three times

Doesn't always work with all Facebook video links

Requires a file manager app to work on iOS
#2: GetFVid
GetFVid is another great online FB video downloader that's free to use. As with FBDown, GetFVid also offers a Chrome extension for quick access. There are some subtle differences here: it can rip just the audio track, save to Dropbox, or even let you save it to your smartphone by scanning a QR code. The downside of this is that it doesn't support mobile browsers very well, especially if you're using a lightweight browser.
How to Use GetFVid
Step 1: Paste the Facebook video link in the box and click Download.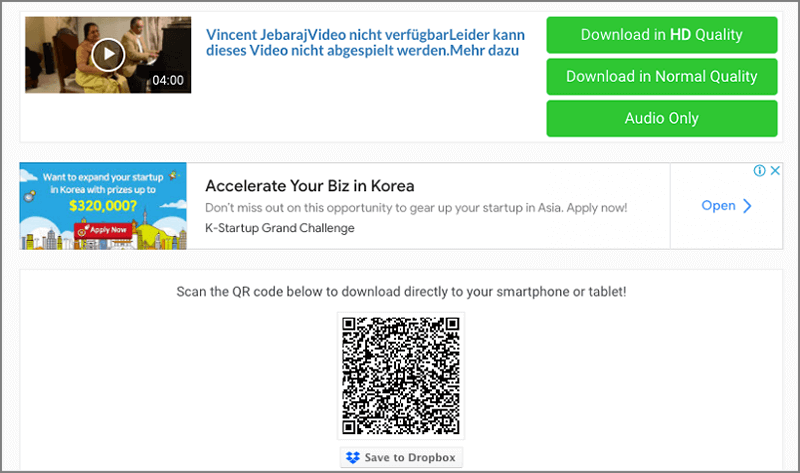 Step 2: After the video download is processed, you'll see multiple options. Click the appropriate one or scan the QR code to download to your smartphone.
Pros:

The smartphone download option is convenient

Flexible download choices

Works well with any size video except very large ones, which take a while to process
Cons:

Chrome extension doesn't always pick up all the video content on a page

Doesn't always work well on mobile browsers
#3: FBDownloader
FBDownloaderis a great tool for downloading both public and private Facebook videos online. The public Facebook video download process is similar to the others we've discussed so far, but the private Facebook video download process is a little different, which is what we've outlined below:
How to Use FBDownloader
Step 1: Go to the Private Facebook Downloader page by clicking the button on the main FBDownloader website.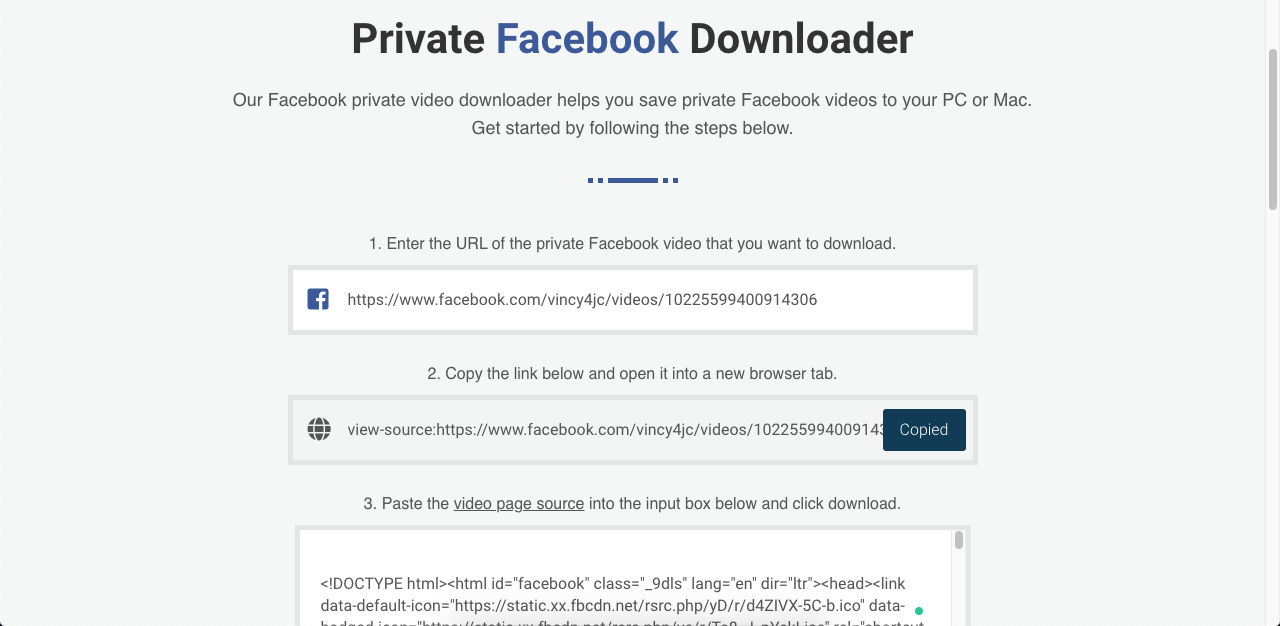 Step 2: Paste the URL of the private video into the first box.
Step 3: In the box below that, you'll see the URL prefixed with "view-source:". Click Copy and paste this into a new browser tab.
Step 4: When you see the source code, click Ctrl+A and Ctrl+C to Select All and Copy.
Step 5: Go back to the previous browser tab and paste the entire source code in the final box, and hit Download Video.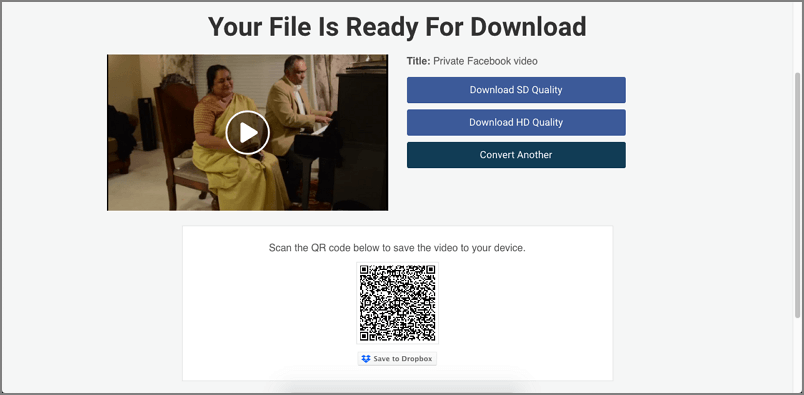 Step 6: Click one of the download options or scan to save it directly to your smartphone.
Pros:

Separate option for private FB video download

Sleek interface

Works well with public and private videos
Cons:

Not great with mobile browsers, especially for private videos

Source code must be copy-pasted in its entirety without leaving out anything
#4: SaveAs.co
SaveAs.co was designed especially for iOS devices, which means it works best on the Safari browser on mobile. However, you can also use it on Mac or PC desktops, tablets, and notebooks on other browsers like Chrome. One stand-out feature of this downloader is that it allows you to share directly to multiple social accounts using share buttons in the download page. On the flip side, there's a known error (listed in Cons) that pops up every now and then.
How to Use SaveAs.co
Step 1: Paste the Facebook URL in the input field and hit Download.
Step 2: When the video is processed, you'll see two download options - HD and SD. Additionally, you'll see the social media share options below the preview of the video.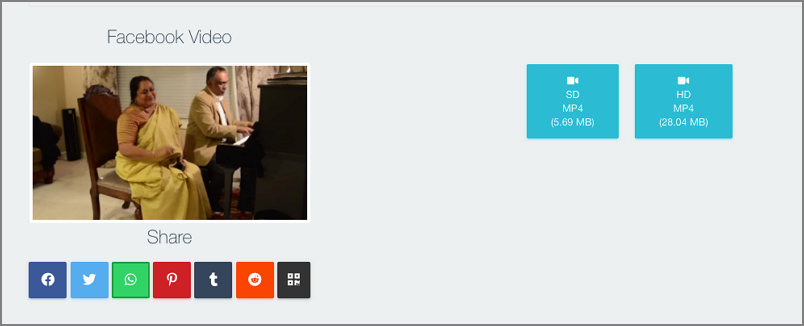 Step 3: Click one of the social share buttons or either of the download buttons to get your downloaded video or share it.
Pros:

Unique feature to share to social directly after download

Works great with Safari on iOS

Smart function copies the URL directly from your clipboard
Cons:

Some videos may play instead of being available for download, but the issue is fixable

No mobile apps but you can add the web page icon to your homescreen on a smartphone
#5: Bigbangram
Bigbangram is a very simple and basic Facebook video downloader. It doesn't come with any extra options but it does a great job even with slightly longer videos. It does take a little longer for those but it processes the video file accurately. There are no video quality options, either, which means you're downloading the video as it was on Facebook. It will be the same quality.
How to Use Bigbangram
Step 1: Paste the Facebook video's URL in the box provided. Most often, if you've just copied the link or used it elsewhere, it will autopopulate, as with the SaveAs.co website.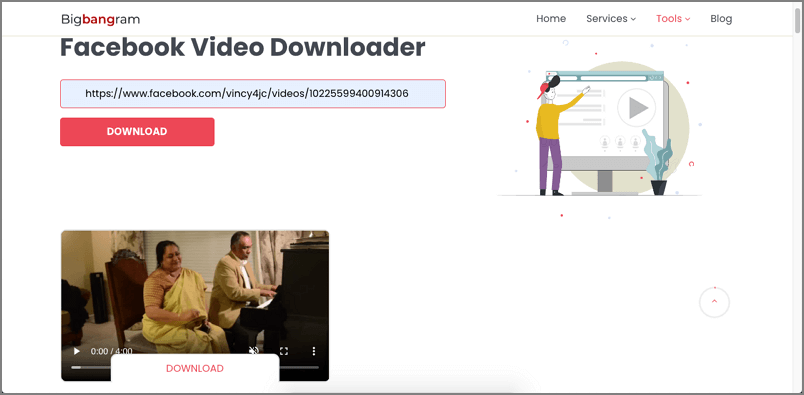 Step 2: All you need to do is hit the Download button once…
Step 3: … and then again below the preview once the video is processed. Choose a location to save your processed Facebook video file.
Pros:

Easy to use - no extra functions to confuse new users

The autopopulate tool helps when you're downloading a series of videos one after the other

Works on almost any browser on desktop and mobile
Cons:

No options for quality or social sharing

Might be too simple for advanced users who need additional parameters for download settings
#6: GetFBStuff
GetFBStuff offers download tools for both public and private Facebook videos as two different options. The basic tool can handle most of your FB video download needs and the web interface has been given a facelift to make it more intuitive. Using it is as simple as the others. Just paste the URL and hit Download, and you're ready to save the file to your desktop. This one works great with Chrome but should work properly on most modern browsers. In addition, it also offers a download tool for Vimeo and Instagram.
How to Use GetFBStuff
Step 1: For public videos, just paste the video link to the FB video into the input field.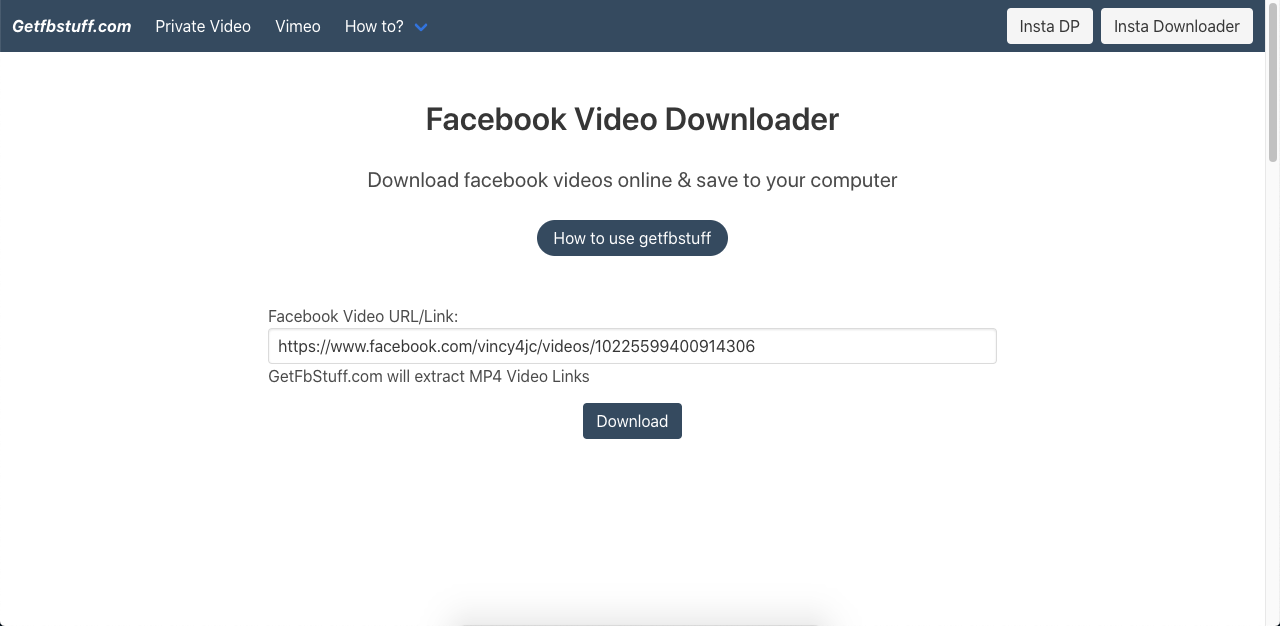 Step 2: Hit download and wait a few seconds. When you see the preview, click the appropriate video quality, choose a destination folder, and save the file.
Pros:

Works well on Chrome on desktop and mobile

Fast downloads

Slick interface
Cons:

Sometimes misidentifies public videos as private, as in the screenshot below: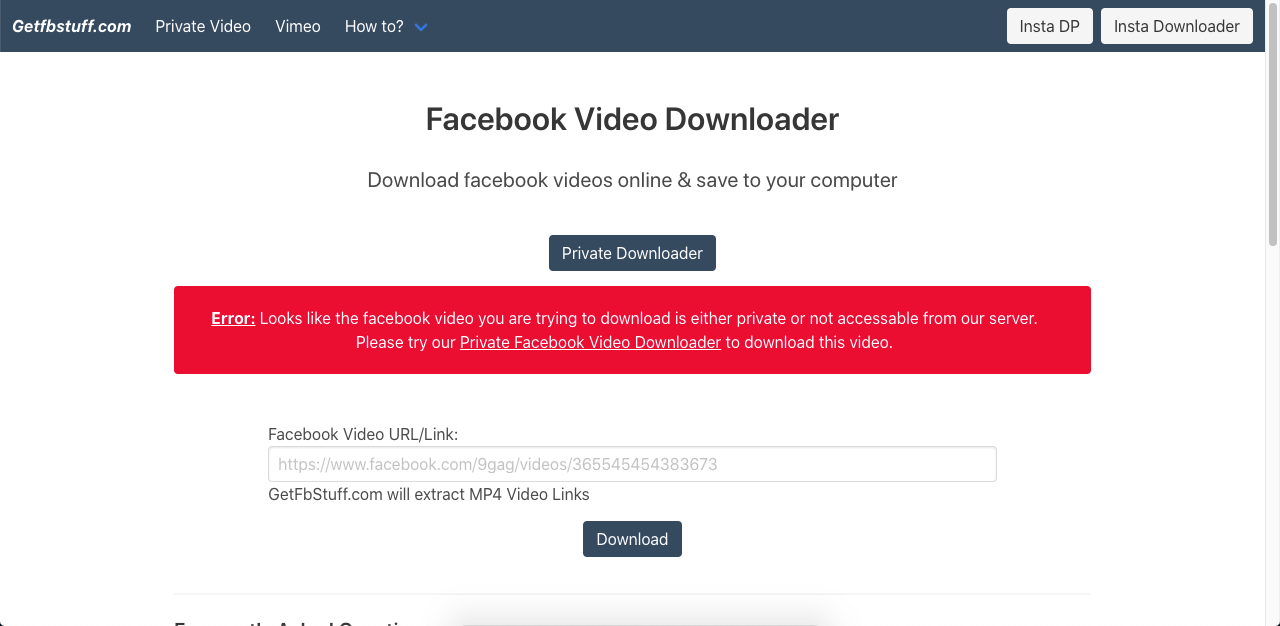 Better to download private Facebook videos on a computer
#7: YT1S
As the name suggests, YT1S was originally launched as a YouTube video downloader. Later, the site's developers introduced a special tool for Facebook video downloads. The site has a very clean and professional-looking interface and you'll see that it is not ad-supported like most other free Facebook video online download websites, which makes it quite unique in its class of online services.
How to Use YT1S
Step 1: Go to the URL for 'Facebook Downloader' on the YT1S website - linked in the paragraph above - and past your video URL from Facebook.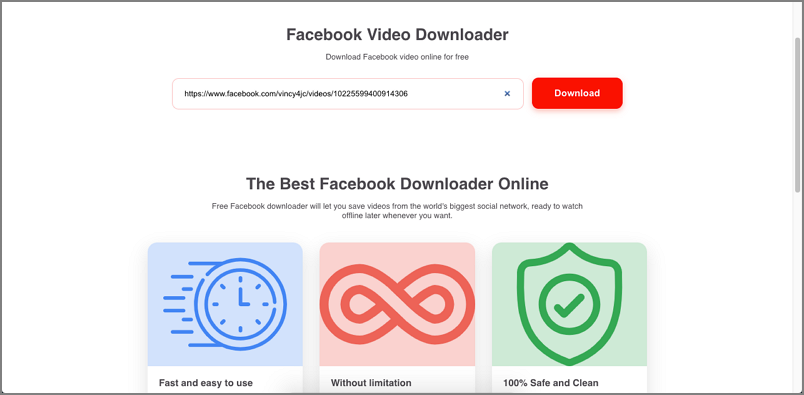 Step 2: Click the Download button and wait for the preview to appear on your screen. Don't worry if you see the video length as 00:00 - that's just a glitch on the site and the video will be downloaded just fine.

Step 3: On that same page, use the dropdown to download HD, SD or just the audio. You will also see social share buttons, which you can use to directly share the video to your own social media accounts.
Pros:

Pro-looking website; also works great for YouTube videos

No advertising, which can be a distraction

Can strip audio from Facebook videos
Cons:

Some known errors like the 00:00 video duration on the download page

No option to extract private Facebook videos
#8: SmallSEOTools Facebook Video Downloader
SmallSEOTools is a well-known website that provides a wide range of utilities for content creators and marketers. The Facebook Video Downloader is one of the many modules on the website that have been introduced more recently. The advantage here is that it also shows you the associated post text content along with the video download link. However, Medium is the only available resolution for downloads.
How to Use Facebook Video Downloader from SmallSEOTools
Step 1: Enter the URL into the space provided and click on Download Video. You may need to scroll down past the ads. Watch out for ads that have a Download button - that's not the one you want!

Step 2: When the video is available, you'll see just a video icon in the Results section rather than the preview. Click the Download link next to where it says Quality - Medium.
Pros:

SmallSEOTools is a well-known and reliable brand

The video download is fast

Several other useful tools available
Cons:

Heavily ad supported

You may need to perform a Captcha check before you see the download option.

No high quality option
#9: Gabed iLoader
iLoader is part of Gabed.net, a recommendation site for affordable tech products. The Facebook video download module is available as one of their services. It offers a unique method to download Facebook videos where you can install the app and then share the video from Facebook to the downloader. However, it doesn't always work, so it's better to use the direct method.
How to Use Gabed iLoader
Step 1: Copy and paste the URL of the Facebook video in the top section of the website's iLoader section.
Step 2: Click Download, and the video will be processed and made available for download right below where you pasted the link.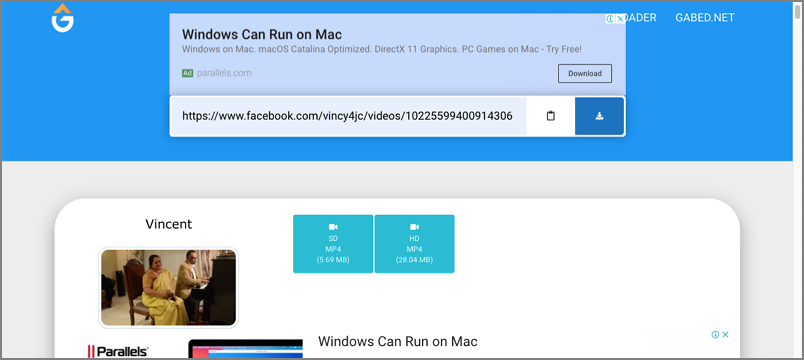 Step 3: Choose the HD or SD option. It also shows you the file size for each, which makes it easier to decide.
Pros:

Simple and effective

Convenient placement of downloaded video

Instructions provided on the same page
Cons:

Can't use this for private videos

Heavily ad supported
#10: Experts PHP
This site looks a little amateur despite its name but don't be fooled because it works really well with any Facebook video that's publicly visible. The interface is a little cluttered by ads but the advantage is that the site also offers video download tools for other sites like Vimeo, TikTok and Instagram (Reels).
How to Use Experts PHP
Step 1: You'll need to scroll down a bit to find the place to input your link. Paste the Facebook video link there and click Download.

Step 2: On the new page that you see, scroll down again to see the message "Your File is Ready for Download". Click the button below that, which says "Click and Download".
Pros:

Powerful free Facebook video downloader

Other video download tools available
Cons:

Heavily ad supported

The core feature is 'below the fold', which means you have to scroll past the ads to find it.
Editor's Choice for Further Video Editing - iMyFone Filme
Once you've downloaded the video from Facebook, it's recommended that you use a desktop video editor to enhance the quality and make it more polished before sharing it or posting it elsewhere. if you want to remove the download facebook video background,you can choose imyfone filme.
Step 1: Import the video into iMyFone Filme after you install the product. You can drag the video into the interface or use the Import option. You can also import videos from your smartphone with or without a cable.
Step 2: Bring the video into the timeline editor by dragging it to the bottom section of the Filme software.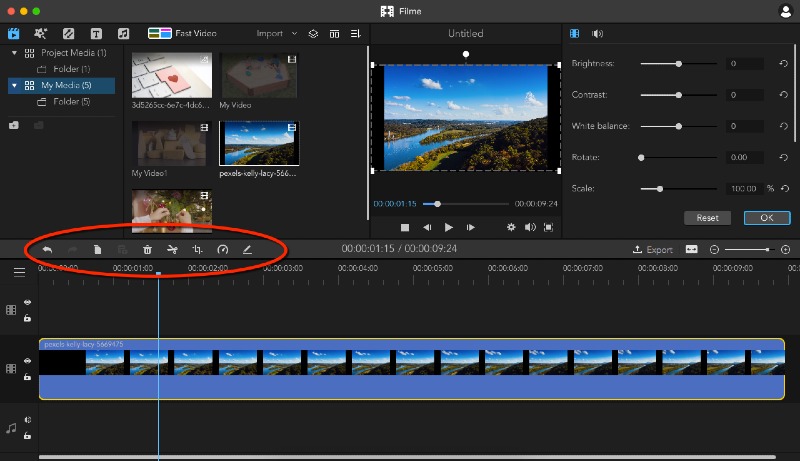 Step 3: Editing: After clicking and selecting the video track, use the Trim, Crop, Pan, Zoom, and other functions to cut out unwanted parts and focus only on the main subject of the video. This will also help reduce file size.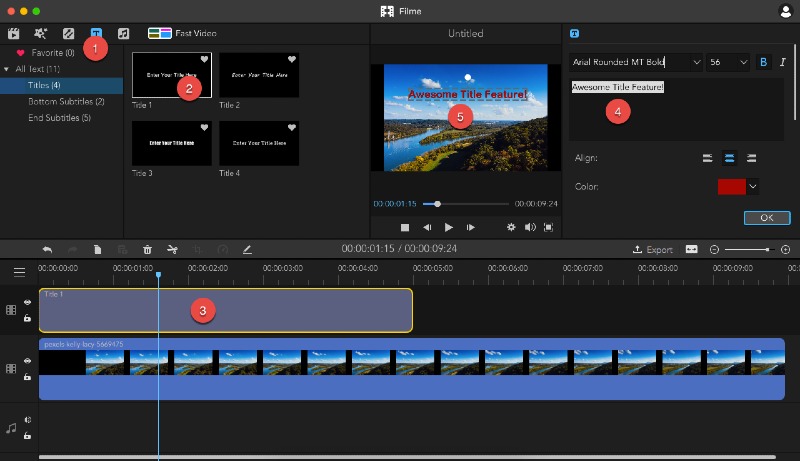 Step 4: Enhancements: The tool section on the top left gives you text effects, filters, free audio, and several other options. Just select an option, choose the type of filter or effect and click the + symbol in the thumbnail preview to add it to a track next to the video. You can further edit it or reposition it to match the video content.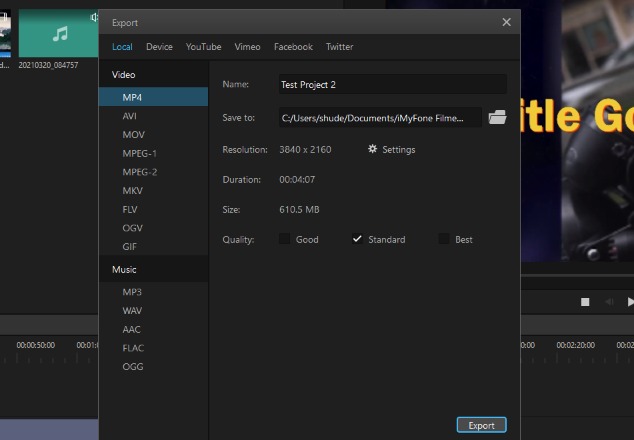 Step 5: Exporting: iMyFone Filme allows you to choose the output format, aspect ratio, frame rate, and other parameters prior to exporting, which gives you the flexibility to create different versions of the same video but suited to specific platforms like Instagram, IGTV, LinkedIn, Twitter, etc.
FAQs You Should Read
1. How do I download a Facebook video from my work group?
If you're part of a group, the video is considered private. Therefore, you will need to use one of the tools above that support private Facebook video downloads, such as FBDownloader or GetFBStuff.
2. Is it safe to download Facebook videos?
Yes, since Facebook itself scans all uploaded videos for malware and other issues, it's absolutely safe to download a video from the Facebook platform.
3. How do I download a private Facebook video?
As long as you can see the source code for the video page, you can download a private Facebook video. As mentioned, use GetFBStuff or FBDownloader for this purpose.
Last but Not Least…
Don't forget to use iMyFone Filme for Windows and Mac to enhance your videos. Your followers will definitely notice the high quality, which makes your videos more amenable to sharing and, if you're lucky, it may even go viral! Filme has all the tools you need to turn a drab video into an eye-catching piece of visual content - with effects, music, transitions, and much more.