Voice changing applications are a great way to modify your voice input and change the output to make it more attractive. While you can tweak your own voice, there's only so much that you can do with your natural voice.
For this and many other reasons, you need a voice changer. In this list today, we will talk about the best voice changer for Mac, both free and paid versions. In addition to that, you will also find a better and more comprehensive solution going by the name of MagicMic.
With voice-changing practices gaining more ground, you need the best solution to move forward and get the best results. So, this article will guide you to choose the right voice modulation solutions that are also easy to understand.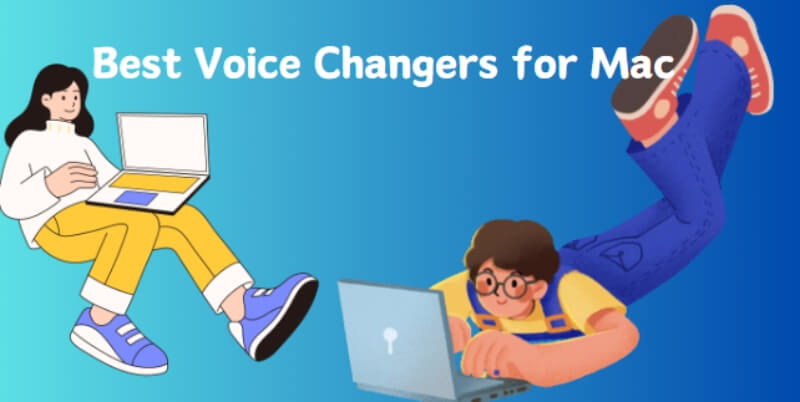 Part 1. Best Voice Changer for Mac[Free]
The best free voice changer for mac means that you won't have to pay for the services. While they are free, the software listed below also has a paid version.
1. MagicMic Voice Changer Mac
MagicMic is a dedicated voice changer Mac and editor built by iMyFone. This is one of the best voice changers in the market compatible with Windows and Mac operating systems.
This software lets you customize your voice for all types of streaming activities, including games. You can record and change your voice before uploading, which gives you more time and scope to edit the audio files and ensure the best results. It's also a voice changer for Discord on Mac that can change voice in real-time.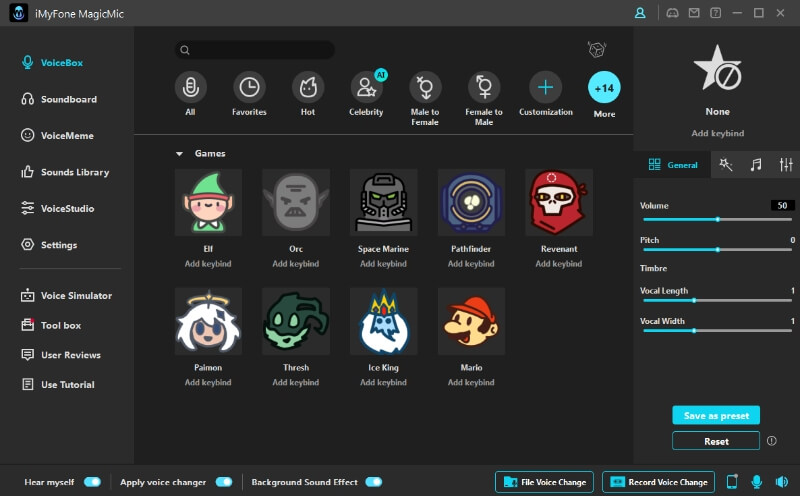 Here are some core features of MagicMic you must know;
Features:

It provides 250+ voices, 600+ soundboards, 200+ voice memes, and it supports uploading audio clips to create your own AI voice.

There is an unlimited scope for editing the audio files according to your requirements. This is because MagicMic gives you access to the timeline and the basic to advanced editing tools.

There are several options and features to optimize the audio files for online gaming and streaming.

If you don't want to work with in-depth features, quick keys are available to speed up the process.

You will get a feature that provides ultra-quiet background noise cancelation.

Every voice you can add or integrate over your recorded voice can be played in the demo version.
How to Use MagicMic for Voice and Sound Editing?
Imagine that you stream your PUBG gameplay on your YouTube channel and need to add some more character and spice to the gameplay. One of the ways to do this is by customizing your voice.
Follow the steps below to know how to do that with MagicMic;
Step 1: Download the application on the system and open it to start using the MagicMic voice customizer.
Step 2: Browse through different voice effects and listen to them to get an idea of the output voice.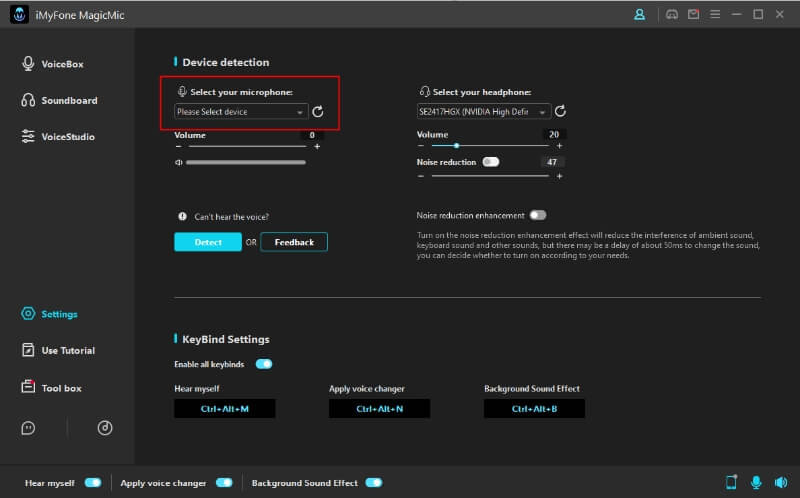 Step 3: Start recording your voice. For this, you can also select the microphone device. Further, you can also select the output device according to your requirements.
Step 4: If you have recorded the voice on another device, you can upload the same on MagicMic and edit it according to your requirements.
Step 5: Choose the effect you want to add and then click on Ok. Export the file and save it on your device.
2. MorphVOX Mac Voice Changer
MorphVox alters your voice, and it is compatible with Mac, so no worries there. You can transform or modify your voice by completely changing it to another character or adding certain effects.
It works in real-time, which means that as soon as you click the voice input, it will change the output immediately. You have a free and paid version of MorphVox.
The free version offers simple voice modulation effects, but they are enough for a not-so-avid user. Among the voice-changing options available, you can change your voice into a robot, woman,giant, space squirrel, etc.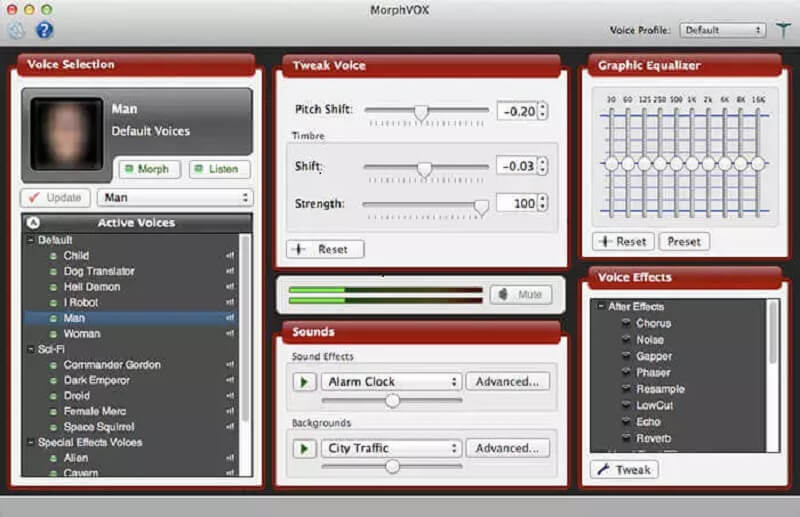 Pros of MorphVOX
You can record high-quality audio from the in-built codecs and audio capturing services.

There are options to adjust the background noise to get the best audio output.

MorphVOX is the best free voice changer mac because it can help you customize your voice in a wide range of device applications.
Cons:
The interface, while it is easy to use, is not very attractive.

Some people have experienced glitches in timer while recording.
MorphVOX works with Mac OS X 10.7 or higher versions. While using this software, you can also upload the morphed voices to your phone and send them via different messengers.
The other option for the best free voice changer mac is Voxal Voice Changer. It is a popular choice among the public because Voxal works in real-time, which means you won't have to record a session and then change the output.
It will change the voice as you go on speaking through the mic. The Voxal voice changer is also compatible with VOIP applications. This means you can use it to modulate or customize your voice while streaming online games.
Besides gaming, the Voxal voice changer is also compatible with messaging platforms.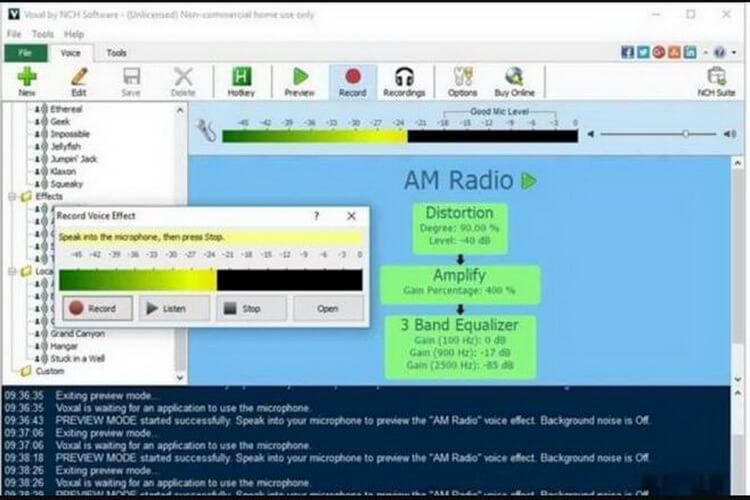 Pros of Voxal Voice Changer
In Voxal, you won't see performance issues and storage processing issues with other software, as seen in some voice-changing software.

You will be using simple and intuitive software that has an impressive UI.

Voxal Voice Changer gives you more options in the free version than MorphVox.

There is a background noise reduction tool to help you generate more clear and crisp audio.
Cons of Voxal Voice Changer
Sometimes while using the application, you might need to restart it as a few services stop working abruptly.

It has very few voice-changing options in the free version.
With this being said, the Voxal Voice Changer is an amazing option for the best free voice changer mac systems. It works smoothly with different games and makes your voice-changing experience easy and streamlined.
Also Read:
4 Best Voice Changers for Chromebook and Chrome OS
8 Best Voice Changer for Google Meet
The Voice Changer Plus is popular in the industry for customizing your voice and audio. Here you have 55 different voice-changing options to work and several background effects that can be added to make it even better.
The unique thing about Voice Changer Plus is that it is a fun software to use. This makes modulating your voice and using all the effects even more enjoyable. Plus, you can also play your voice backward with this software; how cool is that?
The software is free to download, but get the Mega Pack or VIP Pass for $1.99 each if you want to use its premium features.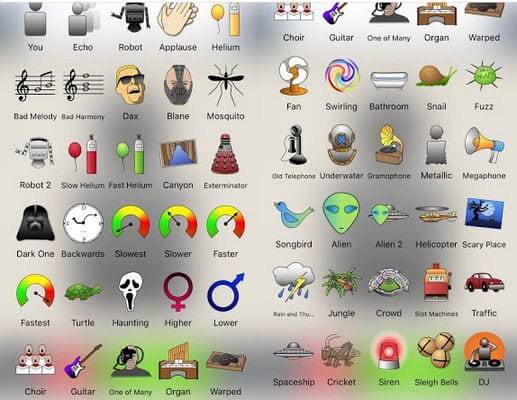 Pros of Voice Changer Plus
The pro version gives you access to the sound editing tools like trimming, cutting, adding, etc.

You can save the voice recordings on the device and share them on different platforms right from the software interface.

It has a one-tap voice recording function and offers a glitch-free experience.
Cons of Voice Changer Plus
On Voice Changer Plus, you cannot modify your voice in real-time while gaming.

The installation process of Voice Changer Plus is not as smooth as others in the same category.
To sum it up, the Voice Changer Plus is a simple and effective software for changing your voice. Also, it is cost-effective software.
The Audio Voice Changer is a premium tool for voice changing; it is compatible with Mac devices. It offers real-time voice changing options along with several unique effects and voices.
Audio Voice Changer is a popular choice among the best voice changer for mac because of its privacy settings. It gives several alternatives to your voice in real-time.
Its latest updates make the Audio Voice changer compatible with Apple Silicon and Intel. The pricing is such that you can get the premium version at $4.99.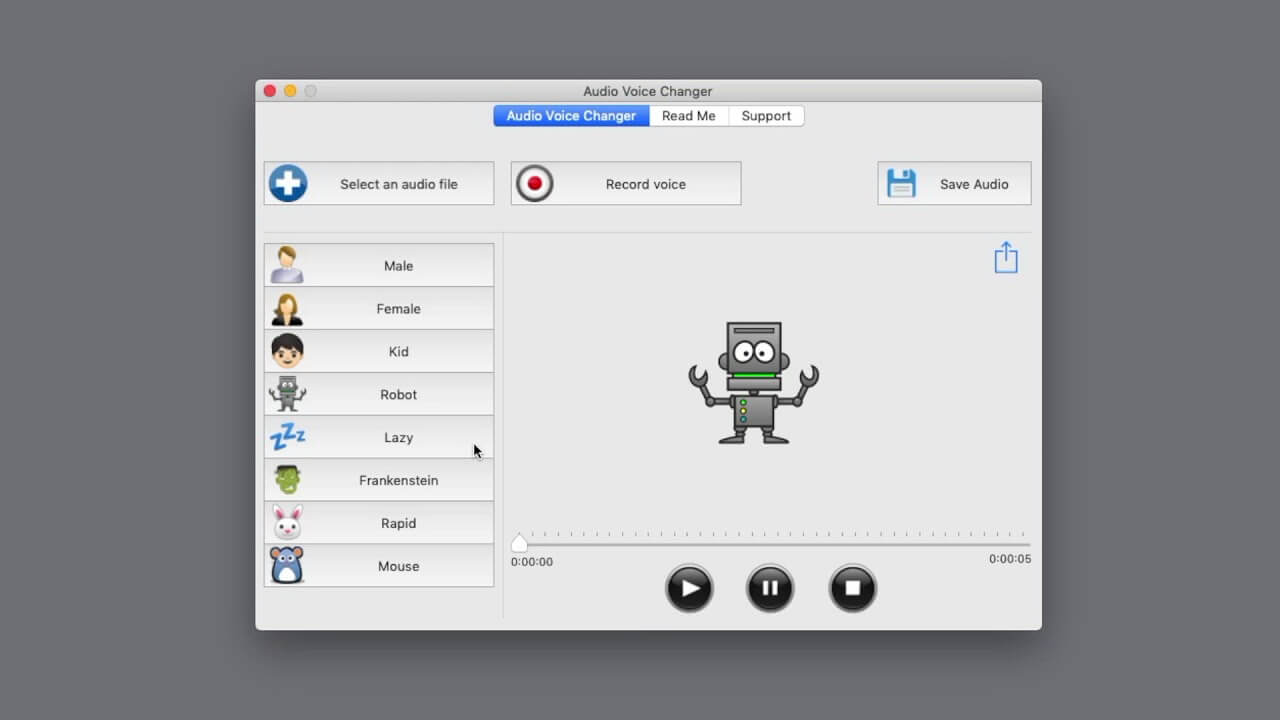 Pros of Audio Voice Changer
You will get high-quality voice changing and customization options.

It gives you the option to record the audio and then edit it later.

Use different types of sounds, including female, robot, mouse, lazy, etc.

Excellent customer support that helps resolve any issues.
Cons of Audio Voice Changer
Some users have faced issues with using the software even after repeatedly downloading and installing the software.

It can only handle basic voice customization options and is not very advanced.
This ends our discussion on the best voice changer for mac, both free and paid versions. Now that you have these four options, we have another great alternative changing and customizing your voice on mac.
Part 2. FAQs about Voice Changer for Mac
1.Can you get a voice changer on Mac?
Certainly! You have the option to acquire a voice modulation tool for macOS, such as MagicMic Voice Changer. MagicMic is a no-cost, real-time voice transformer and soundboard compatible with both Windows and macOS operating systems.
2.What is the free voice changing software for Mac?
MagicMic for Mac is a cost-free voice modulation software designed to tailor your voice to your unique personality. With it, you can easily transform your voice to sound like a man, woman, or even a whimsical character. The software includes pre-set voices and sound effects, making it incredibly user-friendly. MagicMic is compatible with Macintosh® computers, ensuring a seamless experience for macOS users.
3.Can I Use a Voice Changer in Real-Time During Calls?
MagicMic voice changer for Mac allow real-time voice modification during voice calls through compatible applications like Skype or Zoom.
Final Words
In the list of best voice changers for Mac above, we have given five different options to customize your voice, audios, and streaming content. People use a lot of other tools for this purpose, but the ones mentioned above are most effective in delivering the desired results.
Out of them, we would recommend using MagicMic as it has everything you will need to customize your voice or any audio. As we are innovating in almost every field, the same should happen in the streaming and editing industry. iMyFone MagicMic is one of the primary examples of these advancements and going forward; we can only expect it to become better.