Are you confused about using a voice changer for Chrome OS? Do you think it is difficult to install a voice changer on Chromebook? If yes, then this article is for you because installing and using an easy and accurate voice changer on Chromebook is quite simple and effortless.
In this article, we are going to share the four best voice changers for Chromebook and Chrome OS. We will also tell you about the right method on how to get a voice changer on Chromebook. Moreover, you will also get to know how to change a voice using MagicMic.
Noted: MagicMic is much easier to use when changing voice in real-time. It also comes with various voice effects for your choice. You can download and try it for free now!
4 Best Voice Changers for Chromebook and Chrome OS
Chromebook needs a google extension for changing voice. However, if Google Play Store is supported by your Chromebook, then you can easily use any voice changer android app. Here are the best four voice changers with their main features for Chrome OS.
Clownfish is on the top of our list because it is easy to install. It is a voice changer suitable for all kinds of operating systems, including Chromebook. Clownfish Voice Changer is one of the light voice changers that will not put a load on your system; thus, it can be used without any problem.
It is also easy to use; just install Clownfish Voice Changer to your device and right-click on the icon. From the system tray, click on the Set Voice Changer, you will see many options to change your voice to other sounds. Click on any of the voices, which you want to use. Your voice will be changed into the selected sound, such as man, woman, baby, or helium. Moreover, you can also change the pitch of the sound from the custom pitch.
Main Features:
Supported by almost all operating systems.

Many voices are pre-installed, like Robert pitch, Alien pitch, Man pitch, Woman pitch, Baby pitch, and Helium pitch.

You can also convert text to speech by a voice assistant.

Suitable for 32 bit and 64-bit versions.

You can perform sound management.

It does not access personal data.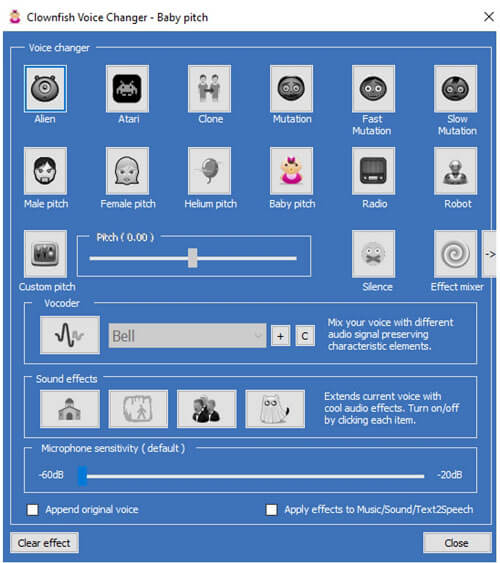 Celebrity Voice Changer is an amazing and exciting application that changes a person's voice to a celebrity's voice. It works very well, and you can change your voice tone in a few seconds.
This voice changer is straightforward to use and offers amazing results. You have to install it and allow your device's microphone and camera to run with this application. Now, you have to select any celebrity into which you want to turn your voice tone. After selecting the celebrity, tap on the small character icon on the screen and record your voice. It will easily change your voice tone to the selected tone. Furthermore, you can also make your own video with any celebrity's voice.
Main Features:
It is a free app(some In-app features are premium).

There are many sounds available from different celebrities.

You can record a video with another celebrity's voice.

You can share your edited voice directly from this app.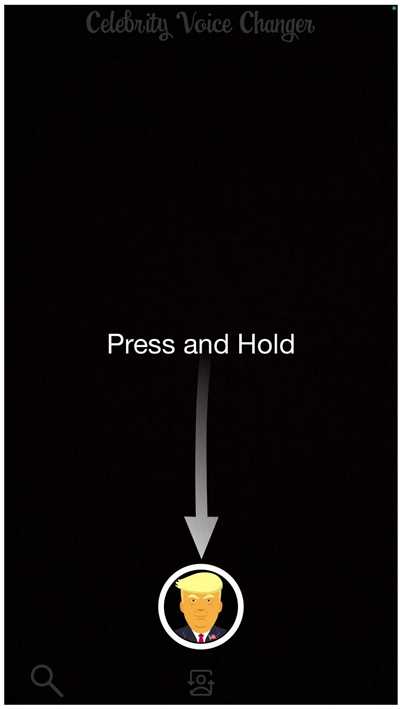 Also Read:
Celebrity Voice Changer Review>>
Voicemod Pro is a real-time voice changer that can be used for personal as well as professional tasks. The user can add different sound effects to the recorded sound. However, it can also be used to record the sound, and then it can be edited later.
Voicemod Pro is easy to use. You just need to follow a very simple procedure. Install Voicemod Pro to your device and then open it. You will have to select the microphone as an input device. Open Voicemod voice changer, go to the Voicemod menu, and record your voice. You can also hear your own voice by turning on the toggle at the bottom of the window. Now, turn on the Voice Changer toggle to edit your voice and save it by clicking on the Save button at the top right corner.
Main Features:
It is a paid voice-changing software that costs $20 for a lifetime license, $10 for a year, and $4 for three months.

Almost 90 different sound and voice effects are available.

Users can easily load sound in MP3 and WAV formats.

It is compatible with iOS, Android, and Windows 64-bit versions.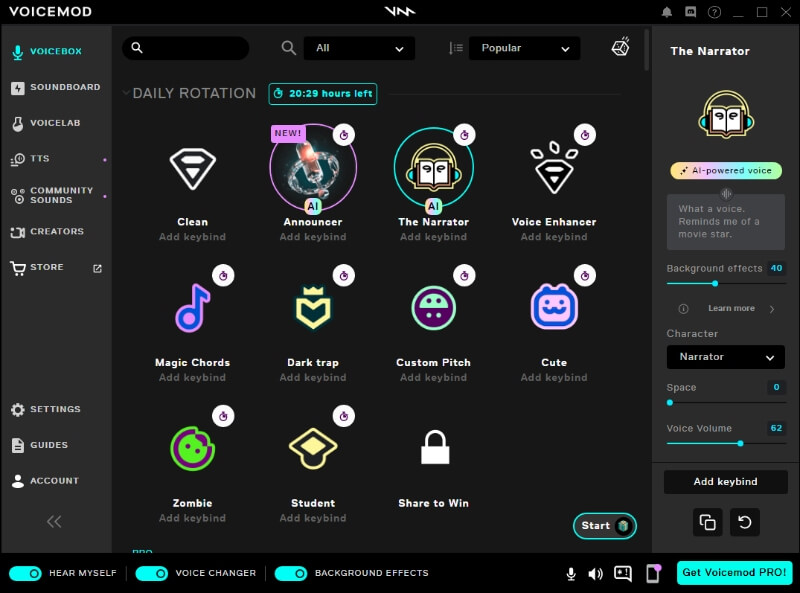 Voice Changer for PC is another application for the conversion of a user's voice and pitch into another. Users can edit their voices and then share them through email and social media platforms like Skype and Streams etc. It can also be used for game trolling.
Main Features:
It is a free voice changer.

You can trim your recorded voice.

You can transfer your recording into different voices and can also check them before saving it.

You can share your edited voice on many platforms.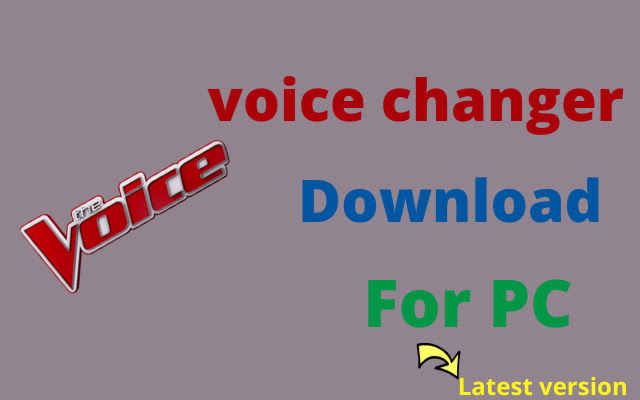 Use a Voice Changer on Chromebook
You can use a voice changer on Chromebook without any hassle. We will introduce an online voice changer that you can use on a browser and change your voices in no time. Keep in mind this voice changer is not for changing the voice for live phone calls. You can use it to record videos in a different voice or to change the voice of a pre-recorded video.
Step 1: Open your browser and follow the link.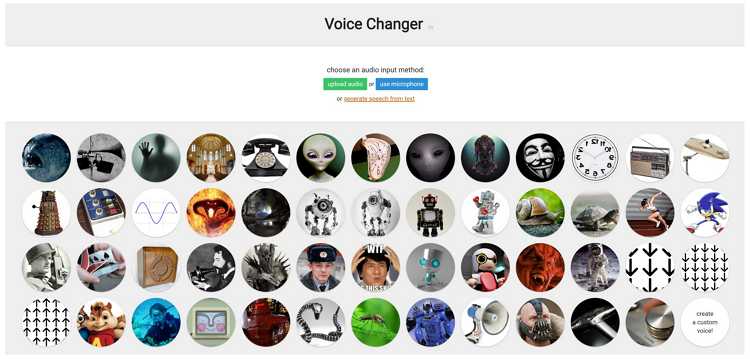 Step 2: You will be directed to a web-based online voice changer. You have many options to choose from. The best part is that you can also create a custom voice according to your needs by changing the pitch.
Step 3: If you want to upload recorded audio, click on Upload Audio. You can also record your voice by clicking on Use Microphone.
Step 4: Select any voice you like. Your voice will be converted in no time. You can also download the final audio.
How to Install A LIVE Voice Changer for Chromebook
While looking for a LIVE voice changer for Chromebook, it would not be right to ignore Lyrebird voice changer. Downloading and installing Lyrebird voice changer on Chromebook is different from installing other software on Windows PC and Androids. Here is the complete process on how to install a live voice changer for Chromebook.
Step 1: First of all, you will have to enable the Linux mode on your Chromebook. So, go to the setting of your Chromebook, click on Linux Beta, and turn on the Linux mode. The installation process will take a few seconds. A window will appear after its installation.
Step 2: Now, you have to run some commands to install Lyrebird. The two commands are:
1) sudo apt update
2) sudo apt install python3-gi gobject-introspection gir1.2-gtk-3.0 python3 python3-pip build-essential libssl-dev libffi-dev python3-dev
Copy the first command and paste it on the pop-up terminal that appeared after the Linux Beta installation.
Step 3: After pasting the 1st command, it will run automatically. This command will update your system. After this, copy and paste the 2nd command and wait for a few seconds to run it automatically. In the end, press Enter to confirm the installation.
Step 4: Once the installation is done, you can download the Lyrebird Distro installation package from their website. For this, go to their site using the link. Now, select the 1st option under Assets to download the Lyrebird package.

Step 5: Download and install it to your Chromebook. Every time you want to use Lyrebird, you will have to turn on Linux Beta on your Chromebook. After turning on Linux Beta go and launch Lyrebird voice changer on your Chromebook. Open and Enjoy!
Best Voice Changer to Change Voice in Real-Time - iMyFone MagicMic
iMyFone MagicMic is a professional video editing application/software. You can use it to change the voices. The best thing about it is that it is user-friendly, so anyone can use it without any experience. MagicMic voice changer is currently available for Windows 7/ 8.1 / 10 / 11.
Features:
MagicMic can change your voice in just one click. You only need to select the voice, and it will be changed in real-time when you are speaking.

You can change the voice using various voice filters, like Monster, Man, Devil, Robot and more. You can check for the voice-changing demo below!

You can also add 190+ sound effects in MagicMic for adding timely reactions when gaming, chatting or livestreaming.
Here is the voice-changing demo!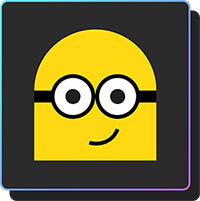 Steps to Change Voice on MagicMic
Step 1: Open MagincMic on your computer.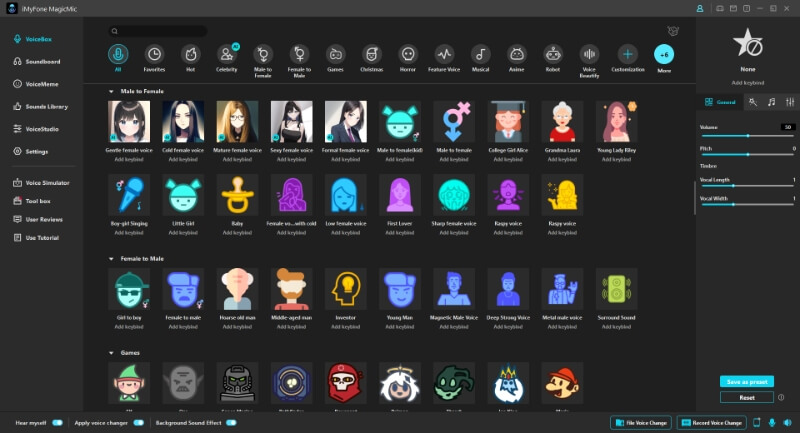 Step 2: Now you need to select your real microphone as the input device. And then select your headphones as the output device.
Step 3: Next, you can click any voice effect and say anything on your microphone to check if it works.
Step 4: Now you can start using it on discord or zoom and other gaming, chatting or livestreaming platforms! Just select Microphone (Voice Changer Virtual Audio Device) microphone as your input device on the Settings from the platform you use.
Final Words:
Voice changers are used for various purposes. There are many voice changers for Android and Windows users, but we have listed some valuable and beneficial voice changers for Chromebook users. You can also get to know their main features. Moreover, we have also mentioned the complete process to download and install the Lyrebird voice changer to a Chromebook. iMyFone MagicMic is also an amazing tool to change the voice. Just download it for free now and try a new voice you want.