Technology has been making surprising innovations that we could haven't imagined in the past. The technology has now introduced transformers voice changers after the invention of voice-changing tools that can make your voice like any anime's character or any person's voice.
In this article, you'll learn about some tools that sound like Optimus Prime and which Optimus Prime voice changer is best at present.
Best Optimus Prime Voice Changer for PC
These are voice-changing toys, and you can wear them and record your voice with ease. Some video editing tools also sound like these transformers that can alter your voice pretty quickly. You can assume these transformers as an extension of voice-changing tools.
After looking at some voice changers for PC, we have picked a couple of voice changers, befitting transformers.
1. MagicMic
iMyFone MagicMic is a fascinating voice changer that can transform your voice into an anime character's voice. It offers a pretty slick user that makes your job a lot easier. MagicMic offers some breathtaking voice-changing effects, serving the purpose of users.
Features
Multiple Voice effects
You'll get some stunning voice-changing effects like Transformer, Monster, Robot, Minions, Devil, Chipmunks, and male to female.
Edit audio
MagicMic also provides you with a facility to edit your audio if you notice some flaws in it.
Compatibility
Magic supports almost every game stream like PUBG, CSGO, Overwatch, and Fortnite, meaning you can change your voice in these games.
Pros:

Easy to easy on both Windows and Mac devices.

It offers you 125+ voice changing effects for online voice chat.

You can apply 600+ sound effects and voice memes with the Transformer voice changer.

You can ajust pre-made voice effects and create new voices as your will.
2. iMyFone Filme
When it comes to reliable voice changer programs, iMyFone Filme stands tall by some margin. It is a multi-dimensional tool that can perform many tasks simultaneously.
Using this tool, you can change the voice effects of your voice. It offers some mind-blowing voice-changing effects that can surely make your content look special.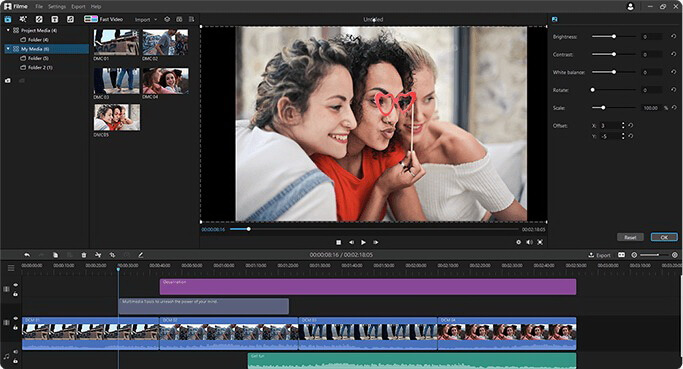 Features
Change voice in real-time
Using iMyFone Filme, you can change your voice in real-time. You only need to press the one button option, and you'll be able to transform your voice into hilarious voices pretty fast.
Multiple Voice effects
IMyFone Filme offers its user the opportunity to explore mutual scary voice effects. You can add multi-voice effects into a single video.
Stable sound quality
After changing the voice of your video, you'd not see any quality loss in iMyFone Filme.
Pros:

Easy to use

Multiple editing features

Prolific voice changing features
Also Read:
Best Optimus Prime Voice Changer Online - AV Voice Changer
AV Voice Changer is a prolific voice changer that can help you prank your friends online. You can use this voice changer to create hilarious conversations with your friends and family members.
You can dial a call from PC to phone to make your friends stunned by your voice. It offers some exciting and unique voice-changing effects that can make anyone laugh.
AV Voice Changer sets apart every other computer-based voice, changing voice when it comes to offering appropriate sounds and voices to have fun with others.
It makes things look pretty easy, you only need to record your voice in the microphone, and the program will make changes to it according to your provided voice effect in real-time.
Features
Voice editor
Apart from recording your voice and altering it, AV Voice Changer also holds the ability to edit the voice to great effect. Sometimes, you don't like the pitch of your voice and would want to improvise it as soon as possible.
Multiple options
AV Voice Changer has everything covered for you, whether you need a comparator, recorder, equalizer, or voice changer. You'll get some great options to make your experience worth remembering.
Compatability
AV Voice Changer is almost compatible with all the systems of Windows. You won't face any difficulty operating this great voice changer.
Pros:

Fast and reliable
AV Voice Changer is a transformers voice changer that works pretty fast and serves your purpose quicker than you think.

Advanced audio capture
Besides recording your audio from the microphone, it allows good options from apps as well.
How to change your voice using AV Voice Changer
To use AV Voice Changer in any other platform is not difficult. You only need to follow some brief instructions to serve your purpose.
Step 1: Install AV Voice Changer
First of all, you'll need to install AV Voice Changer on your PC after downloading it.
Step 2: Launch the problem
In this phase, you need to start the proceedings by launching AV Voice Changer.
Step 3: Open Settings
You need to open AV Voice Changer's settings and choose the audio and output devices option.
Step 4: Save settings
Save the settings and navigate to the home screen.
Step 5: Select a voice effect.
Now, you can see multiple voice-changing effects out there. Please choose your preferred option and get on with it.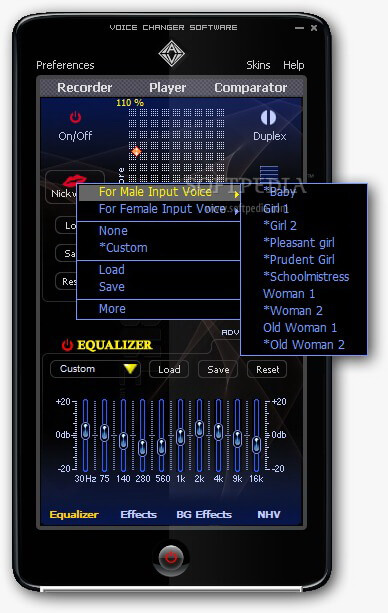 Step 6: Open any application like Skype
After choosing a voice effect, you need to navigate to a platform like Skype. Create a call with your friend, and when you speak, your friend will hear the voice of voice effect you've added earlier in the AV Voice Changer.
Best Optimus Prime Voice Changer Helmet
The Last Knight Optimus Voice Changer Helmet is arguably the best transformers voice changer you'll ever see. This prolific high-tech gadget will make you sound like an Autobot leader.
After wearing this helmet, you'll feel comfortable and confident. There are many button options in the helmet that helps you to change the sound or adjust the sound to your likings.
It allows you to record your voice and then play it in front of the audience. Moreover, the helmet also comes with a prolific detail and an adjustable strap for a secure fit.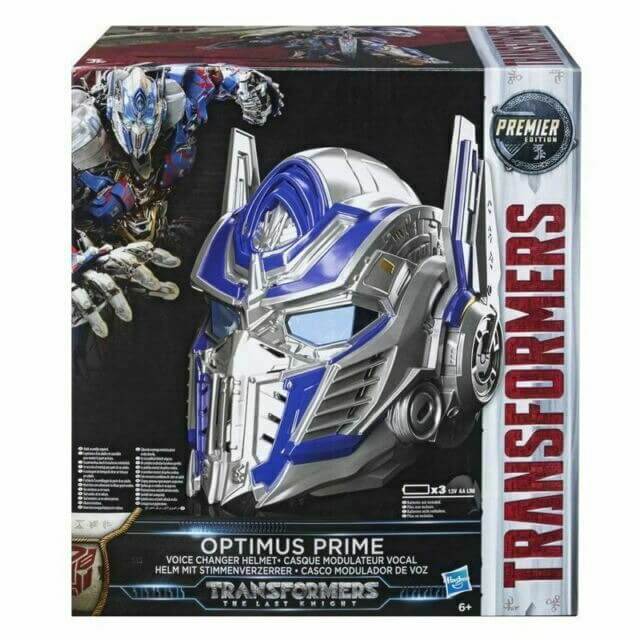 Features
The Last night helmet voice changer is pretty easy to install, and you'll face any trouble wearing it due to its soothing nature.

Using this excellent helmet, you can speak like voice of Optimus Prime sound.

Importantly, this helmet is also loaded with great 21 phrases and button-activated Transformers sounds.

You can wear this helmet at birthday parties, Christmas parties, weddings, Easter, or any festival to prank others. It sounds like heaven and can make you laugh any time.
Final Words
Choosing an appropriate transformers voice changer is always pretty tricky and time-consuming. But if you review some options, you can come to know about some reliable options.
iMyFone Filme and iMyFone MagicMic are two fascinating transformer voice changers that can provide you with the best possible services you'd have been looking for so long.
But when you talk about an Autobot transformers voice changer, The Last Knight Optimus Voice Changer Helmet can be an ideal solution for you.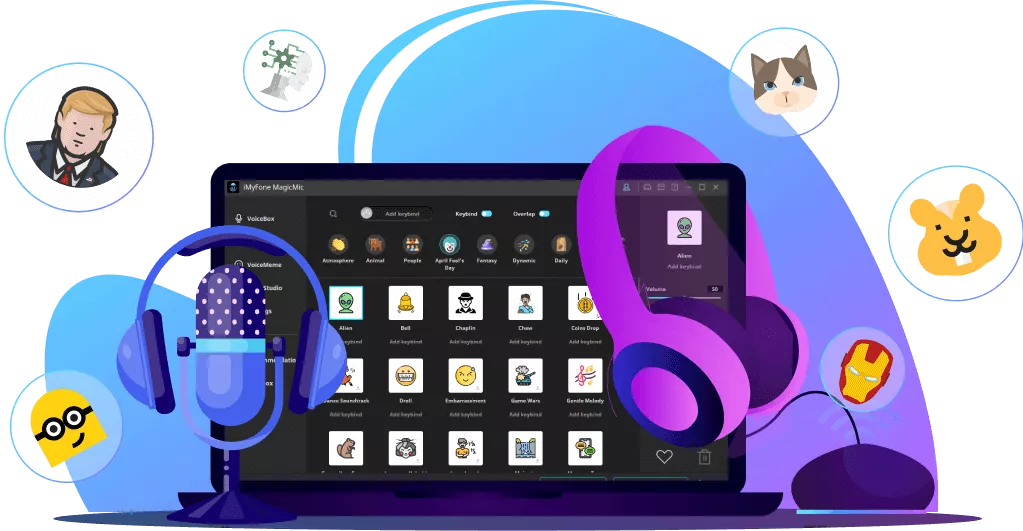 125+ Voice effects for one-click voice changing in real-time.
Huge library with 400+ Voice Effects and 150+ Voice Memes.
Sound emulator in games, live, chatting, online classes, and more.
Voice recording and audio voice changing is supported.
Voice studio lets you create any voice you like.