Want to change your voice while chatting with your friends? Or do you want to sound like a celebrity? Read on and find out the best Linux voice changer.
Using a professional voice changer is a fun and exciting process that can brighten up your day. Given this, we'll introduce you to the best voice changer for Linux to make your online conversations more entertaining.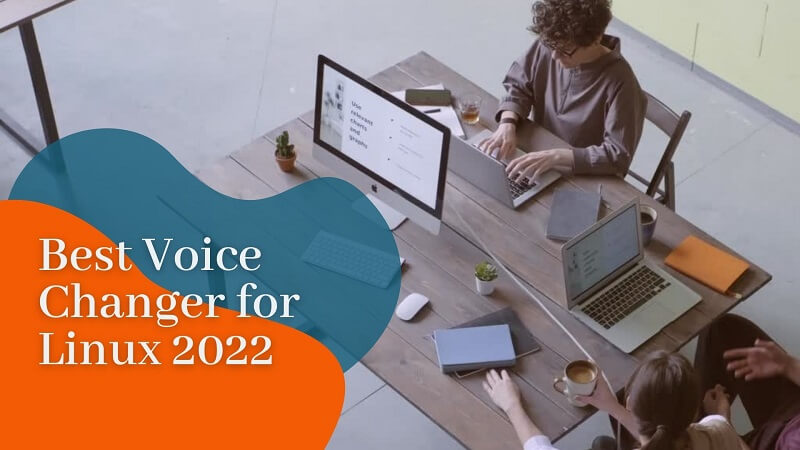 Best Linux Voice Changer
The internet is awash with Linux voice changer software, all claiming to be the best in the business. Going through the reviews and user feedback, we have handpicked the two most competent tools.
1. Lyrebird Linux Voice Changer
Lyrebird is an open-source voice changer that comes in an easy-to-use interface. you can see all the voice filters on its main screen that you can customize to finer adjustment.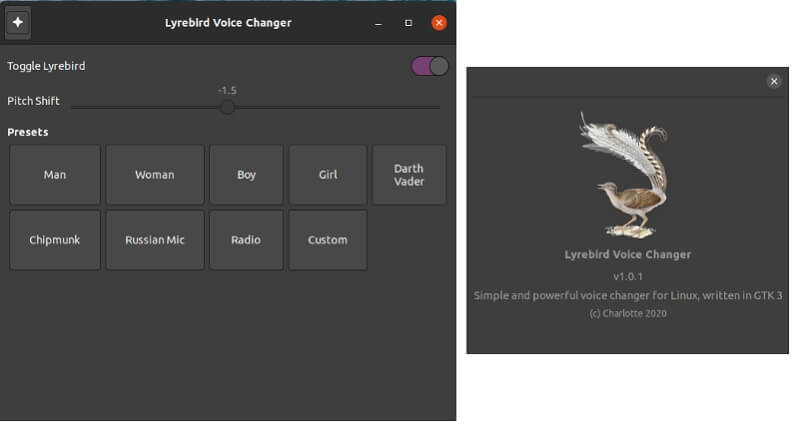 This simple yet powerful program is specifically designed for Linux voice changer live and it empowers users to create and load custom presets.
Features of Lyrebird
High-quality themes for male and female voices

Users can manually adjust the pitch as needed

Ability to create and load custom effects

Develops its own temporary virtual input device
Pros:

Simple and easy UI

Free to use
Cons:

Very basic with limited functions

Limited voice changing effects

Limited compatibility
Text Guide:
Check out how to use Lyrebird:
Step 1
Download the required package from the Lyrebird release page.
Step 2
Now, choose a preset or set a custom pitch and flip the switch.
Step 3
After that, change the input to Lyrebird Virtual Input in the application. Use the command: "pavucontrol" in the terminal to launch "Voice Control" and make changes.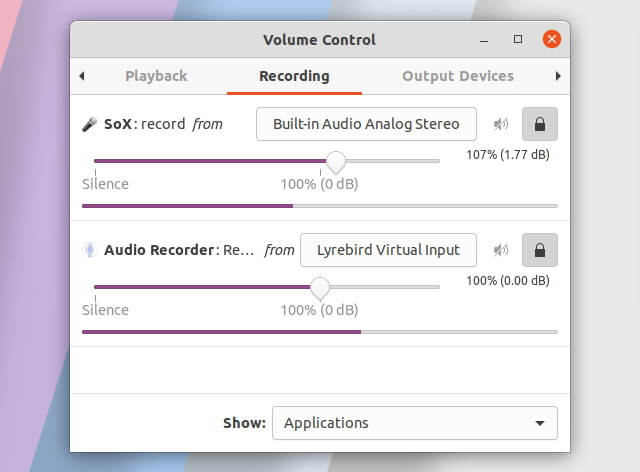 Step 4
Now, set the microphone as default on the communication app like Discord and implement any effect from the Lyrebird home interface.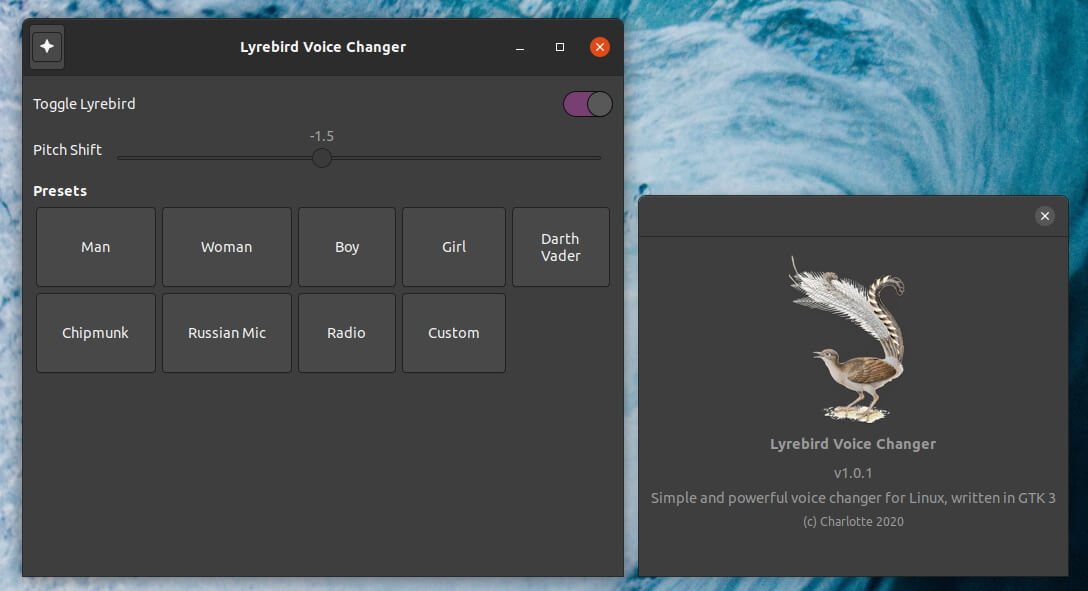 Another professional real time voice changer Linux that offers a huge library of hilarious voice-changing effects for Linux. What makes Clownfish voice changer Linux so popular is its compatibility with VST plugins, empowering users to create new sound filters the way they want – and that too in high quality.
Thanks to its simple and intuitive interface, even first-time users don't find any technical issue in exploring and applying its effects.
Aside from Linux, it supports all versions of Windows OS and works perfectly with Zoom, Skype, Discord, Viber, Steam, and many other online chatting apps and services. every communication app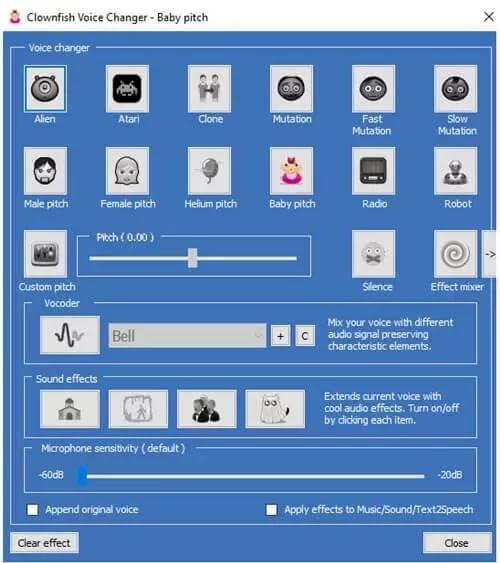 Features
A variety of sound effects of 14 kinds

You can use it as music player

Sound effect player is supported

Advanced VST support

Adjust the microphone's background noise
Pros:

It is a free voice changer for real time voice change

Open source and free

Compatible with all Windows OS
Cons:

It only offers you 14+ voice filters.

Interface seems old-fashioned
Also Read:
Clownfish Voice Changer Not Working >>
How to Use Clownfish on Discord >>
Text Guide:
Here's how to use Clownfish voice changer Linux:
Step 1
Install Clownfish for Linux and right-click on its icon in the main menu. Hit Setup to get going.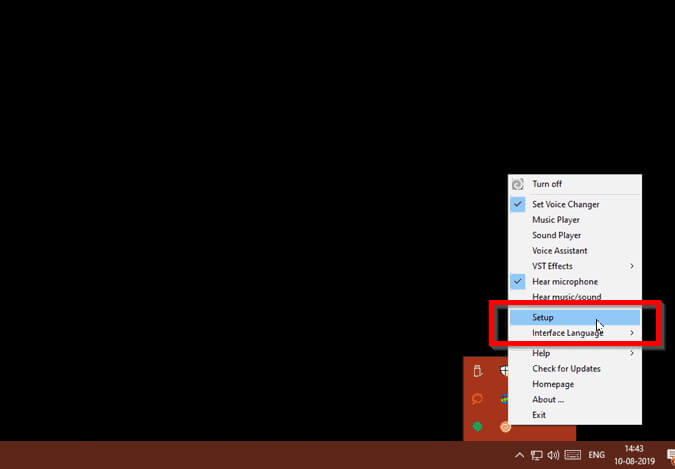 Step 2
Once installed, Clownfish will automatically be set as a default sound capture tool. Make sure to install the "Microphone" during the installation process.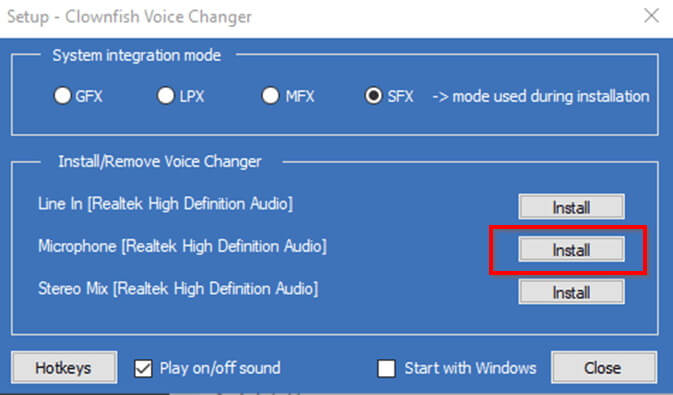 Step 3
Now, go to your PC settings and choose your "Microphone" as the default device as shown in the figure.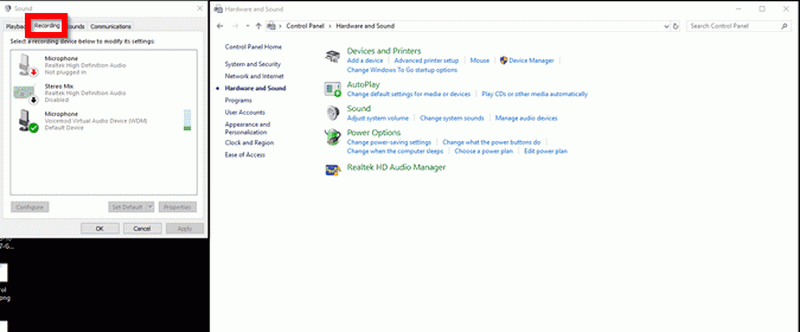 Step 4
After that, launch any chatting app like Discord and set its Microphone to "default" in the audio settings.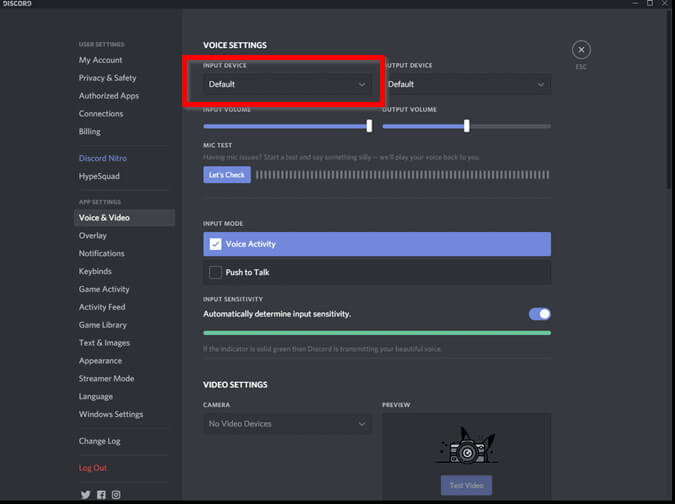 Step 5
After that, launch Clownfish in the system tray and choose any effect on its Home interface.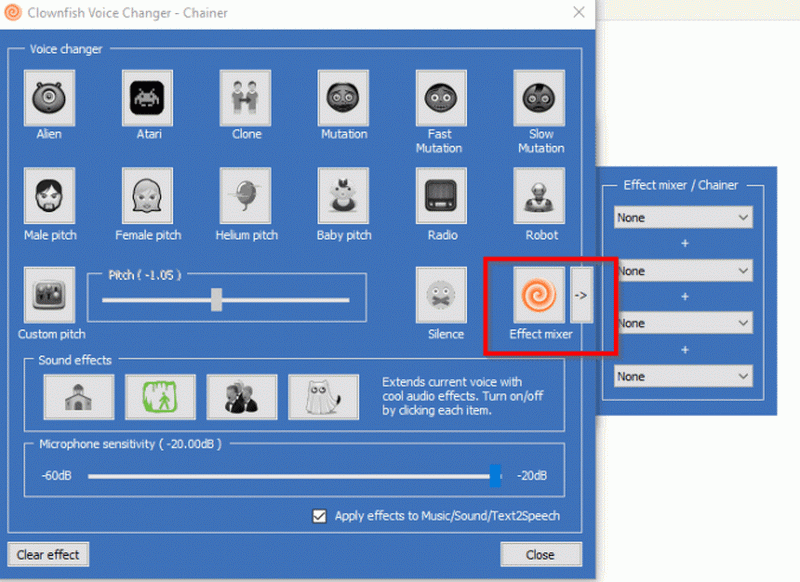 3. MagicMic Voice Changer for Linux
iMyFone MagicMic is fully worthy of your attention if you want to change every aspect of your voice more in a natural way. With just one click, you can turn your voice into Woman to Man, Monster, Minions, Devil, Chipmunks, Dragon, Robot, Alien, etc.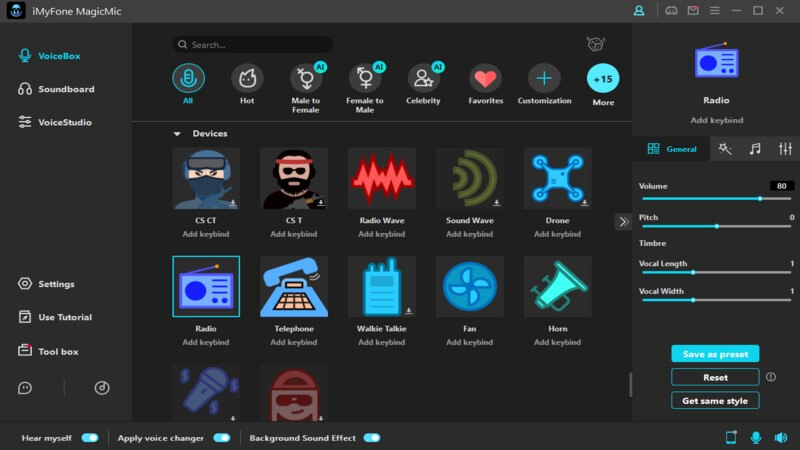 Key Features of MagicMic
Change Your Voice in real-time. Transform your voice in just one click with 100+ in-build voice filters.

It also works with pre-recording and recording voice changing.

You can control sound and voice playback with keybinds.

Its ability to change voice for live chat applications makes it an ideal choice for streaming Discord, and Zoom.

It's quite light-in-weight with 3MBs and doesn't slow down even the low-end PCs.
Pros of Magicmic

It comes with the most voice changing effects than any other voice changers.

It also can be used as a sound effect player,recorder and music player.

It comes with in-build background sounds so you can create fake environment.

Can be used on Discord, CrossFire, League of Legends and many other platforms.

It allows you to custom unique voice filters as your will.
Watch Video Guide About MagicMic Voice Changer
Text Guide:
Step 1
Install and launch iMyFone MagicMic
Step 2
Choose the output and input to use this voice changer.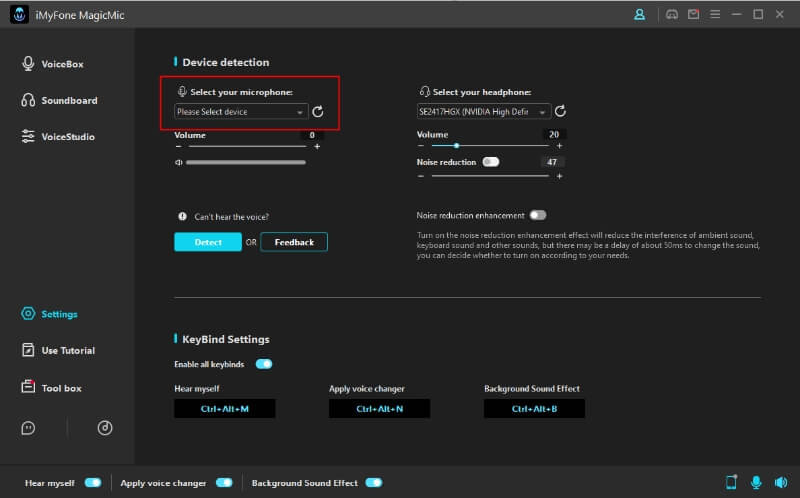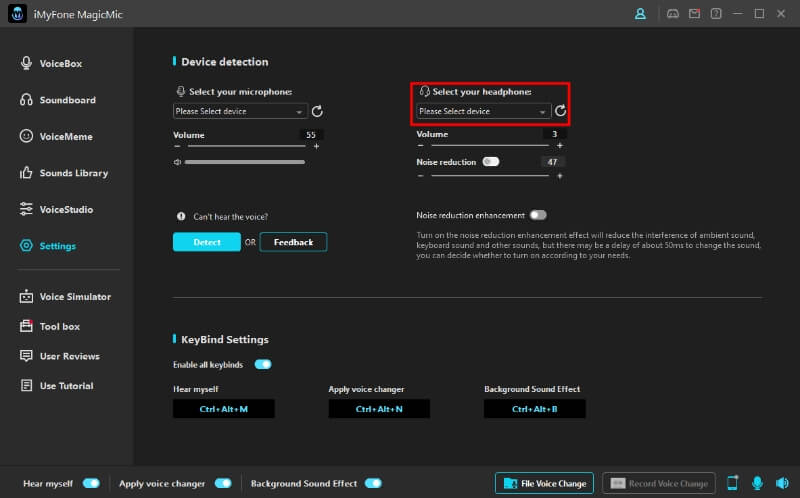 Step 3
Click any voice filter and speak into your microphone to check how your voice sounds like on each of them.
2.iMyFone Filme - Video Editing Software with Voice Changer Effect
iMyFone Filme is a one-stop solution to apply super-hilarious voice-changer effects to your audio files. Users can import the pre-recorded voice as well as implement the voice themes in real-time with just a few clicks.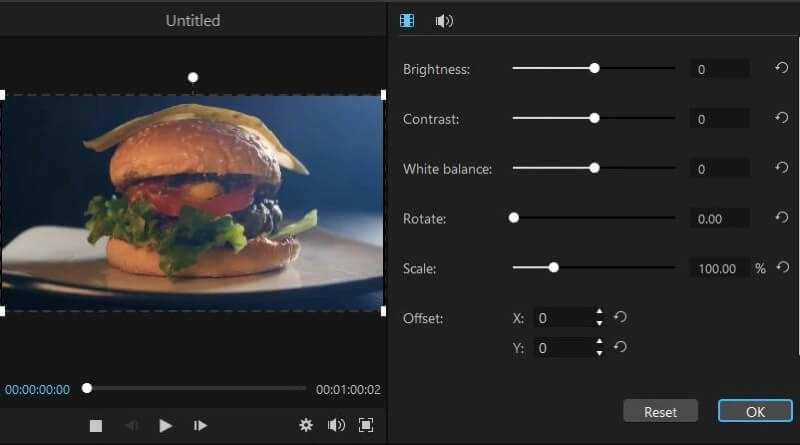 Aside from that, it comes preloaded with all basic video editing features including trim, cut, resize, split, crop, and change speed of the videos. With its latest update, users can auto-create videos as well as make slideshows in the most intuitive way. Even first-time users can explore and use these features without any hassle.
Key Features of Filme
An amazing collection of built-in voice-changing themes

Can record audio in real-time

Records the desktop screen in high quality along with sound

Loaded with all basic and advanced video and audio editing

Slideshow maker

Image editing

Add text to videos quickly

Hundreds of advanced transitions, effects, and themes
Pros of Filme

Easy to install use

Supports multiple audio and video formats

Available in the free version
Text Guide:
Check out yourself how easy it is to use iMyFone Filme:
Step 1
Begin by installing iMyFone Filme from its official site.
Step 2
Launch the program and hit on the Import option to load the recorded audio file into the software.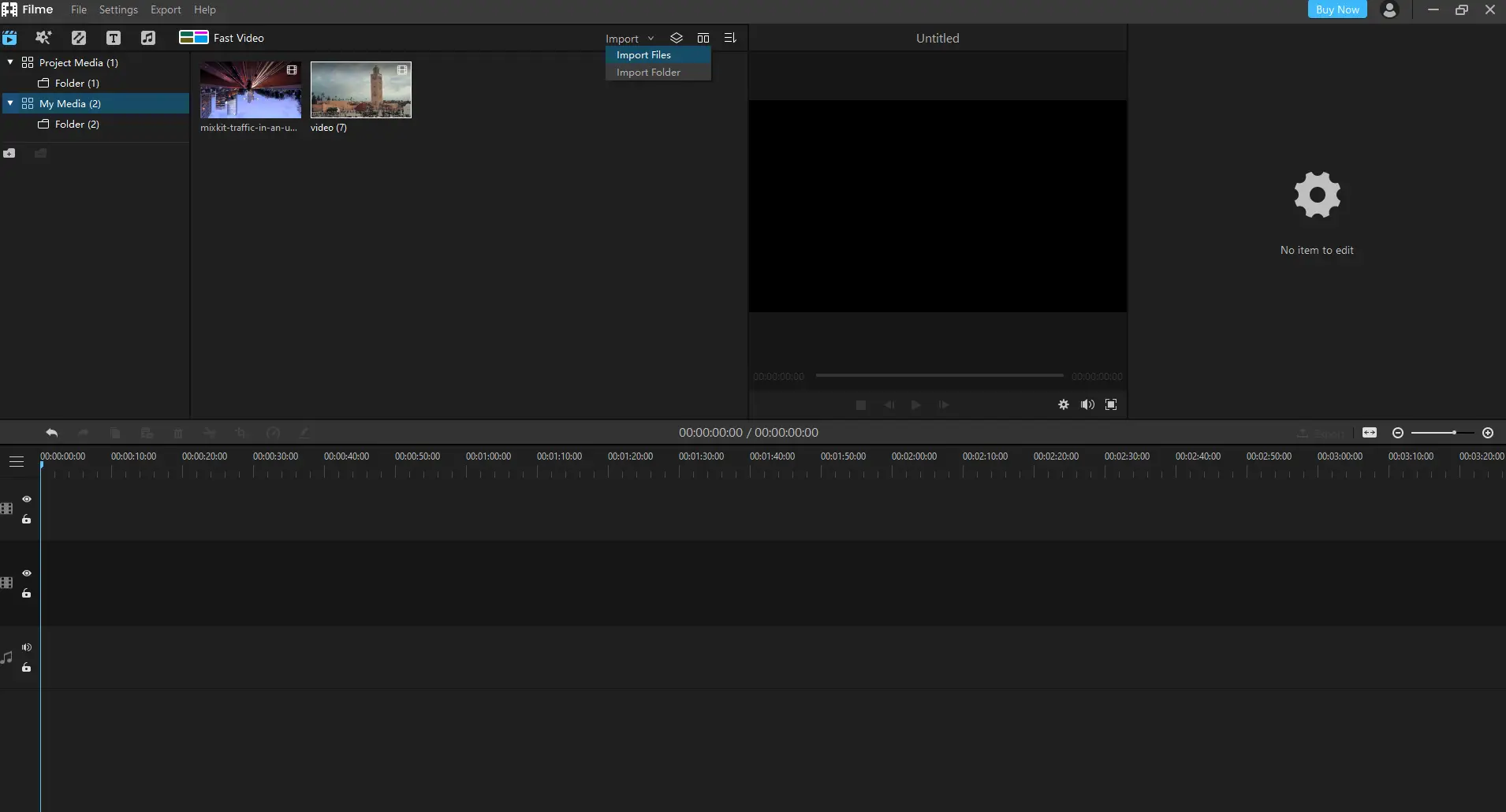 Step 3
Now, add the audio file/s into the timeline as shown in the figure.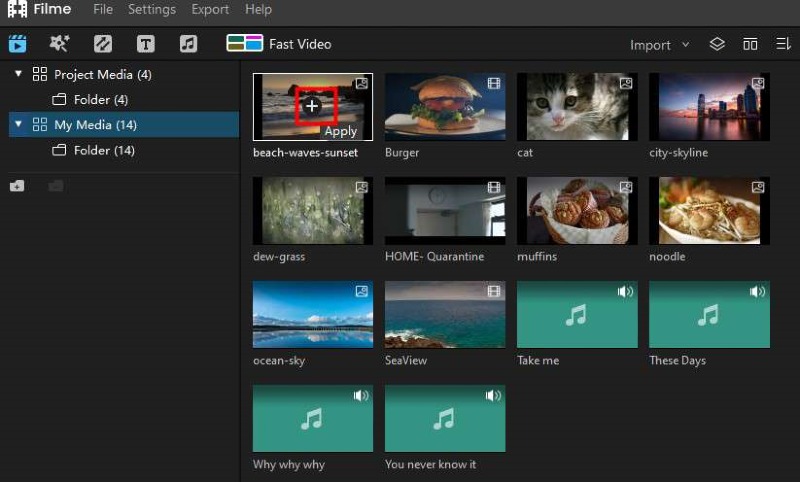 Step 4
Place your cursor on the audio file and double-click it. You'll see the audio editing options in the left tab.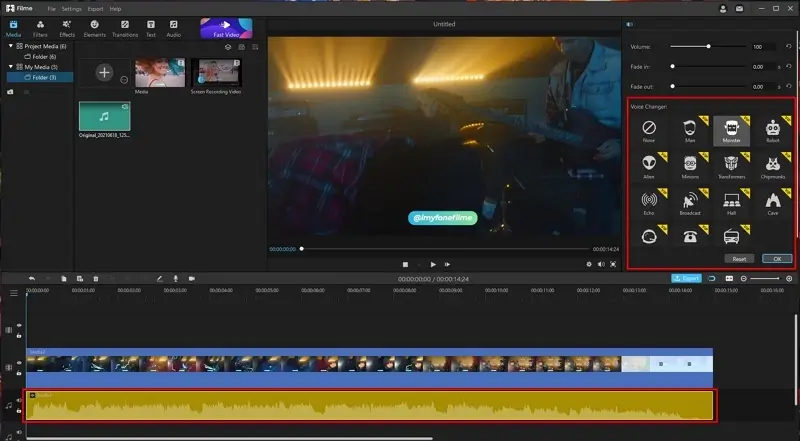 Step 5
Play the video and click on any voice theme to apply it. Hit Ok when you finalize a theme.
You can also apply the voice themes in real-time. Click on the Microphone icon, select the input device and the voice theme you want, and hit Enter.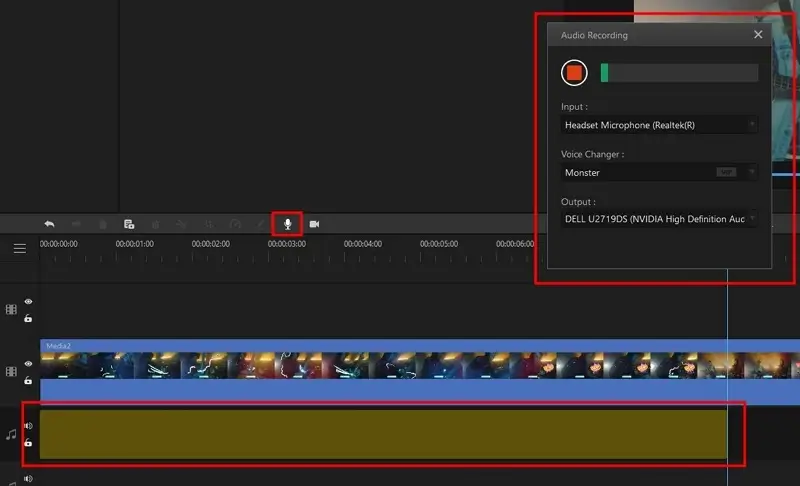 Step 6
Finally, hit on Export and choose the output Audio format to save the file to your computer.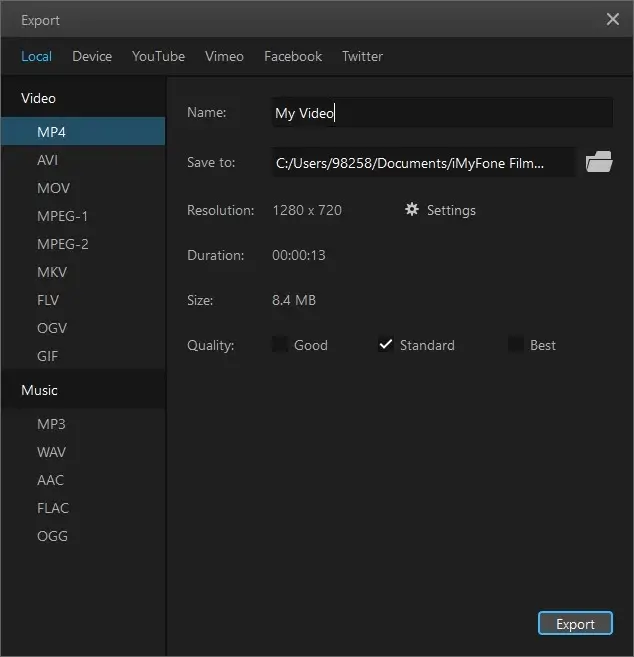 FAQs about Linux Voice Changer
We have gathered the most common queries of users pertaining to the topic at hand.
1. What is the Most Realistic Voice Changer?
MagicMic is the best and most realistic voice changer. It provides tons of hilarious voice themes in high quality that you can implement with just one click. What's more, it's compatible with a huge variety of games, chatting apps, and Livestream apps and works on all versions of Windows OS.
2. Are Voice Changers legal?
The answer is Yes. Using voice effects to entertain your friends and prank on your siblings is 100% legal and used all around the world. However, one is not allowed to modify the format and tone of the voice to threaten or blackmail an individual.
Final Words
To wrap it up, this article has walked you through the best Linux voice changer tools of 2021. The best part is most of the voice changers are free to use so you don't have to spend any money to entertain your friends.
Use the premium version of iMyFone MagicMic to disguise your voice in the most natural way.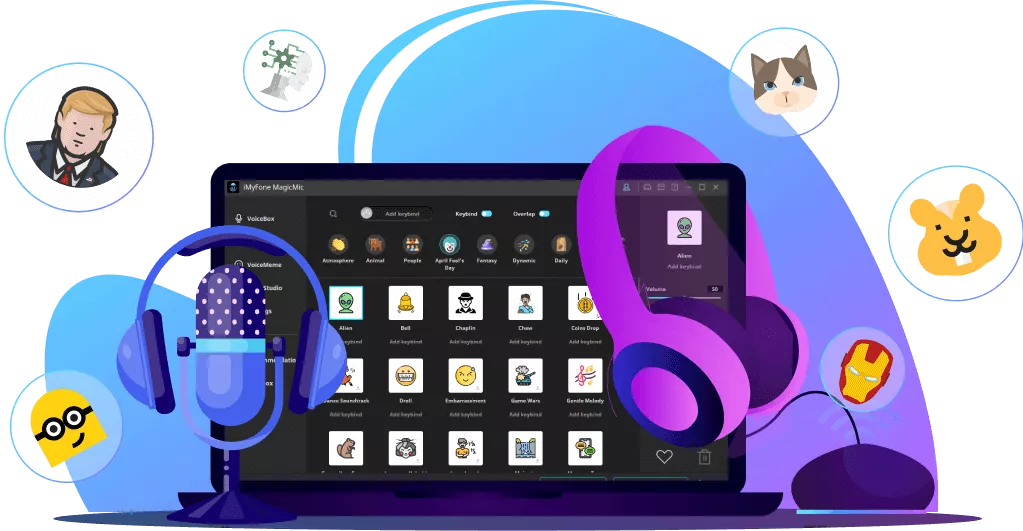 125+ Voice effects for one click voice changing in real-time.
Huge library with 400+ Voice Effects and 150+ Voice Memes.
Sound emulator in games,live,chatting,online class and more.
Voice record and audio voice changing are supported.
Voice studio lets you create any voice you like.