Are you wondering about the best way to separate audio from a video? If yes, then this article is going to solve your problem. There are many online tools, desktop video editors, and mobile apps available. In this article, we will share the best tools and software through which you can extract audio formats from videos effortlessly. Let's begin.
Easiest Ways to Detach Audio from Video – Filme
Filme is a professional desktop video editor for Windows and macOS. You can use it to edit your videos professionally and make them up to the mark. The best thing about it is that anyone can use it without any hassle; it is a beginner-friendly and simple video editor, but it offers exceptional tools that can help your video stand out from the crowd.
Filme is not only a video editor, but it is also a voice changer, screen recorder, video resizer, slideshow maker, PPT to video converter, and video converter. It has got everything you need to create a perfect video that can engage your viewers.
Watch this video to see how to separate audio from video easily:
Steps to Detach Audio from Video Using Filme
Step 1: Open Filme. Click on the Editing Mode to detach audio from the video.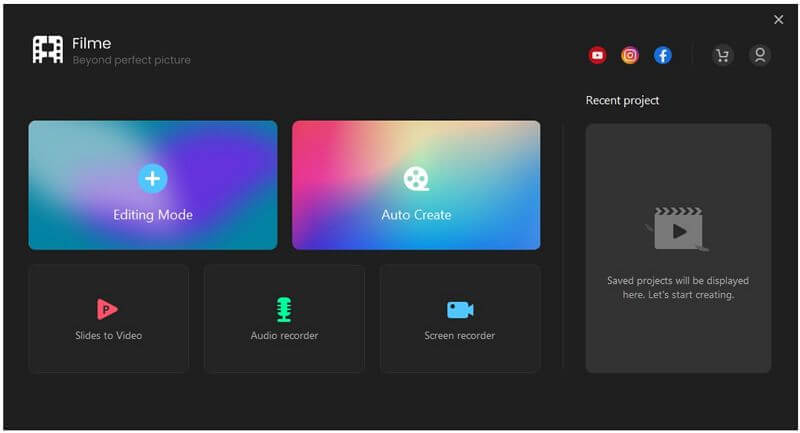 Step 2: You will see the video editor. Go to File>New Project and select any aspect ratio.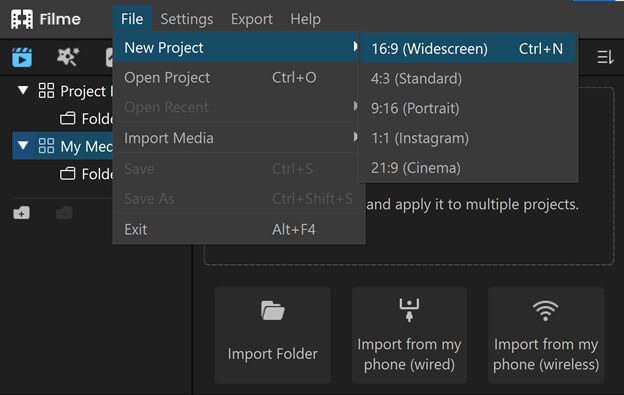 Step 3: Import video from the Media menu. You can import from your computer or your mobile. After importing the video, drag it to the timeline.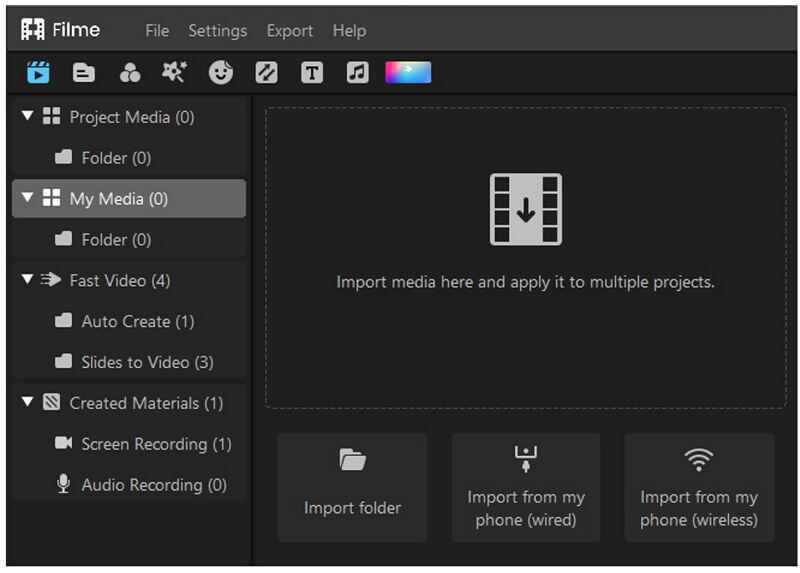 Step 4: In this step, you need to detach the audio. Right-click on the video on the timeline. Click on Detach Audio. You can also use the shortcut Ctrl+Alt+D.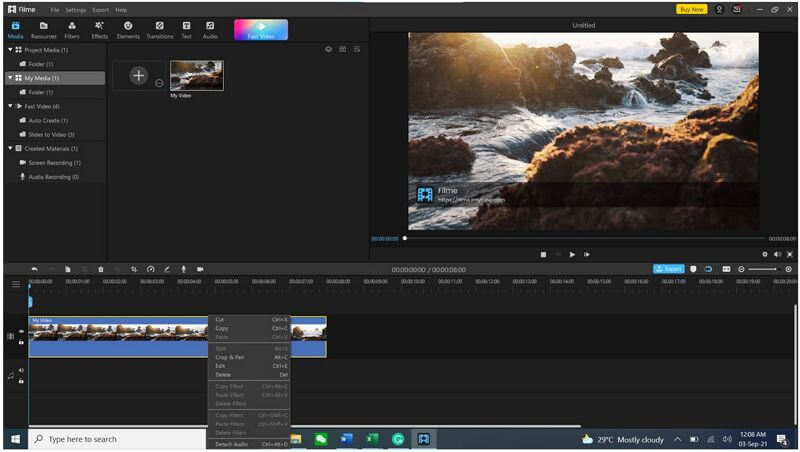 Step 5: Now, your video is detached. You can edit it as you like or delete it. In Filme, you can also use the voice changer.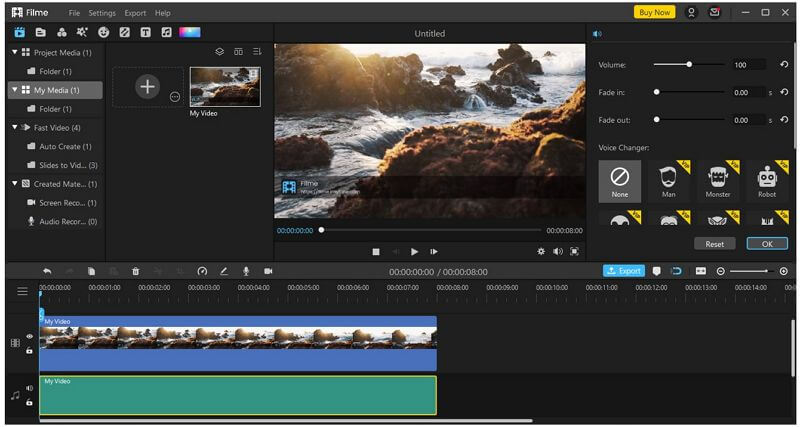 Step 6: At this stage, you can make other changes to your video. You can add effects, transitions, music, stickers, text, or anything you like.
Step 7: Finally, click on the Export button and export the video. You can also delete the video and export the audio. Filme can export audio in various formats.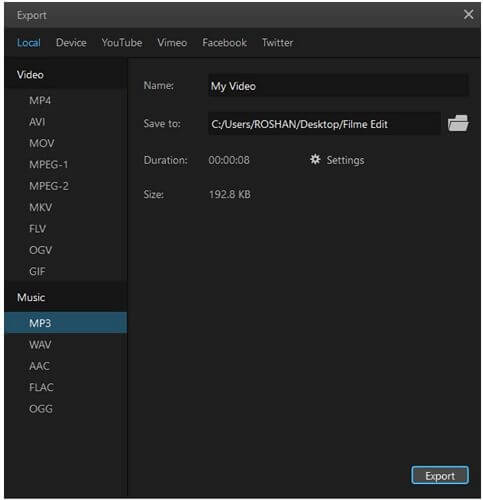 Also Read:
Easily Separate Audio in Audacity >>
Separate Audio from Video with Sony Vegas >>
Separate Audio from Video with Online Tools
There are many websites that offer online tools for the extraction of audio from your video. Let's discuss the two most useful and effective online tools.
Audio Extractor is one of the most powerful online tools for the separation of audio from videos. The simple interface that it offers makes its use more effective and attractive. Whether you are a beginner or a professional, you can easily perform your extraction task efficiently.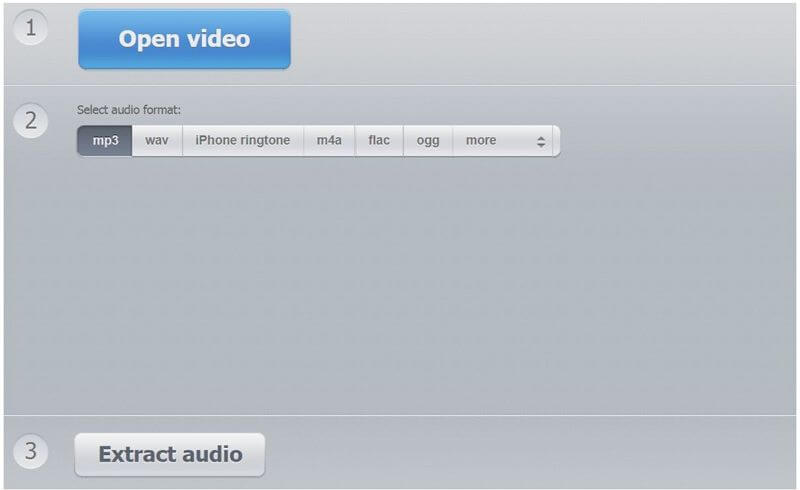 Features of Audio Extractor:
Free of cost: Audio Extractor is a free online tool. Anyone can use it without paying anything for limitless tasks. With a very easy method, it can perform numberless audio extractions every day.
Easy interface: The interface of this tool is very digestible for beginners. It provides optimal results with easy operation.
Supports different formats: This online tool supports different audio formats. It means you can easily extract different kinds of audio formats from your videos.
Pros:

Easy to use

Free of cost

Supports different audio formats
Cons:

No built-in audio player

Requires internet
Link:
Clideo is another well-known online video editor. It is designed for video splitting, cropping, trimming, and all that stuff. You can also pick it as a suitable option for the separation of audio from videos. It needs no experience to extract 100% results.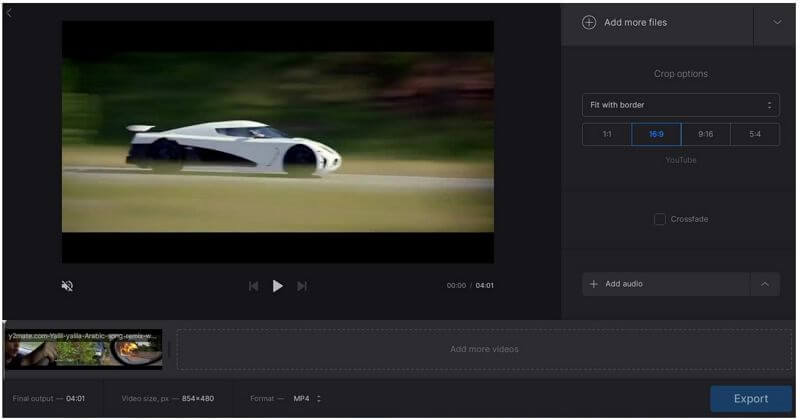 Features of Clideo:
Supports deficient sources: Clideo allows its users to add the desired file from different sources. You can choose files from your device, Dropbox, or Google Drive.
Easy to use: The interface of this online tool is also very simple and intuitive. It can easily be understood by a beginner. You can see different buttons and options to start and terminate the process.
Batch processing: You can use this tool to edit more than one video at a time. It can extract audio from many videos in an easy and single attempt.
Pros:

Compatible with all platforms

No requirement for sign up first

Supportive to different audio and video file formats
Cons:

Only works with the internet

Support maximum 500 MB video file.
Detach Audio from Video on iOS & Android
We have discussed online tools. Now, let's discuss how to detach audio from video on iPhone and Android by using different apps.
Video to MP3 Converter is on the top of our list for Android users. Its working procedure is quite similar to famous video editor applications. You can easily extract audio from videos, or you can convert your video to MP3 audio format.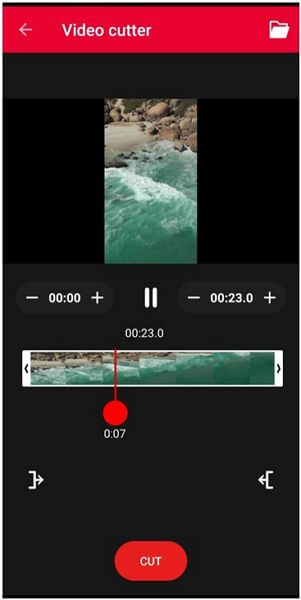 Features of Video to MP3 Converter:
Supports various formats: The above-mentioned application can convert various video formats to audio MP3 files. You can use files like WMV, MP4, 3gp, Flv, Avi, etc.
Fast video conversions: The application is perfect for immediate tasks. You can perform various tasks at a fast pace. It is powerful enough to convert formats quickly without the loss of quality.
Video and Audio cutter: It also acts as one of the best video cutters. You can cut different parts of videos and audio files along with the conversion of formats.
Pros:

Supports various bitrates

Easy interface

Easy procedure

Fast conversion
Cons:

Limited functions
2) iMovie for iOS
iMovie is the most common and famous video editor loved by all Apple device users. It has numberless built-in functions and features to edit videos like a pro. It can also solve the problem of extracting sound or audio from videos.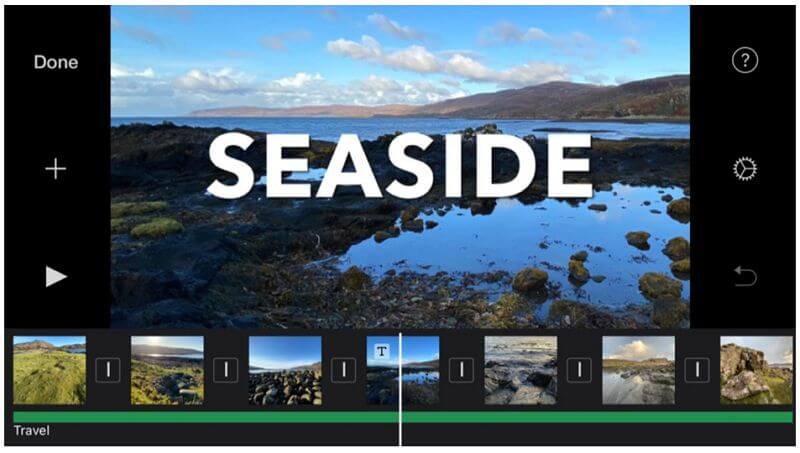 Features of iMovie:
User-friendly interface: iMovie has an excellent and clear interface that looks very manageable and professional. It has all the features excellently arranged on the interface with simplicity. Due to this reason, it is very famous among beginners and professionals.
Sharing buttons: iMovie allows its users to export the resulting file directly from this app to different social media platforms. You will have to press a sign button to export or upload your files on social media.
Easy to understand: The method of its use is straightforward. It does not require any learning curve to use it.
Pros:

Easy to use

Simple and clear interface

Amazing numberless features

Extract audio from videos

Built-in effects and enhancements.
Cons:

Require considerable space
Media Converter is a wonderful mobile application for iPhone users. It is a relatively simple but effective application that can carry out various tasks along with file conversion. It can easily be used to convert file formats from video to audio.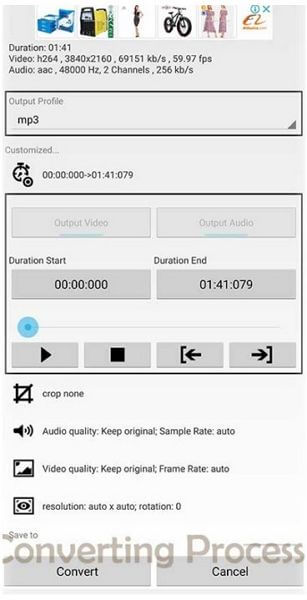 Features of iMovie:
Extract audio: This application for iOS is mostly used for the separation of different files. You can easily use it for pulling out audio from video formats.
Supports various formats: It supports various input video and audio formats. It does not restrict its users.
Pros:

Supports various formats

Easy to understand and use

Intuitive interface

Useful for video compression
Cons:

It has an old interface.
Link:
Audio converter is again a conversion application for iOS users. It is exclusively designed for converting different media files. Due to its supportive role for versatile formats, it is highly recommended by Apple users.
Features of iMovie:
Easy interface: It is a mobile application, thus has a very simple interface. It is highly recommended for beginners.
Excellent support: Audio Converter possesses a very efficient supporting system for handling and proceeding with various types of formats.
Pros:

Perfect for beginners

Understandable interface

Outstanding supporting options
Cons:

You cannot upload multiple files because of a bug.
Final Words
Detaching audio from video is pretty simple. There are many online tools and mobile applications for this conversion. However, Filme is a wonderful desktop application/software for the conversion and extraction of various formats of files. It is a complete video and audio editor that can help you make almost any changes to your video and audio.