The free versions of video editors usually have watermarks. Watermarks do not look pleasing to the viewer and leave a bad impression. You should always remove the watermark from your video if you want it to be engaging.
Movavi is a popular video editor that leaves a watermark on videos. You can, however, remove the watermark to give your video a more original appearance. We will explain everything you need to know to remove the Movavi watermark in this article.
Part 1. Does Movavi Have a Watermark?
Yes, Movavi has a watermark, and it will display it over the video. If you're using Movavi on a trial basis, thenit will leave a watermark on the exported video. The watermark appears in themiddle, and the video looks unpleasant. Movavi photo editor and screen recorder also have watermark.
Movavi is a paid editing tool, andit offers 1-year and lifetime subscriptions to its users. If you have asubscription, then you can edit your videos without having a watermark.
The most convenient tool to remove Movavi trial watermark from movavi video editor/movavi photo editor/movavi screen recorder is MarkGo. You can remove the watermark with thistool in a few minutes.
Part 2. Remove Movavi Watermark Easily
There are a few simple methods toremove the watermark. You can use any of them which you can find the best. Themethods mentioned below are the easiest, even for beginners.
Pros of Movavi:

You can utilize it to edit funny videos and clips.

The interface is intuitive.

It supports Microsoft Windows 7 and above.

It possesses a host of Premium Features .

It takes time to render for heavy video files.

It is not designed for more professional editing.
| | Movavi Video Editor | Movavi Video Editor Plus |
| --- | --- | --- |
| Price for Life Time | $39.95 | $59.95 |
| Features | Cutting, trimming, joiningEffects and transitionsAutomatic video creation | Cutting, trimming, joiningEffects and transitionsAutomatic video creationExtended media pack. AnimationTimeline markersFast processing of 4K videos |
Method 1. Purchase a License
You can purchase the license of Movavi to remove the watermark, and you can also enjoy more benefits of this subscription. It offers a lifetime subscription to its users to enjoy all the features. The steps to purchase the license are given below.
Step 1: Go to Movavi's website to select your plan to enjoy premium features.
Step 2: You will see three plans there. You can select any planaccording to your needs. Movavi displays all the plans with prices and thepremium features they provide with the package.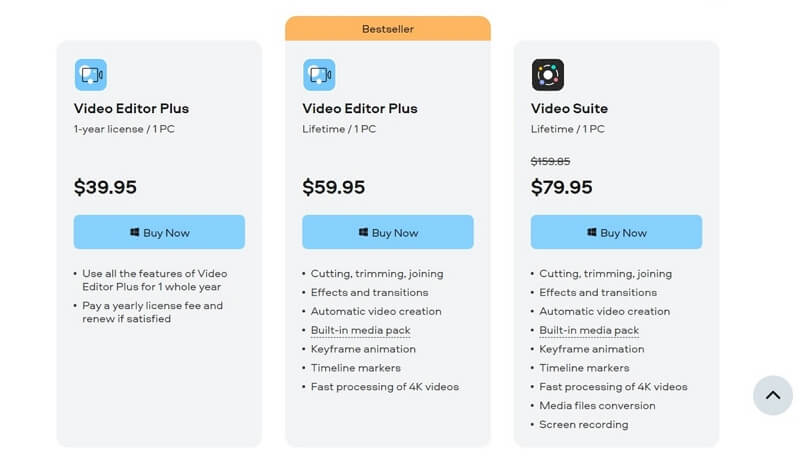 As Movavi is compatible with Windowsas well as Mac, select the one you want. Movavi offers a 1-year plan and alifetime plan that is limited to only one pc.
Step 3: Select your currency, and you can also add an insurance service.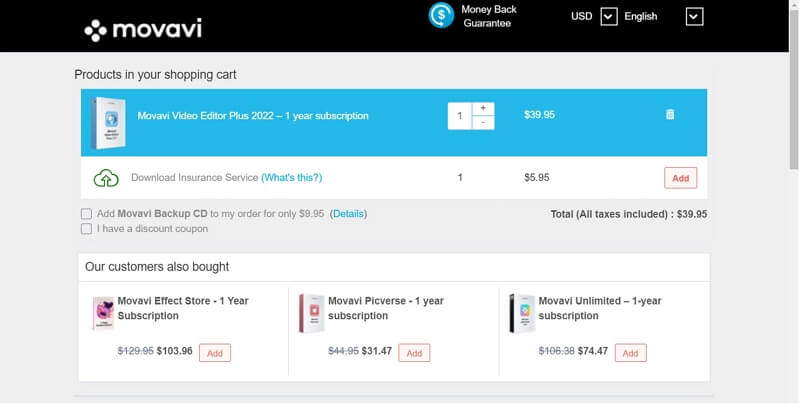 Step 4: Now, select your payment method, fill up all your personalinformation, and click on Place Order. After successful payment, you can download Movavi video editor without the watermark.
Key Features of Movavi:
Filters -- Users can try artistic filters and different colour filters to add a special touch to their videos. You can begin by going.

Video processing of 4K videos in a timely manner

with keyframe animation

Effects -- With the help of Movavi effects store, users get access to stunning titles, stickers, transitional effects and other extra.
Method 2. MarkGo [PC Software to Erase Movavi Watermark]
MarkGo is the perfect application to remove all kinds of watermarks from videos and images. It is anall-in-one tool that not only removes but also adds watermarks wherever youlike.
MarkGo has a simple and attractive interface having few options for your ease. Anyone can use it without any hassle. It will take a few seconds to add or remove watermarks fromany video or image. The best part is that even if there are multiple watermarks, you can use MarkGo to get rid of them.
It is also a paid tool; however, itis pocket-friendly. You can try it for free, but for exporting, you need to buy its premium plan.
The steps below will help you remove movavi watermarks using MarkGo.
Step 1: Download it and install MarkGo on your computer; it will take a few minutes to install. Open it; you will see a fantastic interface having fewoptions. Click on Remove Watermark Video to proceed.
Step 2: You will see the editing window. First, you have to import the movavi video from which you want to remove the watermark. Click on Add Video and select your desired video to import.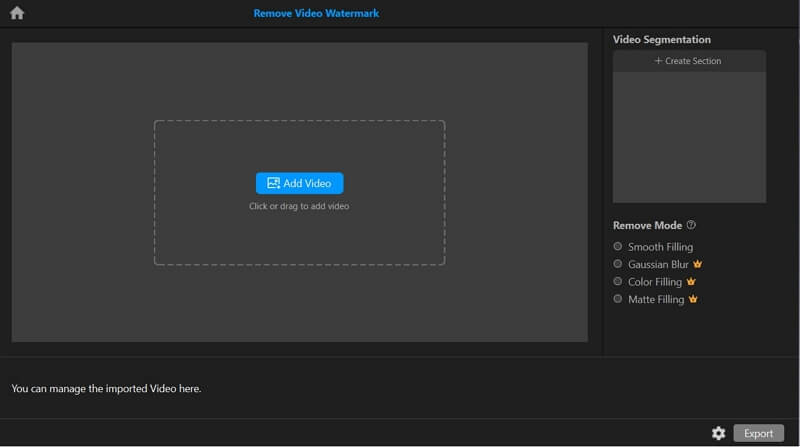 Step 3: Now, you will see a rectangle over your movavi video. Move thatrectangle and place it over the watermark. You can adjust the size of therectangle by dragging its corners.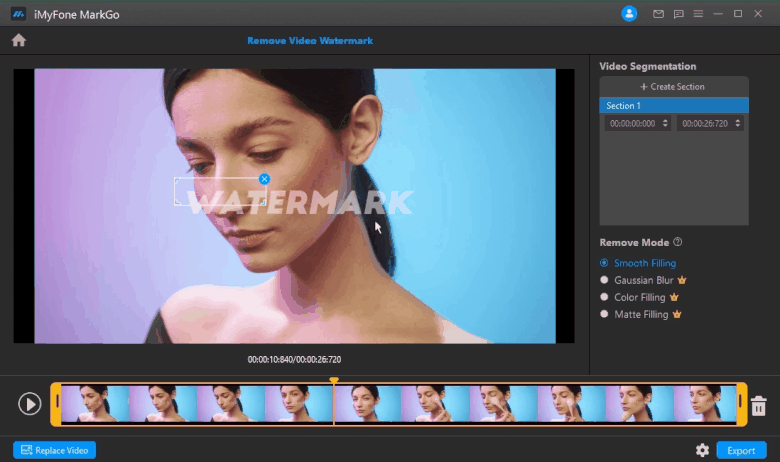 Step 4: Click on Export at the bottom right corner and selectthe location where you want to export.
Watch this video to see how to use MarkGo easily:
Tips
Check the GIF below to see how MarkGo removes Movavi watermark perfectly without traces! If you don't want to pay for any credits, just
Download

‍

‍

MarkGo

‍

‍

below to try it free!
Method 3. Apowersoft.com [Online tool to remove movavi watermark]
Instead of downloading applications,there is another option of online websites to remove watermarks. It iseffortless to use, and it will also save your time. You can remove thewatermark within a few minutes from an online site.
Many online sites don't give you theperfect result, and you will face problems in exporting the video. Apowersoftis free from all the difficulties, and you can export your video withoutgetting into trouble.
It can ease your work and provideyou with quality work. The steps to remove the movavi trial watermark from apowersoft.comare listed below.
Step 1: Open your web browser and go to the website, or you can alsoclick on this link to proceed. You will see an interface. Click on Remove Watermark From Video and select the video to import. It will take a fewminutes/seconds to upload the video.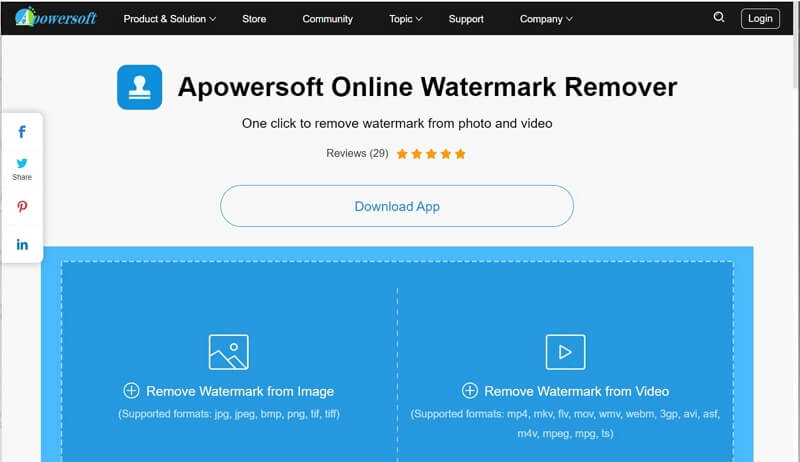 Step 2: After uploading, move the adjustments box over thewatermark. Click on Erase, and it will take a few minutes to remove thatwatermark.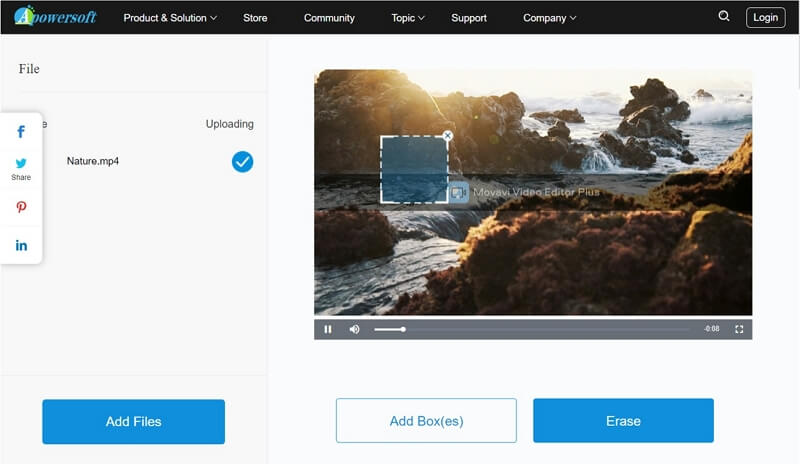 Step 3: After erasing, click on Download Files and selectyour desired location to export it.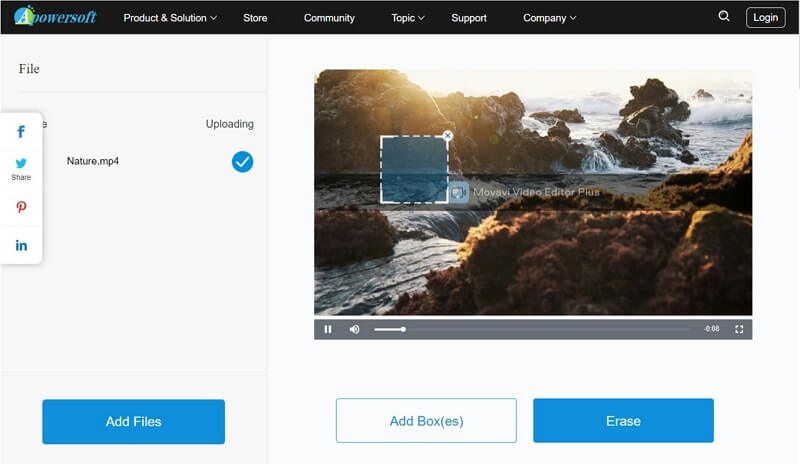 Part 3. FAQs about Get Rid of Movavi Watermark
01

Is there any video editor without a watermark?
Yes, many video editors can edityour videos without a watermark. You can use iMovie to experience high-qualityvideo editing because it is straightforward to use.
In iMovie, you can have a wide rangeof default editing tools to make your video more appealing. iMovie iscompatible with iOS as well as Mac. You can not download movavi video editor no watermark.
02

What is the cost of Movavi Video Editor if I want no watermark version?
Movavi has three packages that youcan subscribe to. There are two variants: one is for 1-year, and the other isfor the lifetime. You can subscribe according to your needs.
The packages are of mid-rangepricing that you can buy easily. The starting price of packages is 39.95$, andbefore subscribing, you can read the description of all packages and select thebest one.
03

Is Movavi worth buying?
Yes, Movavi is worth buying. It isan excellent editing application because it provides a long range of editingtools to make your video more pleasing. It is simple to use, and it has theability to make your video more engaging.
If you have to remove trial watermarks from Movavi, then it is very costly. While on the other hand, MarkGo prices for all the plans are pocket-friendly.
Conclusion
We have seen how you can get rid of Movavi's watermark . The best way is to get the license. If you don't want to buy one, you can use a watermark removing tool, and we recommend MarkGo. It will remove the watermark or subtitles from videos in no time. You can also use online tools like Apowersoft to remove watermarks from videos. Now, you can decide which method is perfect for you.