WeVideo is an online video editing tool that you can use to edit any sort of video. For people who don't want toget in trouble downloading and purchasing a video editing tool, an online video editing tool is the best. But if you use WeVideo, you will have a watermark onyour video, and we will demonstrate how to get rid of the WeVideo watermark using different tools.
Part 1. Does Free WeVideo Have a Watermark?
Yes, free WeVideo does have awatermark. If you use this online tool to edit any kind of video, you will endup having a watermark on the top right of your video. But people still use itbecause it is easy and quick to use and does not take any space on your harddisk.
Most people do not like watermarkbecause it just ruins the look of the video, and it bothers them. Watermark isjust a way of showing or promoting the brand to free users. There are severaltools that will help you to edit the video for free and do not have a watermark.
WeVideo has a visual representationof a professional video editing tool. With a video, audio, and text timeline,it does not look amateur at all. It has default templates for texts as wellthat you can add to your video. But the only drawback or disadvantage that youget with free WeVideo is the watermark. If you want to get rid of thiswatermark, you can use other watermark remover tools, or you can simplypurchase the license of this online product.
Part 2. How Do I Get Rid of WeVideo Watermarks?
If you don't like the WeVideo watermark, then you can easily get rid of it. You can use the methods defined below to get out of this watermark trouble. Just follow one of these methods to remove the watermark from your WeVideo video.
Method 1. iMyFone MarkGo [Win & Mac]
iMyFone MarkGo is a watermark tool.It is compatible with both Windows and macOS. You can easily download it forfree from the website. Although it does have a paid version, if you want toremove a single watermark, then MarkGo will do just fine for you. Just followthese simple steps to help yourself remove the watermark from any WeVideo video using iMyFone MarkGo.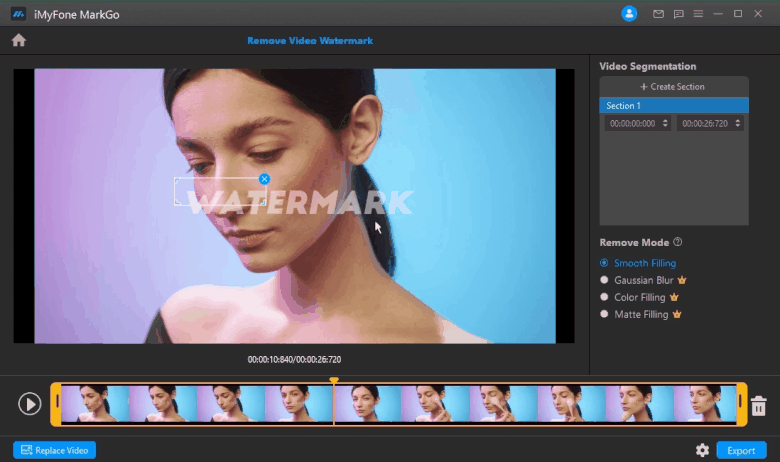 Wonderful Features of iMyFone MarkGo
User-friendly, without any technical knowledge required to remove watermark in just one single click.

Easy to remove and add watermark for videos and pics, with no traces at all.

Free to try the remover, during which you can check the compatibility.

Able to add watermark for up tp 100 pics in batch for copyright considerations.
Watch the video tutorial to remove watermark using MarkGo
Step 1: If you don't have MarkGo installed on your PC, then you candownload it for free. It will download in a few seconds, depending on yourinternet connection, but it does not have a large file size. Open the toolafter installation.
Step 2: There are multiple watermark options. You can either add orremove the watermark as you like. We want to remove the watermark of WeVideo, sowe will choose to Remove Video Watermark.
Click on Add Video and select the video to remove watermark from WeVideo.
Step 3: The video will be imported to the tool. You will see arectangle over the video. Move the rectangle and place it over the watermark. Adjustit according to the size of the watermark.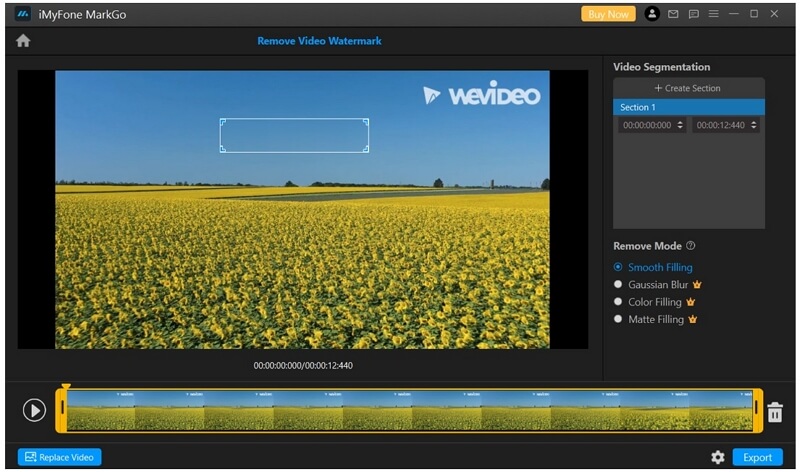 Step 4: There are multiple watermark removal effects that you canadd to your box. But only the Smooth Filling option is free, and the rest ofthe three options are paid. You need to pay for these features if you want touse them.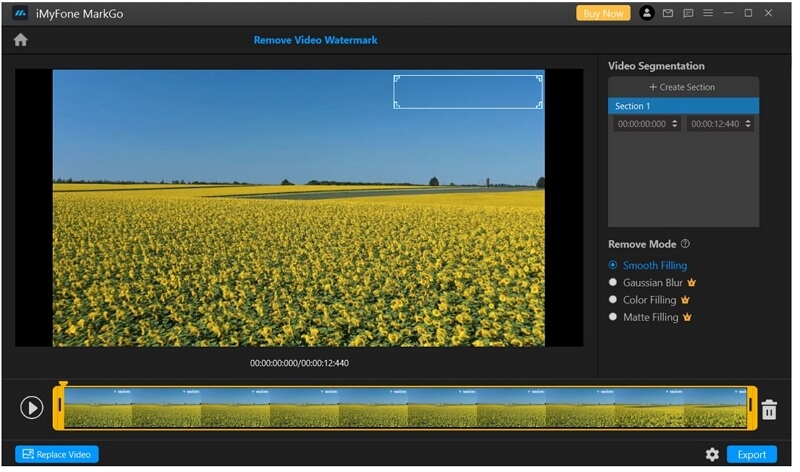 Step 5: Now, if the watermark is removed successfully from thevideo, then you can easily export it by clicking on the Export button.
Method 2. Video Eraser [iOS & Android]
Besides MarkGo, you can also usephone applications to remove watermarks from any WeVideo video. Here, we will discussboth applications of Android and iOS that will help you to remove watermarkseasily.
Step 1: It is a free app on the App Store. You can simply go anddownload the app within a few seconds. Open the app, press the "+" buttonto import the video that you want to edit. Thistool is free on Android as well. Just go to the Play Store and download thisapp.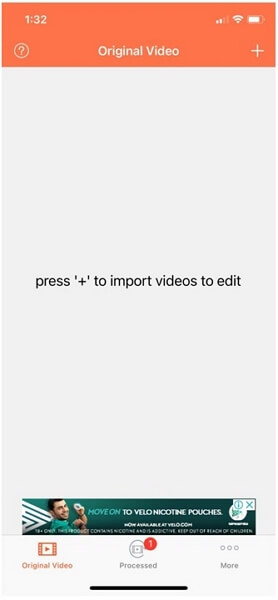 Step 2: After importing the video, tap on the "i" on theright side of the video. It will display different options. Click on "RemoveWatermark" as we want to remove a watermark from the video.
Step 3: Tap on the screen, and a box will appear. Drag the box andselect the watermark area on the video. After selecting the watermark, click "Start"on the top right of your screen.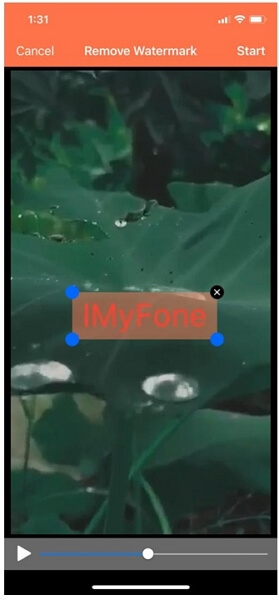 Step 4: It will take a few seconds to process, and the watermarkwill be removed from the video. It will be saved in your app. You can move thisvideo to your gallery.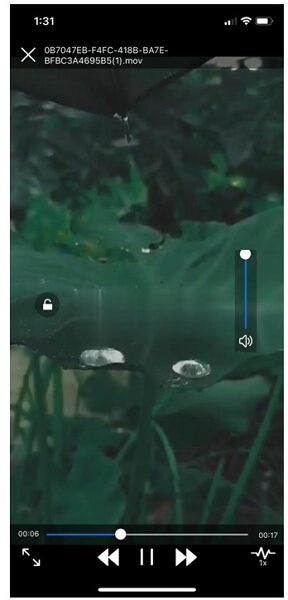 Method 3. Purchase the License
If you find these methods complex, then there is another solution for you. If you love to use WeVideo, then you can purchase the license. WeVideo has four different types of licenses. It includes Power, Unlimited, Professional, and Business licenses. All of these licenses have different prices. You can choose the license as per your usage and requirement, and there will be no watermark in your future WeVideo video.
Final Words
WeVideo is an online video editing tool, but it has a drawback for the users. A watermark will appear after exporting the video. There are different methods to remove this watermark if you don't like it. You can use iMyFone MarkGo if you are using a PC. It works perfectly well. You also use the Video Erase app on your Android or iOS smartphone. But if you don't want to indulge in these complications, then you can simply purchase the license of WeVideo, and no watermark will appear on your video.