Most video editing software leave a watermark on your content that can annoying. Sometimes, the watermark is so visible that it overshadows the original content of the video. Luckily, the internet is awash with tools and services that empower users to remove object from any video easily and DaVinci Resolve is one of them.
If you're planning to remove the watermark from a DaVinci Resolve exported video, then this guide is meant for you. Read on to learn how to remove DaVinci Resolve watermark as well as some of its best alternatives that you can use.
Part 1: Remove
DaVinci Resolve Watermark with

iMyFone MarkGo

Does Davinci Resolve have a watermark? Usually, there is no watermark in the exported video from Davinci Resolve. However, sometimes you may get a watermark is by using specific features that it includes with the Pro version.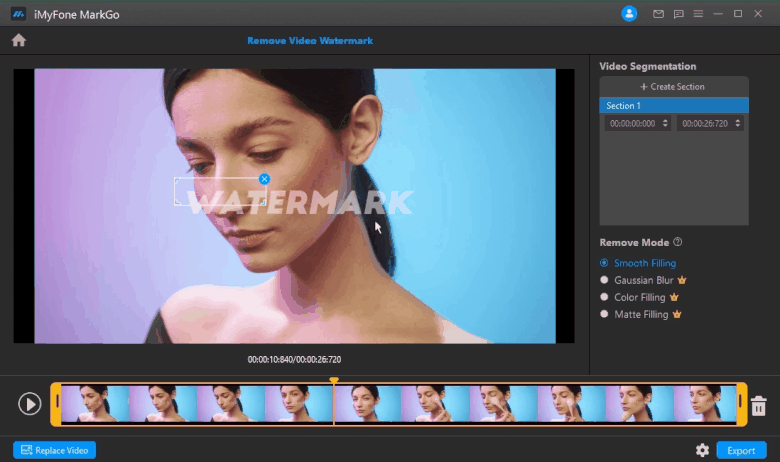 If you want to export video without watermark, you need buy DaVinci Resolve. I would recommend you to buy DaVinci Resolve without any troubles. But if you are looking for some third-party tools to get rid of DaVinci Resolve watermark, i would recommend iMyFone MarkGo.
iMyFone MarkGo has been used for nearly all the purposes related to editing, so if you want to remove watermarks from any video, you can easily use iMyFone MarkGo for better results. You don't have to worry about how to use it, as all the steps are mentioned down below.
Steps to Use iMyFone MarkGo:
Watch the video tutorial to learn more about MarkGo
Step 1: Upload the DaVinci Resolve video
Click the Upload button and pick the DaVinci Resolve exported video you plan to remove a watermark from.
Step 2: Use selection tool to select watermark area
Select the area of the DaVinci Resolve watermark you want to remove by the selection tool.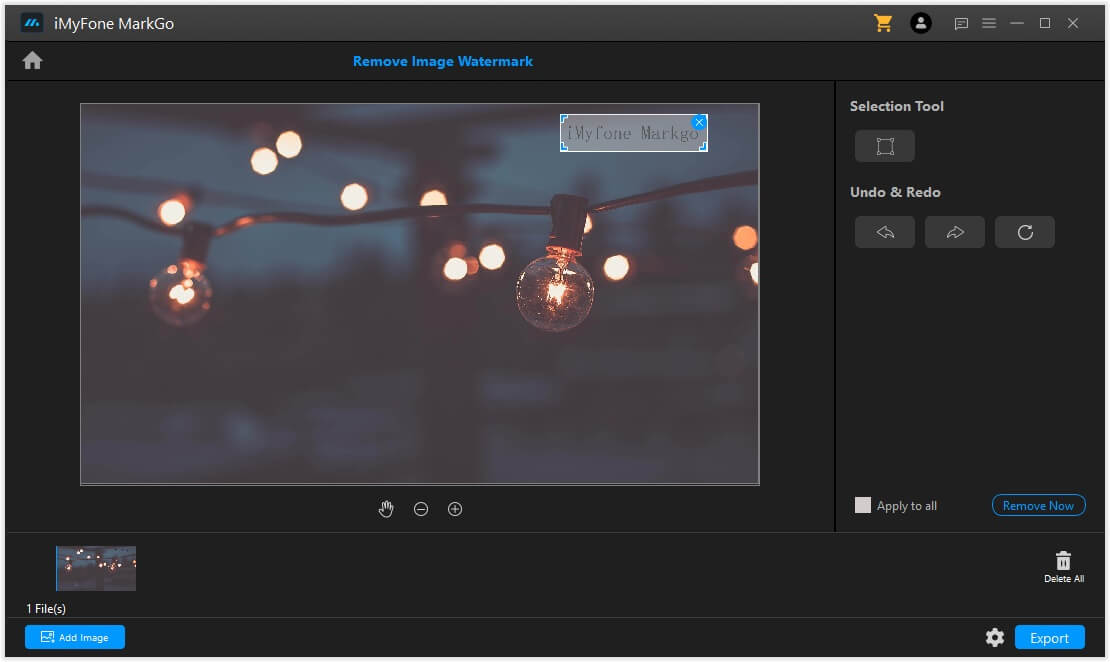 Step 3: Click the remove now button
Now you have removed watermark successfully! Look into the details of your images and do slight adjustment to cover the trace of watermarks.
Step 4: Export the video/image
After you already remove the image/video watermark successfully,you can export it now.
Part 2: Use DaVinci Resolve to Erase Watermark
DaVinci Resolve is one of the most powerful tools to remove watermark from any video with just a few clicks. No matter if the watermark is on the center of the video or at the edges, one can use easily remove it via DaVinci Resolve. if you dont want to use davinci resolve,you can choose some online watermark removers.
Aside from removing watermark, it has established itself as a top-ranked solution for color correction, visual effects, motion graphics, and adaptively blending the data from the surrounding pixels. Its simple and intuitive interface makes it an ideal choice for both beginners and professionals to get the job done without any hassle.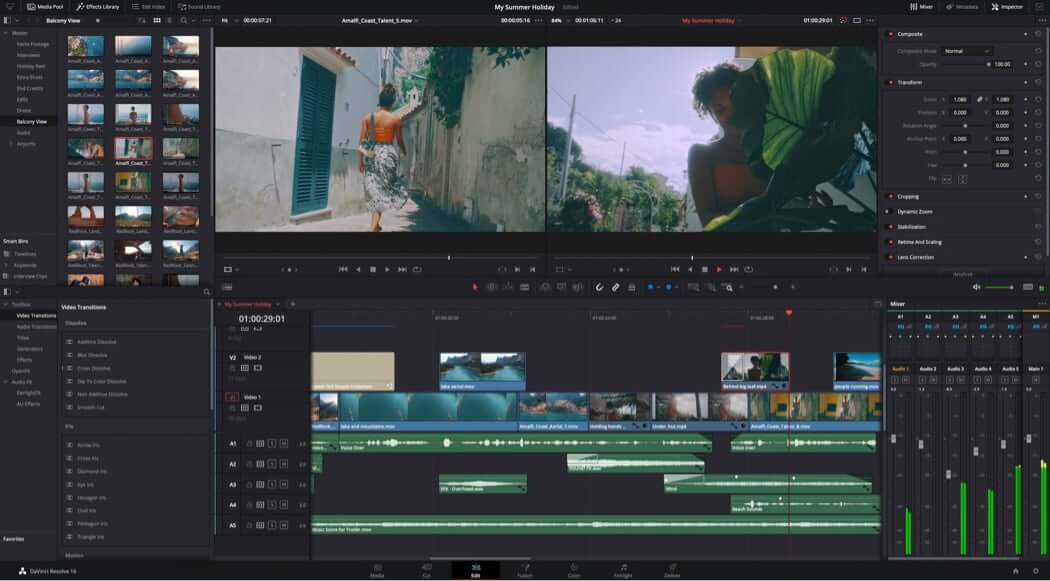 DaVinci Resolve Guide:
Step 1: Once downloaded, install DaVinci Remover on your computer and launch it.
Step 2: On the Home interface, hit on Create New Project and then, enter its Name. Now, click on Create to get going.
Step 3: After that, right-click on media pool and select Import Media to load one or multiple videos with a watermark into the program.
Step 4: Drag the video to the timeline and click on it to select it. Now, head to the Color page and hit Alt+S hotkey to create a new node.
Step 5: Now, bring the Playhead to the start of the video and hit the Power window. Then, choose a suitable replacement for the watermark and drag it to cover the watermark.
Step 6: Tap Track and select Track forward and the program will start tracking forward.
Step 7: Now, click on Library, find Object Removal, and drag it to the second Node. Then, hit on Scene Analysis and the program will start analyzing the frame and background and removing the moving watermark.
Step 8: Hit on Build Clean Plate under the Settings menu if your frame turns to grey lump.
Step 9: Finally, hit on Delivery, choose the output format, and click on Start Render. Wait until the program completely removes the watermark.
Part 3: 3 Alternatives to Remove Watermark from Photos and Videos
As always, we will also walk our readers through several alternatives better than DaVinci Resolve to remove watermark with great speed and ease. Below is a list of three most popular and efficient methods for removing unwanted watermarks. if you want to remove it on the iphone,you can download the watermark remover app.
Let's read them up.
1. Apowersoft Watermark Remover (Online)
The first method on our list is removing the watermark via Apowersoft. It is a free, open-source tool that empowers users to remove watermark from many video formats including MP4, MOV, FLV, MKV, and WMV video as well as photos.
What makes it so special is its ability to blur or completely remove the unwanted objects with just a few clicks. We have tried this software on multiple videos and photos and found out that it works best when the area in and around the watermark is featureless.
Apowersoft Step-by-step Guide:
Step 1: From your web browser, navigate to the official Apowersoft Watermark Remover
Step 2: Click on "Remove Watermark from Video" and load the video show watermark you want to remove. Wait until the file is completed loaded.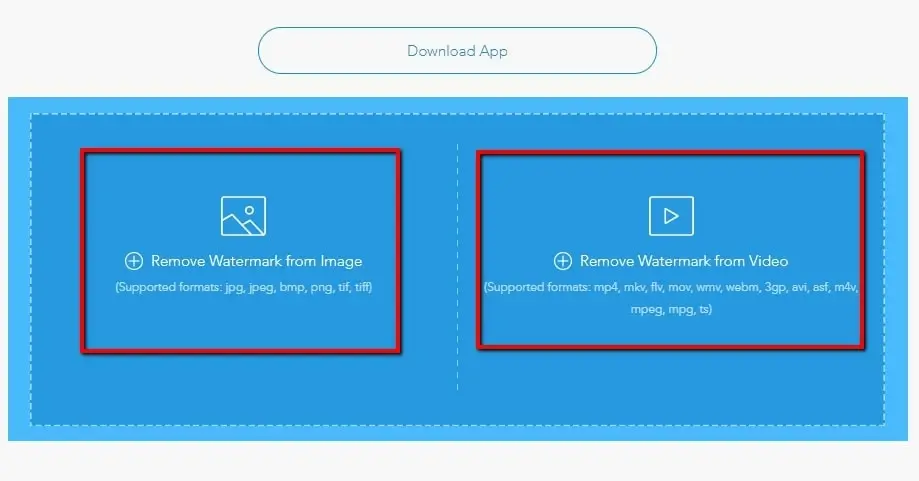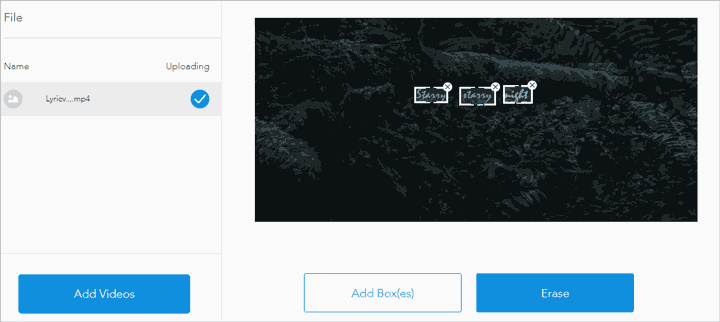 Step 3: Now, drag and place the appeared box perfectly on the watermark and hit Erase.
Step 4: Once the process is completed, click on Download to save the output file on your computer.
2. Video Watermark Remover Online
Another top-ranked, online tool that empowers users to remove watermark from a video. Thanks to its simple and straightforward interface, even not-so-tech-savvy users can use it without any hassle.
What makes this tool so special is its ability to detect and remove unwanted texts and watermarks automatically. No matter how long your video is, you can always count on this powerful tool to get rid of the watermark as easily as it can get.
Video Watermark Remover Online User Guide:
Step 1: Head to the official Video Watermark Remover Online website and upload the video.
Step 2: Once it's loaded, hit on Remove Watermark and the program will start eliminating the watermark.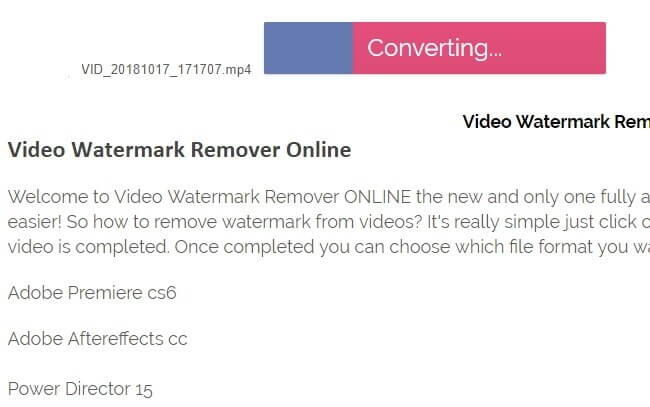 Step 3: Depending on the size of the video, it will take some time to completely remove the watermark. When it's done, export the output file to your computer.
3. Remove Logo Now
As the name indicates, this software lets Windows users to watermark videos quickly. It's a cool app that has earned its name as a reliable watermark remover tool. Equipped with advanced algorithms, it automatically analyzes unnecessary watermarks and logos and gets rid of them.
It's blazing-fast speed, high reliability and success ration make it one of the best watermark remove tools in the market in 2021 but it has a few downsides. For one, many users have complained that it compromises the video quality while removing the watermark.
Secondly, it's premium version is too expensive, i.e., $139.99 as of now. At such a price, one can easily get a multi-featured video editor tool that effectively removes watermarks as well.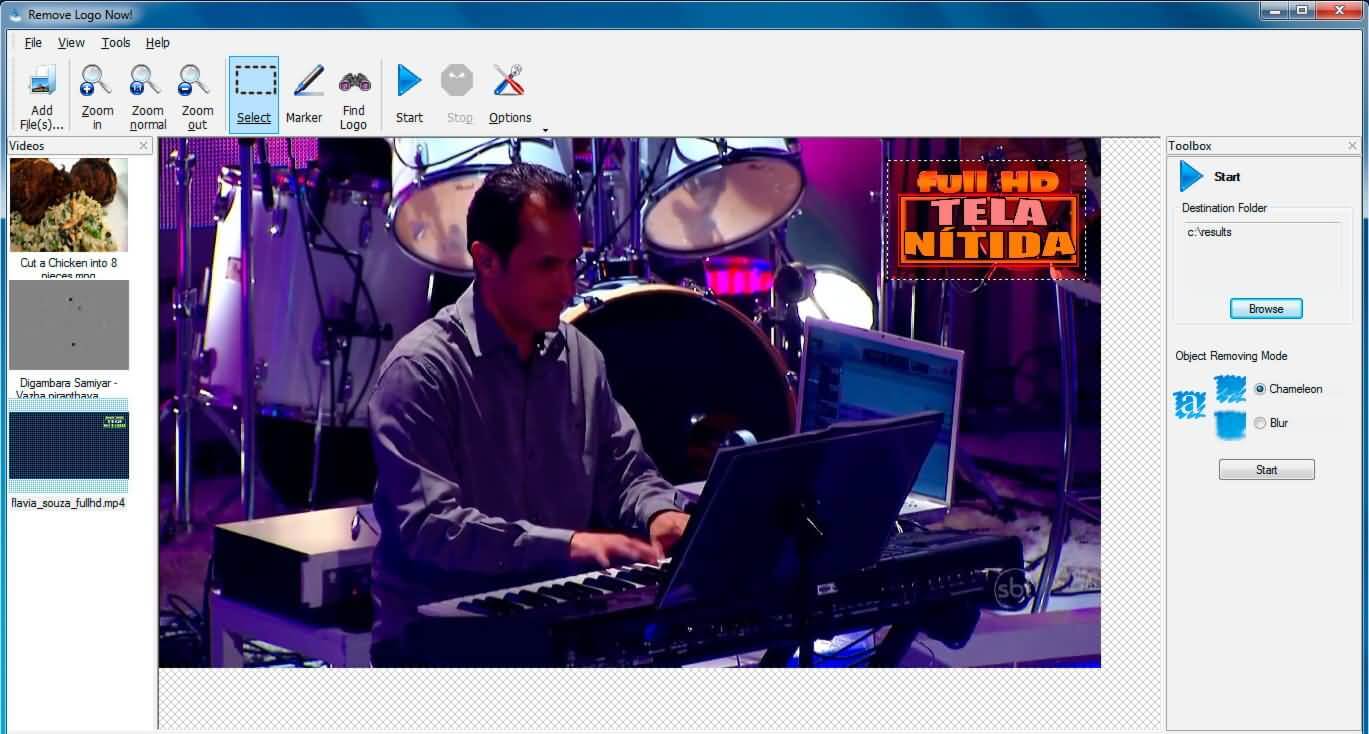 Pros:

Latest AI to detect and remove watermarks and logos.

Simple and intuitive interface making it easier to use for newbies

Users can set watermark removal parameters manually

Supports tons of video formats
Cons:

Can reduce the quality of the video.

Takes a lot of time to load heavy files

Premium version is very expensive

Doesn't work in all cases
Conclusion: Which Tool to Use
To sum it up, this article has provided a detailed guideline on how to remove watermark with DaVinci Resolve as well as three other watermark removal tools. You can rely on any of the aforementioned tools to get rid ofunwanted watermarkfrom any video but if want the best software, then iMyFone MarkGo is your perfect choice.
This simple yet feature-rich software makes it exceptionally easy to remove the watermark from both photos and videos in just a few clicks. Its batch watermark remover feature allows users to get rid of watermarks from multiple photos and videos in one go. You can also use MarkGo to add watermark to video easily.
What's more, users can also add multiple watermarks to any video or photo file if necessary using iMyFone MarkGo. Plus, you can export the final video in many video formats as you want. With this tool installed on your computer, removing watermark is just a few clicks away. We recommend users to buy its premium version to enjoy all its services.
iMyFone MarkGo
Start to Remove Watermarks from Videos and Images Now.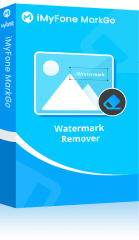 1,000,000+
people have downloaded it