An efficient copyright protection system and a bit annoying when recovering the complete image from the watermarked one. Removing a watermark from a photo comes in helpful when you lose the only remaining copy of the original photograph and need to return it no matter what. For copyright reasons, a watermark, usually the logo of the stock agency, is placed on an image, so the image may be viewed by potential customers but not downloaded without authority, in this example, without payment.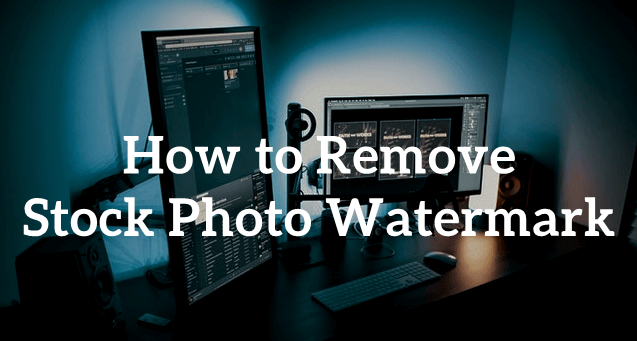 Best Stock Watermark Remover Software –MarkGo
MarkGo's AI-based technology enables automatic watermark recognition, allowing you to erase watermarks without pausing, and has been utilised for practically all watermark removal reasons. Therefore, if you wish to erase the watermark from a photo, you may quickly do it with MarkGo.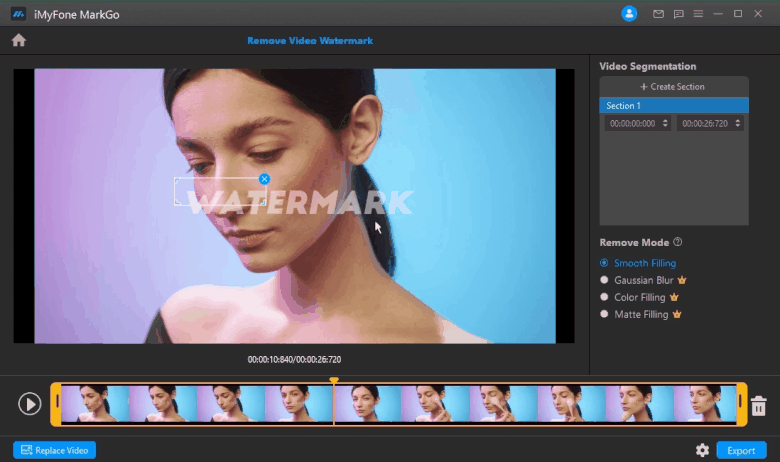 Watch the video tutorial to remove watermark using MarkGo
MarkGo's Outstanding Features:

Watermark removal is simple and requires no technical skills.

It's simple to delete and apply watermarks to films and photos, leaving no evidence behind.

The best watermark remover, which allows you to verify compatibility.

Capable of adding a watermark on up to 100 images in a batch for copyright purposes.
Logos and superfluous text are vexing for individuals who value aesthetics. To remove watermarks from stock images for free, MarkGo for PC is the best option. It uses a cutting-edge AI-powered algorithm to eliminate undesired elements, ranging from people to logos. There are three modes for you to choose: Filling with Color,Filling Matte, Gaussian Blur. Within three clicks, you may easily remove the watermark.
How to Remove watermark with MarkGo?
Step 1. Go to iMyFone MarkGo website and press the Free Download button and install the software.
Step 2. When the programme starts, pick the Remove Video Watermark option.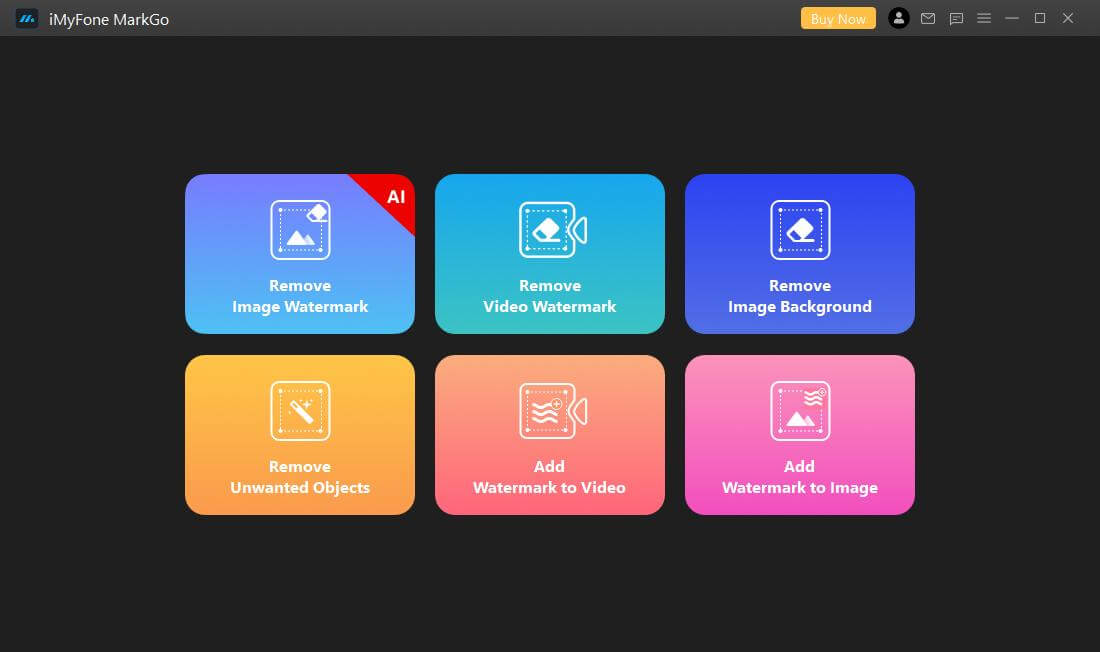 Step 3. Now you can choose AI remove or select the watermark and remove manually.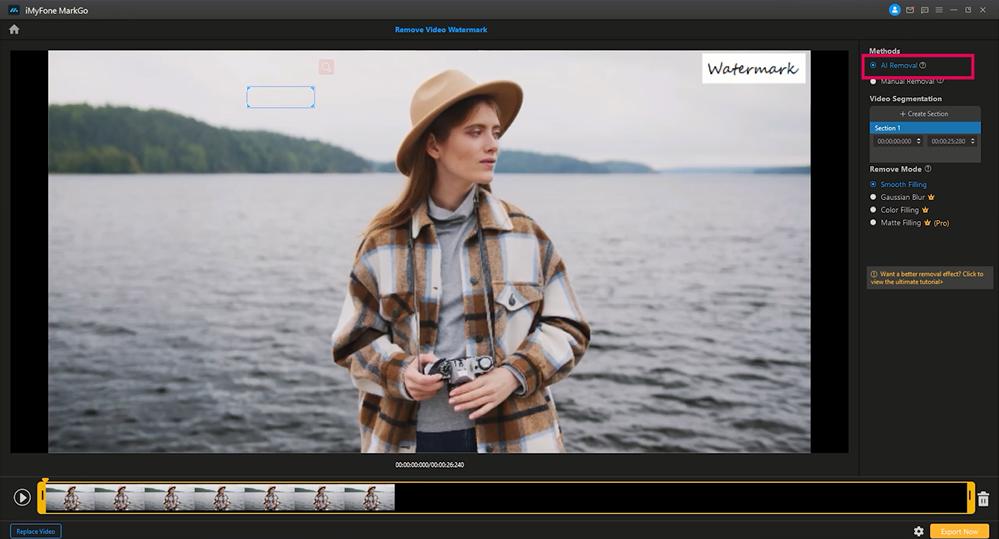 Step 4. Next, choose AI remove or select the watermark and remove manually. This will erase the watermark completely, but you can check that selecting the Play button.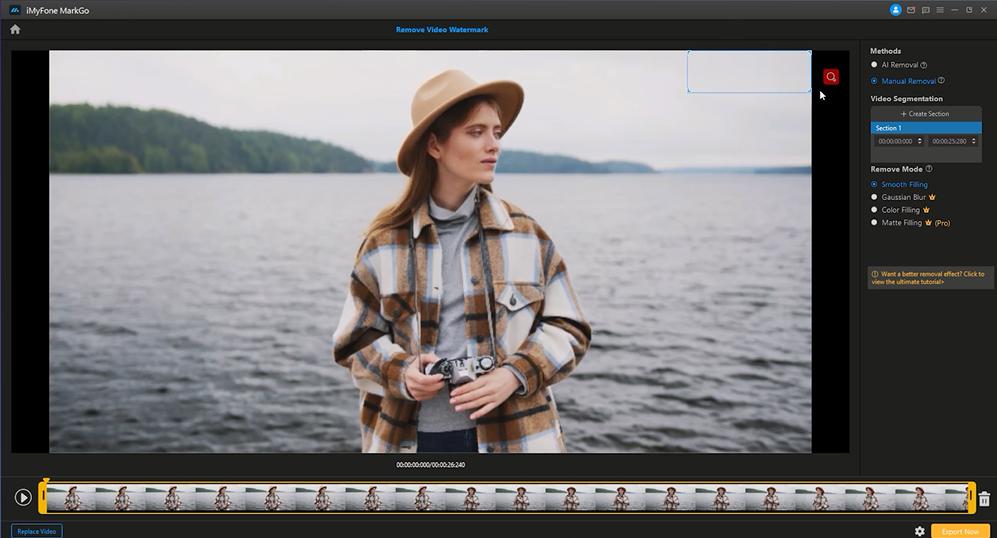 Step 5. Then press the Export option to save your movie without the watermark.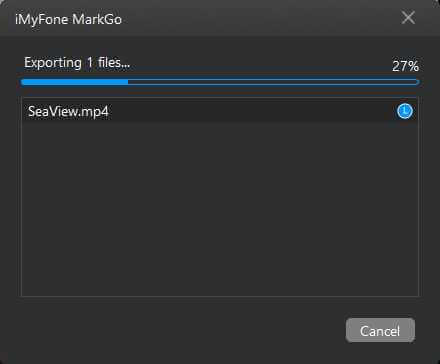 As you can clearly see, it's quite simple to use iMyFone MarkGo watermark remover to get rid of the watermark from your video.
Wonderful Features of iMyFone MarkGo
User-friendly, without any technical knowedge required to get rid of Shutterstock watermark in just one single click.

Easy to remove and add watermark for videos and pics in Shutterstock, with no traces at all.

Free to try Shutterstock watermark remover, during which you can check the compability.
Pro:

Simple to use

Batch processing is supported

In addition to erasing the watermark

you can also add effects and text to your photo.
Easily Remove Watermark from Stock Photo – Inpaint
Inpaint is an internet programme for removing things from photographs. With Inpaint, you can create stunning images with simple motions. Using Inpaint to remove stuff from pictures is nearly as simple. In three easy steps, you may make electricity lines, tourists, buildings, wrecks, and other items vanish. After removing the watermark, you may use Inpaint to restore old images and beautify your skin.
Step 1: Drag and drop or click "Upload Image" to upload your photo. Also, pay attention to the image type and size. It should be a JPG or PNG. The size limit is 10MB.
Step 2: To remove watermarks, use the left menu bar tool. Mark the watermark on the photo and click the green "Erase" button.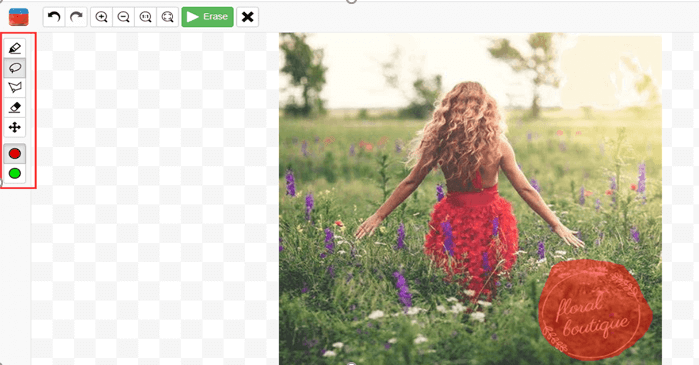 Step 3: Get the picture without a watermark after a few seconds. Press the "Download" button in the top right corner.
Cons
· Inpaint does not function well with complicated backgrounds or images with various colours.
· Due to the absence of batch processing in the traditional Inpaint programme, the total cost of ownership might be as high as $39.98.
· Finally, Inpaint is a one-trick pony of a picture editor. This implies that customers seeking extra functionality will need to connect Inpaint with another picture editing application.
Remove Watermark Stock Photo Online – Photofunny
It is an online programme that removes watermarks. Upload your image, use the editor to choose the section you wish to eliminate, then save it. Photofunny works its magic!
So the watermark will be muted and invisible. Register or log in to remove the software's logo from the photographs. The software's artificial intelligence helps make the shot seem distinctive and copyrighted.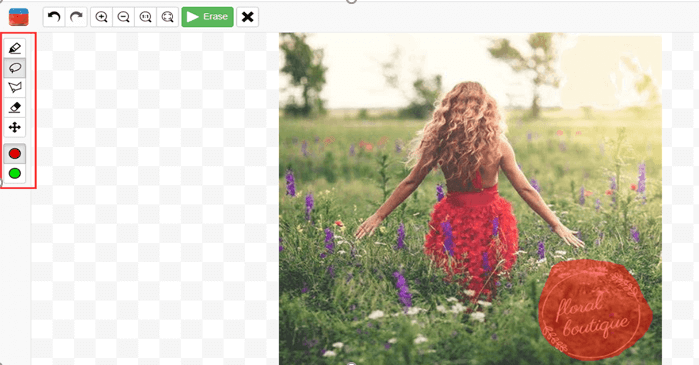 Follow these instructions to remove watermarks from your photograph with this programme.
· First, open Photofunny on your browser.
· Next, select "Upload photo"> "Choose File" to upload the image from your computer.
· When prompted, select "Add a filter" from the drop-down menu.
· After uploading, click "Finish" to erase the watermark. Drag the box to the watermark's location.
How to Remove Stock Photo Watermark--Photoshop?
Photoshop is one of the most powerful images and graphic design programmes available. Photoshop is the ideal choice for photo editing and editing to digital painting, animation, and graphic design. The professional photography tools make it simple to perform routine adjustments or complete picture alterations on both PC and iPad. Cropping, removing items, retouching, and combining photographs are all possible. Additionally, experimenting with colour and effects and reimagining the art of photography are encouraged.
Step 1: Download and install Photoshop.
Step 2: Drag the image to the Adobe Photoshop interface to remove the watermark. Additionally, you may load photographs by clicking "File"> "Open..." or by using a shortcut.
Step 3: Now, as indicated in the accompanying screenshot, pick the "Content-Aware Move Tool" in Photoshop. Following that, you must click and hold to choose the region surrounding the watermark on your image that you wish to delete.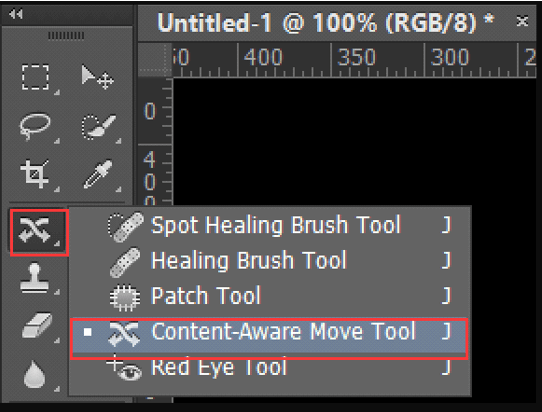 Step 4: Select "Edit" > "Fill" from the menu bar. Set Mode to "Normal" and Opacity to "100%" in the Blending section. When you're done, click "OK." Then your watermark will vanish from the photo.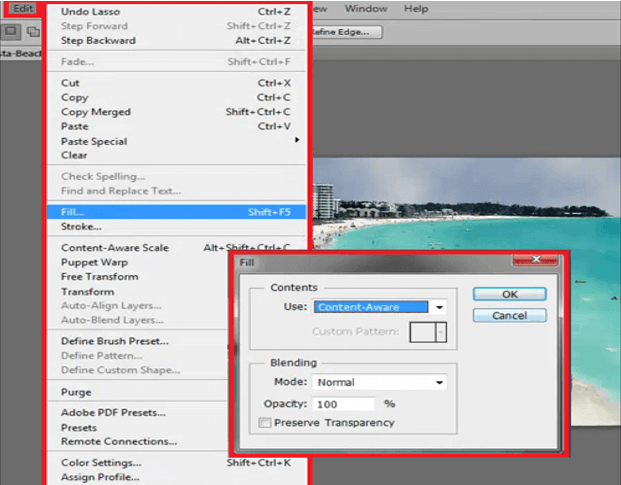 Cons
· It is somewhat pricey.
· They would not let you have it.
· Newcomers may be befuddled.
· Vector graphics are supported.
· Performance issues.
Get rid of Watermark from Stock Photo-- Luminar AI
Luminar is a one-of-a-kind photo editing tool that is great for Portrait, Landscape, and Travel photography. Additionally, it is excellent for various types of photography, as you can use its AI toolset to remove watermarks from images and create a faultless outcome. Watermark removal programme for Luminar AI, compatible with Mac and PC platforms. It is not a subscription service, but you must acquire the programme before utilising it. However, you have an assured thirty-day money-back guarantee if you have problems or dislike the product.
To remove the watermark immediately in Luminar, follow these steps:
Step 1. Select the image for editing from your computer's storage.
Step 2. On the right side, you'll see an option for removing the watermark from the photo. Following that, select one of the final editing choices supplied by Luminar's AI technology.
After choosing the ideal solution for you, you may save the updated image.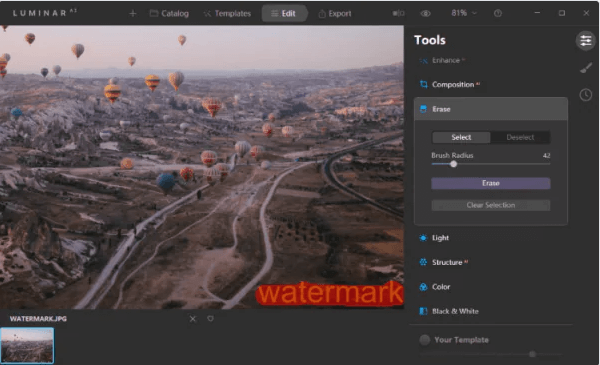 Cons
· No Layers
· Difficult to use
· Not too Fast
FAQS-5 Ways to Remove Watermark from Stock Photo
1. How do I remove the stock image watermark from videos for free?
MarkGo, as well as a few internet tools, are entirely free to use. All of the programmes described above can assist you in removing the watermark using AI for free. Therefore, take caution and utilise these methods to remove the watermark from photographs.
2. How can I remove a watermark from a video?
Navigate to MarkGo in your browser. The website will present you with many possibilities.
Submit the video to it now.
After placing the boxes in the watermark area, click the Erase button.
3. Can I remove the watermark from the video online?
MarkGo enables you to remove any video or image for free.
4. Can I do batch watermark removal?
Open the MarkGo programme in which you created the watermarked image. Launch the file containing the watermarked image. Locate the photo with the watermark. Delete the watermark text or picture by selecting it.
Conclusion
AI is one of the most intelligent methods for removing watermarks from images. The most suitable part about artificial intelligence is that it works autonomously to eliminate the watermark by detecting it and then blending it into the backdrop to make it appear natural. Several applications and internet platforms utilise artificial intelligence to erase the watermark. However, one of the most effective methods for using AI technology is MarkGo. It will enable you to erase the watermark without any difficulty. Simply visit the website and download the image to remove any form of a watermark.
iMyFone MarkGo
Easiest Watermark Remover for Video and Image!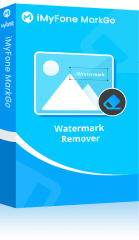 1,000+ People are Downloading iMyFone MarkGo Every Second!