Are you a fan of the popular TV show, "Rick and Morty"? Imagine creating your own content with the voice of Rick Sanchez. Using the Rick AI Voice Generator, you can do just that. This tool allows you to generate realistic voiceovers in the voice of Rick Sanchez, adding a unique touch to your content.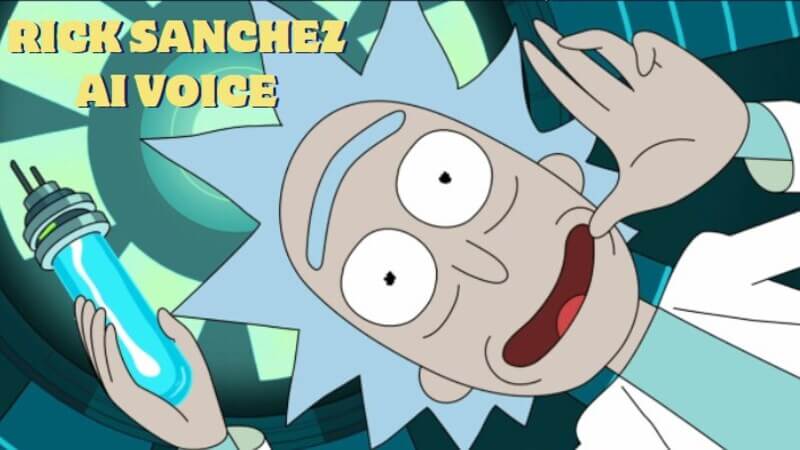 Part 1: Who is Rick Sanchez & Info of Rick Sanchez Voice Actor?
Rick Sanchez is a character from the animated television series "Rick and Morty." He is a brilliant but eccentric scientist who frequently goes on wild interdimensional adventures with his teenage grandson, Morty. The character of Rick is voiced by American actor and writer Justin Roiland, who co-created the series. Roiland is also known for his work on the Adult Swim series "Fish Hooks" and the animated web series "The Most Extraordinary Space Investigations."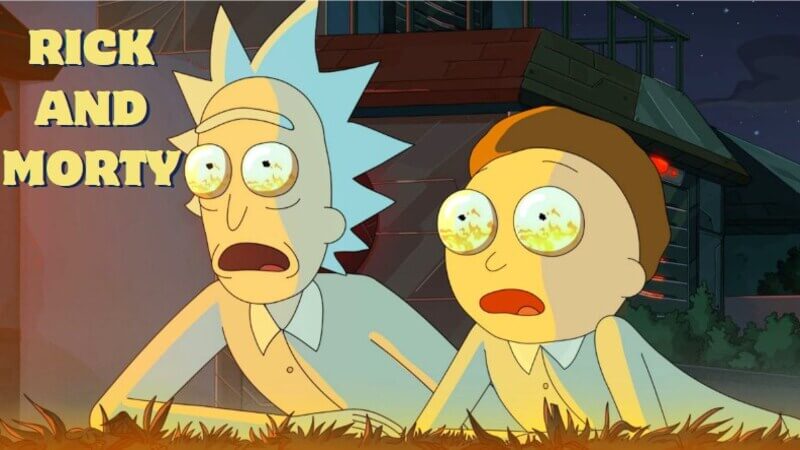 The voice actor who portrays Rick Sanchez is Justin Roiland. Roiland is an American voice actor, animator, writer, producer, and director. He co-created the animated television series "Rick and Morty" with Dan Harmon, which premiered on Adult Swim in 2013. Roiland is known for his unique voice acting style and his ability to perform multiple characters on the show.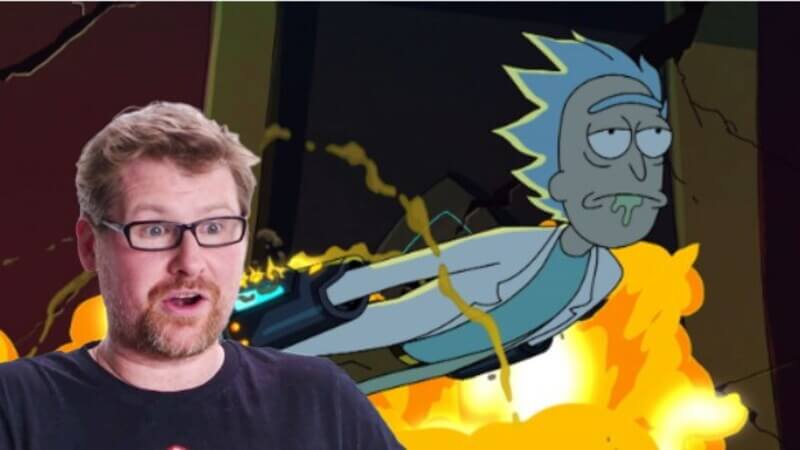 In addition to "Rick and Morty," Roiland has also worked on other popular shows such as "Adventure Time" and "Gravity Falls." He has received critical acclaim for his work on "Rick and Morty," earning a Primetime Emmy Award nomination for Outstanding Character Voice-Over Performance in 2018.
Part 2: Best Text to Speech Generator to Make Rick Sanchez Voice AI Recommended
iMyFone VoxBox is an advanced AI text-to-speech tool that offers a wide variety of unique and realistic voices, including Rick Sanchez voice AI. With VoxBox, users can generate voiceovers in seconds and add a touch of humor to their projects with Rick Sanchez's distinct voice. So, if you're a fan of Rick and Morty and want to add Rick and Morty AI voice to your project, VoxBox is the perfect tool for you.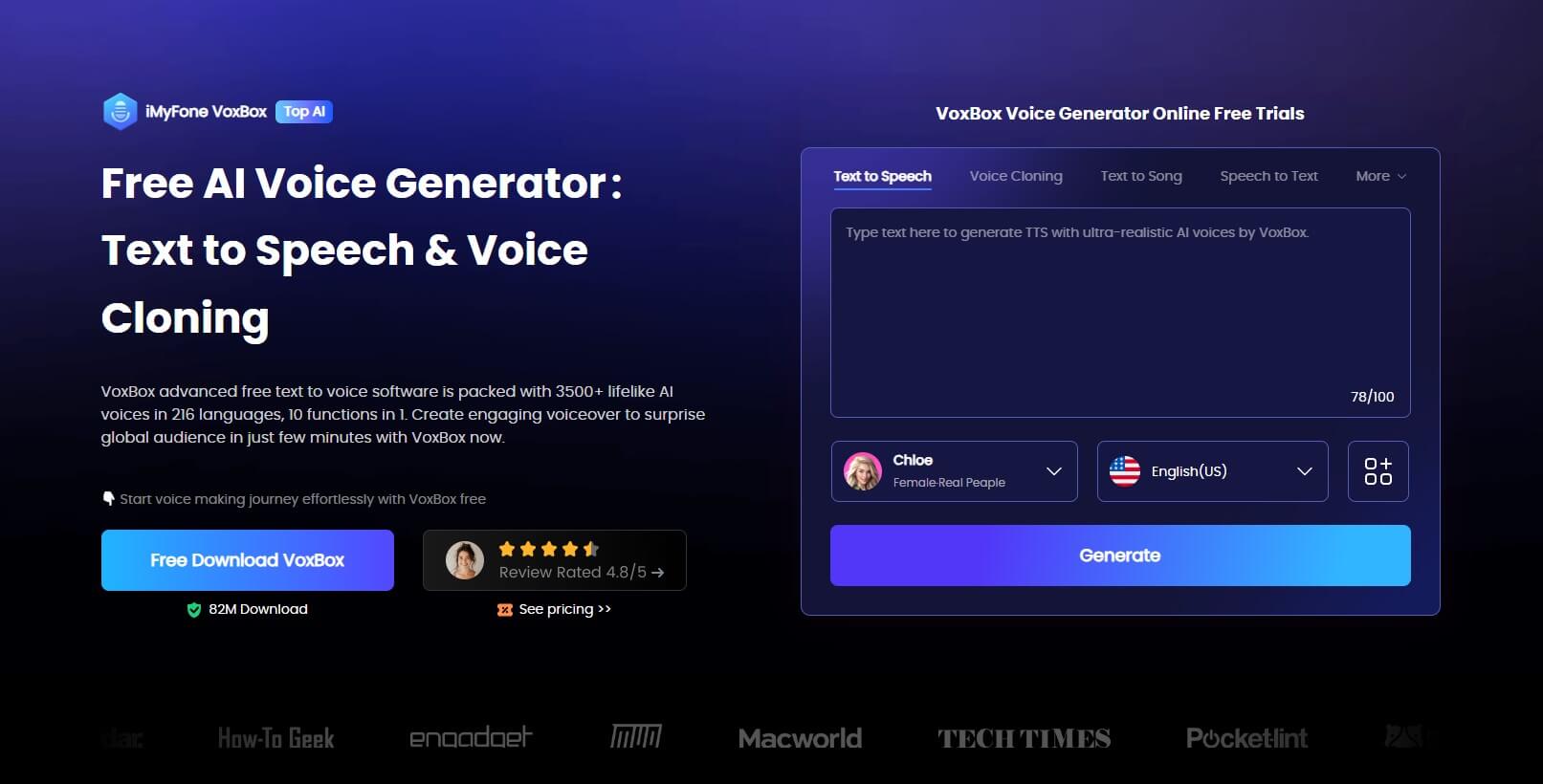 How to Make Rick AI Voice:
Step 1: Install iMyFone VoxBox and launch the software, then select "Text-to-Speech" from the options.
Step 2: Choose Rick Sanchez from the available options.
Step 3: Enter your text into the text box and click on "Convert" to generate the audio.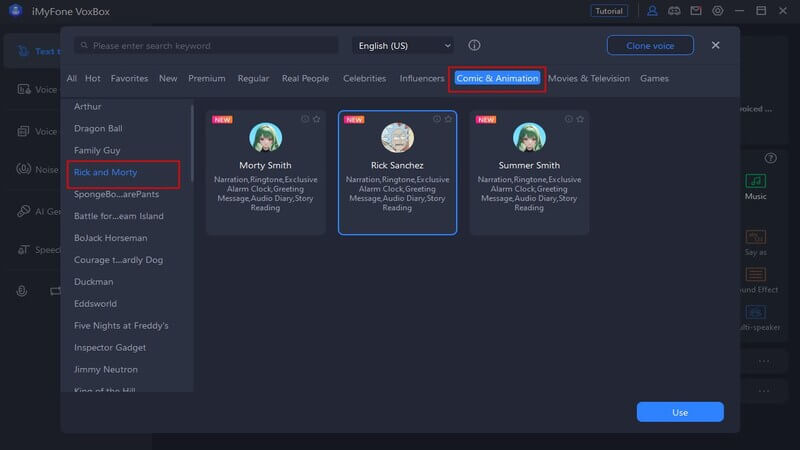 Step 4: Before exporting the audio output, make sure to listen to it and verify that it meets your requirements.
Tips
Listen to Rick AI Voice Generated by VoxBox.

Watch the video below to know more about Rick Sanchez Voice Generator
Key Features:
With over 3200 unique voices, VoxBox offers a wide range of funny voice options to choose from.

It provides access to more than 40 languages and 100 dialects, making it easy to generate voiceovers in different languages.

As a 5-in-1 software, VoxBox offers multiple functions, including voice generation, speech recognition, voice recording, audio editing, and more.

Offers high-quality Rick text-to-speech generation, ensuring a quick and efficient process.

New function of voice cloning gives users a great experience.

In addition to Rick Sanchez voice AI, VoxBox also provides other character voices like Doofenshmirtz.

You can export it in different formats.

Simple steps to use.
Part 3: Voice Changer - Generate Your Own Rick AI Voice
1. MagicMic
MagicMic is a software that offers real-time Rick voice AI changing and soundboard features for creating personalized and fun audio content. This software has gained immense popularity among content creators, gamers, and entertainers as it adds a unique touch to their audio recordings, livestreams, or videos, making them stand out.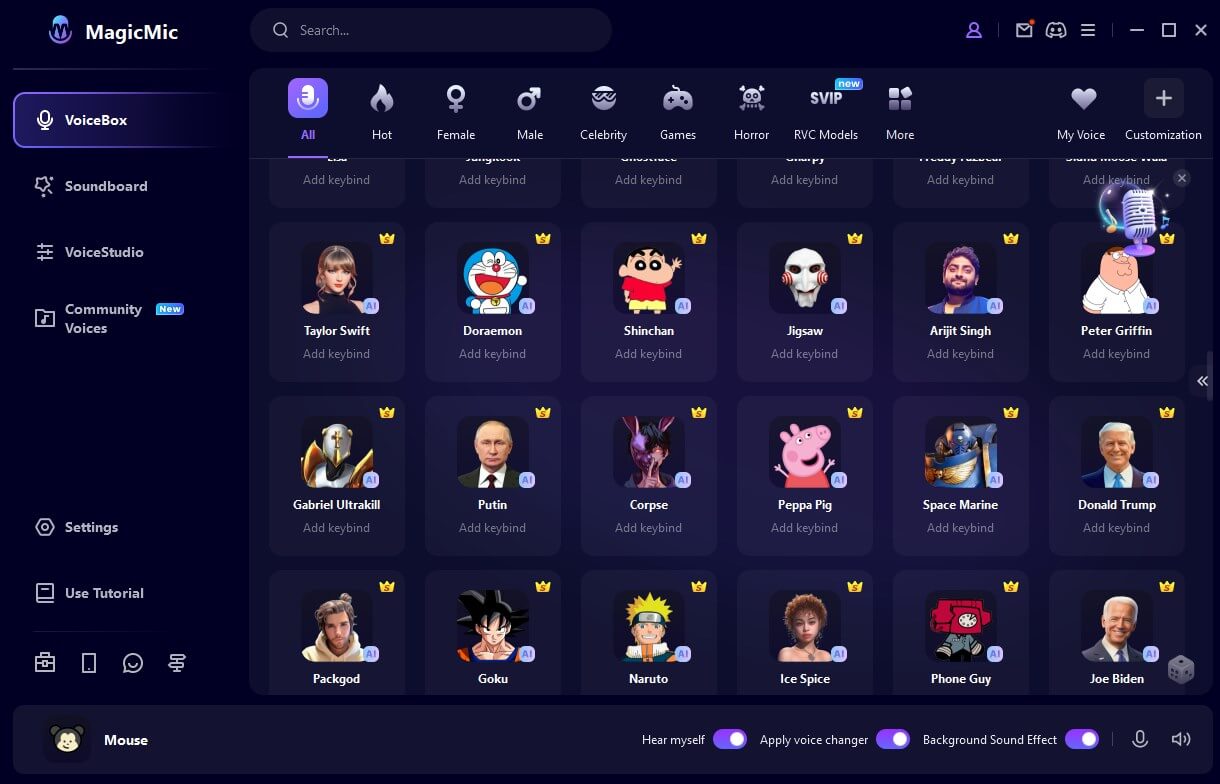 Key Features:
Over 125 voice filters available for both Mac and Windows

Whether you're live streaming or recording, MagicMic seamlessly integrates with various applications to modify your voice or audio in real-time.

Compatible with all versions of Windows and supporting numerous games and chat applications

MagicMic provides import support for popular voice effects like Peter Griffin.

Create custom soundboards with your own audio files and assign them to keybinds for easy access during live streams or recordings.
Part 4: FAQs about Rick Voice AI
1. What can I use Rick Voice AI for?
You can use Rick Voice AI to generate voiceovers for various purposes, such as YouTube videos, podcasts, animations, and more.
2. How do I use Rick Sanchez Voice AI?
To use Rick Sanchez Voice AI, you need to download and install a text-to-speech software like iMyFone VoxBox. Then, select the Rick Sanchez voice from the voice options, type your text into the text box, and click on "Convert" to generate the audio.
3. Can I customize the voice of Rick Sanchez with Rick Voice AI?
Yes, you can customize Rick AI Voice with Rick Sanchez Voice Generator. If you use it, you can adjust the pitch, speed, and other parameters of the generated audio to suit your preferences.
Conclusion
In conclusion, generating Rick Sanchez Voice AI can add a unique and entertaining touch to your audio content, whether you're a content creator, gamer, or just looking for a fun way to personalize your audio recordings. With the advanced features and high-quality output of iMyFone VoxBox, creating your own Rick Sanchez voiceovers has never been easier. So why not try it out for yourself and add some personality to your audio projects?