Arthur Morgan is a beloved character from the popular game "Red Dead Redemption 2". With the help of AI voice generation technology, content creators can now bring his voice to life in their own projects. In the article, you can explore and find the best Arthur Morgan AI voice generator to meed your needs.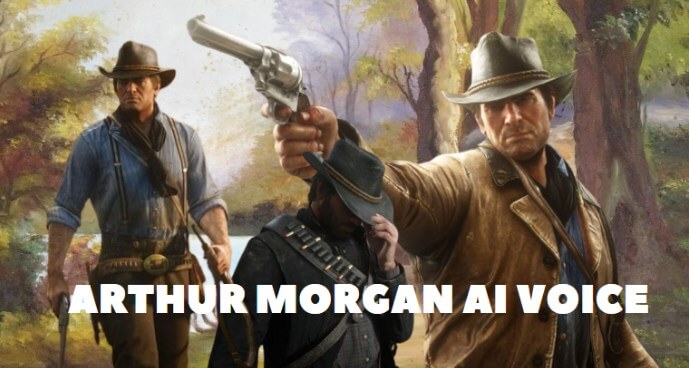 Part 1: The Story of Arthur Morgan
Arthur Morgan is a fictional character and the main protagonist of the 2018 video game "Red Dead Redemption 2". He is a member of the Van der Linde gang, a group of outlaws who are on the run from the law in the late 1800s. Arthur serves as the right-hand man to the gang's leader, Dutch van der Linde, and acts as an enforcer for the group.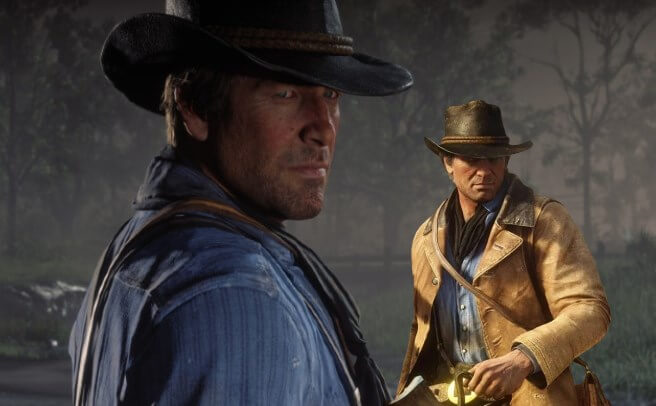 Throughout the game's story, Arthur is portrayed as a complex character, torn between his loyalty to the gang and his own moral code. He begins to question the gang's actions as they become more violent and unstable, and he ultimately decides to try to help the gang escape to a new life rather than continuing their life of crime. Arthur's story is one of redemption and self-discovery as he navigates the dangers of the American West and confronts his own past mistakes.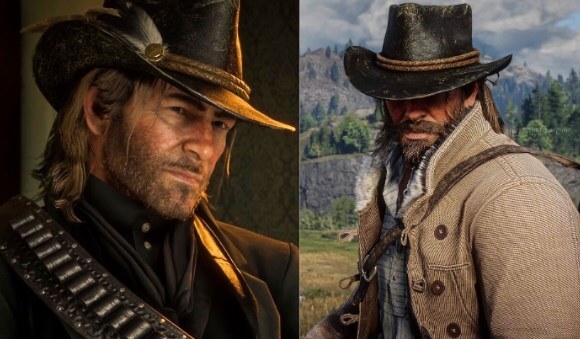 Part 2: Who is Arthur Morgan Voice Actor?
Arthur Morgan is voiced by American actor Roger Clark. Clark was born on October 16, 1981, in New Jersey, United States. He has acted in various theater productions and films, but is best known for his voice work in video games.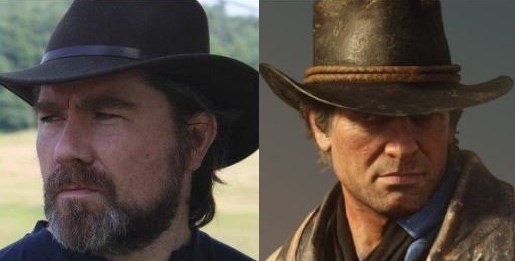 In addition to his role as Arthur Morgan in Red Dead Redemption 2, he has also provided voice work for characters in other games such as Call of Duty: Black Ops Cold War and Assassin's Creed Valhalla. Clark won several awards for his performance as Arthur Morgan, including the BAFTA Games Award for Best Performer.
Part 3: Here You Will Get Realistic Arthur Morgan AI Voice!
VoxBox is an AI voice generator that allows you to create realistic Arthur Morgan voices for your content. With VoxBox, you can generate a unique Arthur Morgan AI voice in just a few clicks.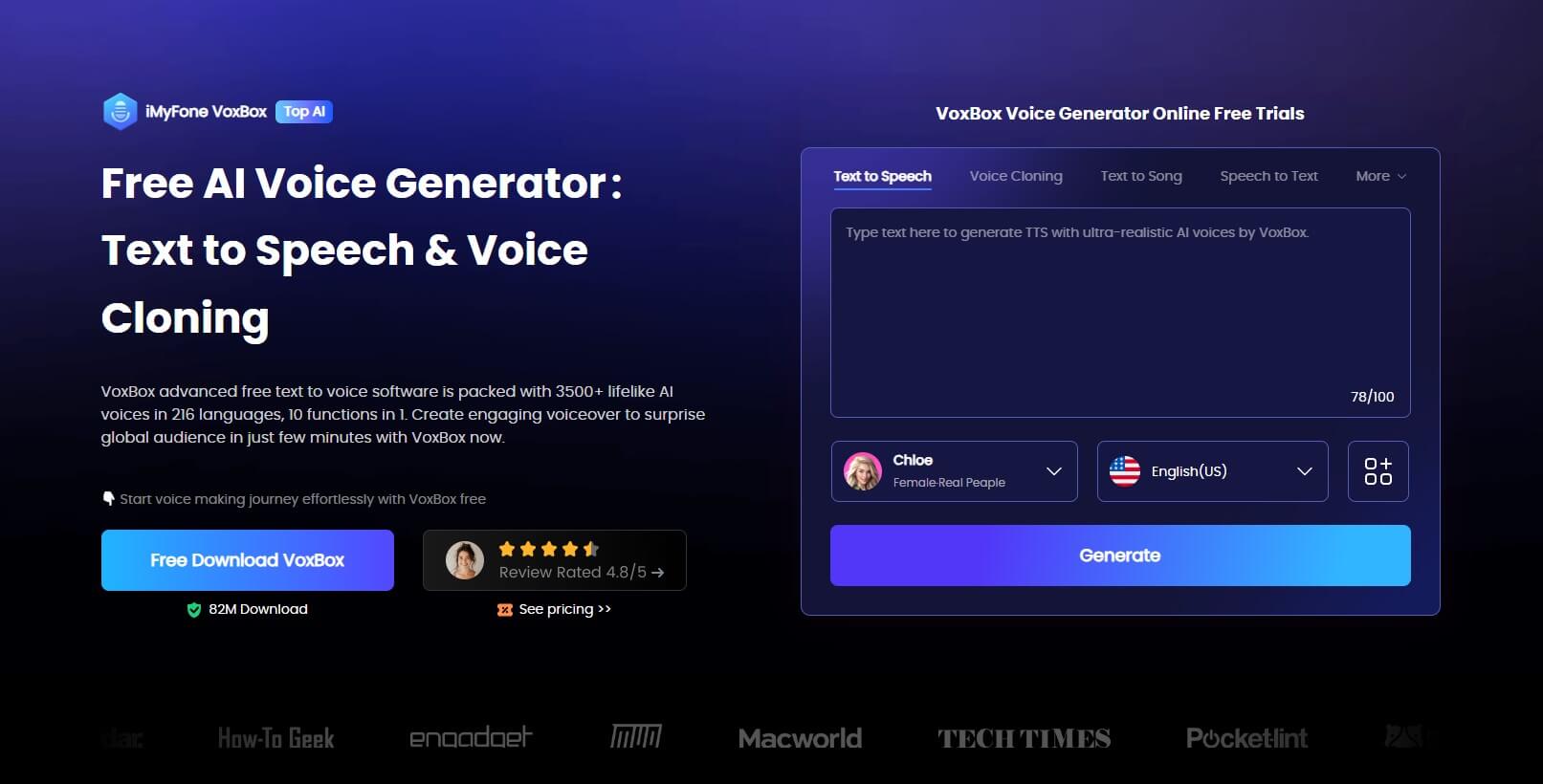 Bonus Tips
iMyFone VoxBox
offers a cutting-edge solution for generating AI voices of popular game characters, which provides a comprehensive solution for gaming enthusiasts and content creators alike.
How to Make Arthur Morgan AI Voice:
Step 1: Start by downloading and installing VoxBox on your device.
Step 2: Navigate to the Text-to-Speech option on the left sidebar.
Step 3: Once you select Arthur Morgan from the available voice options, you can customize the parameters to your liking before generating your audio output.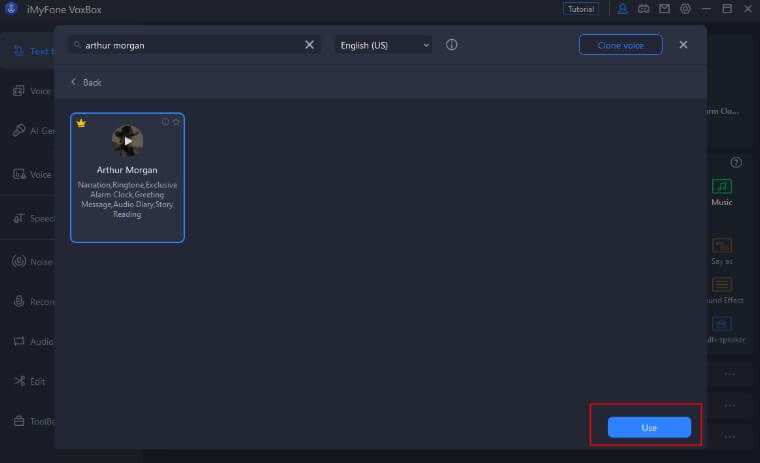 Step 4: Export the dubbing in the format you preferred.
Listen to Arthur Morgan AI Voice Generated by VoxBox.

Key Features:
Gain immediate access to over 3200 voices.

Make use of a wide range of over 46 languanges and 100 accents to craft a distinct voiceover tailored to your content.

The software offers character voice effects for various professions such as actor, president, and singer.

A lot of functions like voice recording, editing and convertion, which assists you to obtain the Arthur Morgan overdub that belongs to you.

The latest addition of the AI voice cloning allows for the exact replication of the Arthur Morgan AI voice.

You can customize your dubbings by adjust the options like pause, pitch, volume, sound effects.

VoxBox's advanced technology allows you to discover and generate AI voices of celebrities including Val Kilmer, David Attenborough, etc.

User-friendly interface for the Arthur Morgan voice generator

Suitable for education, business, entertainment, audiobooks, broadcast and more
2. Murf.ai
Murf.ai is a text-to-speech technology that allows you to generate a realistic and natural-sounding Arthur Morgan AI voice. You can easily create audio content in minutes that will engage and captivate your audience.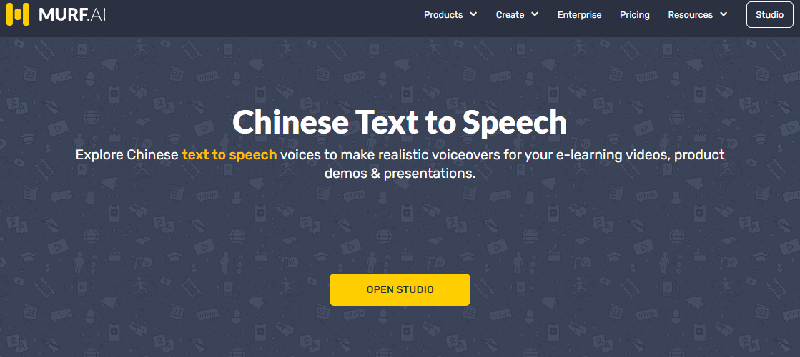 Key Features:
Select from a wide range of over 120 text-to-speech voices available in more than 20 languages.

All voices have a natural and realistic human-like quality.

You can generate famous people voices like Todd Howard.

Simple Text to Voice converter.

High-quality voices are offered.
Part 4: FAQs about Arthur Morgan AI Voice Generator
1. How accurate is the Arthur Morgan AI voice generator?
The accuracy of the Arthur Morgan AI voice generator largely depends on the quality of the input text and the complexity of the voice effects applied. However, the AI technology used in the generator can produce high-quality voice output that is very close to the original Arthur Morgan voice.
2. What file formats are supported by the Arthur Morgan AI voice generator?
The Arthur Morgan AI voice generator supports a variety of popular file formats, including WAV, MP3, and OGG.
3. How old is Arthur Morgan?
As of the events of the game set in 1899, Arthur Morgan is 36 years old.
4. Where is Arthur Morgan buried?
In the game Red Dead Redemption 2, Arthur Morgan is buried on a mountain overlooking a lake in a spot he had previously visited with his friend and fellow gang member, Mary Linton. The exact location is northeast of Bacchus Station, near the "M" in "Ambarino" on the game's map.
Watch the video below to know more about Arthur Morgan Voice Generator
Conclusion
In conclusion, generating an Arthur Morgan AI voice is essential for content creators who wish to add a touch of authenticity to their work. VoxBox provides an ideal platform with its vast library of voices, including Arthur Morgan, and user-friendly interface, making it an excellent choice for anyone seeking to create unique and engaging content.