Do you want to know which is the Best Voice Enhancer you can use for live streaming and chatting? Then I've got you covered.
Choosing the right voice enhancer or changer is super important if you want to prank your friends or just have fun with other people. But since almost every voice-changing app is of low quality, it is hard to decide which one you should use.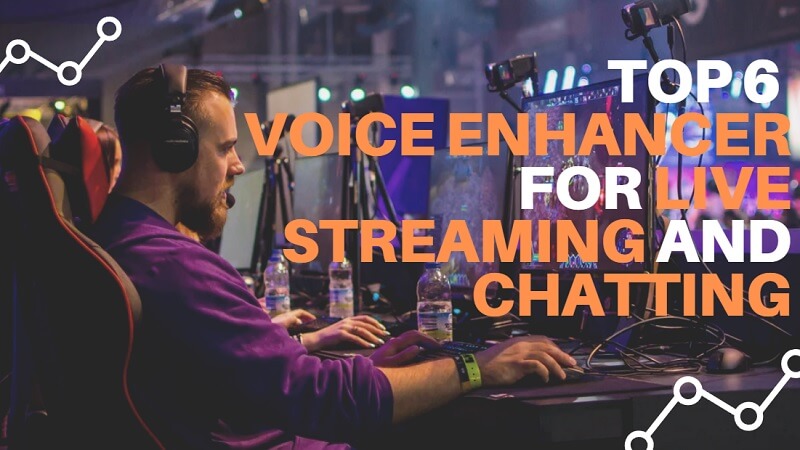 But worry no more; I am here with top-quality Voice enhancers that you can use on your Pc and mobile.
3 Creative Ideas to Prank with Voice Enhancer
It's always fun to prank your friends and family with unique and creative ideas. The shocked look on their faces and their voice pitch change when they know that they get pranked is truly priceless.
If you want also want to prank others to see this look, you can use voice enhancers in three different ways:
1. Use a celebrity voice. Voice enhancers offer celebrity voices like The Rock, Donald Trump, etc., which you can use to prank people.
2. Go for gender change. If you are a male, then try the female voice and if you are female, then try a male voice and call your friends/family to have fun.
3. Use a Scary Voice For Halloween Or Any Occasion. But be careful, as using scary voice pranks can easily get out of hand quickly.
So, which voice enhancers should you use? It's time to find out.
[For PC] Top 3 Voice Enhancers for Live and Chat
If you only have a PC or only want to use it to edit the audio, then I have the top three Voice Enhancers for you.
You can use them for anything you want, but they are specifically famous for Live calls and chats. Let's have a look at them.
MagicMic is perhaps the best voice enhancer you can download. No matter if you have a Windows PC or Mac, this iMyFone product supports both and works equally best.
The main reason why it has been called the best is because of the number of features you can enjoy from this tool. Take voice filters as an example. MagicMic offers more than 100 voice filters that you can use to prank your friends.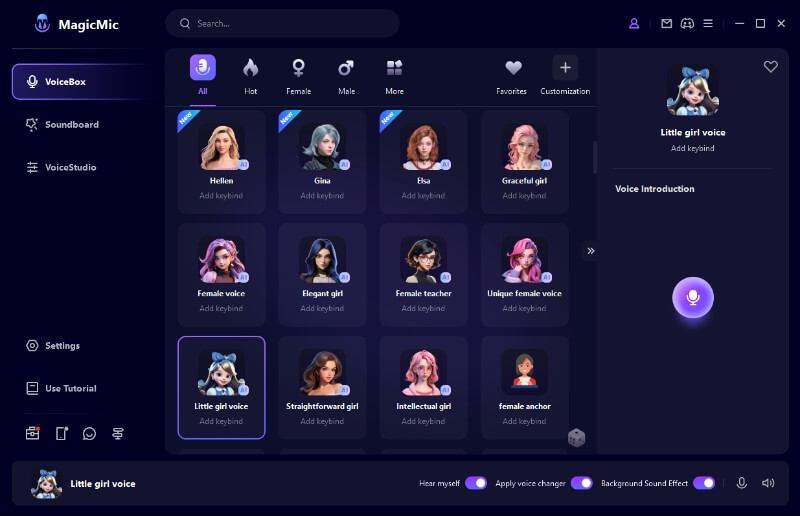 In addition to this, you can also choose from 125+ voice effects and more than 600+ sound effects and voice memes. You can also record your audio, edit it by adding these effects and filters, and then have a blast with your friends and family by pranking them.
But that's not it.
MagicMic also supports almost every popular game and streaming platform as well. Thus, you can prank people "Live" there.
Pros:

Offers 125+ voice filters

600 sound effects and voice memes are offered

Support almost all games and live streams

MagicMic voice changer is very easy to set up and use on both Mac and Windows.
Cons:

The free version is limited.
Price
There is free version and paid version for choice
User Reviews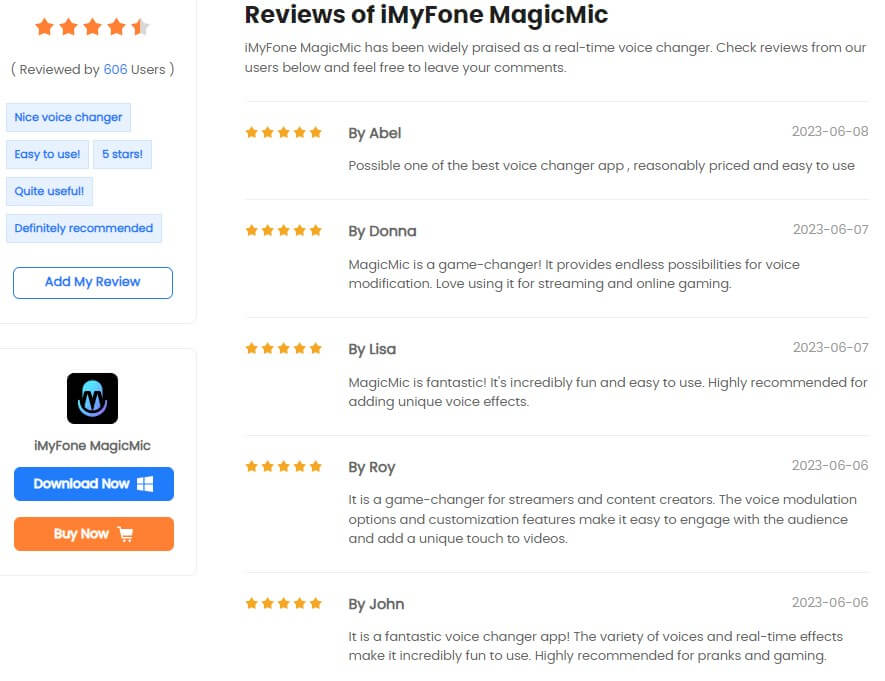 Tips
MagicMic is the best voice changer comes with the most voice effects and works on both Windows and Mac systems.
Voicemod is another top voice changer that you can use to have fun. The reason I chose this tool is that it uses the latest AI to give you real and authentic sounds and effects. Furthermore, you can also connect this Voice enhancer to games like Fortnite, Leagues of Legends, etc., and prank your teammates and enemies.
In addition, VoiceMod also supports Skype, WhatsApp, Zoom, Discord, and other communication apps.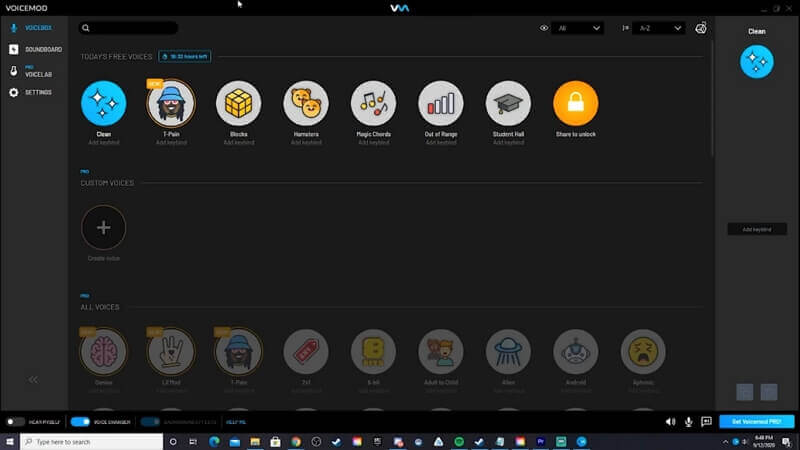 Pros:

Provides you with a lot of voice effects (90+)

Can link it with games and calls

The Hear Myself feature allows you to listen to the voice before you save it
Cons:

It crashes easily.
Price
Free trail and paid version 45$ for lifetime plan
User Reviews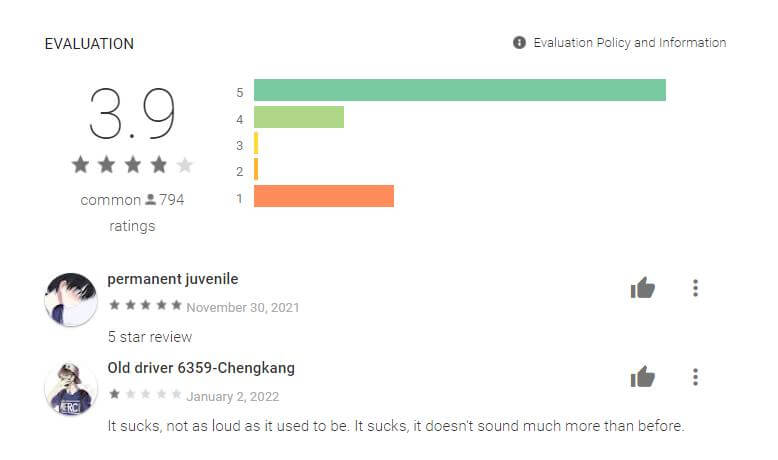 MorphVox Pro is the last voice enhancer I have for you if you use a PC. It is unique compared to others because it is developed with Superior Voice Learning Technology that lets you record your own voice and edit it the way you want.
It also offers different voice effects and sound packs so that you get the audio you are looking for.
Another best thing about MorphVox is the Background editing. You can add any sound/effect to your background when you talk with your friends (like traffic, concert, etc.) with this voice enhancer tool and fool them.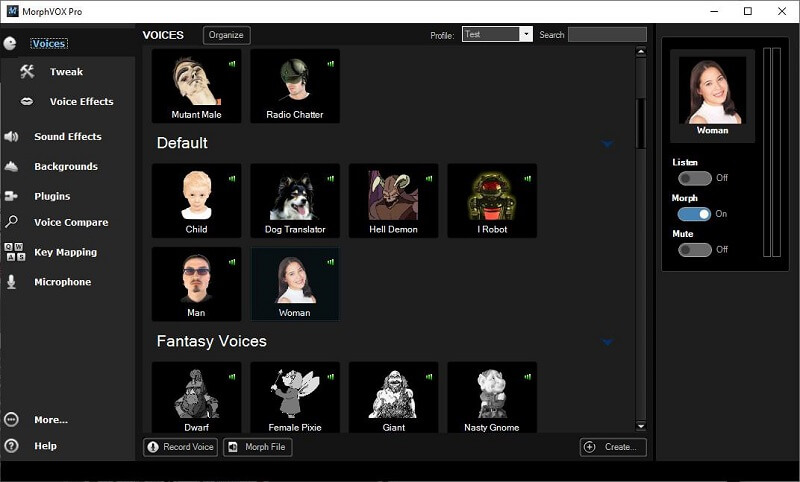 Pros:

Offers a lot of free Sound Packs and voices

Can also edit backgrounds

Can be optimized to play online games

Works on both Mac and Windows
Cons:

It is too expensive
Price
MorphVox costs 39.95$ (one-time payment).
User Reviews
Click to read reviews of MorphVox.
[For Phone] Top 3 Voice Enhancers for Phones
If you have mobile phones which you want to use as voice enhancer devices, then you should give go for these three tools:
Live Voice Changer is one of the easiest tools to use because of its simple and basic interface. When you open the app, every option will be right in front of your iPhone, and you have to just tap on the one you want to use. There is also an audio recording option there with which you can record your own voice and then edit it to prank others.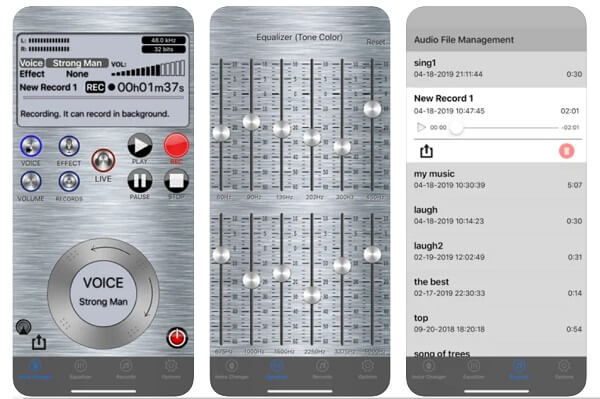 Pros:

Can run in the background

Includes 11 live voices

Offers different sound effects

Supports English and Chinese languages
Cons:

Charges 2$ for live mode

Not for Android
Price
Free to download but includes in-app purchase to use premium features (e.g., 2$ for live mode)
User Reviews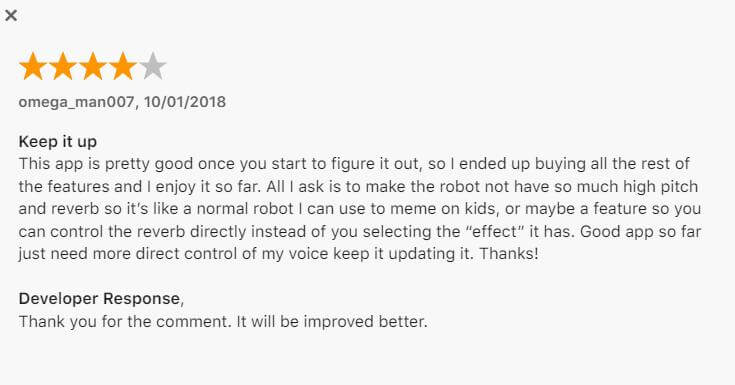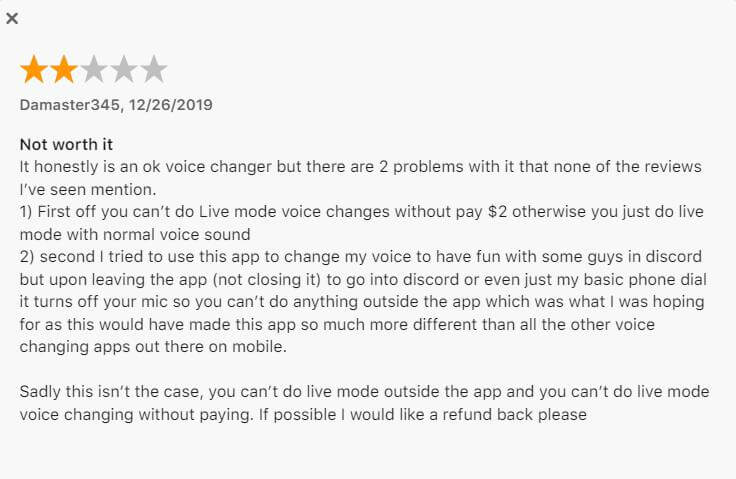 MagicCall is another voice changer and enhancer you can use to have fun. It is both for Android and iPhones and offers a big set of features for everyone.
The top feature that its users love the most is background editing. You can add effects to your background to make it seem like you are in someplace else. You can add traffic, rain, birthday parties, and many other sounds/ voices in the background.
In addition, MagicCall also lets you change your voice in the live call. The famous voices MagicCall offers are Justin Bieber, Ed Sheeran, Donald Trump, Kylie Jenner, and many other famous celebrities voices.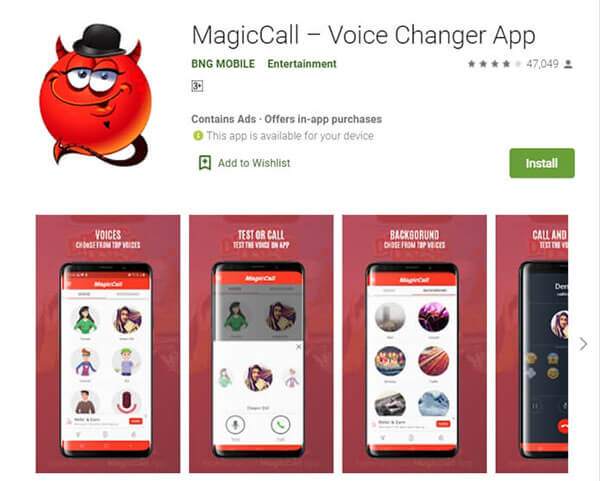 Pros:

Lets you add background effects

Offers a lot of celebrity voices

If you are a singer, then this app can help you create songs too

Small in size
Cons:

The number of voices is less as compared to other voice changers
Price
MagicCall is free to download and use but has in-app purchases. For example, MagicCall Free Trail weekly costs 1.99$/ week.
User Reviews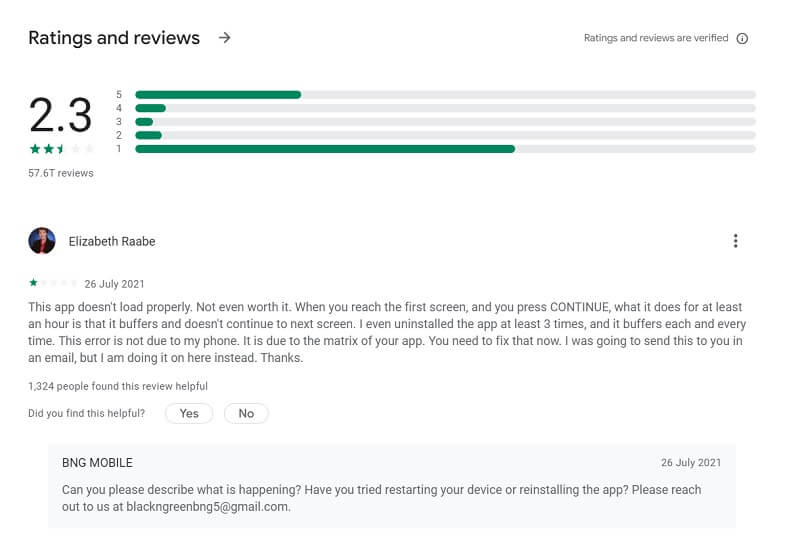 FunCall offers a number of different voices like scary, ghost, woman, helium balloon, etc., from which you can choose and make a call. It also supports international calls in over 150 countries. So, if your friend or family member is living abroad, you can easily prank them with FunCall Voice Changer.
Plus, it also lets you download the phone calls in which you changed your voice which you can keep as a memory. In addition, FunCall also offers different sound effects which you can also add, like cat meowing, dog barking, monkey, and even Uzi shots.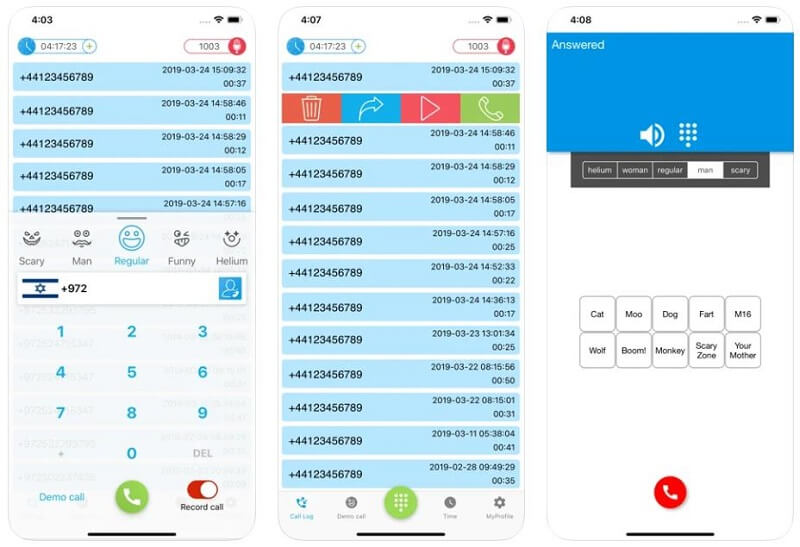 Pros:

Support international calls

Can also let you download your call/audio

Includes a number of sound effects
Cons:

Heavy in size

Credits/ In-app purchases are expensive
Price
Free to download but includes in-App purchases (like a phone call of 120 minutes costs 24.99$)
User Reviews

Final Words
All in all, I discussed the six voice enhancers in this guide (three for PCs and three for mobiles). They all are great, but if you want to know which is the best tool among them, then it is MagicMic.
The reason?
It is because MagicMic offers a great bundle of features that are not easily found in any other voice enhancer or changer app. It offers 125+ voice filters, 400+ sound effects, and 150+ voice memes which you can use to prank your loved ones. The best part? All of them feel real and authentic.
Watch Video Guide About MagicMic Voice Enhancer