Discord is a trendy chatting platform where millions of people communicate with each other after spending long hours in the office.
Surprisingly, the influence of a voice changer is increasing daily on Discord, as you'd have anticipated pranking your friends on Discord by changing your voice or playing the funny soundboard in real-time.
Unfortunately, various voice changers or funny Discord sounds websites aren't worth your attention due to mediocre services.You shouldn't feel bad about it, as we'll reveal the most exciting Soundboard websites and brilliant voice changers.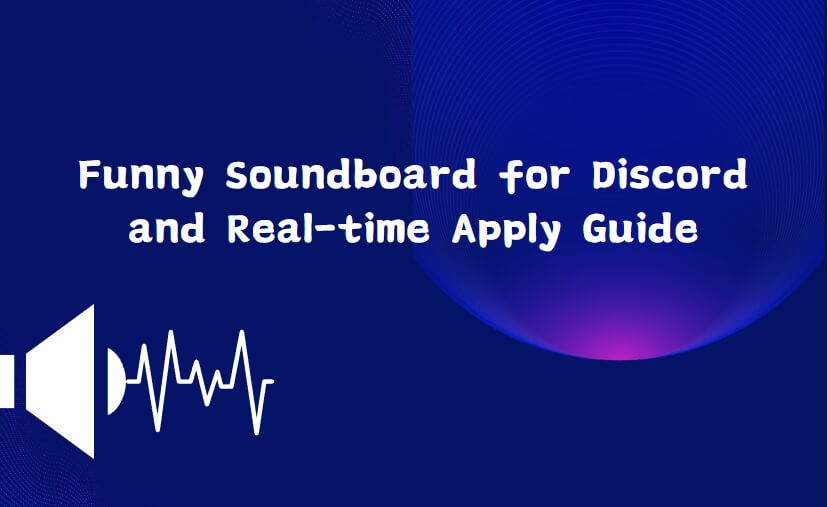 Part 1: 10 Popular Funny Soundboards for Discord
Here's the list of the top 10 funny soundboards for Discord that boosts the environment and will spread laughter throughout the room.
1. Air Horn
It might have seemed like a casual and unadorned sound, but it can surprise anyone. When you play the Air Horn in the middle of your class, everyone thinks as if something is happening around you. In this situation, everyone looks around to figure out what has happened.
2. Meow Sound
It's the cat's voice, and sounds beautiful and soothing. However, when you play this sound continuously on Discord while chatting, it can annoy your friends. If you want to annoy your girl so she talks to you, playing the Meow funny soundboard will be a good thing to do.
Once your girlfriend gets annoyed by this sound, she will become angry at you, and you'll get the opportunity to discuss it with her.
3. ROFLCopter
Why wouldn't you be playing the ROFLCopter on Discord to annoy your friends? It sounds creepy, and playing it 50 to 100 becomes a headache for listeners.
So, if your friend isn't listening to what you've been saying to him, you can use the ROFLcopter to make him extremely uncomfortable.
4. Playing with a kid
If you are attending a business meeting and want to have some fun after talking for a couple of hours, you can use the Playing with a Kid sound.
Using this funny soundboard, you can spread laughter in the tedious meeting room, and everyone will feel like you're playing with your kid.
5. Dreaming
Dreaming is considered one of the most fun soundboards, as when a moment of joy comes into your life and you want to share it with your friends, you can play the dreaming soundboard in real-time.
It will make your friends look excited, and you all can laugh after telling the whole story.
6. Dun Dun Dun Sound
You have heard about the Dun dun dunnn sound in Tom and Jerry's famous comedy show. Thus, if you're pranking your friend at his birthday party and after asking him the question, you can play the Dun Dunnn sound to show that you pranked him.
7. Correct sound
Correct soundboard sounds like a notification that appears when someone sends you a message. Thus, if your friend is waiting for his girlfriend's text message, you play the correct sound to make him feel like the girlfriend has texted him. Later, you can laugh with him after saying you played a funny soundboard.
8. Investigating sound
Suppose you're a law student, and your teacher is talking about how the investigation of a particular case works. When your teacher is screaming to make his point, you can play the Investigating sound to make all the participants of the class laugh hilariously. This sound seems as if someone is doing an investigation about a particular matter.
9. Huge Slap
Suppose you're playing a game with your cousins, and the cousin you've been playing the game with are making fun of you.
You can make the scenes more funny and dramatic by playing the Huge slap soundboard. It is a funny soundboard that shows as if someone is slapping you with full power. In this way, you can give a befitting reply to your cousins without being nasty and unethical.
10. Angles Singing
Angle Singing doesn't seem like a funny soundboard, but it works like a hilarious sound effect. In this soundboard, you can hear that someone is sleeping and angles are singing in his dream. So, when your friend is sleeping, you want to prank him.
You can opt for playing the Angle Singing soundboard on his ears and making him feel like Angles is singing a song in his ears.
When he comes to know about your prank, he will laugh at you and will ask why you spoil his sleep.
Part 2: 3 Sound Effect Libraries for Funny Discord Sounds Download
Finding a reliable funny soundboard is difficult courtesy of the prevalence of cheap websites. Luckily, we'll reveal the most reliable funny soundboard websites.
If you want to use these funny soundboards in real time while chatting with friends, chatting on discord or playing games, try MagicMic, it provides more than 600 sound effects to make your conversation more interesting
Note
Soundboard Guy is your ultimate destination for a brilliant and funny discord soundboard experience. With an impressive collection of over 100+ sounds and 150,000 Soundbuttons, this website has taken the world by storm with its monumental sound effects.
Not only does this funny soundboard website offer a wide range of options, including memes, instant funny sounds, sound effects, and music buttons, but it also allows you to generate and upload your very own soundboards.
Whether you're seeking to add some humor to your Discord chats or simply want to download funny sounds for your soundboard, SoundBoardGuy has you covered, all for free.

Voicy is a pretty accessible funny soundboard that offers a smooth user interface, meaning visiting the website and downloading the funny soundboards isn't difficult at all.
It has various talking points, but this website offers you multiple soundboard categories. Apart from downloading the preferred soundboards, this website also provides you with the luxury of logging in with the website and uploading the custom soundboards.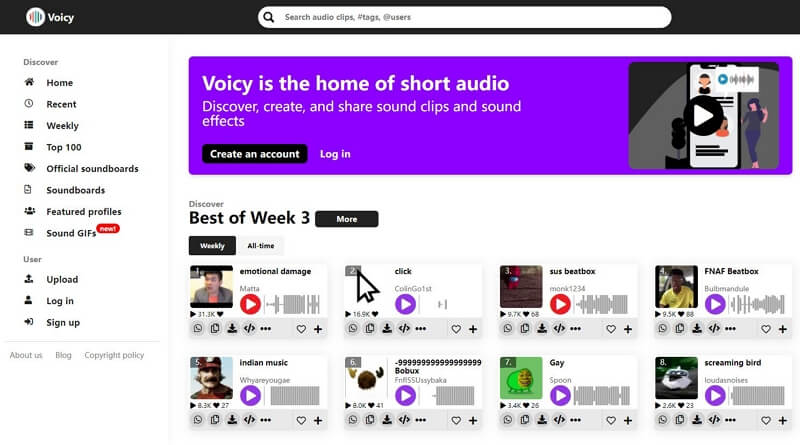 If you're looking for a funny Discord soundboard sounds, you can't ignore Memesoundboard.com. It is one of the best meme soundboards that offers hilarious sound voices for you. Luckily, you don't need to worry about this website's interface; it only asks you to visit the official website to get your work done.
Whether you intend to rock or roll someone, you can play the fascinating memes sound after visiting this website. Besides helping you with funny soundboards, Memesoundboard.com allows various other soundboards, making it an excellent website.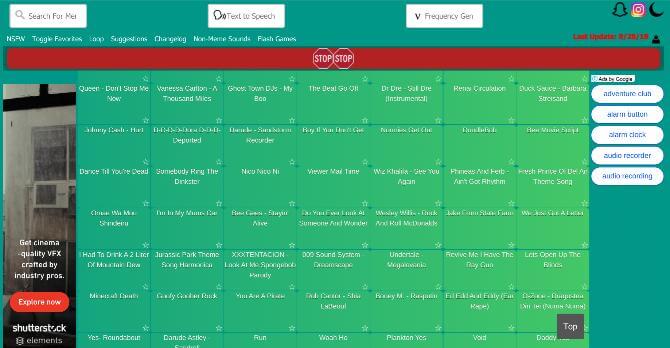 Part 3: How to Play Funny Soundboard Sounds On Discord Chatting
Having fun with friends on Discord isn't new, as thousands of people want to prank others on Discord. However, finding a modern voice changer to help you play funny soundboards in real time for DIscord is necessary.
Thankfully, your search for a voice changer ends here. MagicMic brings you exceptional features, remarkable voice filters, and a collection of hilarious funny discord soundboard sounds. Every interaction with MagicMic promises delight, as it evolves as a versatile and ever-improving voice changer solution.
Earlier, MagicMic only allowed you to change your voice in real time, but as we discussed above, MagicMic has evolved immensely. Now, you can record or import the voice and then apply voice filters and funny discord sounds.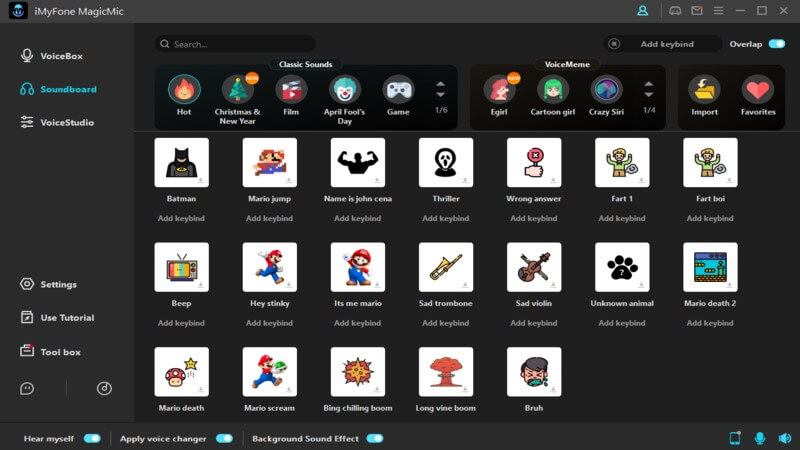 Features:
Use 250+ voice filters in real time.

200+ voice memes and 600+ voice effects can surely make your night special.

It offers a voice recorder that empowers you to record your voice.

Select the trendy soundboard or voice filter courtesy of the Random Dice feature.

Customize the voice through Voice Studio.

It provides a vast collection of preloaded funny sound effects, including meme sounds, popular movie quotes, animal sounds, John cena soundboard and more.

It allows for instant playback of sound effects during voice conversations or streaming sessions like Discord, Whatsapp, Skype, Zoom, Twitch and more.

Customize keybindings to achieve precise control over gaming audio.
User Rate: 4.8 Stars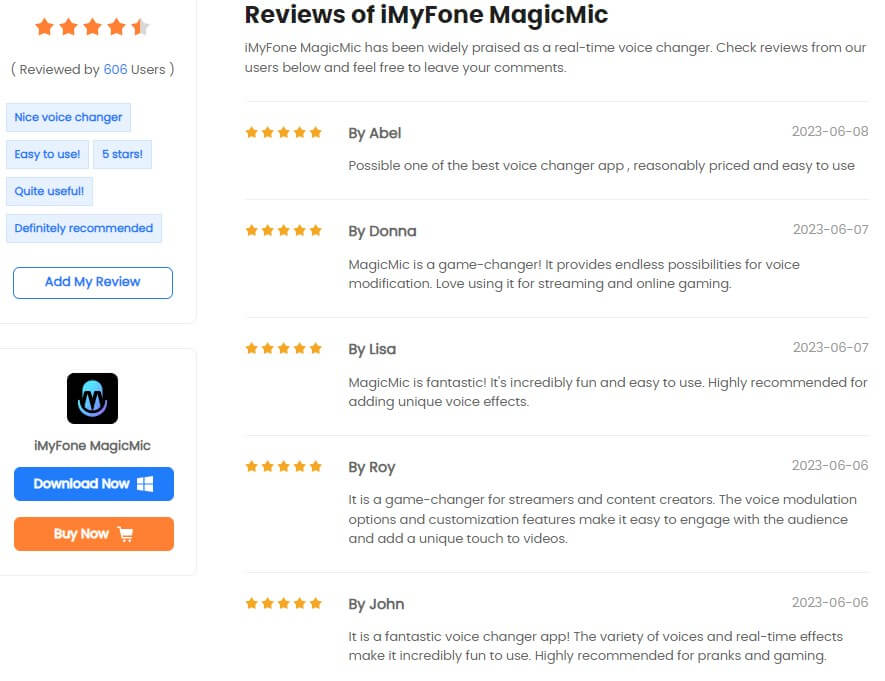 How to use MagicMic on Discord:
On Windows devices:
Step 1: Install the iMyFone MagicMic on your PC and then launch the software afterward. Set Microphone as the input device and headphones as your output device.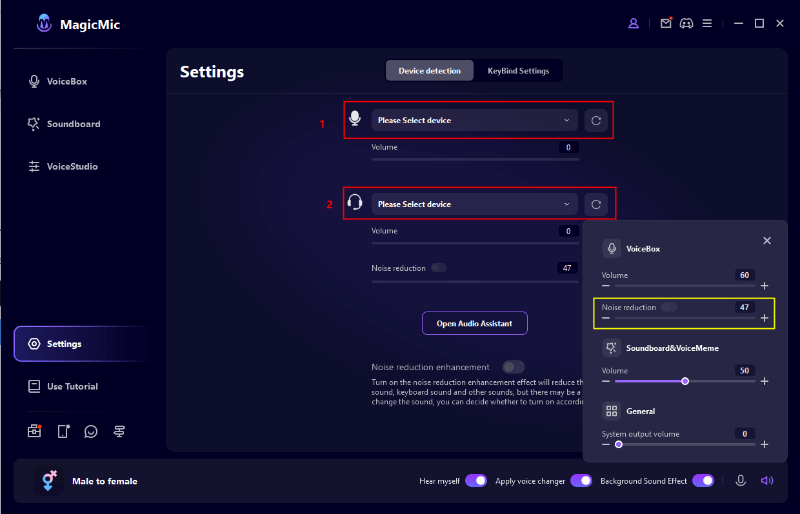 Step 2: Tap on VoiceBox to choose the voice filter and if you intend to use funny soundboards on Discord, click on the "soundboard" icon.
Step 3: Launch the Discord and navigate to the Settings icon. Select the input device after visiting the Voice tab. You can select the microphone as your input device and Uncheck the Automatically determined input sensitivity.
Now, you can speak in the microphone, and your friends will hear the voice filter you selected instead of your voice.
On Mac devices:
Using the MagicMic on Mac isn't different from using it on Windows. You'll only need to change specific settings to play the funny soundboard on Discord.
Here's how to do it.
Step 1: Download the MagicMic and launch it on the Mac PC.
Step 2: After opening "Discord", navigate to the Voice Settings. Next, select BlackHole 2ch as your input device after visiting the Voice tab. Other steps are the same as you do in Windows.
Part 4: FAQs about Funny Discord Sounds
Where can I find funny Discord sounds?
There are several websites and platforms where you can find funny Discord sounds. Some popular options include MagicMic, Soundboard.com, SoundCloud, YouTube, or dedicated Discord soundboard servers. Additionally, many Discord communities and servers have their own repositories or collections of funny sounds that you can explore and use.
Can I create my own funny Discord sounds?
Yes, you can create your own funny Discord sounds. You can use audio editing software like Audacity or online tools to create or modify sound files. You can also record your voice or use sound clips from movies, TV shows, or memes to create unique and personalized funny sounds for your Discord server.
Can I use funny Discord sounds on mobile devices?
Yes, you can use funny Discord sounds on mobile devices. Discord has mobile apps available for both iOS and Android, and many Discord bots support mobile usage. Simply download the Discord app, join a server with a sound bot, and use the provided commands to play the funny sounds just as you would on a computer.
Conclusion
So, what is the best way to play a funny soundboard for Discord in real-time? This guide reveals the fascinating funny soundboards for Discord, and you also get to learn about the soundboard websites that allow you to download the funny soundboards.
The best voice changer allowing you to play the funny Discord sounds is none other than the iMyFone MagicMic. It is the most recommended software, and you shouldn't take a back step taking its services.
Watch Video Guide About MagicMic Funny Soundboard