Voice changer microphone is not just fun to use, but it is super practical, and if you have decided to buy one, you have landed at the very right place. Voice changing microphones have gotten all their popularity in recent years, and that is for all the right reasons.
Microphones like Nevlers and Handheld are among the hottest-selling microphones because of how efficiently they work. But, there are some mic changing voice too that we will review, so keep reading.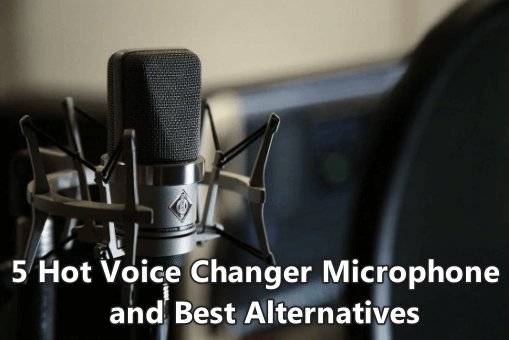 Top 5 Voice Changer Microphones
We have listed the 5 best voice changer microphones that will make it impossible for people to recognize your voice. Let's get right into it.
It is a very professional device and is usually used by people who do professional podcasting and live streaming. It has a built-in sound card, and it is not harder to operate either. This microphone is not that heavy, so carrying it is not that big a deal either.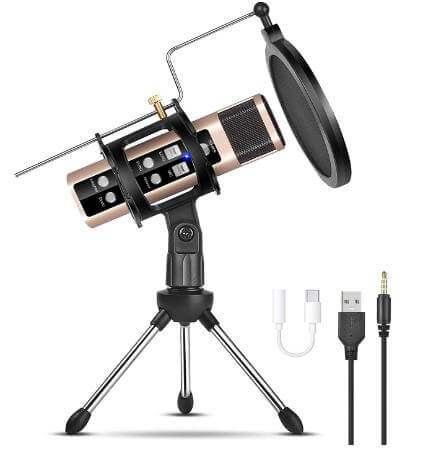 It is smaller in size, so it takes very little space, and you can change your voice to male, female, or child in no time.
You get 6 different sound effects too, and it gives a very professional feel to your podcast setup. This microphone comes with a stand, 5 different cables, a filter pop, and a manual too.
Features:
Offers 4 different voice changers

Features a live sound card

Has 6 mic changing voices

Has a built-in battery

Absorbs sound from all the directions
Pros:

It gives a chance to offer voice changing in real-time

It is very lightweight

Perfect for a professional setup

Comes with a whole kit
Cons:

There are some technical defects after consistent usage
Tips
MagicMic voice changer software
comes with 125+ real time voice changing effects, voice custom function, 600+ sound effects for live streaming, voice chat, and gaming.
It is yet another great microphone, but an interesting thing about it is that it is held by a hand and looks very blingy. It is quite easy to use and has LED lights to make things fun and exciting.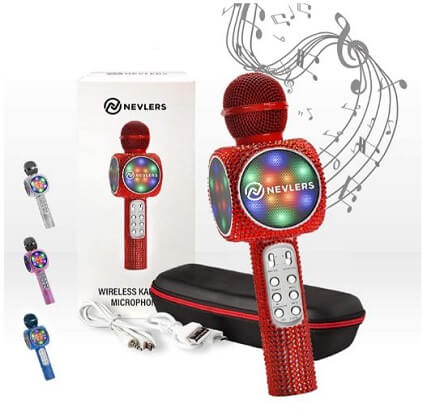 The mic voice changer offers you a satisfaction guarantee, and you also get 4 different voice changes with just one click.
It also works as a Bluetooth speaker and a very efficient microphone voice changer for pranking your friends and family.
Features:
Offers 4 different voice changers

Has a wireless Bluetooth system

Also features LED lights

It works as a recorder too

Works with just one click
Pros:

Very easy to carry

Perfect for beginners

Perfect for karaoke and voice changing

Works flawlessly
Cons:

The rhinestones tend to come off easily
It is yet another very professional and smart voice microphone changer that comes in a whole kit. If you are a live streamer, this microphone will be your holy grail, and it is also super-easy to use.
Motes: The sound quality of this microphone is also pretty good, and it works effortlessly.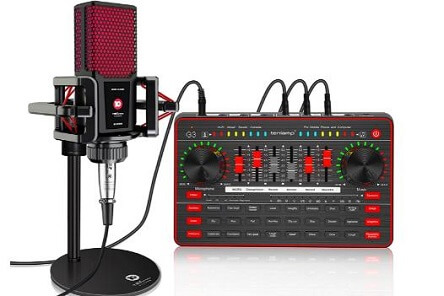 You also get special effects for changing your voice while live streaming along with 6 very special voices, and it also helps you monitor your voice in real-time. It is a high performing microphone that is literally the best, and it works with great speed too.
Features:
Comes in a whole kit

Offers 6 special voice effects

Has 6 push buttons

The bass is adjustable

Also comes with a sound mixer
Pros:

It is an all-in-one microphone

The sound it produces is of very high quality

Helps with recording too

It is specifically made for live streaming
Cons:

It is not portable as it is quite heavy
It is also a handheld microphone with a voice changer that changes your voice to 7 different voices. It is a device that offers advanced sounds like that of robots and minions. You can also tune and adjust all the sounds according to your liking.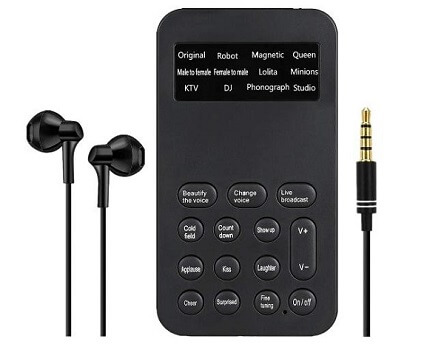 You can also make calls with this device, and the best thing about it is that it has 8 different sound effects that you can add to your call with just one click. Needless to say, it is pretty convenient and easy to use.
Features:
Suitable for indoor and outdoor use

Offers 7 different mic changing voices

Features a collection of 8 sound effects

It can be used with a phone, iPad, laptop and Xbox

Easy connection management
Pros:

It is very easy to carry

Helps with customizing the voice

You can tune the voice effects

Offers a wide collection of sounds
Cons:

It is not easy to use
If your kid is into microphones too, then this microphone voice changer has to be your ultimate stop because this microphone is specifically designed for kids.
It offers 5 different voice-changing sounds and also has lights that could entertain your kids.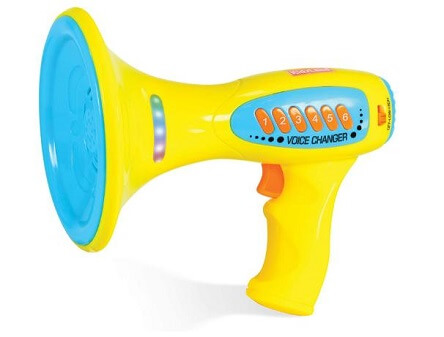 It also has a megaphone so your kid can roam around the house, making announcements. This microphone is made with very high-quality material, so it is perfect if you are looking for long-term entertainment for your kid.
Features:
Offers 5 different sound effects

The material used in the making is of high quality

Navigating sounds is very convenient

Features Led lights

Also works like a megaphone
Pros:

The volume is adjustable

It is very lightweight

Comes in a very attractive color

Also works as a speaker
Cons:

Does not have as much sound as other speakers
Conclusion of This Part:
We are glad to have found the ten best sound effects that are literally all in one. All these apps and software are perfect for your phone, Mac, and Windows. Just make sure to pick the highly efficient software that works best for your profession.
Voice Changing Microphones Best Alternatives: Voice Changer Software
So, we have reviewed all the microphones that work as voice changers, but if you really want to get your hands on an authentic voice changer, then the best alternative is iMyFone MagicMic. It is the choice of all the experts and is specifically made for professional streaming and gaming.
The software is very easy to install, and necessary updates are made in the software frequently, so it keeps working without any hassle. Let's find out a bit about this software.
Support systems: Mac and Windows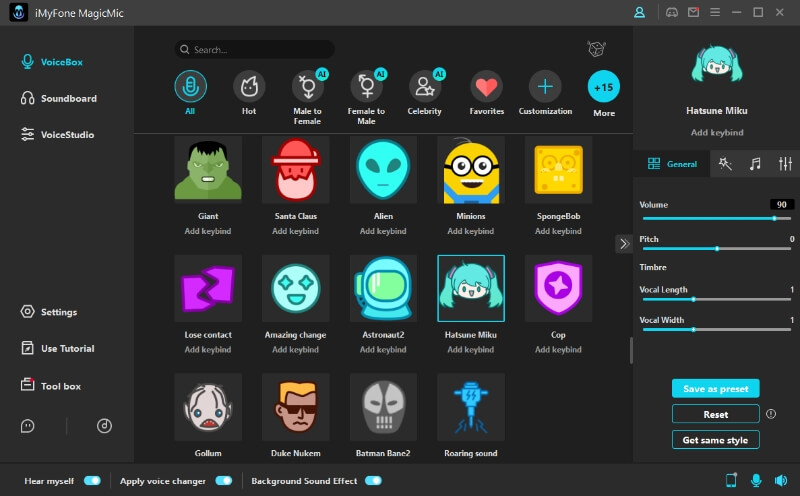 Features:
Has more than 200 sound effects which will be updated weekly

Helps with voice changing in real-time

Does not make your video lag while streaming

Sound effects could also be added to the software from PC

Comes with a money-back warranty
Pros:

Has multiple background sound effects

Helps with tuning the voice with about 100 in-build voice filters

Perfect for professional streaming

Adds the sound to the streaming with just one click
Cons:

It does not work as efficiently with slow internet
Hot Voice Filters on MagicMic
There are much hot voice filters on MagicMic that people love to use and that you need to try for sure if you want to get the most out of this software. Let's get into it: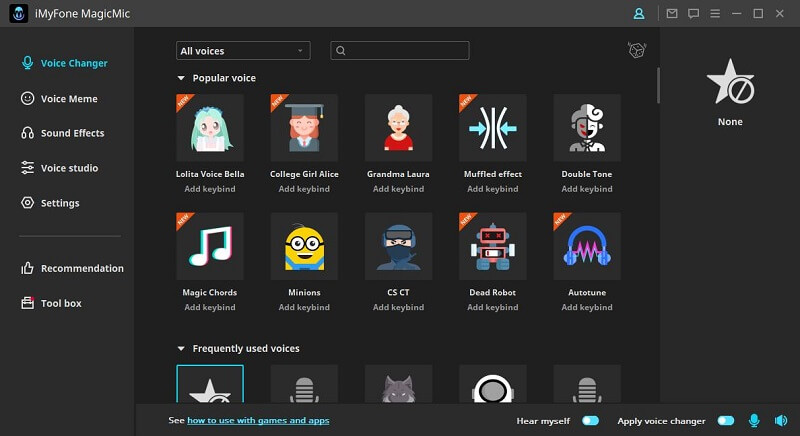 1.Minion
2.Dead Robot
3.Autotune
4.Male to Female
5.Deep Voice
6.Ghostface
Hot Sound Effects/Memes on MagicMic
There are also many sound effects that you can use in the background of your live streaming for some dramatic or comedic effects. Let's find them out: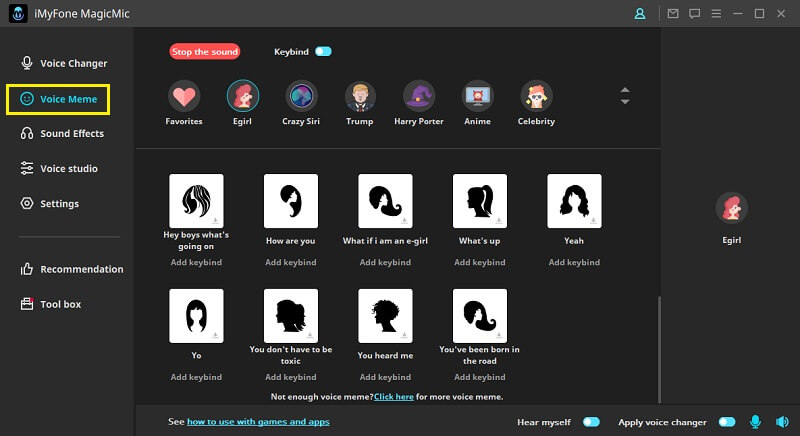 1.Fart Sounds
2.Siri Memes
3.E-girl Memes
4.Animal Sounds
Summing up
Lastly, microphones with voice changers are popular. Some of them could even be used for professional podcasts and streaming, but if you really want to improve your position in the podcasting world, you need to opt for something a little more efficient than a voice-changing microphone.
iMyFone MagicMic has to be your ultimate pick because it is the best alternative to voice changing microphones, and it does a lot more than these microphones do.
We highly recommend you go for MagicMic as it is the best voice changer mic for both Mac and Windows. So, don't forget to give it a go!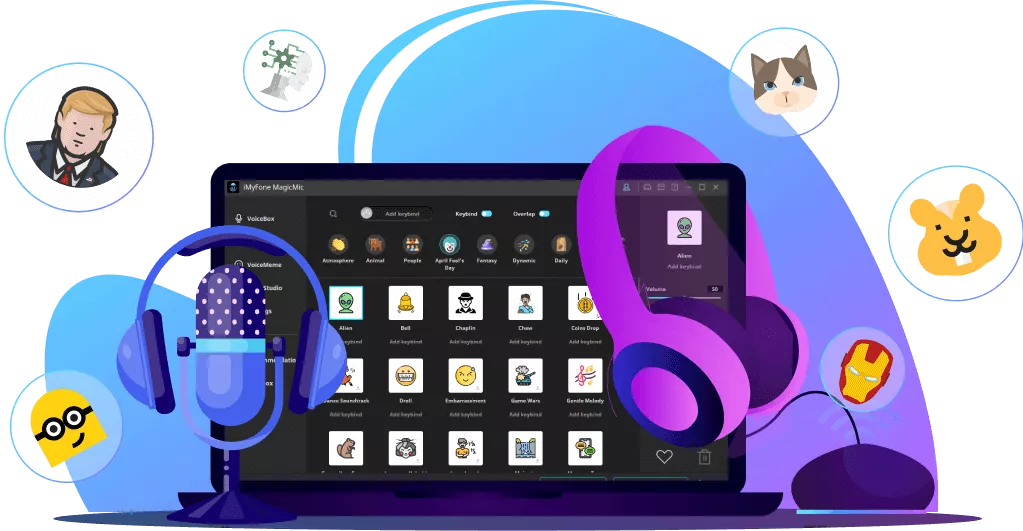 125+ Voice effects for one-click voice changing in real-time.
Huge library with 400+ Voice Effects and 150+ Voice Memes.
Sound emulator in games, live, chatting, online classes, and more.
Voice recording and audio voice changing are supported.
Voice studio lets you create any voice you like.