Adding voice effects while playing online games is undoubtedly one of the most exciting inventions. For instance, you can add Airplane sound effects to prank your friends as if there's an Airplane around.
Moreover, you can also change your voice and sound like a woman, robot, ghost with voice changer like MagicMic. These inventions are pretty good and sound so pleasing to the ears.
In this article we will discuss how to download airplane sound effects and use the voice changer to play airplane sound effects on platforms such as games and chats.let's start it.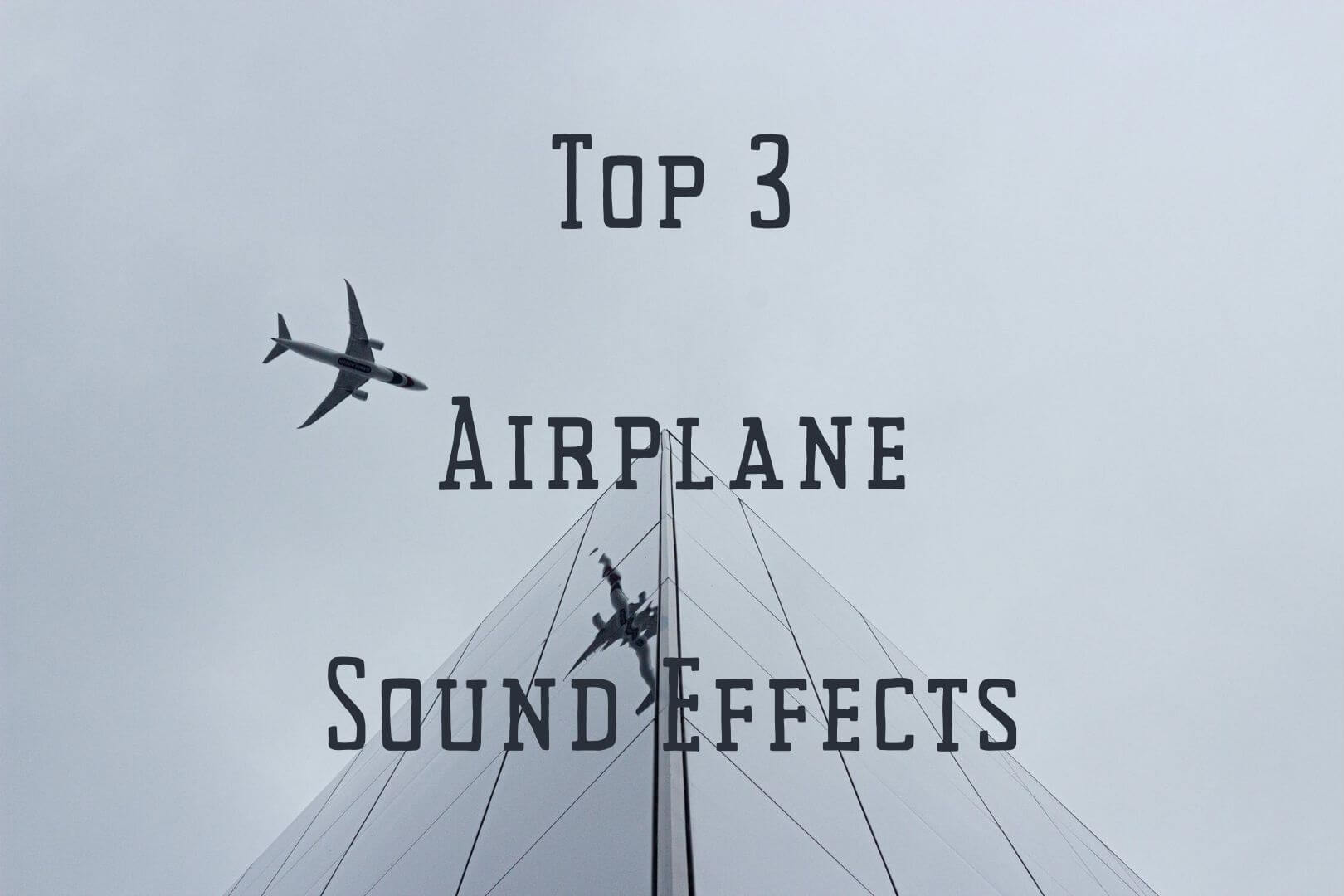 Part 1: 3 Best Voice Changer with Airplane Sound Effects
If you're looking to use Airplane sound effects during live games or chatting with your friend, iMyFone MagicMic can be a good thing for you.It is a prestigious voice changer with 100+ voice-changing features and 500+ engaging sound effects (including airplane sound effect). You can easily change your voice on multiple streaming and gaming platforms using this voice changer. Moreover, MagicMic concise operating panel, meaning you won't face any difficulty operating this fantastic tool.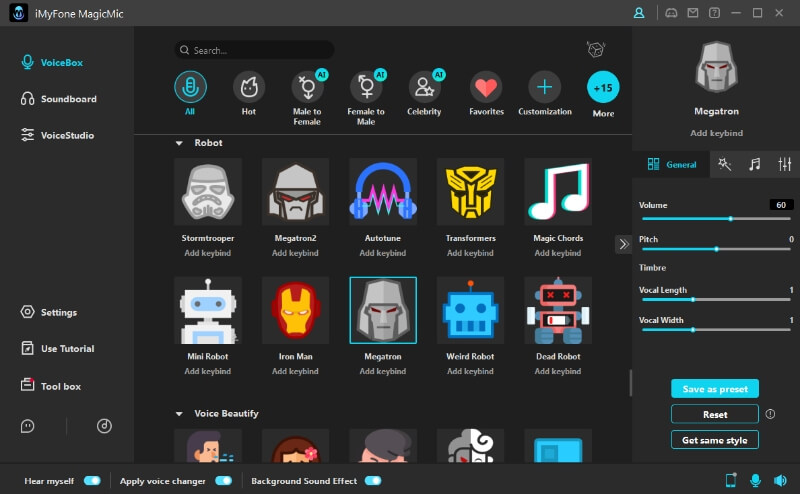 Features
It allows you to change your voice in real-time.

It offers a massive variety of voice-changing effects, including Monster, Male to Female, Alien, Robot, Chipmunks, Minions, etc.
Pros

MagicMic tends to update its voice effects regularly to make your experience better.

It comes with easy to use and smooth user interface.
How to play Airplane sound effects using iMyFone MagicMic
Step 1: Launch iMyFone MagicMic
After installing iMyFone MagicMic on your PC, you'll need to launch the voice changer afterward. Later, you'll need to choose your microphone as your input device.
Step 2: Select Sound Effects Tab
In this phase, you'll need to hit the ''Sound Effects" tab, and you'll be able to access 300+ sound effects. You can use these sound effects on various chatting and gaming platforms.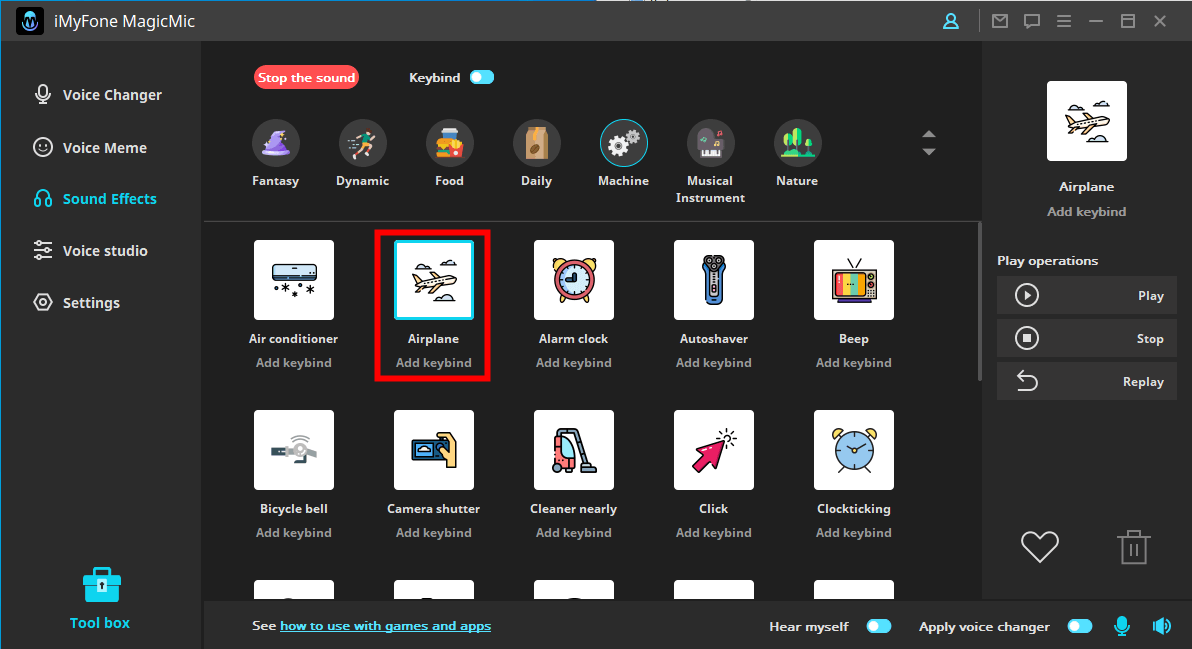 Step 3: Use sound effect
Now, you'll need to navigate to a particular platform's settings where you want to use an Airplane alarm sound effect or Airplane flight sound effect.
After selecting the input device, you'll be able to explore the Airplane and many sound effects of iMyFone MagicMic.
You'd have been aware of the quality products of Adobe. Similarly, Adobe has got a prolific voice changer up in the sleeves in the shape of Adobe Audition.
It is a genuinely remarkable tool with excellent voice-changing features. Using this tool, you can transform your voice into someone else's voice with minimal effort.
Moreover, it allows you to change your real-time on streaming and gaming platforms. Surprisingly, Adobe Audition comes with almost 16 fine auto-tunes voices for making your top-notch.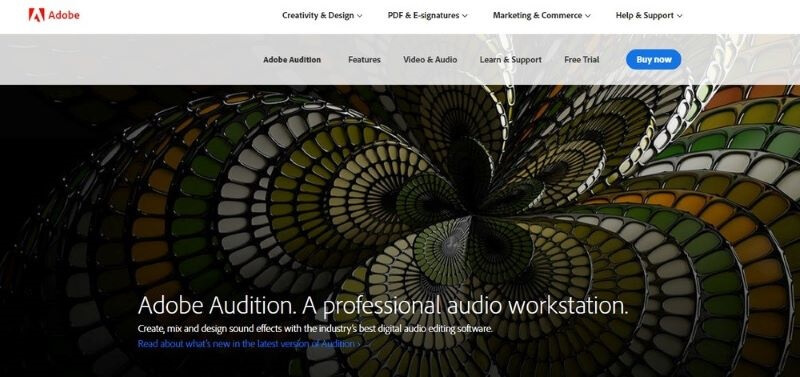 Features
It allows you to alter the pitch of your voice completely.

Using Adobe Audition, you can add an echo effect to your voice.

Its Reverb effect help you make your voice like an Airplane.
Pros

Allows you to change your voice on multiple chatting and gaming platforms.

It contains a lot of sound effects.
Cons

Little bit tricky user interface.
People looking for a voice changer to add different prolific sound effects like Airplane sound effects while playing an online game can hire the services of Voicemod.
Voicemod has been an immiscible voice changer over the few years, citing its extraordinary voice-changing features.
Apart from adding catchy sound effects, it allows you to turn your voice into Robot, Woman, or man's voice.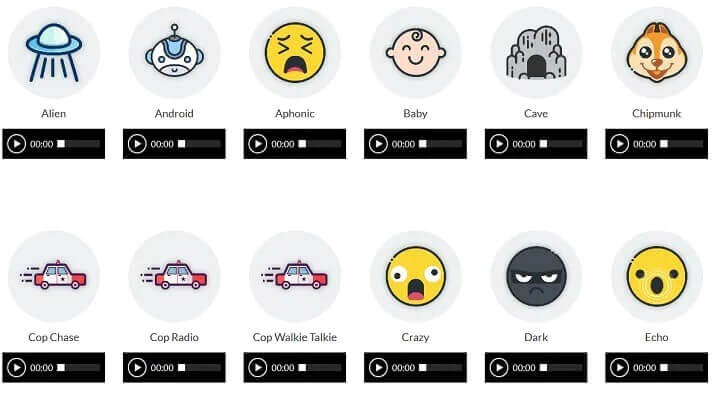 Features
Voicemod allows you to change your voice in real-time while playing an online game.

It is compatible with gaming and chatting platforms like Discord, TeamSpeak, CS: GO, Among US, and many more.

Voicemod allows the exploration of multiple new custom sound effects.
Pros

Voicemod is a beginner-friendly voice changer.

It blesses you with tons of sound effects.

Using Voicemod, you can change your voice on multiple platforms.
Cons

Not entirely free.
Part 2: Where to Download Airplane Sound Effects
You can't get any better website when downloading Airplane Sound effects than Soundjoy. It is a great website that allows you to download many sound effects with minimal effort.
Luckily, after downloading the sound effects, you use them on platforms like Facebook, Instagram, Twitter, CS: GO, PUBG, Fortnite, etc.
To download a sound effect, all you need to do is visit the Soundjoy website and download the most preferred sound effect option from there.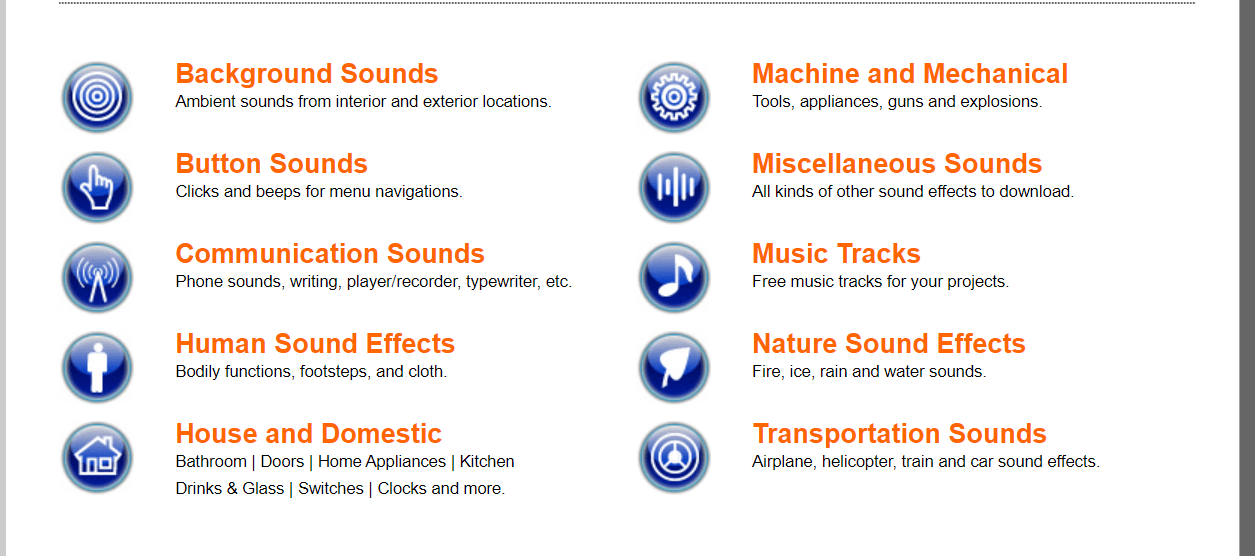 Like Soundjoy, Zapsplat is another spectacular website that explores unbelievable sound effects.
By visiting the website, you can explore the sounds like Airplane sound effects landing, Airplane alarm sound effects, and many more. Moreover, it also allows you to download the sound when an Airplane tends to take off or land. These sounds are extremely useful for podcasts, games, audiobooks, and more. The sound effects you'll get with Zapsplat support WAV and MP3 format.

MixKit provides you with 46 stunning free sound effects. All the sound effects you'll find by visiting the MixKit website are free and don't charge any penny from you. After downloading the sound effects from this website, you can add them to many chatting and gaming platforms. You'll get all the Airplane sound effects with this website with ease.
Moreover, you don't need to register with the MixKit account, as you can access the sound effects by simply visiting the website. In addition, you can download the sound effects in multiple audio formats using MixKit.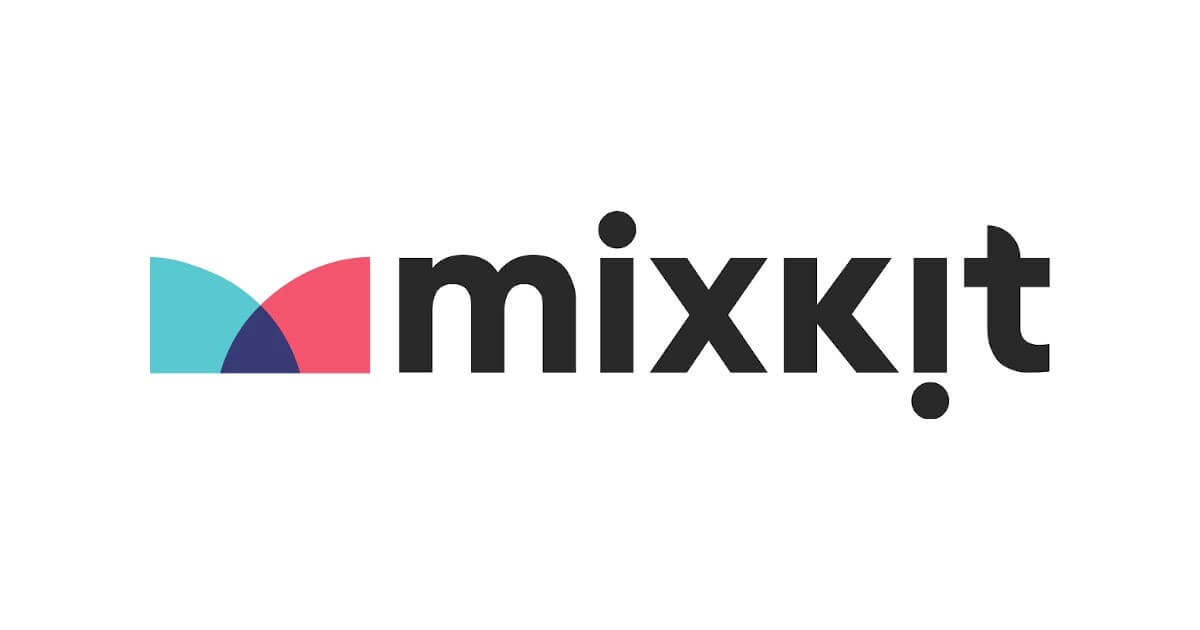 Conclusion
If you're up to exploring Airplane sound effects, you can use the voice changing we've mentioned in this article. The tools we were focused on exploring are worth your time to add massive value to your experience.
Without undermining the credibility of any tool, if you're to select an exceptional voice changer, we recommend iMyFone MagicMic. It is a significant voice changer that allows you to explore stunning voice effects with minimal effort.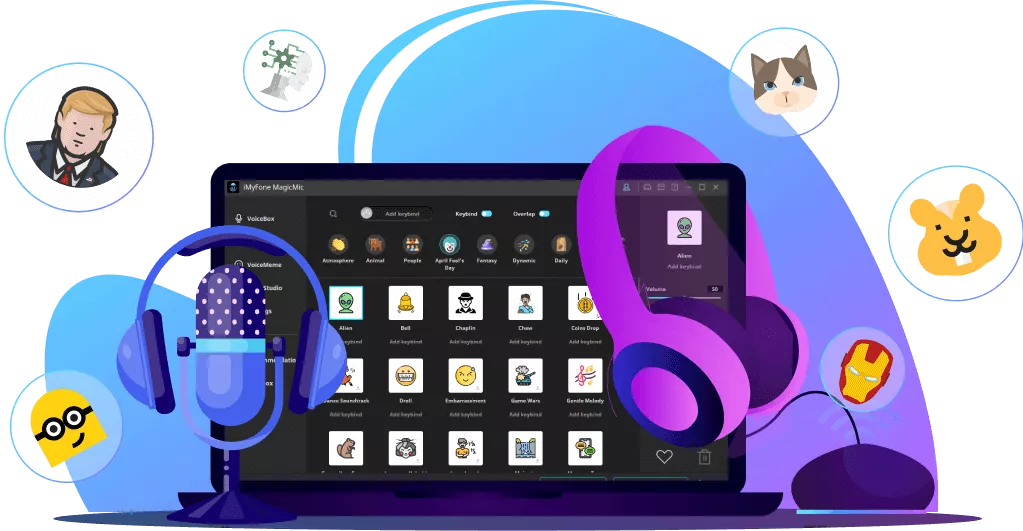 100+ Voice effects for one click voice changing in real-time.
Huge library with 300+ Voice Effects and 150+ Voice Memes.
Sound emulator in games,live,chatting,online class and more.
Voice record and audio voice changing are supported.
Voice studio lets you create any voice you like.