Playing a sound effect in the middle of a call or game can make the environment more joyful and soothing. Nowadays, you can easily find soundboard websites to help you download your favorite sound effects. However, it would help if you went for a voice changer that offers you soundboard abilities as it can make your job easier.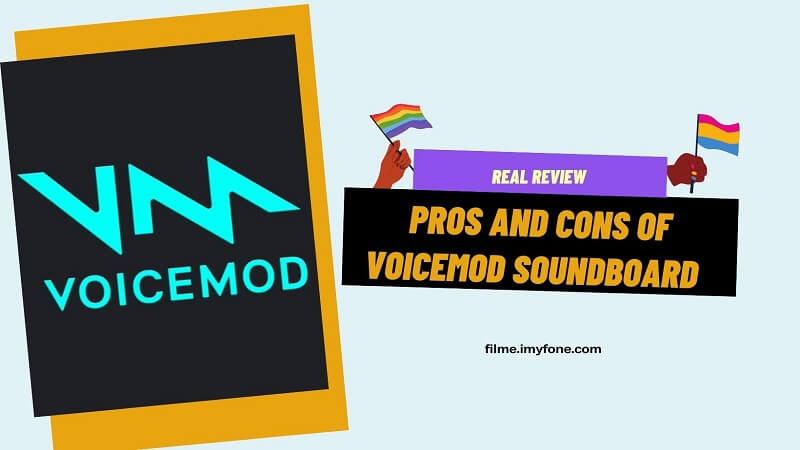 The Voicemod soundboard comes into our mind as it comes with extremely effective soundboard effects. There are many things to like about Voicemod, but it also has some loopholes, for instance, the bad quality for some users, that need to be taken care of pretty quickly.
Let us talk about Voicemod and its alternatives that can add value to your online fun.
Part 1: Real Reviews of Voicemod Sounboard?
Voicemod is a real time voice changer that can help you make your voice sound like anything you'd want. Using this spectacular tool, you've got the special leverage to play sensational sound effects on various streaming, gaming, and chatting platforms in real-time.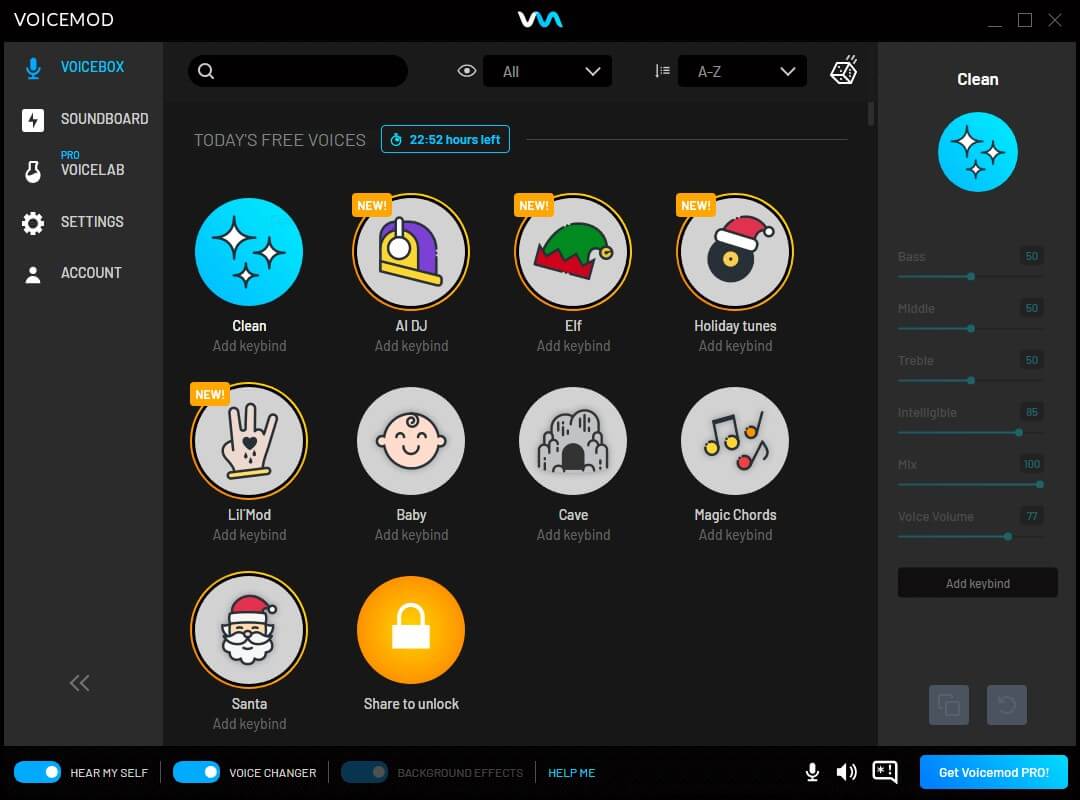 On top of that, Voicemod also acts as a voice modulator, meaning you can speak in the microphone and alter your voice with minimal effort. Although Voicemod can sometimes become a risk for your PC as it possesses malicious viruses, you can try it to see how it goes.
Moreover, Voicemod also brings prolific soundboard options, meaning you don't need to download soundboards from any website as you'll get many inbuilt options in Voicemod.
Pros:

Using Voicemod, you can change the voice of your recorded audio.

Voicemod helps you modify your voice and transform it into a male, woman, robot, Darth Vader, and anime voice.

It comes with a high-quality microphone, meaning it outputs a pretty clear voice whenever you speak in the microphone.

It is easy to install, and you won't have any ambiguity in its user interface.

It enables you to explore various sound effects.
Cons:

You won't get qualified voice filters and sound effects with the free version.

Only windows version.

The voice changing effects are limited and not the latest.

Voicemod crashes when using soundboard.

Overwhelm ads.
Part 2: Best 3 Voicemod Soundboard Alternatives
Since many users can find it difficult to use Voicemod as it comes with some drawbacks that some people can't ignore, you're always going for Voicemod's alternatives.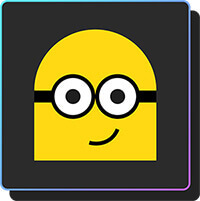 If you're looking for a Voicemod soundboard alternative, you won't see any better and more versatile tool than the iMyFone MagicMic.It is a flawless voice changer that helps you change your voice in real-time.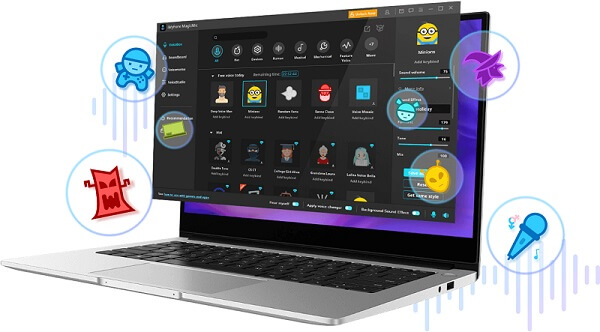 People won't know about the full potential of this remarkable voice changer after knowing its hidden abilities. You'll be amazed how a voice changer could be this good. Whether you talk about the sound quality or sound effects, MagicMic doesn't disappoint you.
On top of that, MagicMic also enables you to download the soundboard from different websites and then import them to MagicMic's interface using the Voice Meme feature.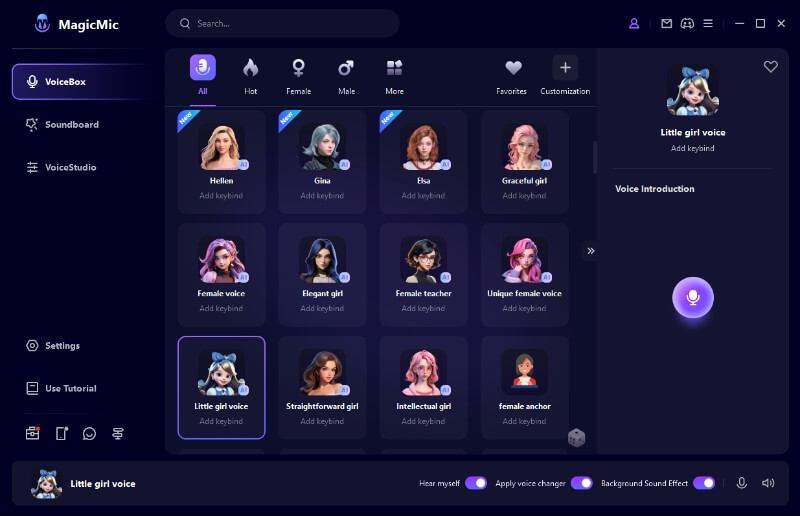 OS: Windows and Mac
Pros:

MagicMic enables you to use 300+ sound effects.

Using iMyFone MagicMic, you can easily access 100+ remarkable voice filters.

MagicMic only covers a couple of MB on your Mac and Windows PC.

You can change background sounds with real time voice effects.

You can modify and adjust your voice after putting it into the microphone, courtesy of the Voice Studio feature.

MagicMic also enables you to make a selection of sound effects by using the Random Dice feature.
Cons:

Even if it is a good software, but the marketing promotion is not enough, resulting in not many people who know this software.

The guidance for some functions is not detailed enough.
Morphvox is a fairly popular voice changer that has built a huge reputation over the few years. It comes with two versions Morphvox Junior is free to use, and you'll need to acquire the premium package of Morphvox Pro to explore its features.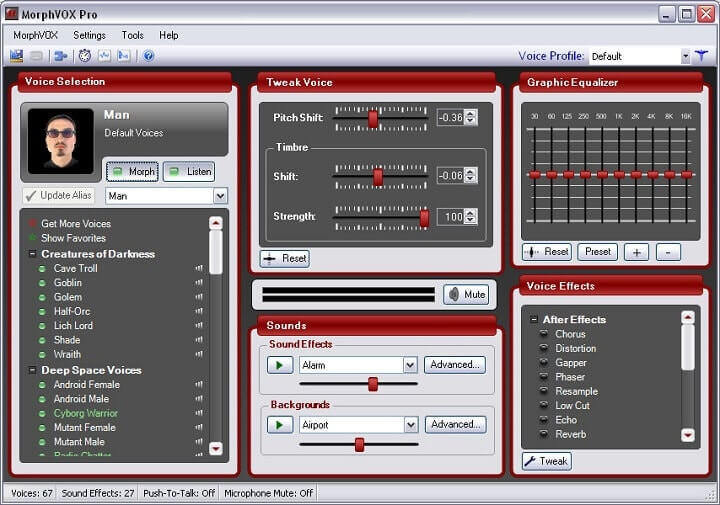 Morphvox won't be a bad alternative to Voicemod soundboard when it comes to changing the voice in real-time. It offers fascinating sound effects that can surely make your experience worth remembering.On top of that, Morphvox can easily integrate with any chatting, gaming, or online platform.
OS: Windows and Mac
Pros:

Morphvox uses little CPU power and bandwidth.

It blesses you with plenty of sound effects.

It comes with Custom shortcuts, meaning newbies will find it fairly easy.
Cons:

The paid version is fairly expensive to many people's liking.

The installation can be, at times, a bit frustrating.
Although it won't be as effective as MagicMic is, you can't right off Clownfish Voice Changer as a Voicemod soundboard alternative. It is a simple voice changer that makes things simple, and most of its abilities go unnoticed, but it can be a huge option for you.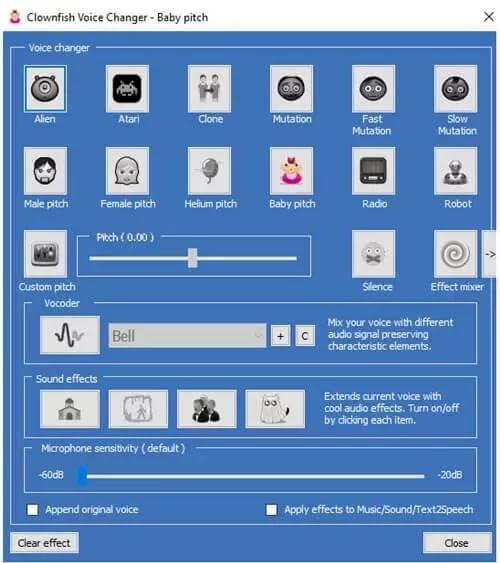 Although Clownfish doesn't offer you the opportunity to add your preferred voice effects, it still enables you to use voice filters, including Darth Vader, Robot, Alien, Male Pitch, and Female Pitch.On top of that, using this majestic voice changer, you can prank your friends any time, courtesy of its ability to modify your voice on platforms including TeamSpeak, Discord, Viber, and Skype.
OS: Windows
Pros:

Voicemod offers mind-blowing voice filters.

Clownfish comes with a fairly simple user interface, but that doesn't prevent this tool from offering high-quality sound effects.

It holds the ability to sync with the online platform you'd like to use automatically.

It offers virtual studio technology followed by multiple plugins.

It is also compatible with audio formats, meaning you can change the voice of recorded audio.
Cons:

It doesn't come up with added voice effects as you can only explore custom pitch functions.

Clownfish Voice Changer offers limited sound effects.
Conclusion
Voicemod is a spectacular soundboard that helps you play fantastic sound effects in real-time, but it also has some loopholes that can worsen your experience. Hence, looking for an alternative to the Voicemod soundboard makes sense, and considering this, we've mentioned three fascinating options.
All three tools are good, but MagicMic remains the best option. It comes with remarkable features that you'd hardly find in any other tool.