If you are interested in video making and require sound effects for your videos, especially anime sound effects, then you have come to the right place! Video effects help engage your viewers and gain their attention towards your content. Such effects will enhance your clips by highlighting the element of entertainment in them. Here is how you can gain access to funny anime sound effects.
Part 1: Top 6 Sites to Download Free Anime Sound Effects
Here let's take you through 6 safe-to-use websites that will help you if you need sound effects for your videos. These websites are tested and tried for their services and have satisfied their users. You can use any of these six mentioned sites if you are on the lookout for safe, trusted sources for your voice effects. You must look at all of them and see what works for you best.
1. Zapsplat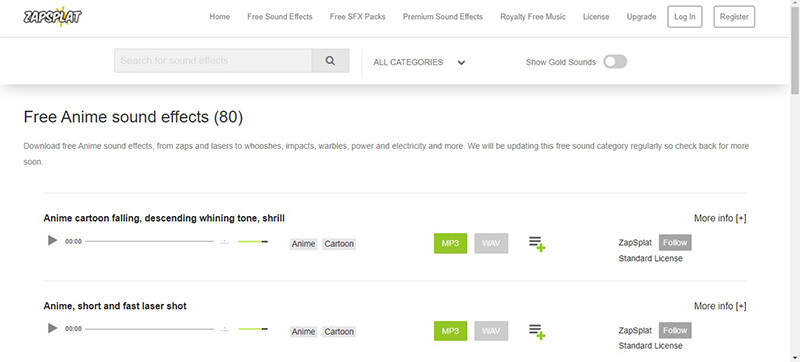 Zapsplat is a website that provides all filmmakers and future creative content creators free SFX. The team behind this website has spent approximately 27 years recording sounds and sound effects so that they can provide you with a vast collection of effects for your project. You can visit the website to get access to an anime sound effects library filled with thousands of sound effects.
This site is also trustworthy and certified, so there's no need to fear a virus or getting hacked. The website allows you to fully showcase your true creativity without fearing copyright strikes or the lack of effects that you would need for your project. Zapsplat has a wide range of effects from all genres, which always help you find something for your project.
It is important to keep in mind that the creators of Zapslat have made sure that it is safe to use and is free from glitches that make your work look cheap and mediocre. Zapsplat provides high-quality and excellent sound effects so that they enhance your video quality.
2. Storyblocks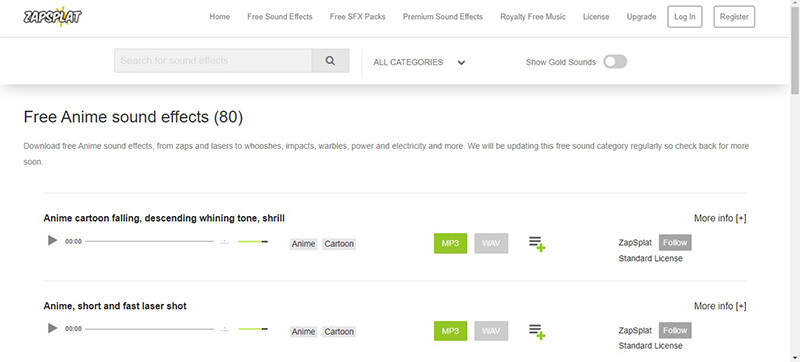 Storyblocks is a unique website with the sole purpose of helping creators create things faster. All the essential tools you would need are available on this website so that you can spend less time finding and researching things for your project and more time actually making videos and being productive.
This website enhances your productivity and helps you stay in control of your craft. You can get a membership and use this website for all your video editing projects at an affordable cost. It provides a platform to stay safe and unleash your inner filmmaker. The site is easy to use. Thus, you don't have to be a professional to make sense of using it properly.
Storyblocks is a website that's been recently getting popular due to its amazing customer service and the number of satisfied users it contains. You can find all sorts of effects from this website and be surprised at their variety. It comprises the creators, especially content makers, who seriously take their work.
3. Voicy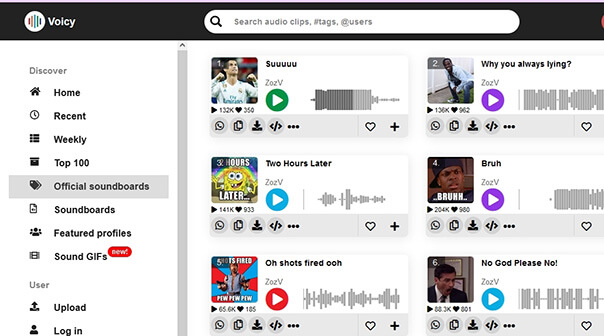 Voicy is a platform containing unique, professionally made voice effects. It is extremely beneficial to provide unique voice effects that add personality to your project. It has a wide variety of effects, including all-new effects that are excerpts from all-time famous movies. You can also find anime voice effects here.
4. Myinstants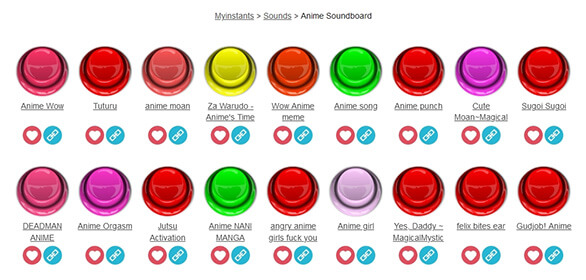 This site is based in the United States and is well known for the huge variety of funny sound effects it provides. You can find all sorts of sound effects here! Even Pokemon anime sound effects. Its huge variety is the reason why it attracts many content creators. You can easily use, hear and share the voice effects of your liking. The site is easy to use and is free of glitches that may cause a delay in your work. You can smoothly get your work done on time by visiting this web page.
We all love comedy. We love comedy so much that we read books containing comedy, watch movies for a little laugh and play games to cheer us up. Comedy is something everyone appreciates every once in a while. Myinstants is a curated website, especially with funny voice effects that will surely get a laugh out of any person.
If you want to go to a live chat or play an online game and win everyone's hearts by cracking a joke, then using voice effects on this site will help you do exactly that. This website is safe to use, and you can download the effects directly to your website.
5. Pikbest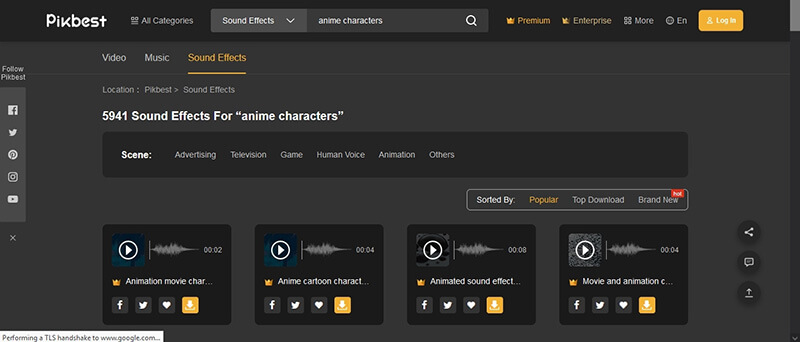 Pikbest is a prime example of a one-stop-shop. Its site is loaded with everything and anything a content creator might need for the composition of his project. This site has everything from illustration and photoshop to sound effects. You can sign in and get hold of more than 80,000 products for free!
Pikbest is an amazing platform for people to learn and mix new things and experiment. This site provides all that other sites do not. It's a great investment, especially if you are interested in doing creative projects, as you will get access to many forms of media in one place. The site also offers freebies, such as free templates for PSD and PTT. It's a great deal, so don't think too much and visit the site.
Audiojungle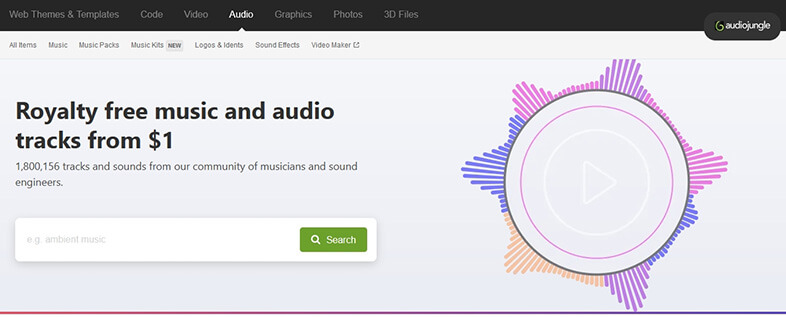 Audiojungle is a famous and huge site for soundtracks, and it has won the hearts of millions of people by simply providing them with more and more tracks each time. They currently have over 1,798,129 royalty-free tracks.
This site is a trusted source that most creators use if they want any background music or groovy tracks for their videos. Its huge variety makes it easy for people to use it as they would rather go to one place for any sound that they require instead of wasting all their time researching for their essential tracks. It's a smart way to save money, time, and effort all at one time. You can take a look at these impressive tracks.
Part 2: Import These Free Anime Sound Effects to Best Voice Changer For Your Use!
Ever wanted to stay anonymous or protect your identity while playing online? Well, iMyFone MagicMic helps you do just that. MagicMic contains numerous features, but its most popular is the voice changer. You can export your downloaded sound effects on MagicMic voice changer and later on use these while you are live streaming, online chatting, or playing an online game.
MagicMic is a voice-changing program that will change your voice and keep it a secret. MagicMic is an application that currently contains 200+ sound effects of its own from which you can choose whatever voice you would like just at the tap of your finger.
The feature that we talked about previously is the voice changer effect. It is extremely well-curated and makes it hard to guess whether you're using a voice changer or if it is the user's actual voice. Voice changers are great if you are trying to entertain yourself in an online game or planning to prank the opponent.
There are over 40 voice effects for you to choose from and use. The best part about this application is that it allows voice effects that you have downloaded on your device to be imported to MagicMic. This helps you use the voice effect you want.
How to use MagicMic
Here are the steps that you need to follow to use the application to change your choice.
Step 1: Launch iMyFone MagicMic
Firstly, you need to install MagicMic and launch it. At this step, you'll have the option to select voices.
Step 2: Select the voice changer and sound effects
As discussed above, for voice changer, you can select audios from the main screen interface that is mentioned in the step 1. But, if you want sound effects, you can also select sound effects option, which is available at the left.
Step 3: Select the input and output devices
Once you've selected the audios, now you have to select the output and the input devices as the mic and headphones that are connected to your computer.
The voice-changing effects are coming non-stop that make the anime sound effects soundboard and other sound effects extremely vast in variety.
Conclusion
To wrap all of this up, we suggest that if you are new to editing or have been editing for years, trying MagicMic will prove to be a game-changer for you. You will find yourself being more productive and doing time-consuming tasks faster. Many content creators have recommended MagicMic due to its easy use and its increase in its effectiveness. You always must try all the options before choosing an editing software, as different creators have different preferences.