Dog soundboards are sounds of dogs barking, panting, whining, getting angry, growling, and howling. Dog soundboards can be used to pull pranks on friends who are scared of dogs, dog barking soundboards can be used to scare away thieves in homesteads. Soundboards for dogs may also be useful when hiking, to scare off wild animals. Dog soundboards can be found on 101 Soundboards, Myinstincts, and in the realm of darkness. They have a variety of dog noises soundboards.
Part 1: Stop Searching, here is the Dog Soundboard You Want!
MagicMic is a real-time voice changer. It is easy to use and comes with different voice effects to choose from.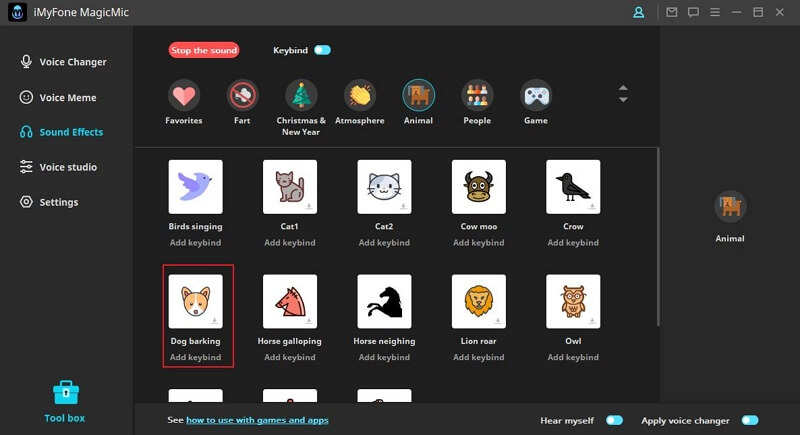 Imagine being on call with your friends and there are dog noises in the background but it is not a dog but your friend's voice is changed to exactly sound like dog noises. IMyFone MagicMic is responsible for the conversion of real voice into dog noises soundboard.
MagicMic is a voice changer application that is accessible on Windows PC platforms. It is available in amateur or professional, the program is also easy to use for beginners.
Features:
In one click your voice changes. All you have to do is pick the voice you want

Users can add 190+ sound effects in MagicMic by adding timeless reactions

Your voice can change into various filters such as dog noises soundboard, monster, and the devil.

MagicMic can be used on different platforms like Skype, Twitch, PUBG, and Discord.

You can import downloaded soundboard from websites and use them in real-time while using the application.
Pros:

It is easy to use for beginners with step by step help.

Conversion of voice is in real-time therefore you can access it at any time.

You can use MagicMic on various occasions such as when pranking your friends, with funny voices, with dog soundboards.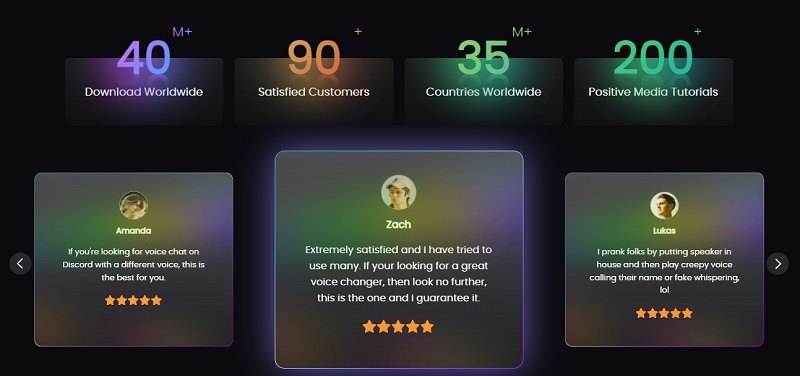 Part 2: How to Use Dog Soundboard?
Users can use iMyFone MagicMic as a voice changer and also as a tool to import soundboards. MagicMic allows users to input soundboards downloaded from other websites. Therefore, users can input dog noises soundboard and use them and at the same time use the voice changing feature.
Steps to import and use dog soundboard
Step 1 Download and install MagicMic. Install is the latest version of MagicMic compatible with your device to have all the features and functions available.
Step 2 Click on the voice meme option, below the voice changer option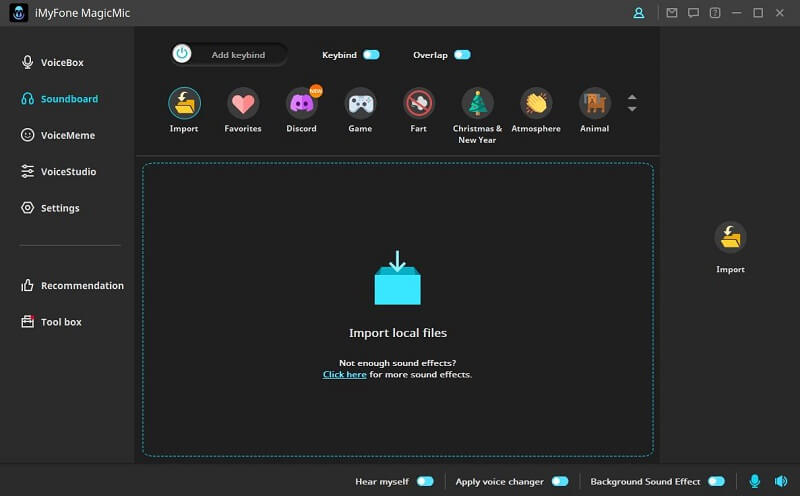 Step 3 On the screen, there will be an option to import local files on Meme Sound Effect.
Step 4 Go to the preferred website to download the dog noises soundboard. The websites to get different: 101 soundboard, Realm of darknessand Myinstants
Step 5 Save the download on a file on your computer.
Step 6 Go to the MagicMic application and on the import, local files click on the click here option and it will open your files.
Step 7 Select the dog soundboards downloaded and they will be available for use.
Step 8 On the iMyFone MagicMic, select the input device as your microphone,and output device as your headphone.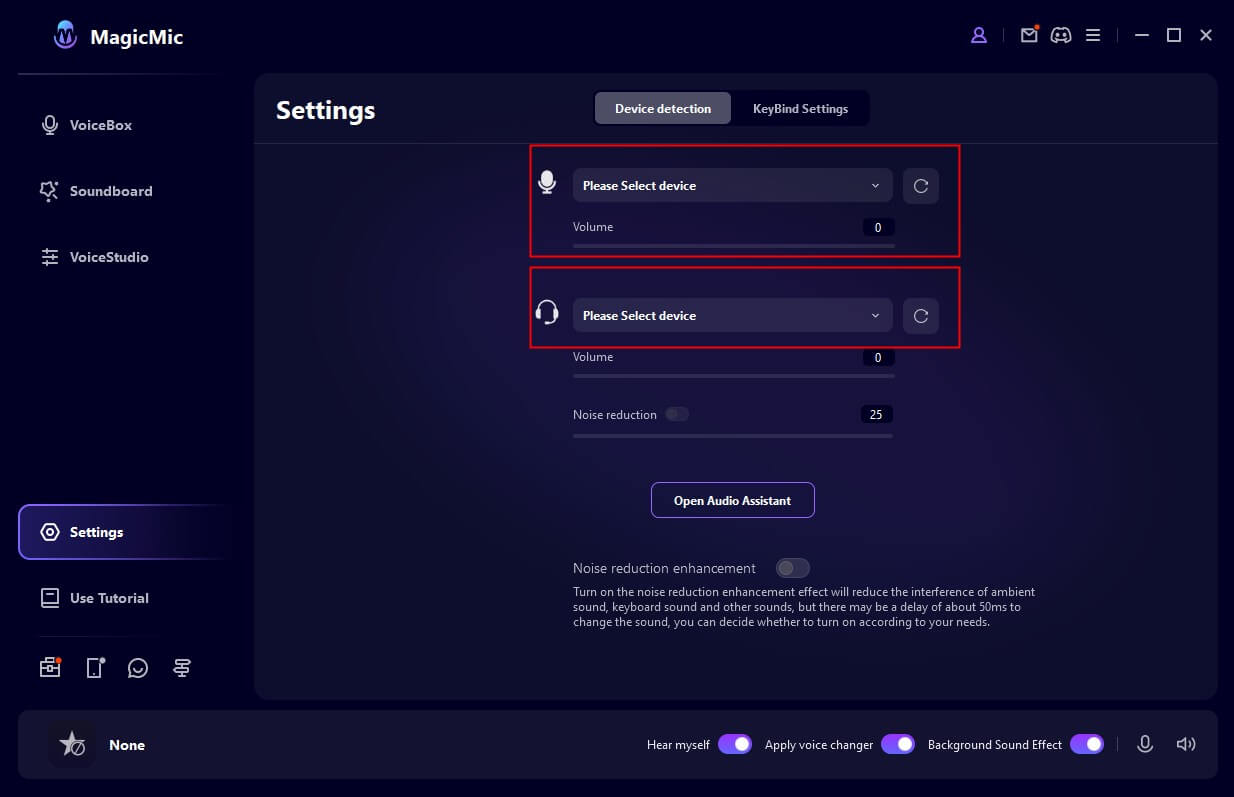 Step 9 Select the voice effect you wish to use.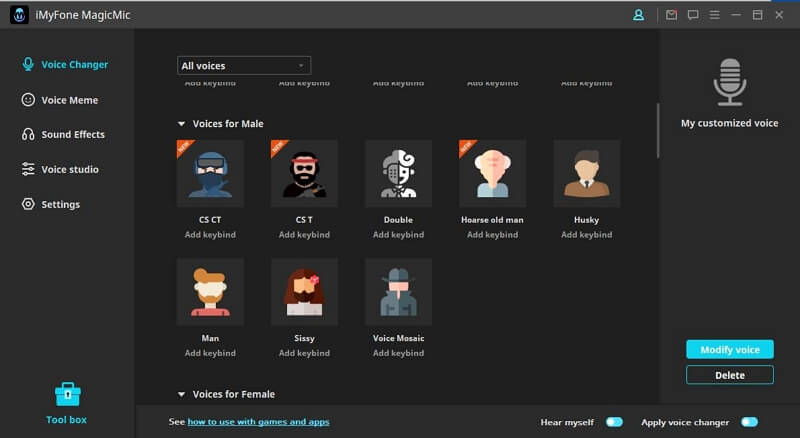 Part 3: Hot Soundboard That You Won't to Miss!
There has been a hot trend of using soundboards. Soundboards have made conversations lively, fun, and exciting to be part of. Soundboards include sounds from your favorite TV shows, movies, legendary people such as Trump and Dr. Phil. These sounds enhance the art of expression of feelings. Using these sounds, people can make express different emotions such as anger, happiness, people can joke with their peers, and even pull pranks.
Some soundboards are most common and are most recommended. These include
Fart Soundboard is one of the popular soundboards and is mostly used to frustrate friends since it is an embarrassing thing to do. Any fart sound you can think of can be found; nasty, squeaky, nasty, juicy, wet, explosive farts. You can always play the fart soundboards and watch or record your friends' reactions. You can also play a game with children, play the fart sounds as they try to guess, or look for who the culprit is even though there is no smell.
Celebrity soundboard includes sound clips of what celebrities said and are used in different contexts that they are applicable. This is mostly used by the celebrities' target audience. Imagine getting a call and it is Chris Brown on the line, it is so easy to believe. Many people have fallen victim to these pranks believing it is an actual celebrity making the call.
Trump soundboard was the 45th president of the United States of America. He is, however, said to be funny and humorous hence the popularity of his soundboards. People use his audios to insult their friends, to joke around, to prank their friends, and to generally have fun.
Conclusion
It is now possible to convert one's voice into any other voice through the use of MagicMic. Apart from the voice changing feature, MagicMic allows users to use downloaded soundboards in real-time.
Hope you can get some information about how to get dog soundboard through this passage.