Are you curious about what your future baby might look like? I bet the answer is "yes", then you will get the best treat like AI baby generator, which allows you to generate your future baby face only by uploading you and your partner/a person you like. Sounds cool, right? Then, please read on!
In this article, we'll introduce best AI baby generators free/paid that can satisfy your needs, exploring how they work and which ones stand out among the rest, helping to let you know how your future kid will look like or simply go viral on TikTok.
Let's dive right in!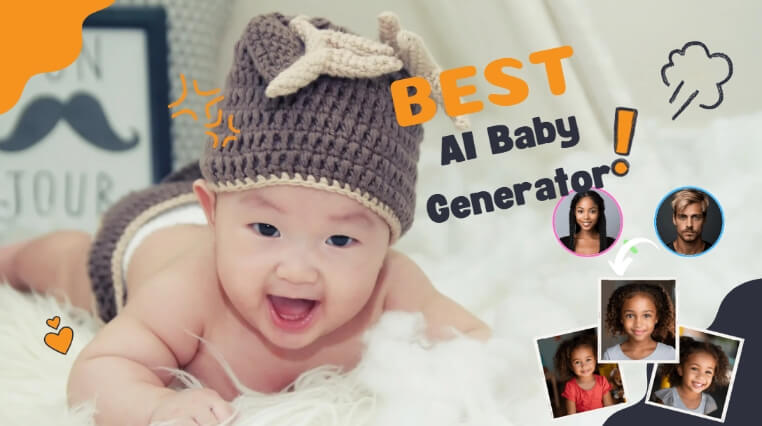 Part 1. What is AI Baby Generator?
An AI baby generator is a software that enables users to generate their future baby face with ease, and users only need to upload the full-face photo that shows clearly the face characteristic, then, the AI will continue the rest - combining the features of parents face and predicting their future child's face.
It analyzes attributes such as eye color, hair texture, and facial features inherited from each parent to offer users a speculative preview of what their hypothetical baby might look like. Whether you want to make popular videos by uploading the appearance of future baby of you and who you like, or simply are curious about what your future kid looks like, the baby AI generator fulfills all your requirements.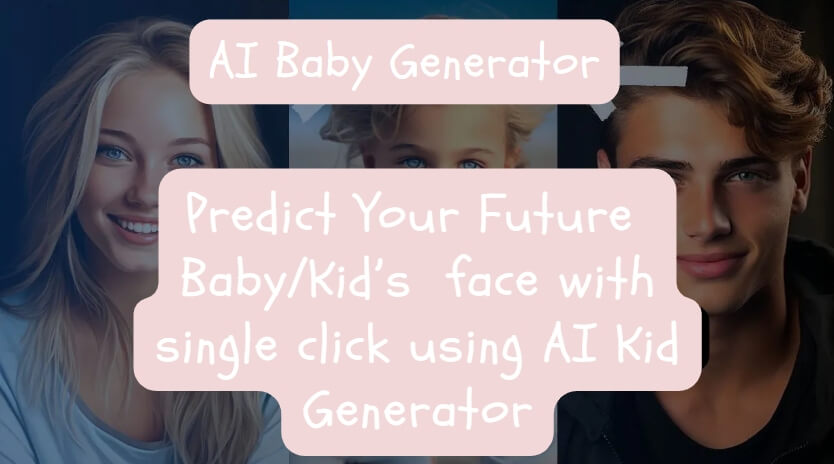 Part 2. Best AI Baby Generators to Predict Your Future Kid's Face
Considering the best AI baby generator online, Aibabygenerator.com is the one you should head to.
It allows you to obtain ultra-realistic baby photos of your future child with a simple process – just upload a photo of yourself and your partner, and watch the AI to create the face of your future baby.
And the best part?
You can even see what a baby of you and your crush/friends would look like. And also, you don't need to worry about any privacy issues, since it has the 24-hour data privacy policy.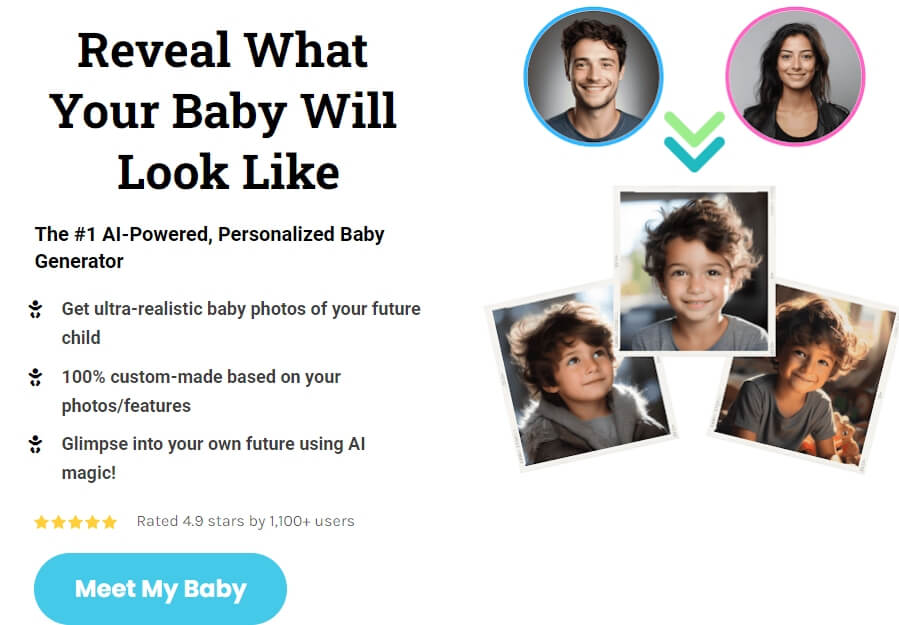 How use AI kid generator to predict your baby face:
Step #1: Head to its website & Click "Meet My Baby".
Step #2: Upload photos of you and your partner to generate your future kid's face.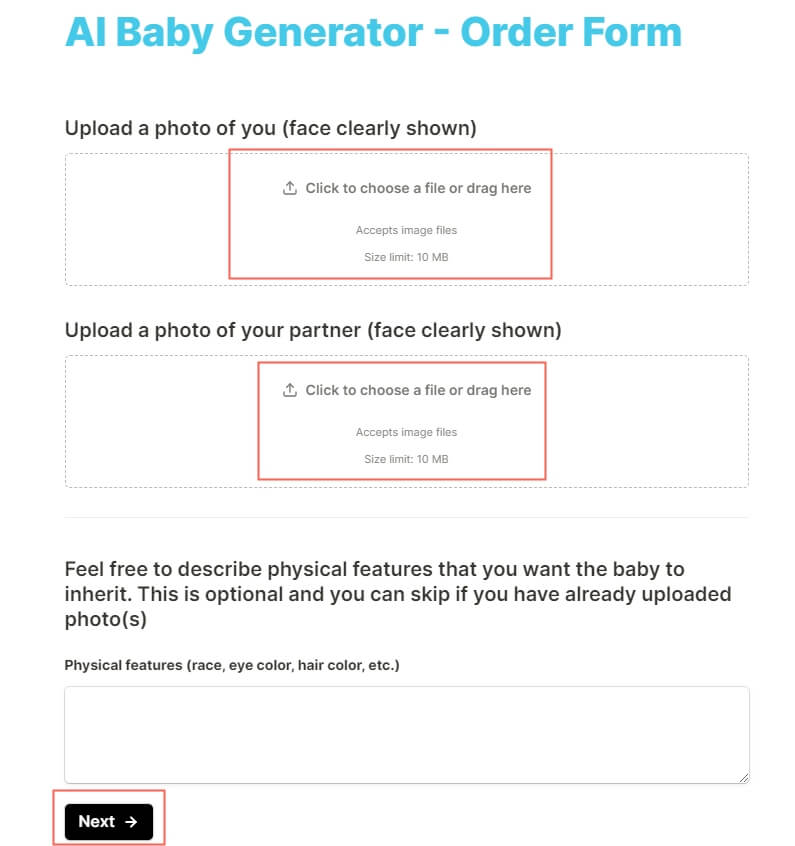 Key Features:
The generation is of high quality.

Allows to make prediction of you and anyone.

An average 93% facial match rate with your future child.

Receive orders via email within 24 hours.

Your personal information is secure.

Get a 7-page report detailing your future baby's characteristics and traits.
iMyFone MagicPic is a greate AI photo editor, and its strength lies in its ability to effortlessly remove backgrounds from multiple images and replace them with backgrounds provided or custom background uploaded by users themselves.
But it is more than a tool to edit photos, the upcoming version will add the entertaining and powerful feature of AI kid generation, enabling you to envision the face of your future child, so be sure not to overlook it!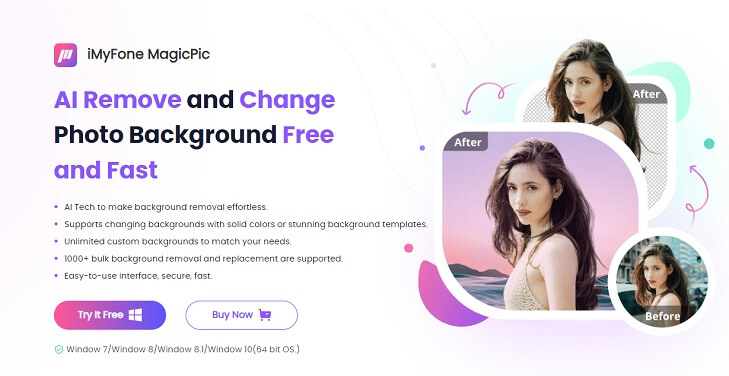 With just single click, you can effortlessly predict your future kid's face.
For those seeking a free AI baby generator, Baby AC is an excellent choice, where your future kid's face can be exactly predicted through auto-analyzing the face of parents.
As what you can see from the following photo, you only need to upload images having the future parents' faces, and you can gain access to your baby's face with a single click at "Run".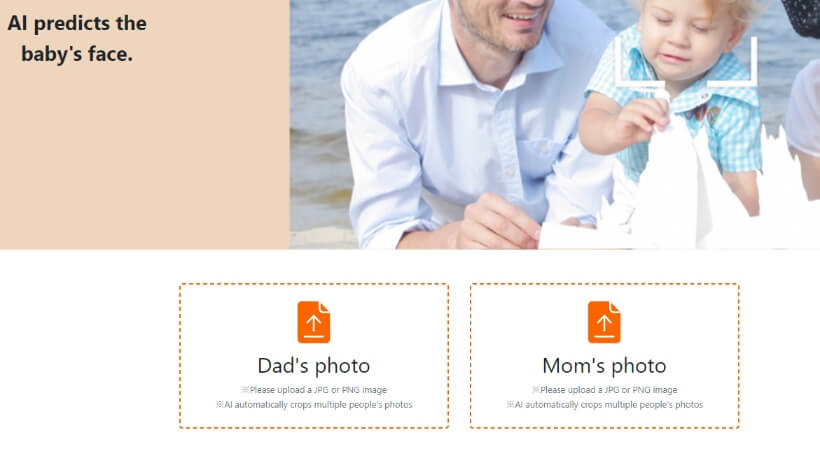 Key Features:
Only two photos needed to make prediction of your future baby face.

The results are high-resolution baby images.

Fast speed generation.

Images uploaded being erased within 24 hours ensures your privacy and security.
Remini, an AI photo enhancer, recently introduced the new feature of Baby AI Generator, serving as the best AI kid generator. And it uses the capability of AI to analyze the photos users provide and make a reasonable prediction of their future baby face.
While the AI prediction may not be that precise, it has become the great tool to entertain, especially making corresponding videos on soical media platforms like TikTok, and satisfying some parents' curiosity to some extent.
It is rather easy to use, and for the detailed guide, read on!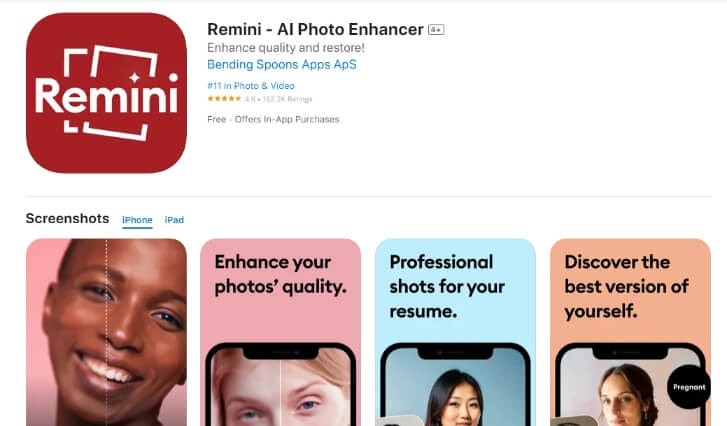 How use Remini baby AI generator to make prediction:
Step #1: Download and launch the Remini app.
Step #2: Tap on the "AI Photos" at the bottom.
Step #3: Select a photo of yourself or with your partner.
Step #4: Look for the "Baby" filter under the "Top Picks" section and tap on it.
Step #5: After applying the baby filter, choose the option that says "Use this model image."
Step #6: Let the app generate your AI kid image.
Main Features:
The accuracy of the results depends on the quality of the photos you provided.

Allows to edit the AI-generated baby face in videos and other platforms.

More than just an AI kid generator, with video/image editing features.
Part 3: Bonus Tip to Generate Realistic Baby AI Voice for TTS and Voice Change
1. MagicMic - Baby Voice Changer
Boasting the most realistic baby voice AI, MagicMic enables you to change your voice into that of babies during real-time interactions, streaming, or gaming. With over 225 AI voice filters and a vast library of voice effects and memes, MagicMic offers seamless voice transformation capabilities.
Moreover, it allows to tailor your voice, adjust parameters, and perfectly integrate with popular programs and platforms for a unique and engaging audio experience.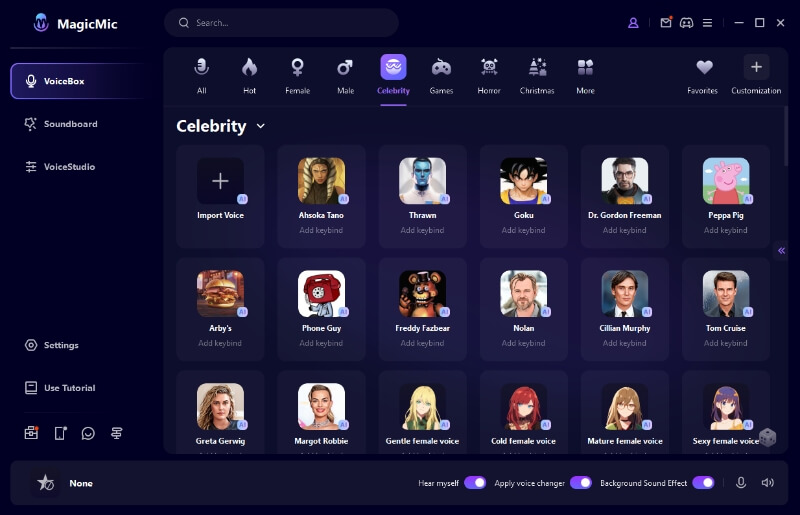 Key Features:
Supports to replicate voices through uploading audio files.

225 AI voices are offered to change your voice for live chats and gaming, including baby AI voice.

Elevate content with 600+ voice effects and 200+ voice memes.

Optimize audio capture and improvement for top-notch quality.

Customize voices using adjustable settings to achieve desired results.

Seamlessly integrate with popular platforms like Discord, Fortnite, Valorant, Zoom, Twitch, and more.
Free Generate Baby AI Voice in MagicMic:
Step 1: Download and Launch this Applicatio
Step 2: Select your microphone and headphone to make sure you can hear your own voice clearly.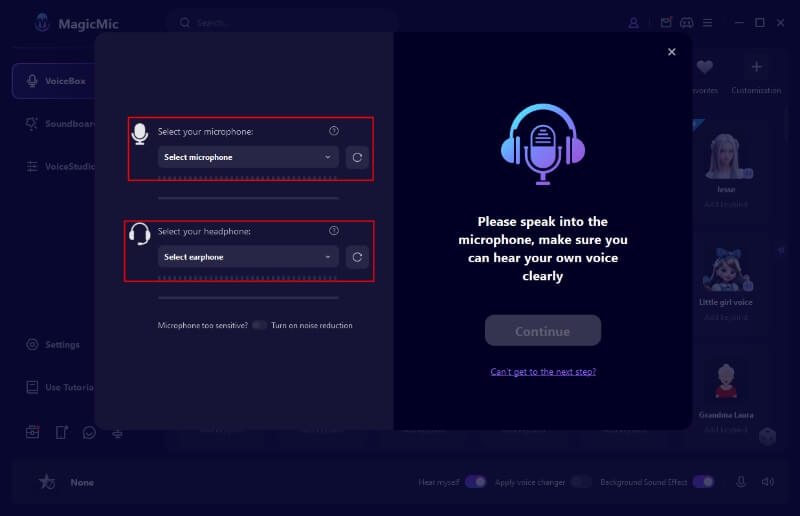 Step 3: Audio Device Selection
Opt for the Voice Changer Virtual Audio Device as your app's input.
Step 4: Get Baby Voice AI for Real-Time Voice Change
Search for "Baby" to get the realistic baby AI voice in MagicMic.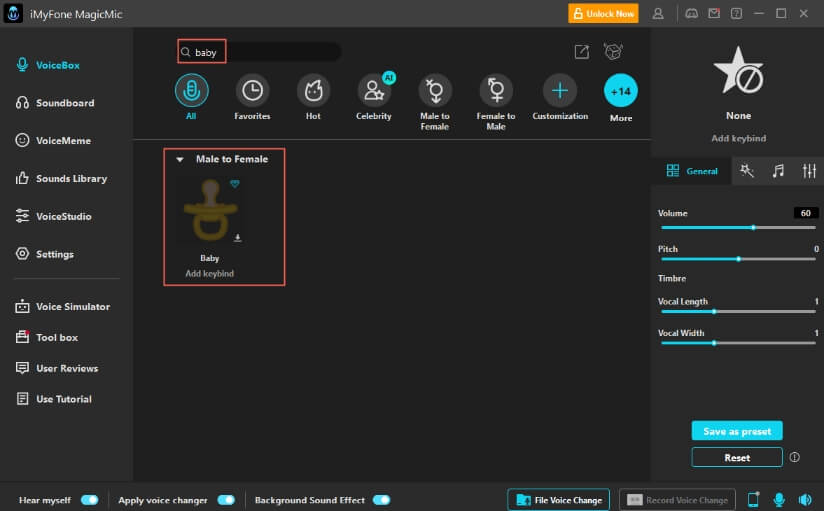 2. VoxBox - Baby Voice Generator
If you desire to generate AI baby voice to dub for your videos, educational or marketing materials, VoxBox is the best baby voice generator for you to convert text into baby AI voiceovers.
Moreover, VoxBox offers other 3200+ AI voices, ranging from celebrities, fictional characters, and more. Besides, it is more than just a tts tool, in that you can also use the feature of speech to text, audio recording and editing, etc., fulfilling all your requirement for audio making.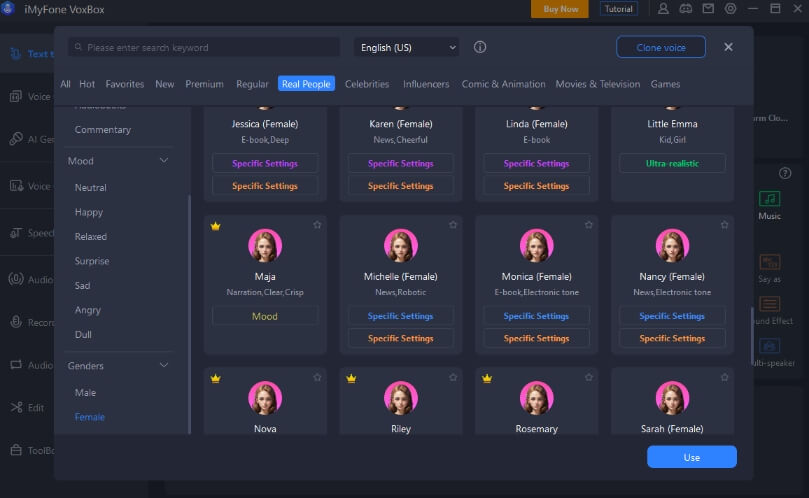 Key Features:
Provides new users with 2000+ free character counts to dub using Baby AI voice or any others for text-to-speech.

Voice cloning feature makes it easy to gain any voices you want.

You can choose from 3200+ voices and make voiceovers in 77+ languages.

Text-to-speech, speech-to-text, audio recording and editing, and audio conversion, all-in-one.

Export in multiple formats, including MP3, WAV, Ogg, and more.

Perfect for audiobooks, podcasts, content production, and more.
Part 4: FAQs about AI Baby Generator
What is the app that makes baby faces?
The apps that make baby face are a lot in the market, like Baby-AC and REmini, etc. They normally analyze the two photos you upload and generate your future baby face in seconds.
Can AI generate what my baby will look like?
Yes, AI tools like AI baby/kid generator provided by Remini can help to predict what your baby will look like only by uploading images of the full-face photos of parents.
How to use AI to predict future baby?
It is rather easy to predict your future baby face using an AI baby generator like Baby-AC, where you only need to upload photos of parents.
Final Thoughts
In this blog post, we have reviewed the best AI kid generators in the market that enable to predict future baby face, including free/paid ones, online tools/app.
In addition, the step-by-step guide on how to gain baby AI voice for voice change and text to speech is also detailedly explained. Whether you are looking for an AI baby generator or AI baby voice generator, you can find the answer in the above part.
So, don't wait, download the apps to make predictions on your baby face or let yourself sound like a baby on live chat, games or streams.