There comes a time when you run out of ideas for your YouTube channel. It is a frustrating scenario for a content creator of lifestyle video. When this happens, you are stuck in a loop of creating the same old videos.

In this article, we are going to look at some lifestyle video ideas for your YouTube channel. It will help you make your content more versatile.
Part 1: 30 Ideas for Lifestyle YouTube Videos
A perfectly edited video creates a good impact on the viewers. Your lifestyle video should be professionally edited if you want to engage viewers and achieve the desired goals. No matter what kind of lifestyle videos you create, good video editing tools is a must.
Here is a cool video edit tool that can make cool lifestyle YouTube videos easily, and can uploaded edited videos to YouTube with single click dont need transfer to YouTube site. If you want to try it, Download iMyFone Filme now.
YouTube provides you with an opportunity to be creative, so there is no limitation. You can use any of these ideas in your videos:
1- How to Plan a Party
People get confused while planning a party, whether it is graduation, birthday, bridal shower, or anything else. This might attract several viewers if you use this idea in your video.
2- Unboxing
One of the most popular genres of videos on YouTube is unboxing. It could be an electronic item, a toy, a gift, or anything that pretty much comes in a box.
3- Quick Meals
You can also create content on food that is rather prepared quickly and easily with few ingredients. It can also be a dessert.
4- Challenge
You can create a video on a certain challenge, like being on a strict diet for three days or any other challenge.
5- DIY Video
The Do-It-Yourself video consists of a task being performed on your own, with some common objects readily available at your home.
6- Room Tour
People are interested to see the way you have set your house or apartment. You can also limit your video to your room.
7- Story-Telling
You can describe a story that might have happened to you in the past. It could be a sad, funny, horror, or inspirational story.
8- Skincare Ideas
You can describe the products that you use for your skin during the day, night, winter, or summer.
9- Top Movies to Watch
You can create and explain a list of your favorite movies to watch and the reason that you liked them the most.
10- A Day in My Life
Create a video showing an average day in your life and the routine and tasks that you perform throughout the day.
11- Reviewing Your Favorite Show/Series:
You can review a particular episode or even a trailer of an upcoming show/series that you are going to watch.
12- Workout Routine
Show and describe your workout routine from start to finish.
13- Food Vlog
You can create a vlog showing different places to get food and reviewing the restaurants and taste of the dishes.
14- Top Places in Your City
Describe and show the top must-visit places in your city. Also, describe its history.
15- Experiencing Something New
Create a video when you experience something for the first time in your life. This could be a roller coaster ride or even learning a new skill.
16- Reaction Video
Record your reaction while watching a show, funny video, memes, or any event.
17- Photography/Videography Techniques
You can explain the techniques or methods that you use in your photography and videography.
18- Gaming Video
Create content that focuses on video games. It could improve the gaming skills of viewers or even make them interested in playing it in the first place
19- Family Videos
Family videos consist of interaction with your family members. It is typically created in the form of a vlog from a first-person perspective.
20- Clothing
Describe the clothing accessories that must go with a particular occasion like vacation, party, or wedding. Also, keep an eye on the upcoming trends.
21- Travel Video
Make a vlog of your travel diary. Provide the first-hand knowledge and experiences that you gain through your journey.
22- Most Frequently Used Apps
Describe the contents and applications that you use the most on your phone and provide the logic behind them.
23- Q&A Session
Post a question box on your Instagram or any other platform for your viewers and then answer their queries according to your thinking and knowledge.
24- Show Your Collection
You can create a video showing a collection of any object. This could be shoes, caps, or even vintage postal stamps.
25- What's in My Bag
Describe the products and things that are found in your handbag or backpack.
26- Discuss Your Career
If you have a career besides YouTube, you can discuss it in detail to provide insight into the experience that you had. Moreover, describe how you balance work-life along with social life.
27- Discuss Your Hobbies
Other than your career, you can also describe your hobbies and how you find time for it. Discuss your hobby in detail.
28- Compare Two Products
Comparison videos are one of the best methods to gain followers and to attract viewers because it provides them with fine details regarding two products. It helps them in deciding which one is better.
29- Describe Tricks and Hacks
You can also show everyday life hacks and tricks that are not so common but, if used, can be pretty helpful for us. Create a video showing all these tricks and the complete method to do it.
30- Invite a Guest
You can invite a guest that may have recognition among people and some skill that might attract viewers. You can discuss random topics with them during the interview, along with some focus on their personal life.
Part 2: The Best Tool to Make Your Lifestyle YouTube Video Better-Filme
A perfectly edited video creates a good impact on the viewers. Your lifestyle video should be professionally edited if you want to engage viewers and achieve the desired goals. No matter what kind of lifestyle videos you create, video editing is a must.
Filme is an excellent tool for editing lifestyle videos. It is a beginner-friendly tool that anyone can use, and it offers tons of features that can help you create an amazing video. Apart from video editing, it can be used as an audio editor, video resizer, video converter, voice changer, and slideshow maker. You can do anything with minimal effort.
Steps to Edit a Lifestyle Video Using Filme
Step 1: Start the New Project
Launch the video editor on your computer. Go to File> New Project and select an aspect ratio.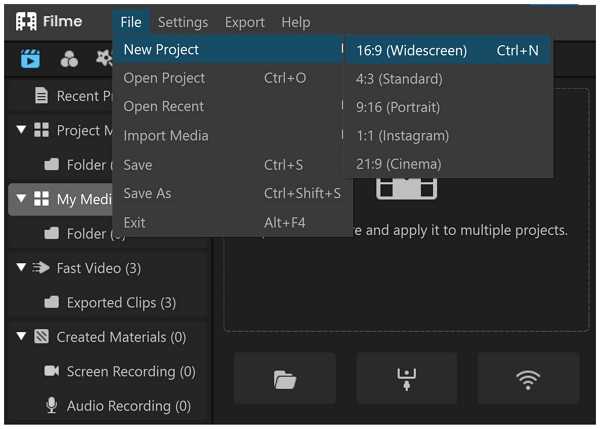 Step 2: Import the Media
Import media from the Media menu. You can import from your computer or mobile. It supports wired and wireless import. After importing the media, drag everything to the timeline.
Step 3: Basic Tool of the Timeline
You can adjust the duration of videos and audio in the timeline. You can remove the unwanted parts if there are any. The basic tools are over the timeline. You can cut, trim, adjust speed, crop, rotate, change color, and make other changes.

Step 4: Beautify the Video
From the top menus, you can add effects, filters, text, transitions, stickers, and various other elements. Just go to the menu and select whatever you want. Apply it and see the preview.
Step 5: Add Voice
You can add music and sound effects from Filme's library. Go to the menu and click on any track to add it to the timeline. You can also record your own voice. The best part is the voice changer that can change your voice. Audio editing is pretty simple in Filme.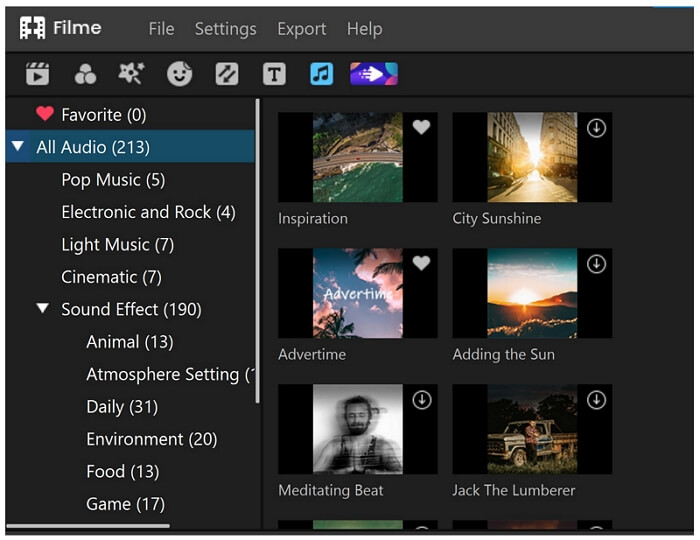 Step 6: Export
After all, you need to click on the Export button. Select the settings and export the file in the desired format.
Watch this video to see how to use Filme to create a stunning Lifestyle YouTube video:
Part 3:7 Tips for Making a Good Lifestyle YouTube Videos
Some tips that will help you in creating a worth-watching lifestyle video are as follows:
1) Use Trending Topics
One of the basic formulas to be in the limelight on YouTube is the use of hot and trendy topics. These sorts of videos attract the viewers more significantly. You can find the hot and trending topics through Google under your niche and nature of videos. The trending topics can be related to politics, geography, fashion, sports, etc.
2) Sort Out Your Playlist
One of the other important things to do is to sort out your videos in the form of a playlist. This would give a soothing effect to the sight of the viewer, and they would know the categories and genre of your videos. This method is found to be most effective in increasing your subscribers and followers.
3) Interact With Your Followers
One of the most important things to do is to interact with your followers. This could be in the form of a Q&A session, a free giveaway, or a meet and greet. By doing this, followers tend to take more interest in your channel and keep checking on updates of your channel.
4) Collaborate With Other YouTubers
One more important thing to do is collaborate with YouTubers of the same genre or even not. This lets followers be mixed up among the influencers, and it results in an overall increase in the following of both of the persons.
5) Quality Over Quantity
You must understand that in the long run, quality has more significance than quantity. Quality content can go viral and more appreciated among people rather than an average video pattern that is kept uploaded regularly.
6) Stick to Your Niche
You must have a clear understanding of your channel and what it is about. Dedicated channels are found to be most followed worldwide. These YouTubers explore their niches like travel, education, fashion, singing, editing, etc.
7) Use YouTube SEO
YouTube SEO provides you with keywords with low search results and high search volume. This could help you in deciding the title and topics of the video.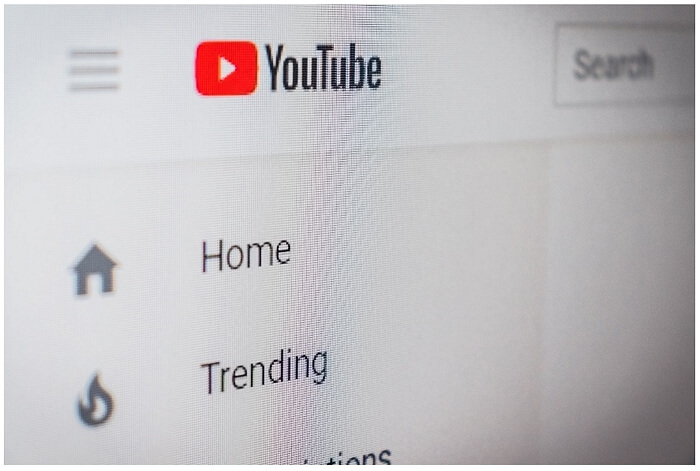 Final Words
We have discussed many ideas that can be used in your lifestyle YouTube videos. You can pick the best one to explore some new types of content. For video editing, you can use Filme. It is an amazing video editor that can help you edit your videos with perfection.