Are you searching the ways to spice up your Instagram feed? Or have you ever listened to the Instagram slideshow for spicing up the feed?
Either you have some knowledge about it or not. Here we will talk about the creation method of slideshow, its benefits, strategies to get maximum advantages from it, the best software for its creation, and much more.
How To Create An Instagram Slideshow Post?
Benefits Of Creating An Instagram Slideshow Post
Explain a complex story using visuals presenting a mixture of photos and videos instead of typing a long caption to explain the story.

Companies and brands can get more engagement by presenting their more products or a product with complete details on the same post.

The audience will not get bored by seeing similar things in a row because relevant content will be in a single post.

The visuals instead of written content increase the engagement.

There is a chance to post lengthy videos, e.g., when a video is 1 minute, 10 videos mean 10 minutes long video.
How to Create an Instagram Slideshow Post
The phenomenon of posting more than one image or video in a single post is known as an Instagram slideshow. The number of multi-images and videos is up to 10.
There are various themes and templates you can download free and paid for from an online platform and create an editing app. These themes make your content unique and engaging.
Creating a post on Instagram in the form of a slideshow is not much difficult when you have a proper guideline.

Let's discuss uploading, organizing, editing, and publishing it.
1.

Uploading
Open the Instagram app and tap the "+" icon present at the screen's bottom center.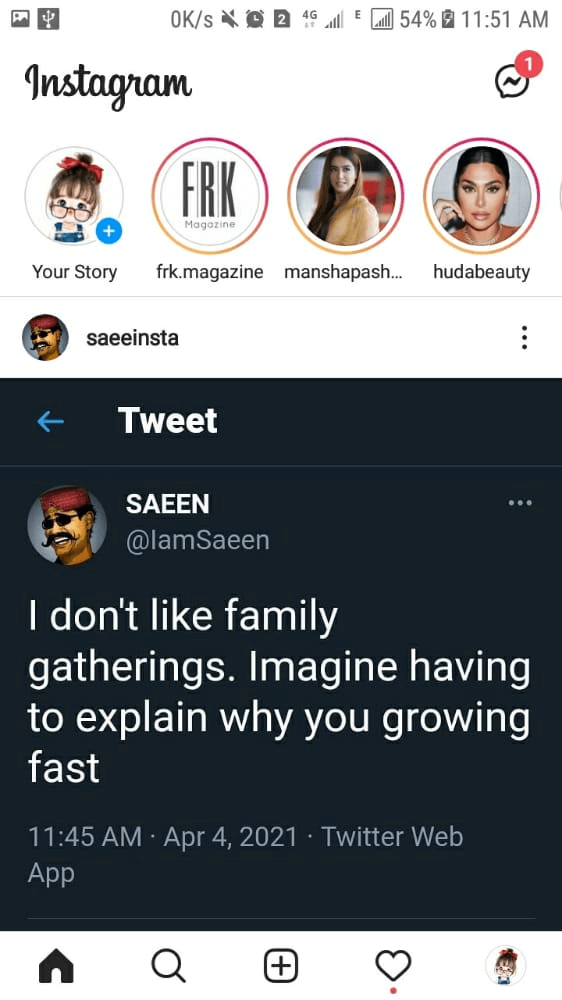 Tap on the double square icon to select multiple media. If you are using this function 1sttime, you will see the option of "select multiple."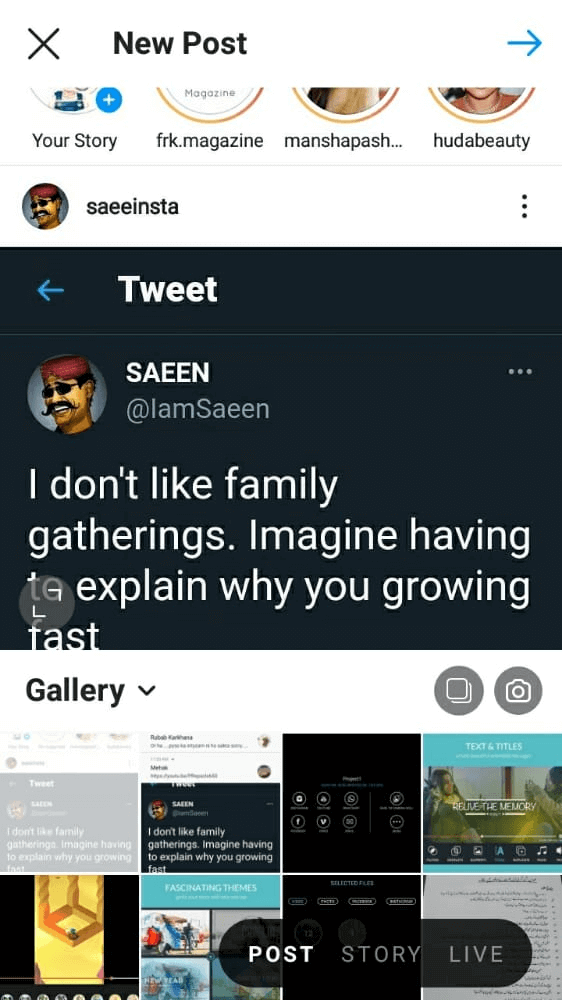 When you have selected ten photos or videos, you will be notified as "the limit is ten photos or videos."
2.

Organizing
The process of organizing can be done in 2 ways:
Drag the image to the position where you want to correct the order.

You can remove the unwanted or wrong media by simply dragging it to the trash. Then can add one more image or video by tapping on "+" found after nine selections.
3.

Editing
When we talk about editing, filters are present, which can apply to individual photos or videos and all media of the post.
If you want to add a filter on a single image/video, tap on that image and apply the desired filter.
Avoid tapping on any other filter after returning to the slideshow view. This is because it can apply that tapped filter to the whole slideshow and remove the individual image/video filter effect.
Your added caption and location will be for the whole post, but tagging people is another editing option for individual images/videos.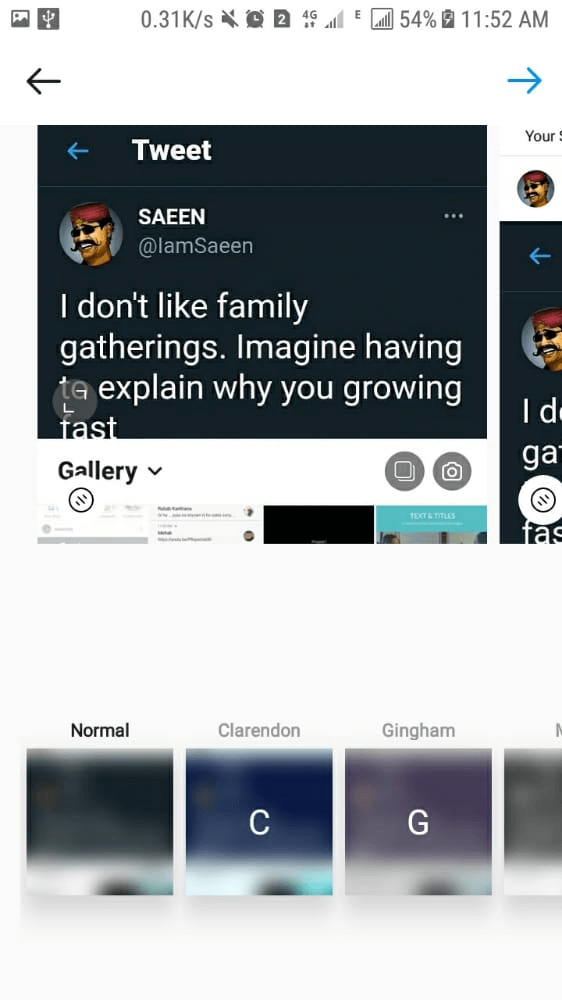 4.

Publishing
After editing, you will come across the page, add the caption, tag people, add location, and post it to other social media accounts like Facebook, Twitter, and Tumblr.
Then click on"✓"to publish the post. The post will appear with a small double square icon on your profile's top right corner of the post. While in the feed, the Instagram slideshow post will appear with small dots below in the center of the post, where one dot will be blue in color.
You have the option of swipe to view all the uploaded images and videos on the same post.
10 Creative Ways To Use Instagram Slideshow To Provide Quality Content And Stand Out
1. Add video in creating tutorial
During the creation of any tutorial, don't forget to add a video to your slideshow post. The videos can be up to 10. You can choose the number of videos for addition according to your niche and other matching factors.
Here is the best example of pic monkey, which usually posts a video and photos in their slideshow.
In the given below example, there is one video with two photos. In the photos, outstanding editing has been done. And the video is showing and teaching us how we can perform such high-level editing.
2. Post before and after reveals
The posting of before and after reveals strategy adds a shocking and impressive impression on the audience. Its importance is especially in haircuts, weight loss, redecorating, fitness workouts, skin treatment, etc.
You have a chance to show the change both in a dramatic way and gradual change. The gradual change can be shown in up to 10 pictures and videos easily just because of Instagram's slideshow feature. And for showing shocking change, apply the same editing tool on the two images taken from the same angle.
There is an example of the golden product effect. In the 1st picture, the girl is with the applied face mask. While in the next two images, the girl shows the before and after-effects of the product.
As before and after reveal is an effective sales trick which arises curiosity in viewers, marketers love to use it for promotion.
3. Use visual chaining
The visual chaining gives your profile an aesthetic look when the relevant images will arrange in the form of a chain. When you try matching all the images of the slideshow, it will definitely present your creativity.
The following post of Stapleton is surely an eye-catching post and is making both itself and the profile from which it is posted engaging. In this slideshow post, the presenter presents a house's views starting from the bedroom to various other home parts.
4. Visuals of behind the scene
When you provide the audience with a wow thing, they become curious madly about how you have created it. And some learners also take much interest in your creativity to learn and gain knowledge about it.
We have a perfect example of it for you, i.e., slinkachu_official. An example of his slideshow is here in this article.
In the 1st photo, you will see two people standing, while in the later images, you will come across the truth of what actually it is. And this reveal will undoubtedly shocking for you and can also make you smile.
5. Give a theme to your Instagram
If your interest is in getting followers in a significant number, giving a theme to your Instagram slideshow and Instagram profile is the best way. It will separate your personal posts from professional posts.
A themed slideshow and profile attract the audience more because they can easily get what they are looking for.
Let's take the example of a benjaminhardman Instagram slideshow post. In fact, his whole profile is theme-based.
6. Post fascinating facts and figures
Sharing some facts and figures on the slideshow also engages content because of the students and knowledge seekers, favoring standing out your profile.
You have a chance to share facts and figures regarding your product, service, industry, or company. Thus it is useful for marketing and promotion.
The given-below example is of senpai academy's post. It presents in its eight photos about the audience of various platforms like Facebook, Twitter, Instagram, YouTube, and Pinterest.
7. Share your customer reviews
Customer reviews are such a factor that has the main role in the success and failure story of any product or company. The positive reviews make the product sell by hotcakes while the negative presents the product's flop story.
Sharing positive reviews on your Instagram slideshow plays the role of promotion of that product. And according to many successful companies, this trick really works, especially it builds brand trust.
The kylie cosmetics profile beautifully posts the customer reviews in a single post. No doubt it is a perfect promotion of the product.
8. Slideshow an event
Now, you don't need to share only one or two photos of any event on Instagram with your followers, but you can share ten photos or videos in one post. In this way, you can cover most of the event's area and friends and family's photos/videos on the same post. In short, you are showcasing an event.
An example of tytheportraitguy's shared event slideshow is given below.
9. Share a sneak peek of upcoming
You can make your followers curious by sharing sneak peeks of the upcoming product, movie, drama, or anything. Almost everyone is a fan of surprises. Thus you can catch and keep engaging your audience by giving them small visual surprise hints.
It is up to you how much creativity you design your surprise revealing photos or videos. Try making them catchy as much as possible.
The minnie_mama3 shared Ep 513's three photos.
10. Showcase the product or service
The showcasing of your new product or service is an essential process if you want to do marketing because it is the 1st step towards catching relevant and a large audience and success.
But here, the question arises, "Is one photo, not enough for presenting the product?"
Sometimes, it is not enough to present a service or product in only one pic; here, the slideshow helps you. When a company uses a slideshow, the other company without a slideshow fails to get that level of engagement of post which slideshow posting company enjoys. Thus then the other company also has to post media in the form of a slideshow.
The swellbottle company has taken full advantage of Instagram's slideshow feature. One of their posts is for understanding is below.
Pro Tips to Use The Instagram Slideshow To Your Advantage
The tips given below will lead you towards success by making you gain all the benefits of using a slideshow on Instagram.
Avoid Instagram blunders
The basic blunders on Instagram include:
Posting much about yourself instead of product or service in the post

Sharing blur images

Posting in an attitude way showing yourself trendy or brandy

Sharing irrelevant content with the followers

Presenting relevant photos in a row
People's interest is in your product, not in you. Similarly, gratuitously posting something make it engaging. Slideshow is a solution to avoid presenting the relevant content in a row in various posts.
Mention the words showing slideshow to the post in the caption
By mentioning the words like swipe left that tells the post is a slideshow, there are more chances that your audience will see all your the uploaded media.
Although the sign of the slideshow is present on the post, some users miss that sign. Thus, mentioning the slideshow will not take worth from you.
Select the best page as the 1st page of the post
A book is usually judged by its cover. Similarly, the cover page of the Instagram slideshow plays the role of catching the audience and stopping their scrolling. So, always work hard on the first page to make it the best one.
Post mixture of videos and images
Posting images as visual content is the perfect thing for both followers and engagement, but posting videos and photos in the slideshow make it great.
Use slideshow visuals for storytelling.
How pictures and videos can explain the story, the written content can't. So, this tip work as a follower gainer.
Use templates
Using templates in the slideshow creates high-quality content by maintaining consistency. Use an editing app or Instagram slideshow maker app to generate such templates. And pre-create them before posting on Instagram.
Best Software to Create an Instagram Slideshow Post on Desktop- iMyFone Filme (Window&Mac)
Filme is an editing software for the desktop which is famous as beginner-friendly. It allows you to learn editing skills from basics to complex levels.
For various purposes like video trimmer or video editor, you have this software, TikTok video slows downer, or fastened upper.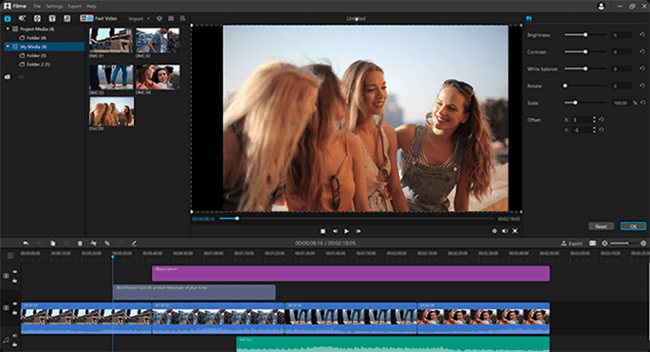 Features
110+ transitions which give your slideshow a natural look

20+ eye-catching slideshow templates

0.1X to 16X wide speed adjustment range, which you can use to create both slow and fast motion slideshow

170+ filters for giving your video a unique look. These filters surely make your video stand in trendy videos on social media

Adding sound up to 8 tracks
The function "quick slideshow maker" is not Filme's professional feature, but Filme gives it much importance. This is because it's the common feature of all editing applications or software. Thus Filme also has worked much on it.
How to Make An Instagram Slideshow Post Using iMyFone Filme?
Method 1: Personalize Your Slideshow
The following steps will help you in creating slideshow posts on Instagram using the Filme editing function.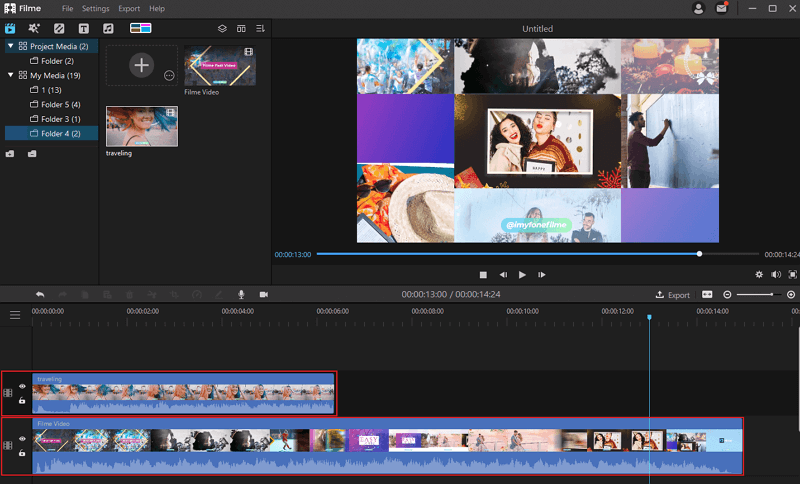 1 

Import and Add Media for An Instagram Slideshow Post
2

Have Fun with Clipart, Collages, and More Cool Stuff
3

Choose Right FamilySlideshow Songs
4

Drag and Drop Best Captured Moments
5

Export and Rock Your Family
Method 2: Fast Video Template
1

Click Fast Video Templates
Open the media library and tap on the fast video option.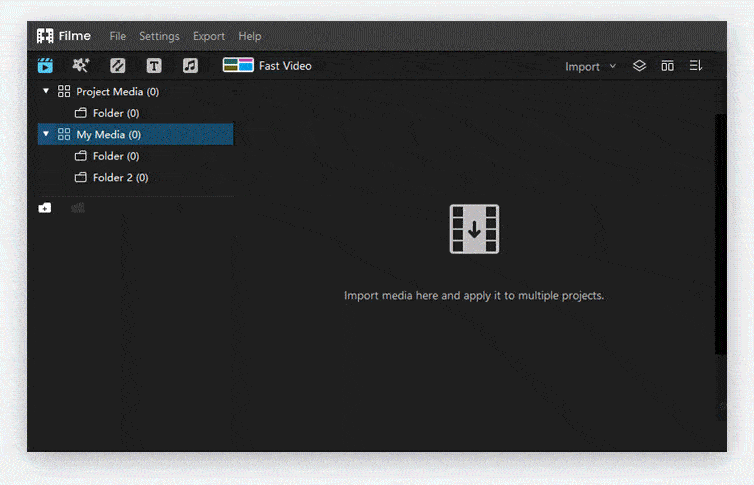 2

Choose Templates You Want and Add Media
You will come across seven templates, including Holidays, Business, Wedding, Education, Birthday, Travel
Select the one template from the above list. Then click on the "add your media." You can import a complete folder and select a specific media also.
After selecting, you have options of deleting files, going to the previous page for re-selecting, and preview option for previewing your video slide.
Check other editing options like duration, music, etc., by applying to the video.
3

Export and share

iMyFone Filme
20+ Fast Video Templates/110+ Transitions for Slideshow
Download Now