Have you tried the IGTV previews feature on Instagram yet? You might be struggling with getting views on your IGTV preview, but there is nothing to worry about. There are many people who struggle with this problem. Most people leave their Instagram stories and feed without even checking the IGTV tab. The recent IGTV previews feature can do many wonders. It is one of the best ways to promote videos on your main Instagram feed.
What are IGTV Previews?
IGTV previews are 1-minute teasers of your IGTV videos. You can share them on your Instagram profile or feed. As these are only 1-minute previews, the viewers can click on "watch the full video on IGTV" after one minute. For that reason, these IGTV previews are perfect to keep your audience engaged with a teaser. It can encourage them to go watch the full video of your channel.
Users will need to leave their feeds and go to the IGTV tab in order to watch your IGTV videos. Most of them need the motivation to do that and this is where your IGTV preview can come in handy. These previews are meant to promote your IGTV videos. As a result, more people will go and watch them.
How To Share IGTV Previews On Your Instagram Profile and Feed
Do you wonder how to add IGTV preview to feed? Many people find it difficult when it comes to sharing IGTV previews on their Instagram profiles. With the help of a few key steps, you can do it easily. The IGTV previews can help get more views on your videos.
Let's take a look at important steps to follow in order to share IGTV previews on your profile or feed.
Step 1: Create an IGTV Video
Firstly, you will need to create your IGTV video on the channel. The 1-minute preview of this video will be shared with your audience.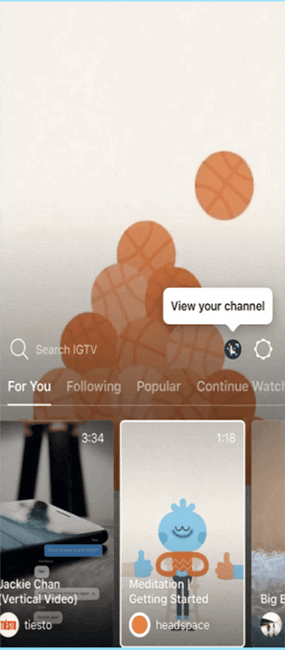 Step 2: Post Preview
Before publishing your video, move the slider button to post preview. After clicking on the "Post Preview" button, one-minute preview will be shared to your followers' feeds. Moreover, the cover image will also appear in your profile's grid. Before you post it, you will get an option to select the cover picture, title and description.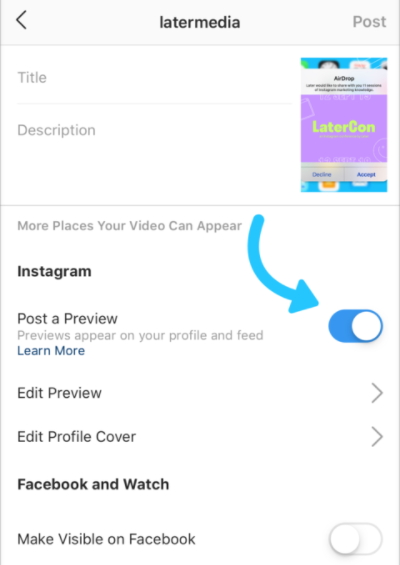 Step 3: Edit Preview
In this step, you can adjust how your IGTV video will be previewed in the feed. It allows you to edit your profile cover and adjust the dimensions of your video as well. It makes adding subtitles much easier and hassle-free.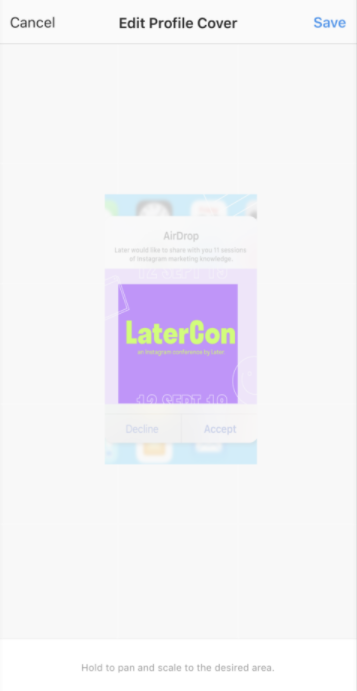 If you wonder how to add IGTV video on feed, follow the 3 simple and easy steps discussed above.
Tips To Share IGTV Previews On Your Instagram Feed
When it comes to sharing your IGTV previews on Instagram feed, some essential tips can come in handy, such as:
Tip # 1 – Choose your cover picture wisely
Choosing your cover picture is very important because it will not only appear on your followers' feeds but also on your profile. For that reason, it should be attractive and appealing to the eyes. An attractive cover picture can help attract your followers' attention. Check the dimensions and size and make sure it will go perfectly with your profile.
Tip # 2 – Good captions
Writing good captions is as important as choosing a cover picture wisely. Remember, your IGTV video's title will be the caption of your IGTV preview. Therefore, it is essential to carefully select the title of your video. It should work both as a title and caption. Most importantly, you can always go back and edit your caption even after you have posted your IGTV preview on your Instagram feed.
Tip # 3 – Edit your IGTV previews carefully
Do you know what's the whole purpose of sharing IGTV previews? These are meant to keep your followers engaged and encourage them to watch the full video on your IGTV channel. As a result, it can boost followers to your channel as well as promote your videos. Therefore, it is essential to select the content of your 1-minute preview carefully. It should engage the audience enough to want them to see the full video.
Tip # 4 – Post it at the right time
Do you want to get the best results from your IGTV previews? Here is another key tip when it comes to how to share IGTV preview on story? Post your IGTV previews at the right time because it can make a huge difference to get maximum engagement. You can even schedule IGTV post and previews to make everything organized.
Tip # 5 – Subtitles can keep your followers engaged
For all of the videos you post on Instagram, make a habit of using subtitles. It is one of the best strategies for not only IGTV previews but for any video. It can help people watch and understand your video even after turning off the sound. Additionally, more people tend to watch videos with subtitles. As a result, it can help you get more views on your IGTV previews and videos.
Pro Tip: Create Stunning IGTV Videos Before Uploading With Best Video Editor
Want to make your audience engaged with stunning IGTV videos? This is where the best video editor software can come in handy. Filme is one of the best video editing software that you can use to edit second to none IGTV videos. Look no further than iMyFone Filme to create outstanding IGTV videos before uploading them.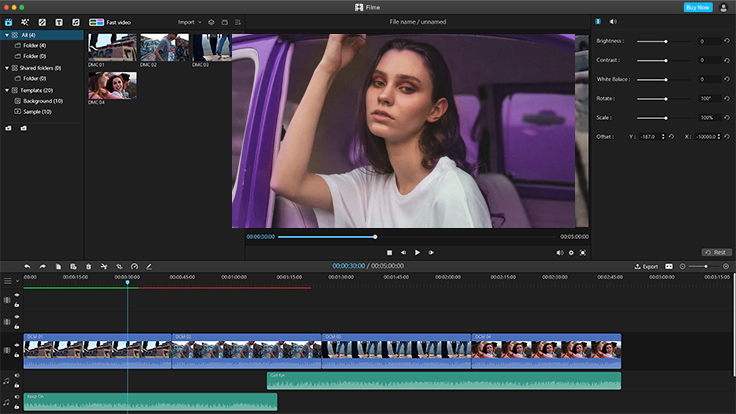 Key Features
Fast Video Mode- It is one of the amazing features of iMyFone Filme. It allows you to create a fast version of your IGTV videos with a single click. You can make your videos out of this world and slideshows captivating.

Effects- Bring a wow factor to your videos with special effects of iMyFone Filme. You can choose from a range of built-in filters and animations. It can make your IGTV videos more realistic.

Transitions- Filme provides a variety of transitions to add to your videos. It can help amaze your audience by creating stunning IGTV previews.

Crop Tool- Want to crop your IGTV videos? Filme is the best and easy to use software where you can change the aspect ratio of your videos. All you need is to choose the default aspect ratio or enter your desired number.

Picture-in-Picture effect- It is another key feature that allows you to add two images or videos simultaneously. It can be displayed with a smaller one on top of a larger one at the same time. You can use this feature while editing your IGTV video.
How to Edit your Instagram before posting using iMyFone Filme
Wondering how to edit preview on IGTV?
Follow the below essential steps to edit your videos before posting using iMyFone Filme.
Step 1: Upload your video
Firstly, download and install iMyFone Filme on your computer. After installing it, go to File>New Project. Then you have to import your media file from the library. In other words, upload your video on iMyFone Filme editor. You can choose from a wide range of built-in templates available. Select one that suits your video content.
Step 2: Add transitions, filters, music and text
Spruce up your videos by adding animations, transitions and special effects. All these features can make your videos out of this world. You can add music and text to keep your followers engaged. Such things can encourage them to go and watch the full video on your IGTV channel.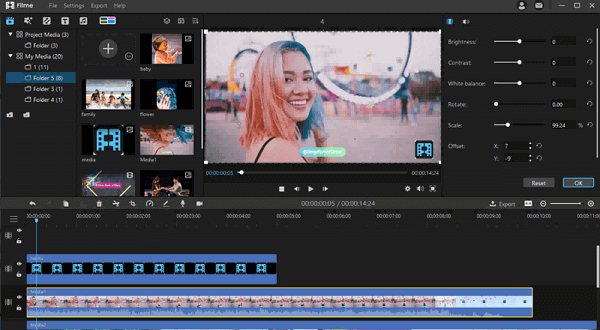 Step 3: Export and share on IGTV
After successfully editing your video, the next step is to download it. You will have to choose the desired video format such as mp4. It is very easy to export your media file and share it on IGTV.