Everyone wants an excellent video maker application!
Well, for users that enjoy uploading their personal experiences to the plethora of popular social media platforms and sharing applications that we use to relive our memories for all time, an easy to use video application has become a must-have on all your devices.
Free video maker software has some very distinct benefits for users such as a wide selection of applications with a multitude of functionality that allows for the creation of videos with more style, filters, and effects than you can think of. So let's explore the world of free video maker software and will find the best free video maker software for you in this article.
Part 1: Best Free Video Makers for Beginners
01

iMyFone Filme - The Most Recommended Free Video Maker
Filme is from the iMyFone application house and it is one of the most amazing video making software you can find on the web. It is so simple to use that any type of user can make amazing videos with this video application. Newbie users that are looking for an easy app to edit and create their videos will be especially pleased to find that Filme is simple enough for any user to use but has some of the most unique and powerful functionality that you could need in any video maker software.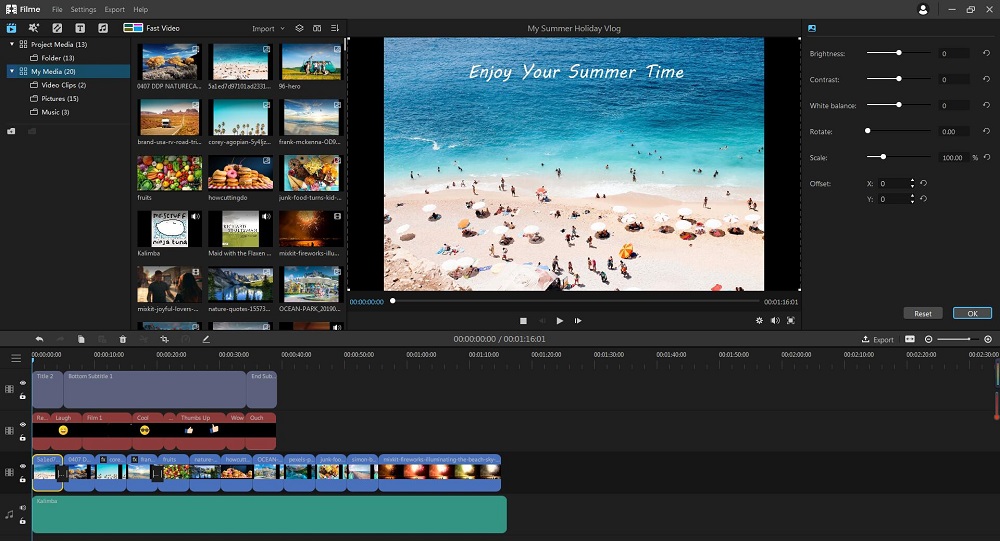 Filme is loaded with features that can make any video maker excited to use it! Let's check out its features:
Easy to Use yet Powerful

It's easy to use for video editing beginners with powerful editing functions.

One-click to Make A Video with Music

Just import your photos or videos clips and let Filme make a video with music for you.

Rich Built-in Resources with Filters, Elements, Transitions

Various types and themes of filters, elements and transitions.

Offer Free Music and Sound Effects

Multiple styles of music offered as well as vivid sound effect.

A Video Editor for Everyone including Beginners

No matter you want to edit videos or make a video fast, you can always use Filme.
Fast Video Mode

Rich Built-in Filters and Elements

Different Style of Music

Cool Transitions Effects
Simple Usage:
Let's see how to use this free video maker below:
1. Download and install the program on your PC, then open it. You can get the free license code and register it first.
2. Import your media file like photos, videos and background music if you got some.
3. Add it to the timeline below and edit it as you want.
4. If you want to make a video fast then try the Fast Video mode to make your video within 3 steps.
Microsoft has expanded its application store to include some of the best applications for all your needs. Movie Maker 10 Free is their video creation and editing application and it has some great features. This is the perfect app for beginners as it has the basics covered pretty well, you can trim, join, crop, and add music to your video creations as well as create project presentations for school or work.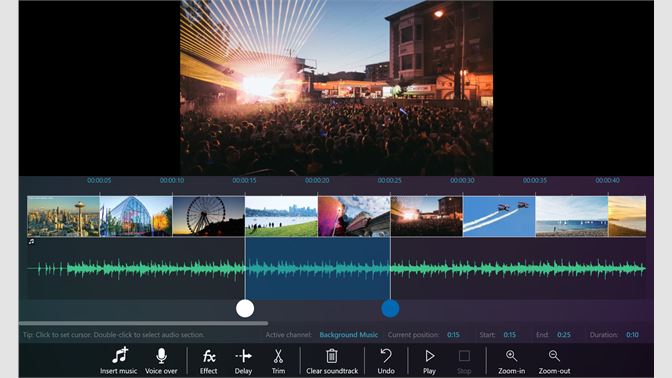 Features: Microsoft is the most successful software company in the world for a reason, just look at Movie Maker's features.
Compatible with most mainstream video and image formats.

More than 30 different filters, transitions and fonts to use on your video creations.

Simple and easy to use.

Free version gives user loads of functions - Pro even more.
Usage - Any user that uses Microsoft applications will be comfortable using Movie Maker 10 Free as it follow that same menu structure that we are all familiar with.
As the free version of the Movie Maker Pro, this application allows users to use all the functionality of the Pro version with just one simple limitation - only one video project for your slides or images. Coming from Microsoft you know that the app will work with any Windows software and you know it will seamlessly integrate into your other Microsoft software.
Like a hidden Easter egg, Microsoft has a little surprise for movie making beginners. If you look in your Microsoft Photos app you will find a video editor that allows you to create fun-filled videos from your images. You can trim your video, create slideshows from your family vacation photos and you can add your favorite road trip music in the background to make your vacation so much more memorable.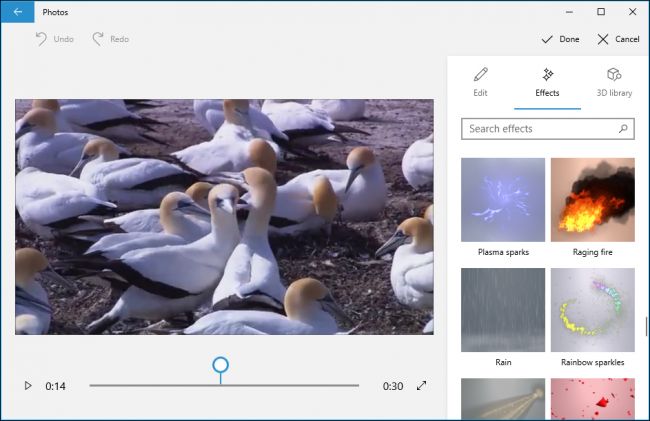 Features: One of the best features of this hidden video maker is that you can automatically create a video from your images just by using one of its great functions - automatic video mode.
Great functions for the newbie user.

Easy to use - simple menu instructions.

Good file format compatibility.

Free version gives user loads of functions - Pro even more.

Allows you to learn it using your existing knowledge like using any other Microsoft app.

With simple loading by clicking and dragging and basics of video editing in automatic mode.
Usage - This application is simple to use as it follows the basic windows navigation that most new users are familiar with.
04

Windows Built-in Movie Maker
The windows movie maker app is a built-in video editing application that comes with the Windows OS and gives the novice movie maker a host of functionality to make some great videos. This app is so easy to use and has such great functions that at one time it was seen as the best movie-making app from the Microsoft stable. The menu structure and functions are all windows standard which makes this app one of the easiest to use when it comes to getting your first video ready. It has all the functions that you could want for your creation and the fact that it's built into Windows means that it has no restrictions.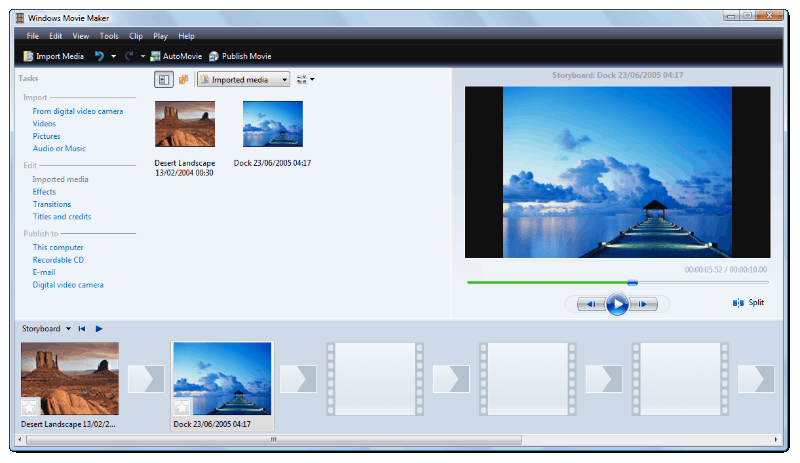 Features: For beginners this is the video making software to get your inner video director out of their hiding place
Full video and image file compatibility.

Full function Free version - no license required.

Include most transitions and audio functions as well as 3D effects.

Simple Windows navigation.
Usage - As with all Windows applications it follow the basic menu structure for Windows and Office, so it's simple to use as long as you take the time to figure out all the functions.
MiniTool movie maker is a great app to edit your FLV videos for use on social media and other sharing platforms. It gives you the functions that you would expect from more advanced movie maker software is a great package that is easy to use. This free video maker with music software is loaded with awesome video editing options and beginners can make movies that would make their friends and family envious of their skills.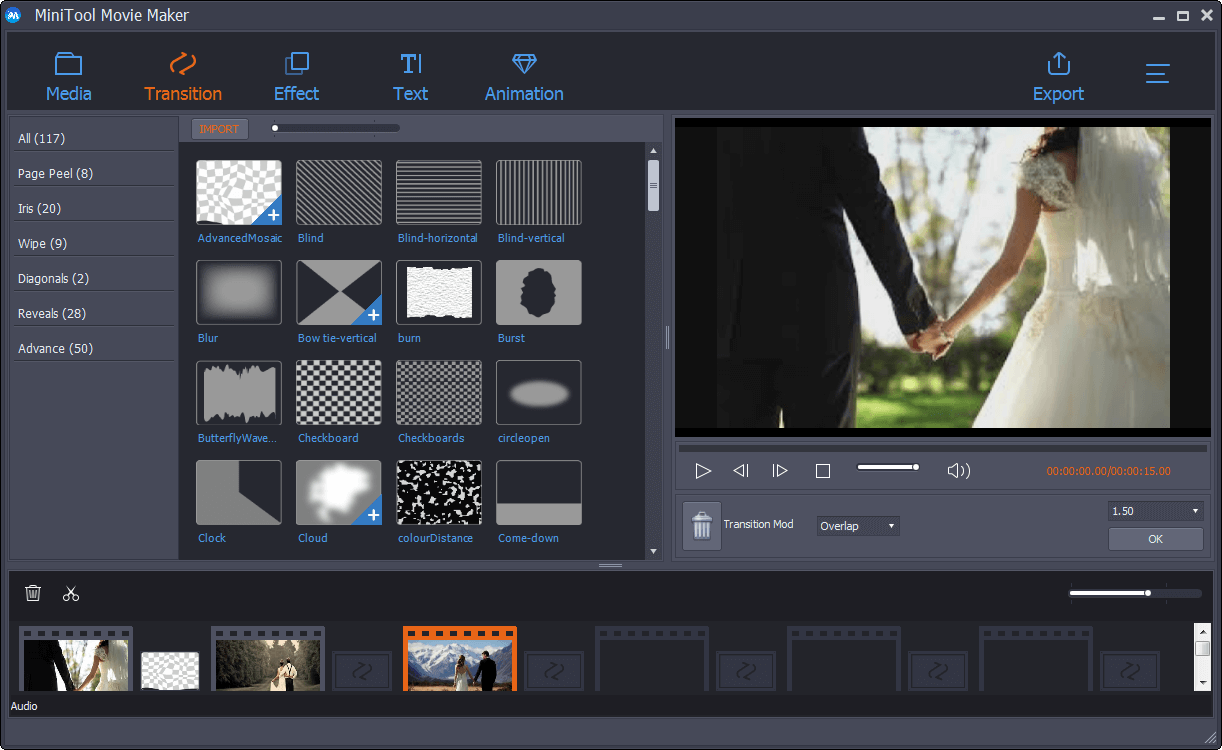 Features: The simple menu structure puts all the editing, trimming, and transitions at your fingertips so you can add music and effects to your movies with just a few clicks.
Classy video editing suite - full function application.

Speed, Trim, Split, Amazing transitions for your video creations.

Animation support with wide range of title animation.

Color correction and many more transitions for you video.
Usage - This application has one of the simplest navigation structures that will be easy to master for new users and more experienced users.
Part 2: Best Free Video Makers - For Amateurs and Pros
One of the video creation greats is Lightworks, this WIN and MAC compatible software gives the video creator a world of video functions and abilities. For users with a tight wallet, the free version will give you all the functionality but will only allow you to export your video creation in one format - YouTube/Vimeo.MP4@720p. That means if you want to use any other format for your video you need to get the full version which could be expensive with the cheapest version being $25 per month. So this video making software is definitely for the avid video creator as that is when the price starts making sense, of course, if you purchase the full license for the year the cost becomes a little better.
Once installed Lightworks is the ultimate in video maker for amateurs and professionals, it has the complex function-driven layout that makes the pros green with envy. For newbies, it could take some time to get to grips with the layout and functions as it is rather complex and not always easy to follow. But once you have it mastered there are few video editing software packages that can give you more.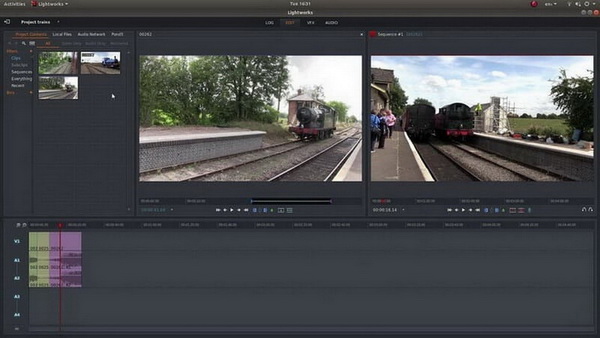 Hitfilm Express is another full-service professional video editing software that is available for free for all users. With green screen and 3D effects, you can create truly wonderful videos and your creation can be viewed in multiple formats. To get the app is not as easy as the free moniker suggests, to get the app for free you need to go through a registration process that might deter some users.
Once you have downloaded the app you can get to grips with the loads of functionality that Hitfilm Express offers. It takes some time to fully understand the layout and functions of Hitfilm but they do offer you several tutorials to make this easier for novice users. With the teaching below the belt, you will be able to create videos that will make viewers think that it came from a tech studio.
This video software is great for more serious video makers that want to have the most advanced functions and abilities ready for their video-making efforts. Users beware - this software needs loads of PC resources to run properly so make sure you have powerful hardware or you won't like the experience. Tough to master but great once you do - Hitfilm Express is a top-quality video editing software.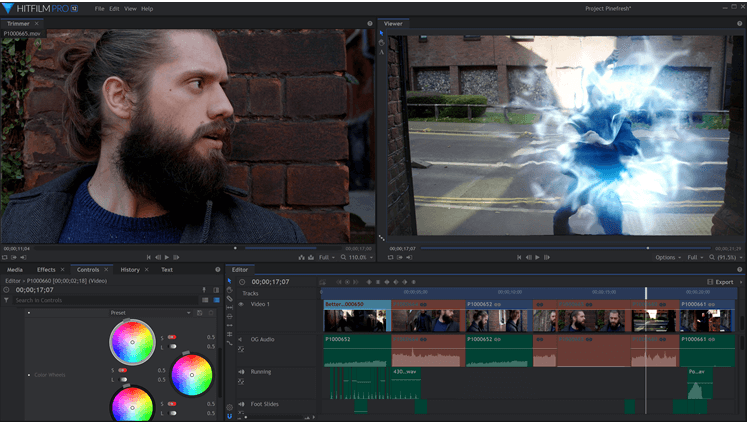 Originally developed for Linux, Shotcut has a different layout for video making when compared to other Windows or Mac video software. But once you are used to the layout differences you can get down to the business of making exceptional videos with this software. The software is free for Windows and Mac but does still have some issues with system crashes and freezing.
With support for all the mainstream image formats and video formats, you can create your video from just about any media you have and your exports will be in the format you need it to be. When it comes to the full range of functions Shotcut has just about every function and menu that you could want from video to audio and a full range of mixing and transition capability. So if you want some unique video software go check out Shotcut, it has the functions and ability you just have to learn how to use it.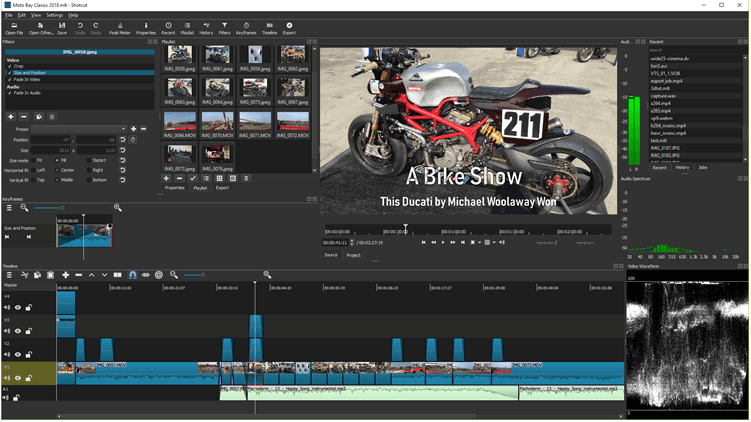 VSDC has a full range of video and audio software and their video making software has some high-end functions packed in it to make it a very competent free software package. With full editing of all mainstream video formats and the ability to add a picture in picture as well as image transitions, you can make your video look fantastic with this easy to use application. From improving your audio track or replacing it altogether with a voice over or a new audio background, your video can create multi-layer videos in any format and for all uses.
For novice users, this application brings to the table all the functions and abilities of professional video editing software but packages it in a resource-friendly app that will not slow your pc once loaded. A great app for amateurs and professionals as long as you keep in mind that your free version is rather limited in functionality. This is not too big an issue when you consider the full version only costing you around $20 with all the advanced functions along with it.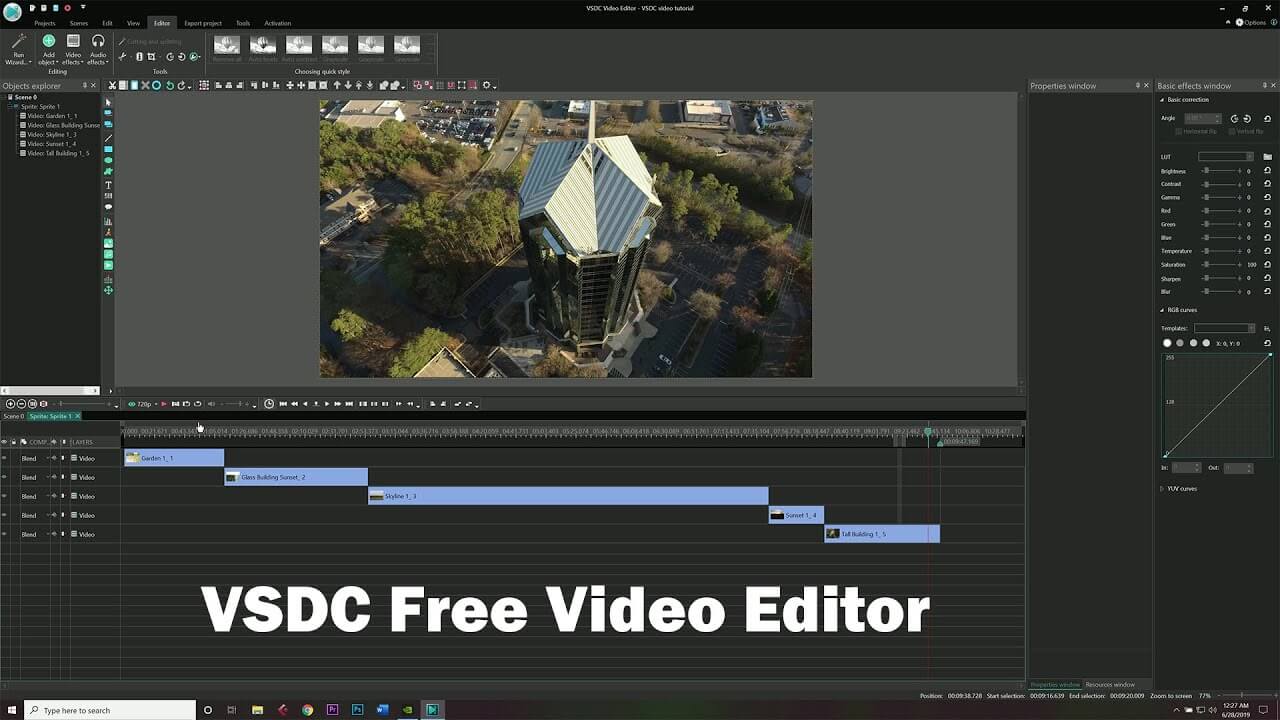 FAQ's about Free Video Maker You Shouldn't Miss
When looking for a free video maker there are a few things to consider:
Installer size

Function limitation

File support and range of editing functionality
Taking these key aspects into account the clear leader is Filme, it's a little powerhouse of editing and creation software for all types of video formats and image files. Simple to use and capable of delivering superior quality video creations.
2

How to make a video with pictures and music for free?
To create a video from your pictures with a backtrack of your favorite music is an easy as 1, 2, 3 with Filme:
Step 1 - Select your images and import them into the Fast Video Mode of your Filme Free video software.
Step 2 - Choose one of the 6 free themes for your video in the options and apply it by clicking on "apply your media". This will create your video with music automatically and Filme will give you the option to edit the video time etc. on the finished product in preview.
Step 3 - Export your finished creation in the format you want and share it with the world.
3

Does windows 10 have a free video editor?
Yes, it does - it is part of the Windows Photos application. But it does not have rich resources and functions as other free video makers.
4

What do most YouTubers use to edit their videos?
Most Youtubers use free software to edit their videos and music creations. The most popular video maker software as measured by this article is the Filme Free Video Maker software also other free video makers like ShotCut, Hitfilm Express etc. It provides the user with studio-quality functionality in an easy to use package.
5

Should I pay for a premium option?
This a personal choice - if you are a beginner then we would suggest that you get a free app just to see if you have what it takes to be a "film editor". However, with the functionality and user-friendliness of the free video maker applications in this review, it is highly unlikely that you would need to pay for a premium option to get what you need.
Conclusion
In this article, we have briefly reviewed 10 very good free video maker software packages and applications and they all have some seriously good points. Filme Free Video Maker is a relatively small software package that packs a punch of video and image functionality and capability. The simple menu structure and easy layout make using Filme for your video creation a breeze. The loads of transitions and video effects that Filme offers make it the logical choice for all types of users from beginners to professional video makers.