Whether you are a professional or a beginner video editor, you may have envisioned a time when you are able to create special effects videos that equate to the Hollywood standards. Video effects implies videos with better looks and are colorful, hence the term special effects.
Adding effects to your videos is one of the most reliable method to take them to the next level. Animations, transitions, filters, and dynamic text animation are just some of the many useful effects to add that wow feeling to your videos. To do this, you need the right special effects video editor that can get the work done.
Best Free Special Effects Video Editor for Everyone
iMyFone Filme is a free video editor with special effects that works well for both beginners and professionals. Explore the many features available for stunning creations. Freely download iMyFone Filme on Windows 10, 8, 8.1, and 7. Explore the many features available to edit your precious memories in a captivating manner.
Get 1-Month FREE License (Limited Time) >>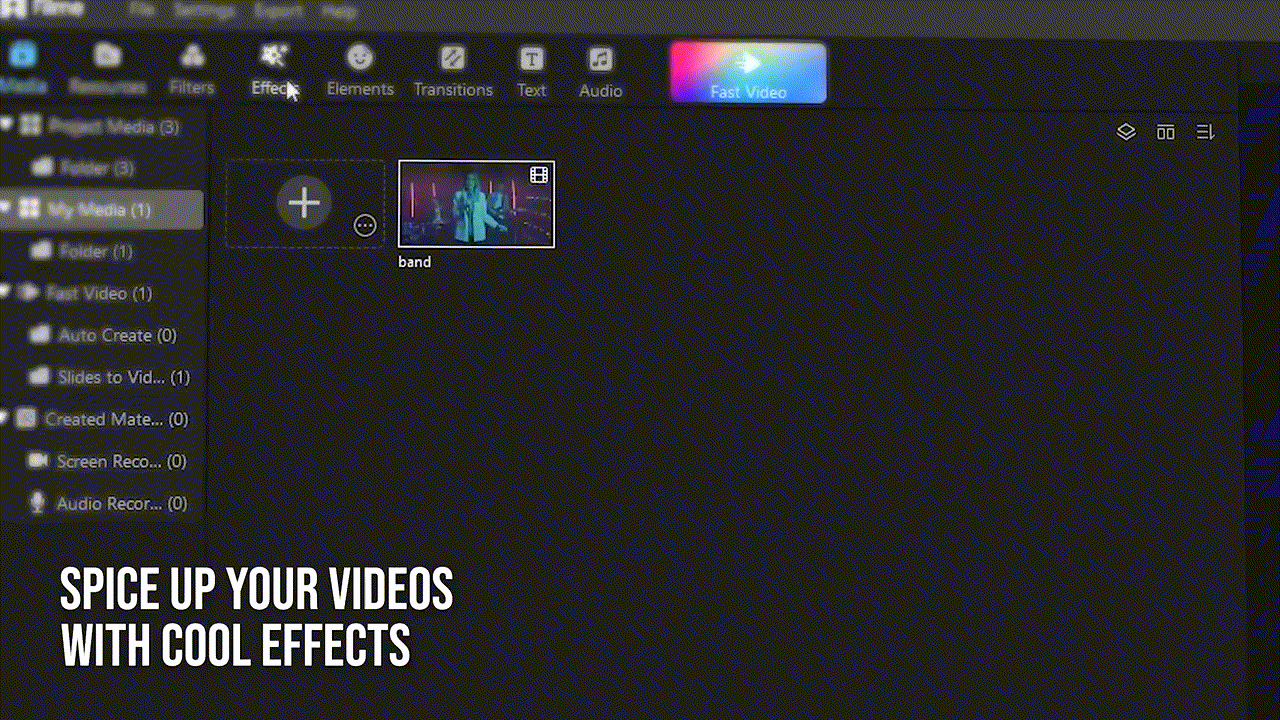 Key Features of iMyFone Filme:
Rediscover your story in a whole new way and with minimal effort. You do not need any technical skills.

Take advantage of a host of resources that allow you to add video effects, transitions, text options, and audio.

The fast video mode allows you to create magnetic slideshow videos for your events, from birthdays to weddings, fitness videos, and more.

Keep in touch with the progress of your work with instant previews. Check out the effect of any new edit and whether you should keep it or undo.

The fast video mode allows you to create magnetic videos for your events, from birthdays to weddings, fitness videos, and more.
How to Apply Video Effects Using Filme:
Step 1: Download and install Filme on your Windows PC and Mac. Launch it and hit on Editing Mode option.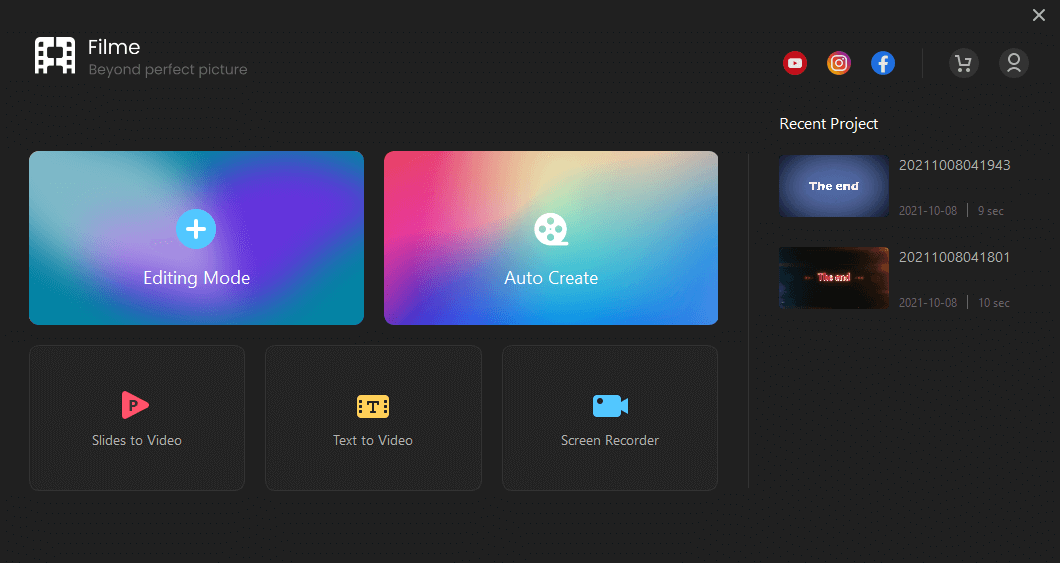 Setp 2: Import your video to Filme and drag it to the timeline.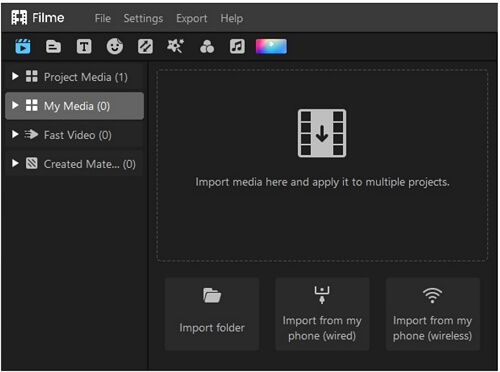 Setp 3: Choose the Effects option on the top menu of Filme. Then it will display many effects. Just click on the effects you want to apply it to your video.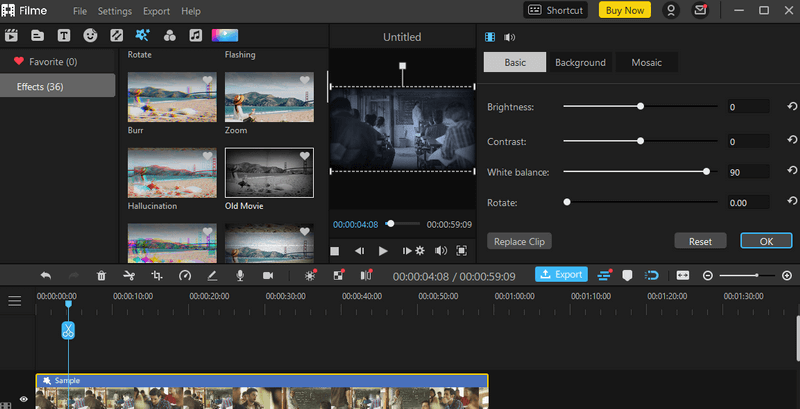 Step 4: Once you're done, hit on Export button to download the output video.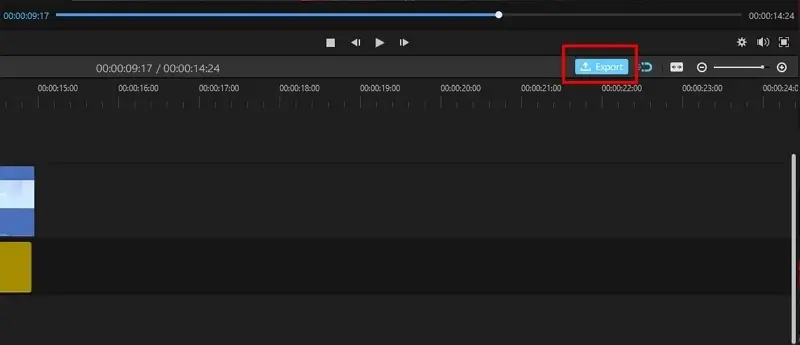 Pros of HitFilm Pro:
Its user interface is straightforward.

Full basic editing features to satisfy your needs on video editing.

It is equipped with advanced features like transitions, text, multiple effects, etc.

This tool is available for Windows and Mac.

It offers free trial for you to try it out.
Also Read:
2021 5 Best VHS Video Effect Makers Online >>
Best Old Film Effect Video Editor 2021 >>
Best Visual Effects Software for Compositing for Professionals
The Nuke family comprises of an ecosystem of tools that are accessible globally and can be used by both large-scale and small-scale users. Whether you want to use it from a personal perspective or on a blockbuster project, Nuke can be relied on as one of the best free video editors for beginners to add free video effects.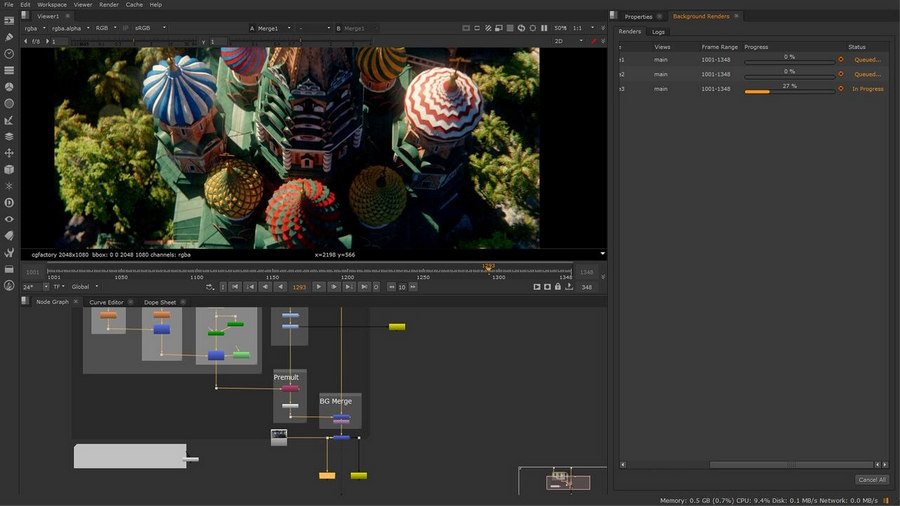 Speical Effects of Nuke:
2D visual effects            

Nuke has over 200 creative nodes to effectively deliver on digital compositing. It features color correction, vector paint, rotoscope, keyers, and much more. The inclusion of a 2D tracker helps with the tracking and correction of difficult objects with ease.

3D visual effects            

Nuke Studio has an integrated camera that replicates 2D camera motion using an animated 3D camera in order to accurately composite 2D/3D elements while keeping in touch with the original camera footage.
Pros of Nuke:
Being part of the Nuke family gives it access to the powerful node-based pipelinet

Well-designed interface for fast and easy workflow

Can deliver as high as 4K quality

Supports up to 200 creative nodesw
Cons of Nuke:
Access to some functions is cost-based
Created by Adobe Inc., After Effects is streamlined to seamlessly make visual effects and motion graphics for film, TV, video, and web. Users can rely on After Effects to add spinning words, rolling credits, and twirling titles. With this free special effects video editor, you can build awesome effects by combining videos and images.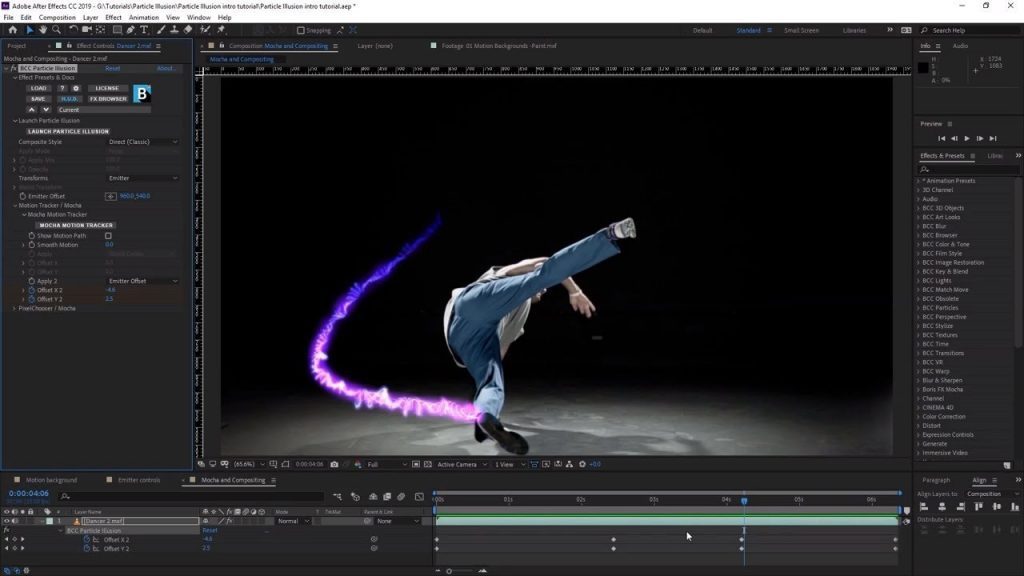 Speical Effects of After Effects:
2D image into a 3D video            

The parallax effect is popular After Effects feature that fakes 3D. With this feature, a 2D image layers are separated and moved independent of one another.

Pull someone in a picture            

When you first see this effect, you are sure to doubt whether you can do it. Luckily, After Effects provides an easy way to implement it, with a step by step guide on how to do it, you will be surprised by what you can do. The fact that it requires rotoscoping and careful selection of parameters, only professionals are able to pull this off.

Frozen action scene            

Anyone who sees a frozen action scene can have their mind blown. You can create this if you know the right tricks to use. Start by shooting several individual scenes, then mask some of the clips using After Effects and include them in the scene.

Lightning effects            

Create an incredible and dynamic electricity effect that is more real than fake using the built-in Advanced Lightning feature.
Pros of After Effects:
Can be used for composition, visual effects, and motion graphics in a more robust manner

Seamlessly add visual effects

Helps with making 2D animations and titles

Layer multiple visual footages over each other and blend them with ease
Cons of After Effects:
Not a true 3D animation program

Consumes a lot of RAM and may freeze slower computers
An industry-leading software that features the powerful chroma key alongside text and particle tools. Explore the wide variety of free video effects to enhance your film's visuals to come up with memorable and awesome scenes.
Speical Effects of HitFilm Pro:
Lightning and electricity            

The program's lightning generator can create the likes of Harry Potter wand effects, exploding starship systems, and give actors the ability to throw electric bolts.

Procedural fire            

Would you like to build your own Towering Inferno? HitFilm Pro is the right tool for that. It augments stock footage with as many small bonfires as you want to yield a massive fire. Perfectly adds to your production value.

3D muzzle flashes            

Designed to complement any action scene, the 3D muzzle flash engine is enriched with customizable effects that you will find useful.

Distortion effects            

The distortion effect is built around four concepts: Energy, Heat, Fluid, and Smoke Distortion. Compliment your props and environment by adding industrial grit of hot proton beams, burning fires, and jet exhausts.
Pros of HitFilm Pro:
User-friendly interface for excellent editing

Creates powerful special effects for professional results

A host of learning resources on how best to make the most of the programs
Cons of HitFilm Pro:
Non-existent workflow

Does not support standard formats such as Final Cut XML
4

Fusion
The Fusion model of operation is such free special effects video editors who have had their hands on After Effects can seamlessly use this program. Whereas both are often contrasted against each other, each is effective in its own domain. Fusion 3D node is a dependable interface for importing 3D scenes and models. The free video editor software has many effects, tools, and filters that yield lifelike visual effects.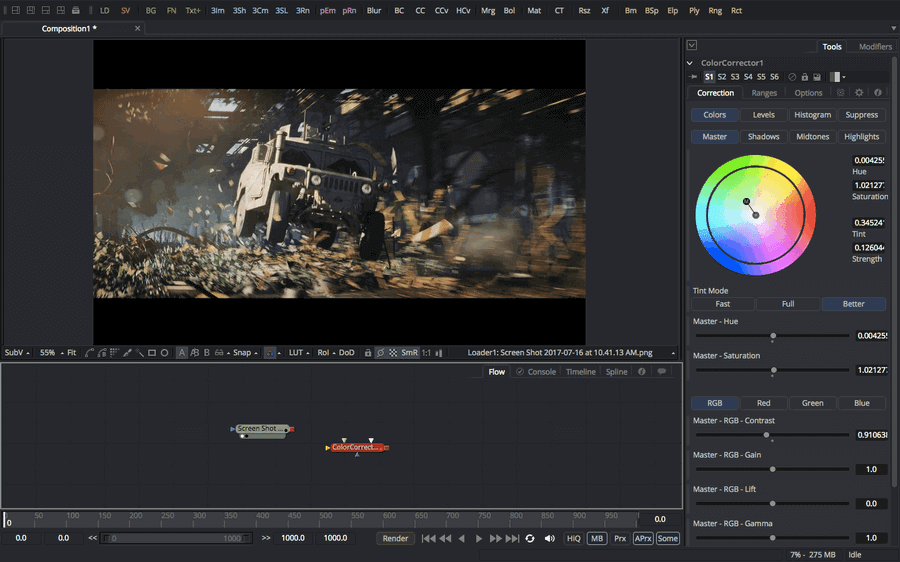 Speical Effects of Fusion:
Compositing            

Fusion supports the most basic step in visual effects, that is, adding one image on top of another the blending them. You can easily do this in the program because only two tools are involved – Merge tool and Merge 3D tool.

Keying and Mattes            

With Fusion, you are able to remove green, blue, and other colors from the background. Its Keyers help with this task.

Rotoscoping            

Brilliantly isolate objects or actors from other elements in clips. The B-spline and Bezier tools help in drawing, tracking, and animating custom shapes.

3D Particles            

The 3D particle generator introduces you to a whole new world of sparkling, swirling, and magnetic effects.
Pros of Fusion:
Works just as promised

Usable on the go without requiring any complicated setup

Completes VFX and Film at a professional level
Cons of Fusion:
Lacks advanced tracking features

The connection with Resolve sometimes feels a bit weak
Best Visual Effects Software for 3D Modeling
When working on a 3D project like the development of a 3D game, you will definitely require to build 3D assets for successful completion. That involves creating everything from trash cans, fences, buildings, and many others. Blender presents itself as one of the many applications available for this purpose. The free and open-source 3D suite for your project.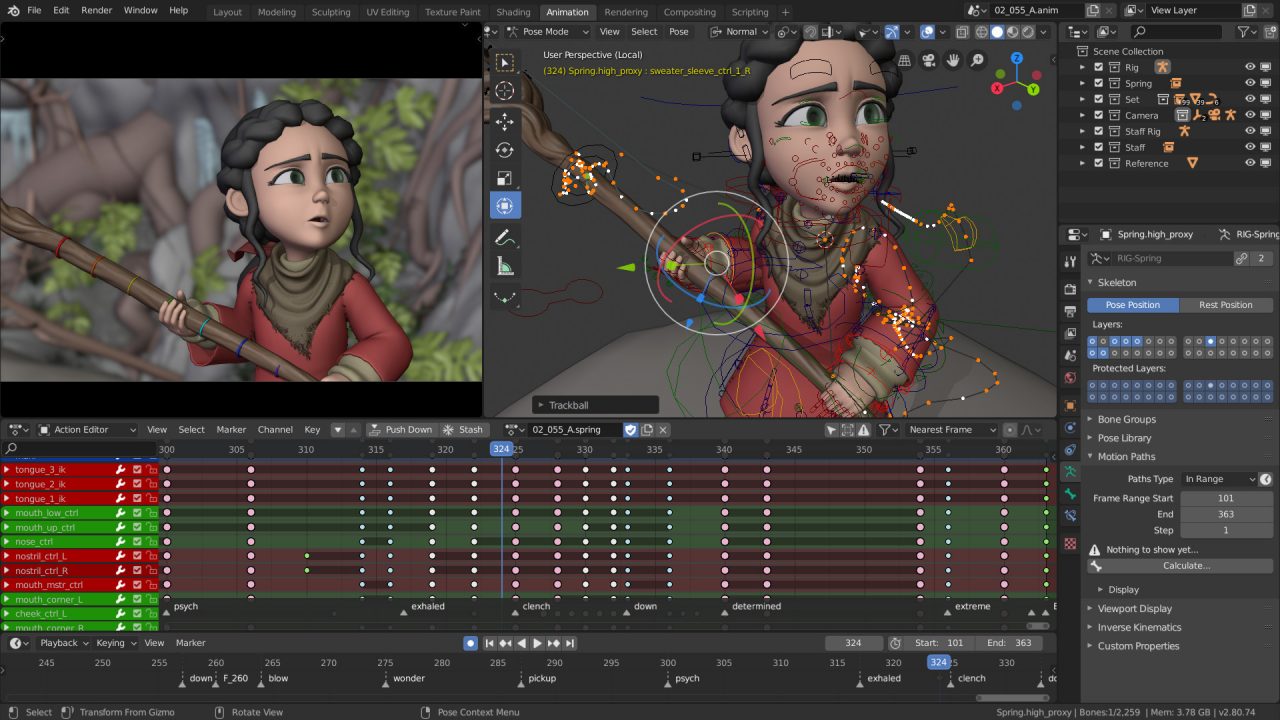 Speical Effects of Blender:
Compositing            

The built-in compositor is an effective way to post-produce renders while still on Blender. The compositor includes: render-layer support, multi-threading, compositing images, and videos, and rendering OpenEXR files.

Motion tracking            

The production-ready camera included in Blender and the object tracking feature facilitates the importing of raw clips, tracking it, masking areas, and reconstructing camera movements. With this, you accomplish everything in-house instead of switching programs.

Modeling            

Blender has an array of tools to create, transform, edit, and sculpt your models. The tools include N-Gon support, fast workflow, python scripting, and grid and bridge fill.

Rendering and beyond            

The unbiased rendering engine yields powerful and ultra-realistic rendering. Thanks to Cycles, the program's production render engine, you receive multi-GPU support, multi-core CPU, and unidirectional path tracing.

Animation and rigging            

Turn your characters into impressive animations using blender's animation features like sound synchronization, Non-Linear Animation faster poses, and character animation pose editor.
Pros of Blender:
Incorporates all relevant tools for in-house project completion

Shortcuts for streamlined workflow

Huge community of enthusiasts, hence, readily available support
Cons of Blender:
It has a steep learning curve as you relearn and get accustomed to a new interface.
2

Maya
Maya is an industry-standard 3D program created by Autodesk. It is one of the most popular programs in this area, with its first version having come out in 1998 before getting acquired by Autodesk in 2005. It is known to have played a role in the creation of the 2000 film Dinosaur, Harry Potter, and Transformers.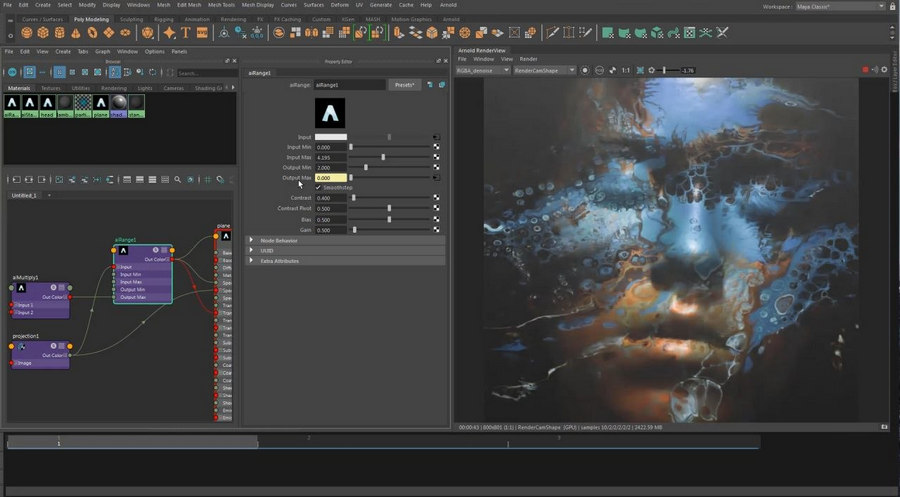 Speical Effects of Maya:
Fire effect            

With the Fire effect, you are able to emit fire from several objects: NURBS curve, Lattice points, polygonal surface, nParticle object, and Number of CVs.

Fluid effect            

The Fluid effect helps to simulate and render fluid motion. It is required for creating 3D atmospheric, space, pyrotechnic, and liquid effects. You have the option to use Fluid Effectssolvers or fluid animated textures in Maya.

Fireworks            

Easily and quickly create Fireworks effects. With this effect, all that you need to do is to build several rockets that fly up, leaving a trail behind. Whereas the effect randomly chooses the colors to use, you can customize these according to your needs.

Lightning            

Create a bolt of lightning between locators or between two or more objects. The lightning bolt has soft body curves and extruded surfaces to be rendered. One thing about this lighting is that after it is created, it cannot be changed.
Pros of Maya:
Generally accepted as a leading software at animation

Motion-capture handling

Applies modelling layers to its 3D modelling

Paint Effects to create 3D effects when drawing freehand
Cons of Maya:
Has one of the most dreaded learning curves

The cumbersome node editor can easily discourage you

May have compatibility issues, requiring numerous plugin installations.
3

3Ds Max
Previously called 3D Studio and 3D Studio Max, 3Ds Max can be relied on as an effective tool for professionally modeling, creating animations, and rendering. It effectively makes 3D animations, interactive games, models, and visual effects for entertainment purposes. Thanks to the inverse kinematics feature, 3Ds Max breathes life into your characters.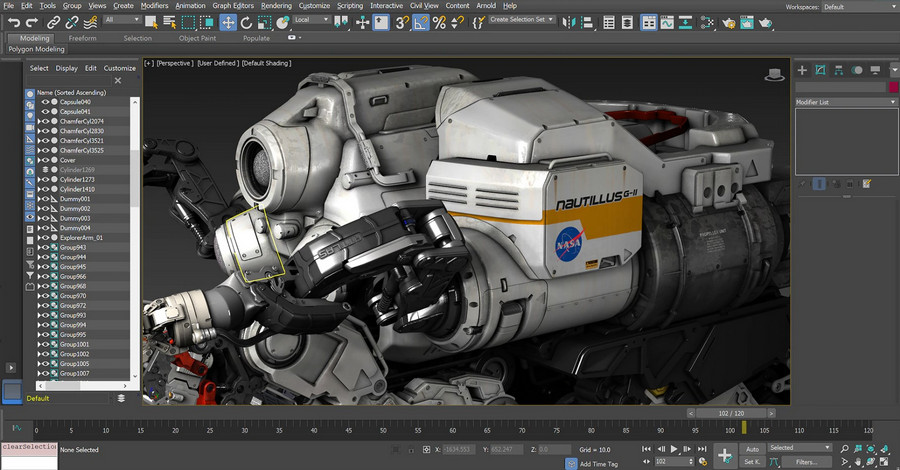 Speical Effects of 3Ds Max:
Ambient Occlusion            

A way to block light using some objects to create dark crevices and setup bright areas that are exposed to the environment.

Rounded Edges            

Sometimes computer imagery may seem unrealistic, mainly due to edges of the objects. 3Ds Max adds rounded edges effect to imagery to make them more realistic.
Pros of 3Ds Max:
Gets it right when it comes to programming and customization

The maxscript is relatively easy for artists to learn

Contains ultra-convenient edit poly modifier
Cons of 3Ds Max:
Still suffers from undiscovered bugs that Autodesk is yet to fully deal with

The license fees are on the high-end

Steep learning curve
4

Cinema 4D
Cinema 4D has some great some features that you can explore for creating visual effects. As a perfect tool for 3D artists, its results are not only fast and hassle-free but also breathtaking. Its top reliability makes it suitable for fast-paced 3D production. The program seamlessly integrates with After Effects for more appealing results.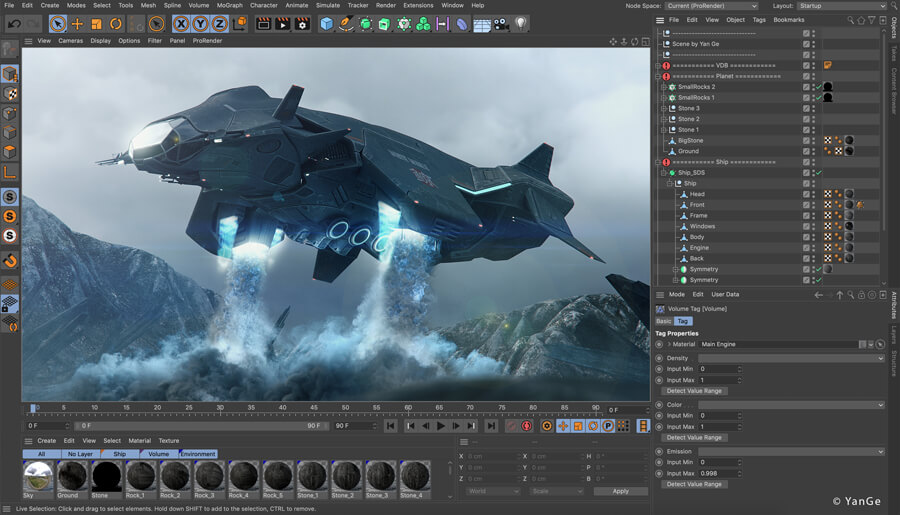 Speical Effects of Cinema 4D:
C4D R20 for tracking            

C4D features a motion-tracking workflow which has undergone improvement over time based on the feedback received. Some improvements to expect include 2D Camera Navigation Mode, 2D Tracking, and Virtual Keyframes.

Lighting            

Add lanes and flares to revamp your production.

Explosion            

The TFD plugin is popularly used to create explosion effects
Pros of Cinema 4D:
Extremely powerful visual effects tool

Easy to learn

Yields breathtaking results

Works for both beginners and seasoned professionals

Has an intuitive interface

Widespread usage in the 3D community makes it a stable program
Cons of Cinema 4D:
Its free trial is for a limited period
Conclusion
The introduction of special effects technologies has led to not only stunning productions but also added the element of realism. Whereas earlier special effects were achieved through special camera lenses, today, this is done mostly via the appropriate program. These programs are available in a variety, from simple to complex free special effects video editors that both beginners and professionals can use to advanced ones that are suitable only for professional editors. iMyFone Filme seamlessly meets the special effects needs of both beginners and professional artists. Try it now and get a 1-month license for free!