Video Shows Great ROI to get you even more inspired, 83% of businesses are working on making high quality breaking news ads. The average click-through-rate of video ads is 1.84%. That's the highest CTR of all digital ad formats. Non-skip-able breaking news rate is 92% while the skip-able news rate is just 9%.
In this article, you can get the best breaking news video maker for your desktop or online mode.
Top Breaking News Video Makers for Desktop
Feature of Fast Video Mode
When you require watching videos, to overcome time wastage, speed up and fast forward the long scenes with video editors on your Windows computer. Speeding up video is used to make videos exciting or entertaining. You can speed up the video to playback all views and display the video shorter.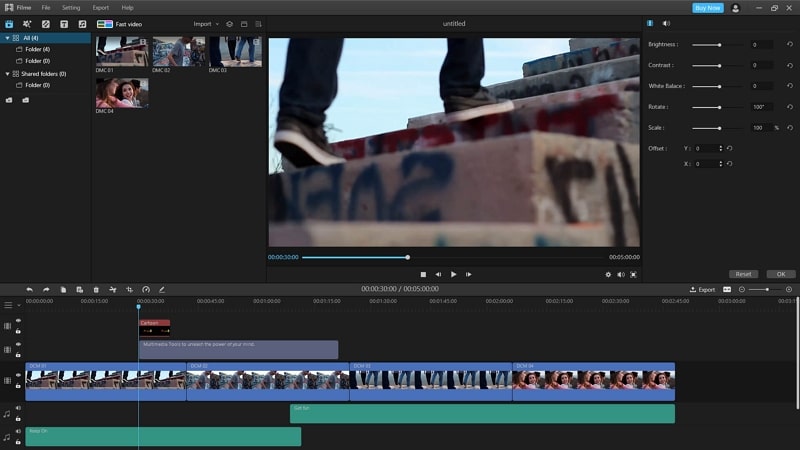 You can follow the steps below to make breaking news videos by using iMyFone Filme video maker.
Step 1.Select the "Fast Video" option.
Step 2.Click the "Add your media" button.
Step 3.Choose the "Import" option.
Step 4.After imported multiple files, drag, and drop the file.
Step 5.Click the "Export" button to save the video in your Desktop.
Other Key Features of Filme:

The features of effect, transition, and image editing can also make your breaking news video more attractive.

1. Effect Editing

You can apply filters/animation in Filme to make your creative project gorgeous and eye-catching.

2. Transition Editing

Add transitions to your video clips to improve the flow of your video or to make it more interesting.

3. Image Editing

The specific feature of filme is to insert the image into the clip, in between the clips, add it to the end of track or add it to the new track.
This breaking news video maker software not only gives you a high quality video but can also provide you offline fast video making software. Now you can have a one-month license for free!
Automatic Video-Editing Software
Movavi Video Editor is helpful for Windows and mac computers. That breaking news video editor has everything to make your videos interesting and charming. You can get marvelous titles, transitions, stickers, and other extra content crafted by professional designers by this video editor tool.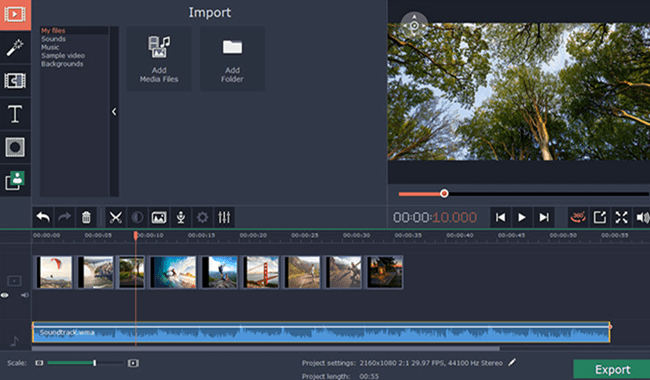 There are following steps to use this breaking news video maker.
Step 1.Start your new project.
Step 2.Add images, audio or videos.
Step 3.You can add special effects and new track in video and then save the project.
Step 4.Export process is starting now.
Pros

Brand new interface design

High-quality rendering

Faster processing of Full HD and 4K videos
Cons

The color grading tool is very basic

Cannot copy and paste video effect
Tips
Price: $35.95 for lifetime
Feature of Video Slideshow
Smilebox has featured a user-friendly interface and is easy to master your creative aspirations. If you want to cover the news fast and deliver it to the world instantly then Use the tool of Smilebox to create stunning slideshow breaking news videos. It has templates of every occasion starting from short ads to extensive news. Whether it is a big moment on the newscasts like Election ceremony or a small one like getting a reward from the government.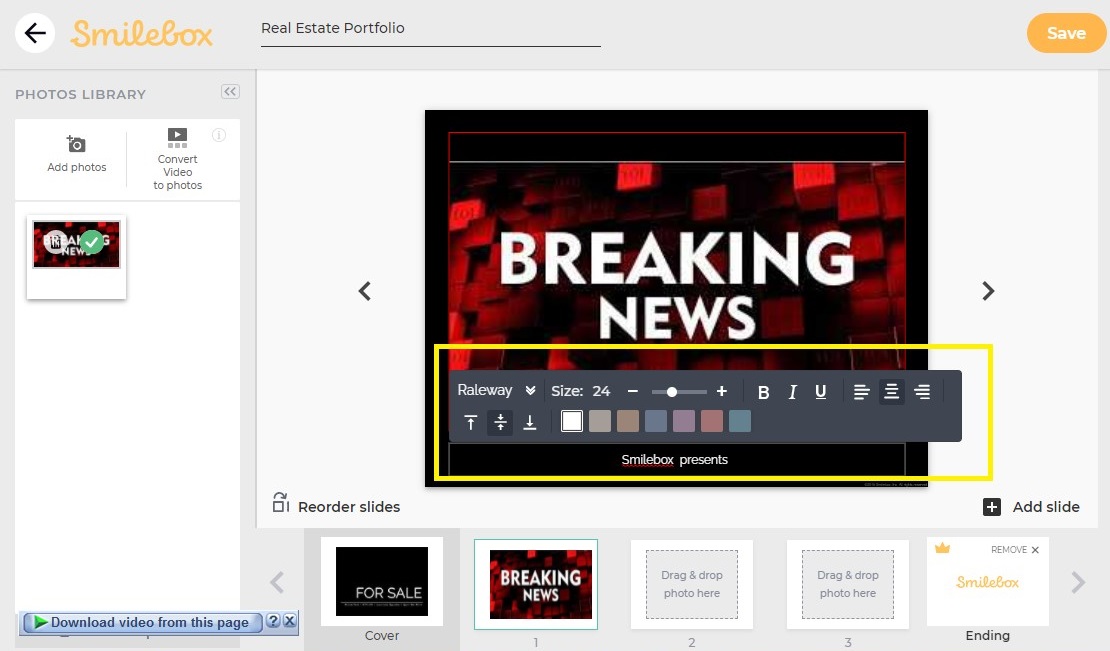 Create your breaking news by using this tool in just three simple steps.
Step 1.Pick the template from the Smilebox video maker for making your breaking news video.
Step 2.Edit the text and make the changes in background, music, images, etc.
Step 3.Lastly, save and export it to your computer. As well as on social media.
Pros

Printable or digital results

Appealing to the eye

Intuitive interface
Cons

limited export settings

Limited effects and animation
Tips
Price: $4.99/month & $29.99/year
Top Breaking News Video Makers (Online)
Rockitium is a platform to create your stunning videos in a short time. If you want to save hours of work and production costs then use this platform to create, preserve and reuse content.
You can create custom-branded templates; configure automated workflows for the team and Manage assets, users, permissions in workspaces.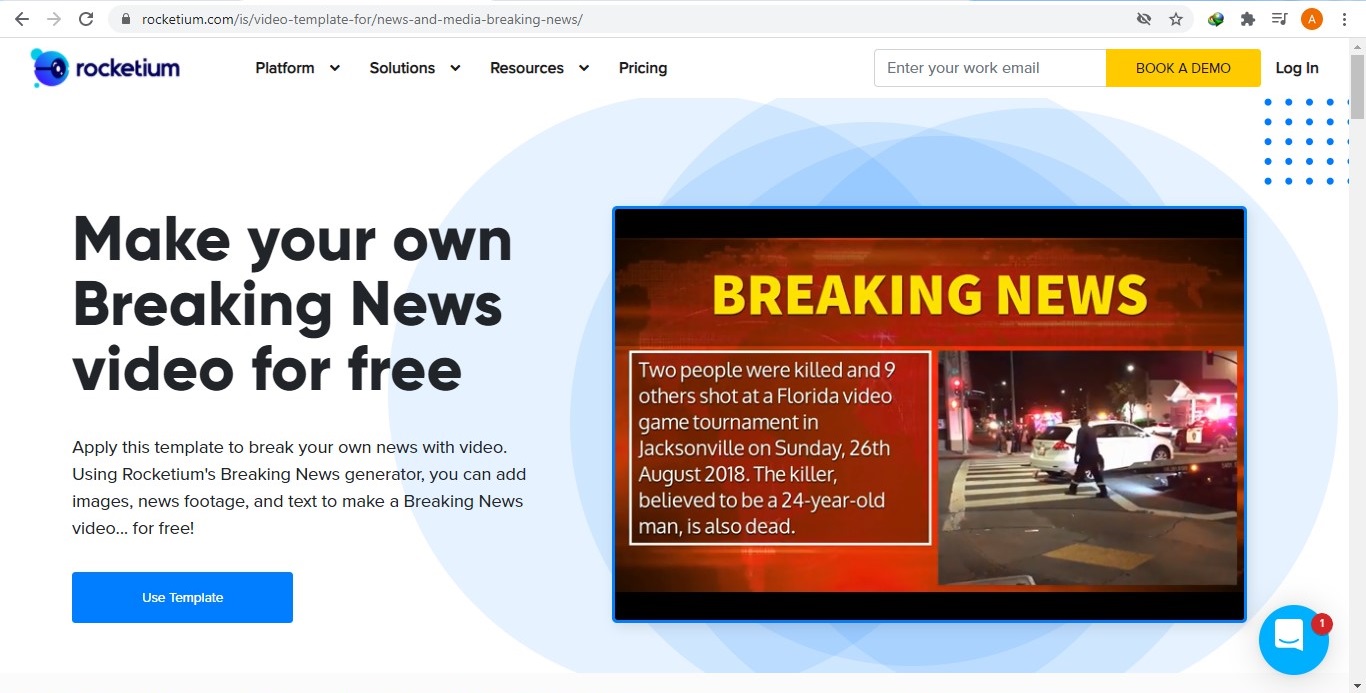 There are following steps to apply the breaking news video software to make a video.
Step 1.Firstly, you should apply for the template or visit the Rocktium Dashboard to create a new video.
Step 2.Enter your asked information to use this tool for free.
Step 3.Upload your own photos and video clips stepwise.
Step 4.Add text, and style it as needed. Add the link of your whole cover story at the end of video clip. Add your logo and brand colors and music.
Step 5.Export or Save the video.
Step 6.After that, a confirmation email will sent to your given email address.
Pros

Translate videos to over 100 languages

Custom intro or outro can be added

Anyone can add custom colors for the text, highlights, background, and animations
Cons

Some upgrades may cause hindrance

Limited export settings

Only runs online
FlexClip's free news video maker helps in to Boost Sale, Increase Traffic and to Encourage Social Shares. A compelling video can influence buying behavior, leading directly to sales. It comes to drive traffic to your site and generate more likes and shares. There are plenty of video templates available in this tool to edit directly, or get ideas on how to structure a video edit.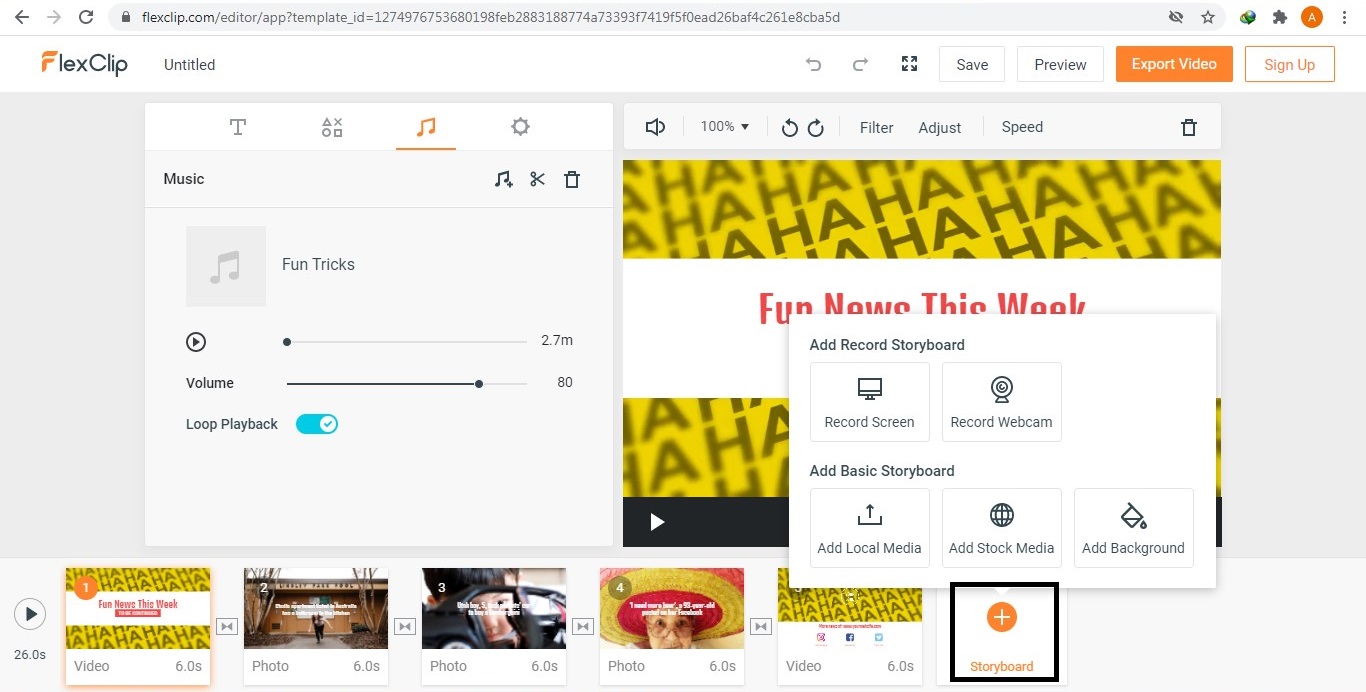 You can make breaking news in just 3 steps in this video maker.
Step 1.Add videos or photos from computer or stock libraries to the storyboard.
Step 2.Add text, music, and voiceover to customize your news video.
Step 3.Download your news video in various ratios and definitions or share it online with the world.
Pros

Upload videos in multiple formats

Trim or split your videos with powerful tools

Record your own voice over the videos
Cons

Only for Windows 10 version 14316.0 or higher

Used in iOS devices

Color correction has no curves
Kizoa is an online Video Editor, Movie Maker, and Slideshow. it is free that lets users upload their videos and edit them online, no download required. Hundreds of transitions, effects, and text are in one tool. It takes just a few taps to create an amazing movie you can share with social media. Users can choose from several different editing tools right from their browser, including the ability to add special effects, transitions, text, and more to videos. Users can create movies from a template or start from scratch from hundreds of video templates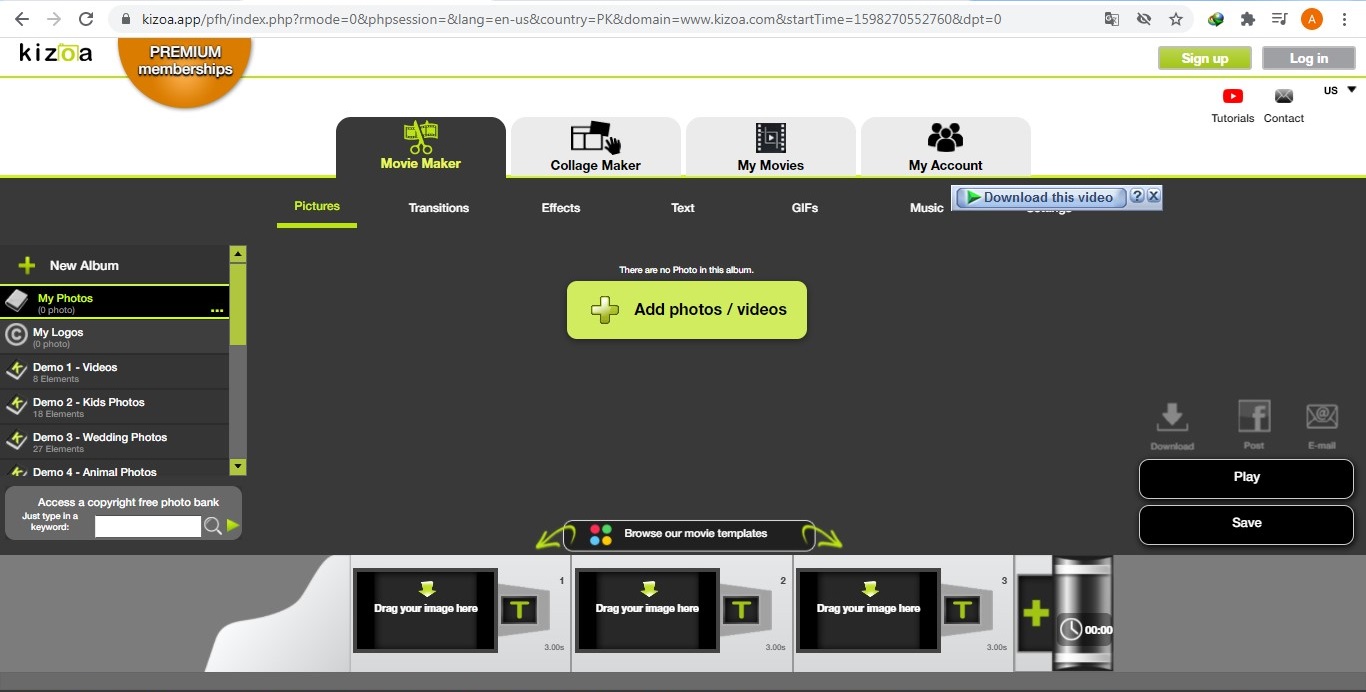 There are the following steps to use this tool online.
Step 1.Upload and store your asset.
Step 2.Create like a pro by Combining photos, videos, and music. Edit them.
Step 3.Download your pro video and share on social media.
Pros

Work on video projects anywhere

Store your content online

High-quality rendering
Cons

Premium versions required a paid membership

Limited resources for the Basic version
Tips
Price: from $99.99 to $299.99 for life time
Newscasts are a great way to allow students to build a positive culture. This WeVideo Template is included in all WeVideo for casting your breaking news. To access it, log into WeVideo to edit the template directly, or get ideas on how to structure a video edit.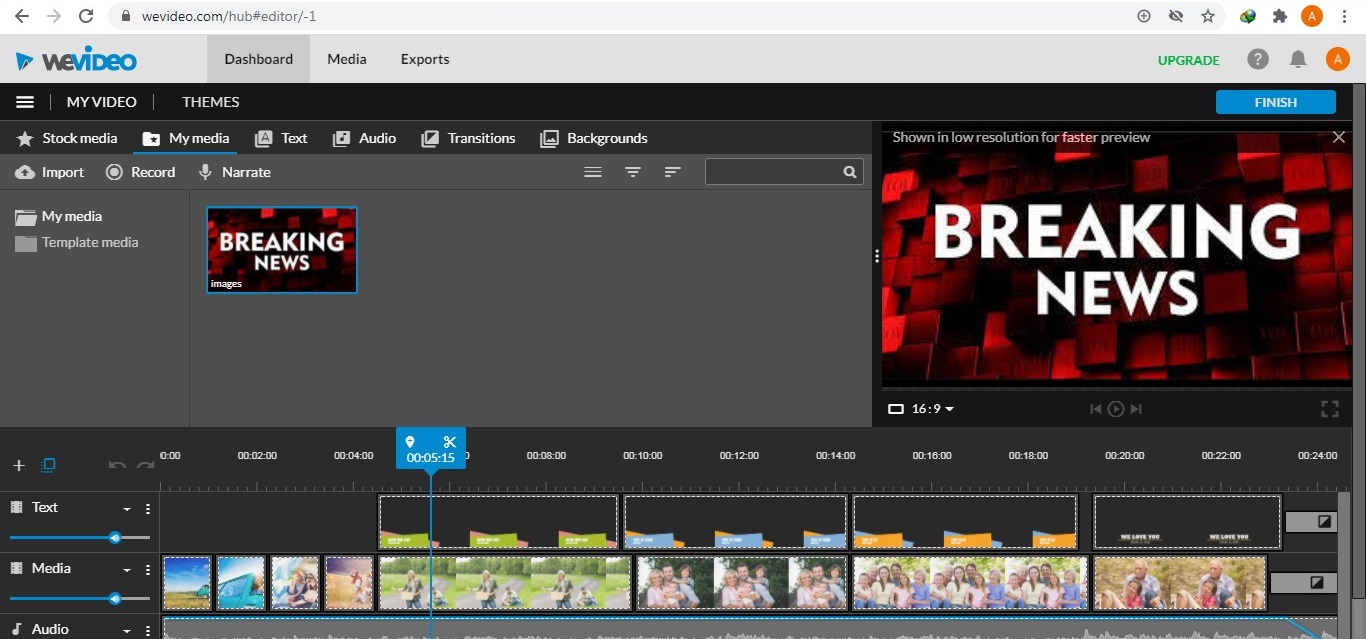 There are the following steps to use this breaking news video maker online.
Step 1.Firstly, upload the image from template or from the gallery of your computer.
Step 2.Add texts, effects, colors, music and create interesting news.
Step 3.Set a title for your video and export it to explore it on social media.
Pros

Make videos on any device, including Chromebook, Windows, Mac, and mobile

Instant video maker
Cons

The full program is somewhat costly

Privacy can get convoluted
Tips
Price: from $4.99/month to $29.99/month
Top Breaking News Intro Makers (Online)
If you've got news and ant to make as skyrocketing in just a few minutes by making intros of video. Then create a professional video in a matter of minutes online with elaboration. It will perfectly fit your content. Doesn't waste time, start creating videos, and capture your viewers' attention.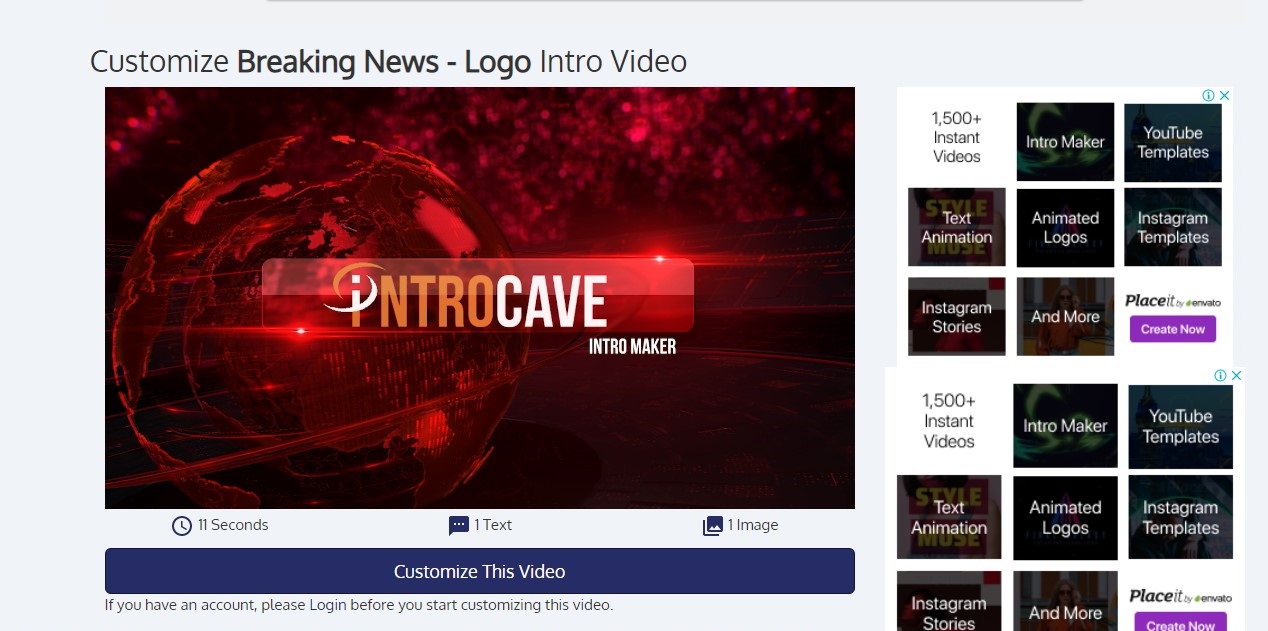 You can use the following steps to customize your videos.
Step 1.Firstly, add the replacement text.
Step 2.Then choose the audio option
Step 3.You can also add original voice in your video
Step 4.Lastly, download the video.
Pros

It does not require additional video editing skills

It has Neon Racing templates and natural logo designs

It doesn't require installation and provides Retro Shapes
Cons

The theme of your video will depend on the available templates

It requires an internet connection for it to work

Cannot do advanced animations
Tips
Price:
1. The starter package is $5
2. The professional package is $10
3. The producers' package is $100
IntroMaker with Animated Lines for breaking news editing .Get an astonishing intro for news with Placeit's online video maker. It's really simple to use, you just have to customize your favorite template with your logo and text, and it'll be ready in no time. There are hundreds of Video Templates to choose from in this tool. Placeit's Intro maker takes all the work out of making short animated videos.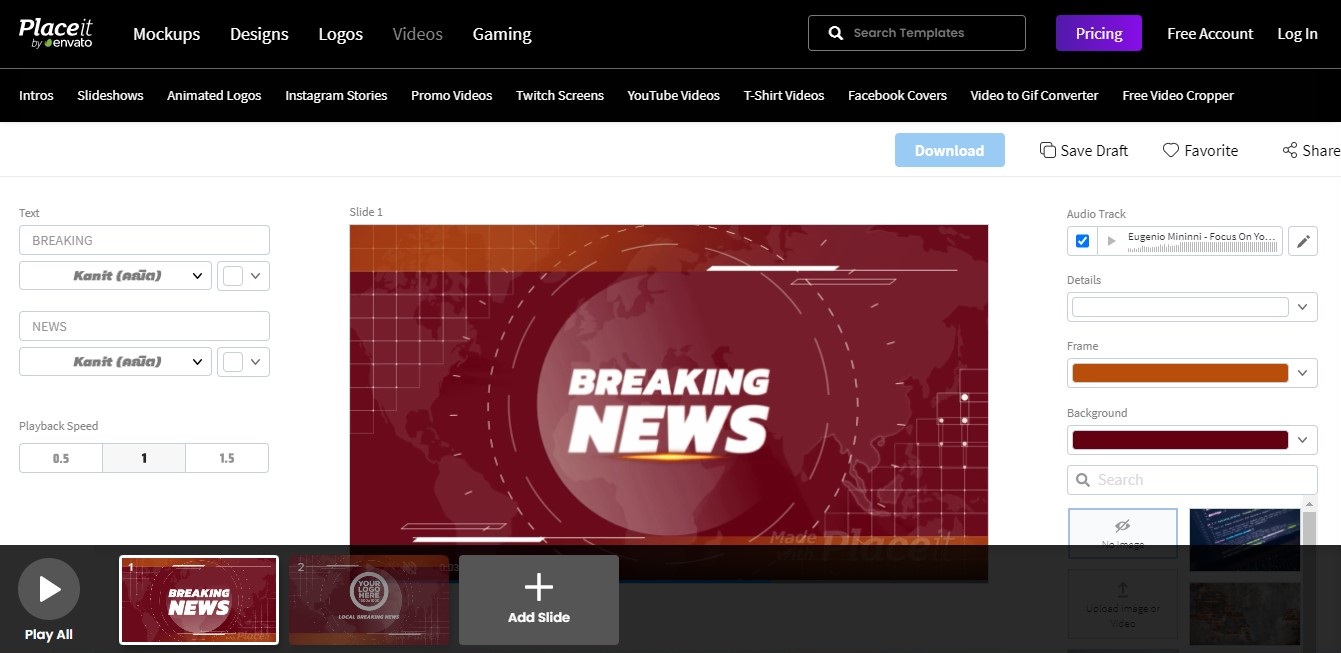 This breaking news video editor for beginners can easily be used in 3 steps.
Step 1.Browse Placeit's library of intro makers and choose a video template you like.
Step 2.Personalize your intro animation with your own colors, logo, and images.
Step 3.Finish your video by choosing an audio track and download the video.
Pros

Interactive Video - Exhibition interactive demos in animated live scenes

Blender - Mix devices and backgrounds to get your ideal environment

Easy-to-use interface
Cons

Some characters and templates are locked

You must upgrade your account to access the full features of the program
Tips
Price: $14.95/month & $89.69/year
Conclusion
All these breaking news video maker describe the ways on how to make breaking news videos easily. All the above programs work well, so it's better to try each one of them to get the idea of what functions you desire to have. Boost your ROI and maximize your rating ad spend by building product videos that present your channel in a visually appealing way. These are the best and most secure breaking news video maker you can use to create your news video. Take advantage of these many editing functions to improve your video.