In this article, we will be talking about how to rotate a video clip online. We have found 5 reliable and easy to use online video rotate software that will be helpful for fixing video orientation.
Top 5 Best Free Online Rotators in 2021
Clideo is an online video rotate software that gives you the freedom to turn a horizontal video to vertical or vice versa. The software is a great tool, not just for video rotation, but it has an additional feature of converting a file to any format in a few clicks. You can rotate videos of any format ranging from mp4 to avi.
How to Rotate a Video Online with Clideo
It is a super easy tool that rotates video in seconds. Just follow these easy step to rotate your video.
1. Select a video from your phone, laptop, or any online source up to 500 MBs.
2. In the Clideo interface, rotate the video into the dimensions you desire and choose the output format for video.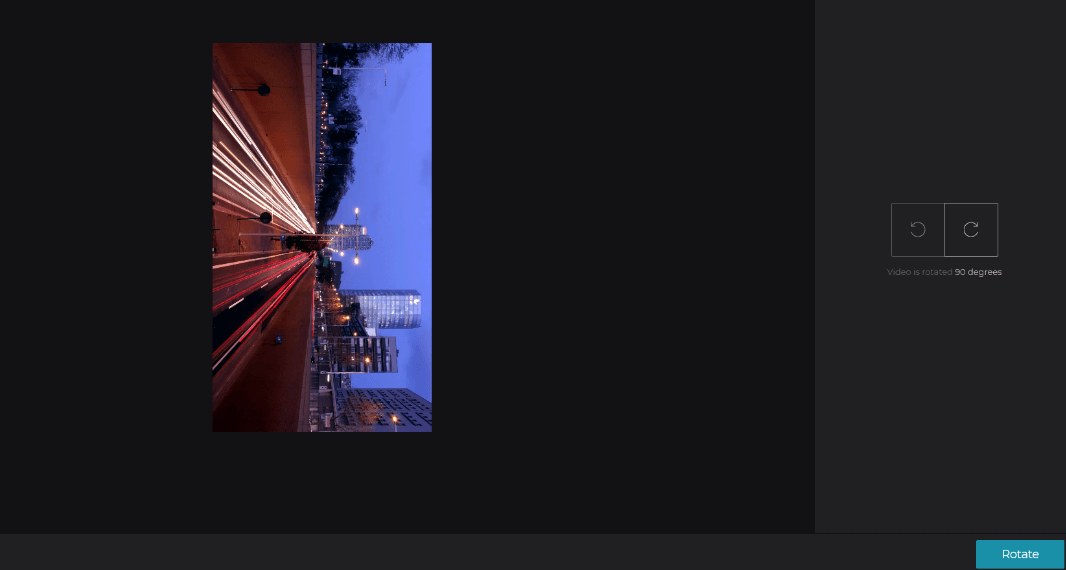 3. Watch the preview to check if it is inverted correctly.
4. Download your video.
Kapwing is a video rotator that lets you flip, mirror, or change the video's orientation without any complication of installing additional software on your computer. It is an online video rotator that is simple to use and invert the video without any hassle.
How to Rotate Video Online Free with Kapwing
You have to follow some simple steps to get your video with the desired orientation.
1. On the Kapwing website, you have to upload the video from the phone, laptop, or past any online video link like Google Drive or Dropbox.
2. Rotate or mirror your video with the arrow icon on the buttom.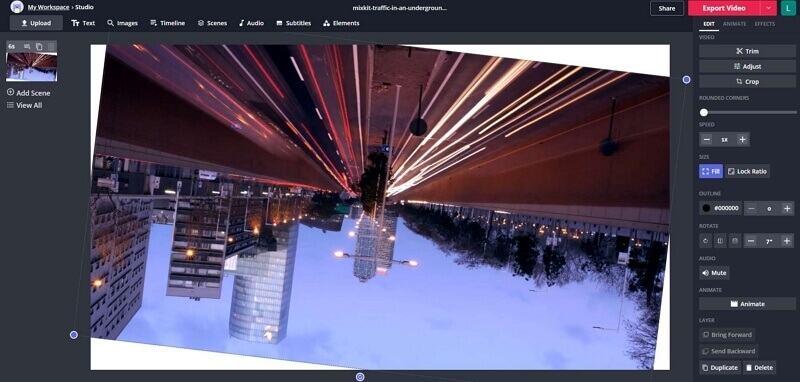 3. Download your new video.
Our third pick is rotatevideo.org. It is also a software that helps to rotate video online free in a few simple steps. Either you want to convert a landscape-oriented video into portrait mode or vice versa, you will love this online video rotate software. With rotatevideo.org, you can rotate your video without losing the quality.
How to Rotate a Video Clip Online Using Rotatevideo.org
1. Import your videos or online source by entering the URL.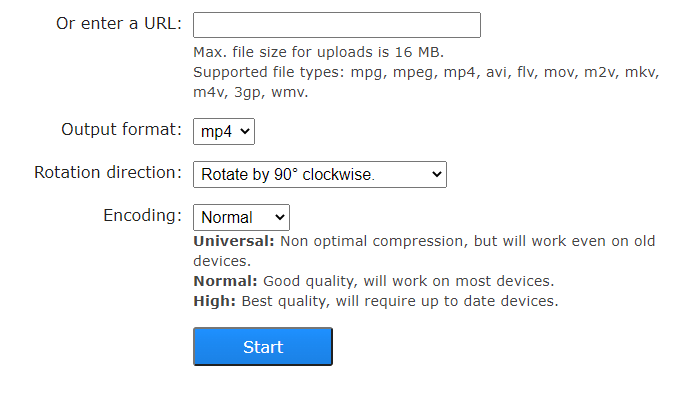 2. Choose the output video format and orientation.
3. Hit the blue start button. Within a few seconds, your converted video will be prepared to be downloaded.
Rotate, flip, mirror horizontally or vertically! Video2edit is the online video rotate software that is also designed to invert your wrong oriented video clips. In video2edit, you can turn a video, divide, and video conversion between different formats. Besides, rotate video online free, you can also do audio editing, video compression, and audio normalization.
How to Rotate a Video Online with Video2edit
1. Open your browser and go to https://www.video2edit.com/.
2. Choose "Rotation Video".
3. Choose your files by entering URL, select from Dropbox or Google Drive, or import from your computer.
4. Choose desired video format, video rotation degree or flipation and press the green button says "Start".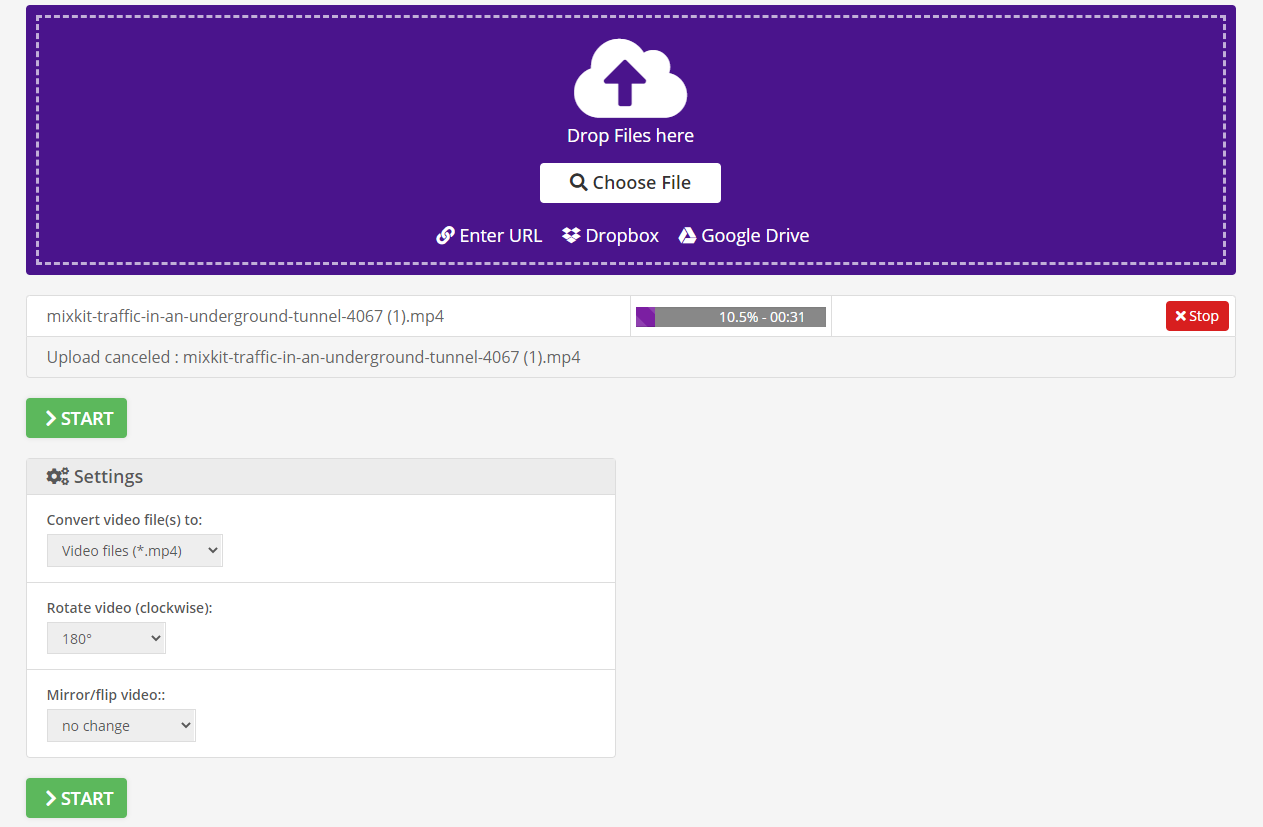 5. Save your changes by clicking on "Download"or "Cloud Upload".
Last but not least, the fifth pick of the day to rotate video online is Rocketium. The best thing about Rocketium is the wide array of options available for users. Rocketium is an online video rotate software that inverts video orientation in two steps. Sounds cool? Here's the steps of how to use Rocketium to rotate a video.
How to Rotate Video Online with Rocketium
1.  Upload your video clip in any format ranging from 3G2 to WebM, FLV, or GIF.

2. Click on the 'Rotate Video' button, and every click will result in a rotation of 90°.
3. Click the "rotate video" button until you are satisfied with the output and download it.
How to Rotate Videos using Alternative Video Editor - Filme
If online video rotators discussed above didn't satisfied you, let us spice up your video editing experience by introducing you a free video editing software. Filme is a free video editor that is a benefit-packed software to take your video making experience to another level. Besides performing other basic editing tasks, you can also perform high-level editing tasks with minimum editing techniques.
How to Rotate a Video using Filme
Let's talk about how you can rotate your video in any orientation by using Filme.
1. With iMyFone Filme, you can rotate videos to a 90° or even a slight rotation of 12°. By following the given simple steps, you can turn your video into an incredible masterpiece.
2. Download and launch Filme on your PC or laptop.
3. Import your media by clicking on "Import", then choose "Import by File" or "Folder".
4. Tap on the plus symbol to add it to your timeline.
5. Right-click on the clip on your timeline and select "Edit".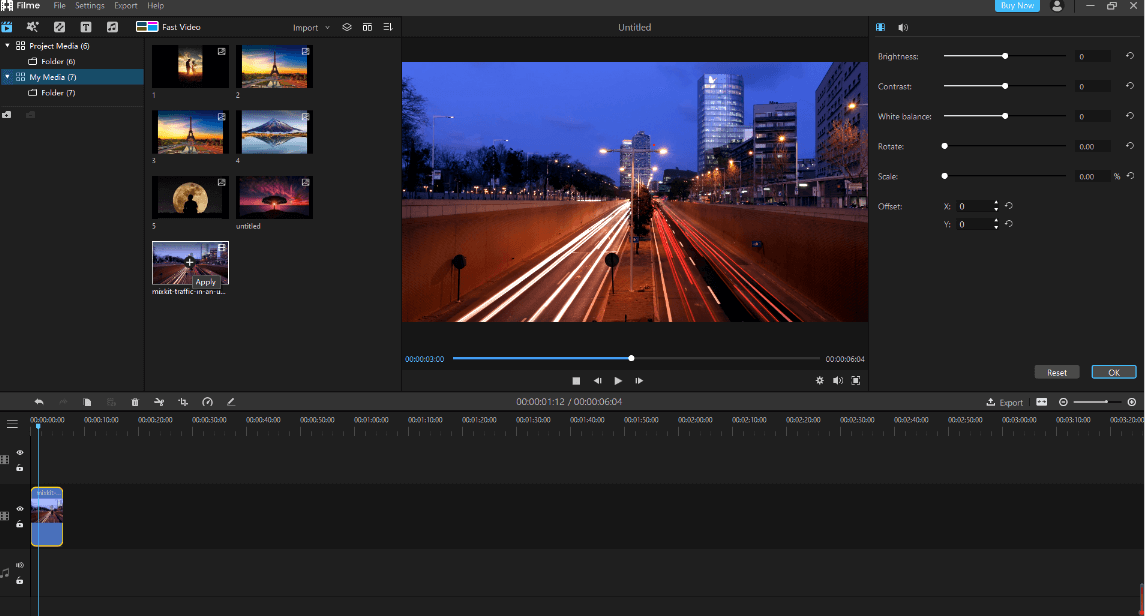 6. Enter the degree you want to rotate and press "OK".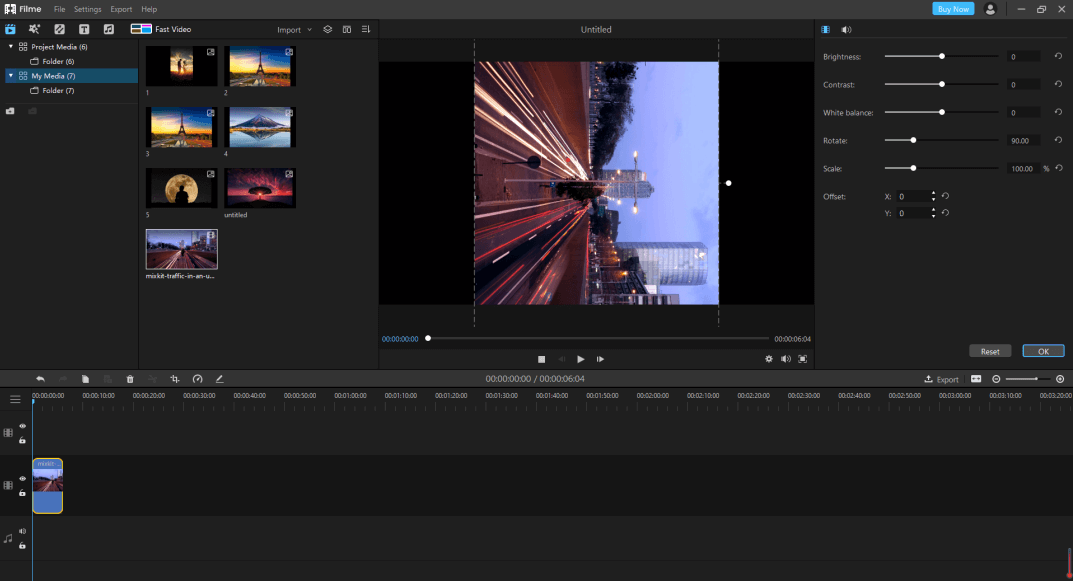 7. Tap on "Export" from the and select 'Export Video'.
If you are a Mac user, you can also try iMovie to rotate video with iMovie on your computer.
Key Functions:

Fast Video Mode: Filme's fast video mode is an amazing feature that turns your memories into an amazing slideshow with background music of your choice's background music. How? In just one click, yes, One!

Video Editing: You can crop, split, rotate, adjust speed, add effects, and transition to your videos using Filme video editing. Talking more about Filme video editing, you can also add text and add refined music to your video.

Advanced Features: Some advanced features of Filme that make it completely irresistible are an instant preview of your edited video, editing in the multi-layers of text, effects, transition, etc., and freedom of adding up to 8 music tracks to your single video.
You May Want to Read:
4 Ways to Rotate a Video on Mac Offline/Online >>
How to Rotate a Video in Windows >>
Watch this video to see how to use Filme to do all the editings:
Conclusion
We have shared with you rotate video online software and how to rotate a video clip online, but the charm of Filme software is irreplaceable. Rather than treating your captured video from one software to another for video editing, we recommend using Filme, the all in one software. And most of all, you can edit and rotate your videos without losing quality and for free. Enjoy the freedom of video editing like a pro and download Filme now!