If you are in search of a good video editing tool/software for an excellent experience, then this article is for you. This article is going to be a detailed review of Adobe Premiere Rush in which you will get to know the pros, cons, pricing details, layout, and other things that you should know. We will also share some alternatives that you can try.
What is Adobe Premiere Rush
Adobe Premiere Rush is a mobile and desktop video editing app used to show creativity like a pro. This is an amazing video editing tool that allows users to shoot, create, and edit excellent and attractive videos on mobile and desktop.
Anyone can download this amazing and beginner-friendly tool/software on Windows, macOS, iOS, and Android platforms to be popular in his/her field by showcasing their creative abilities. Adobe Premiere Rush offers fast video editing by adding different voices, sounds, titles, music, and stickers to any video. You can also use it for motion graphics and audio mixing tasks.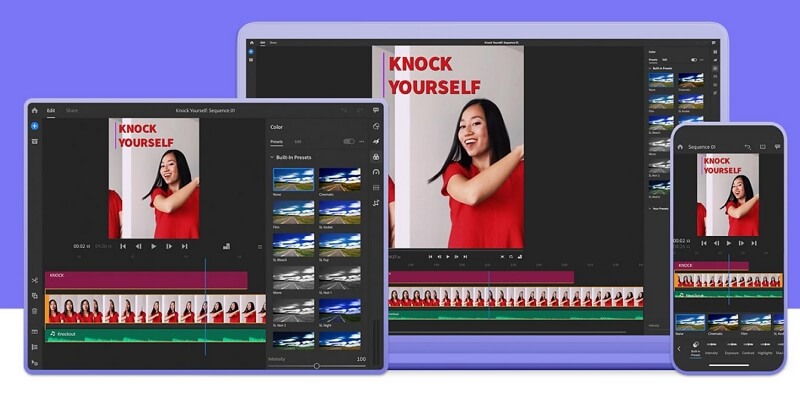 Is Adobe Premiere Rush Free? Pricing of Premiere Rush
Yes, there is a Premiere Rush Starter plan for beginners. For those who are looking for a professional video editor under a low budget or free of cost, this one is a great option to choose. But of course, the free plan or app has some limitations. The free version of Adobe Premiere Rush allows users to export 3 files a day. Moreover, it gives cloud storage of only 2GB. Even then, this starter program can be a great start for a beginner and a student.
A paid plan from Adobe Premiere Rush called Premiere Rush Single Plan costs $9.99/month. This upgraded version provides unlimited file exports and cloud storage of 100GB. Furthermore, it also allows users to sync projects across mobile screens and desktops.
Adobe Premiere Rush Layout
As we have mentioned above, Adobe Premiere Rush is a mobile and desktop application, so we will define two different layouts for desktop and mobile.
On Desktop:
After launching this application on your device, you will see a clear and managed home screen. On this screen, you can click on Create a New Project to start working from scratch. You can also approach the Premiere Rush YouTube community, online help page, and Adobe Premiere Rush tutorials.
After selecting the video, you will be directed to the workspace or the next window. Here, you will have a Menu bar at the top of the screen and a Toolbar at the left-hand side of the screen. The timeline appears on the bottom line to make adjustments perfect. There is an option of Share at the top of the screen to share your video on other platforms. In simple words, the layout looks clear and user-friendly.
On Mobile:
Premiere Rush mobile application also has a simple and understandable interface. After installing it, you will see the home page with a plus + sign at the bottom, from where you can select media from your device.
Once you have done with the selection, you will be on the next screen to start editing. Your selected video will be played at the top of the screen. Under the preview section, there will be a timeline or video track.
At the bottom, you will have different editing features and tools to start editing your video. You can add text, titles, extra media, colors, transitions, and voiceover. To save or export the edited video, you will have to tap on the small icon at the top of the screen.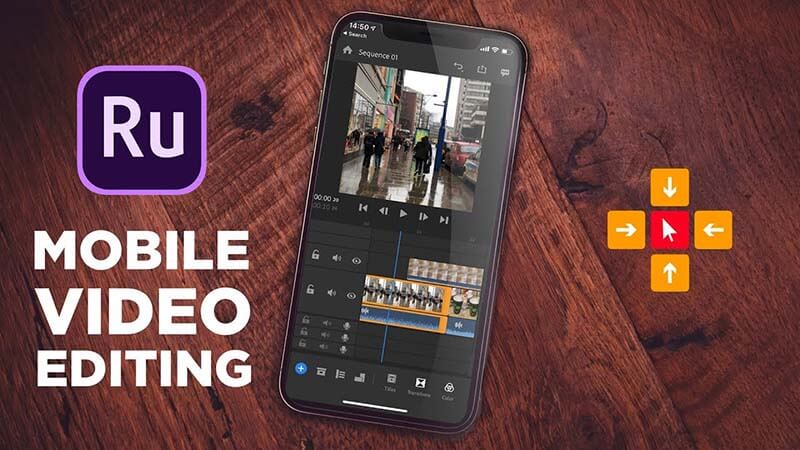 The mobile application is also user-friendly and offers a clean layout to its users. Even if you are using it for the first time, you will be able to use it.
Pros and Cons of Premiere Rush
Pros of Premiere Rush:

Adobe Premiere Rush is an easy-to-use and simple video editing app which can be used anywhere and anytime. You can use it on your mobile, iPhone, iPad, and desktop as well. It anonymously syncs the projects to clouds so that the users can continue their projects.

This app offers a simple and clear interface that can be easily understood by a beginner. Anyone can easily create motion graphics and text through it, or if anyone wants, the project can easily be exported to Premiere Pro for further edits.

You can use this editor to cut, split, and trim video clips effortlessly. It allows easy rearrangement, video mixing, clip canceling, and clip duplication.

This app makes audio mixing easy by displaying three to four audio tracks on the interface. You can easily mix different sounds, music, and other kinds of audio clips without any hassle.

Adobe Premiere Rush makes it easy to add text to your video. It also enables the users to use different motion graphics templates for giving motion to their words in the video.

It allows the creation of different customizable and captivating titles for the videos. The features of this app allow you to change the title's position, style, location, motion, and duration.
Cons of Premiere Rush:

This app has some limited video effects and templates. You can have a little collection of Transitions in this video editor.

You can face difficulty in giving structure to your video because it lacks the Storyboard templates that other professional software offers for ease of use.

Adobe Premiere Rush does not have features like motion tracking, freeze frame abilities, and green screen editing. All these are important for advanced video editing.
Premiere Rush vs. Premiere Pro
Premiere Rush and Premiere Pro are well-known editing software in the market because they give their best. But here, we will show you some differences between their features, and you will get to know which one is going to be your choice between these two options.
| Features | Premiere Rush | Premiere Pro |
| --- | --- | --- |
| Interface | Premiere Rush has a very simple and straightforward interface, due to which it is a good option for beginners. | Premiere Pro's interface is also clear but is tough to understand as compared with Premiere Rush. It contains many advanced features that make its interface tricky. |
| Effects | Premiere Rush provides a limited variety of effects and templates. | Premiere Pro offers a wide range of built-in effect presets that make the video up to the next level. It also allows you to use third-party plugins to use effects and templates. |
| Easy-to-use | Premiere Rush is a very easy-to-use and on-the-go application. You can easily find all the tools on this application. Moreover, it can be used on desktop and mobile. So, it can be used anytime and anywhere. | Premiere Pro is a desktop software that offers many extraordinary and advanced features which require a learning curve to be a master. |
| Price | The upgraded version of this application costs around $9.99 per month. | Premiere Pro demands $20.99 per month for premium features or versions. |
2 Alternatives to Premiere Rush
Filme is the best alternative to Adobe Premiere Rush because of its simple and user-friendly interface. This software is compatible with macOS and Windows to give its 100% best output.
Filme is a video editor for making professional-looking and outstanding videos. It can be a great choice to stand high in the field for all vloggers, video creators, and video editors out there. With a few clicks, anyone can easily and quickly make an impressive video in a few minutes.
Pros:

Filme is an all-in-one video editing tool with all the necessary features. You can cut, trim, split, and merge different video clips. Moreover, it allows you to add text, photos, music, and other kinds of audio to your video as a background sound.

You can add stickers, emojis, and GIFs along with different fascinating video effects and templates using Filme.

Anyone can easily customize the final file according to requirements. You can set the bitrate, codec, frame rate, video quality, resolution, and file container for different social media platforms.

Due to its advanced features, Filme can also act as a voice transformation tool and a desktop screen recorder as well.
Cons:

You will have to purchase the paid version of Filme to enjoy more exciting features and to remove Filme's watermark.
iMovie is a nonlinear video editor mainly used to cut, trim, and join video clips with different audio tracks. It allows users to use different video-enhancing tools to add titles, text, graphics, and effects. It provides built-in transitions, effects, and templates to make the videos alluring.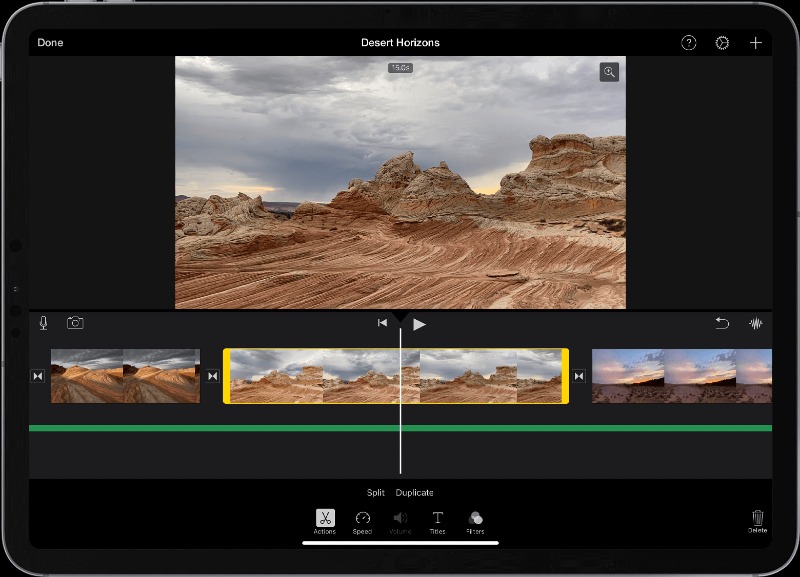 Pros:

Simple interface

Works quickly

Separate audio and video tracks

Green screen feature

Easy to use.
Cons:

It does not have social media templates.

Only compatible with Mac and iOS devices.

iMovie has a limited color grading feature.

It takes a lot of storage space.
Final Words:
Adobe Premiere Rush is a good video editing app in the market and is being used by many professionals. It has very powerful and helpful tools and features, along with a clear and intuitive interface for users. There is a free version available, but the paid version is more advanced and has more features. The free versions have some limitations. Filme is a great alternative to avoid these limitations. It is also a well-known and popular video editing software in the market containing all necessary and video enhancing features.