A cool video intro music is what going to make your viewers glued to the content you are about to share. Introducing videos, be it commercial, promotional, or business-related, grab the attention of everyone if it had the right music cue at the beginning. Here, we have compiled some interesting video intro music that you can use in your projects.
18 Best Video Intro Music For Making Your Video Intro
Here we will show you the best 18 video intro music that are recommended to add to your video. After selecting the intro music you want, you can add the music to your video using a video intro maker. iMyFone Filme is our recommendation. You can directly skip to the introduction part.
1. The Throne
Best for Business Videos
Business videos need an aroma of positivity and a feeling that something related to technology is about to be introduced. And this piece of music intro gives you all these elements in one piece. The tune of the music is calm and sounds hi-tech, perfect for making an ideal impression.
2. Beautiful Way To End
Best for Vlogs or Podcasts Video
Looking for a powerful background music intro for Vlogs, podcasts, social media content, or advertisement with your business logo? Well, then this cinematic intro is all you need for a dramatic entry. It will give your videos a sharp edge while making the intro filled with energy.
3. Happy Excited Intro 5
Best for Partying & Energetic Video
If you want to give your video a partying and energetic theme, introduce it with this free video intro music. It will give your video a good, upbeat feel, allowing the listeners to feel energetic with every beat and keeps them excited for what is about to be shared in the video.
4. Seize The Moment Intro
Best for Promotional or Business Video
Promotional videos, audio logos, documentary stingers, vlogs, commercial businesses, and podcasts need a music cue that is strong, powerful, and gives a brooding effect to the starting part of your videos. This music video will give your videos an amazing feel right from the start.
5. Glare On The Water
Best for Relaxing Video
Giving your videos an animated startup combining the effects with a colorful cartoon loop will make it more enjoyable. Let your listeners feel free, relax and calm with this interesting choice of music.
6. Urban Hip Hop Audio Logo
Best for Promotional Ads or Business Video
This copyright-free video intro music can make your blogs, promotional ads, and commercial business advertisement filled with thrill and excitement. It has a positive party-like feeling that helps give a perfect start to your video. Use it as a video opener, and you are bound to get the attention you wish for.
7. Hi-Tech Lounge Video Intro
Best for Games or Electronic Gadgets Video
Introducing video games, apps, and electronic gadgets requires a melody that blends with this electronic genre. Luckily, this melody holds power to electrify your commercial business ad directed at the gaming and electronic world. It sounds hi-tech, is soft on some spots, and is even pitch-perfect as an intro for a gaming video.
8. Bang (Stringer)
Best for Games or Promotional Video
Bang is both aggressive and energetic and so is ideal for a wide range of purposes. Be it a business, promotional ad, gaming, or technology; this one is a strong and enthusiastic music intro to make your video more lively. Give this tune a try and be creative.
9. Inspiring Success
Best for Business Video
Your business achieved a milestone, and know you want to present your success story through a video. Start your video with this inspiring music and make your audience feel the success right from the beginning. The tune is motivational, uplifting, and gives positive vibes to the listeners.
10. Trap Power Intro 8
Best for Vlogs or Social Media Related Video
Display your business logo with this short yet energetic music cue and let your viewers feel the power of what's coming next. The hip-hop side of the music also makes it ideal for vlogs, blogs, and creating content for social media content.
11. Action Trailer Logo
Best for Promotional Video
The tune of this music intro is fearful, tense, fierce, and dark. So, this makes this music intro ideal to be used in promotional content or when you are about to reveal something interesting in your next blog or when your YouTube gaming video is about a brooding game.
12. Intensive Future Bass Logo
Best for Marketing Video
The music intro can be used on multiple occasions as it has a bright hi-tech feel. At some point, it feels intensive, making it ideal as an opener for various videos types. You can add it at the start of your next business campaign, begin an interesting blog or vlog, or use it in a marketing video.
13. Children Got The Folk Intro 2
Best for Humorous Video
Is your video funny, or maybe your next blog is about kids and stuff? Whatever the case is, add this music intro at the start of your video and give it a lively and joyful feeling. It is perfect for videos that intend to be humorous and contain material on kids.
14. Caffeine Hits 15 Sec Intro
Best for Music Video
Is your video about music, or does your blog requires some upbeat melody to make it catchy? Well, you can enhance the power and influence of your video with this music intro. It contains rock music, and just like its name, it can make your viewers caffeinated to your content till the outro comes out.
15. Catchy Bright Logo Glockenspiel
Best for Introducing Video
This music intro is of 5 seconds and is great for introducing logos, brand names or can be used as a vlog opener. It sounds free, bright, and exciting, giving listeners and viewers a thrilling sensation. You can even use it at the start for introducing the topic of your next podcast topic.
16. Bells Bells Everywhere
Best for Commercial Business Video
If your intro is a bit long and dramatic, use this 30-second-long intro music and give your video a healthy and cheerful start. It is warm, has a calmness to it, and lets your audience feel relaxed and fresh. The piece can be used as background music for documentaries, commercial business ads, and blogs.
17. Rabbit (15-seconds Ambient Intro)
Best for Meditation Video
Create a chilling surrounding by placing this intro music at the beginning. It is relaxing and gives a dreamy feeling upon listening. If you have a meditation blog or you want your business logo to be presented in a soft manner, this 15-second intro will create a lasting impression.
18. My Saxy Valentine
Best for Personal Video like Valentine's Day
This one is more ideal for personal use. But if your next blog is about to be out on valentine's day or you want your video to be passionate and welcoming, this music genre is just right for you.
What Is The Best Video Intro Maker?
Now, if you want to create the best intro music for YouTube videos, iMyFone Filme can help give shape to your creativity. You can create your music using the power of your imagination and creativity. Use the various editing tools and special effects within this video editing software and create royalty-free music for video intro that helps you stand out from the crowd.
The simple interface helps users to quickly control all the elements required for creating a unique music intro, letting them merge logos, animations, text, audios, and graphics along the way.
Features of iMyFone Filme
It gives you access to music files that can be added to your music intro to enhance the quality of your video.

Use different styles of fonts and texts to highlight the music intro.

You can use the voice recording option to create a different style for your music intro by either including your own voice in it or using the voice changer to give the music a brooding impact.

It has all the basic tools such as split, crop, trim, and adjusts the speed of your music intro according to your preference.

It also has advanced features such as transitions, filters, effects, and animations to produce the best outcome.
Steps to Add Music Intro to Your Video Using Filme
Step 1: Download and install the software on your Windows or Mac device.
Step 2: Go to the File option and select the "New Project"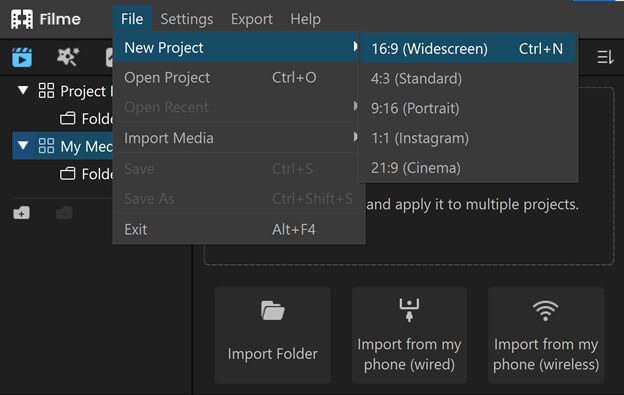 Step 3: Select the "My Media" option for importing all the content, including videos and images, to the timeline on Filme. Get all the content you want to use in your intro.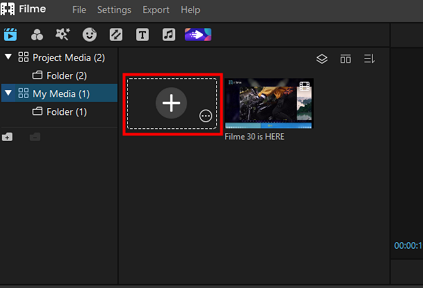 Step 4: Drag and arrange all the videos and images on the timeline in the manner you want them to appear in the intro.
Step 5: Click the Resources button on the top bar, then you will see the Intro tab. You can pick up the music intro in Filme as you like. And then click the "+" button to add the intro you want to the video.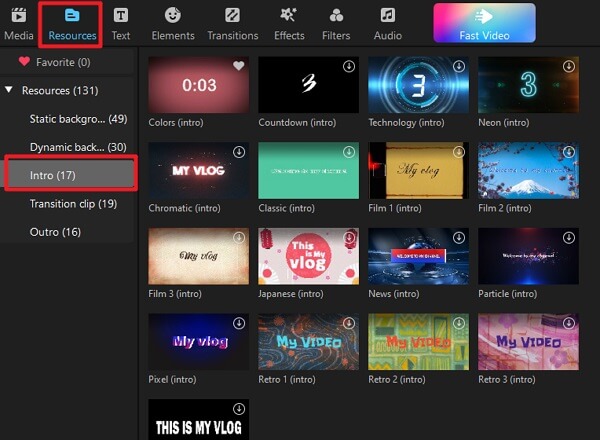 Step 6: Now you can trim the music intro to run in a specific part of the video.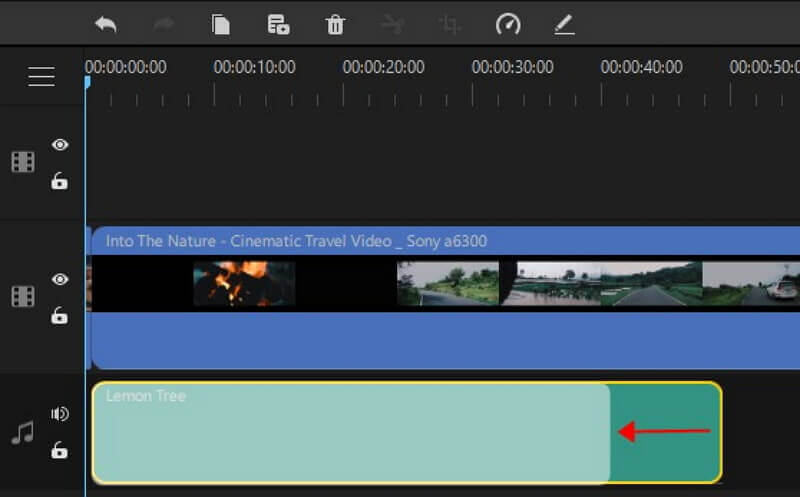 Step 7: Now, it's time to add text. Select any text style you want to appear at the beginning of your intro.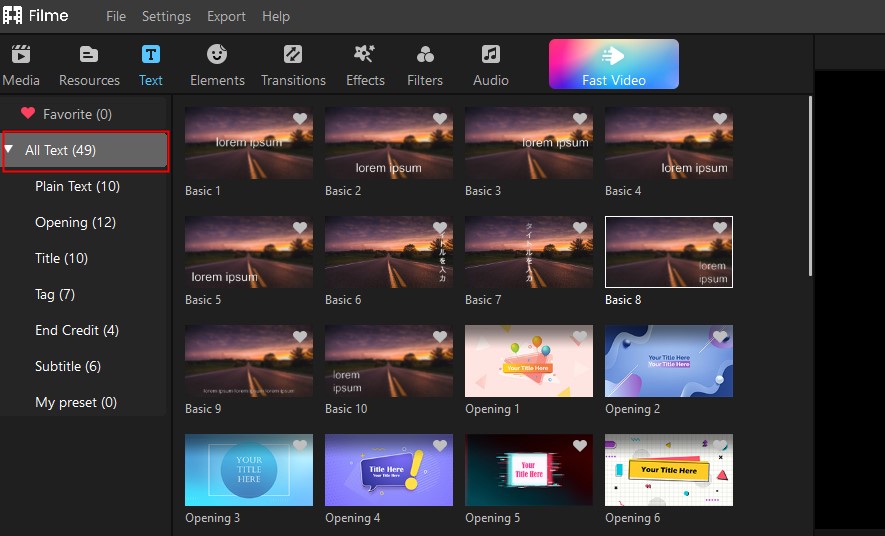 Step 8: Make your intro more attractive by using filters, effects, and transitions to make your video intro look attractive.
Step 9: Click on the "Export" option and save the video in any format of your choice.
Hot FAQs About Video Intro
A. How to choose the best intro music for your video?
Before choosing intro music for your video, you should have a clear idea about the content of your video. Decide on a genre that matches the theme and content of your video and makes the content more appealing to the viewers even before it comes into view.
B. Where can I find YouTube intro music?
You can easily find music intro and outro for YouTube content through YouTube Audio Library, Royalty free music library, or public domain music. Using all these ways, you get a licensed music intro for your content.
C. Can I use any song as my YouTube video intro?
Using a song in YouTube video intro is no big deal if you have permission from the copyright holder of that particular song. Using a song without dealing with copyright issues first can lead you to trouble afterward, so going the legal way is the only and best choice.
D. What should I say in my YouTube intro?
YouTube intros can become even more enchanting when you add a catchy dialogue right after the intro music ends. For instance, gamers can say, "Hello Gamers, let's start gaming!" or bloggers can say, "Hey Viewers, how are you all today?"
Just keep your tone and expressions lively, and you welcome them with a beaming face.
Conclusion
There is a wide range of free music for YouTube intro videos, but you need to use the right tool to make your intro as unique as possible. We recommend you use iMyFone Filme to create something out of the box. Intro music containing tune out of your creative mind will make an even better first impression. Using Filme, you can easily and quickly add the best music intro for your videos.