Do you know how to make a YouTube intro video?
The intro of a video decides how far your content goes in grabbing the audience's attention. Whether you're promoting your blogs or a brand, a catchy introduction can determine your progress.
You'll find countless ideas regarding making good YouTube video intros, but only a few will justify their presence.
Considering this, we've come up with through researched base piece of writing that will go a long way to give you a clue about the importance of YouTube Video intro.
We'll also share some tips to create an engaging and appealing video intro.
Let's start it.
What & Why: Definition and Purpose of YouTube Intro Video
1. What is a YouTube intro video?
A YouTube intro is nothing but a short clip that introduces the host, establishes the topics, and sets the tone. You need to possess a strong branding identity (taglines, colors, and logos) and a unique style to make your presence felt on the YouTube platform.
The purpose of the intro is to convince users that your content is worth their attention. Instead of making a lengthy intro, you should try to give vital information to your audience. In this way, they would think you're the right person, and they will watch your content regularly.
Generally, intros have been applied to organic videos compared to YouTube ads. When you acquire a platform to showcase your talent, you need to grab the moment by creating helpful content.
2. Why should I make a youtube intro video? Do I need one?
Since an intro is an introductory clip, you can assume it as a video signature. It allows bloggers to link the topic of the video and identify with a feature. The intro is pretty essential because it can tell your audience what your channel is all about and what you're promoting via your channel. And last but not least, intro helps you grab viewers' attention that would be helpful later in your YouTube career.
How to Make a Nice Intro Video - Prepare the Best Intro First
Let's explore some of the best YouTube intro video makers.
How many of you know about iMyFone Filme?
It's a newly invented video editor that offers a lot for its users. Besides editing your videos, it also possesses the ability to create fascinating YouTube intros for you.
You can add eye-catching transitions, mind-blowing filters, and whatever you want. iMyFone Filme comes with advanced features, meaning you'll get all the necessary components in it.
Features
1. Quick Slideshow
Using iMyFone Filme, you can create a captivating Slide show video. If you want to make the intro look like a slide show video, you'll have all the features in the world to make it worth mentioning. -Click here to know how to make a slideshow
2. Picture in Picture Effects
Some YouTube users want to show two images simultaneously in their intro video to show an enormous perspective. Filme possesses a fantastic Picture in Picture Effect to create an appealing intro.
3. Text Options
You can add a title or write something using the iMyFone Filme's text feature.
4. Fast Video Mode
You'll get fascinating Fast Video Mode in Filme to make your intro worth watching. Over 20 fast video modes mean your introduction is going to be pretty special.
Pros:

Fast export any video

It possesses the ability to apply advanced editing to your video.

We haven't found any significant downside of iMyFone Filme.
Cons:

We haven't found any significant downside of iMyFone Filme.
If you want to create an animation-style intro, Animaker can be the perfect tool for you. It offers a built-in template to make your introduction even more enjoyable. Animaker also allows you to import a logo that makes it unique.
One of its most prominent features is its ability to add music to your intro video, making it out of the ordinary.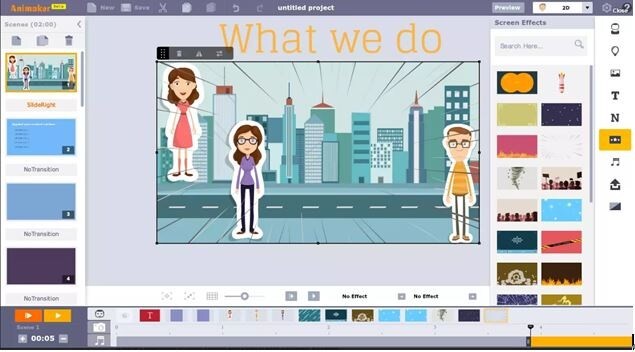 Features
Using Animaker, you can create an eye-catching animation video intro in one click.

You can also create visually stunning thin-packed intros with minimal effort.

It possesses 100M+ Stocks photos and videos to choose from.
Pros:

You have the luxury to pick an intro template from a total of 1000 templates.

It also allows instant resizing for the different social platform

People who have been using Animaker expressed their appreciation towards Animaker's user-friendly interface.
Cons:

You can't use it offline.
Rederforest is one of the best sites for creating engaging YouTube intros. It offers courageous features to make your introduction look worthy of appreciation.
You won't have to wait for a while to preview your opening as it allows you to watch video intro before you export it. It also offers you animated intros.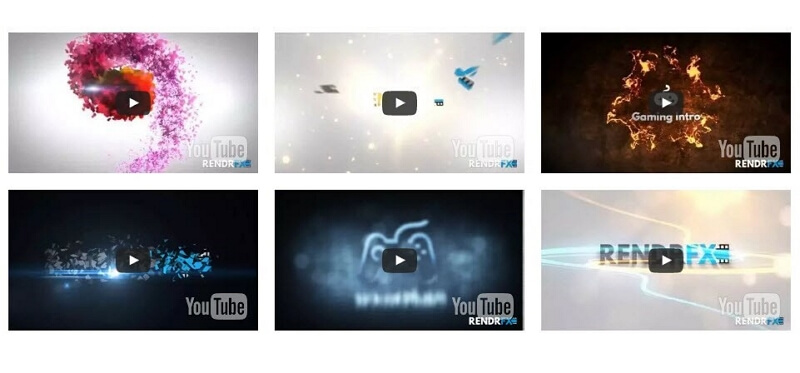 Features
Renderforest offers prolific intro templates for YouTube users.

You'll get a pretty user-friendly interface with this tool.

Using this tool, you can create videos in HD 1080 and HD 720 formats.
Pros:

24/7 support

You can learn how to create a fascinating YouTube intro.
Cons:

Expensive
Placeit is another tremendous YouTube intro maker that offers some unbelievable services to its users.
Using this extraordinary tool, you can add music images, video clips, and slides to your templates with not much effort. It offers its service at a reasonable price of around 14.95 dollars per month and 89.69 Dollars per year.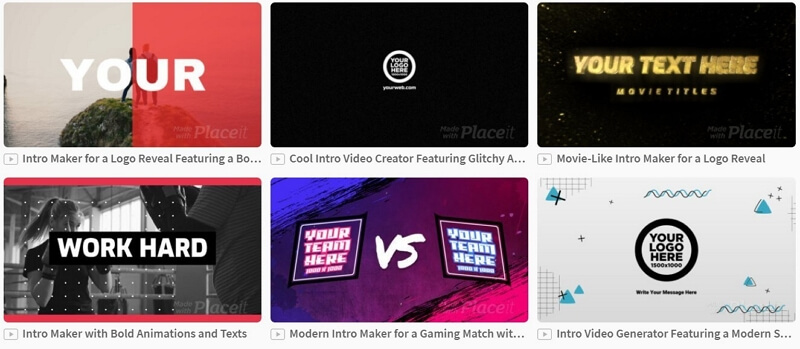 Features
You can create mockups and templates edited by professional photographers.

You'll get great mockups ranging from iPhone, t-shirts, hats, iPad apps, and business cards.

It also offers you the features like gaming logo maker, YouTube logo generator, image cropper, estate branding fitness, and musical project logos.
Pros:

Placeit offers a pretty simple interface with an easy procedure to get your job done.

The presence of mockups makes it even more enjoyable.

It uses high-quality templates to make your video intro relevant.
Cons:

Despite the presence of simple customization, you'll not find any editing feature.
If you want to make a nice intro for YouTube videos, you need to look at Intro Maker. It's a fascinating tool that allows you to create fantastic intro videos without any fuss.
You'll get all the features to make your intro eye-catching and captivating. It comes with some unbelievable features to talk about, plus it offers the ability to create an intro video in any format you want. You'll get its premium version at a reasonable price, making it a trendy tool.

Features
It runs on HTML 5 engine, meaning it will perform in any optimized browser.

Using this tool, you can choose a template and publish it in a couple of minutes after customizing every part.

It offers professional templates to make your intro watchable.
Pros:

You can add voiceovers to your character and use Animaker's feature to let them speak whatever you want them to.
Cons:

Its editing features can improve.
Note
All the tools mentioned above are worth your attention, but Filme is the best out of all of them. Filme has earned the reputation of being one of the best video editing tools.
The Best Choice: Make a YouTube Intro Video Using iMyFone Filme
iMyFone Filme offers some terrific options for users to explore when creating a YouTube video intro.
Let's explore what Filme affords you.
1.

You can select a YouTube video intro template, or you can design your own
Using iMyFone Filme, you can change the text and insert your channel tag line and title. It also allows you to alter the font color, style, and size.
If you want to change the picture of a YouTube intro, you can import it from your gallery.
And if you're going to choose from Filme's collection, you'll find millions of free graphics and photos to choose from.
If you like a template and want to make your intro video like that template, you can do it using iMyFone Filme. It also allows you to add music files by importing a clip from your computer.
2.

Download your YouTube intro video
If you're happy with your design, you can export a video from iMyFone Filme and publish it to your YouTube channel. Filme also offers you to share your content with your friends on Twitter, Facebook, Instagram, and LinkedIn.
3.

Do basic edit and correct dimensions
After editing the video on Filme, you need to correct file type and dimensions when publishing that video on YouTube.
You need to be careful when downloading the video in high resolution from iMyFone Filme. If you're exporting a video in 4K format, YouTube will only allow 3840 x 2160 Pixel to upload. And you need to download videos in formats including MP4, AVI, WMV, and MOV.
Steps of Creating an Intro Video
After finding everything that thinks about iMyFone Filme, let's creep into the steps of creating an engaging intro video in Filme.
Step 1: Download iMyFone Filme
In the first step, you'll need to make sure you've downloaded Filme on your computer. After, you need to install it on your desktop.
Step 2: Import a video
After installing it on your PC, you need to launch it and import files.
Step 3: Basic Edit
Now, you'd like to edit the intro video before publishing it on YouTube. First of all, you only need to press Ctrl+R to implement basic editing features. You can also add effects, stickers, and transitions from there.
By clicking the star button on the left of your screen, you'll be able to add exciting transitions to your imported file. You can randomly edit the parts of the video from here.
Step 4: Add Music
To make your intro enjoyable, you'd need to add catchy music to your introduction. By pressing the Music icon on the left side of your screen, you'll be able to add any sound you want.
Step 5: Add Text
Many people would want to add a title to the video they've just recorded. Luckily Filme provide you with this option. For this purpose, you need to navigate the T icon, and it will allow you to write anything you want.
Bonus: Tips You Should Know about Making a YouTube Intro Video
It's not a wise idea to straightway introduced users with your intro. You need to seek the viewer's attention first before going into the intro section.
Here are some valuable tips that might help to create an engaging YouTube video intro.
1.

Avoid using copyrighted content
When choosing videos, images, music for your introductions, you need to think about whether these things are copyright-free or not.
It wouldn't be a great decision to use someone else's content to make your intro. YouTube has pretty strict rules and regulations; copyright-protected content will make you banned from YouTube.
2.

Remember outro
In many cases, the outro is even more critical than the intro. You can place previews of some other videos and links to your social media and website. It will help you to increase your channel engagement and increase viewership.
3.

Pay attention to the time
Creating a YouTube video intro, you need to pay attention to the duration of the introduction.
Many people make the intro video too lengthy, consequently losing the attention of the users. It is why you need to be precisely making an engaging intro.
4.

Use your unique channel brand
The key to success in YouTube is to create your channel and upload content that attracts viewers. If you want to be successful, you need to create your brand channel and upload appealing videos there.
5.

Make it dazzle
Remember, your audience will impress with your content when you make it attractive for them. No one will watch useless and boring content. It is why you need to think twice about whether your intro is worth your viewers' attention or not.
Conclusion
If you pay attention to little vital things, creating a helpful video intro is by no mean a hectic task. You need to know what the preferences of your audience are and how you can grab their attention.
We've mentioned some great tools to create a worthy YouTube video intro for you. These all are worth your attention, but iMyFone Filme has set its standards pretty high as no one can match its superiority. With elegant features and awesome templates, you can create a perfect YouTube intro quickly.