Would you like to create a high music video without putting in a lot of effort? It's simple now do it. The free template movie creator is all you need to get started: upload your videos and pictures, choose some music, and relax and enjoy the outcomes. Creating a music video may help elevate an ordinary song to a work of art level, yet it can be prohibitively costly to develop. New musicians may not always have the financial resources to finance high-quality music video production. All these Requirements can be satisfied by the easy video maker Filme, so download iMyFone Filme on PC now:
Part 1. 5 Best Online Music Maker
You can't simply ignore the massive trend of video as a means of engaging with your audience.  In this case, using a video editor that includes a music video storyboard template may be very beneficial. A video editor with a music video storyboard template is a helpful tool for conveying any message precisely the way you want it to be heard. It allows you to square away your creativity without making any sacrifices.
A video editor that includes a music video template allows you to express your imagination without any limitations.
Here are some video makers who help you to create a compelling video.
Create intro videos, instructional animations, infographics, music visualizations, and much more with Renderforest Video, an online video and animation creator that takes just a few minutes to be up and running. In contrast to many others of its type, this online video creation platform offers broadcast-quality films at a more affordable price. Not only is it ultimately free to get and saves you a lot, but it is also straightforward to use. In addition to offering upgrades and subscription options, Renderforest is appropriate for both individuals and companies.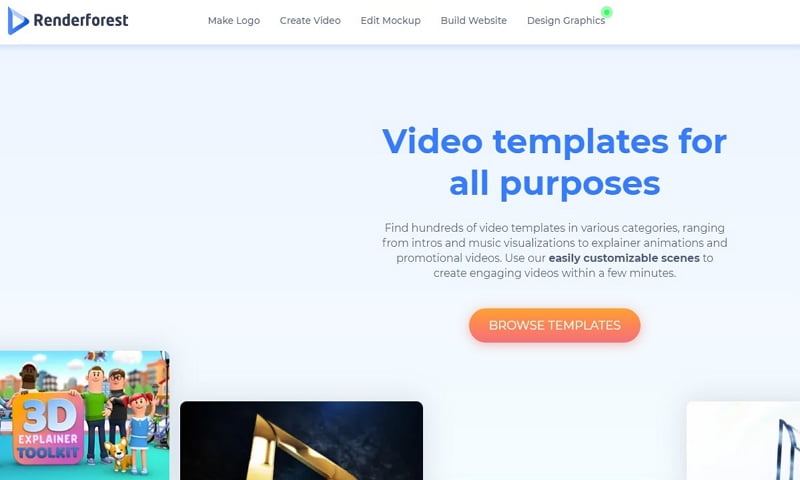 Pros:

Pro 1. The New interface is straightforward and uncomplicated.

Pro 2. It encourages you to be more creative to get more out of it.

Pro 3. Pricing that is both flexible and cheap

Pro 4. There are many themes/ music video templates and soundtracks to choose from.
Cons:

Con 1. Allow for greater flexibility in the existing music video storyboard template, such as resizing text boxes and picture placeholders, aligning text boxes and image placeholders, and increasing the maximum character count.

Con 2. Allow for the music tempo to be changed following the slides.

Con 3. If just a single slide is being played and reviewed, rather than the whole video, this is particularly useful when only minor localized modifications are made.
RotorVideos is used to make music videos, promotional films, and more engaging videos that will be helpful to artists as well as other professionals and the general public.
You may easily make various interesting movies by simply adding your music, choosing the clips, video editing, and entering the text you need. Moreover, you may personalize it according to your preferences.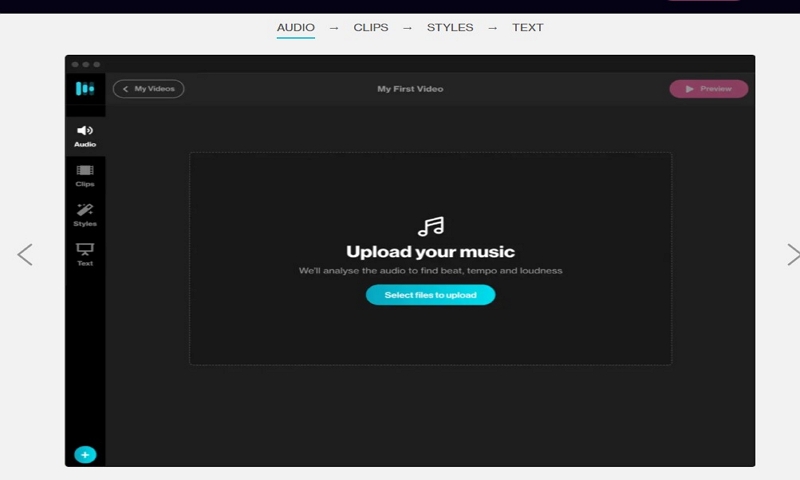 Pros:

Pro 1.You are saving time and money that allows you to have complete creative control over your end product.

Pro 2. You may easily customize it by adding screen text to brand it, creating a short promotional video, or turning it into a full-length lyric video.

Pro 3. Music videos that have been professionally made are the intersection of aspiration and reality. You can do almost anything if you have the appropriate financial resources.
Cons:

Con 1. Completing your video may take a significant amount of time. Furthermore, if it is just intended for one social media platform, it may not have as much exposure as you would want.

Con 2. The exact timing of how clips are edited together is not something you can regulate; however, you may affect it depending on the editing style you choose to use.

Con 3. If you are dissatisfied with the outcome, there will be nothing you can do to change it. It may be challenging to alter someone's mind after they've decided something is "done."
Animaker is a free animation program for beginners that has simple drag-and-drop capabilities and an intuitive user interface to go with it. It has full HD support, both horizontal and vertical video layouts, and a library of pre-made images from which you may select to quickly and easily make entertaining animated movies.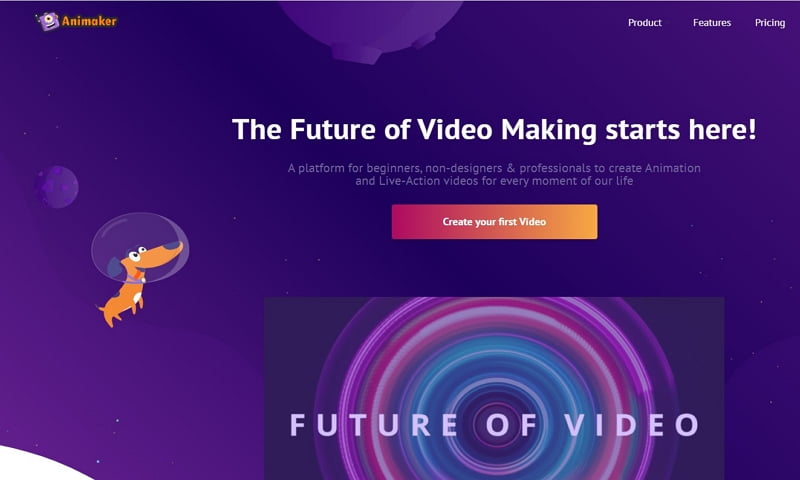 Pros:

Pro 1. Creating amusing animations to add a bit of uniqueness to projects is something I like doing.

Pro 2. The ability to produce great films worthy of being shared on social media platforms such as Facebook, YouTube, and LinkedIn without a graphic arts education requirement. There are many excellent features, and it's pretty simple to get your hands on one.

Pro 2. The free trial has more than enough material to build a visually appealing and visually appealing animation.
Cons:

Con 1. A few times, I became irritated when searching for tools to utilize or locating a window that had vanished from the screen because of the cumbersome user interface.

Con 2. Sometimes you download a movie and only then discover (too late) that the settings you selected caused the film to be cut off during playback. It's a big letdown considering how much money I paid on it.
Motionden is a free video editor that allows you to create short videos. There's more to it than that, Motionden intro creator. In addition, the program provides a pre-made music video storyboard template. Motionden has a variety of distinct characteristics and abilities. The intro creator is a straightforward program. It doesn't create any misunderstanding or problems for anybody. A variety of music video template and intro creation tools are included. This includes altering the movies, music, pictures, and even the colors of the videos and photos. Consumers are allowed to personalize their introduction. In addition to having a significant effect on the channel, this will aid you in the growth of your YouTube channel. The Motionden tool is simple to use and very easy to use. There is no other application/software that compares to this one. It is a flexible introduction to create the application.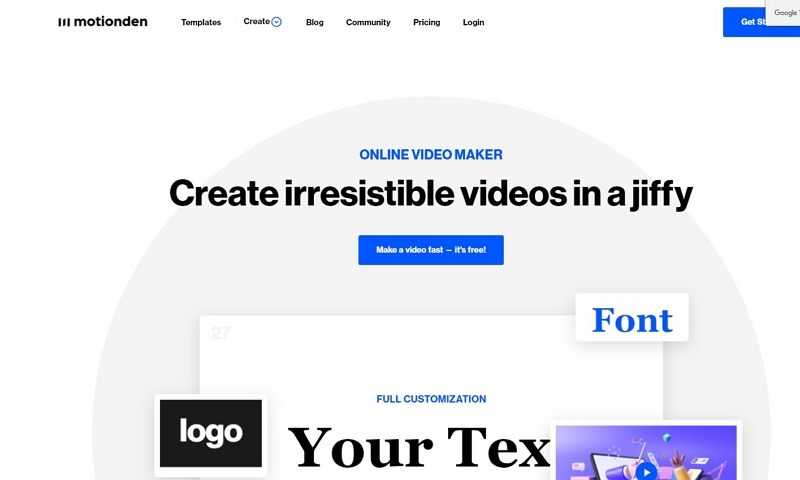 Pros:

Pro 1. It provides helpful hints and explanations on which music video templates are more effective.

Pro 2. Free video creation and download without the need for a credit card is possible with this service.

Pro 3. MotionDen offers up to 27 types of templates, each with many options within that category.
Cons:

Con 1. You must pay to get a link to enable you to download your videos without the watermark, even if you may make movies for free.

Con 2. This tool will not function unless you have an Internet connection.

Con 3. Using a music video template is always required, and starting from scratch is not available.
Clideo is a straightforward online video editor that may be used without difficulty without encountering any problems. Users may create and edit movies using this program, including features such as merging videos, compressing videos, resizing videos, cutting videos, adding music loops, flipping videos, and reversing videos. Furthermore, this application is compatible with any browser as long as your device is linked to the same network as the one used. Additionally, it supports any file type, allowing you to submit images, videos, and audio files in their most recent versions.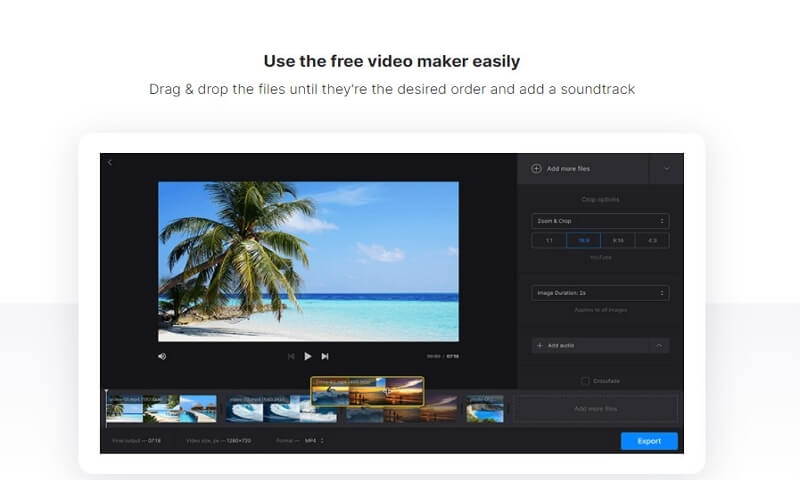 Pros&Cons:

Pro 1. It is very comfy and simple to use.

Con 1. Videos have a hazy and pixelated appearance.
Part 2. Tips to Make Your Music Video Unique
Tip 1: Write a Music Video Script Firstly
The music video script is a variant of the film making storyboard in which graphic representations of each shot are shown on a single page. Traditionally, the video (what we see on the screen) and the audio (what we hear) are described on opposite sides of a conventional audiovisual screenplay. When writing a music video screenplay, we could put the song lyrics in the right column and the images that match them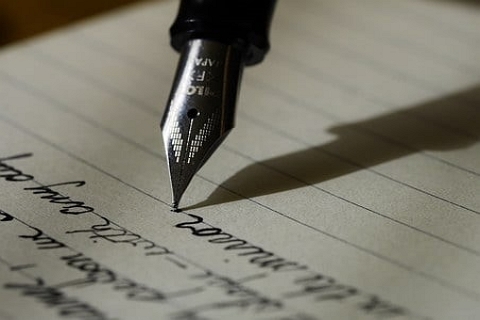 Tip 2: Shooting the Footage of Your Own
It may be challenging to create a video on your own, whether you are a video producer or marketer, as you are well aware. What is the proper way to set up my camera? When taking a picture, how can I ensure that it is in focus? How can I avoid sounding uninteresting on camera? All of these are complicated issues that may derail your efforts to create your next piece of original content. If you already have a concept, all you need is how to execute it most effectively. So let's get started! Video material is no different since the introduction and conclusion are critical components of any content. Intros and outros help establish a solid foundation at the start of a video and make an excellent conclusion.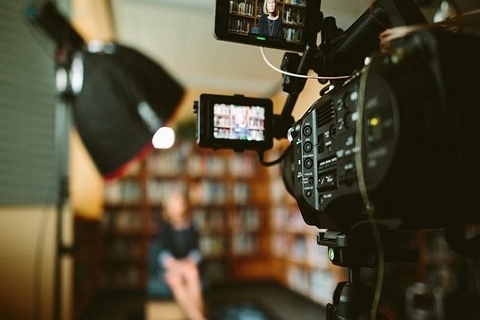 Tip 3: Create an Intro or Outro of The Video
As the name implies, introductions are images that appear at the beginning of a video to set the tone. On the other hand, create outros are the last images that show after a video. Educative, entertaining, and business films and webcasts, podcasts, corporate presentations, and other forms of media are often included. For various reasons, the introduction and outro of a professional film are essential parts of the composition.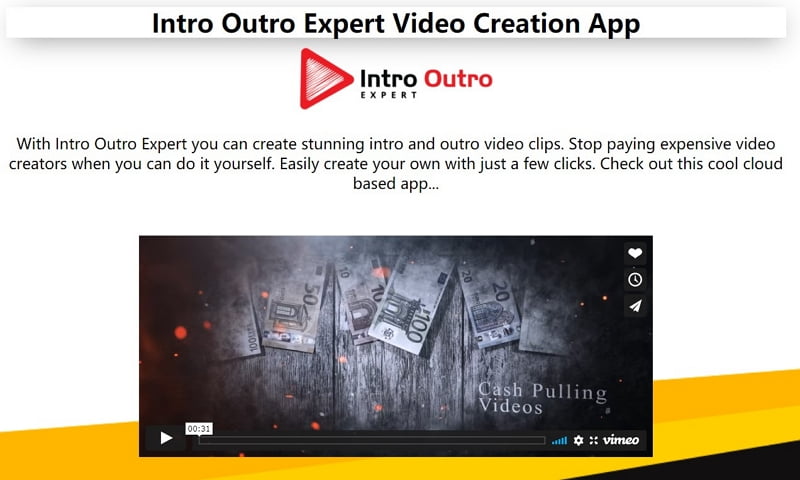 Part 3. The Most Easiest Way to Make Music Videos with Template with Filme
For Mac, iOS, and Windows users alike, iMyFone Filme is a video editing software for beginners and experienced users. You may use it to make and edit movies and add filters, elements, music, images, and music video template designs.
1. Start with a Template
View the extensive collection of video treatment template word that is accessible for every project. Look through hundreds of promotional films, logo animations, intros, explainer videos, presentations, and slideshows to find the right one for your project. Choose your preferred template and go to work on your project.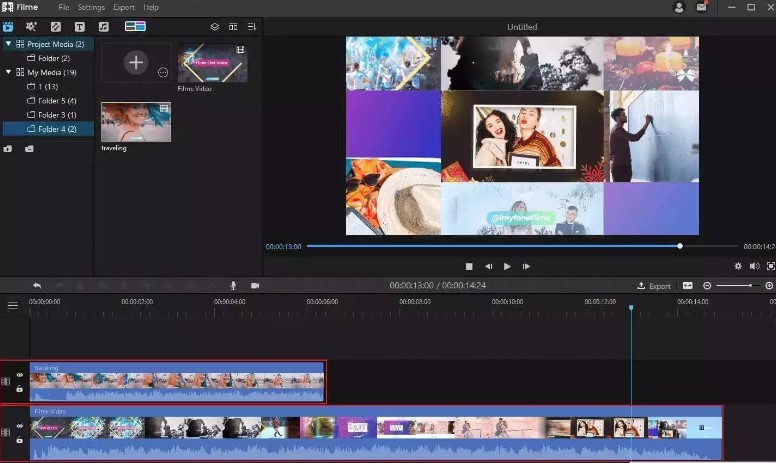 2. Add and Personalize It
You're just a few clicks away from producing an eye-catching video presentation. All required is to choose a template, modify it, evaluate the project, and save your movie in high quality from your computer. It has never been so simple to create a video before!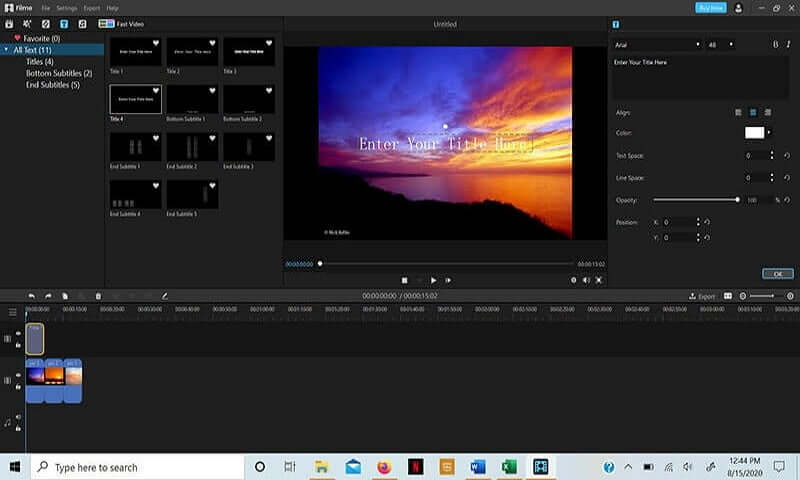 3. Preview and Export
When satisfied with your video, click the export button to create your completed HD video in high definition. Directly from VIDEO MAKER, you may post your video to your social media accounts, or you can save your video as an HD file to embed on your website or send through email. You may come back at any moment to download.
4. The Best Template Video Maker - iMyFone Filme (Window&Mac)
For Mac, iOS, and Windows users alike, iMyFone Filme is a powerful free video editing program that enables anyone to create movies and slideshows without the need for any prior professional video editing expertise. The program has a straightforward interface that allows users to quickly drag and drop the whole movie or sections to connect them and make a single fascinating film. In addition to being a multi-functional video editing program.
5. Features of Filme
If you're wondering why Filme is worth buying, here are the key reasons

Fast Video Mode

When you select the fast video mode, you will be provided with some simple built-in music video templates and effects that you can use to modify your movies quickly and. These templates are straightforward to use; just double-click on the

Quick Slideshow Maker

Undoubtedly, adding filters is one of the best Filme's features. It allows you to select from a wide range of filters available.

Basic Editing Tools

Every video editor should include a few essential editing tools as well. Basic editing functions like cropping, trimming, and rotation are available via these tools. In just a single click, Filme Video Editor gives you access to all of these fundamental features.
Final Thoughts
Consequently, we conclude that if you want easy and basic editing, this program is the most excellent option to Movavi Video Editor Plus and EaseUS Video Editor, and it is available for free. This software is very successful and is growing at a rapid pace. Perhaps, in the future, iMyFone Filme will enhance its services and provide you with a more user-friendly interface. Filmora and EaseUS Video Editor, on the other hand, are excellent in the Alternative category. For competing with them, iMyFone Filme updating its feature from time to time.