The stop motion animation is already making a buzz in the entertainment industry. In today's day and age of social media apps, nothing attracts your viewers as much as stop motion animation. Just one creative video can make you popular among your followers.
But making a captivating stop motion is not as easy as it sounds. Before you start worrying, the good news is we have outlined a curated list of top slow motion ideas for video. Plus, we will also discuss tips for making great stop videos.
Top 10 Stop Motion Video Ideas
Here are the most exciting funny slow motion video ideas that you should use.
1. Human Stop Motion
This technique involves using your friends to make stop motions. All you need to do is ask your friends to make small, coordinated movements between several frame snapshots. With some good camera techniques, you can produce quality content.
The "Human skateboards" are considered as the most popular human stop motions are considered
Watch Video
2. Whiteboard Stop Motion
This method is as easy as it can get and fits people of all ages. Get a whiteboard and some whiteboard colored pens and explore your artistic skills.
Make sure you secure both your camera and whiteboard and start creating a spectacular motion.
3. Everyday Objects Stop Motion Movies
This method entails using everyday objects to make stop motions. Look for the objects that move such as your toys or figurines and create appealing content. You can try hundreds of different concepts to entertain your audience.
Example is watch video.
4. Paper Cut-Out
It is one of the favorite methods as it combines real arts and crafts to add a personal touch to stop motions. As the name indicates, one can either cut images from newspapers or magazines or draw shapes by hand to create a perfect animation.
What you need is a clean table top and a camera suspended overhead. Watch the below video to understand this technique.
5. Lego Stop Motion
This idea is common among beginners and one can easily find thousands of Lego stop motion videos on YouTube. All you need is a few characters and suitable music and video effects to create an engaging video.
Here is an example: Watch video.
6. Clay Morphing
Clay morphing technique is always in the top 10 slow motion ideas for video. The user needs to create characters without arms and legs or use simple shapes to morph into other shapes in a creative manner. The beginners in particular love to practice this idea.
Watch Video
7. Replacement Stop Motion
This method is a bit difficult for beginners but with some basic understanding of video editing and sound effects, you can get really engaging content. Below is a top example of replacement video effect.
Watch Video
8. Sticky Notes
Another wonderful stop motion idea that is often used by animation students and professional studios. You can create some of the best artistic animation via this method.
Here is one example: Watch Video
9. Timelapse
A very common technique which uses a camera to take various snapshots or clips of "nature" - like moving clouds, melting ice - over longer periods of time and playing it quickly. The latest smartphones have a built-in time lapse feature.
Watch video
10. Chalk Board / Ground
The last idea on our list is Chalk board or ground. It is almost similar to the whiteboard example but instead of a whiteboard, you need a chalk and follow the same technique to create entertaining content. It also allows content creators to explore their talent in the open air.
Watch video.
Also Read:
YouTube Video Ideas for Kids >>
5 Best Stop Motion Video Examples
Let us deep dive into the most entertaining and cool slow motion video ideas examples for both beginners and professionals.
1. Human Skateboard
This video is a perfect example of human stop motion. It depicts how two friends are taking coordinated movements between several frame snapshots to make it appear if one guy is actually using his friend as skateboard.
2. Happy Thanksgiving
This amazing stop motion shows a combination of time lapse and animation. The video shows animated characters dancing on the table and eating the turkey as the person puts the thanksgiving meal on the table.
3. Original Human TETRIS Performance
An engaging symbolization of human stop motion showing the animated version of the real human beings sitting in an auditorium. A blend of timelapse and animation effects to produce an engaging content.
4. XBox Commercial
This stop motion ad is an example of Claymation technique where an animated character to promote Xbox. Such kind of stop motion requires professional-level video effects and animations and sufficient time.
5. Food Fight
This example shows several food items battling each other. Actually, it represents different wars from WW11 to the present, revealed through the foods of the countries in conflict.
Tips for Making a Stop Motion Video
Having the right planning and equipment can help you create captivating stop motions in less time. Below are some of the tips you should remember while making a stop motion.
1. Keep The Camera Still
To produce quality content, use a tripod to keep the camera steady as even the slightest movement can blur the video or alter its framing. Also, try to use heavy cameras as lightweight cameras are difficult to keep perfectly still for longer periods.
2. Trigger the Camera Remotely
After properly fixing the camera, try to trigger the camera remotely instead of pressing it manually. Often, pushing the shutter applies a force that can create vibrations that blur the pictures or videos.
Luckily, all latest digital cameras come with remote triggers to allow the content creators capture snaps like a pro. If you don't have one, get one.
3. Use Sound Effects
Add relevant music to your captured snaps using a third-party video editor like iMyFone Filme. Make sure you add the matching sound to make the stop motion appear more realistic and appealing. Many video editors also allow you to download the relevant effects from an online database.
4. Customize the Lighting Effects
That's probably the most important tip to consider. Make sure there's not even the slightest of inconsistency in the lighting and the available light should remain consistent throughout the stop motion. You may need to change the available natural light if light conditions are changing.
5. Consider the Frame Rate in Advance
Frame rate is the frequency at which images are displayed. Most videos have frame rate in the range of 24-60 fps but stop motions have fewer fps - usually 12 fps or even less. That is, you have to take 12 snaps for each second.
Calculate the required frame rate in advance to assess how many photos you need to take for the whole stop motion animation. Note that increasing the fps is going to make your video look smoother and better compared to decreasing fps.
Best Stop Motion Video Maker - iMyFone Filme
If you're looking for a perfect stop motion video editor, then look no further and choose iMyFone Filme. Its advanced slideshow mode allows users to create engaging and entertaining stop motions using multiple images. Plus, users can add amazing video themes, animations, effects as well as sound effects to entertain the audience.
It comes preloaded with all the video and audio editing features that make it the #1 ranked stop motion video maker.
Text Guide
Here's how you use this software to make a stop motion:
Step 1
Once installed, launch iMyFone Filme on your computer.
Step 2
Now, hit on the Fast Mode option and choose a template that suits your stop motion.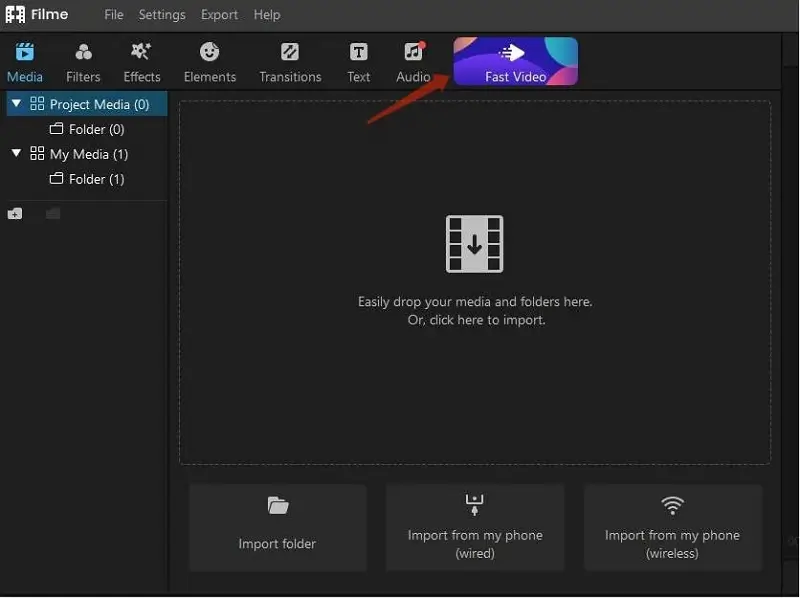 Step 3
Click on the 'import media" option and import all the snaps/pictures you want to use.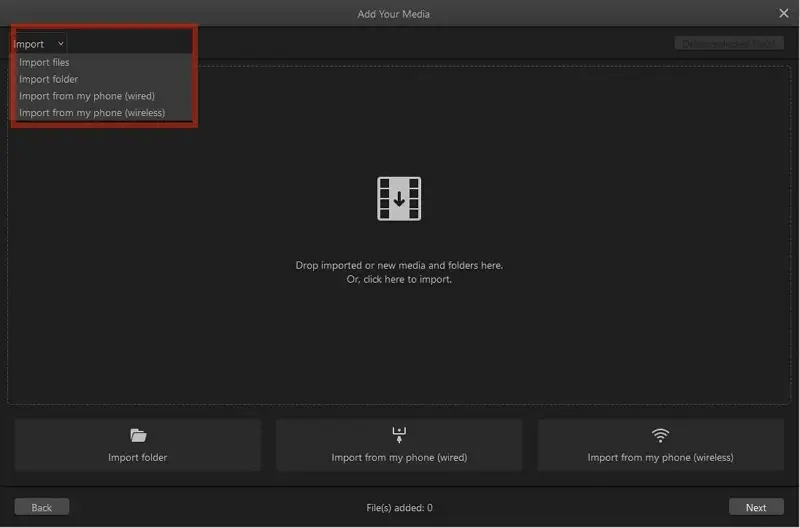 Then, use the drag option to change the order of snaps and hit Next.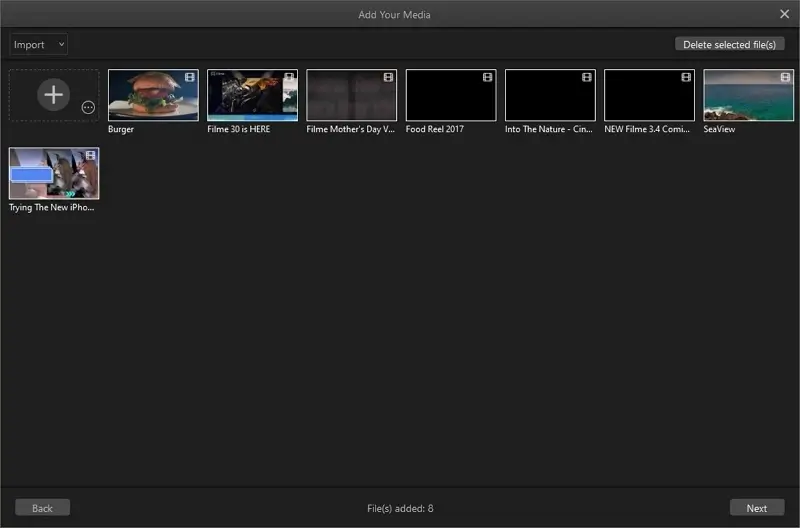 Step 5
Here, use the Replace audio and/or Reset audio options to customize the background music and adjust its volume and duration.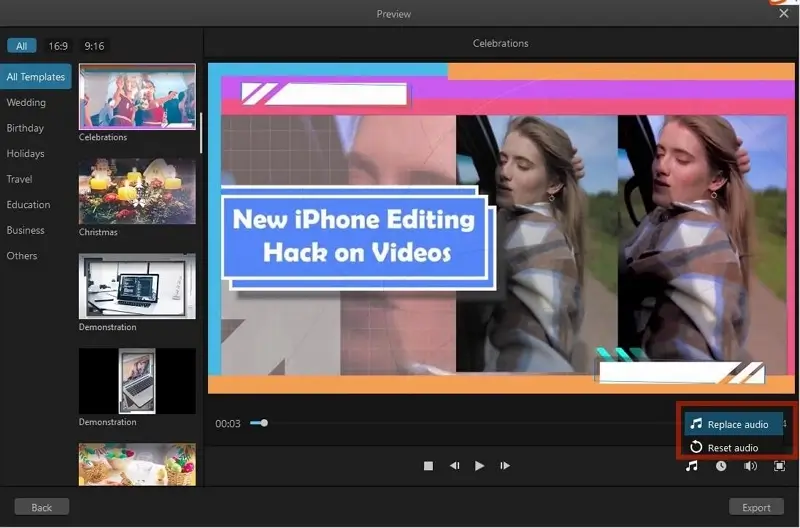 Step 6
You can easily add the photos as into a video clip or in between the clips as well as add them as overlay.
For that, simply drag the image to the new track above the clip.
Step 7
You can also add unlimited video effects, animations, filters, transitions as well as cinematic tiles and text to refine your stop motion.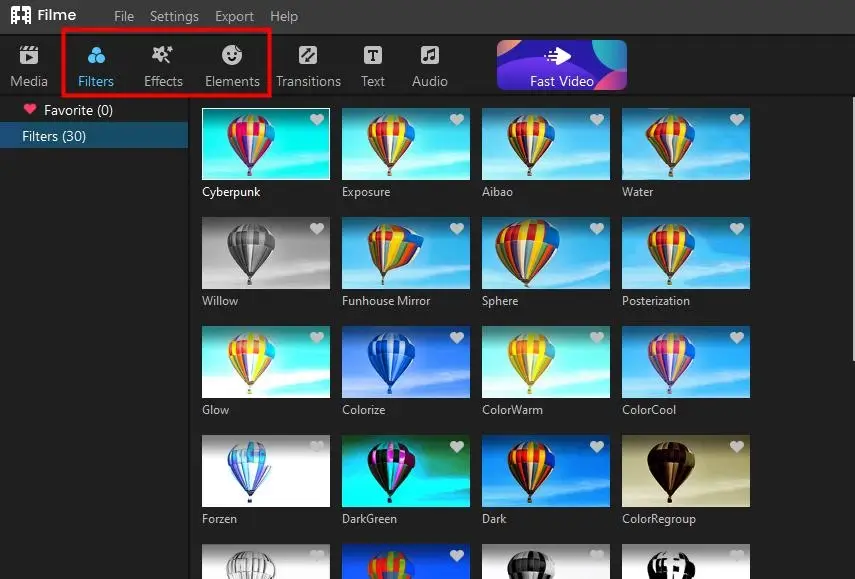 Step 8
Once you're done editing, hit on Export to download the final product to your computer.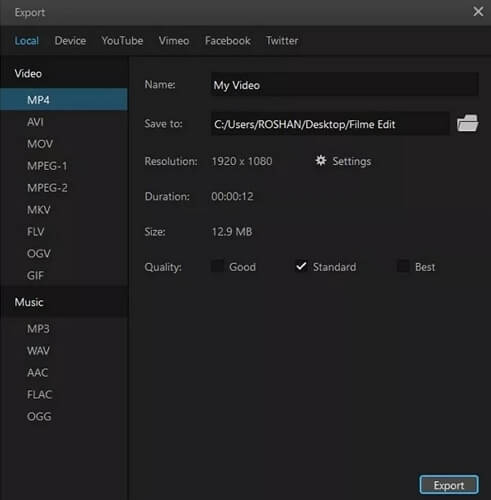 Final Words
To sum it all, this article has walked you through some of the easy stop motion video ideas that every content creator can use without needing much expertise. With the right ideas and sufficient creativity, you can entertain your audience like never before. For that, follow the tips we discussed in part 3.
We recommend users to install iMyFone Filme to create captivating and unique stop motions and add exciting video effects, animation, and themes to them.