SpongeBob is a favorite cartoon character for many kids because of its funny premise and episodes, which are loved by millions even after growing up. Its fans have shown this love in memes, short clips, and even videos, sometimes using AI SpongeBob voice generator.
Are you wondering if you can do that too? Well, sure you can. In this article, we have shared many online tools and software you can download on your PC to use Ai voice generator SpongeBob for fun.
Listen to Spongebob ai voice for free using iMyFone Voxbox down below!
Spongebob
Bonus Tips
Discover the transformative power of these SpongeBoB AI voice generator and text-to-speech tool VoxBox
Part 1:Best AI Voice Generator Spongebob on PC
In the previous section, we talked about online TTS tools, so now let's discuss some great ai voice generator SpongeBob tools you can use on the PC.
iMyFone VoxBox – Best SpongeBob Voice Generator
Many voiceovers and languages are available in iMyFone VoxBox, even for their free version. This is awesome If you are looking for the best SpongeBob voice generator ai tool for streaming or having fun.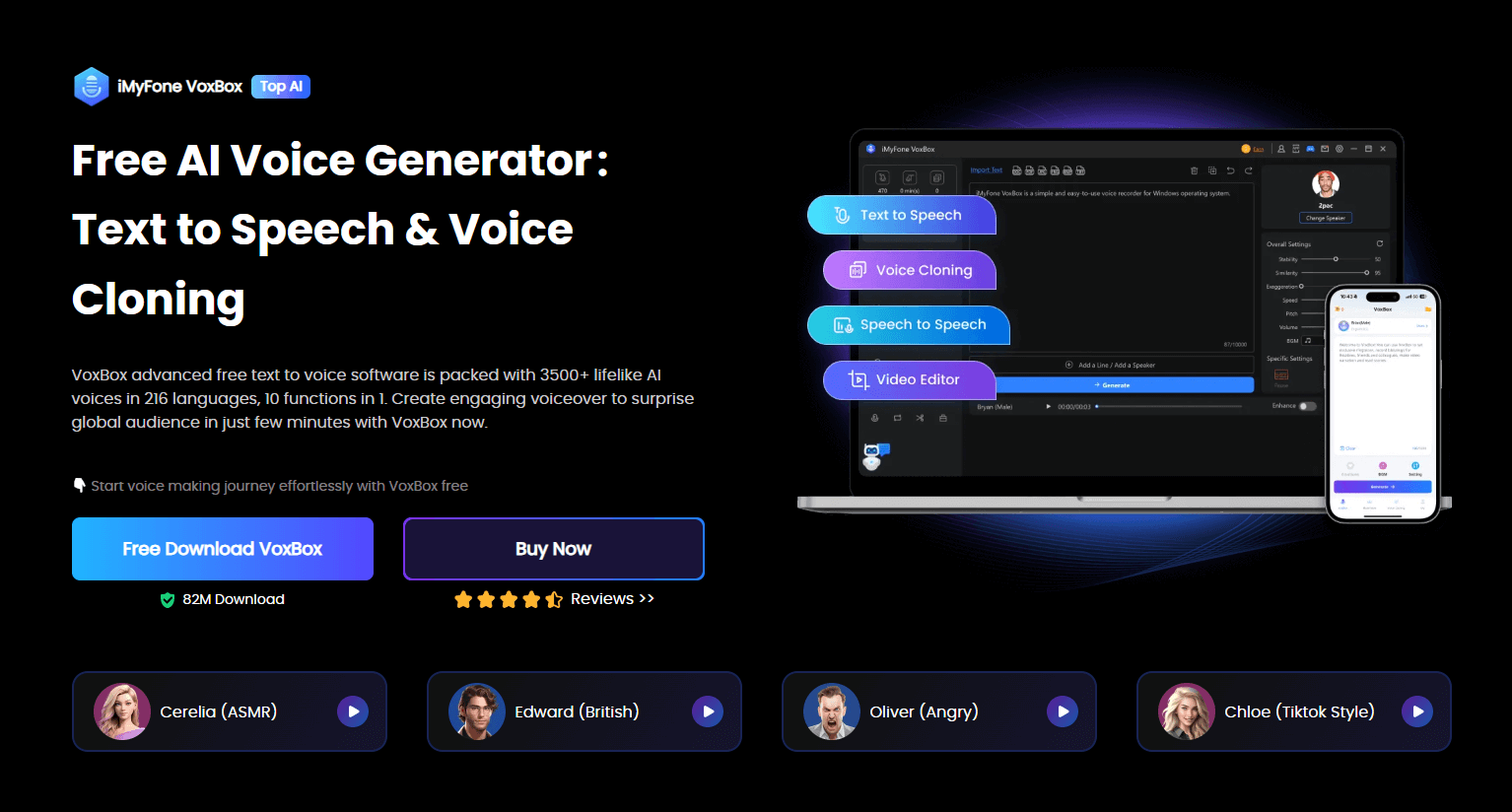 Tips
No voice artists are needed, and no recording equipment is needed. You can easily convert your text to speech and voice using the best
Spongebob Narrator Voice Generator
iMyFone VoxBox
! Download it and try it out for free now!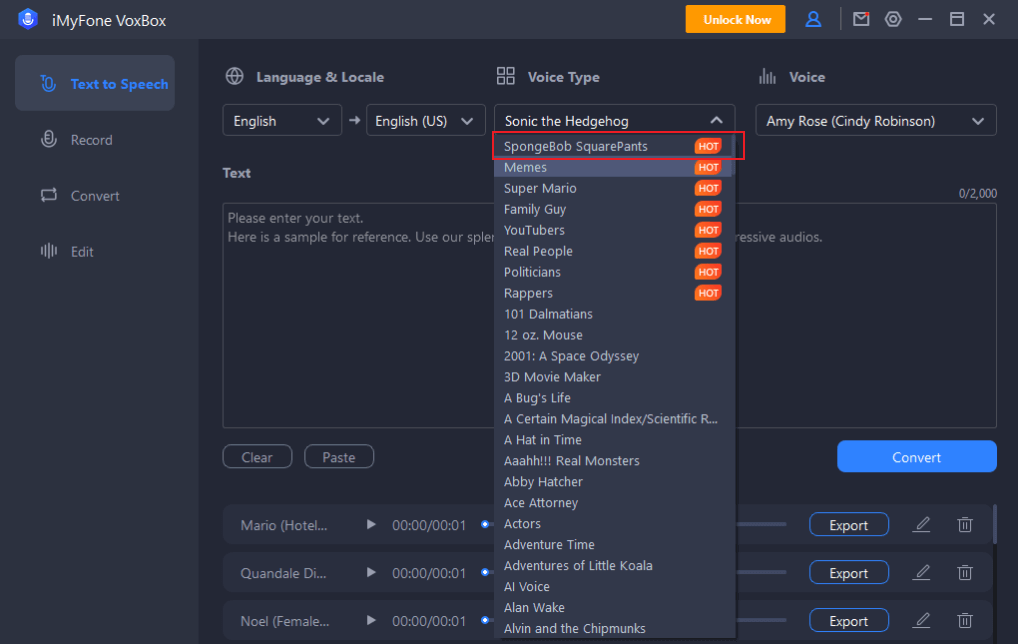 Key Features:
You can enjoy the SpongeBob ai voice generator feature in VoxBox to make your content in multiple languages and dialects.

All the popular save formats are available with VoxBox, like MP3.

VoxBox gives you 3,200+ to play around with, and check out other incredible options instead of ai voice generator SpongeBob.

It is easy to use and user-friendly, with the best UI.

With amazing editing tools, you can trim and cut your SpongeBob voice generator ai audio files often until you are satisfied.
Pros:

Opens up communication around the world using VoxBox's simple and fantastic assortment of generated voice languages.

VoxBox doesn't share data, so it is perfectly safe to use for generating voices.
Cons:

Window version only, unfortunately.
Price:
Monthly is $14.95.

$39.95 per year.

You can also pay a one-time lifetime fee of $79.95 if you don't like subbing to the monthly payment.
Watch this video to learn more about the Best SpongeBob AI Voice Generator VoxBox:
Part 2: Free Online Websites for SpongeBob Text to Speech Voice Generator
Let's look at some great ai voice generator SpongeBob that you can find online for free.
1. 15.ai – Excellent SpongeBob Voice Generator
15.ai SpongeBob voice generator is a fantastic text to speech generator that works in real-time and uses powerful AI to generate voices.
The generated voiceovers have the best quality, which you can download and use to tweak more before posting. Let's see its key features and benefits.
Key Features:
You don't need to signup to use this device on their website.

You can use 15.ai as a SpongeBob voice generator ai without any worries, as it has the most straightforward online tool features for the best results.

There are no ads on 15.ai.

If you want analytics of your voices and tasks, 15.ai has you covered. You can use it to enhance your text to speech analysis for immaculate quality.

One of the highest processing for text to speech needs.
Pros:

Excellent audio synthesis algorithms on this web-based tool.

15.ai gives you free sentiment analysis models, further enhancing your results.

A lot of customers love that it is web-based and has terrific speeds, and they don't need to download any apps to use it.
Cons:

No android or iOS app.
The following fantastic app on our list for SpongeBob ai voice generator with the best features is Uberduck . Uberduck is a fantastic community-supported tool that is also an open-source program with one of the most powerful AI under the helm.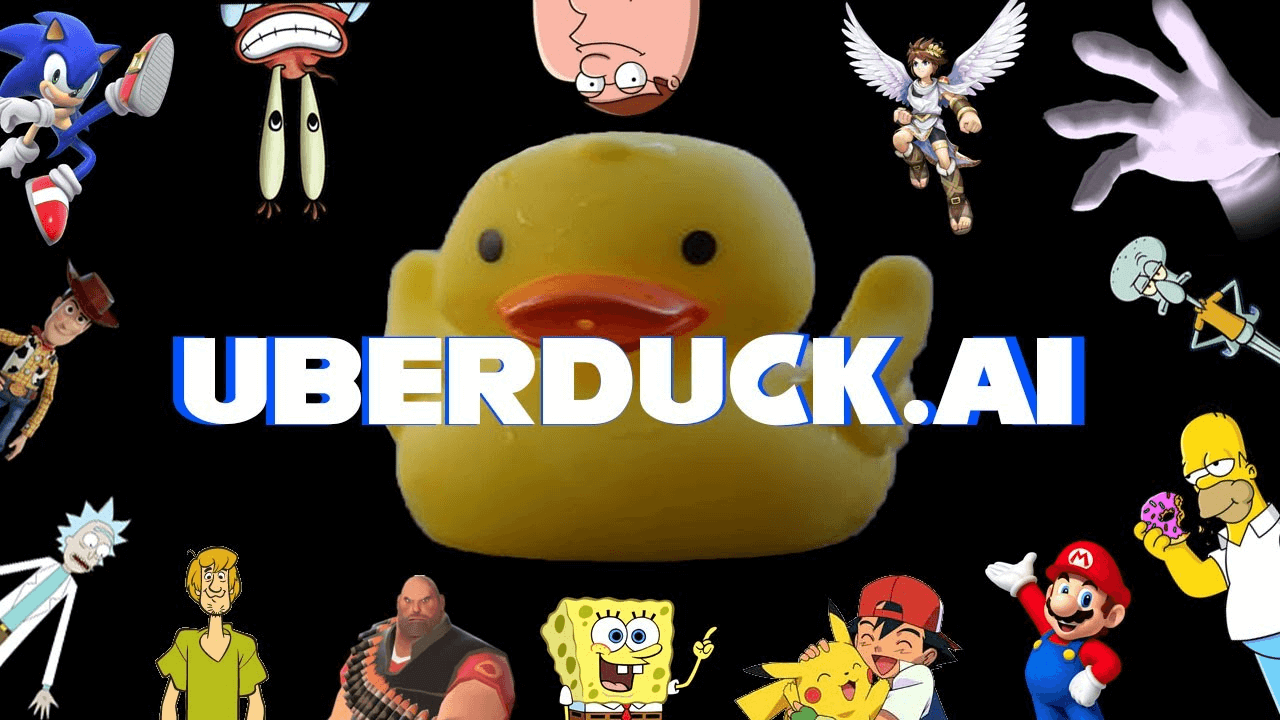 Key Features:
You can easily find AI documentation on Uberduck's website that you use to create your audio apps that are fully fleshed out with many features. These documents are available to the community.

There are over 5,000 voices to play around with on the website.

Uberduck has a studio that is very diverse, giving you the option to use royalty-free voices.

You can tweak the resultant generated voices to your liking.
Pros:

Excellent online tool with a plethora of features.

Open source gives you reliability recommended by thousands of people daily who use it daily.

Open access allows TTS lovers not just to learn machine learning but make their unique apps with its help.
Cons:

The API can only be accessed by premium users, so that's a bummer.
Price:
The creator allows access to the Commercial studio for $10 each mo.

Clone $25 one time with limited options or $25 each mo. for more options.

Enterprise from $300 each mo. for clone plan and dedicated support included.
There is nothing fake about FakeYou.com, and it is one of the most real SpongeBob ai voice generator out there, as it does in seconds.
After using it for a while, you won't be using other free online tools for ai voice generator SpongeBob purposes.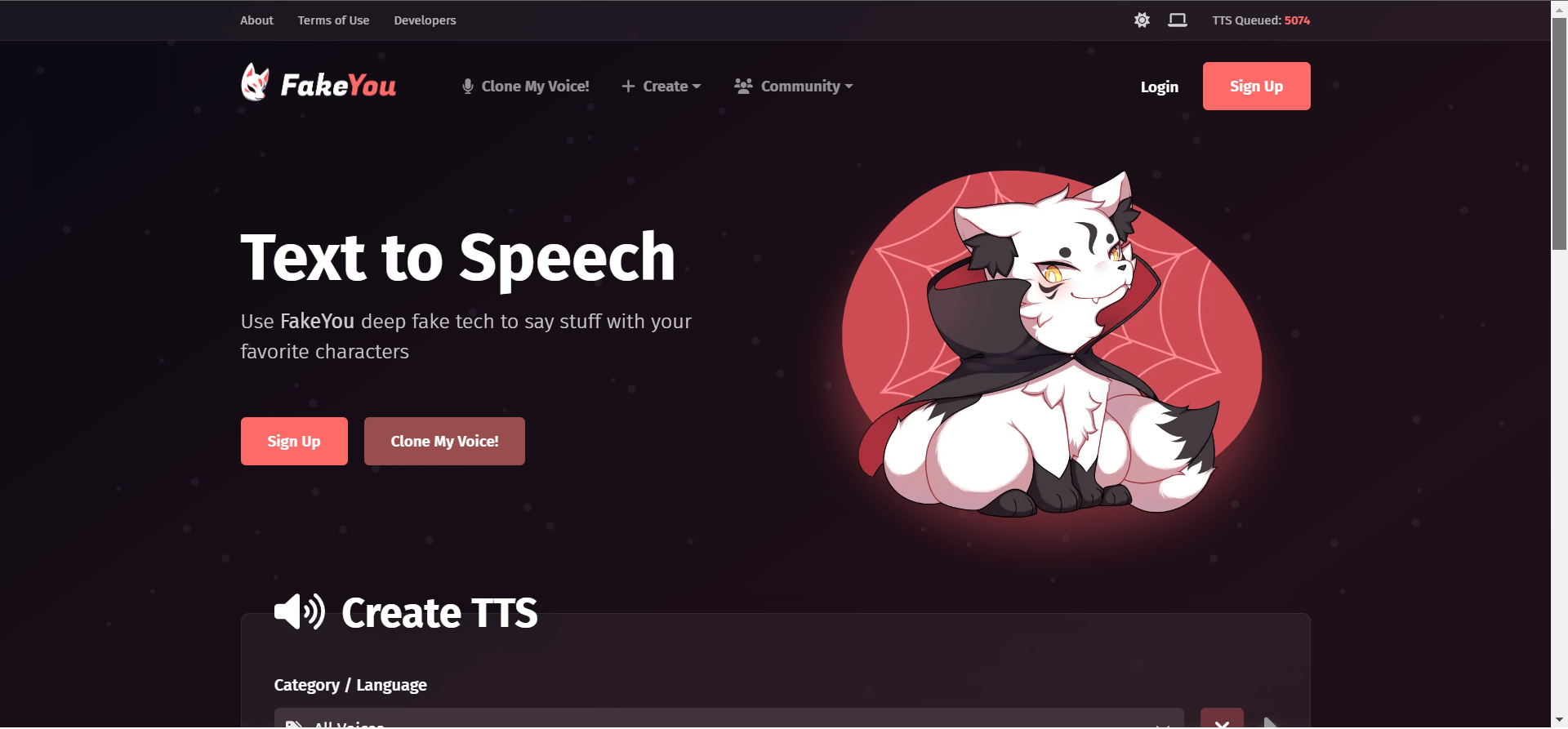 Key Features:
Most easy-to-use and intuitive AI for SpongeBob voice which we think is better than the 15.ai SpongeBob voice generator.

FakeYou outputs precise and natural voice results that are unmatched, though it may need good quality internet for it.

This web-based tool gives you over 2,400 voices to choose from, which you can tweak as you desire.

You can save the output voice in multiple formats to use later for your content.
Pros:

FakYou.com can be used on any device having a browser, and an internet connection.

Fan-supported free tool.

Extensive library of voices and features that is growing every day.
Cons:

Only limited to TTS, so there is no voice or conversation recorder option.

Depending on the speed of your connection, SpongeBob voice generator ai capabilities may take some time.
Price:
Free as community supported.
4. Vocodes
Vocodes may be just another TTS SpongeBob ai voice generator available on the market. Still, the best thing about it is that Brandon Thomas has made all of it accessible to the general public.

Part 3: All-round Comparison of SpongeBob Ai Voice Generator
This section shows the overview of the comparison of all the SpongeBob ai voice generators we have mentioned in other sections.
Text to Speech Solutions
Operating System
Voices
Languages
User Rating
iMyFone VoxBox

· Windows

· 3200+ voices and 46+ languages

· English

· Spanish

· French

· German

4.9/5

15.ai

All Platforms

30 now, more to be added after maintenance

· English

· Japanese

4/5

Uberduck.ai

· Windows & Mobile

5000

· English

· Finnish

· Greek

· Romanian

· Spanish

4.2/5

Fakeyou.com

· Mac and iOS

· Windows

· Android

2400

· English

· Spanish

· French

· German

· Portuguese

4.2/5
Part 4: FAQs about AI Voice Generator SpongeBob
1. What is the best AI SpongeBob Voice Generator ?
The best ai voice generator SpongeBob, is got to be VoxBox due to the features, voiceovers, and languages it supports and its availability on multiple OS.
2. Can I Make SpongeBob Text To Speech Online or on PC?
You can do both, as there are many SpongeBob voice generator ai online and offline PC tools available that you can use. This article gives you the list in separate sections.
Conclusion
Have you read about all the fantastic SpongeBob ai voice generator we have shared in this article? If not, we recommend you go and try them all and see which one suits your needs.
If you want our recommendations, iMyFone VoxBox is the best, if not the greatest, of all TTS software and tools available. Download it for free to get spongebob ai voice!