Do you want to create voiceovers for your videos, but don't know where to start? There are many voiceover apps out there, but not all of them are created equal.
In this article, we will recommend six of the best voiceover apps available today that will give you high-quality results without breaking the bank. So, whether you are a beginner or an experienced individual, you will find the perfect voiceover app for your needs.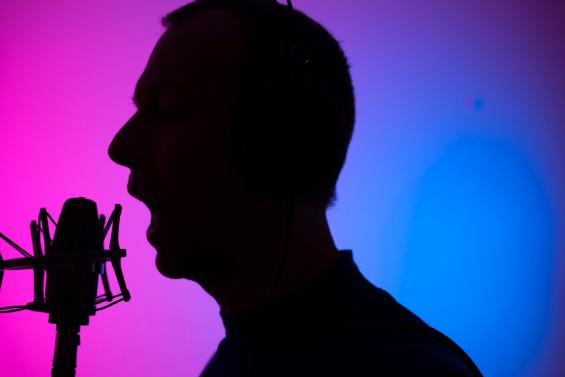 Part 1: What is Voiceover & Where Can we Apply it ?
What is Voiceover?
Voiceover is the art of using voice to tell a story. In the past, this was primarily done through radio and television commercials, but with the advent of the internet, voiceovers have taken on a whole new life. These days, you can find voiceovers being used in everything from explainer videos and e-learning modules to video games and character dialogue.
Where Can we Apply it ?
One of the things that makes voiceover so powerful is its ability to connect with an audience on an emotional level. The human voice is capable of conveying a wide range of emotions, from happiness and excitement to sadness and anger. When used skillfully, voiceover can help you create an emotional connection with your audience that would be difficult to achieve with text or visuals alone.
Another thing that makes voiceover so effective is its ability to make the invisible, visible. By narrating what's happening on screen, voiceover can help your audience understand complex concepts or follow along with fast-paced action. Voiceover can also provide important information about a character's motivations or history that would be difficult to convey through dialogue alone.
So, if you're looking for a way to make your story more engaging, consider adding voiceover!
Part 2: Best AI-Powered Voiceover App
1. iMyFone VoxBox - Best Choice for Funny Voiceover App on PC
iMyFone VoxBox is the perfect choice for anyone looking for a voiceover app on their PC. With its easy-to-use interface, you'll be able to create your own amazing voiceovers in no time. Whether you want to make funny prank calls or add a unique touch to your video projects, iMyFone VoxBox is the perfect solution.
It's the perfect tool for anyone who needs to create their own high-quality audio clips on a budget. So if you're looking for an easy way to add a bit of extra flavor to your projects, look no further than iMyFone VoxBox. Bring your creative ideas to life with this amazing voiceover app.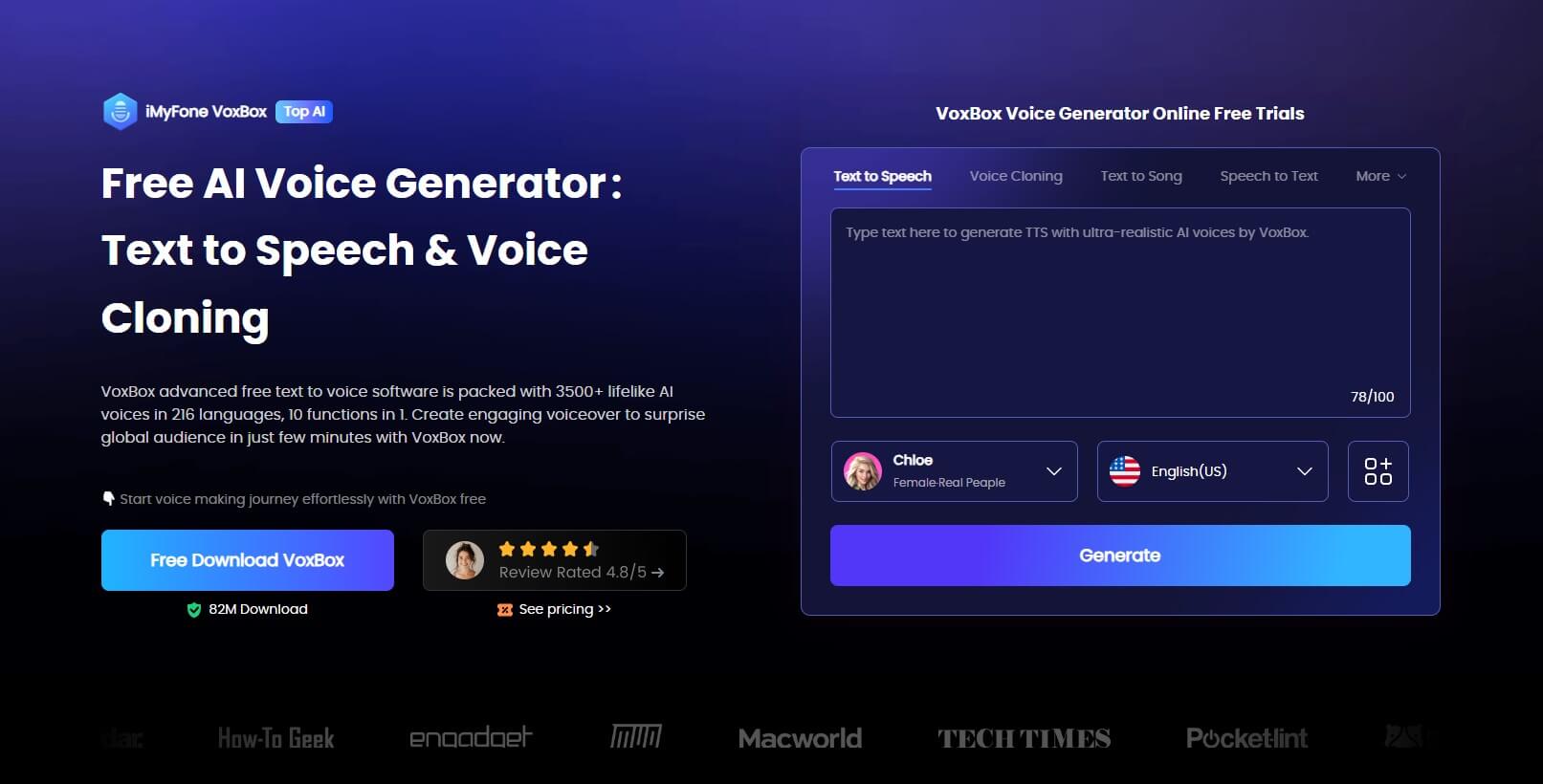 Try it free
How-to-step:
Step 1: Go to VoxBox official site and download the iMyFone VoxBox app.
Step 2: Once downloaded, Install the iMyFone VoxBox app onto your PC.
Step 3: Now, enter the text in the given space for which you want to create a voiceover, select preferred language and voice.
Step 4: Finally, click 'convert' and the voiceover app will create the desired results for you in a matter of few seconds.
Key Features:
Create expressive audios with 3200 plus voice options.

Fast audio/video conversion to MP3, OGG and other files types.

Support provided for over 22 languages.

At the same time, a TTS, a converter, a recorder, and an editor.

100 plus character voices including ones of celebrities, cartoons, etc.
Pros:

Easy to use and intutive interface.

No need to log in to use the voiceover app.

Ads free app making the experience even smoother.

Create professional-sounding voiceovers without any prior experience.

Safe for privacy.
Cons:

Android app is not yet available as its in development stage currently.
Watch this video to learn more about the Best Voiceover App VoxBox:
Try it free
2. VoiceOver - Record and Do More
VoiceOver - Record and Do More is a powerful voice recording app that allows you to do more than just record your voice. With VoiceOver, you can easily create professional-quality voice recordings for any purpose. You can also add background music, adjust sound levels, and even create custom effects and sound effects with its intuitive user interface.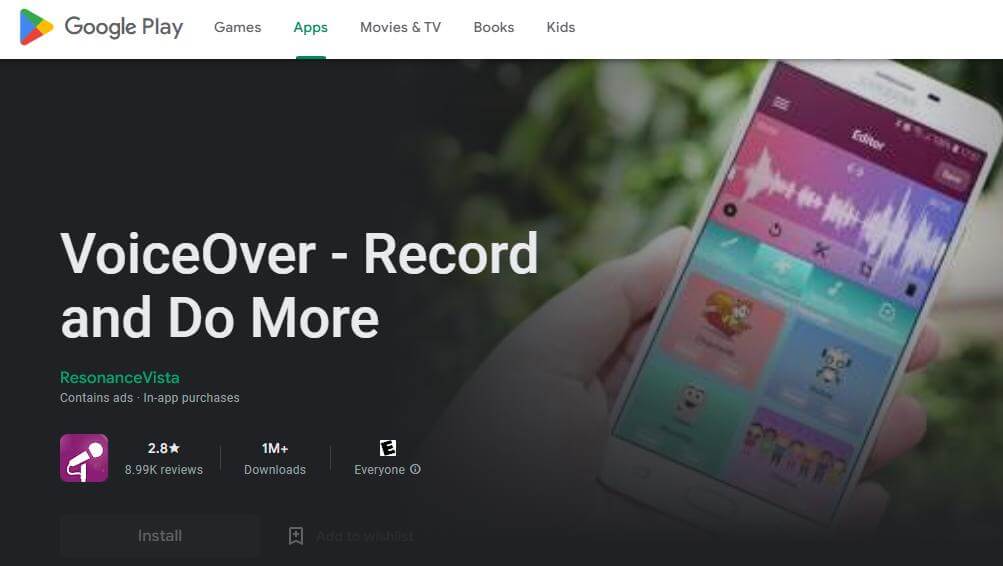 Key Features:
The app allows users to create custom recordings of their own voice and upload them to the cloud for easy access and sharing.

With just a tap, the app can transcribe spoken audio into text with high accuracy.

The app provides an easy-to-use audio editing suite that is capable of mixing, cutting and applying effects to recordings.
Pros:

The voiceover app is available for all types of devices.

It also offers powerful editing features that make it easy to polish your recording before sharing it with others.
Cons:

Some users have reported that the app can be slow to respond at times, leading to frustration when trying to edit recordings or even playback audio.

The user interface may also be confusing for some, as it is not as intuitive or streamlined as some other audio recording apps.

Additionally, the app does not offer an online platform for collaboration with other users.
3. Inshot
InShot is a professional yet easy-to-use video and photo editor for Android and iOS devices. With its powerful features and intuitive user interface, you can create stunning videos and photos in no time. It also functions as a voiceover app as you can add music and other sound effects to your videos during the editing process.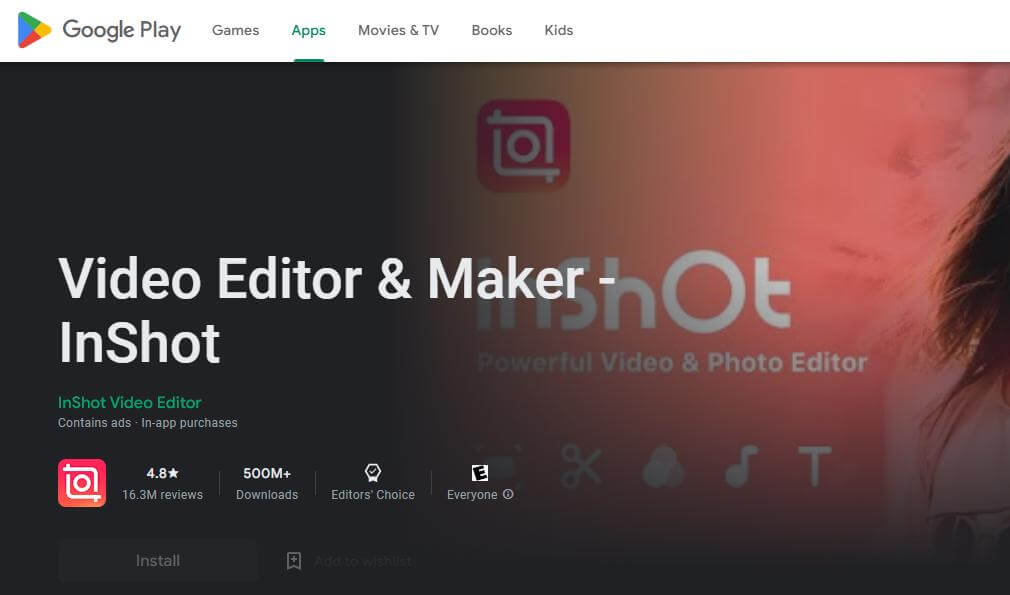 Key Features:
Support for most popular video platforms, and sharing options.

Helps users to trim, split, crop and adjust the speed of their videos for easy editing.

Various filters and effects available in the app that allows users to customize their videos further.

Comes with the ability to export videos in different resolutions and formats.
Pros:

InShot offers a variety of editing features, such as video trimming, merging, cutting, and applying different effects to videos.

It has an easy-to-use interface that makes editing your videos simple and straightforward.

There are no watermarks or ads included with the app, giving users complete control over their own videos.
Cons:

Although InShot offers some basic editing features, the range of available voiceover tools is limited compared to other voiceover apps.

InShot displays ads while you use the app which can be a distraction and take away from the user experience.

Unfortunately, InShot is only available on iOS and Android devices; there is no Mac version.
4. GarageBand
GarageBand is a digital audio workstation and mobile music creation app developed by Apple Inc. for iOS, macOS, iPadOS and tvOS. It enables users to record audio or use premade loops to create music of their choice. With GarageBand, users can create their own custom music and soundtracks in minutes adding robotic, and other voiceovers.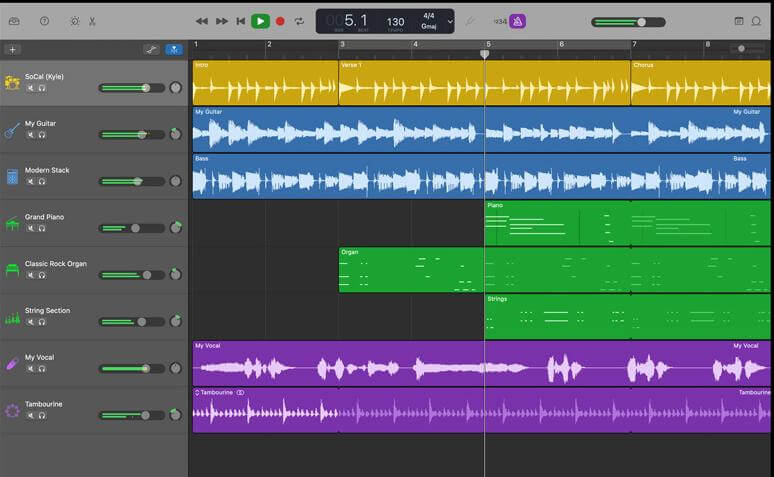 Key Features:
GarageBand provides flexible recording options such as MIDI sequencing, real-time audio recording, and multitrack recording that allow users to capture their ideas quickly and easily.

It supports multi-touch gestures for creating unique musical sounds.

GarageBand has an intuitive user interface that makes it easy to create complex music compositions with minimal effort.
Pros:

GarageBand is available on both Mac and iOS platforms.

With GarageBand, users can easily record their own instruments or vocals with a microphone.
Cons:

Limited voiceover options.

GarageBand is available only on Mac and iOS platforms, so users of other operating systems will not be able to use it.
5. Easy Voice Recorder
Easy Voice Recorder is an audio recorder app for Android devices. With it, users can easily record their voices and other audio with high quality and convenience. It also comes with a wide range of features such as background recording, pause/resume recording, customizable settings, sound effects, folder management, voice tagging and more.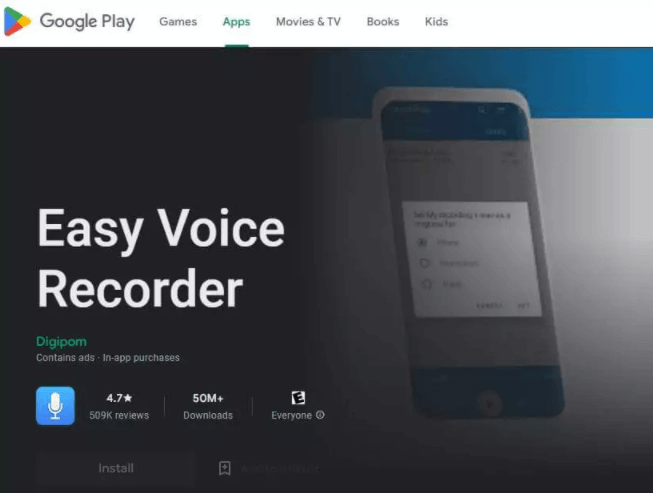 Key Features:
The app features a simple and intuitive interface making it easy to record, pause, and playback audio files.

Users can share and organize their file on the app.

High quality Sound.
Pros:

It has a simple, easy-to-use interface that allows you to quickly record your voice within seconds.
Cons:

Lack variety of voiceover languages and voices that is expected for a top voiceover app.

Free version of the app has ads that are intrusive and can be annoying.
6. TwistedWave
TwistedWave is an audio editing app that allows users to edit, mix, and manipulate their audio recordings. It has a range of features such as real-time waveform drawing and zooming, multi-track editing, effects processing, recording and playback of MIDI instruments, looping, auto track creation and more.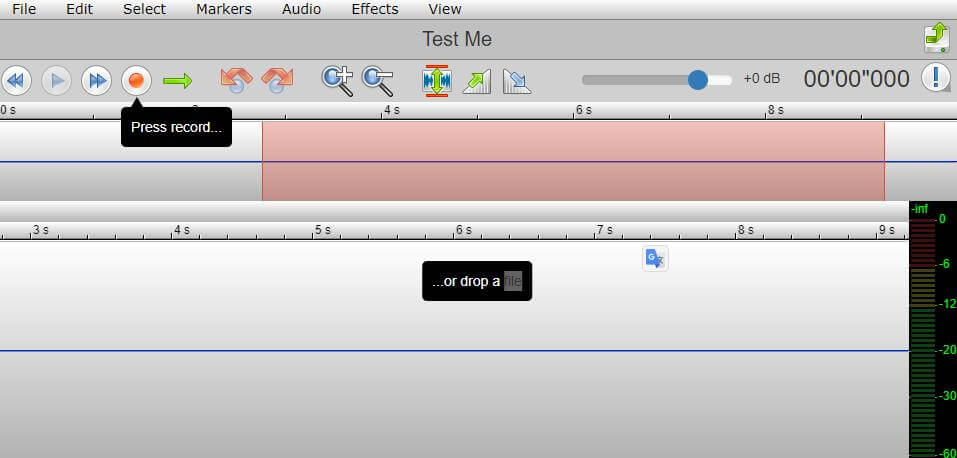 Key Features:
TwistedWave is an audio editor and recorder app that provides a range of tools for voiceover artists.

The app features a streamlined user interface, powerful editing tools, pitch correction and time-stretching capabilities, real-time effects, and support for multiple file formats.

TwistedWave also offers features such as vocal removers, sound normalizers, frequency equalizers, auto-ducking and more.

Its built-in sharing functionality makes it easy to collaborate with others or send finished recordings to clients via email.
Pros:

Easy to use interface.

Available for mac, iOS, android, and online.
Cons:

Some of the effects can be difficult to use and may require a bit of learning before being able to take full advantage of them.
Part 3:FAQs about Best Voiceover Apps
1. What is the best VoiceOver software?
The best VoiceOver software on the market is iMyFone VoxBox. This all-in-one audio and voiceover solution provides a wide range of features that make it one of the top contenders in the industry.
It allows you to quickly and easily create professional quality recordings with its easy-to-use interface, extensive library of sound effects and instruments, and ability to record in multiple formats.
2. Is there a VoiceOver app on iPhone?
Yes, there is a VoiceOver app available for iPhones. It is an accessibility feature that can be enabled in the settings menu on the device. The VoiceOver app allows users to hear descriptions of what's on their screen and interact with their iPhone using gestures.
It also supports braille displays and offers different languages and dialects, making it useful for people with visual impairments or other disabilities.
3. Is there an app to do voice overs on Android?
Yes, there are several apps available for Android devices that allow you to do voice overs. TwistedWave and VoiceOver are the most commonly used.
Conclusion:
With so many voiceover apps on the market, it can be hard to know which one is the best for your needs. We've tried and tested a range of different options and found that iMyFone VoxBox is the clear winner.
It offers an impressive number of
voices
and languages, as well as a wealth of features that make it easy to use. If you're looking for an all-in-one voiceover app, then we recommend downloading iMyFone VoxBox today.
Try it free