Are you looking to give your video files a consistent design with a Title/Slideshow/Logo/Opener template, premiere pro helps you do exactly that. You see, premier pro software comes with a title template tool that allows one to quickly recall a title design that you once used in the past, or have been using for a couple of projects, and therefore, are able to apply them to your current project. Now, not only does this help when it comes to creating a design consistency in your projects, but it also saves you a lot of time that you would otherwise spend on re-making the designs. In this article, we are going to take an in-depth look at premiere pro Title/Slideshow/Logo/Opener/Transition templates, focusing on how you can actually create them.
Part 1. Premiere Pro Title/Slideshow/Logo/Opener Templates Free Download
Here is the thing, you don't have to recreate a title every time you are editing your video. Because other making your own templates, it is possible to download them from the internet. I mean, you will have so many options, which will also give you an idea of how to design your templates. Some of them include:
Minimal title templates premiere pro

110 title animations

Cinematic trailer title template

Clean elegant rotation title 2

Clean flip title template

Dynamic upbeat opener

Modern opener

Inspiring glitch opener

Bold rhythmic templates
You can download these templates and many more from premiere pro and it will absolutely be for free.
If you are looking to create your own premiere pro title templates, here is how you can go about it:
Step one – design the title – the very first thing will be to design your titles, which you can actually do by clicking Command+T, or simply go to File, then New, and then Title. Key in your title and then click OK. Design the template however you prefer.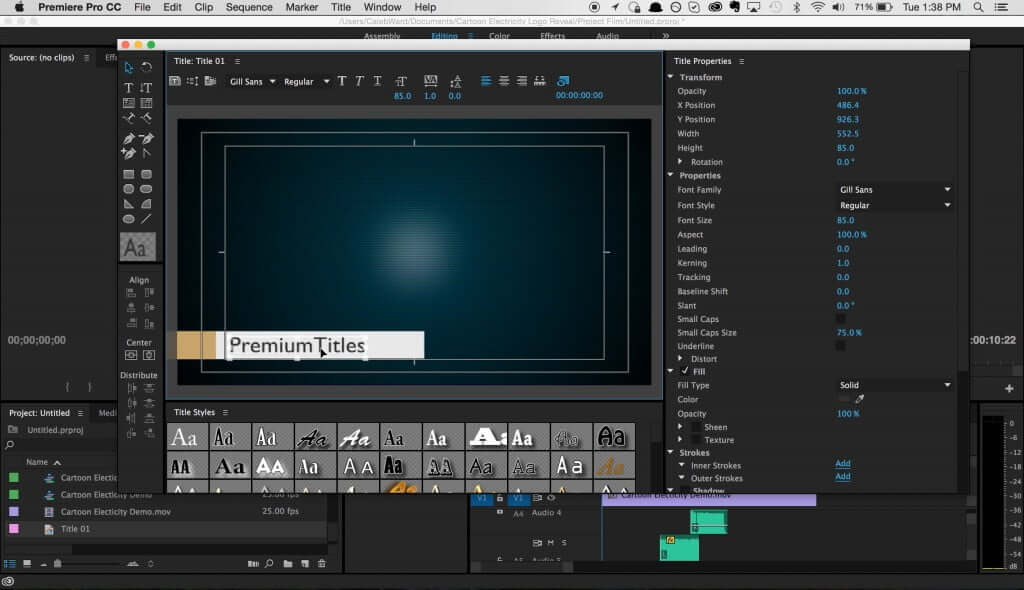 Step two – save the template to your device – once your title is ready, you may now save it to your device for future use. Simply click the small menu button found on the top right and then click on Import Current Title as Template, where you will be required to key in the name of your template, and then click Ok.
Step three – come up with a new title for your project – once that is done, you can now use the title template on your own project. Remember, with the template, you won't have to create a new title every time. Now, to add a title to your project, simply click on Create New Title, put down the name, and click Ok.

To use your title template, just hit the Templates button, which you will find on the menu bar. And to edit the title, you will follow the same process.
You can also download free premiere pro Title/Slideshow/Logo/Opener templates, you can choose those websites below
Mixkit is a free gallery of awesome stock video clips, music tracks, sound effects and video templates. 104 Free Premiere Pro Templates for Transitions. Glitch, splice or spin from scene to scene! Move effortlessly through your favorite film moments with these fantastic free Premiere Pro transition templates and take your audience along for the ride. All of our Premiere Pro Templates are free to download and ready to use in your next video project, under the Mixkit License.
Motion Array is a membership website focused on providing quality content for video producers, marketers, motion graphics and VFX artists, and dog catchers. It is a website with professionally made After Effects templates, stock music, and more. Explore Over 500,000+ Assets for Premiere Pro, After Effects, Final Cut & Davinci Resolve. Create Stunning Videos with The Best Templates and Presets in The World. Join Motion Array. Start Your Free Trial. Professional Templates. Access Unique Effects.
Part 2. Best Alternative Video Editor to Use Free Title Template - iMyFone Filme
Other than being one of the best video editors in town, iMyFone Filme is also one of the best tools when it comes to making templates. You see, we do understand that there is nothing that is as tiring as coming up with the same designs over and over again, every time you need it. Everybody loves having a good 'shortcut' towards a certain goal, especially if the results are the same. Now, here is the thing, Filme enables you to come up with amazing templates that not only ensure that the consistency remains, but it does also make everything easier and saves a lot of editing time.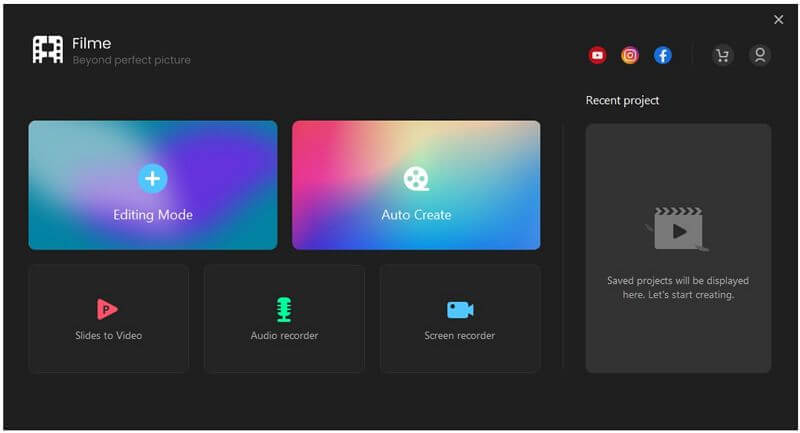 And guess what, making templates will only take you a few seconds to a minute at most, and this is all thanks to the easy-to-use interface. So, you can comfortably come up with your designs, make them however you want, and then save them to use in your future projects. It's actually quite easy. Here are some of the features that make iMyFone Filme such a good alternative when it comes to creating templates:
Features
For starters, Filme comes with quite a number of built-in templates, making it super simple to come up with brand videos. The tool also allows you to share your templates in just a few clicks.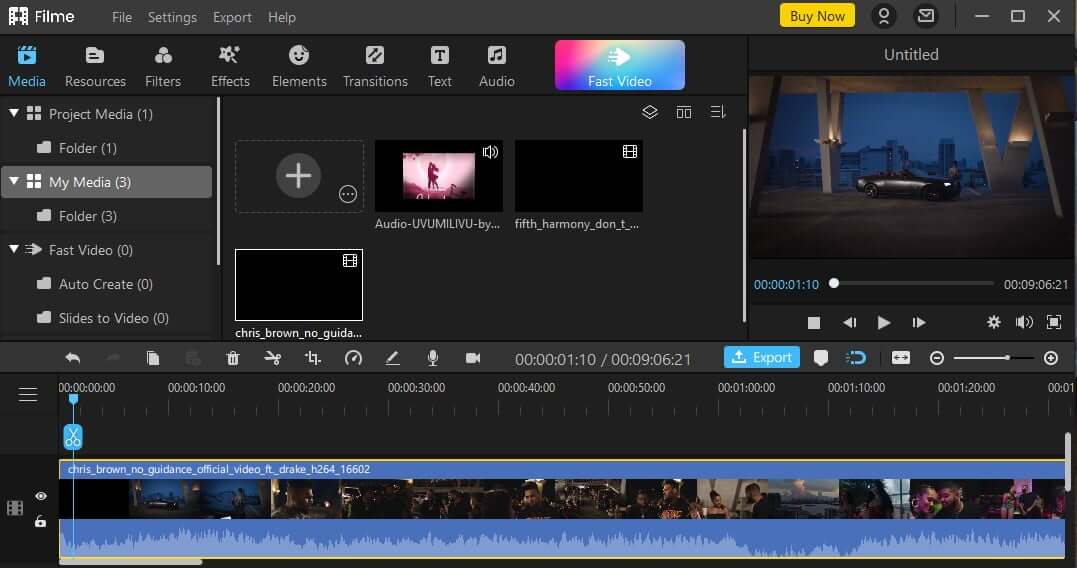 The video editor also has an easy-to-use layout that actually comes in handy when creating video templates. The platform offers a dark graphical interface that comes with the ability to reduce eye strain, making it an attractive option, especially for individuals with eye problems. The layout includes things like the timeline, control bar, preview window, media selection area, and editing section, all of which are used when creating templates.

iMyFone Filme also offers a variety of video editing tools, which are used in adding texts, filters, and transitions, and also includes cutting, splitting, trimming as well as speeding up videos.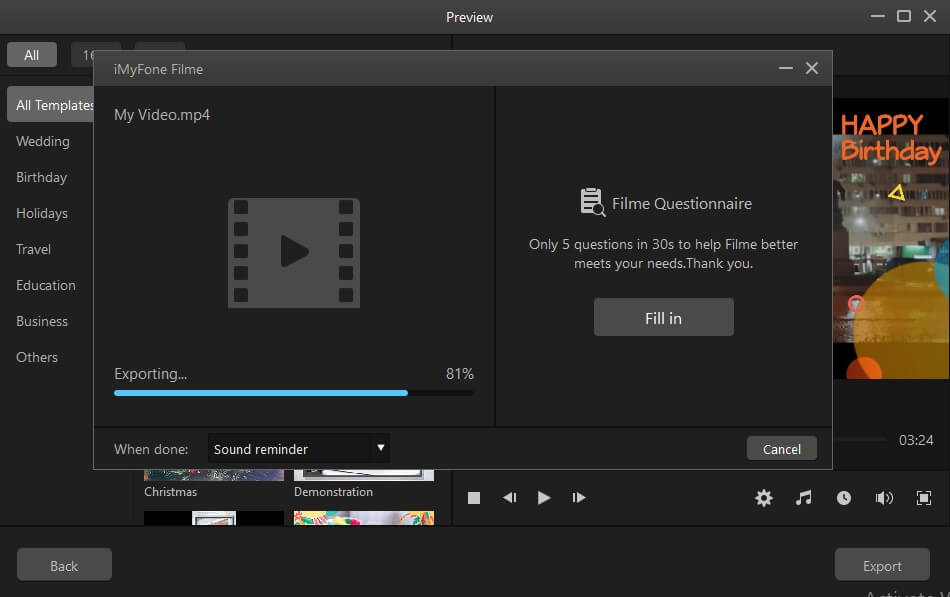 Here are some of the stunning video templates on Filme
You can find some cool title templates in this picture below, there are also many free opener,lower third,subtitle,intro/outro templates in Filme, you can just drag those templates into timeline and edit your video.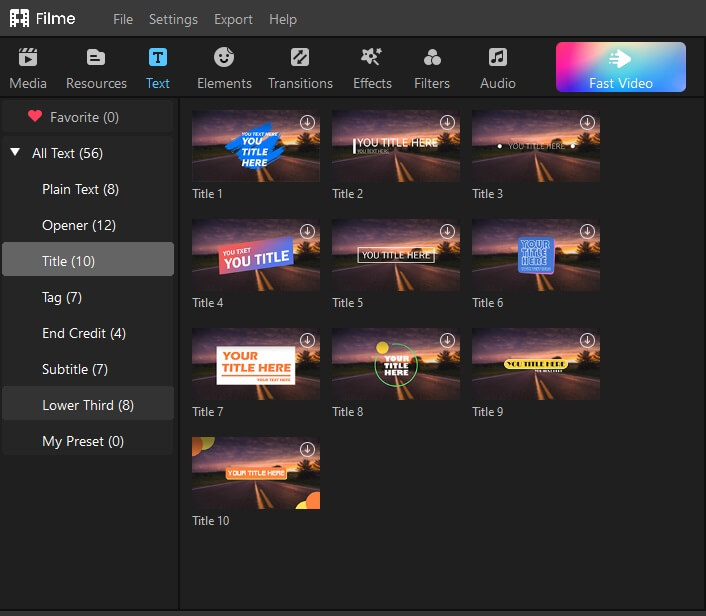 Split and trim video templates – this tool makes splitting of videos quite easy. All you just need to do is to place the timeline pin at the point you intend to split, and then click the scissors icon. It is also possible to drag the video edges so as to trim the beginning and the end of the video.
Crop and rotate videos – rotating and cropping a video is made rather easy on Filme as you only need to click the Crop icon, to select the size or crop you want to preserve.
Speed adjustment – the tool allows you to create fast-forwards motions as well as slow-motion with only a few clicks. Just select a clip, and then apply. That's all!
Other video templates include picture-in-picture mode as well as slideshow creation mode.
Part 3. Tips Using Title Templates Premiere Pro
When using title templates in premiere pro, of course, you want consistency as well as high-quality templates. But how can you achieve it? You see, it's not just about going to premiere pro and creating the templates, or better yet, downloading them, you got to have an idea of what exactly you are looking for.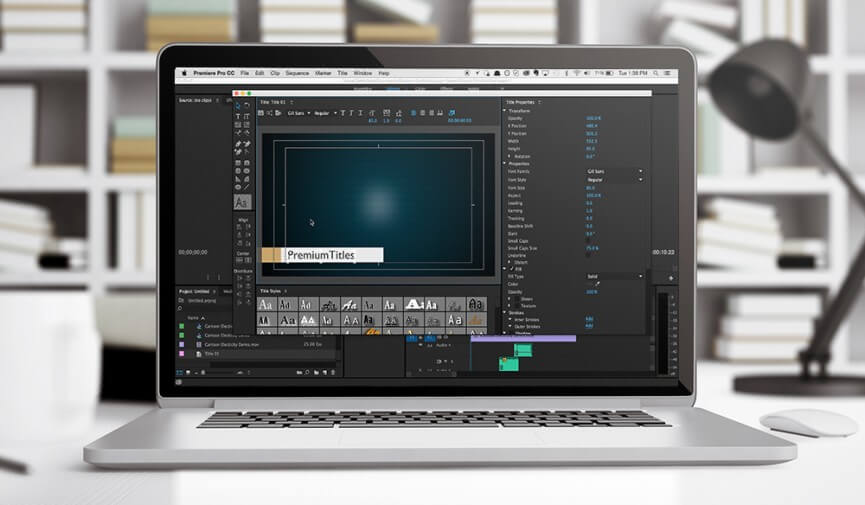 So, with that in mind, here are a few tips that would help you create unique title styles and also save them as templates:
First, ensure that you choose the best title templates – before you even think of starting your editing work, it is important that you first find the most suitable title templates that match the nature and objectives of your video. As a majority of the templates do depend on the software used, make sure that that the one you are using supports the templates that you want. Premiere Pro does have quite a number of compatible templates and is of much help.

Thirdly, be sure to customize your templates – the fact that you are downloading some of the best templates on Premiere pro for free, doesn't mean that you must use it as is. I mean, you can always customize it based on what you want for your video. Of course, you can change things like the style, location, font style, or even the size of the template. Make it as attractive as you possibly can.

Ensure that the title is based on the current title – see, when you try to reuse a title in the timeline and make changes, it usually does affect every instance of the title in the timeline. And since what you want is continuity between the titles, premiere pro is allowing you to do just that, and it is with a simple button found at the top of the title window, enabling you to come up with a title that's based on the current title.

Make sure that the template that you want to add is accurate and in line with your video's objectives.

Also make sure that you read the instructions very carefully, before applying any template to your video. This way, you will get an idea of how best you can use the downloaded templates to fit your video perfectly. After all, you can't do anything if you don't know what it is that you are doing.
Conclusion
As we conclude, let's say that media users do use templates so as to guarantee consistency and also save time when it comes to video editing. Now, other than the Premiere Pro software, which is well known when it comes to free and high-quality templates, you can also consider iMyFone Filme, which has also proven to be helpful and reliable. Remember, the software that you choose will dictate the kind of results that you get. If your goal is to create some of the best videos, then Filme is the best choice, especially since even a beginner will have an easier time navigating through. We hope you will find this guide helpful, and that it will guide you towards achieving your editing objectives. Happy title creation!