The freeze-frame feature allows users to emphasize any particular part of the video to make it more captivating. We have picked the 5 best apps to freeze-frame video for you. We will also share a desktop video editor iMyFone Filme if you want to make your videos pixel-perfect.
Table of Content
Best Apps to Freeze Frame Video
1) LumaFusion (iOS)
LumaFusion is a professional video editing app for iPhones or iPads. This video editor is packed with a great combination of features that are usually found in expensive video editors.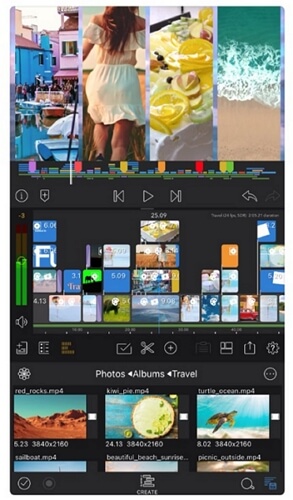 Freeze Frame Features:
LumaFusion has a simple method to freeze-frame.

It enables the users to use the Snapshot feature for this purpose.

It provides a clear timeline to take out the desired moment.

It saves the snapshots to the camera roll automatically.

Users can simply attach or import the snapshot to the timeline.

The timing of the frozen frame can also be adjusted.
Pros:

Built-in effects

Outclass transitions and titles

Cloud storage service

Royalty-free music
Cons:

It does not sync between devices.

Occasional crashes occur

Cannot transfer files to the desktop.
Price:
Luma Fusion demands $29.99 as a one-time payment for this app. Moreover, there are also many advanced features, and users can get them through in-app purchases.
2) Inshot (iOS and Android)
Inshot is an all-in-one content editing software for both iOS and Android devices. It is a single application to edit videos and images.
Inshot is a very simple and beginner-friendly editing software that contains all necessary and basic editing features, including Freeze Frame.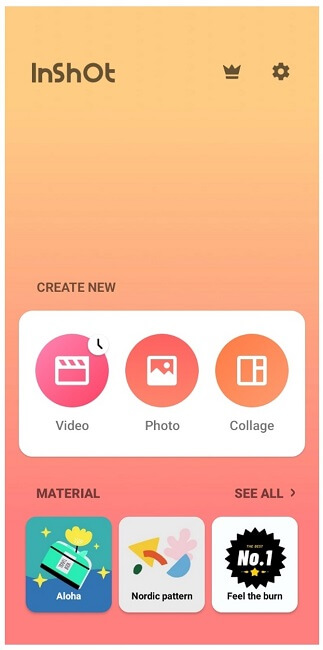 Freeze Frame Features:
With a single tap, you can make your video still and freeze the frame.

It allows changing the length of the frozen frame according to the user's wish.

Inshot allows users to add additional videos and photos to the frozen part of the video

You can also swap the frozen part to the start or end of the video
Pros:

Simple interface

Collage maker

Audio extractor

Many languages for the interface

Allows Save Storage Path option
Cons:

Limited free trial of the pro version

Many features are behind the paid version

Leaves watermark in free version
Price:
Other than the three plans, there are many in-app purchases.
| Plans | Prices |
| --- | --- |
| 1-Month plan | $3.99 |
| 1-Year plan | $14.99 |
| Life-time plan | $39.99 |
3) iMovie (iOS)
iMovie is one of the preferred video editing software for Apple devices. It is all-in-one editing software that costs nothing. It has many amazing features for video editing. It offers the Freeze Frame feature with a single tap.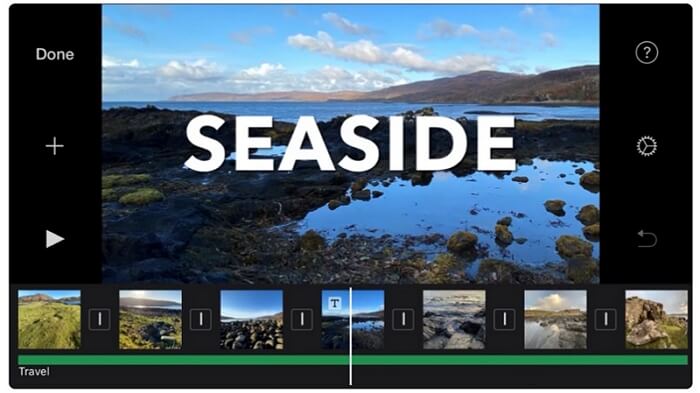 Freeze Frame Features:
It offers a very simple method to use the Freeze Frame feature.

After selecting the Freeze Frame feature, it creates a separate short segment under the timeline.

You can set the duration of Freeze Frame according to your choice.
Pros:

Very simple application

Clear interface

Simple operation

A light software

Free of cost
Cons:

No distinguished social media templates

Creates limited layers

No audio and video sync capability
Price:
iMovie is an amazing and mind-blowing editing software that is available free of cost.
You might be interested in:
4) CapCut (Android and iOS)
CapCut is a video editing mobile application for Android users. Its simple interface and arrangement of features make it one of the most suitable options for beginners and newcomers. Along with many video editing features, CapCut also allows users to use the Freeze Frame easily within a second.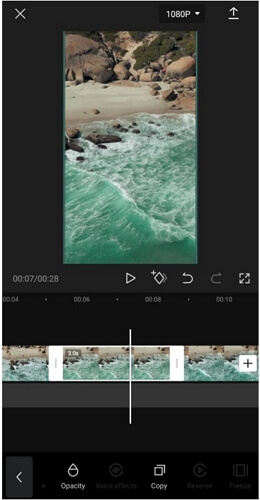 Freeze Frame Features:
It freezes the frame in the video with a single tap

You can set the duration of the Frozen frame

You can add different transitions and effects to the frozen frame

You can also add different Masks and MGs to the frozen frame

CapCut also shows the timing of the frozen frame to add or set things correctly

You can copy the frozen frame and also set the opacity of the frozen frame according to your wish
Pros:

It contains all basic editing tools

Very user-friendly interface

Separate timelines for audio and video content

Supports 1080p video quality

Voiceover feature
Cons:

Slow support system

Limited filters and effects

Crash sometimes
Price:
CapCut is a free video editing application. Anyone can download and install it without paying anything.
5) PowerDirector (iOS and Android)
PowerDirector by CyberLink is a video editing software that is free to download on Apple or Android devices. It allows users to create outstanding content by editing through its powerful features and tools. It can even be used for professional purposes.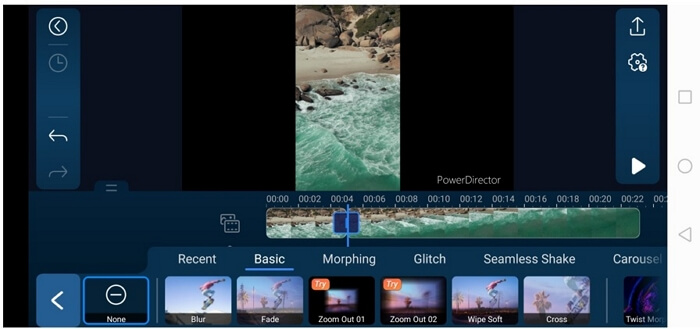 Freeze Frame Features:
PowerDirector allows using the Freeze Frame effect through splitting video clips.

It freezes the frame by adding screenshots between the split parts of the videos.

You can edit or crop the screenshot within the PowerDirector application.

You can extend the length or duration of the snapshot as you wish.
Pros:

3D and 4K capability

Multicam support

Multiple tracks

Fast rendering

Screen recording
Cons:

Very thin timeline

Adds watermark in free version
Price:
PowerDirector allows users to subscribe to its monthly, quarterly, and yearly plan. Other than these, it also offers many in-app purchases to activate different advanced features.
| Plans | Prices |
| --- | --- |
| Monthly subscription plan | $5.99 |
| Quarterly subscription plan | $9.99 |
| Yearly subscription plan | $22.99 or $34.99 |
Try Desktop Video Editor to Freeze Frame Video Better - Filme
We have discussed the top 5 apps to Freeze Frame video using smartphones, but these apps work best for short videos. If you want to edit heavy and lengthy projects, you should look for a desktop application. For lengthy projects, smartphone applications usually create a disturbance, and everything looks messy. Moreover, you won't get precise results with smartphones with lengthy videos.
Now, we are going to share the best desktop video editing software, iMyFone Filme. It is a wonderful and easy desktop-based video editing software packed with advanced features and tools for professional video editing using a simple interface. It is highly recommended for professional projects and video editing purposes because of its effectiveness, quick completion of tasks, and video quality.
Freeze Frame Features of Filme:
Filme freezes the frame in the video with a 1 click.

It creates boundaries of the frozen frame.

You can set the time duration by dragging and stretching the ends of the frozen frame.

You can edit the frame as you like. You can make it more appealing by adding effects, filters, music, transitions, and other objects.
Steps on How to Freeze-Frame Using Filme:
Step 1: Firstly, make sure to install the latest version of the software and then open it. After opening it, click on Editing Mode and import your media through the Media menu.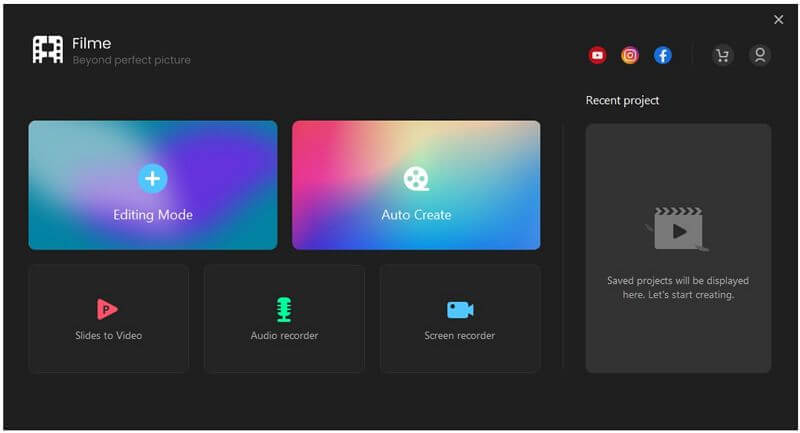 Step 2: Import your media file and then drag it to the timeline. Move the playhead where you want to freeze the frame.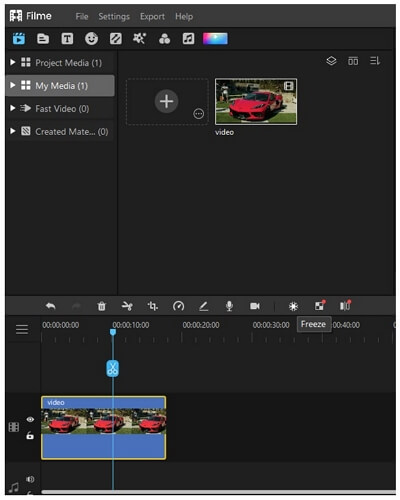 Step 3: At the top of the timeline, you will see an icon of snow/ice. Click on it to freeze the frame. This will freeze-frame at your desired point.
Step 4: Now, if you want to set or change the duration, simply drag the ends of the frozen part of the video.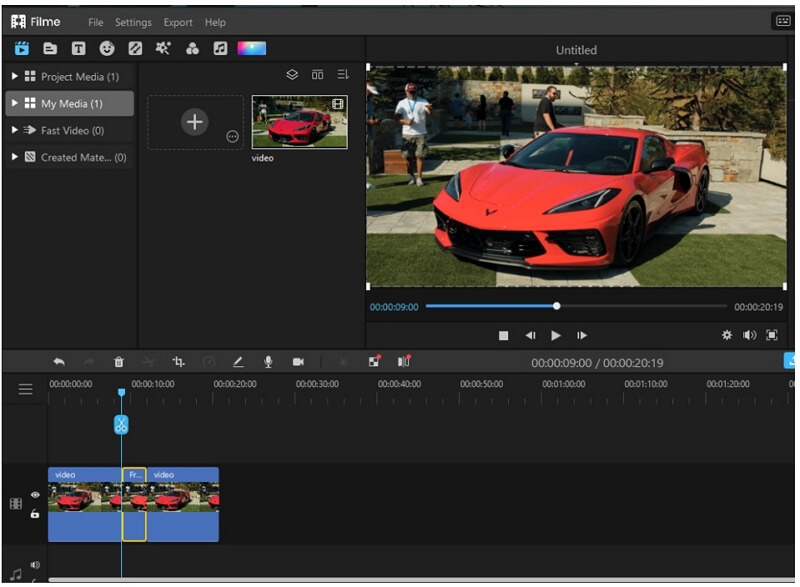 Step 5: At the end, click on the Export button and save your final file.
Final Words
The freezing frame feature can help people to add or show a lot of additional things in a single video clip. That's why it has gained great importance in the video editing world. In this article, we have discussed the best five mobile applications to freeze-frame instantly. Moreover, we have also shared Filme, which is the best video editing software for desktop users. It will help you create professional-grade videos using its powerful tools.