InShot is a popular video editing application for Android and iOS. It is quite popular among content creators and social media influencers. In this article, we will have an in-depth look at the pros, cons, and alternatives of InShot. You will get to know whether you should use it, or you should go for alternatives. Let's start.
Part 1. Interface
The interface of the InShot video editor is simple, user-friendly, and clean. Even if you have opened it for the first time, you can easily edit your videos.
After opening the application, there are three options: Video, Photo, and Collage. You can select anyone you need. In this article, we are more concerned with the video editor. The editor is very easy to use. There is a timeline at the bottom. You will also see the "+" button, and it can help you add new media to the video.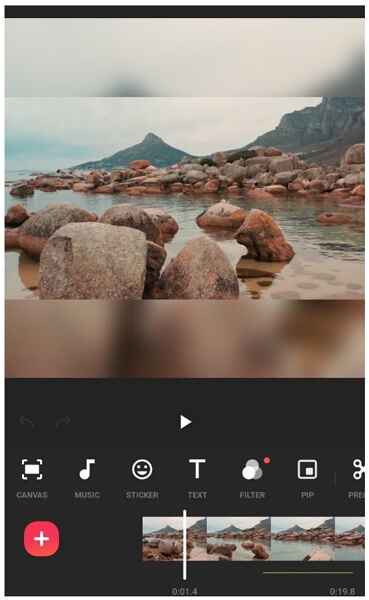 Above the timeline, you will see the tools. All tools are available in one row, and it is easy to find the tool you need. You only need to tap on the tool, and you will have the relevant options and controls. Handling tools is relatively easy, and beginners can easily use them.
When you are done with the editing, you can save the video in the desired video quality. It also gives you an estimated file size.
Overall, the user interface is simple and beginner-friendly. It can save you a lot of time, and you can edit videos without any hassle.
Part 2. Editing Features
1) Basic Tools
InShot offers all the basic tools, including aspect ratio adjustment, cutting, splitting, speed adjustment, cropping, background color, rotation, flipping, and video reversal. It is more than enough for a video editor, and it can edit your videos without any hassle.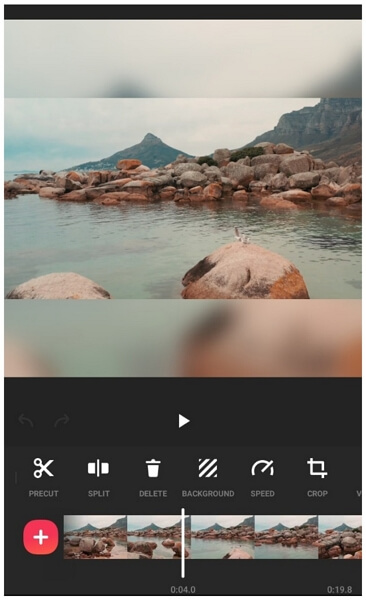 2) Text
Adding text to your videos is pretty simple. Just hit the button and type whatever you need. There are tons of colors and exciting fonts. You can also add in/out animations to your text with one tap.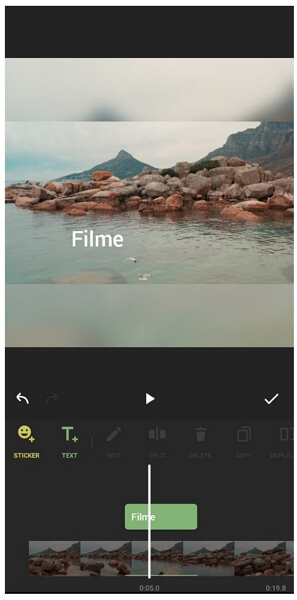 3) Filters and Effects
There is a wide range of effects available, including glitch, beats, style, and distort. You can also add mesmerizing filters to make your videos more catchy. The best thing is that you can adjust the properties of filters and effects. You can adjust contrast, warmth, saturation, fade, shadow, color, hue, grain, and other things.
4) Music and Sound Effects
InShot has separate libraries for music and sound effects. There are various music tracks available that you can add with one tap. There is also a wide range of sound effects. You can choose anything you like to make your videos more engaging.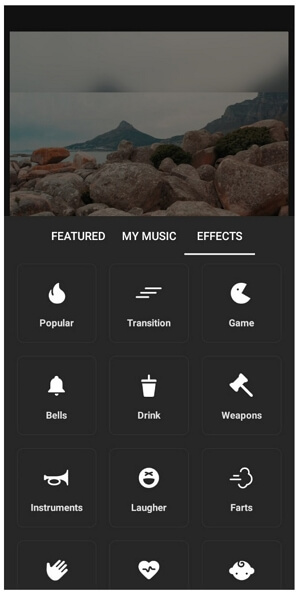 5) Special Stickers and Tags
Another specialty of InShot is its stickers and tags. There are tons of stickers, GIFs, and tags available. You can add those to your videos in no time.
Part 3. Pros and Cons
Pros of InShot:
InShot is quite user-friendly compared to similar apps on the market. It has made video editing quicker and easier.

You can make all basic changes to your videos within a few minutes. It requires only a few taps, and you are ready to go.

There are tons of features available in this simple mobile app. You can add stunning effects, filters, text, GIFs, stickers, images, music, sound effects, and everything you like. It is just incredible.

You can join various video clips and add cool transitions between them.

It is not only a video editor, but you can also edit your photos. You can apply filters, adjust settings, add effects, change background, crop, add text, and make other changes.

You can also create amazing collages. There are various layouts available. You can apply filters, add text, and make all changes you can expect.

The video can be exported in the desired quality. You can select the quality, and the frame rate can also be selected. Surprisingly, you can also customize the quality and set anything you need.
Cons of InShot:
InShot is excellent for quick and simple video editing. If you want something exceptional, this is not for you.

There is only one track in the timeline. You cannot add multiple videos and soundtracks at the same instant. It might affect your creativity.
Watch this video to see how to use InShot App:
Part 4. Best Alternatives to InShot
The first and best alternative to InShot is Filme. It is a desktop video editor for Windows and macOS. Mobile video editors, such as InShot, have very limited features and tools, and you cannot expect them to work as professional tools. If you want to edit your videos like a professional and take your creativity to the next level, you can use Filme.
Filme is an all-in-one professional video editor. It has almost every basic and advanced tool that you need for video editing. Other than video editing tools, it offers a voice changer, video resizer, slideshow maker,screen recorder, and video converter. You can do almost any type of video editing using Filme.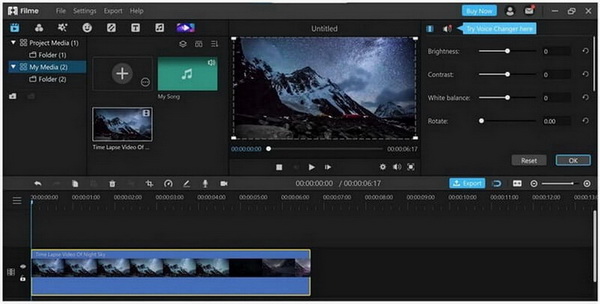 Pros:
Filme is a simple and user-friendly tool. It is created for beginners, and experts can also use it to save time. There is no experience required to use this video editor.
It has tons of transitions, effects, filters, GIFs, and stickers to make your videos eye-catching. You can create stunning videos for any social media platform, including YouTube, Twitter, TikTok, Facebook, Instagram, and many more.
You can create awesome slideshows within a few seconds. Just pick a template and add images to it, and your slideshow is ready.
Filme has its own music library from which you can select any music you like.
You can export files with any requirements and advanced settings. You have complete access to file containers, codecs, frame rate, bitrate, and other settings.
Cons:
The only con of Filme is its watermark. You need to buy the premium plan to remove it.
Watch this video to see how to use Filme to create a stunning video:
VivaVideo is a fantastic application for video editing. You can do almost anything using this application, and its features are commendable. It is perfect for beginners and content creators who want to save time.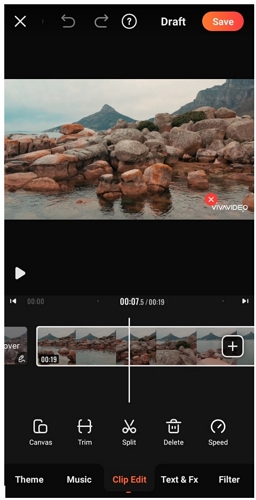 Pros:
The video editor has all the basic tools for video editing. You can change your video as you like. The user interface is well-organized and beginner-friendly.
There are dozens of filters and effects available. It also offers you filter and effect adjustment tools. You can adjust brightness, contrast, color, temperature, etc. You can also use the preset settings.
It has a wide range of text styles. You can add eye-catching text to your video with one tap. Moreover, you can also add various animations to the text.
VivaVideo has its own music and sound effects library. It makes video editing easier.
The final video can be exported in any quality you prefer. You can also create GIFs.
Cons:
The application lags a lot when you have longer videos. It is suitable for short videos only.
Most of the filters, effects, and features are locked as they are only available with the premium plan.
Also Read:
Viva Video App Full Reviews >>
KineMaster is almost like a mini desktop video editor. It has all the tools and features that a video editor needs. It can deal with high-quality videos, including 4K 30 FPS. You can make and create professionally edited videos with minimal effort.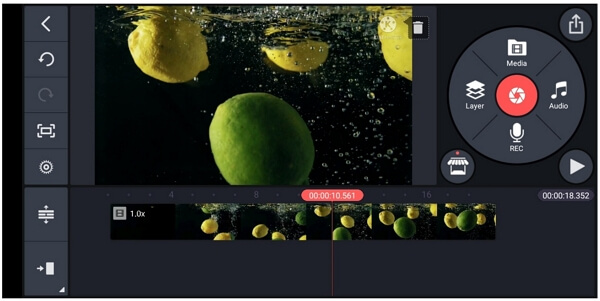 Pros:
There are over 2,500 fonts, images, effects, transitions, animations, and other things. You can download these to make your videos stand out from the crowd.
It has a music and sound effects library. You can add anything you like. You can also change your voice using its voice changer.
The timeline is like a professional video editor. It makes everything easy, and you can manage all layers.
The color control of KineMaster is impressive. You can adjust color, shadows, gain, and other properties.
The graphics and animations of KineMaster are mesmerizing. You can use appealing and eye-catching graphics and add them to your videos. These will give your video a new look, and it won't take much time.
Cons:
There will be a big watermark in the free version.
It crashes sometimes and causes various issues.
Final Words
InShot is no doubt an amazing video editor. Its free version is also impressive, and the paid version is worth it. You can easily edit your videos like a professional. Your videos can stand out from the crowd. InShot is a mobile application with limited features, so if you want to explore more and take your video editing to another level, you should use Filme. It is an excellent and beginner-friendly video with every tool you need. You will be able to edit your videos like a pro.