Sound effects and music can bring life to your videos, set a vibe, and make them worth watching. If you're creating video content, you need to include audio transitions and trending music to enhance your production. You can use editing software to incorporate built-in audio or import it from iTunes or YouTube etc.
iMovie is an excellent video editing app for iOS users. It allows you to incorporate audio and music that make your videos seemingly professional. In this article, we look into some top background sounds and music of 2021 and learn how to add audio to iMovie.
How to Add Audio to iMovie in Mac
Don't know how to add audio on iMovie on Mac? Follow the steps to import background audio in iMovie from your Mac. Make sure that you sync the audio well with the visuals for a flawless creation.
Step 1: On the iMovie interface, go to File > Import Media to add the audio and video clips to iMovie's library. You can import audio files from the iTunes library too.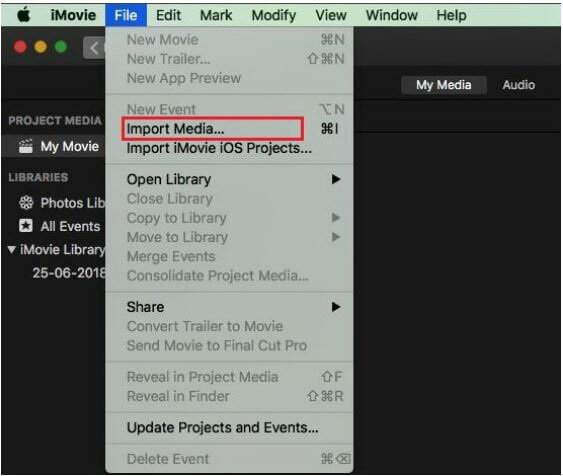 Step 2: All imported files appear under the MyMedia tab. Tap the audio file you imported and hit the spacebar to listen to the sound.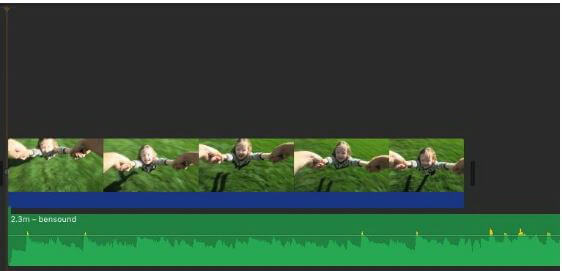 Step 3: Now, drag the audio file to the timeline and drop it when the Add (+) symbol turns green. You may want to align the audio with the visuals. To do this, click on the audio clip, and as its border turns gray, move the slider to trim the video and extend or shorten it. If you want to place the audio under a specific scene, drag the audio clip to the position and release the mouse button when the Add (+) displays.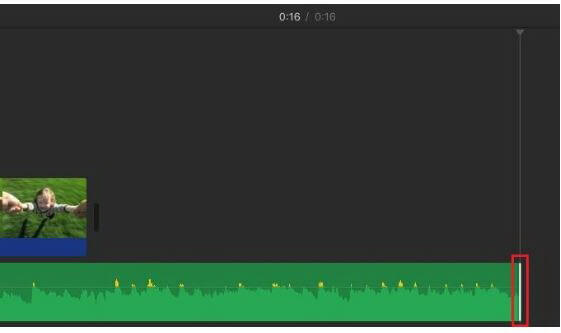 Step 4: To change the volume and speed of the audio and add fade-in/out effects, right-click on the audio clip, select Show Clip Trimmer, and tap Trim to Playhead. Here you will find the options to customize the imported audio.
Also Read:
Extract Audio from Video Using iMovie >>
How to Add Music to iMovie on iPhone/iPad
The iMovie application is also available on iPhone and iPad so that you can edit videos from anywhere. The steps to add music to iMovie is a little different than the ones on the computer software.
Wondering how to add your music from YouTube to iMovie? The following steps answer all your questions.
Step 1: Open the iMovie app on your iPhone or iPad. Click on the "+" icon on the top left to import media for a new project.
Step 2: Choose the video clip you want to insert audio or music to. After importing files to the project, click on the Create Movie option at the bottom to start editing.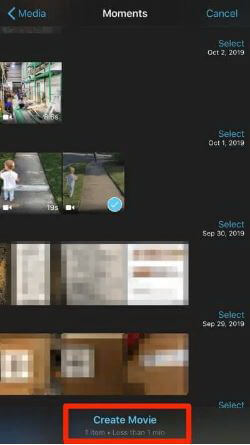 Step 3: Select the gear icon available at the bottom of the screen to find audio effects. You can enable Theme Music to insert a piece of specific themed music or add the fade in/out feature.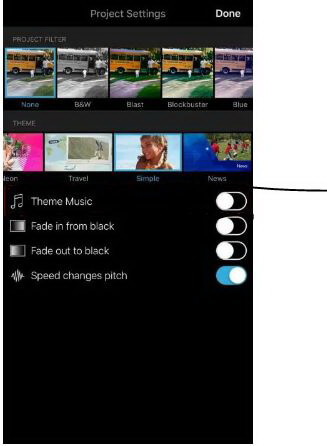 Step 4: If you wish to add a sound file from your device, tap the "+" symbol at the left of the video screen. Select Audio > MyMusic to add music of your choice. You get several importing options, but you can only add one song to a video.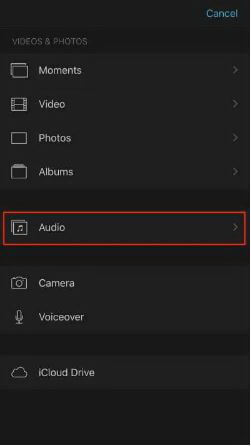 Step 5: Adjust the sound by aligning it with the video, and you're done! Click the Export option to save the video on your device.
Best Places to Find Background Music for iMovie
As video trends increase on social media, content creators look for music that fits their videos perfectly. The quest for the perfect background music can be challenging. Hence, we gathered the top sites where you can find background music for iMovie. These platforms can be great for finding music as they contain royalty-free music, which you can add to your creation without any issue.
iTunes
When talking about a source of background music for iMovie, iTunes serves you the best! Here you can find unlimited high-quality music from top music artists.iTunes contains both copyright and non-copyright music, so do your research before using the song in your video.
Spotify
Who doesn't like Spotify? This increasingly popular app contains themed music playlists to choose music. You can find a wide variety of instrumental music of different genres that make excellent background audios.
YouTube
The YouTube library provides users copyright-free and royalty-free background music and sound effects for professional video production. Search the Audio Library section and amaze yourself with some of the best music options for videos online.
Get More Sound Effects with iMyFone Filme
iMyFone Filme is emerging as the best video and audio editing software for PC users. It makes a great alternative to the iMovie software and offers new and trending sound effects to create professional-looking content.
Key Features
Fundamental to advanced video and audio editing tools such as audio/video transitions, speed adjustment, animations, etc.

Add multiple audio tracks in your video at one time. You can be more creative with the audio options offered by Filme.

Several audio formats for you to choose from

Easy-to-use interface with professional control over the production.
Pros:

Best application for beginners

Quick editing with advanced features

Project preview in between editing

Free trial with several editing options
Let's see how to add audio in your video using iMyFone Filme software
Step 1: Download and launch the Filme software. On the home interface, click on File and then New Project. To import files in this project, click on File and Import Files to open the music to which you want to add music. Drag the video file to the timeline to start editing.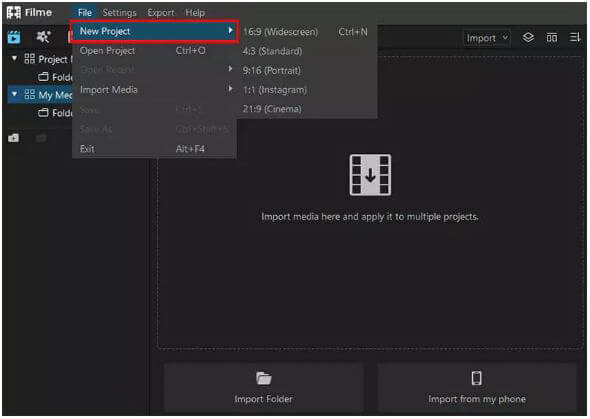 Step 2: You can import audio files to the Media Library and drag them to the timeline below the video. It will link the audio to the video clip.
Step 3: You can also add music from the built-in Music Library in Filme. If you want to add a song from Filme's library, click on the "+" symbol on the track or right-click and select Apply from the drop-down menu. You can add multiple song pieces and adjust them according to the visuals.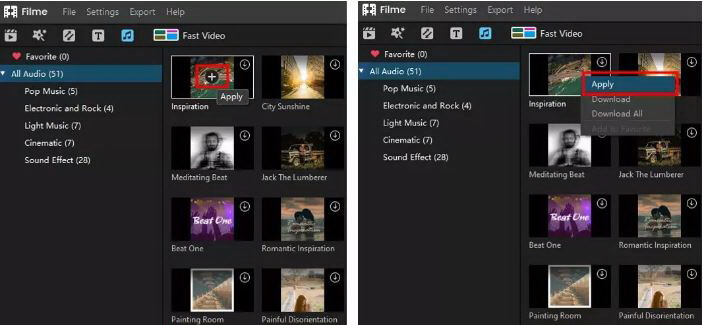 Step 4: After adding the audio, you can edit it, i.e., trim/split it or move the slider on the track to extend/ shorten it.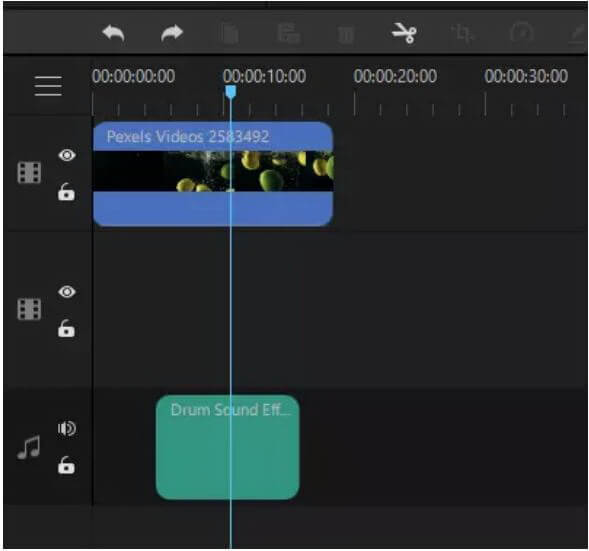 Step 5: When you have added music and sound effects to the video, click Export to save it onto your device or upload it directly to social media.
FAQs
How to add multiple audio tracks in iMovie iPhone?
Unfortunately, you cannot add multiple audio clips to your video using the iMovie app. It only allows a single audio insertion which needs to adjust with sound.
Does iMovie have built-in sound effects?
Yes, iMovie does come with sound effect options, but the variety is quite limited. However, you can import a soundtrack of your own choice into iMovie and add it to your video.
How to improve sound quality in iMovie?
Try looking for a soundtrack that is of good quality. In the toolbar, click on the Adjust button > Volume > Auto. iMovie will automatically analyze the sound and try to enhance its quality to the maximum. Before editing, preview the audio inserted video to get the idea of the content's quality.
Final Words:
Finding and editing the right audio for your production can be challenging. You can transform your video completely by using audio from sites such as iTunes, YouTube, Spotify, or built-in audio tracks. While iMovie features are limited, we recommend using iMyFone Filme software. It offers the latest video and audio editing features so that users can create catchy content on the go.