Hip-hop AI music generators have revolutionized the music industry by providing innovative tools for creating authentic hip-hop tracks. With the power of AI technology, users can now generate beats, craft lyrics, and even mimic the voices of popular artists
In this article, you will explore music generators to make your own AI Hip-hop songs as well as voice generators to generate AI Hip-hop voices.
Part 1: The Origin of Hip Hop
Hip hop, originating in the South Bronx during the 1970s, emerged as a cultural movement in response to social and economic challenges faced by African American and Latino communities. DJs like Kool Herc and Grandmaster Flash pioneered the art of DJing, while MCs like Grandmaster Caz and Melle Mel added spoken word rhymes over beats.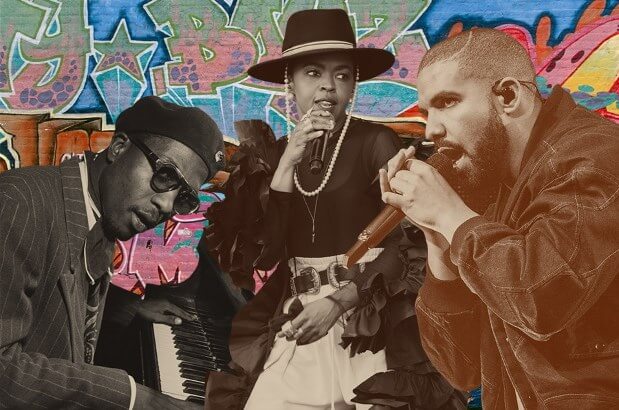 Hip hop embraced breakdancing and graffiti art, spreading from the Bronx to become a global phenomenon. It gave voice to marginalized communities, addressing social issues and inspiring generations, and continues to shape popular culture today.
Part 2: Basic Info of Most Popular Hip Hop Artists Listed 2023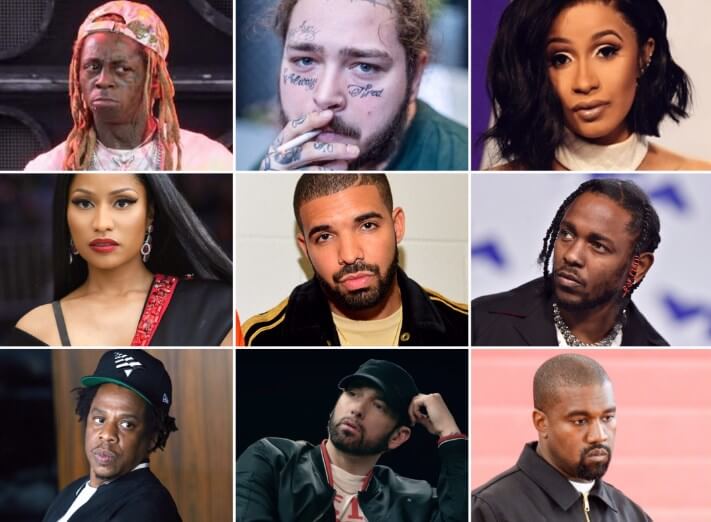 Tupac Shakur:-Known for his powerful lyrics and activism, Tupac remains one of the most influential hip hop artists of all time.

The Notorious B.I.G.-With his distinctive flow and storytelling abilities, Biggie Smalls made a significant impact on the hip hop scene before his untimely death.

Jay-Z:-A successful entrepreneur and rapper, Jay-Z has consistently delivered hit albums and has become a major figure in the hip hop industry.

Eminem:-Known for his rapid-fire delivery and provocative lyrics, Eminem has achieved commercial success and critical acclaim throughout his career.

Drake:-A chart-topping artist, Drake has become a dominant force in hip hop, blending rap with elements of R&B and pop.

J. Cole-Celebrated for his introspective and socially conscious lyrics, earning him a dedicated fan base and widespread critical acclaim.

Nicki Minaj-Recognized for her bold and unapologetic style, Nicki Minaj has made a significant impact on female representation in hip hop.
Part 3: Top 3 AI Hip Hop Music Generators: Get Hip Hop AI Songs
MusicAI is a hip hop AI music generator that takes your music production to the next level. With its cutting-edge technology and an extensive library of iconic hip hop artist voices, MusicAI allows you to create mind-blowing rap covers that rival the industry's best. But if you need to customize hip hop tracks, you can wait the upcoming function of this software.

#Step 1: Download and launch MusicAI.

#Step 2: Access "AI Covers" Option, select the artist AI voice you like and upload the audio file.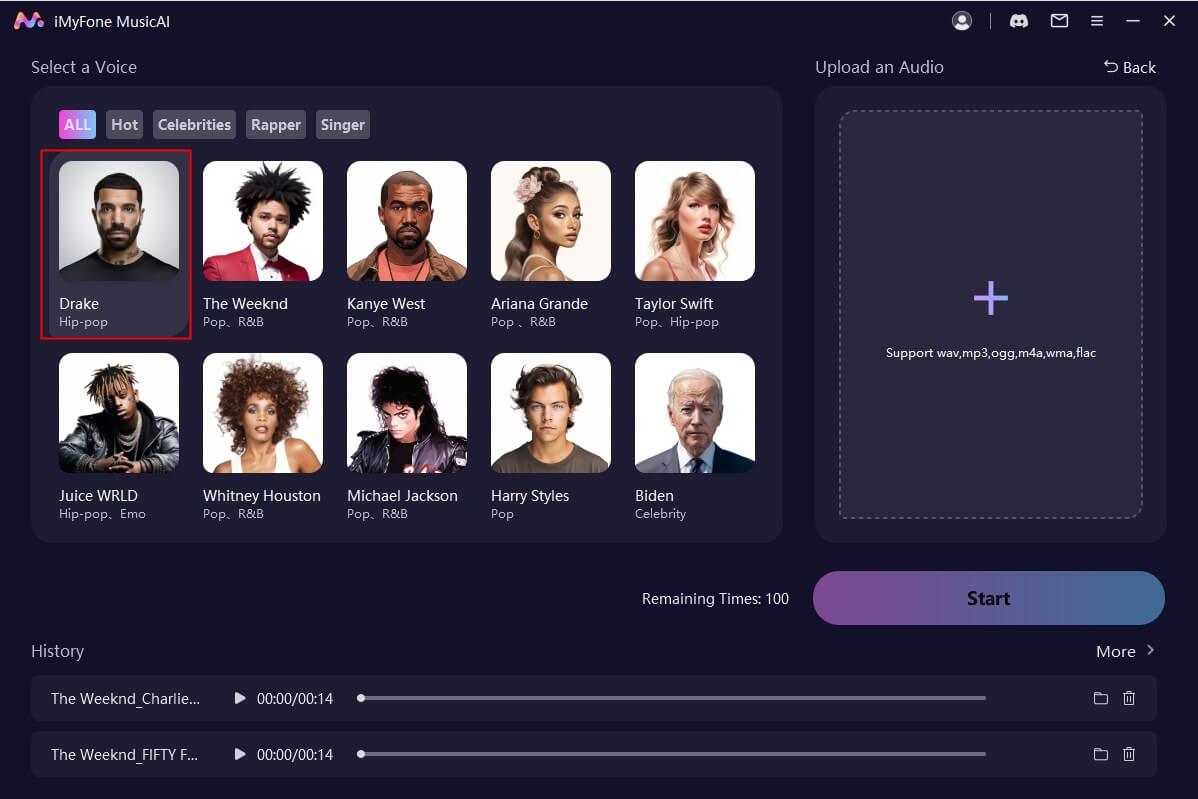 #Step 3: Start and listen to the preview song after few moment.
#Step 4: If you are satisfied with the song, you can export it in different formats.
Here free listen to Joe Biden AI Cover (Song: Jimmy Cooks) generated by MusicAI.

Key Features:
Numerous singer voice models to generate a unique cover song.

An comprehensive song software that will feature text-to-song, vocal removal, audio enhancing and AI compositions as well.

Gives you an opportunity for free trial.

You can take advantage of the covers on social platforms.

User-friendly interface & Easy to Use.
2. Voicify.AI
Voicify, the groundbreaking AI-driven music creation platform taking TikTok and YouTube by storm. With Voicify, users can unleash their creativity by producing custom songs using the voices of legendary artists such as Kid Cudi, XXXTentacion and other hip-hop singers.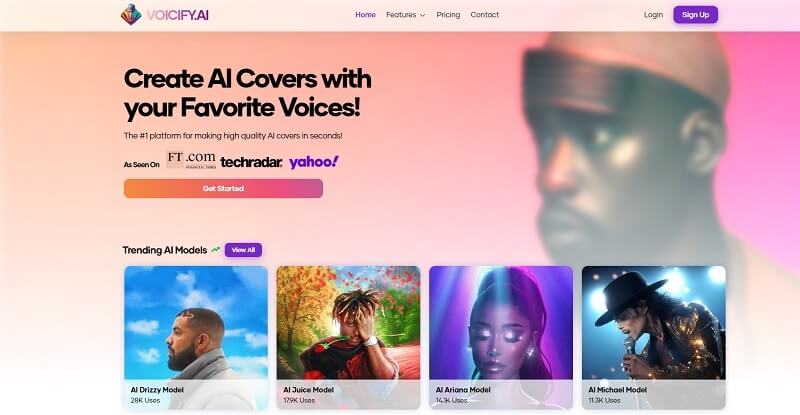 Steps to Make Pop Cover Songs:
Step 1: Sign in to your account on the website.
Step 2: Select your favorite hip hop models, such as Drake.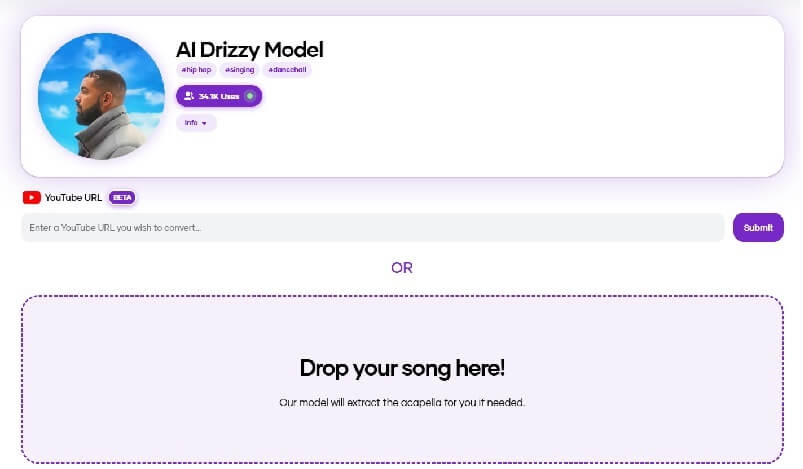 Step 3: Enter the YouTube URL and easily create AI cover songs.
Key Features:
Offers new artists to generate custom AI covers.

You can join the wave of popular AI-generated covers on TikTok and YouTube.

Anyone will create their first AI-generated track for free.

High-quality output.
3. Loudly - AI-generated Hip Hop
Loudly Music Generator offers a diverse array of options and unparalleled customization, empowering artists and music enthusiasts to effortlessly explore, experiment, and create their unique hip hop tracks. With this innovative platform, bring your musical vision to life like never before.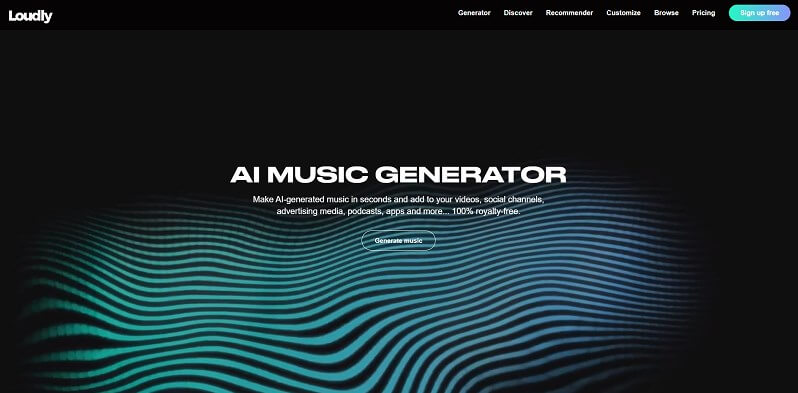 How Loudly Hip Hop Song Generator Working:
Step 1: Choose your genres and other options first.
Step 2: Next generate your music track and listen to it.
Step 3: Save the music and add it to your library, then download it.
Key Features:
Immerse yourself in the world of hip hop AI songs tailored specifically to your taste with Loudly.

Gain tthe latest music with Loudly, whether you're into Techno, Pop, or any other popular sound.

Indulge in the vast collection of meticulously crafted audio sounds, totaling over 200,000.
Bouns Tips for Hip Pop Voice Generator
VoxBox is an exceptional hip hop voice generator that empowers users to create dynamic and authentic rap vocals with ease. With a vast selection of AI-generated hip hop voices, VoxBox enables aspiring artists and music enthusiasts to bring their rap lyrics to life with unparalleled realism and precision.

Get Hip Pop Voice with Text to Speech:
Step 1: Download and install VoxBox software.
Step 2: Choose rapper voices, enter your lyrics and wait for few seconds to transform your text into speech.
Step 3: Finally customize your dubbing and export it on your device.
Key Features:
Discover an extensive library of 3200+ AI artist including natural rap voices.

Support for more than 46 global languages and 100+ accents.

Also features AI voice cloning.

Free bgms in order to make expressive raps.
Conclusion
In conclusion, MusicAI is highly recommended tools for those looking to create hip-hop music. With their advanced AI algorithms and extensive libraries, these platforms provide an unparalleled opportunity to generate authentic and captivating hip-hop compositions. Whether you're an aspiring rapper, producer, or simply a fan of the genre, MusicAI will offer the necessary advantages to enhance your hip-hop music production .