In the realm of music, Jazz holds a special place as a genre that embodies improvisation, soulful melodies, and rhythmic complexities. With its roots deeply entrenched in African American culture and history, Jazz music has evolved over the decades to become a cherished art form that continues to captivate audiences around the world. According to the article, you can find AI Jazz music generators to make songs.
Part 1: The History of Jazz Music
Jazz music has a rich history rooted in African and European musical traditions, emerging as a dynamic and improvisational genre. Influential musicians such as Louis Armstrong, Duke Ellington, and Jelly Roll Morton played significant roles in popularizing jazz. Over the years, jazz has evolved into various subgenres including swing, bebop, cool jazz, and fusion. Jazz's cultural impact has been profound, breaking racial barriers and inspiring social movements. Today, notable jazz singers include Ella Fitzgerald, Billie Holiday, Nat King Cole, and Sarah Vaughan.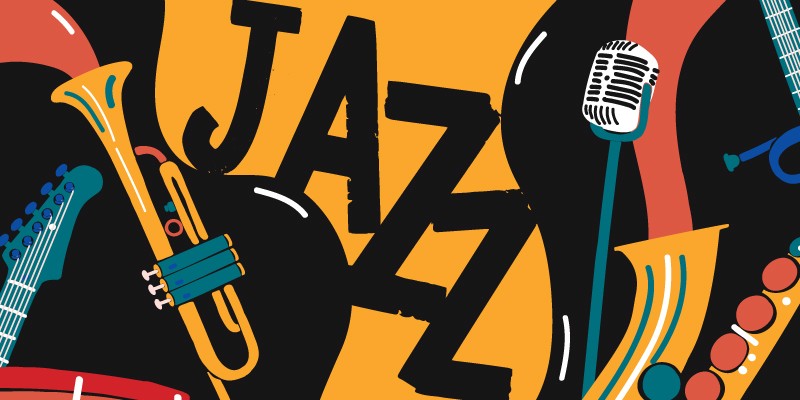 Part 2: Famous Jazz Dancing Songs in 2023 Listed
Jazz dancing is known for its energetic and expressive movements that perfectly complement the vibrant rhythms of jazz music. Here are some famous jazz dancing songs that have become iconic in the world of dance: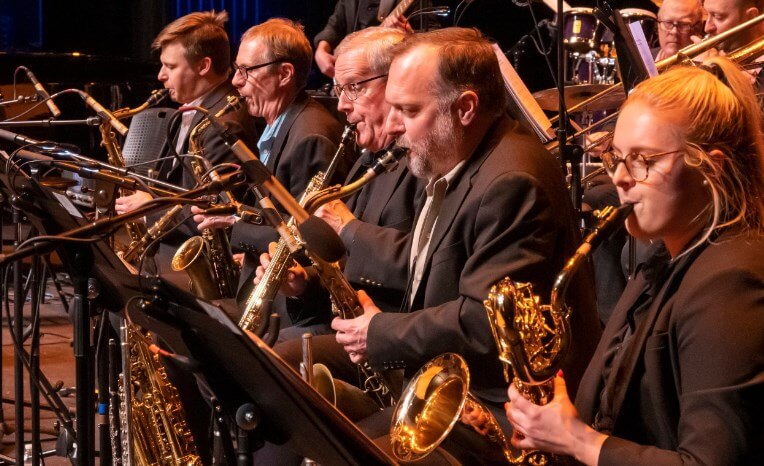 "Sing, Sing, Sing" by Benny Goodman: A high-energy jazz classic with infectious rhythms and a lively big band sound.
"Take the 'A' Train" by Duke Ellington: A swinging tune that captures the excitement and elegance of jazz dancing.
"It Don't Mean a Thing (If It Ain't Got That Swing)" by Duke Ellington: A timeless anthem celebrating the essence of jazz dance and the importance of rhythm and swing.
"Boogie Woogie Bugle Boy" by The Andrews Sisters: An upbeat and jazzy song that invites dancers to showcase their energetic and precise footwork.
"Minnie the Moocher" by Cab Calloway: A playful and vibrant tune that inspires dancers to bring out their charismatic moves and storytelling abilities.
"Mack the Knife" by Louis Armstrong: A smooth and captivating song that sets the stage for stylish and suave jazz dance performances.
Part 3: How to Use AI Jazz Music Generator to Make a Jazz Song?
iMyFone MusicAI is a groundbreaking tool that allows musicians and enthusiasts with a convenient way to generate authentic and captivating jazz song covers. If you need AI-generated jazz music, stay tuned for the coming function of customizing your track.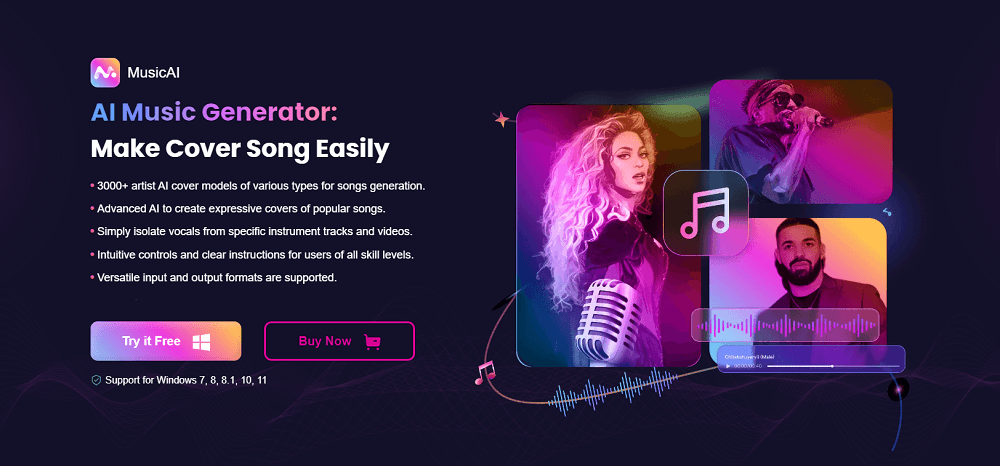 How To Do Jazz AI Song Cover:
#Step 1: Download and launch the software, and enter "AI Covers".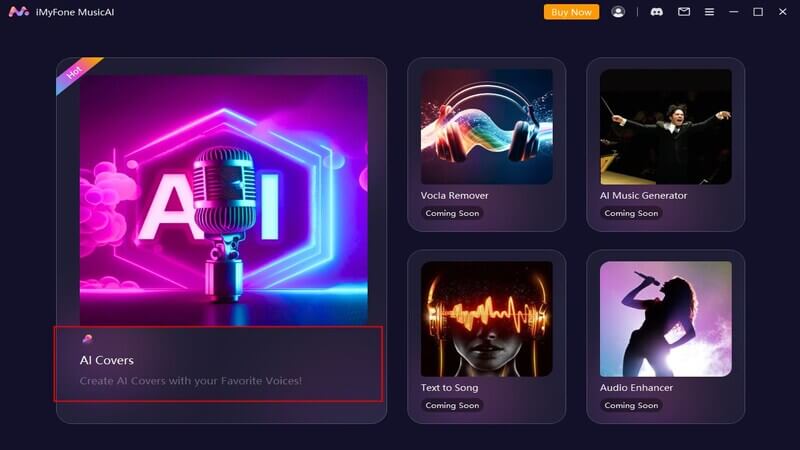 #Step 2: Choose an artist voice model which you like and upload the audio file on the right side.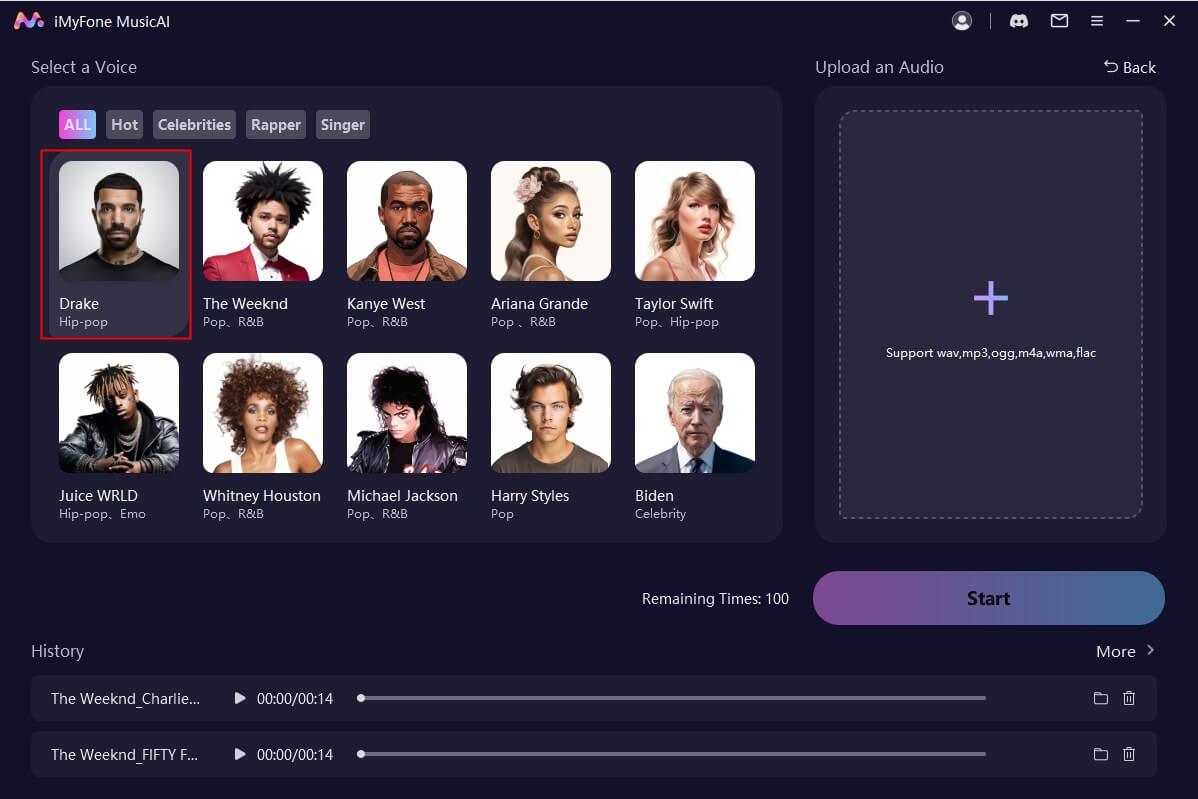 #Step 3: Start and listen to the preview song after few moment.
Key Features:
Dive into a diverse collection of singer AI voices and create captivating Jazz songs with ease.

Effortlessly separate voices from music and videos.

Sad song covers performed in a variety of supported singer voices.

Enjoy a complimentary trial and download for each function.

Look forward to upcoming features such as AI composition to make tracks of different genres.
Pros:

You can export the song in kinds of formats.

For entertainment, education, social medium and other purposes.

Jazz singer models you will find.
Cons:

You can't edit your music with the first version.
2. LALAL.AI Jazz Music Generator
LALAL.AI, the next-generation vocal remover and music source separation service. With LALAL.AI, you can easily and quickly extract stems from your music, removing vocals, instruments like drums, bass, piano, electric guitar, acoustic guitar, and synthesizer tracks, all while preserving the quality of the original audio.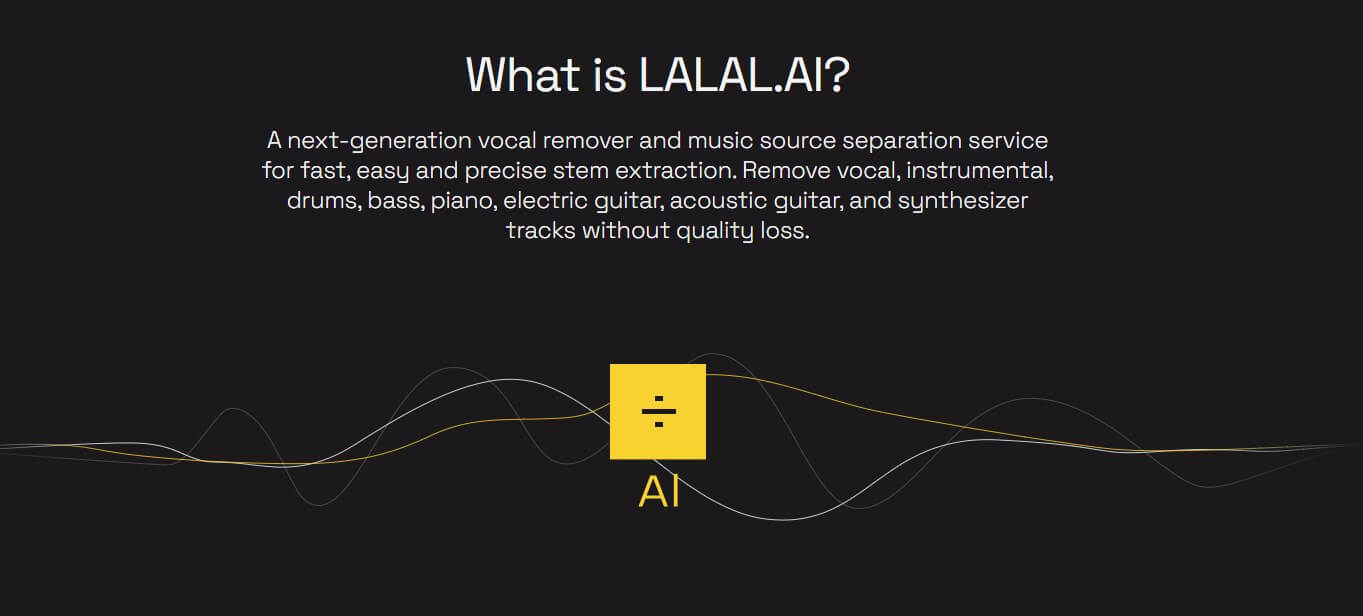 Use LALAL.AI Jazz Music Generator:
Step 1: Select a file and upload it.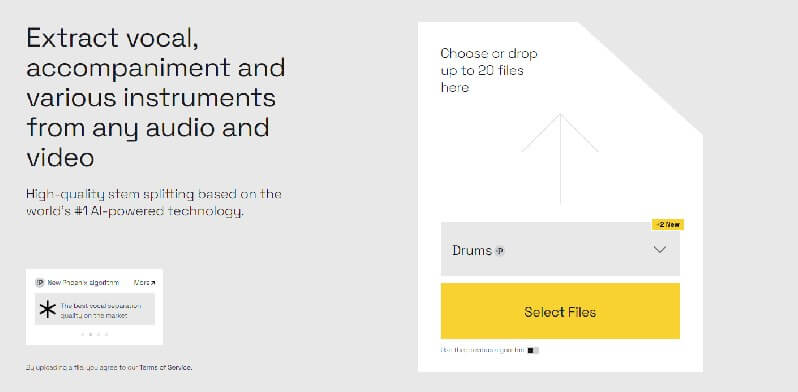 Step 2: Wait for a minute and choose stem separation type you want.
Step 3: Then you can listen to the generated jazz song previews.
Key Features:
Highly input and output formats.

It equipped with a fast processing queue.

Support batch upload.

You can start off for free to try the service.
Bonus Tips for Getting Jazz Voice
VoxBox, an innovative voice generation and cloning tool that allows you to create authentic Jazz voices effortlessly. With a wide range of customizable options and an extensive library of Jazz-inspired voices, VoxBox lets you bring the soulful sounds of Jazz to life.

Key Features:
Explore a vast collection of over 3200 AI artist voices, featuring popular artists like Taylor Swift, Playboi Carti, Juice Wrld, and many more.

With support for 46+ languages, VoxBox allows you to create voiceovers and dubbing in a wide range of global languages.

Available bgm for users to add.

Edit your overdubs by adjusting options such as pitch, pause, emphsis, etc.
Conclusion
In conclusion, for those seeking to create AI jazz music, MusicAI is an exceptional tools that offer unique capabilities. MusicAI advanced algorithms and extensive library of voices provide a solid foundation for generating authentic and captivating jazz compositions. Whether you're a seasoned jazz musician or a newcomer to the genre, MusicAI Jazz song generator can elevate your jazz music production to new heights.