Renowned DJ and producer David Guetta astounded audiences by revealing a mesmerizing feat—an AI-powered track infused with the unmistakable voice of Eminem. and the video quickly went viral.
In this article, we embark on the mesmerizing capabilities of "Eminem Voice AI" and how to get it via an AI voice generator. We'll delve into AI-generated content and apply it for entertainment.
Tips
Watch this video to learn how an AI voice generator gets Eminem's AI voice.
Part 1: Who is Eminem?
Eminem is an American-born rapper and singer, and his full name is Marshall Bruce Mathers III. Whenever hip hop from middle America is discussed, Eminem is the name that echoes. Eminem is a legend who give birth to hip-hop in that region.
The 50 years old has given some of the evergreen hip hop songs like Without Me, Rap God, Superman, Godzilla, Th Real Slim Shaddy, etc.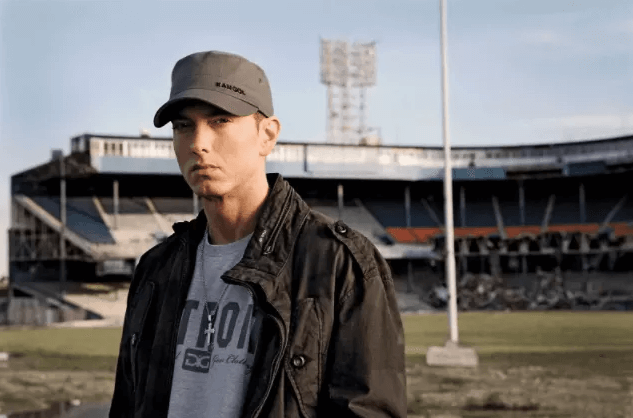 Other names of Eminem popular among his fans are MC Double M, M&M, and Slim Shady. And when someone gets a chance to generate Eminem's voice from text, nobody will say no to it.
Therefore, we have also listed the best generator for Eminem fans or professionals to create custom Einem voices.
Listen to Eminem's AI voice generated by iMyFone VoxBox, free start 2000 characters convert text to get Eminem ai voice.

Part 2: Free AI Voice Generator Get Eminem Voice via TTS
Moving on, we will talk about some of the best text-to-speech generators with AI to create Eminem realistic voice you can choose for your Android, iOS, Windows, or macOS.
Introducing iMyFone VoxBox, the ultimate AI-powered voice generator that transforms text into Eminem's unmistakable voice. Whether you seek personalized voiceovers or wish to playfully experiment with Eminem's AI singing voice, VoxBox is the all-in-one software solution for you.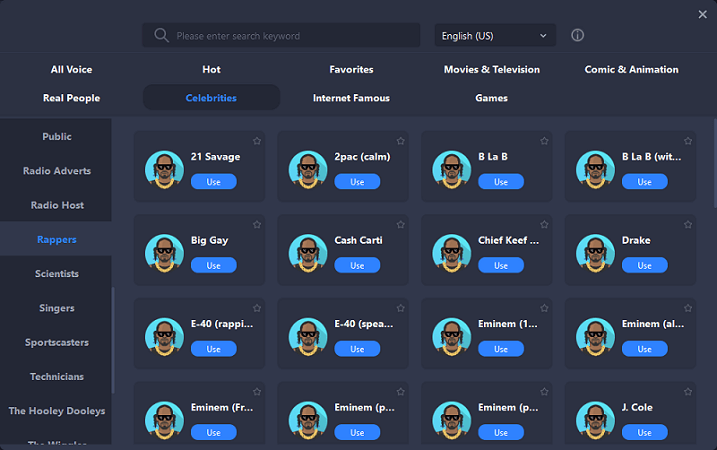 The main features of iMyFone VoxBox are as follows:
Key Features:
In addition to Eminem's voice, the AI voice generator also offers the deep voices of other talented rappers.

46 languages supported with 3200+ voices to create realistic and expressive audio for different purposes.

Supported Pause, Pitch, Speed, Emphaisis and Volume.

Editing features available within the app to let you edit, convert, trim, and import audio.

Multiple popular output formats be it ACC, WAV, or MP3.

The perfect tool to create voiceovers for multiple purposes, from personal to business uses.
Steps of Generate AI Eminem voice:
Step #1: Downalaod and install, and open the VoxBox.
Step #2: Go to the "Text to Speech" section.
Step #3: Choose "Rapper", find Eminem, or directly type Eminem.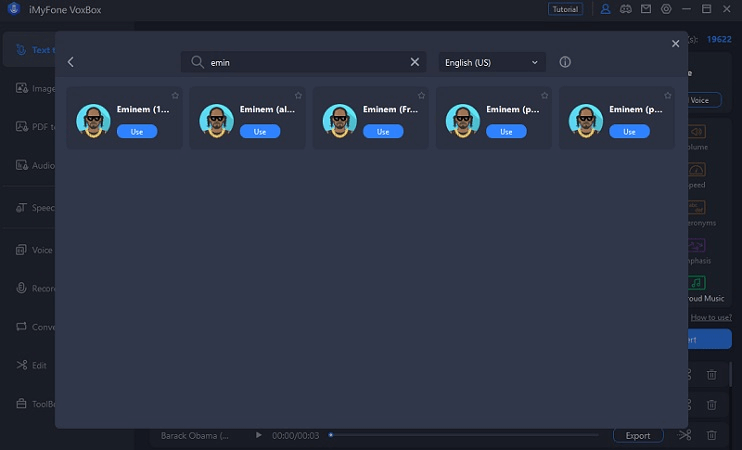 Step #4: Enter Rap lyrics in the text box, and convert it.
Synthseys AI voice generator is a versatile cloud-based application that empowers users to work from anywhere in the world. It can be utilized for various purposes such as creating sales videos, letters, animations, explainers, social media content, and more.
The main features of Synthesys are as follows:
Key Features:
Cloud-based functionality, enabling users to work from any location worldwide.

Versatile applications for creating sales videos, letters, animations, explainers, social media content, TV commercials, podcasts, and more.

Extensive library of professional voices, offering a choice of 35 female and 30 male voices.

Ability to create and sell unlimited voiceovers for various purposes, providing flexibility and potential business opportunities.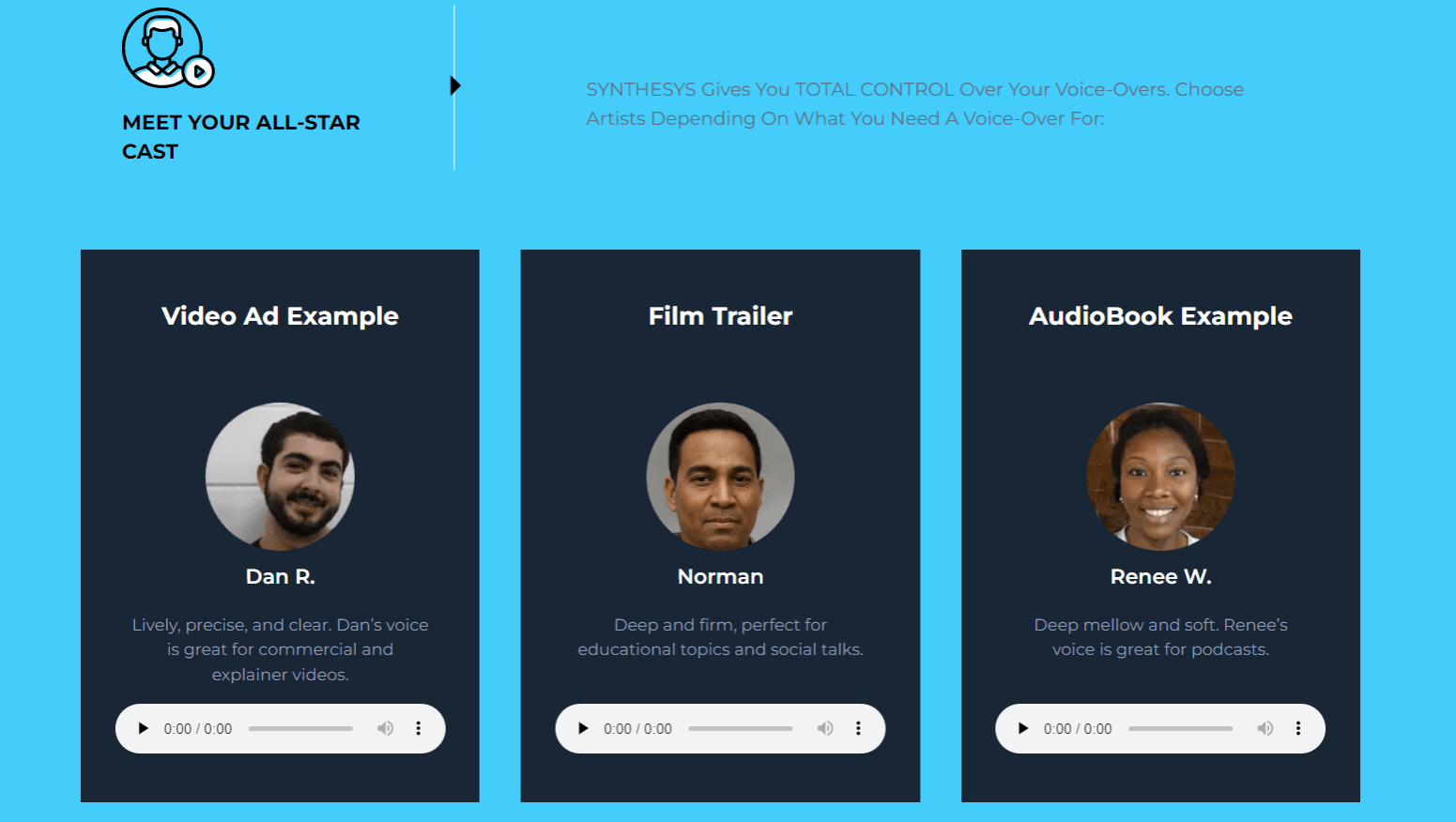 Pros:

A perfect tool with customization options for professional users.

Along with synthetic avatars like Eminem's text to speech.
Cons:

No free versions.

It comes with quite a higher price tag of $29 per month.

Not the right tool for personal users or hobbyists.
Part 3: Get Eminem AI Voice Using Text-to-Speech Generators Online
Uberduck.ai is an AI voice generator that offers the ability to easily simulate Eminem's voice and rapping using AI-generated rap. Access to this feature requires a paid subscription.
The main features of Uberduck.ai are as follows:
Key Features:
You get over 5000+ voiceover filters whether you want a professional one or an entertiaining one.

Run Uberduck.ai's APIs to integrate with popular audio apps.

An open-source platform doesn't need to download any option.

Realistic voice with several features like voice cloning, voice generation, etc.

Generate Eminem's voice with voice cloning (once cloned, use forever).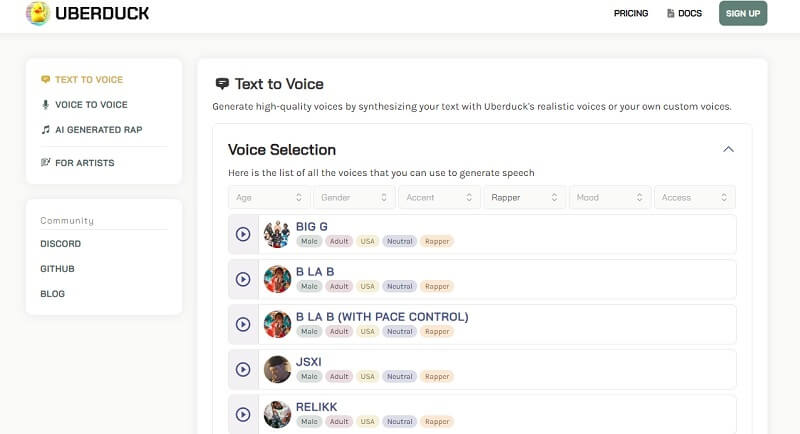 Note:Some of the voices created by the platform might sound robotic and unreal.
Pros:

Free version with more than 2000 voiceover effects, including Eminem text to speech generation.

No download or installation required.

Integration with popular audio apps via APIs.
Cons:

Paid versions are complicated and hard to compare.

The experimental tool has many glitches and needs polishing.
Fakeyou.com is an online text-to-speech generator that is also supported to get Eminem's voice. The best thing about Fakeyou.com is that it is free and uses deep fake technology to clone the voices of famous characters, cartoons, humans, etc. However, the developers need to improve the tones and pitch of voices to make them sound more real.
The main features of Fakeyou.com are as follows:
Key Features:
Most of the voice effects and filters are very realistic.

No payment or credit card is required to sign up.

A creative voiceover platform with voice cloning, real-time voice conversion, and text-to-voice service.

A free tool with several voiceover effects and multiple language support.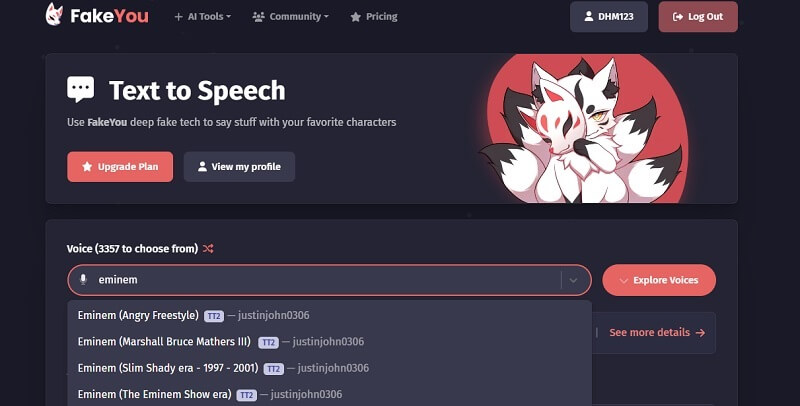 Pros:

The open-source platform doesn't require a download.

No paywall or microtransactions; no credit card.

Multiple languages support.
Cons:

Results can be disappointing sometimes; developers must work on increasing the consistency of the results.

You can't create Eminem text-to-speech audios without signup for the app.

The platform fails to understand the words and pronounces them abruptly sometimes.
Part 4: Funny Info: What's New with AI Eminem 2023?
Some latest news, breaking stories, and comment about Eminem
Facts 1:Eminem will be starting off 2023 strong with a tour already planned and the much-awaited album "The Eminem Show" set to release. Eminem is also busy promoting his album on Instagram alongside promoting his own clothing line.
Facts 2:Drake, Eminem, and Kanye West Are in the Top 3 on Rap Caviar's Most Streamed Rappers on Spotify List
Facts 3:Eminem has released a new song that serves as a diss against the patriarchy, as he takes a stand against male dominance and supports women's rights. In addition, A user-David Guetta recently collaborated on a song featuring an AI-generated voice that mimics Eminem's iconic style.
Conclusion
This article presents various AI-powered voice generators with text-to-speech that allows users to simulate Eminem's voice and rapping. Additionally, it provides a section dedicated to sharing the latest news about Eminem with his fans. If you're interested in creating pranks or sharing Eminem's voice or AI Eminem cover song on social media, I highly recommend iMyFone VoxBox. It is an all-in-one solution suitable for both professionals and personal users.