Eminem is a legacy and a legend having fans across the world. You, your friends, and many people around you will be a fan of Eminem's rap. Whether you want to clone his voice as a fan, prank your Eminem fan friends, or want to sound like Eminem while gaming, you need to know about the right tools.
Whatever the purpose, we have listed the best Eminem text-to-speech voice generator for free. Whether you are a PC user or own a mobile device, these tools will work for your devices. So let's get into it.
Listen to Eminem AI Voice for free using iMyFone Voxbox down below!

Part 1: Who is Eminem?
Eminem is an American-born rapper and singer, and his full name is Marshall Bruce Mathers III. Whenever hip hop from middle America is discussed, Eminem is the name that echoes. Eminem is a legend who give birth to hip-hop in that region.
The 50 years old has given some of the evergreen hip hop songs like Without Me, Rap God, Superman, Godzilla, Th Real Slim Shaddy, etc.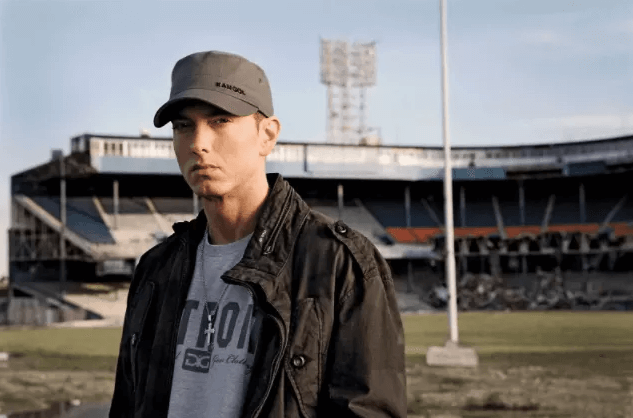 Other names of Eminem popular among his fans are MC Double M, M & M, and Slim Shady. And when someone gets a chance to generate Eminem's voice from text, nobody will say no to it.
Therefore, we have also listed the best generator for Eminem fans or professionals to create custom Einem voices.
Tips
No voice artists are needed, and no recording equipment is needed. You can easily convert your text to speech and voice using
the best Eminem TTS Voice Generator
iMyFone VoxBox
! Download it and try it out for free now!
Try it Free
Part 2: Excellent Eminem Text-to-Speech For Your Choice
Moving on, we will talk about some of the best text-to-speech software you can choose for your Android, iOS, Windows, or macOS.
iMyFone VoxBox is an Eminem voice text to speech generator for PC users. Whether you want to create voiceovers for personal use, conversation systems, social media videos, eLearning, or business purposes, iMyFone VoxBox is one size fits all software.
Listen to Eminem ai Text-to-Speech Voice for free using iMyFone Voxbox down below!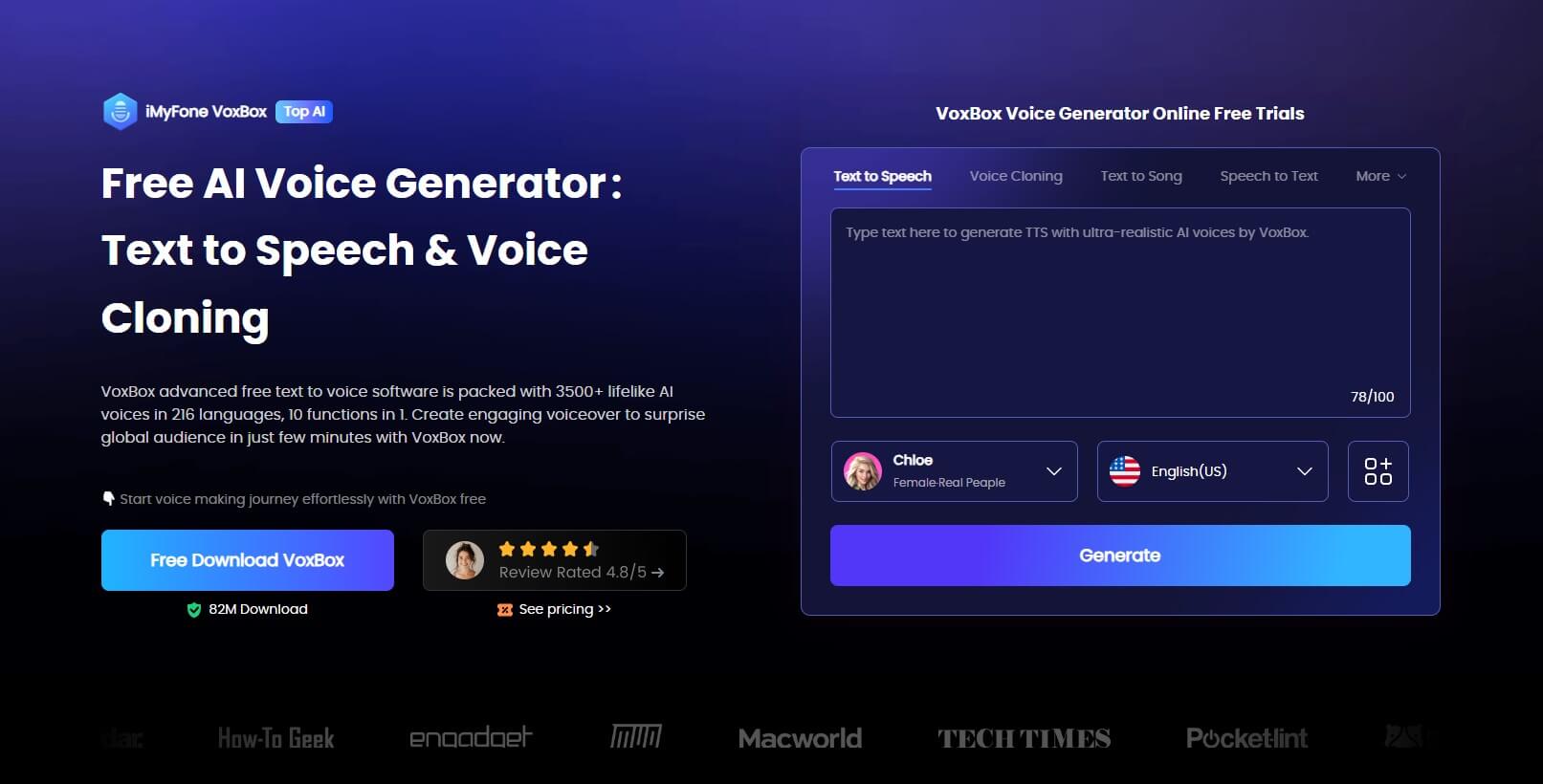 The software has paid and unpaid versions allowing you to choose the one that matches your needs. The most important highlights of the software are the capabilities to create realistic voices, accurate voice cloning, and an ad-free experience for the user's safety and privacy.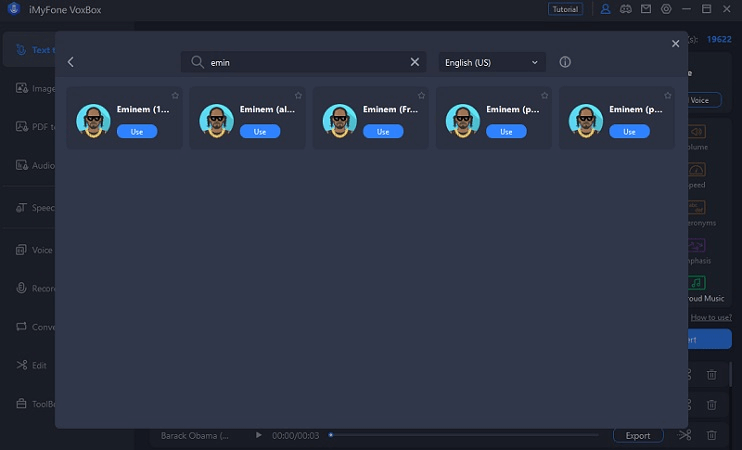 The main features of iMyFone VoxBox are as follows:
Key Features:
46 languages supported with 3200+ voices to create realistic and expressive audio for different purposes.

Supported Pause, Pitch, Speed, Emphaisis and Volume.

Editing features available within the app to let you edit, convert, trim, and import audio.

Supports multiple output formats be it ACC, WAV, or MP3.

User-interface and user experience are very refined due to continuous improvement.

The perfect tool to create voiceovers for multiple purposes, from personal to business uses.
Watch this video to learn more about the Best Eminem TTS Voice Generator VoxBox:
Pros:

Free version to try all features.

Download and use the app without the internet.

Extensive voices, the accuracy of voice cloning, and multiple languages support.

An all-in-one solution with audio editing features.
Cons:

More advanced features are locked, and you must purchase a premium subscription.

Need space on your PC to install the software.
Try it Free
Synthesys Studio is an app that mobile users can install from the play store to use as an Eminem voice text-to-speech generator. However, PC users can only use the app via the web version available.
The good thing about the app is that it has a very simple interface and text-to-speech conversion. Therefore, you can easily convert text into speech without having technical knowledge.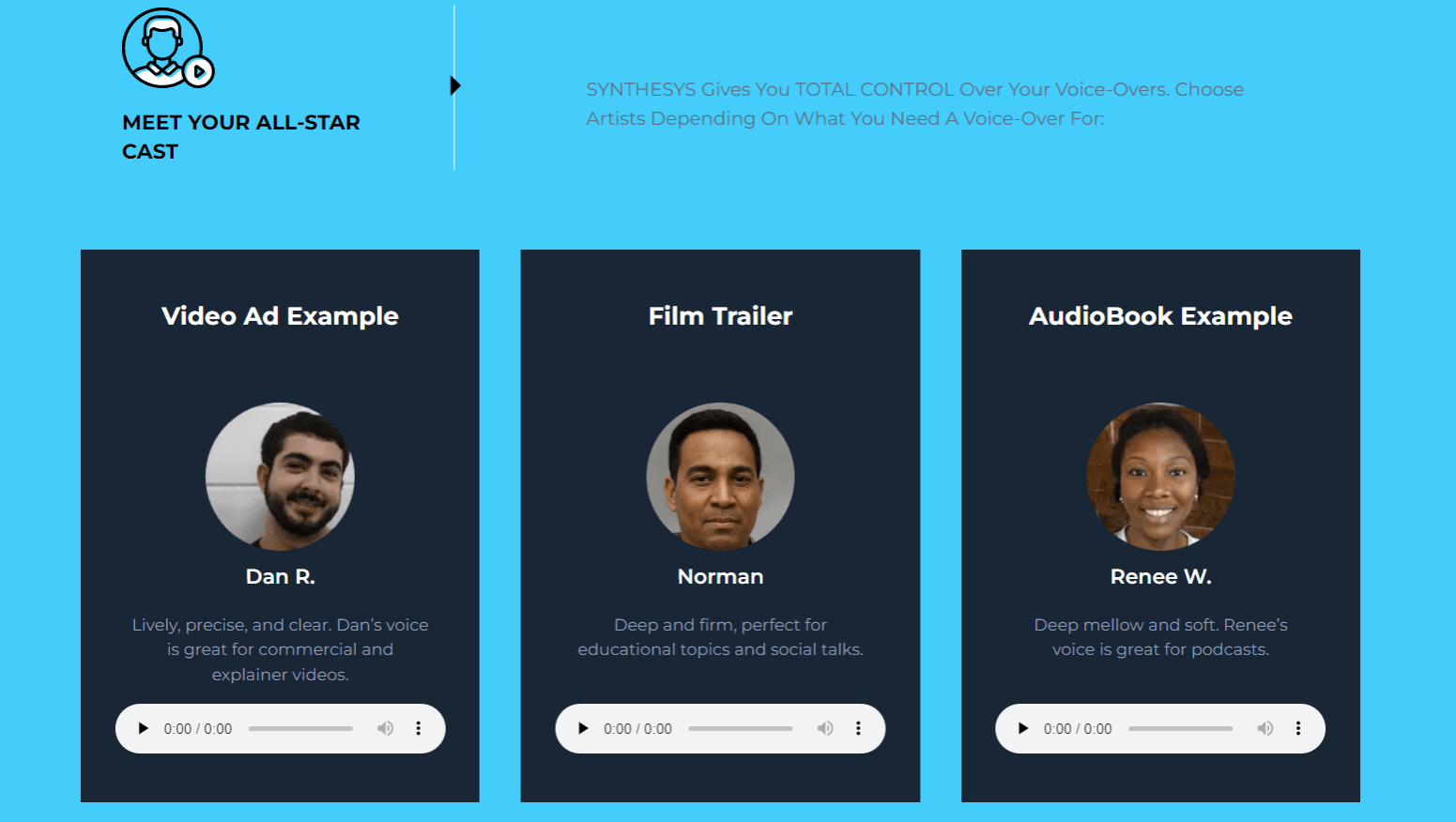 The main features of Synthesys are as follows:
Key Features:
Cloud-based app with handy features to convert text into speech for multiple purposes.

Most languages supported(66 languages).

Additional tools like Human Studio(videos), only audio, and both.
Pros:

A perfect tool with customization options for professional users.

Most languages supported.

Most realistic human-like voices.

Along with synthetic avatars like Eminem's text to speech.
Cons:

No free versions.

It comes with quite a higher price tag of $29 per month.

Not the right tool for personal users or hobbyists.
Part 3: Free Eminem Voice Generator Online Websites
Let's get started with online voiceover platforms to use as Eminem's voice text-to-speech generators.
Uberduck.ai is an AI-powered tool, as obvious from the name. It is an open-source, free platform for generating several text-to-voice audios, and Eminem is one of them.

One noticeable thing about Uberduck.ai is that it creates a very realistic voice when it comes to Eminem's voice. Some of the voices created by the platform might sound robotic and unreal. However, in the case of Eminem, it is just up to the mark.
The main features of Uberduck.ai are as follows:
Key Features:
You get over 5000+ voiceover filters whether you want a professional one or an entertiaining one.

Run Uberduck.ai's APIs to integrate with popular audio apps.

An open-source platform doesn't need to download any option.

Realistic voice with several features like voice cloning, text-to-image, voice generation, etc.

Generate Eminem's voice with voice cloning.
Pros:

Free version with more than 2000 voiceover effects, including Eminem text to speech generation.

No download or installation required.

Integration with popular audio apps via APIs.

The attention of developers toward the privacy and security of users.
Cons:

Paid versions are complicated and hard to compare.

The experimental tool has many glitches and needs polishing.
Fakeyou.com is also an open-source platform that mobile users, as well as PC users, can access via the web. You will need to sign up to create an account on the website and use it as Eminem's voice text-to-speech generator.
The best thing about Fakeyou.com is that it is free and uses deep fake technology to clone the voices of famous characters, cartoons, humans, etc. However, the developers need to improve the tones and pitch of voices to make them sound more real.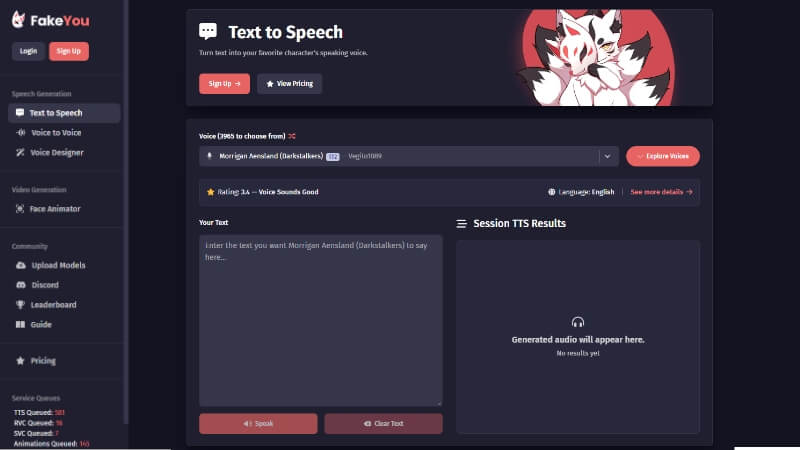 The main features of Fakeyou.com are as follows:
Key Features:
Most of the voice effects and filters are very realistic.

No payment or credit card is required to sign up.

A creative voiceover platform with voice cloning, real-time voice conversion, and text-to-voice service.

A free tool with several voiceover effects and multiple language support.
Pros:

The open-source platform doesn't require a download.

No paywall or microtransactions; no credit card.

Multiple languages support.
Cons:

Results can be disappointing sometimes; developers must work on increasing the consistency of the results.

You can't create Eminem text-to-speech audios without signup for the app.

The platform fails to understand the words and pronounces them abruptly sometimes.
Part 4: Balabolka - Powerful Eminem Text-to-Speech App
If you want to know powerful Eminem text-to-speech apps, here are the two we have found for you:
It is one of the most powerful apps that comes with customizable voices to generate from the text. Eminem's voice text to speech generator is available for Windows users, and you can simply paste text to get realistic output.
The software also allows you to save the converted files as MP3 or WAV to use later. It uses Microsoft Speech API(SAPI) to generate outputs that you will love to have.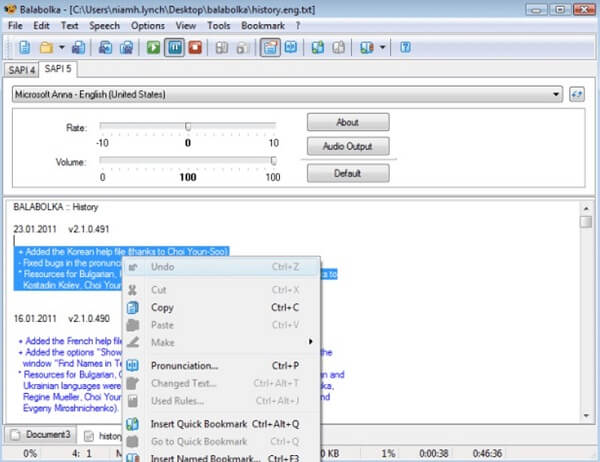 The main features of Balabolka are as follows:
Key Features:
Choose from multiple voices and languages.

Multiple file formats supported for input: AZW, AZW3, CHM, DjVu, DOC, DOCX, EML, EPUB, FB2, FB3, HTML, LIT, MD, MOBI, ODP, ODS, ODT, PDB, PRC, PDF, PPT, PPTX, RTF, TCR, WPD, XLS, XLSX.

The app can save the synchronized text in Mp3 or WAV format.

Adjust the syntax and pronunciation in the output.

Editing tools to correct grammar & spelling.

Reading capabilities are very advanced.
Pros:

Extensive input formats supported.

Save output as audio files.

Bookmark to play voices later.

Many options to choose voices from.
Cons:

The user interface is not noticeable.

You must have technical knowledge of voiceovers and audio.

Only available for Windows devices.
Conclusion
We have shared the most powerful tools you can use as Eminem text to speech generators. However, iMyFone VoxBox is the best option as it is an all-in-one solution that professionals and personal users can use.
You don't need any technical knowledge to master the VoxBox software. Besides, it has thousands of voices and multiple languages that support creating voiceovers from the text.
Try it Free